In the world of online advertising, it is important to choose a platform that not only offers a wide range of monetization opportunities but also provides reliable and consistent earnings.
Adsterra is a well-known name in the industry, offering a comprehensive CPA network solution.
This article will provide a detailed Adsterra CPA Network review, covering its features, advantages, and disadvantages.
By the end of this article, you will clearly understand whether Adsterra is the right fit for your business needs. So, without further ado, let's dive into the Adsterra CPA Network review.
What is Adsterra CPA Network?

Adsterra was founded in 2013 and immediately gained popularity due to its innovative approach to ad layouts and emphasis on excellent service.
Since its founding years ago, Adsterra has rapidly become one of the most quickly increasing internet advertising networks.
Adsterra has achieved considerable success in the few years it has been in business. The network was established in Scotland and is now spreading globally. It serves more than 25 billion unique ad impressions monthly and has over 100,000 effective campaigns.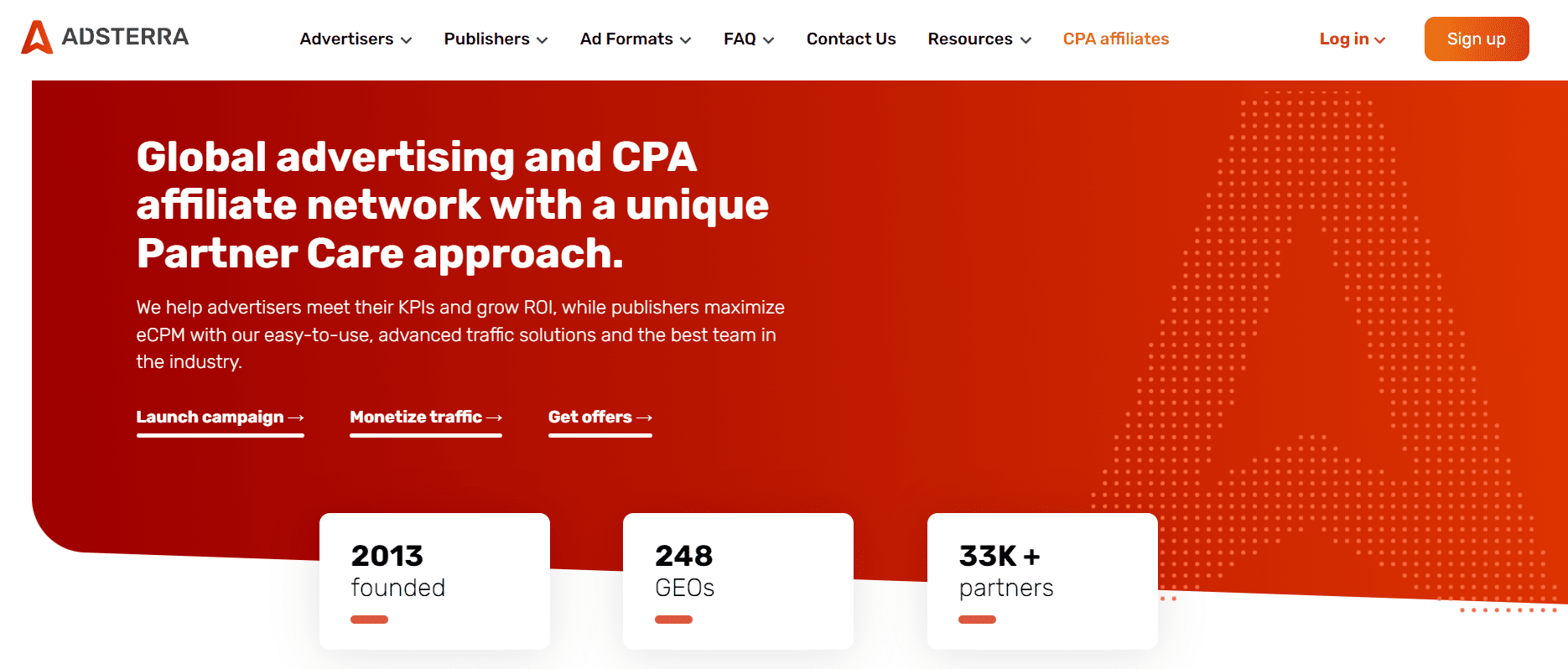 Each of these ad impressions is geotargeted and shown globally. It now works with publications and advertisers from more than 248 countries.
Adsterra now collaborates with hundreds of advertisers and publications worldwide. 
They concentrate on mobile and online advertising for marketers and publications. Their primary advertising formats are CPM, CPA, CPC, CPO, and CPI (PPI).
Adsterra CPA Network specializes in creating distinctive and inventive advertising displays and integrating them with sophisticated online and mobile monetization strategies.
Display banners, popunders, interstitials, direct links, and video banners are just a few of the many efficient ad types advertisers and publishers use to generate revenue.
Although they provide a variety of ad kinds, such as cost-per-click and pay-per-view, pop-unders are their area of expertise.
They provide a range of ad layouts and sizes that you may utilize as a publisher to optimize your earnings.
| | |
| --- | --- |
| Verticals | VPN, Antivirus, Utility, Finance, Software, Sweepstakes, Gaming |
| Minimum Payout | $5 every 2 weeks |
| Payment Methods | PayPal, WebMoney, Wire, & Paxum |
Verticals Best Supported By Adsterra 
VPN (Virtual Private Network) – This technology allows users to access a private network remotely securely.
Antivirus – Software designed to prevent, detect, and remove malware and other malicious software.
Utility – Refers to software or services that are useful for a specific purpose, such as system optimization, file compression or conversion, etc.
Finance – refers to software or services related to personal or business financial management, such as budgeting, investments, or accounting.
Software – refers to a set of instructions or programs that perform specific tasks on a computer or device.
Sweepstakes – a contest where prizes are given to randomly selected winner(s) from a pool of entries.
Gaming – refers to the playing of electronic games, either on a computer or a gaming console.
Adsterra CPA Network offers several reasons to choose them as a partner. Their partner care approach includes:
Fast offers approval: Adsterra processes and approves offers quickly, allowing partners to promote them as soon as possible.
Dedicated expert manager: Each partner is assigned a dedicated expert manager who can assist with any questions or concerns.
Automated weekly payments: Payments are made automatically every week, ensuring that partners are paid promptly.
In addition to their "partner care approach," Adsterra offers several "helpful features" that benefit partners, including – 
Global and custom postback: Adsterra allows partners to use a global postback URL or set up custom postback URLs for specific offers.
No-loss Backlink solution: Adsterra provides a solution to prevent the loss of backlinks, ensuring that partners' links remain active.
Statistics with all key metrics: Adsterra provides detailed statistics with all key metrics, such as clicks, conversions, and revenue, allowing partners to track their performance.
Adsterra also boasts a vast pool of offers, including – 
Exclusive direct offers: Adsterra has exclusive rights to first-class direct offers, which are not available through other networks.
Public offers (no extra moderation): Adsterra offers a wide range of public offers that do not require extra moderation.
Private offers with pre-moderation: Adsterra also offers private offers requiring pre-moderation, ensuring they meet specific quality standards.
Furthermore, Adsterra offers unique direct offers which are not available anywhere else. They also have high and fast payouts, one of their premium features. Lastly, selective quality offers are available for their affiliates, increasing their payouts.
Adsterra has many offers that have been proven to convert well, and many of these offers are exclusive to Adsterra and cannot be found on other networks. Its network also boasts a high CR (Conversion Rate) of 10% and eCPM (Effective Cost per Mille) over $100+.
This means that the conversion rate for the offers on the network is at least 10%, and the eCPM, a metric measuring the revenue generated per 1000 impressions, is over $100. This indicates that partners can earn a significant amount of revenue from the offers on the network.
The personal manager is dedicated to supporting the partner and helping them in any way possible. This feature benefits experienced partners with more complex questions or concerns.
'Cherry on Cake', Adsterra has recently won the Best CPA Network 2022 by SIGMA Awards.
You May Like This:
Why Do I Recommend Adsterra CPA Network?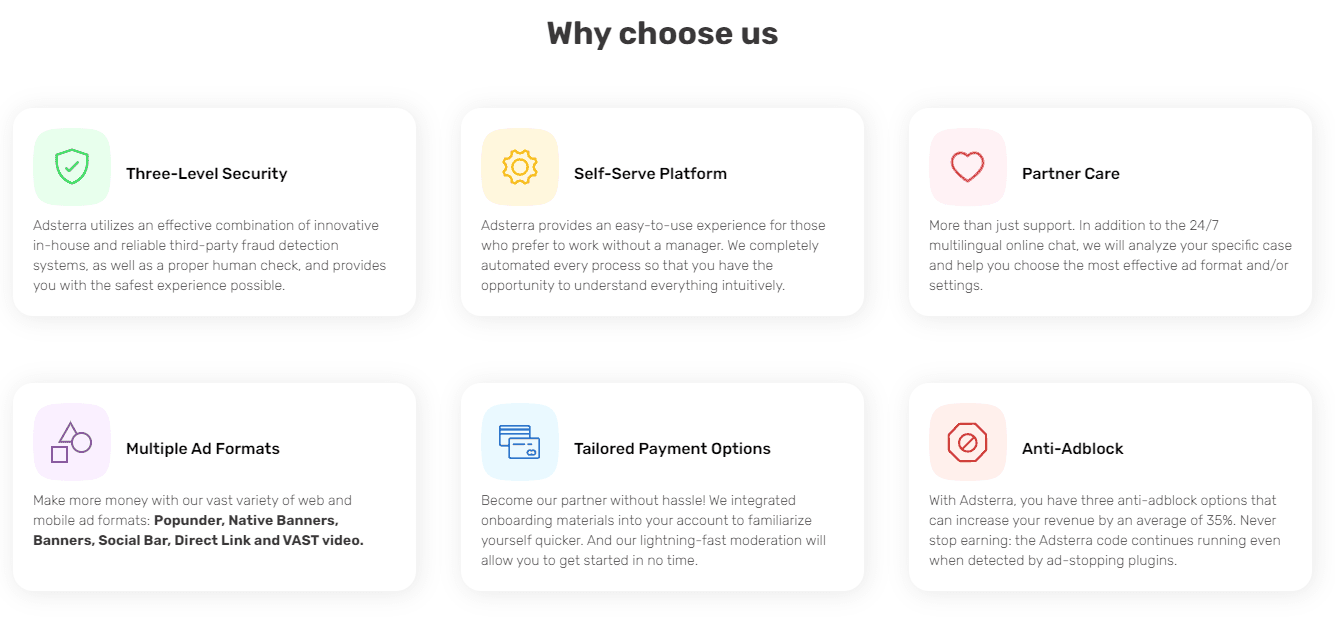 You have three solutions with Adsterra that can raise your earnings by an average of 35 percent.
The Adsterra code continues to operate even when ad-blocking plugins are identified.
Tailored Payment Options:
Become their partner with little effort! They included onboarding resources within your account to expedite familiarization. And their lightning-fast moderation will let you begin immediately.
Earn more money with their extensive selection of online and mobile ad types, including VAST video, Direct Link, Social Bar, Banners, Native Banners, and Popunder.
More than just assistance. In addition to providing multilingual online chat support around the clock, they will assess your unique situation and assist you in selecting the most successful ad type and/or settings.
Adsterra offers an intuitive interface for people who want to work independently. You can comprehend everything naturally because every step has been entirely automated.
Adsterra offers you the safest experience possible by using a mix of powerful in-house and third-party fraud detection tools and human verification tools.
FAQs About Adsterra CPA Network Review
👉What is the Adsterra minimum payment?
Adsterra provides NET15 terms with fortnightly payments on the 1st and 16th. The minimum payment requirement is USD 100 for Paxum and PayPal and USD 1,000 for wire transfers. There is a cost of $50 for wire transactions.
❓What is the Adsterra minimum traffic requirement?
In addition to the publisher criteria, your website must get a minimum of 5,000 visits per month to qualify for pop-unders. To qualify for banner advertisements, a website must get at least 50,000 impressions each month.
👉What are the Adsterra publisher requirements?
Adsterra does not enable publications with unlawful or adult-oriented material. Before and after publisher approval, all publishers must achieve the minimum traffic criteria and have no false traffic.
✅What traffic does Adsterra CPA Network work with?
They accept clean traffic (including push, popunder, banner, Facebook, and other social traffic). They prohibit accounts with bots and fraudulent traffic. You may discover further information on their offer page. Some deals are subject to other limitations.
Quick Links:
Conclusion: Adsterra CPA Network Review 2023
If your website receives substantial Tier-1 or Tier-2 traffic (US, Europe, etc.), Adsterra may be a suitable substitute for Google AdSense.
Partner Care: a personal touch, prompt responses, superior problem-solving abilities, and access to in-house designed solutions.
It is a major digital advertising platform that allows you to create a One-page campaign by industry standards; if you have any issues with its services, its managers (support) will assist you. Full targeting inventory, including uncommon discoveries such as browser versions, operating system versions, carrier, user lifetime, and IP targeting.
Have a large pool of advertisers with special offers and excellent prices for publishers. Using an AI-based optimization tool, you may effectively monetize your website by analyzing traffic and selecting the most lucrative offers for your target demographic.
Clean advertisements. Malvertising is not permitted on Adsterra. In addition to malware, redirection, unwanted downloads, and notifications are strictly forbidden.
All these reasons make Adsterra CPA Network one of the best in the market.