Do you need help finding an effective online advertising platform that can help your business grow and reach your target audience?
With so many options available, choosing the right one that meets your business needs can be challenging.
But what if I told you that there is a solution that provides advanced targeting options, protects your data, and offers reliable traffic sources?
The solution is Suomzilla. It is a leading online advertising platform that offers various advertising solutions to help businesses reach their desired audience.
With their state-of-the-art protection system, clients can ensure their data is secure and their ad campaigns are free from fraudulent bot traffic.
Suomzilla also provides a personal manager to guide clients throughout the campaign process and offers detailed statistics to help businesses make informed decisions.
In short, Suomzilla offers an easy starting process and advanced targeting options that can help maximize your return on investment and conversation rates. 
In this Suomzilla review, we will delve deeper into the features of Suomzilla to see how it can help take your business to the next level.
What is Suomzilla? – All You Need To Know!
If you're searching for a reliable network advertising company to promote your brand or product, look no further than Suomzilla.
Founded in 2020 and based in Helsinki, Finland, Suomzilla has quickly made a name by providing cutting-edge advertising solutions to clients worldwide.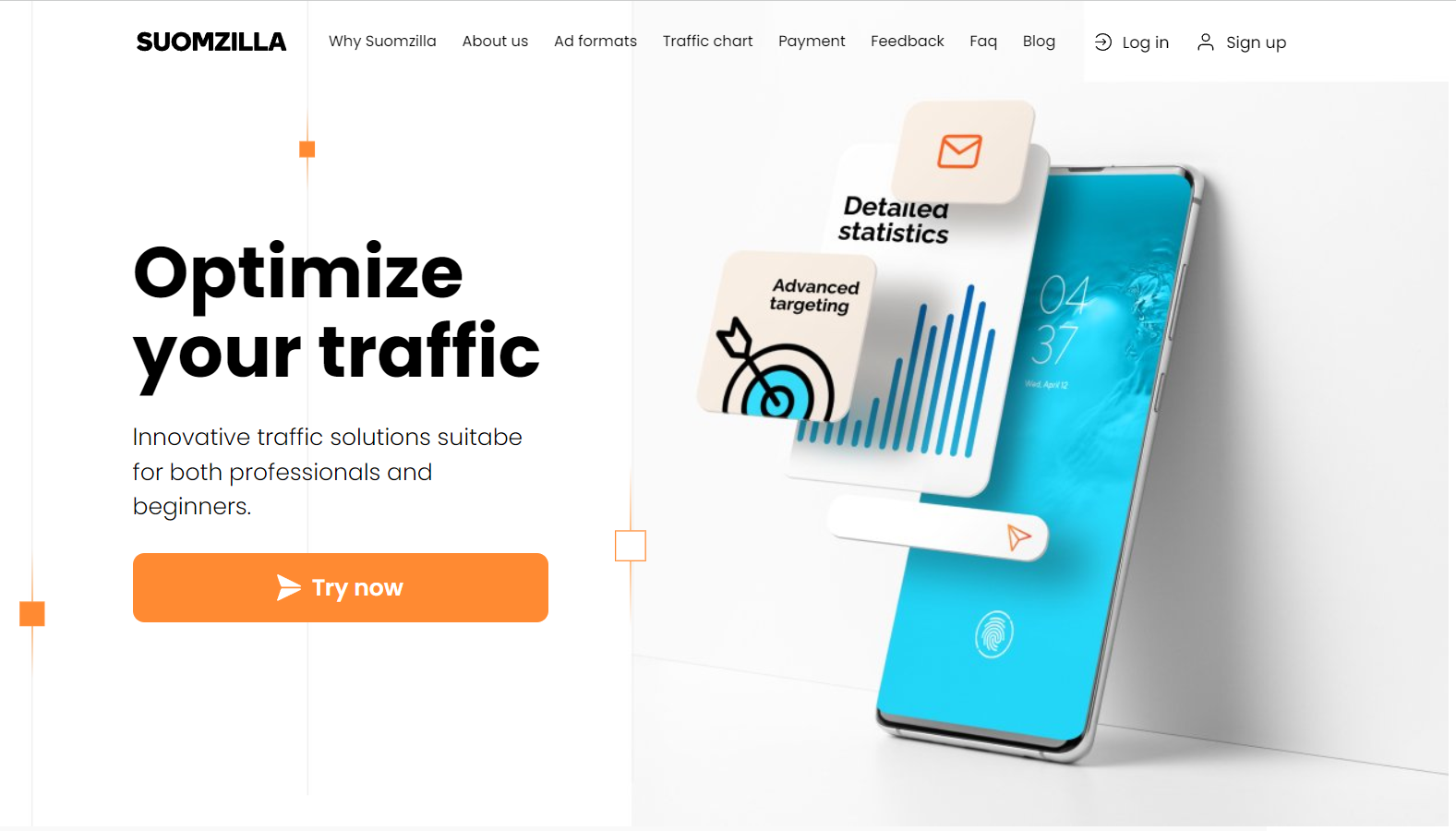 Suomzilla is primarily a network advertising company focusing on developing innovative solutions for online advertising.
Through its self-service program, the company offers a range of advertising options, including pop-unders, mobile pushups, and native advertising.
This program enables clients to create, manage, and modify advertising campaigns easily.
In addition to its advertising services, Suomzilla also offers a CPC and CMP price model, and analytical solutions, providing clients with valuable insights into the effectiveness of their campaigns.
With its international presence and commitment to delivering top-quality advertising solutions, Suomzilla is an excellent choice for anyone looking to elevate their brand's online presence.
Why Use Suomzilla?
Suomzilla is committed to helping businesses of all sizes succeed, from newly launched startups to established enterprises looking to expand their reach.
One of the key reasons to choose Suomzilla is its adaptability to any type of business.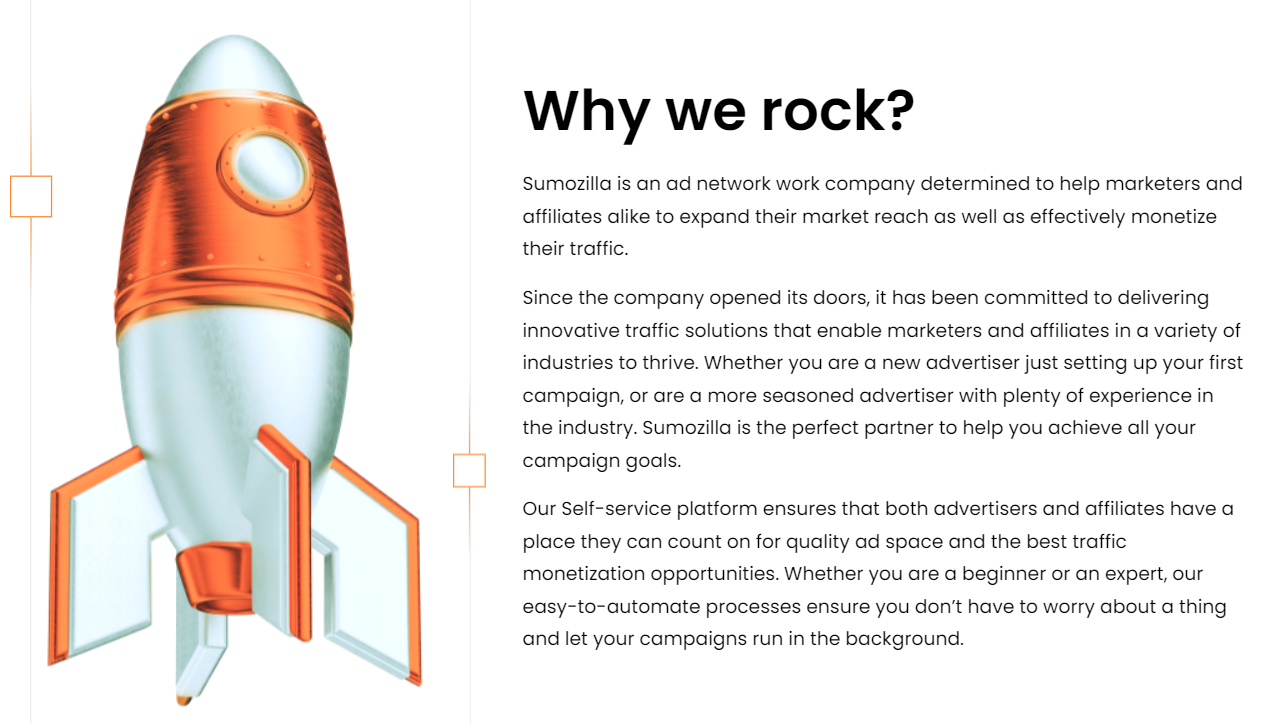 This flexibility has helped the company become a leading advertising network with a proven track record of success.
Suomzilla offers a wide range of advertising options and provides customers with unparalleled convenience and ease of use.
In particular, the platform's self-service model is a major advantage, enabling customers to manage their campaigns and access the best ad space.
Suomzilla is widely regarded as an ideal company for affiliates and marketers, offering a range of features and tools to help businesses grow.
Whether you want to increase your website traffic or improve your brand's visibility, Suomzilla has the expertise and resources to help you achieve your goals.
So if you're looking for a reliable, adaptable, and customer-focused advertising company, Suomzilla is a perfect choice.
Suomzilla Review: Pros & Cons
Here are some of the pros & cons of Suomzilla
Pros
Personal manager for clients

Traffic from trusted sources

State-of-the-art personal data protection

Anti-fraud system eliminates bot traffic

Detailed and up-to-date statistics for clients

Advanced targeting options for clients

An easy 4-step process for starting campaigns

Advanced targeting options
Cons
Quick Links:
Conclusion: Suomzilla Review 2023
Suomzilla is a reliable and efficient online advertising platform that offers a range of benefits for its clients.
From its advanced targeting options and detailed statistics to its managers and anti-fraud system, Suomzilla provides an easy and effective way for businesses to increase their online presence and boost their conversion rates.
Its easy-to-use platform and reliable traffic sources make it stand out in the crowded field of online advertising.
With its commitment to protecting client data and providing excellent customer service, Suomzilla is a top choice for businesses looking to grow their online presence.