Cornix offers a seamless and efficient way to navigate the complexities of the crypto market. Whether you're a seasoned trader or just starting, we'll explore its automated features, manual follow option, and how it simplifies the trading process.
Join me as we examine the platform's security measures, ease of use, and the diverse market opportunities it provides.
In this review, we'll also weigh the pros and cons, giving you a complete understanding of what Cornix offers.
So, let us begin.
Cornix Review 2023: What Is Cornix?
Cornix is a platform for trading cryptocurrencies that are made to work well for everyone, no matter how much you know about trading. They want to help both experts and beginners succeed in crypto trading.
Their platform lets experienced traders share their trading signals with newcomers. Plus, they have advanced automated tools and settings that make trading cryptocurrencies easy and profitable.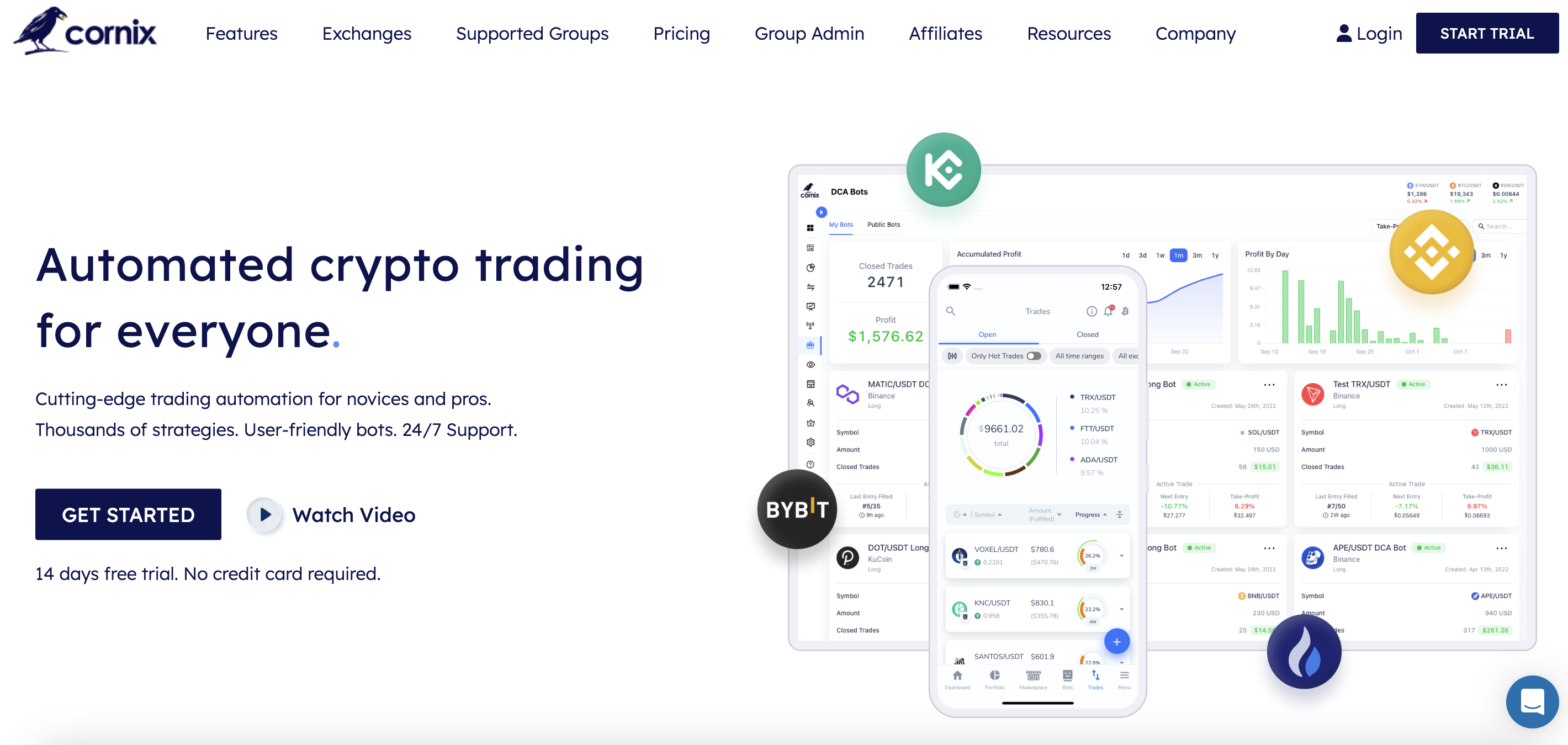 Their goal is to give people all around the world the ability to trade cryptocurrencies successfully.
Trading cryptocurrencies can be really tricky. The strategies can get very complicated, and trying to follow signals and copy trades by hand can be tiring.
They know this firsthand because they've been traders, too. They realized that trading can become a full-time job, taking up all your time.
As a team of tech experts, they decided to create a robust crypto platform that's also easy to use.
They wanted even people who didn't know much about trading to be able to copy the signals of successful traders automatically.
Cornix – Customer Support
Cornix prides itself on being a customer support-oriented entity, prioritizing the satisfaction and assistance of its users.
To achieve this, Cornix employs great tools like Intercom, a renowned customer support platform trusted by many professional entities, particularly in the tech industry.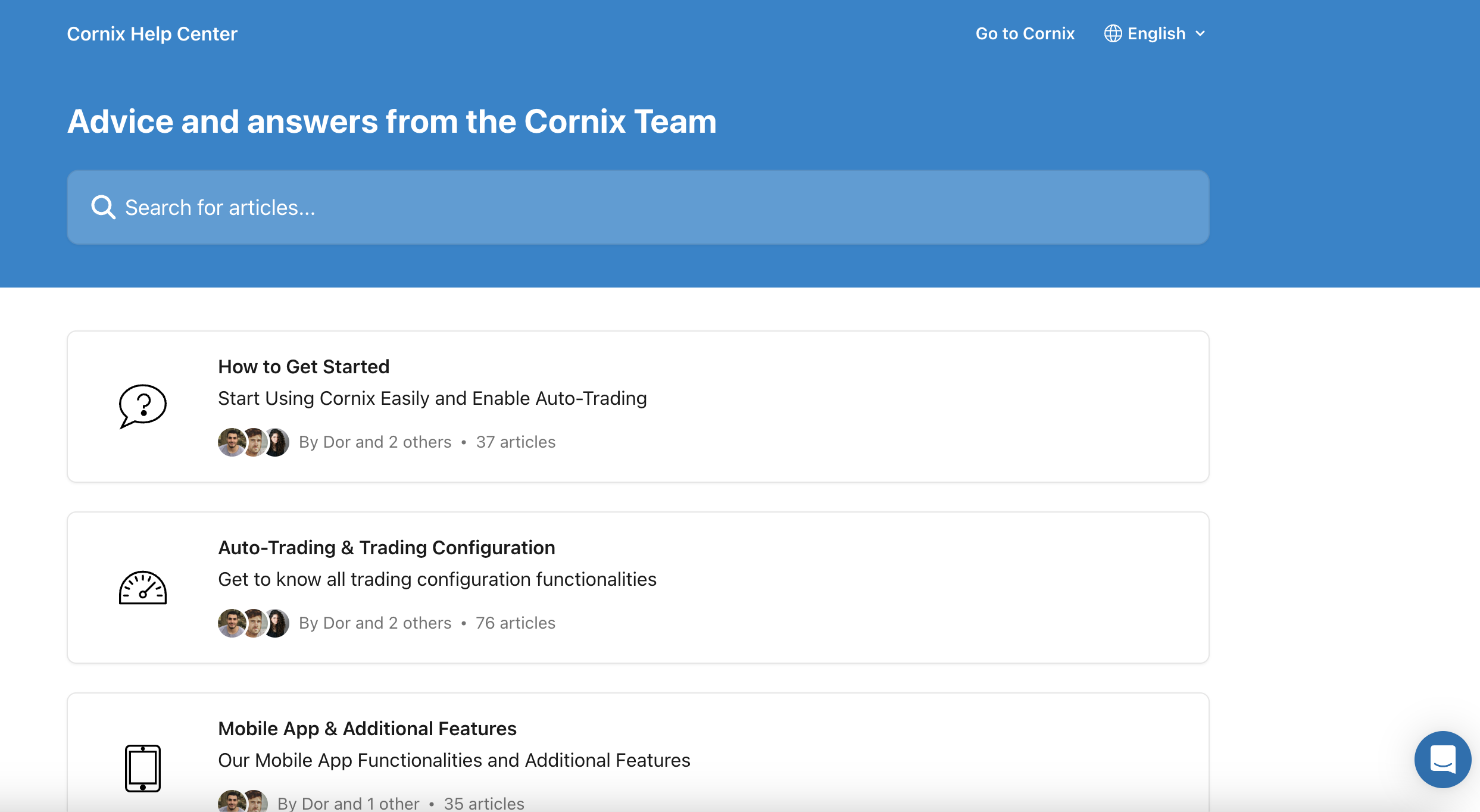 With Intercom in place, Cornix ensures that its customer support reaches a high standard. To make their support easily accessible, Cornix is present on various platforms, including chat via their website or Telegram.
Users can conveniently submit requests through the Cornix platform or reach out to them through these channels for prompt assistance.
One of the key factors that users appreciate about Cornix is the swift responsiveness of their customer support team. When users have questions, concerns, or issues, Cornix makes every effort to respond as quickly as possible.
This commitment to timely responses demonstrates the company's dedication to its customers' needs and enhances the overall user experience.
Cornix – Ease of Use
With an unwavering focus on enhancing user experience, Cornix revolutionizes crypto trading by streamlining the process of executing trades, ultimately providing traders with an effortless and efficient means to manage their crypto portfolios through mobile devices, eliminating the need for continuous exchange logins.
The integration with TradingView, a powerful platform for novice and seasoned traders, adds an extra layer of sophistication to Cornix's ease of use.
TradingView is a reliable and comprehensive technical analysis tool catering to the diverse needs of traders.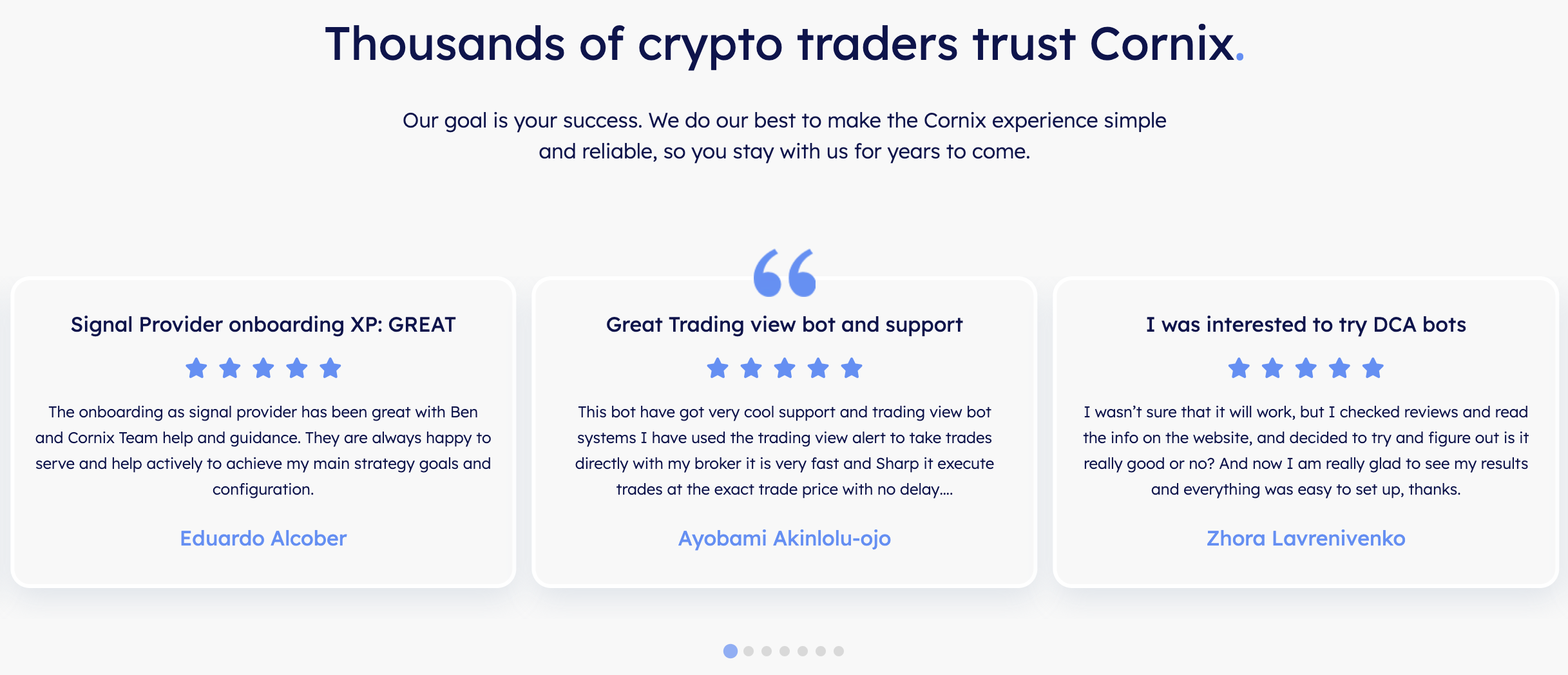 The platform's versatility and functionality naturally extend to Cornix, enabling traders to capitalize on its advanced alert system and Pine scripts.
These scripts, developed within TradingView's Pine programming language, encompass many trading indicators and strategies. 
Cornix ingeniously harnesses the prowess of TradingView alerts and Pine scripts, allowing traders to execute trades based on personalized indicators and strategies while diligently monitoring their performance.
One remarkable facet of Cornix's user-centric approach lies in its implementation of Dollar-Cost Averaging (DCA) bots.
These bots epitomize the quintessential "buy low, sell high" strategy, automatizing the process and significantly reducing the complexity associated with traditional trading practices. 
Cornix's DCA bots add the platform's commitment to facilitating traders in all market conditions.
Leveraging cutting-edge technology, these bots empower traders to confidently navigate dynamic market landscapes, effectively elevating their DCA strategies to unparalleled heights.
Cornix Pricing & How To Sign Up For Cornix
Step – 1: Go to the official website of Cornix and click on 'Pricing.'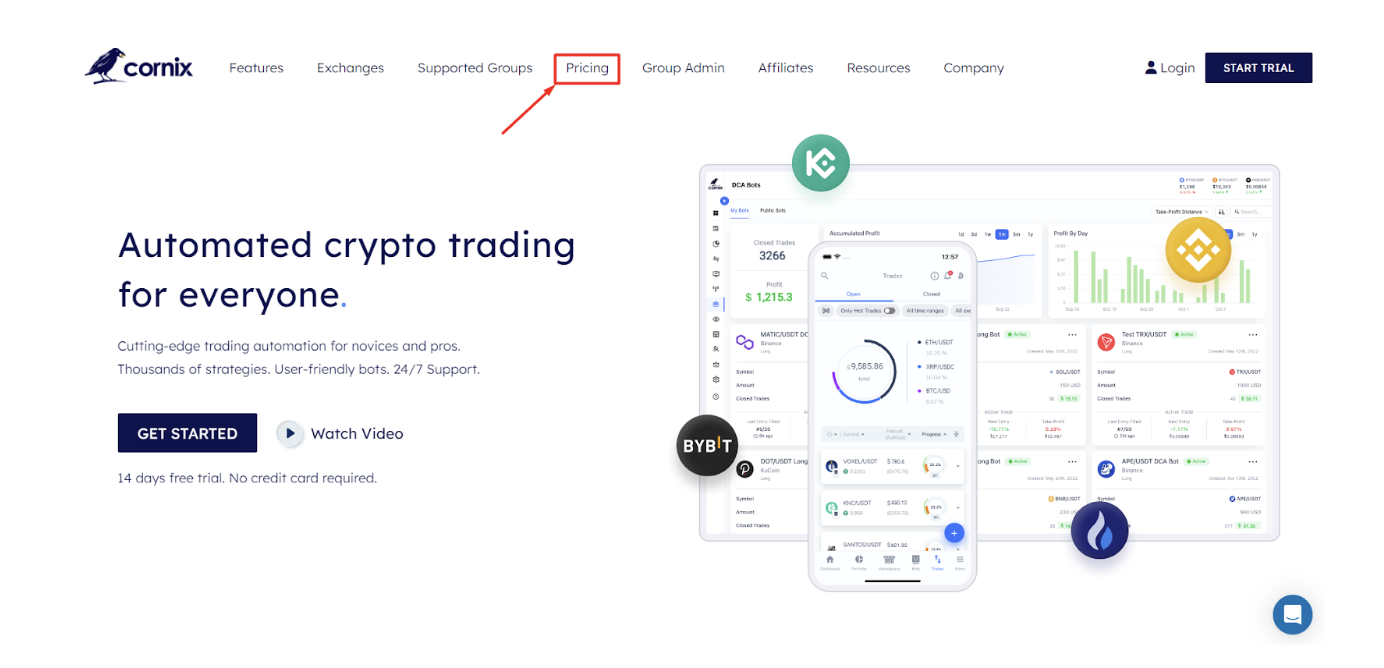 Step – 2: Choose a plan of your choice and click on 'BUY NOW'.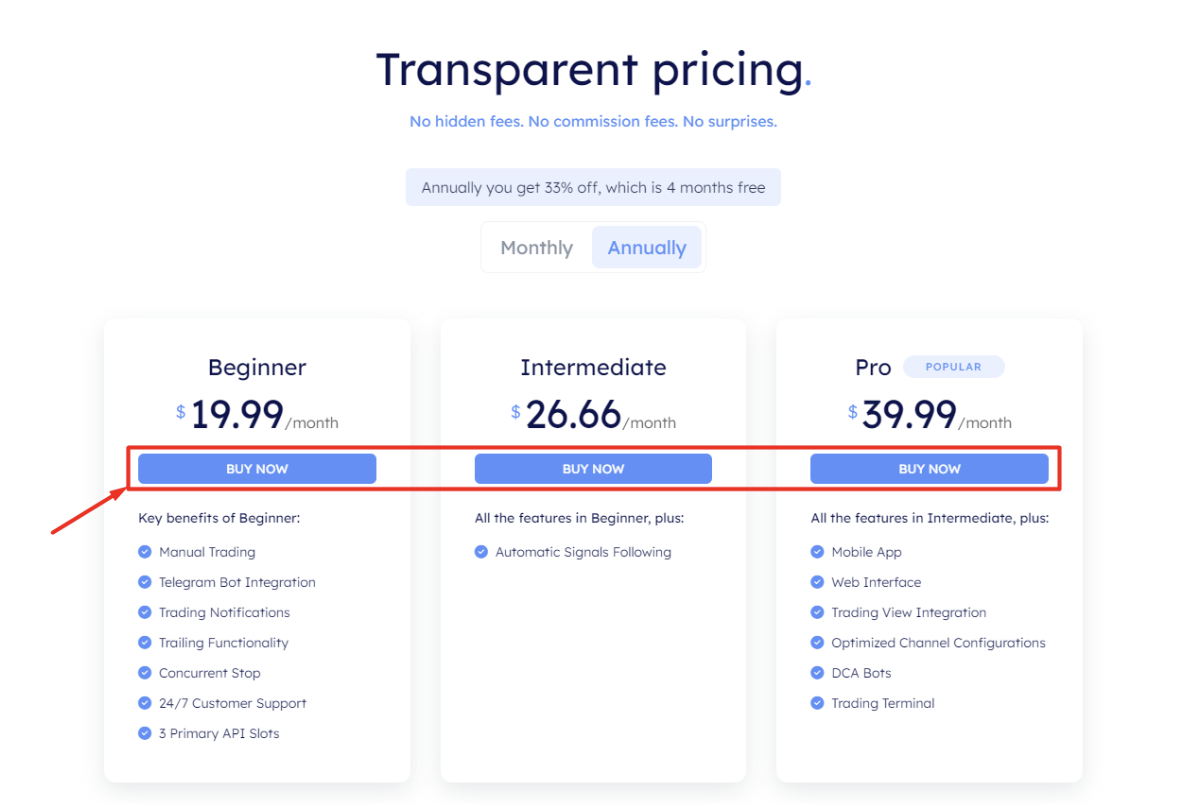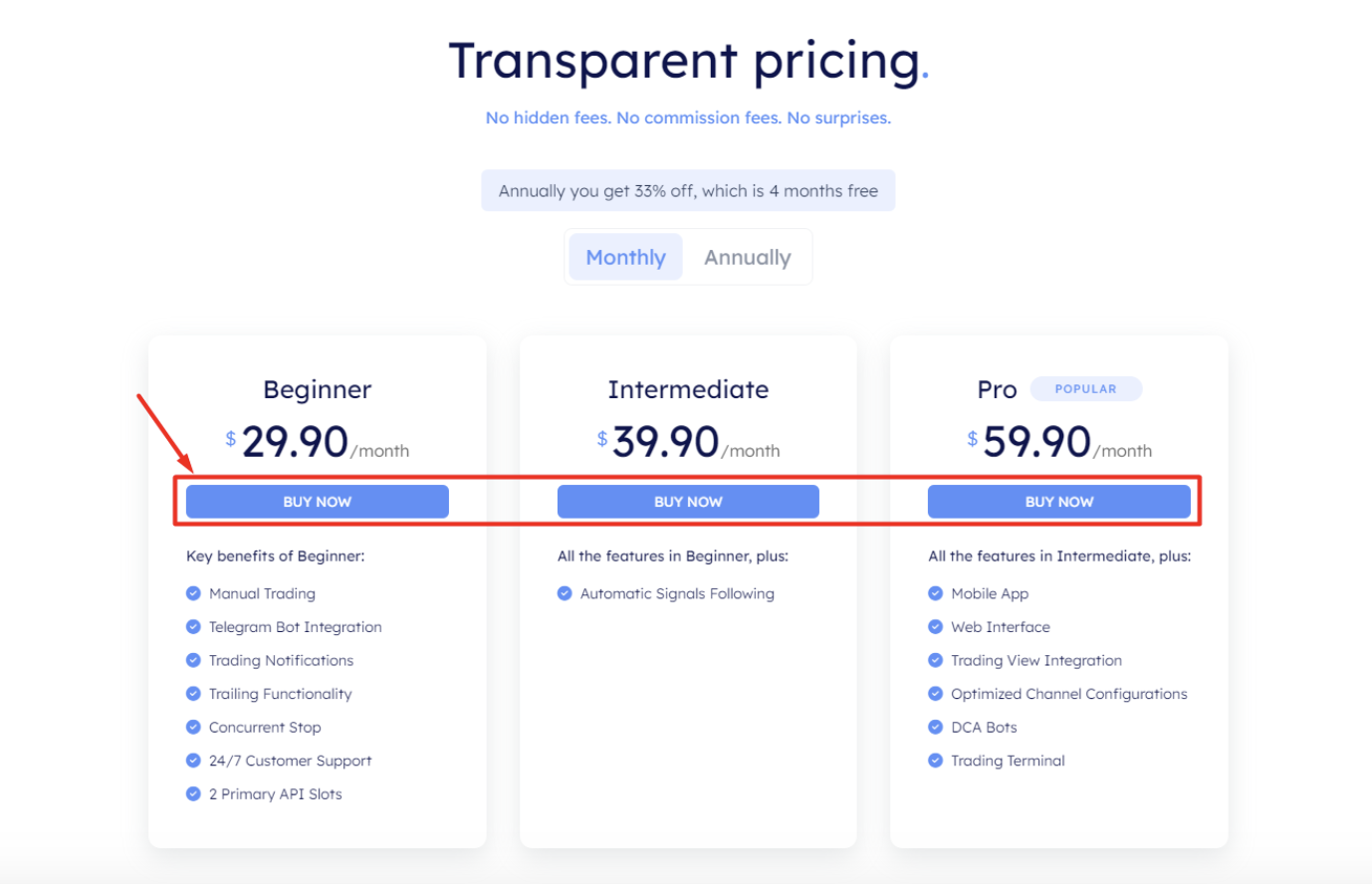 Step – 3: Click on 'Register'.
Step – 4: Fill in the details asked for, check the box, and click on 'Register'.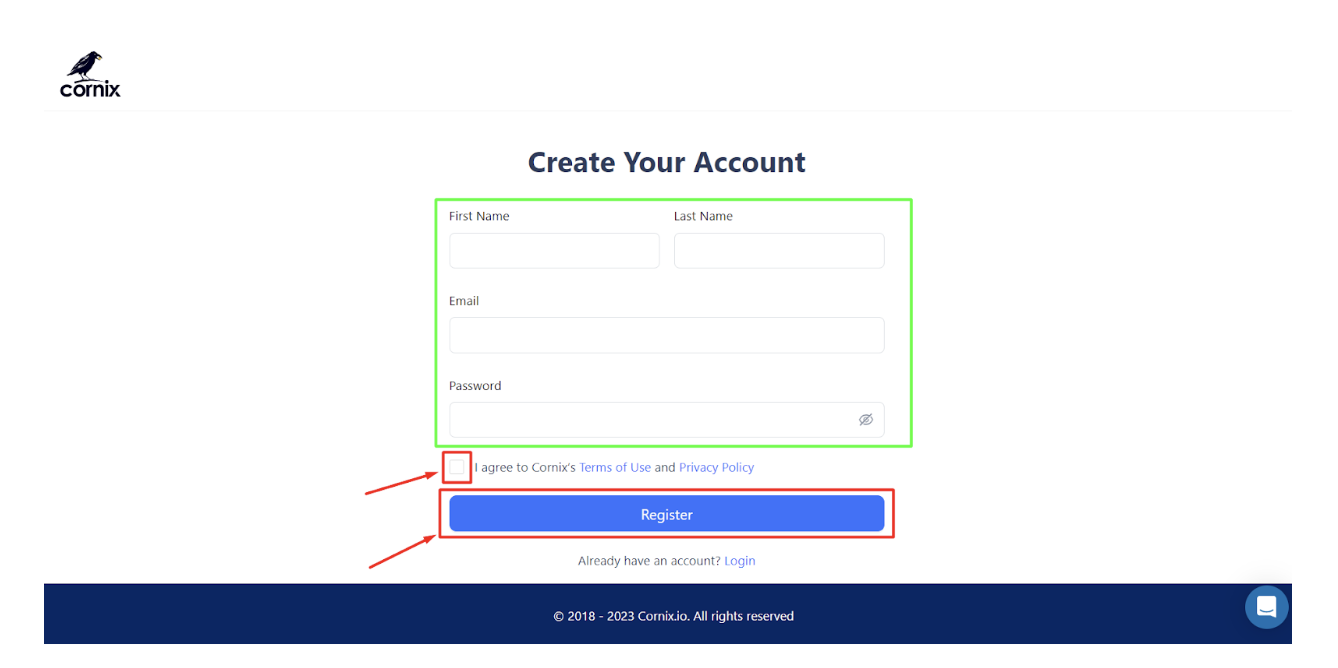 Step – 5: Fill in the verification code from your email and click on 'Verify'.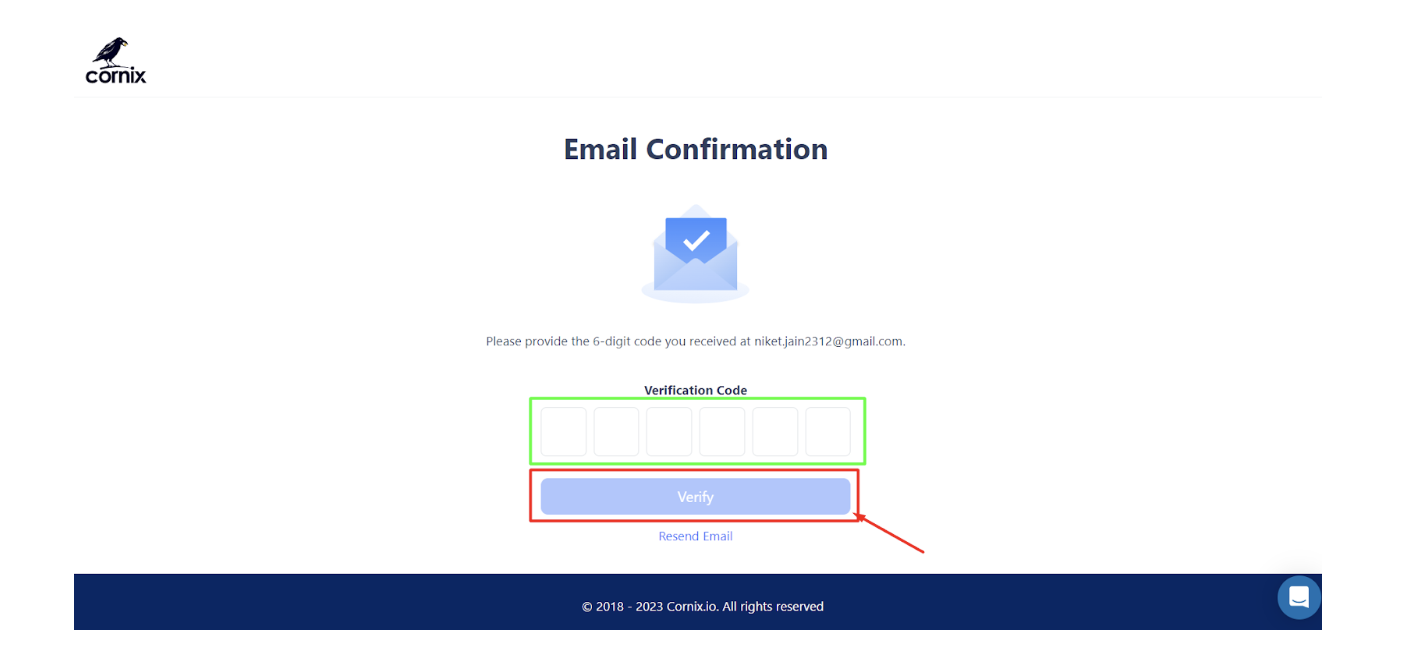 That is it. You are good to go.
Quick Links:
Conclusion: Cornix Review 2023
Cornix proves to be a valuable asset in the world of crypto trading. Its user-friendly interface offers convenience and accessibility for traders of all levels.
With automated features and a manual follow option, Cornix caters to different trading preferences, making it a versatile tool in the market.
The platform's emphasis on security ensures the safety of users' sensitive information and assets.
Although no system is perfect, Cornix proves to be a valuable tool that simplifies trading and enhances the overall experience.
Whether you're a seasoned trader seeking efficiency or a novice looking to venture into the crypto market, Cornix offers a promising solution.
Unlocking the potential for novices and experts, Cornix introduces a user-friendly experience requiring just a few clicks.
Seamlessly navigate the intricate trading landscape easily, harnessing the prowess of signal providers and proven bots.
Whether you're new to the game or a seasoned trader, Cornix empowers you to make the most of your trading journey effortlessly.