It is no longer a challenge to create professional web pages to reflect your company online. Website builders such as Duda and Wix ease the production process as much as possible.
Newbies do not need to waste time learning complicated scripting languages and web design tricks anymore. Both platforms have proven to be comprehensive tools for launching a solid web project of any kind, from small business sites and portfolios to digital small and medium stores.
But if you are confused about which one of the two is better, here I have a detailed comparison between the two website building platforms Duda Vs Wix.
Wix and Duda are both fantastic but each has both advantages and disadvantages. Wix has an immense library of templates but is the content good enough? Duda has no features, but is there anything better to offer instead?
For a time, both platforms were on the market. While Duda claims to have created over 12 million sites using its software, Wix boasts up to 148 million active users worldwide. It is high time we got the obvious winner defined! Every platform's costs will also play a part in your decision-making. Which platform provides better value for money?
So, let's begin with the Comparison between Duda Vs Wix
Duda Vs Wix 2023 | The Ultimate Comparison
Duda Vs Wix- An Overview
Before getting into the in-depth comparison of Duda Vs Wix, let me first walk you through a crisp introduction to both these platforms.
Duda Overview
Duda is a lovely website builder with all the basic features inside the pack. The program has a robust drag-and-drop editor, a range of mobile-friendly templates, and customization tools to build pages that look pretty good, but users shouldn't expect too much from its features. Duda is an all-in-one solution, meaning you don't have to worry about domain hosting, security, etc.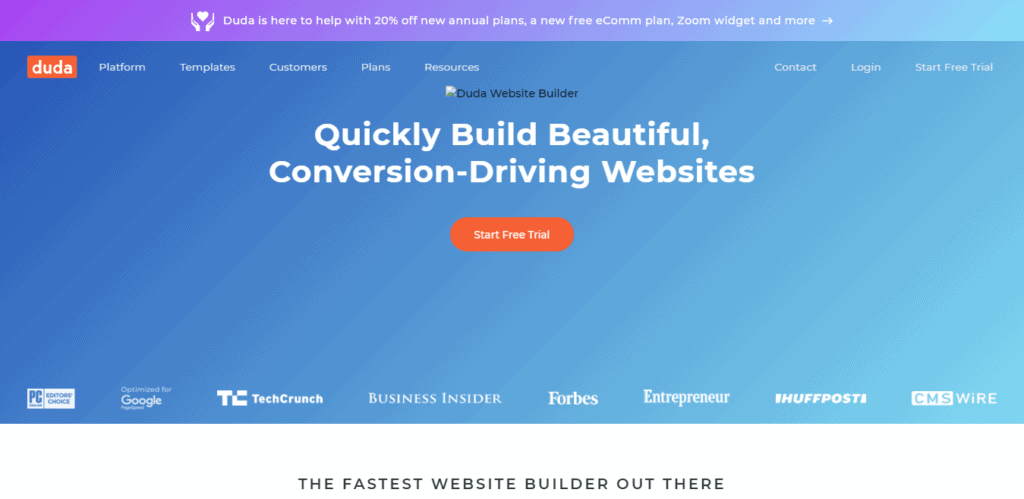 Wix Overview
Wix is a website builder that is internationally recognized and makes it easy to create excellent sites in minutes. To launch engaging and user-friendly projects the system uses the latest technologies and AI-based concepts.
It provides a wide range of choices and features out of the box allowing you to create virtually every form of online projects, whether selling several items online is a beautiful professional portfolio or an online store.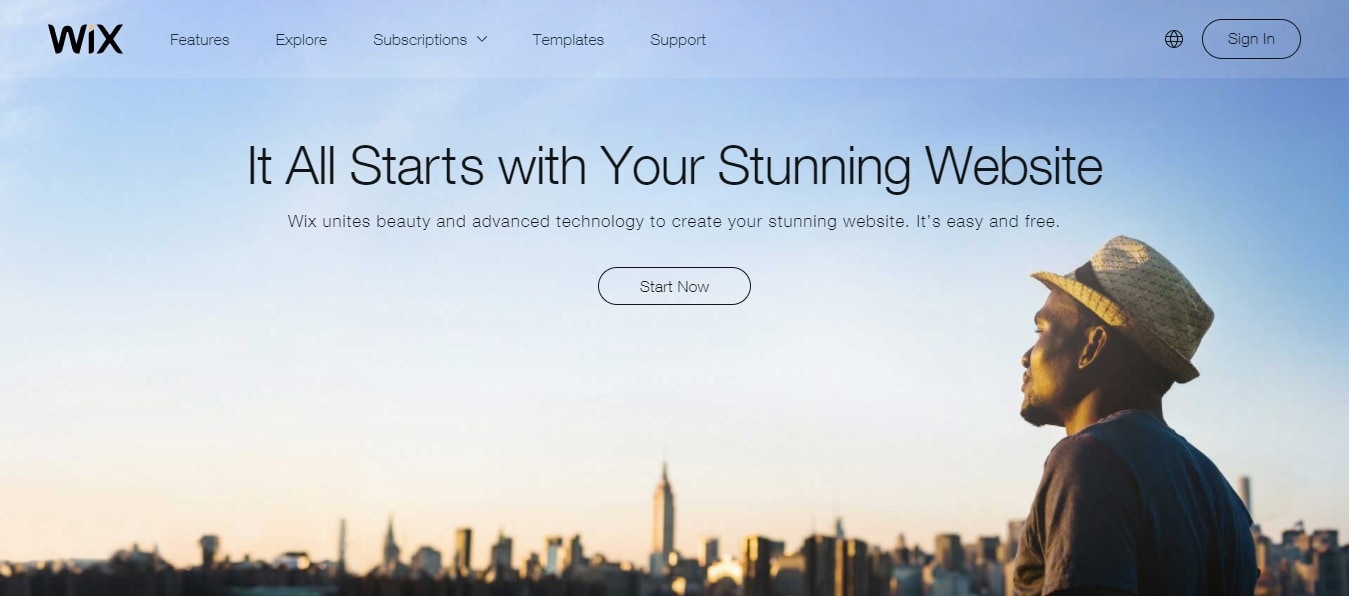 Duda Vs Wix- User-Friendliness
If you don't find it easy to use the platform, then it already goes off the cards for you! Keeping that in mind, both Duda and Wix have tried their best to find unique ways to make their platforms as user friendly as possible for users. Let's learn more about this!
Duda- User-Experience
To ensure ease of use the platform was launched. In addition to its improved website builder, it has a drag-and-drop feature. Its main feature, however, lies under the CSS and HTML coding. First, newbies can select from a range of typical ready-made platforms. On the other hand, without at least basic coding skills, they would not be able to customize the pages entirely.
You will surely appreciate what all Duda has in store for you if you are a dedicated pro:
Duda has no own marketplace, which is obviously a big miss! But it still helps you to build your own version. You can introduce analytical tools, build countdowns, image effects, etc. by accessing website code.
A great opportunity for experienced technicians to enter the coding environment of the website, and make all necessary changes and improvements.
A successful extension for constantly on the go men. The option allows you to access the dashboard directly from your mobile device as well as make changes depending on which gadget your website targets are.
Duda is far from being a website builder which is super easy. As some technical knowledge is still needed. If you decide to use custom templates, you might find certain issues a little frustrating. The growing section, for example, takes its predetermined position on the list. In other words, they have no hope of being transferred or substituted. You can still rotate, change colors or fonts without any coding though.
Wix- User Experience
The key mission of the website builder is to provide a trouble-free construction method to beginners and people who have never dealt with this form of program before but who want competent online representation. From instant signing to the intuitive dashboard and various website building tools in the package, a professional site will be ready in a few minutes! Here's what we got:
An automated ultrasonic system that uses Artificial Intelligence to build websites for you. The cycle involves many easy and rapid steps. Provide your site type info, business niche, layout preferences, and get the project 100 percent ready for launch with all the apps, widgets, elements, and blocks required.
The algorithm will generate relevant content from your Facebook page which processes the information. You don't even have to type while you do have an opportunity to make all the changes you need.
The option will work great for those with no technical background who still want to be involved in website building. Users are free to build the site by adding new pages, elements, and widgets blankly or by using a ready-made template from hundreds of categories and changing it according to their needs. The Editor is a better choice if you are looking for expanded add-on versatility.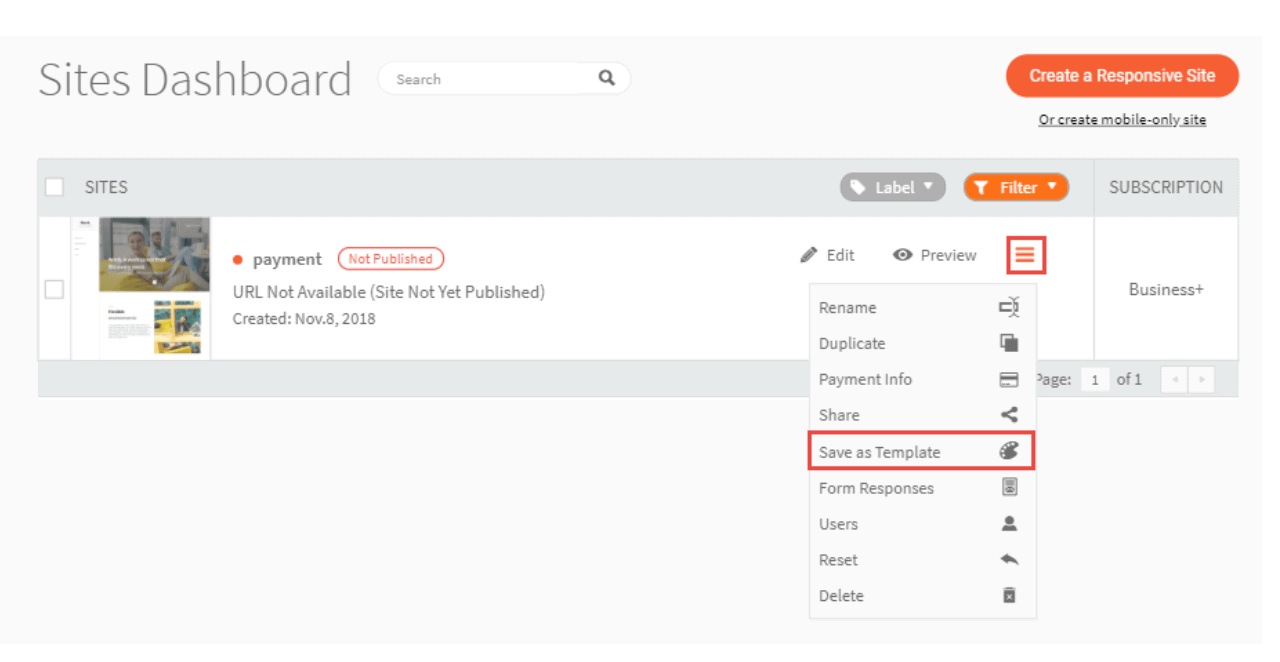 Wix is one of the simplest tools accessible for building websites. It makes it easy, in several minutes, to launch a professional site without overestimating. That's why it's the # 1 choice between users with absolutely no technical abilities.
Verdict- Wix is Winner
In this round, Wix is a clear winner. Compared to Duda, which still requires some CSS or HTML knowledge not only to create new elements but also to customize existing ones that come with ready-made templates, it is much easier to use.
Duda Vs Wix-
Features
Both Duda and Wix have been acknowledged by various critics and users as being pretty nicely loaded with tools and features that are useful and powerful enough to help you build a good looking and stable website for your brand or business. Here is a description of some of the highlight features offered by both platforms.
Duda Features
In terms of functionality, the framework should work out. Although users shouldn't expect a lot of bonuses, Duda can still have a range of functions. They include a solid blogging feature, integration with the HTML / CSS snippet, SEO settings, etc. The program, on the other hand, also comes with some noticeable fails. Significant features include:
The functionality is specifically for those with experience coding with HTML or CSS. If not, why would you even be using it? The Editor encourages the creation and installation of new widgets and snippets anywhere on the web. That wouldn't be necessary though if Duda had its own App Market, it doesn't, unfortunately.
The function is performed professionally. Using ready-made templates you can create beautiful blogs as well as manage posts, remove content, incorporate RSS feeds and share your latest posts through social networks. Users may opt for a blogging theme that's ready-made and build their own.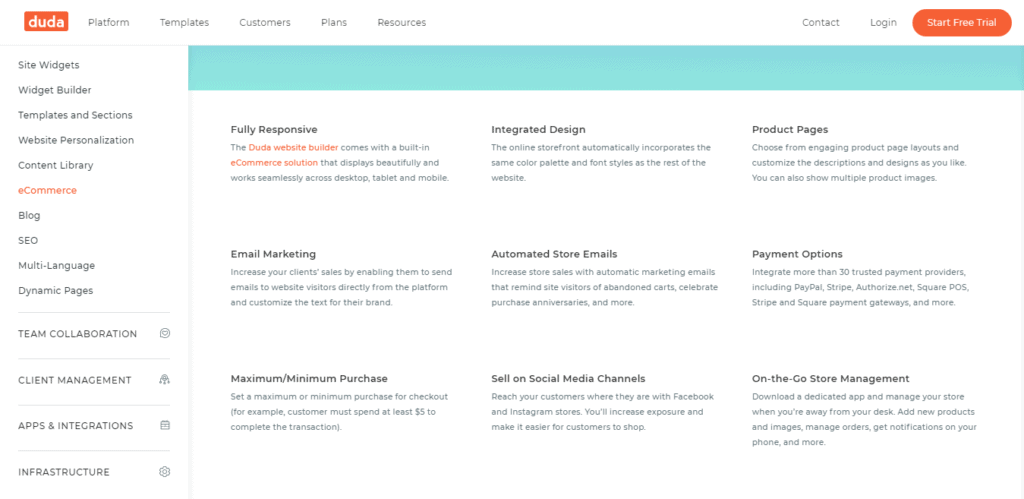 Besides free SSL that comes with every Duda plan, the Code Editor may also be handy for professional SEO experts. Beginners should take advantage of the automated SEU Wizard to work with essential settings.
The platform provides various product page templates that can be personalized. Upload pictures, type in detail, pricing, etc. The program supports as many as 30 different payment methods including reputable names such as PayPal, Stripe, and Authorize.net. The program also has other promotional resources like discounts, email marketing, etc.
The overall feature set isn't poor though the absence of a custom App Market is very evident.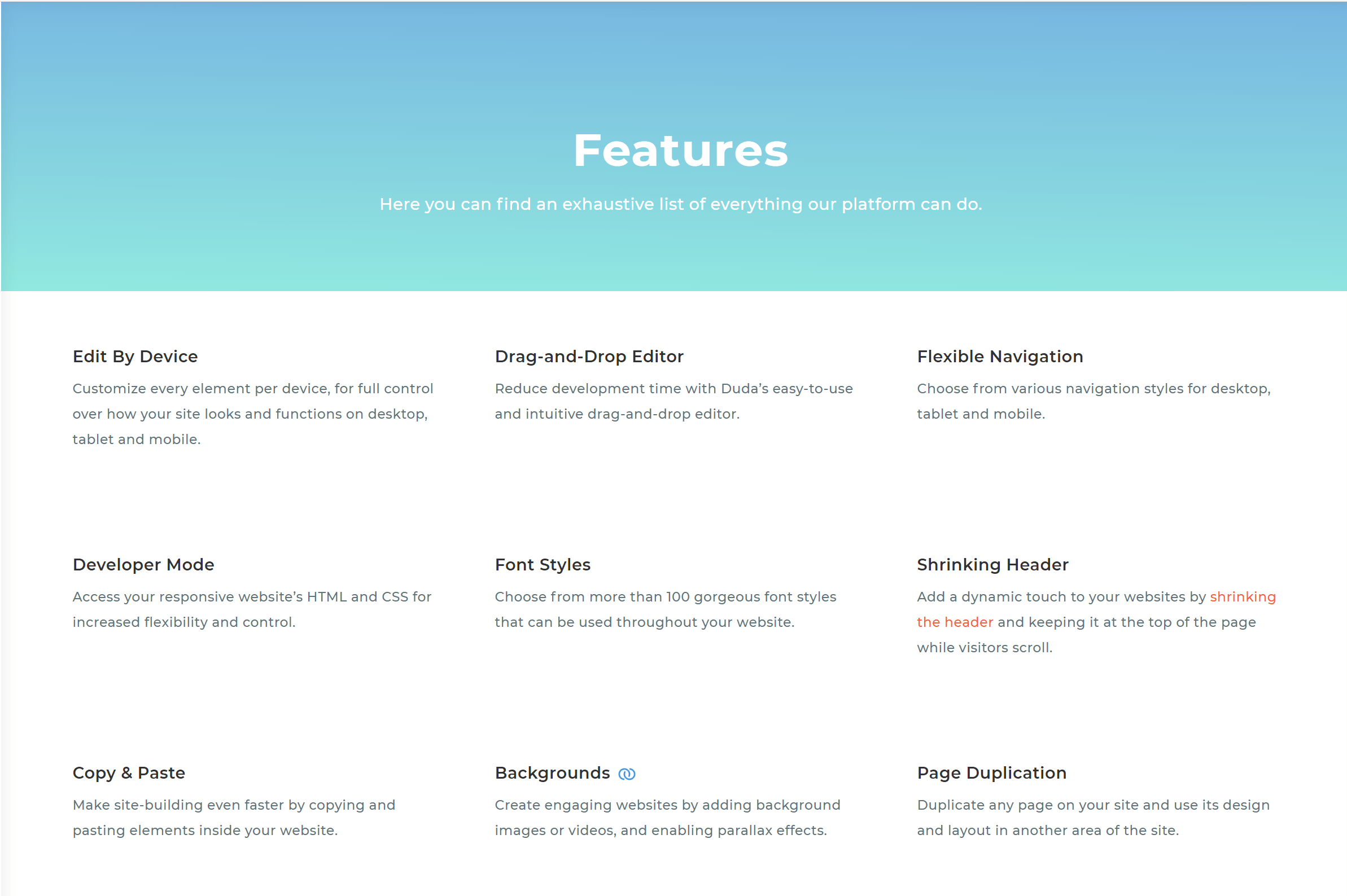 Wix Features
The website builder is filled with apps, literally. In addition to its AI-based technology and editor, Wix boasts over 300 different widgets and add-ons on its massive free marketplace. This also has a superb blogging feature, eCommerce capabilities, and more. The main characteristics include:
Possibly access the widest range of free apps and add-ons available. Develop beautiful image galleries for your forums, add contact forms to get more users and extend the mailing list, develop calendars to view previous events, incorporate analytics to monitor your traffic and identify the most popular channels. The widgets are all absolutely free. You can add them to just one click on the page.
Wix makes the development of SEO-friendly websites easy. Using the pack of extensive SEO strategies, you can use advanced settings to edit custom URLs, create SEO-optimized titles and descriptions for pages or blog posts, use preview mode or gain from automated SEO Wizard.
The functionality comes in premium plans. It has been specifically built for projects relating to eCommerce, including small or medium digital stores. The function has a simple product manager in which you can add new products, mages, descriptions for editing, SEO settings for the fine-tune product page, etc. Users will also be given the necessary tools to set tax and shipping sections, to run loyalty programs and to promote them.
You will keep the process of creating the website under control 24/7. Wix also offers Dashboard control through a mobile device. The platform supports both Android and iOS.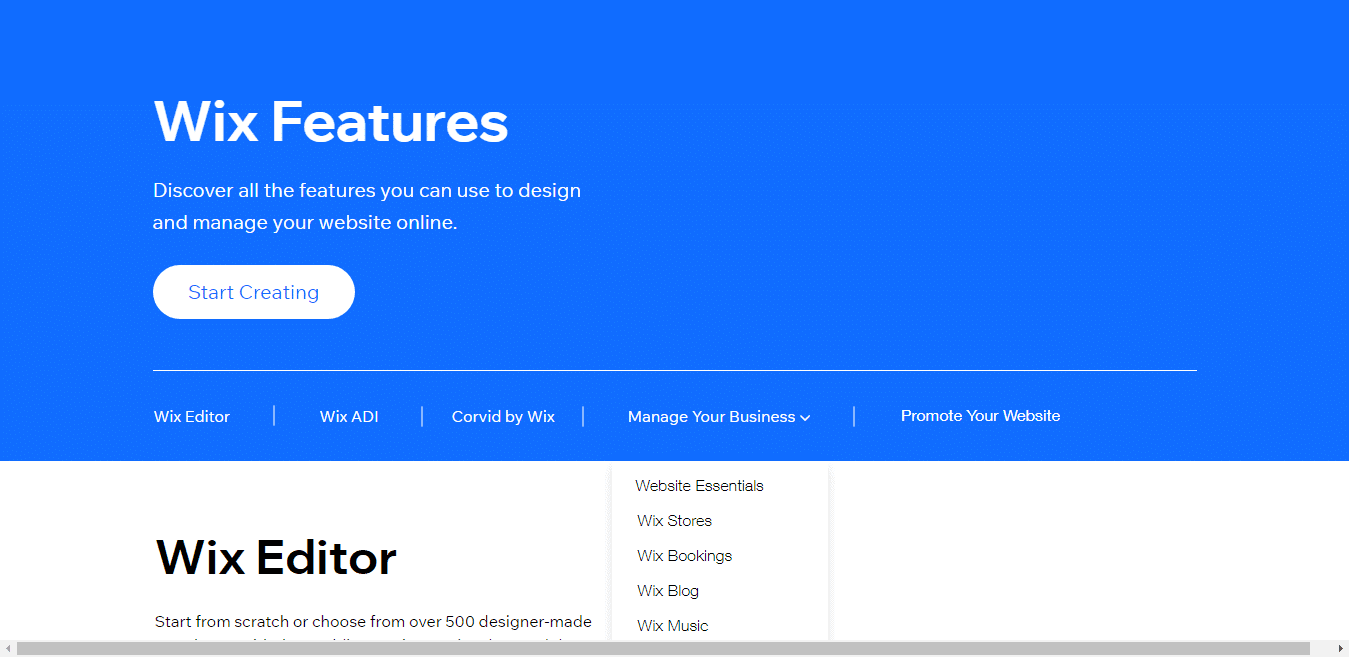 Verdict- Winner is Wix
In terms of functionality, Wix seems more flexible. While Duda has sufficient functionality to create different types of websites, it does not have its own App Market. This means you'll need to build a single widget from scratch. Is it worth it, really? Likely, not.
Duda Vs Wix- Design
The more themes, templates and editing options you have at your disposal, the better the website builder is considered to be. Here is a description of the design models and options offered by both Duda and Wix to users.
Duda Design
Currently, the Duda offers over 90 different templates. They are filtered through categories that allow users to choose between business, lifestyle, portfolio, services, one-page layouts, and more. All templates are open to a smartphone and look stylish. What theme has a specific layout which relates to a specific category? Although some sections contain dummy content, editing it and setting your own texts is free.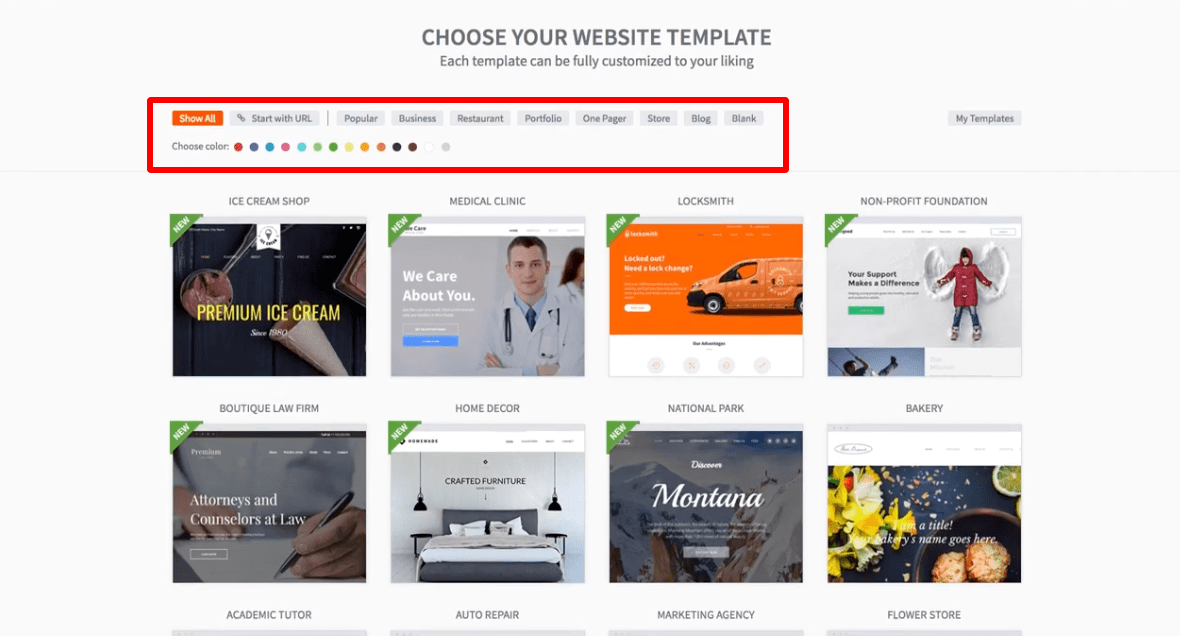 All models feature a preview. So, don't try to pick the one you want first. Take your chance and look at them before editing although the template can still be changed during the customization process. The program saves all revisions allowing to roll back to or continue from the blank version of the previous tab.
The app has a specific method for developing mobile web pages and getting the most out of the mobile public. The editor can be accessed from the smartphone or tablet to make changes or modifications available on the go.
Wix Design
Users can use up to 550 different mobile-friendly models in hundreds of different categories. If you need a blog, a website for small companies, an online store or a portfolio, Wix has all this in one location. Practically all the themes have built-in applications and niche-related custom widgets. You don't have to do much tailoring.
Users can choose from numerous layout styles while Wix Editor makes moving blocks simple, resizing pieces, adding new elements to ready-made templates, editing content, uploading images and videos, etc. Combined with the drag-and-drop features, preset designs offer enough flexibility to build any style.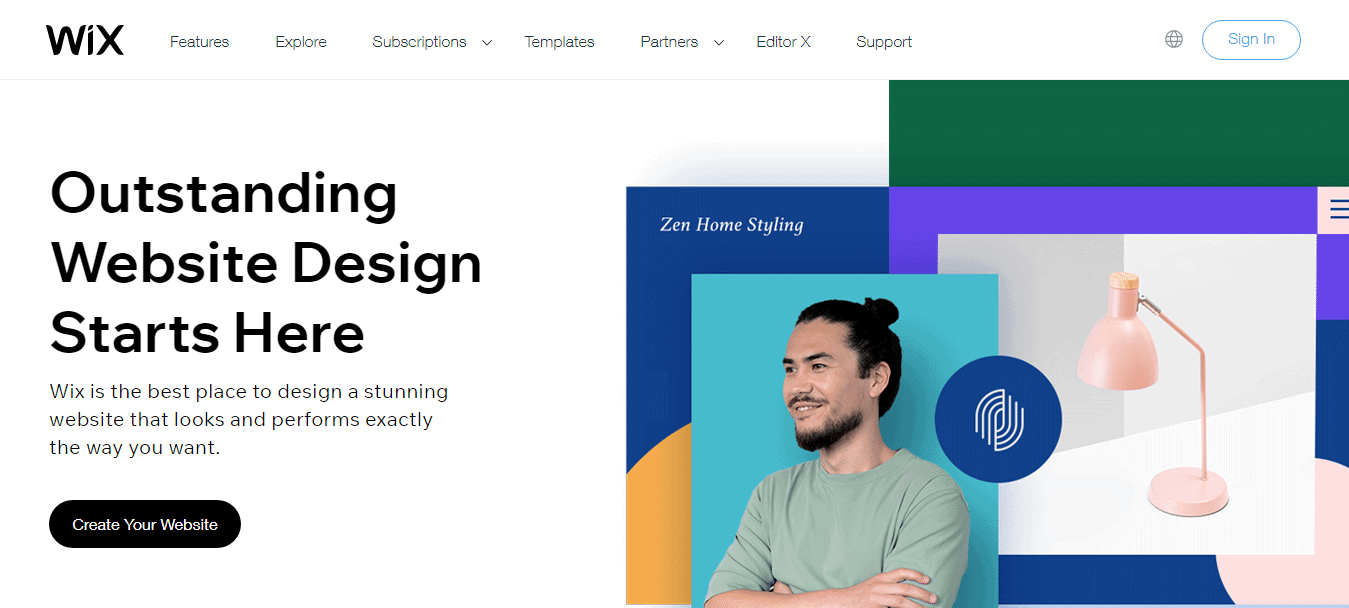 Duda vs Wix: Design Comparison Overview
| | | |
| --- | --- | --- |
| | Duda | Wix |
| Number of templates | 90 | 550 |
| Theme import | ✘ | ✘ |
| Visual editor | ✔ | ✔ |
| Theme change | ✔ | ✘ |
| Mobile optimized | ✔ | ✔ |
Verdict- Winner is Wix
Wix offers a greater range of models. They are extremely simple to edit or change but working with templates on Duda can also require some technical skills.
Duda Vs Wix-Customer Support
If you ever run into some kind of trouble or technical difficulties, be it trivial or complicated, you would want to get in touch with the customer support team for help at the earliest. Both Duda and Wix are known to provide very good customer support facilities to users, which are explained below.
Duda Customer Support
Customer service is very frustrating here. On the one side, users can rely on a huge knowledge base located in the section of the Support Center. You can find here guides and videos explaining the steps of working with the website designer. At the same time, it includes papers on technological problems, marketing materials, news on the latest changes to the program, etc.
In addition, developers at Duda frequently hold webinars and meetings, share success stories, etc. Developers Portal may also be carrying a number of posts and explanations. Users can opt to get in touch with a traditional mailing system. It normally takes several hours for the support managers to respond. There is a feature of Live Chat. This feature, however, is only available with the Team and Agency plans.
Wix- Customer Support
Wix has an extended range of tips and tutorials on how to get started, edit templates, build SEO-optimized content, etc. Here you can ask questions, search for resources you need or opt for a Wix blog with loads of articles related to website marketing, design and other critical issues. In addition to the Wix forum, the system has a traditional ticketing system.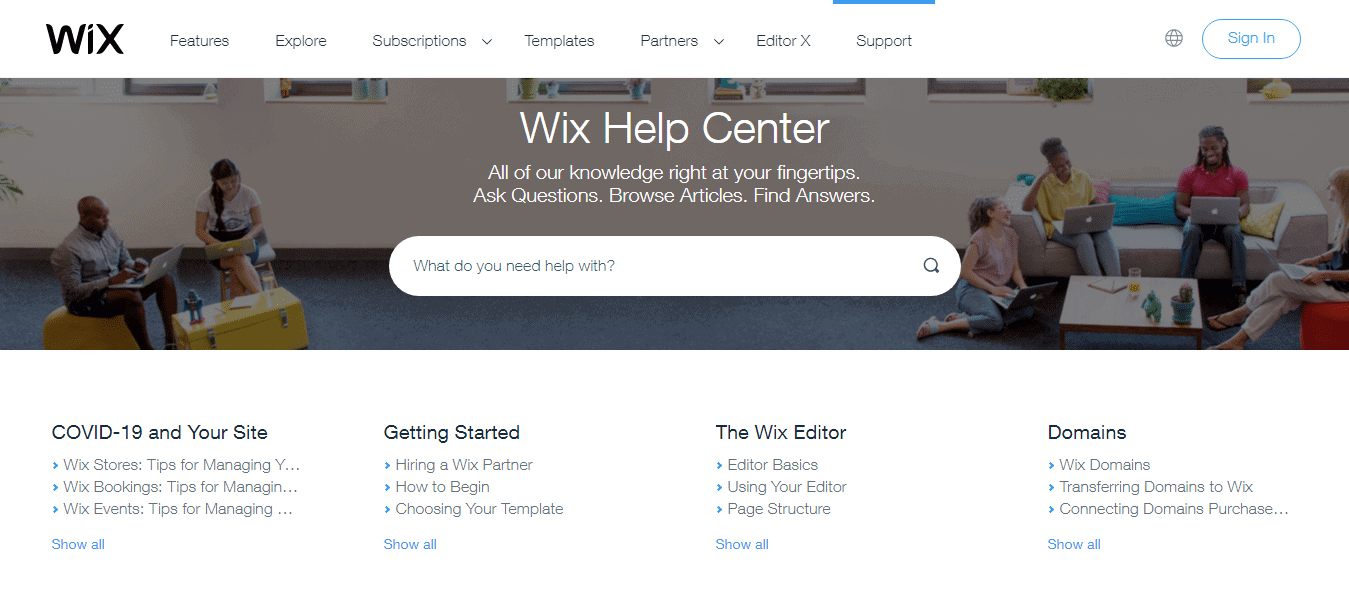 Verdict- Tie
Both services have strong support from customers. Consumers would never find answers to any questions hard to find. Some of the Duda 's options, however, are available only on more expensive corporate plans.
Duda Vs Wix-Pricing Policy
Pricing is perhaps one of the most important parameters you must consider when comparing any to products or services. The price breakdown and comparison of Duda and Wix are given below.
Duda Pricing
Users have the option of trying the free trial of Duda within 30 days. They'll then have to pick from 3 of the packages available. They cover:
Single website

Basic Plan

 costs $14 a month + hosting and email support. The program lets you sell as many as 10 items

Team Plan

 costs $22 a month for all basic features + additional support and enhancements for team collaboration.
The

Agency Plan

 costs up to $74 a month for up to 8 websites, priority service, etc.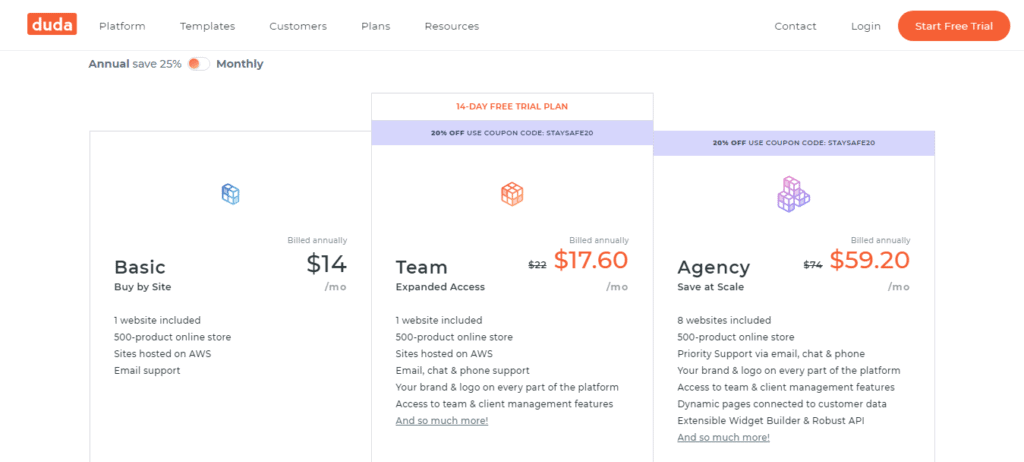 Wix Pricing
The framework seems to be a more affordable solution, especially given its free version, although it will hardly meet the long-running and those online project expectations. But there's still one left. The Premium Wix plans are:
The

Combo Plan

 costs $13 a month with no Wix ads except 2 GB storage and 3 GB bandwidth. A strong platform and portfolio choice for small businesses.
The cost for the

Unlimited Plan

is $17. This is perfect for entrepreneurs and freelancers. The kit contains limitless tools for storage and promotion.
Online production of a recognized brand name costs $22 a month for the

Pro Plan

. To stand out, build a completely branded site with your company logo.
The

VIP Plan

costs $39 per month for all preceding features other than VIP support, analytics, priority response, etc.
Wix offers separate packages for Business and eCommerce projects. They are as follows:
Business Basic – In addition to eCommerce integration, you get all website kit functionality for $23 a month.
Business Unlimited – in addition to 10 video hours, professional logo, and social media logo files, you get all the eCommerce apps for $27 a month.
Business VIP costs $49 a month with all preceding features plus VIP support and priority response.
The Enterprise costs $500 a month for caving companies to expand their business and profit from the individual operation.
**There is a 14-day refund policy on each of the premium plans.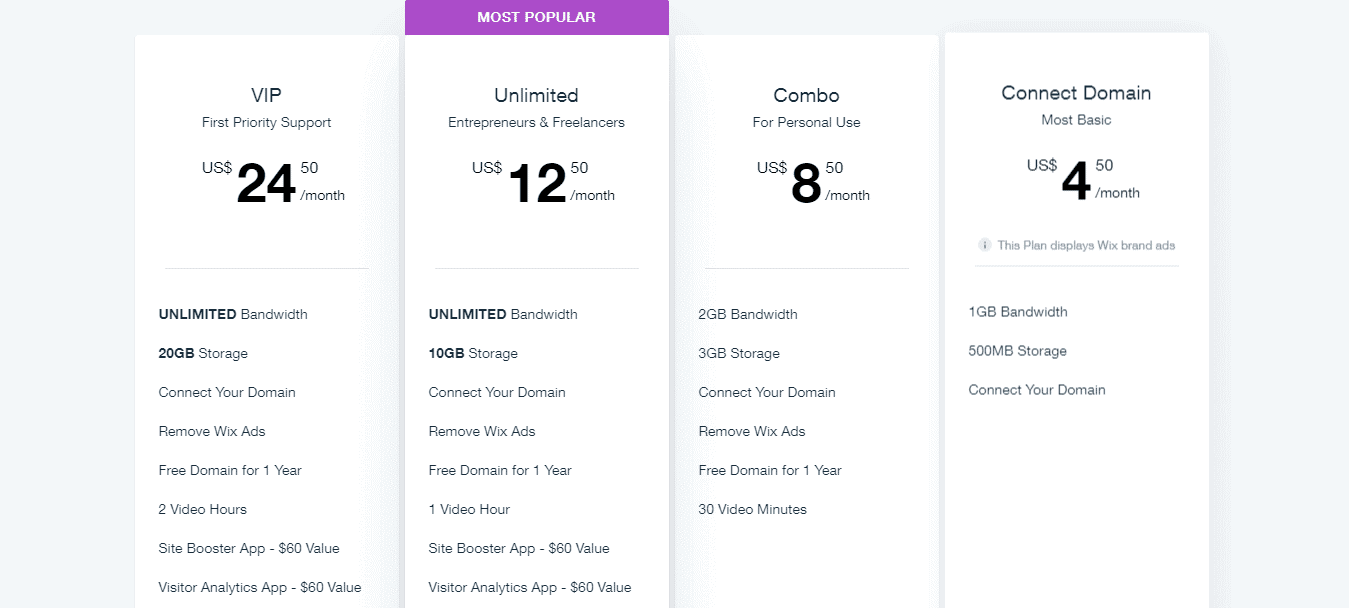 Verdict-Winner is Wix
Wix offers a wider range of plans which allows users to choose the one they need. Although eCommerce plans look a bit pricy, in case of an annual subscription you can save up to 45 percent. At the same time, in addition to free domain links and more, the company frequently offers discounts of up to 50 %.
Quick Links
Customer Reviews
Duda Customer Reviews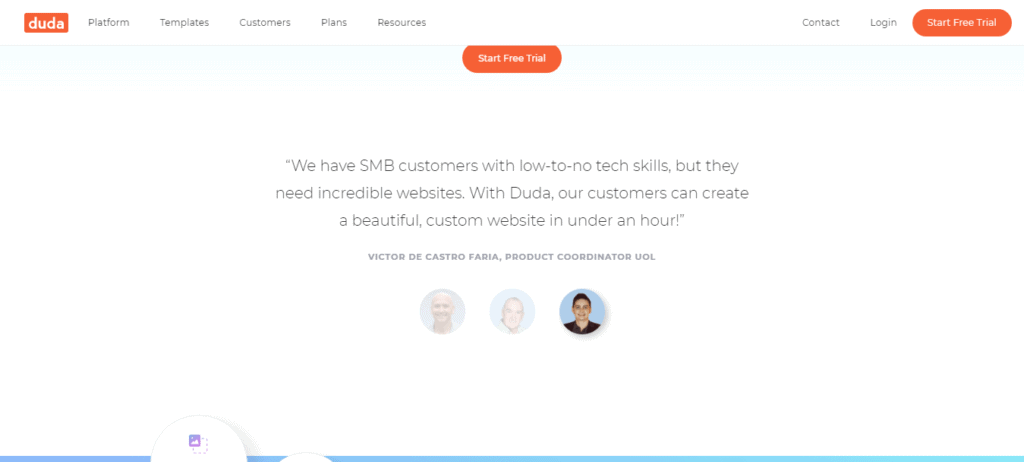 Wix Customer Reviews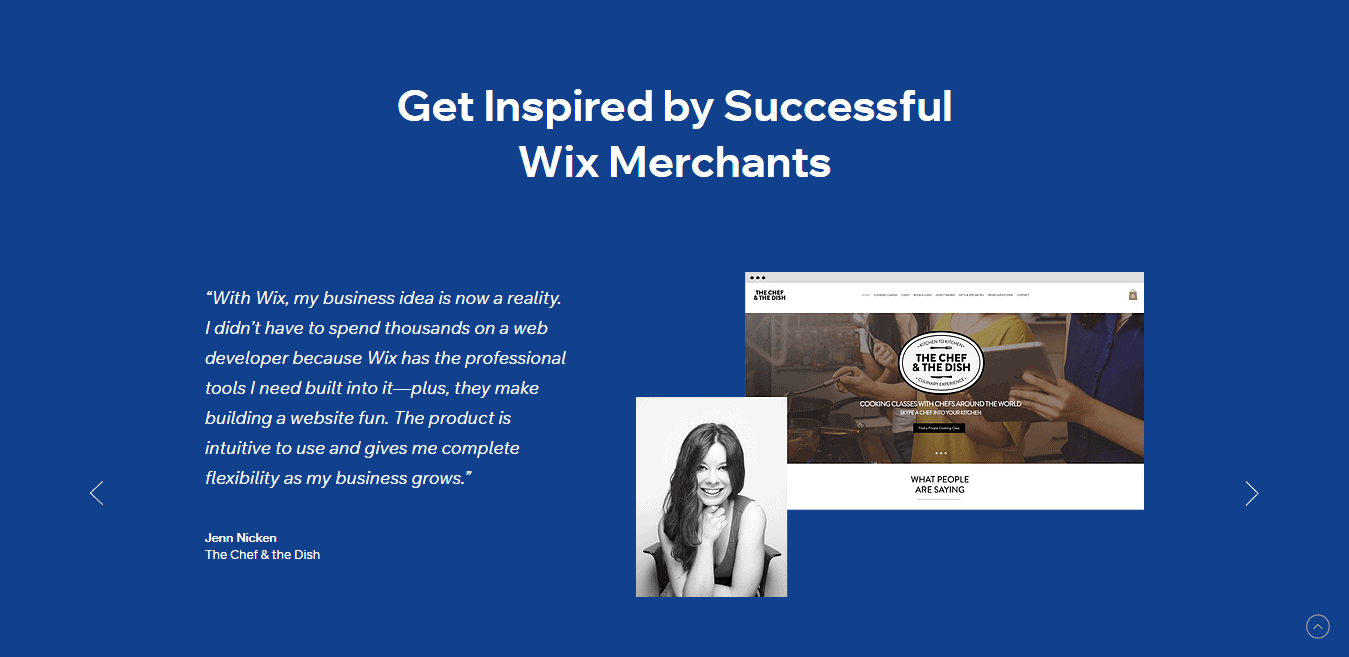 Conclusion 2023– Duda Vs Wix – Which One is Better for you?
From an overall comparison, you may clearly conclude that Wix trumps Duda in most of the rounds to come out as the better website building platform of the two. However, there are some areas, where Duda does manage to trump Wix, which includes cheaper pricing of packages. So, it really does depend on what your requirements are!
All in all, I can break down the conclusion into the following 3 key points:
You will consider Wix a cheaper choice than Duda if you want to run a larger e-commerce store (i.e. more than 100 products). Duda's 2,500 product plan adds up to your price by about $20 a month.
If you want to create a website with loads of videos or hi-res images, go for Duda, because it provides more storage space for a better price than Wix.
If you don't want layout constraints to hold you back then Wix would probably be the best choice for you. The huge range of templates that Wix offers also means that your website will really stand out.
Hopefully, This comparison between Duda Vs Wix will help in guiding you to choose the best website builder as per your requirements.