Professional website development has become a smooth and fun task today, courtesy of Content Management System (CMS) platforms like WordPress, Wix, and Weebly.
These platforms have made website building such a hassle-free experience that anyone today can build a website in less than 20 minutes, without hiring a professional website developer!
Anyone looking for a good and secure platform to create their website often looks for one that provides an array of resources, functionality, and an easy-going approach to the website development process.
The program will allow quality projects, including company websites, portfolios, web stores, landing pages, and more, to be started and managed then.
So, when you're browsing the web for a CMS platform that can help you create your website the way you envisioned it, you'll be bombarded with various links and reviews from different website builders claiming to be the best.
While a majority of the people prefer using WordPress or Wix for building their dream websites, there is a new kid in town that is giving a tough fight to the veterans in the website building game, and that platform is called Duda!
Duda is a popular website builder which allows users to create fast, modern, and mobile-friendly websites. The platform was launched in 2010 and provides web professionals with a variety of specific tools for importing existing customer content directly into a website prototype from across the web or any organized dataset.
Optimized for speed and reliability at all stages of the site-building process, our customers average a 50% decrease in production time after the move to Duda is made. Duda further makes sure that language is not a barrier for their customers by offering multi-language support for over 55 languages.
Duda Website Builder Review 2023– Is it worth the Hype?
Duda Website Builder Overview!
The user-friendly and intuitive drag-and-drop website builder from Duda lets you speed up the process of creating your site by allowing you to create libraries of elements across projects.
It allows you to easily replicate any page on any website and use its layout and design in additional parts of the same website, or for multiple website customization. Also, you can use it to delegate individual site parts to different team members for implementation.
The content import function of Duda allows you to automatically gather content from the current website or digital library of your customer and import it directly into your content library. That way, all the details, and visuals are centralized in one location.
In addition, you can add various widgets to the pages, including a contact form, pop-ups, comments on Disqus, online scheduling, and charts. You can also use the Duda Widget Creator to create your widgets.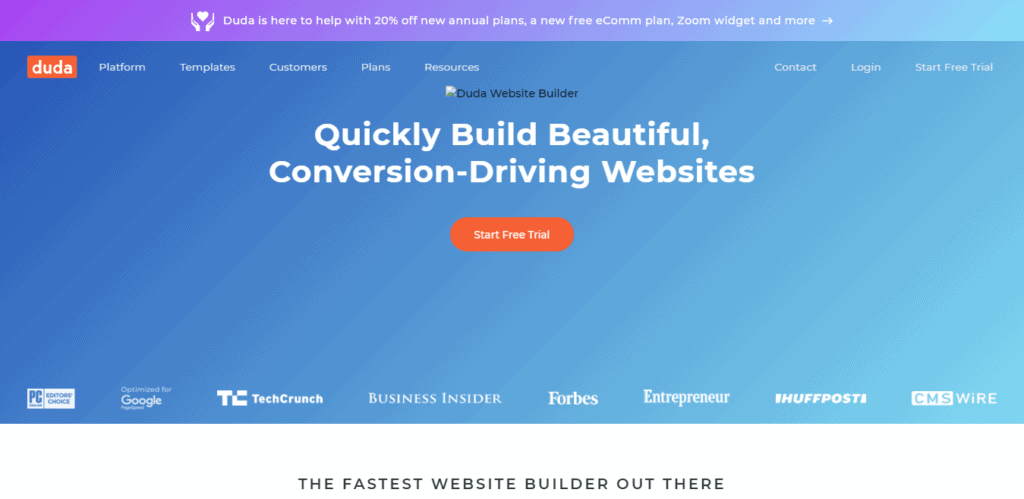 The function of dynamic pages allows you to design a page once, and use it to create several pages.
Every page generated this way will have the same layout but different content will be based on the dataset that you are plugging into. This connected data function enables quick and scalable website development powered by the API.
What's more, each feature can be personalized by device type and you can determine how you want your sites to look and work on desktop computers, cell phones, and tablets.
Features of Duda Website Builder
Editor layout
Duda's editor looks a little bland, but it's also fast and lightweight, making sure even complete website builder novices feel at home quickly.
To add design elements, create and manage pages, change site-wide settings (backgrounds, text types, material appearing on all pages), create a web store, blog, and more, a left-hand toolbar has buttons.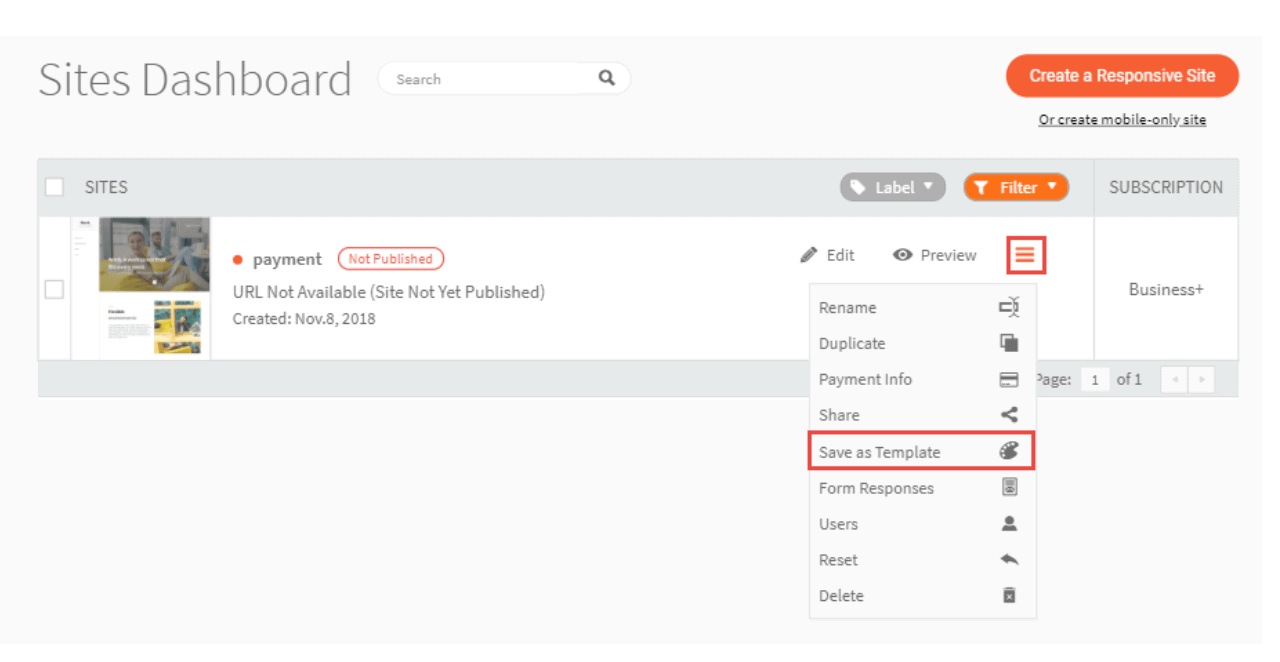 Click each of these and, with more choices, a palette expands. A toolbar at the top of the window allows to undo or redo an event, to move between pages, and to display the current tab.
Clicking the Widgets button will show an extremely short list of items that you can add to your screen. You get the basic elements (text, pictures, buttons), a couple of media controls, social media buttons, maps, and so on, but there's not much scope here. Often the bundled controls are simple (the form widget only provides a form of content), there is some integration with third-party services that Duda offers.
Although most widgets appear fairly underpowered, some unusual plus points do exist. For example, right-clicking a Paragraph control displays a Pull Content option that imports text from a specified URL.
Experienced users can get around this, at least to some degree, by adding custom HTML. Interestingly, editing their HTML and CSS helps you to customize individual widgets too. That may be a helpful function for experts, but most other users are left to wish they had more page elements to choose from.
When you find a widget you need, drag-and-drop it is attached to your tab. Formatting is very strict – you can only drag and drop widgets to certain row and column locations – but the editor provides direct visual feedback about this when you drag and drop the mouse cursor across the screen, even promising to add a new row or column if you step beyond the current range.
Browse and find some interesting bonuses. A Personalize function will alter site behavior depending on the user, place, time, number of times you have been visited, and more.
You may set up promotions to run at different times of the year, display a notification bar for particular users, maybe even add a Click to Call button for visitors in your city (more examples can be found on the Duda website).
That kind of control is always an extra premium, but Duda makes it open to all – including free users.
Website Infrastructure
Duda uses Amazon Web Services to host all of its websites, including its unrestricted storage and bandwidth. Duda's website receives a free SSL certificate, which can be enabled with one click. You can also make full site backups anytime you want, making it simple to revert to an earlier version.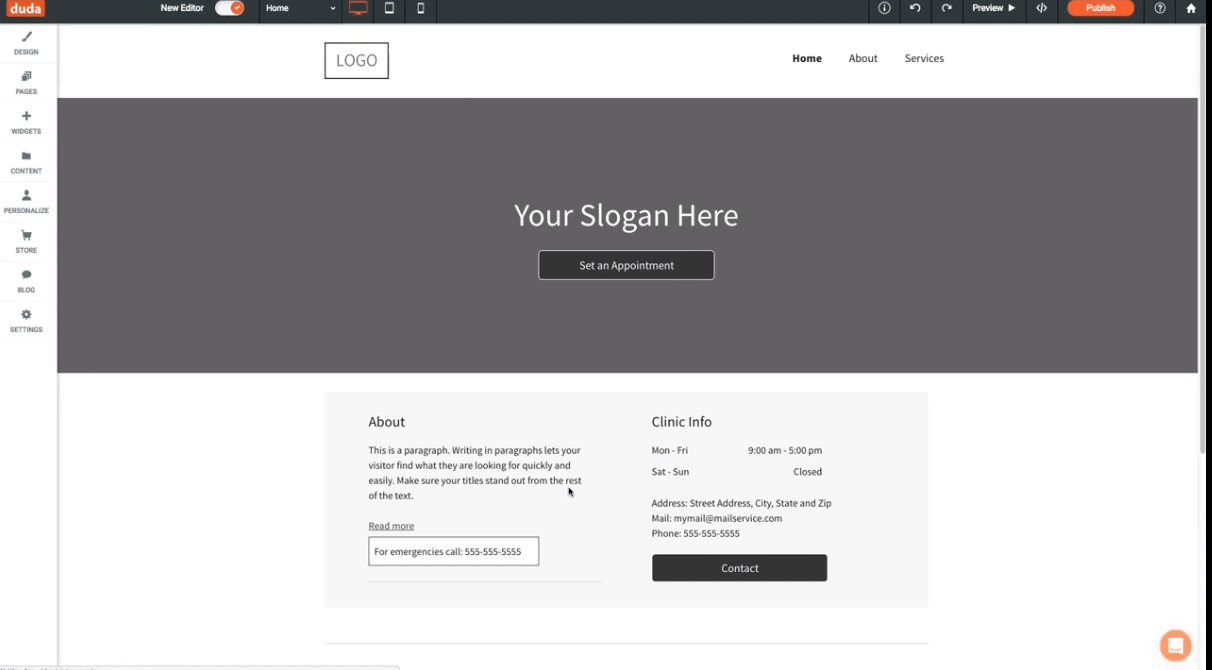 Duda delivers the content of your site (such as images and videos) using a regional CDN, from hosting servers nearest to their geographical location, which increases page load times.
Additionally, all Duda sites are automatically optimized for Google PageSpeed, provide support for Open Graph, and let you set up 301 redirects. Duda promotes direct integration with a range of platforms, including leaders in the following categories:
Business and Commerce (Google Sheets and PayPal)
Social (Facebook and Instagram)
Videos (Vimeo and YouTube)
Location (Mapbox and Google Places)
Marketing (Mailchimp and Constant Contact)
You can also create innovative Web App (PWA) versions of your client's sites with a single click. All the Duda websites are also mobile-friendly, which is perfect for SEO.
Playground for bloggers!
Duda provides a powerful blogging framework, but it isn't as well integrated with the main editor as you can often see somewhere else. For example, you can't add a blog button, or use the main Add Page feature to include a blog. You must then build and maintain your blog from a completely separate computer.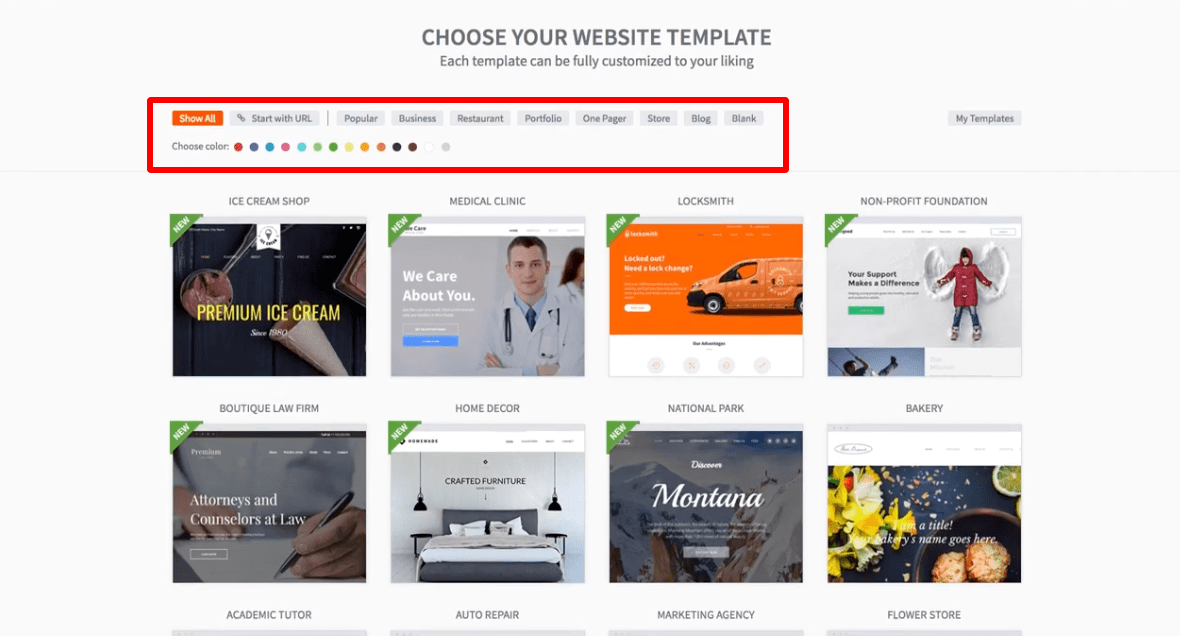 This is not a rough one. A Welcome screen allows you to import current blog posts from an RSS feed, or you can let the program build a few test posts for you. You can delete these whenever you want but as a fast way to find out how the blog operates, they're handy.
The blog editor does not use the standard Duda page editor and has fewer features to offer. You can add text, photos, video, and custom Markup, but there are no widgets, which means you don't want to use any photo galleries, picture sliders, maps, or any other extras.
An overall blog management screen allows for the blog name, title, and summary to be set. Possibly the highlight is a backup program that can build multiple blog backups on-demand, and restore any previous version whenever you want.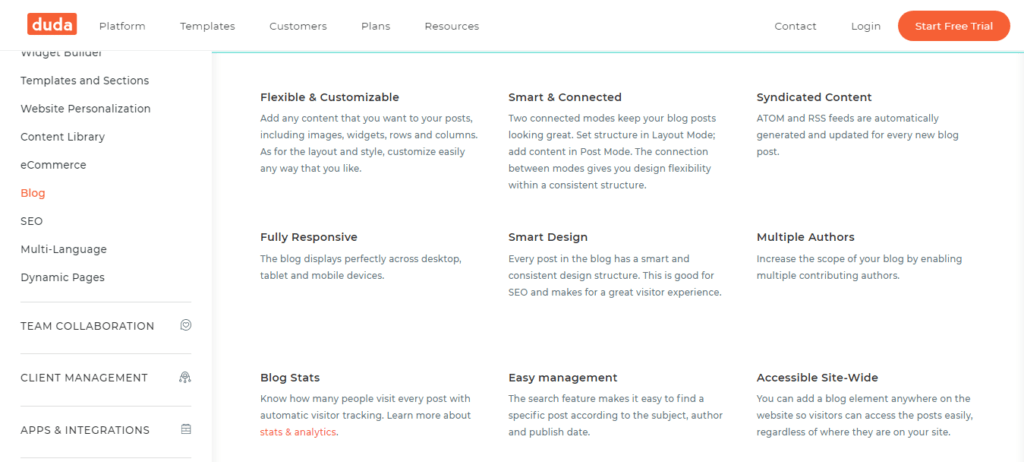 An eCommerce paradise!
You get full e-commerce support with Duda including product pages, tax options, payment options, and digital downloads.
Setting up a web store can be difficult, particularly for beginners, but Duda does its best to help with a starting tutorial to explain the interface, and a setup wizard to guide you through creating an account, adding items, defining local settings (country, currency, weight details), setting up shipping and sorting out payment providers Individual steps are designed to retain initial options.
For example, simply by providing product names, prices, and images you can create a product catalog. Yet a lot more functionality lurks in the background.
A definition, SKU, weight, and options (color, size) can be allocated to each product, and you can specify shipping rules and rates, taxes, and set up similar items that a consumer might want to purchase as well.
Payment options start with integration with PayPal while selecting Square allows accepting Visa, Mastercard, and American Express payments for 2.9 percent plus $0.30 per transaction (with no setup or monthly fees).
Overall, this is a very fitting setup, particularly for a free plan. If you are tempted but not sure if this is your program, sign up for Duda and check it out.
By design, adding a store will get you some sample items, allowing you to try out the capabilities of Duda without having to spend more than a minute or two setting it up.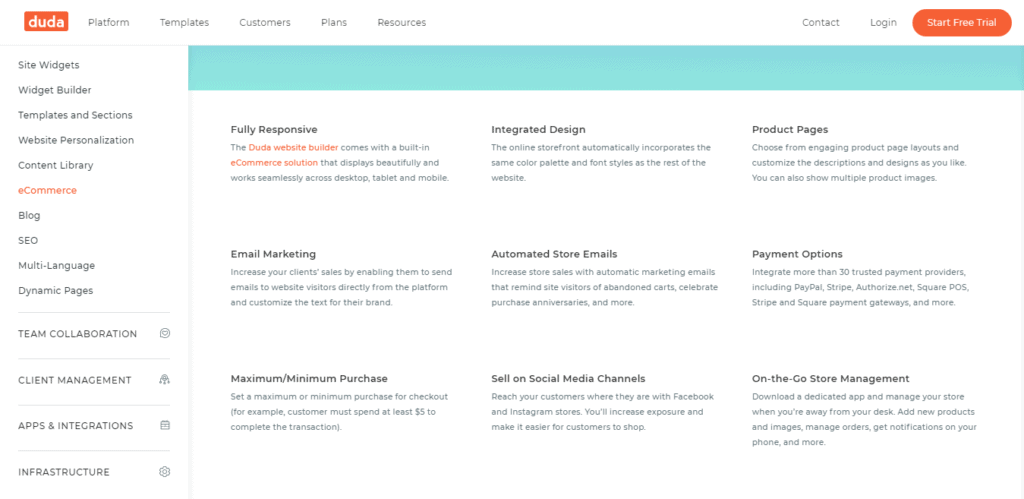 Duda Website Builder Support
Wherever you are in Duda, there's a Help icon on the ever-present toolbar to get instant support. Type a keyword into the search box for the knowledge base and the database shows any matches instantly.
It's a good idea, but if the search engine made the slightest attempt to sort its hits into a sensible order, that would be even better.
For example, when we typed Video, the top article was defined as 'All Videos — Sales Collateral — Resource Center — Duda,' article number five was 'Manage Non-Branded Video Sites' (which doesn't make sense at first glance), while the content most users want to see is 'Upload a video from YouTube or Vimeo,' languishing at number eight.
The papers have been well laid out, with short sections and screenshots where appropriate, but they also simply illustrate what you can already see.
The Video dialog, for example, has a box named 'YouTube or Vimeo URL;' the help page has a screenshot of the box highlighted in red, stating that you need to 'Type the YouTube or Vimeo file URL in the Editor.' Some articles seek to go a little further by providing tips for troubleshooting at the end.
Duda Website Builder Pricing | How Much Does Duda Website Builder Cost?
Duda currently offers 3 different pricing packages for customers to choose from. All of these plans are billed annually with prices starting from $14 per month.
Basic
Price: $14 per month – Billed annually
1 website included
500-product online store
Sites hosted on AWS
Email support
Team
2. Price: $17.60 per month – Billed annually
1 website included
500-product online store
Sites hosted on AWS
Email, chat & phone support
Your brand & logo on every part of the platform
Access to team & client management features
And more!
3. Agency
Price: $35.20 per month – Billed annually
4 websites included
500-product online store
Priority Support via email, chat & phone
Your brand & logo on every part of the platform
Access to team & client management features
Dynamic pages connected to customer data
Extensible Widget Builder & Robust API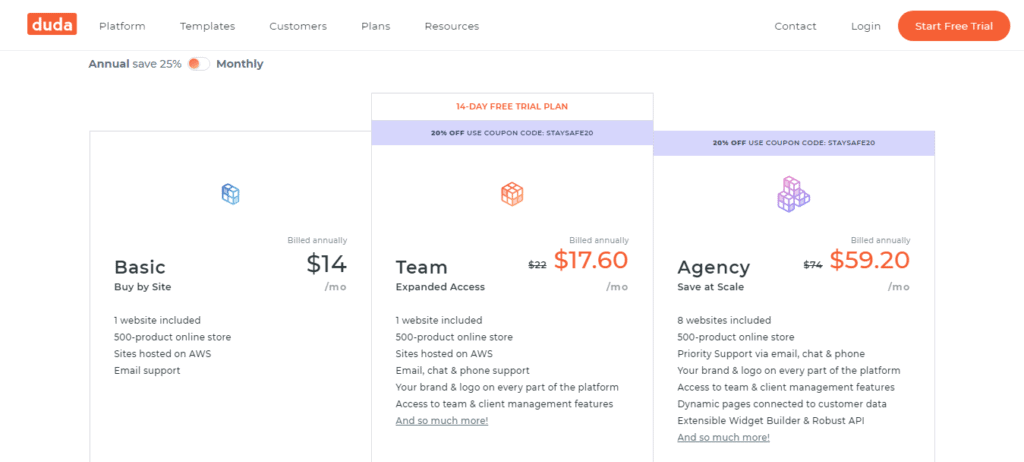 Duda Website Builder- Pros and Cons
Pros-
The drag and drop editor feature in the software helps in reducing the Development time.
Personalization of the website makes it easy to customize and edit the website.
Customized widgets can be made using HTML, CSS, and Javascript.
Versatile and modern templates are available to make your website look smart.
The design of the website is user-friendly.
The website will be SEO-friendly with geo-targeting.
There are 55+ languages available and you can make adjustments according to your need.
E-commerce solutions are available with the Duda website builder and the website is compatible with mobile phones, desktops, and tablets.
Cons
The user might find it confusing in the starting.
Pricing plans are a bit on the expensive side.
Quick Links
FAQs About Duda Review 2023
👉Is Free-trial for Duda Available?
Yes. A free trial for 14 days is available with features similar to Team Plan.
👉Is Duda provide SEO friendly Websites?
Yes. All Duda websites are SEO Friendly. Websites rank higher in Google
👉Do Duda Websites are Mobile-friendly?
Yes very much, it is entirely upto you, whether with your chosen plan you want your website to be Mobile-friendly.
👉Can I migrate my Website?
Yes. There are three options available for migration- Manual, Plugin & Polish and Fast Migration. For further information, you can check the Website Migration Ebook.
👉What CDN option Duda provides?
Amazon's Cloudfront CDN is used for fast loading of the website.
Duda Website Builder Customer Reviews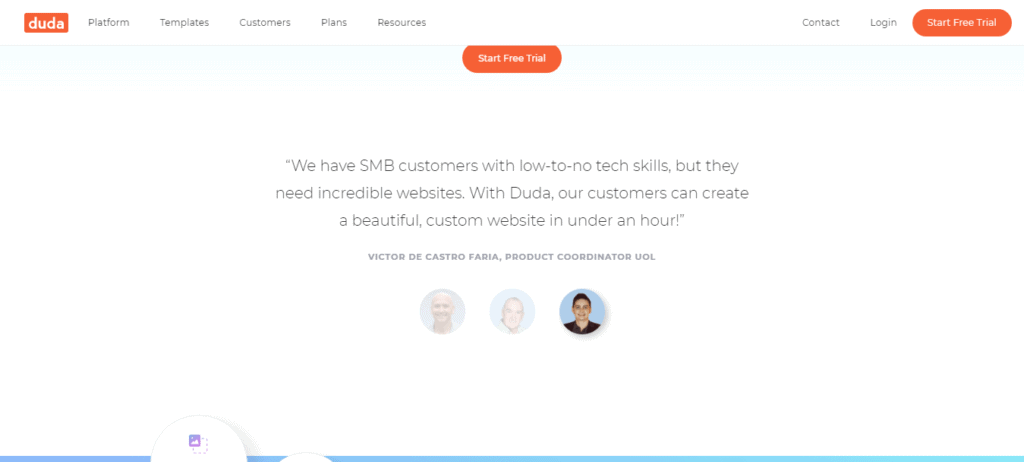 Duda Website Builder Review Conclusion:
Duda builds sensitive websites by making separate laptops, tablets, and smartphone versions of the project automatically managed.
With one button, you can turn the editor between either of these views, either to take a quick look or to do most of your editing in whatever view is most important. Right-clicking any widget page shows an option to cover the element on a given screen, letting users only see the most relevant information.
A thoughtfully crafted GUI to edit makes much of the operations quick and intuitive. Hover your cursor over every function and it tends to resize handles and keys, uninstall it, add a new section, and more.
Right-clicking any page item reveals a detailed menu of actions you can take, including adjusting the alignment and adding different animations.
Several components are also involved in the editor, and you can move pages, for example, simply by clicking on the correct item in your navigation menu.
It's all very user-friendly and normal. Hopefully, this Duda Website Builder Review 2023 gives you all the information you need regarding the website builder. So make your decision wisely.