In this blog, I am going to discuss GrooveFunnels Pricing 2023
GrooveFunnel is the latest platform that offers a free version of their software.
Now, this maybe I think it's a  smart business strategy where it will play a role in them to remain as a market leader not just in the short term but in the longer term as well and as you know they have got a lot of different applications and a lot of different services and stuff which I will be talking about in a detailed manner.
In this article, I will talk about GrooveFunnels resources, how they help us with our businesses, the pros, and cons of using a free account of GrooveFunnels.
I will also be talking about its main features, customer support, and pricing plans. These tips will help you a lot and might gain you a few or more benefits. Get into a detailed review of Groovefunnels here.
This guide will cover in detail
About GrooveFunnels Pricing

Features of GrooveFunnels

Best Pricing Plans of GrooveFunnels

Pros and Cons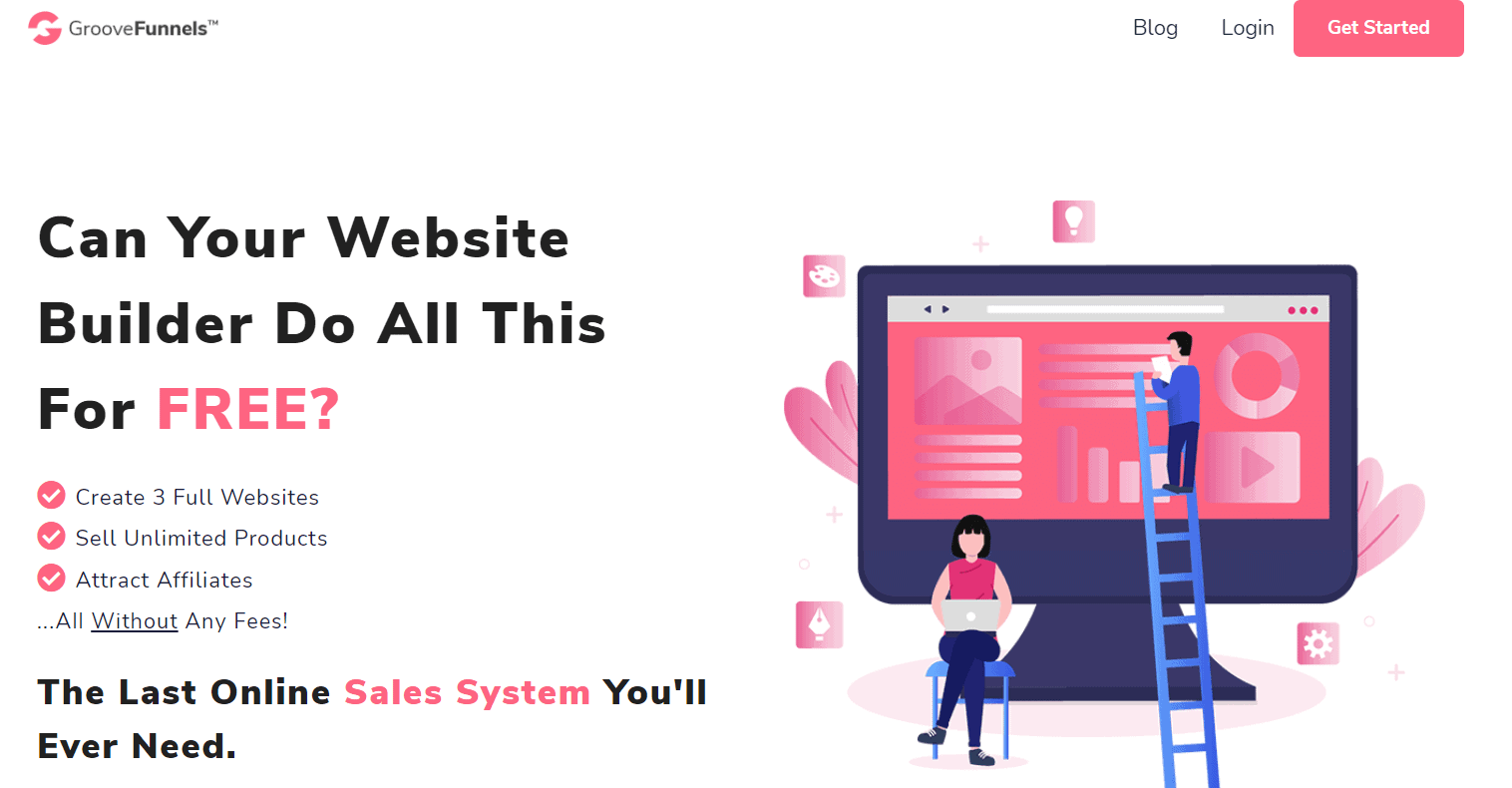 About | GrooveFunnels Pricing
The really interesting thing about GrooveFunnel is they released a free membership for people to get started with.
You could have up to three funnels for free which is still available. But basically what they did was try to create a place where you could go in for free.
You could get some value from it. You can use the tools inside of it and then hopefully by then you would upgrade into a more premium plan. 
GrooveFunnel is a one-stop-shop to boost your business. It's a complete system that contains different products and services.
Not only I'm talking about page builders there're several other things that I'm going to tell you in a detailed manner.
You get at least sixteen different powerful apps like GroovePages which allows you to create different funnels opt-in pages for basically anything.
If you have done anything with other products like for example, click funnels – it kind of similar but in my opinion, it's kind of worth it with group pages because you're going to be saving a lot of money and the important function allows you to import any type of page and the pages loads add pretty fast.  
So we have groove cell, groove mail, groove automation, groove page, groove member, groove affiliate which is a two-tier affiliate program, groove desk, groove calendar.
So once if you log in on the left side you're going to be able to see the different products that you have access to.
So depending on – if you have a free account you're going to be able to create three basic or three pages with this editor but if you have a premium version you're gonna be able to create as many as you want, change them around to do whatever you want.
The cool thing is that – let's say you sign up someone who is one-tier – you're going to be earning commissions from people on tier-two.
On the tier-two let's say they make a sale or several sales you're going to be earning money from them. So that's pretty cool; it's just a one -tier and a two-tier system. 
Featured Reading: Check out the Tailor Brands Logo Maker Review: Is It worth?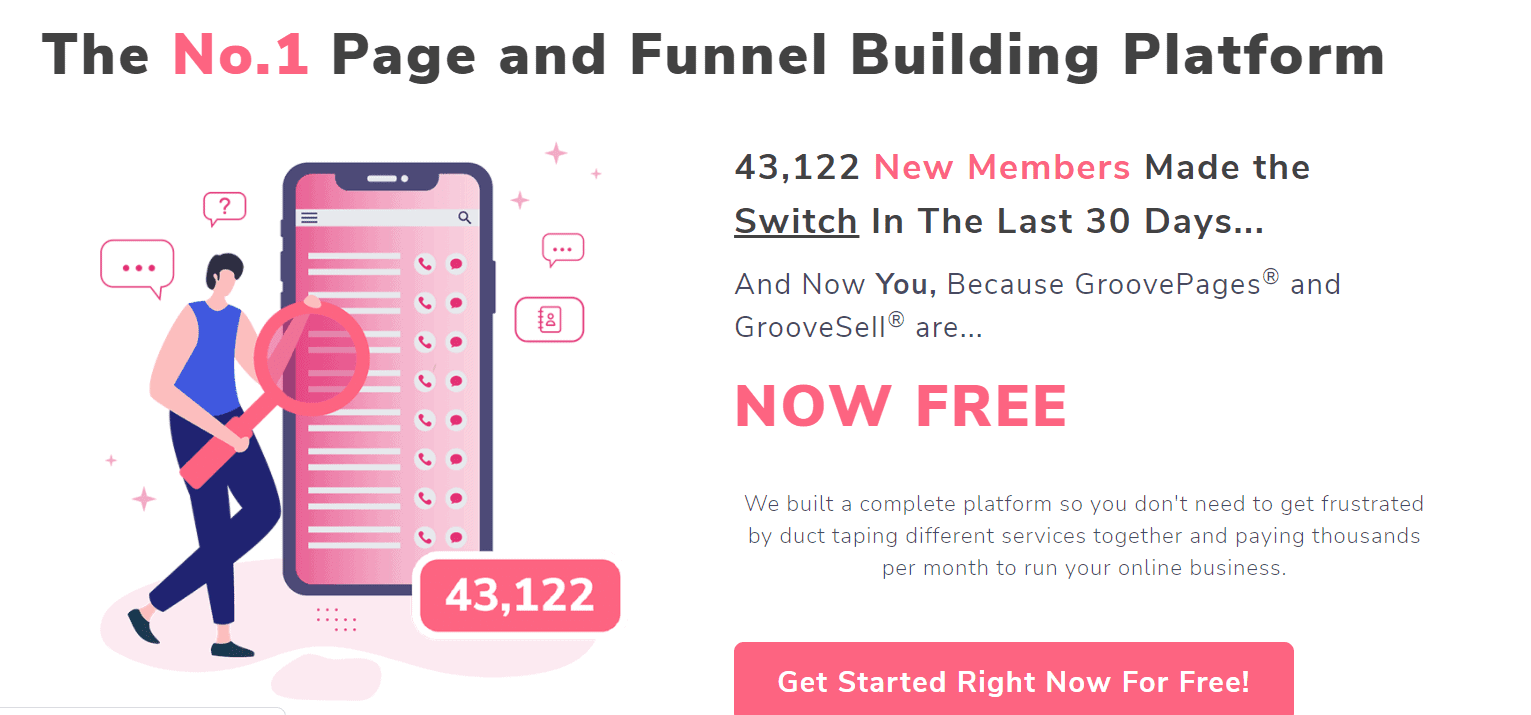 Features of GrooveFunnels
Free-Unlimited Products 
You can sell all of your unlimited products in GrooveFunnel. You can increase your sales for your business.
You can do all of this without paying any actual fees included at all. This is one of the online sales systems which you would ever need. It's a fast landing page where you can child your business. 
Free Build Brand Websites With Full Navigation
When you want to start a business you will always be stuck at tapping different services and paying a large amount every month all together to run your online business.
But with GrooveFunnel you can build your brand websites with full navigation that too all for free without any hidden charges.
Business owners who want to build brand websites can easily get their products and messages to the outside world.
It also offers you the tools and strategies you will need to develop your market, products, and services.
Landing pages and sales funnels are brought into one area of convenience where you can simply drag-and-drop website builders for results which helps you with building the brand websites with full navigation for free. 
Free Custom Domain 
The chances of your email reaching customers at spam folders can be decreased with the help of GrooveFunnels.
The issue can be solved without paying out any hidden charges – all for free.
A custom domain allows you to personalize your tracking links and open-click links. This will help in reducing the chances where your email would end up in spam.
For you to set up a custom domain, you will need access to your DNS – Domain Name System provider. After the custom domain is turned on, the users don't have to do anything.
All of this helps you to grow your business exceptionally without any interruptions for free. 
Free Bandwidth and Hosting
GrooveFunnel offers free bandwidth and hosting. GrooveFunnel can also host your websites. It offers free hosting.
This means you don't have to pay any extra amount for your pages and websites to be live.
They also offer to host for your videos as well without costing you a single penny. All for free. GrooveFunnels also has different apps and tools which will be included in the GrooveFunnel suite. 
Sell Products with one-click Upsells
With GrooveFunnels you can sell products, you can get lifetime access for free.
It is 100% free forever and you also have an option of a money-back guarantee. You can sell products and services online for free.
It's an all-in-one platform designed to help you quickly create sales funnels and systems which transform visitors into leads and consumers without having to rely on costly technology.
You can sell products with one-click upsells where you can get access to several products and services for free without costing any hidden charges. 
Free Upsells, downsells and Bumps 
GrooveFunnels upsells always show promising results which helps in selling the products easily and offering more products and services which helps in growing the business.
By clicking on it you can see the options for pop-up and downsell designs that are created for pages.
So they are pre-made with this widget that allows you to do all these one-click upsells. You can select one of the great designs you don't have to build yourselves and they are ready to build right away. 
The world's most powerful Affiliate Program
They have created the world's most powerful affiliate program by offering software and services which are designed to make the market's lives easier.
That's the reason they would like to promote their products and services. You can earn up to 40% plus the offer from GrooveFunnels affiliate assistant.
If you refer someone to sign-up for a free account then it's connected to your forever. Here everyone wins. If they promote the upgrade then you'll get a full commission. 
Powerful Automated, Behavioral based on Email Marketing based on Tagging
Groove funnel has launched software where entrepreneurs and small business owners can develop their online business through email marketing where they can sell their products and services online.
It is a one-stop marketing and sales platform that is automated to email software. Members of GrooveFunnel get access to GroovePages and GrooveSell.
Business owners and entrepreneurs can get access to tools, services, applications, and resources. They will need to sell online from one place. 
Membership Site Platform 
GrooveFunnel offers membership to its users, entrepreneurs, and business owners who want to build their brand through this website.
It is a membership site platform that allows you to gain access to secure content. It's one convenient spot that has an all-in-one platform designed to help you grow rapidly.
It is a free-no credit card required system. The membership platform of GrooveFunnel offers a landing page, email service, thank you page, sales page, and traffic. 
Powerful Video Marketing Built Right In 
GrooveFunnel offers video marketing where the content is one of the most engaging and shareable ways to lead prospects.
If you want to expand your business then you need the right video in front of the right audience and at the right time which requires a solid understanding of prospective buyers and sellers and types of videos that works best at each stage of the video marketing.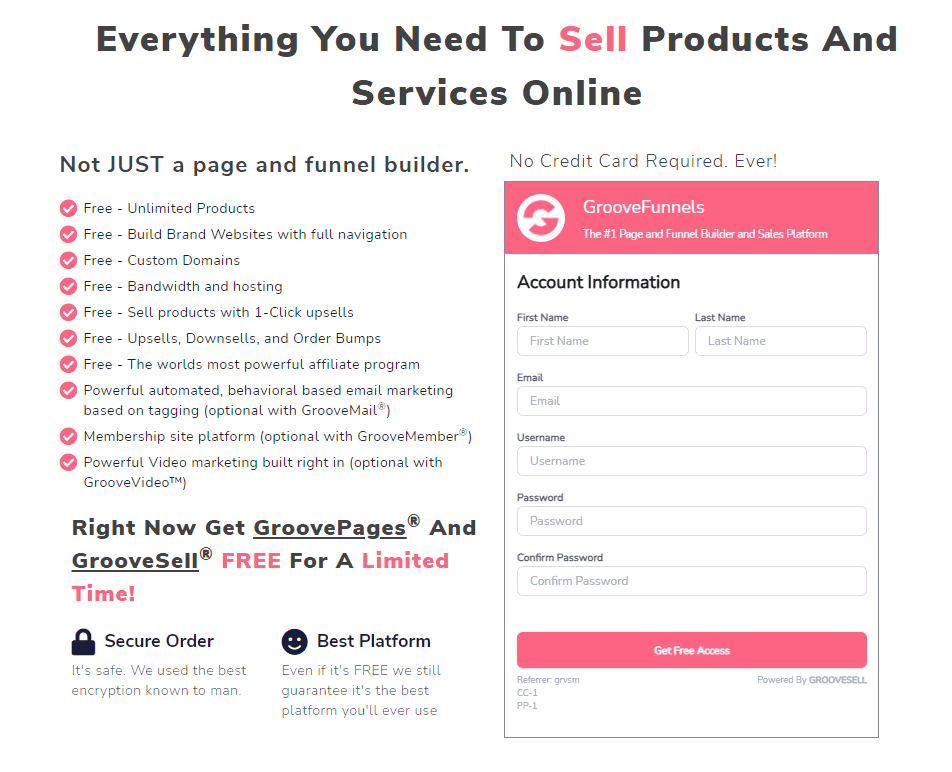 GrooveFunnels Pricing
Let's discuss its plan and pricing
1. Base plan
This plan is free. This is available for everyone to use. It comes along with some features mentioned below:-
Groove well

Groove affiliate

Groove pages( available in lite version)

20% commission with affiliate policy. 
You can also build a website or two can also.
You can use groove funnels and as well promote them. For promotion, they give a commission. For promoting groove funnels as an affiliate program you will get a 20% commission.
The base plan is free but doesn't include any scheduled bonuses. Here are the things that you can't do with the groove funnels base plan:
If you want to email those who had withdrawn your shopping cart, then you can't do so with the base plan.

Also, you can't get email leads, affiliate, and buyers
Hence, the base plan provides an idea or an overview of its policies. 
2.Silver plan
It is $99 per month. If you want to run any startup online, the groove funnels silver plan has apps that are required to start a business digitally.
Once it gets fully started, this is the starting price range as many sales funnel tools start with the cost of $100 per month. It provides many features mentioned below:
Groove well

Groove mail

Groove video

Groove affiliate

Groove member

Groove pages pro

Get a 20% grant on the affiliate program.
Also, enjoy those features which are not provided in the basic plan:
Email leads, buyers, and affiliates

Email those who have abandoned your shopping cart.
3.Gold plan
It will be $199 per month. To access this program apps are required for specialists to operate online. You will be provided with a few features:
Groove well 

Groove video

Groove mail

Groove affiliate

Groove member

Groove pages pro

20% commission with affiliate program 
You can also deliver mails to leads,  buyers, affiliates, and to those who have withdrawn your cart. Additional features are also provided, that any other plan doesn't include like :
Groove blog

Groove desk

Groove quiz

Groove survey 

Groove calendar
These all the above-mentioned features are well explanatory except the groove desk.
A groove desk is the kind of support desk that helps to answer and help your customers. It doesn't require any third-party to help. And, its pricing is also equivalent to any other sales funnel tool.
4.Platinum Plan
It's a lifetime subscription. And, there are several prices for a platinum plan. The most important thing about this plan is that 
This plan will be gone soon. 
This is also the most recommended plan for the groove funnel users.
Here are the features that it includes:
Groove sell

Groove affiliate

Groove page pro 

Groove mail

Groove video

Groove member
It also includes the following:
Groove blog

Groove desk

Groove quiz

Groove survey

Groove calendar
It also comes with some premium features like:
Groove kart

Groove webinars

Groove pages 
 You will also get more affiliate program like:
40% commission on promoting the groove funnels

Also, a 10% commission, also known as tier 2 for promoting it

Get a non-profitable affiliate commission.
Paying every month gets hard sometimes. So, it's better to pay for a lifetime plan as it comes with great features and offers on promoting the groove funnels.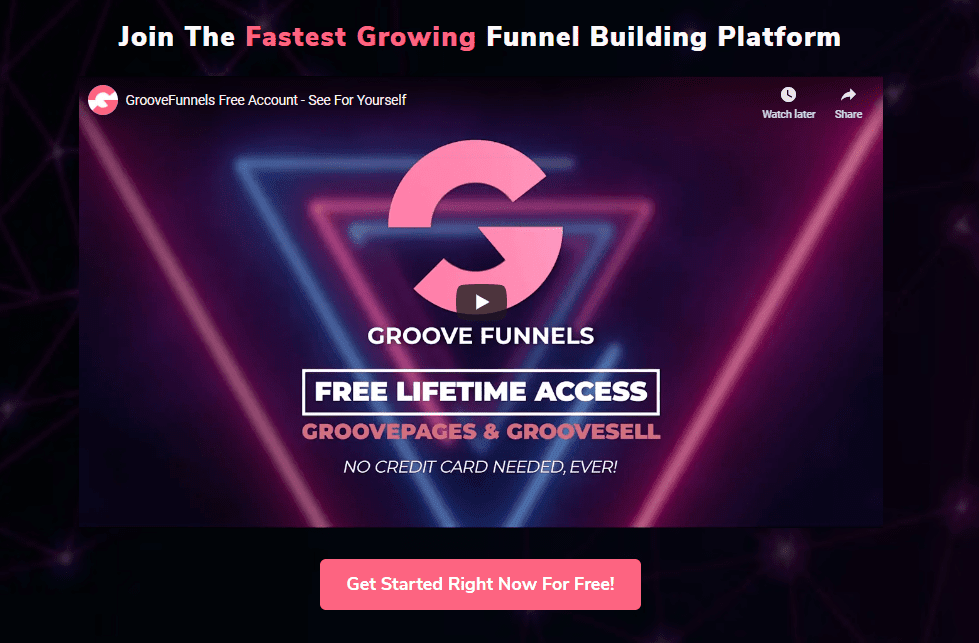 FAQs About GrooveFunnels Pricing
🙋‍♀️ GrooveFunnels helpful in saving money? If yes then how can we conserve money through it?
When it comes to money-saving, groove funnels are cost-effective. It has many features that offer you great deals. If you want to save your money then it's better to choose an annual plan or platinum program for a lifetime experience. It gives many deals and also great offers like a 40% commission on promoting it if you use a platinum plan.
🤔 Does groove pages help to create SEO content?
Well yes, with the help of groove pages you can create SEO content for your website. You can also create leading pages of your web page and sales funnels for business.
🤷‍♂️ Is GrooveSell also the part of GrooveFunnels? If yes then what is it used for?
Yes, it is one of the satisfactory online platforms for sales and marketing. It gives a permit to groove funnel payment. One can sell products both digital and physical, subscription or even membership with the help of groove sell.
⁉️ Is GrooveFunnels free?
The Base Plan is the Free Version of Groovefunnels.
✅ Is Groovefunnels legit?
Groovefunnels is an all-in-one tool that offers a platform to build websites to sell products online, create sales funnels, landing pages, etc. It also offers an affiliate program to earn passive income. It is definitely a legit platform.
🤩 How much does GrooveFunnels cost?
GrooveFunnels Base plan is free. GrooveFunnels Silver plan will cost $99/month. GrooveFunnels Gold plan will cost $199/month. GrooveFunnels Platinum lifetime: ~$1,397
Quick Links
Conclusion | GrooveFunnels Pricing 2023
GrooveFunnel is going to be the main software kind of similar to ClickFunnels and any other sales funnel software out there.
GrooveFunnel is the main software. People kind of get confused when it comes to GrooveFunnel and GroovePages and so on.
If you look at it this way GrooveFunnels is the main name of the software. GroovePages will allow you to create any type of page or landing page or website.
GrooveSell is going to be pretty much a shopping cart. Groove Affiliate is for Groove Affiliate Marketing.
Groove Marketing which is coming out much later is going to be the email marketing aspect of this where you can do automation, you can do broadcast.
Groove Member is going to be for the membership areas. Of course, you have GrooveVideo which is going to be video plus you can do a lot of cool things. For example, you can generate leads.