In this article, we have featured How to Change Your WordPress Username? Creating a WordPress website is similar to creating a website with almost any other content management system.
During the initial installation, you select an administrative username, password, and email address. You can then use these credentials to log into the WordPress backend and make whatever changes you want. If you have collaborators on your WordPress project, you can easily create new accounts for them, each with its own user, pass, and access limits.
Today's tutorial is about WordPress usernames – why we should keep them secure and how to change ours using three different methods. Before diving into the article check out the latest Scala Hosting Coupon Codes
What Is the Importance of Your WordPress Username?
The first and most important reason for having a custom WordPress username is for account security. WP assigns the primary account (admin) the same username by default, and very few clients bother to change it.
Worse, hackers are well-aware of such default credentials, so using them is asking for trouble. Even if you have a very strong password, knowing your username means an attacker has already completed half of their work.
There are some legacy reasons as well – you may want to give another person administrative access without revealing the credentials you previously used.
At the end of the day, it could all come down to branding or vanity – some entrepreneurs prefer to maintain a certain style when naming their accounts. This can help with the Memorability factor and the underlying brand goals once more.
Changing your WordPress credentials is often necessary for a variety of reasons. And, while changing your account password or personal information is simple, the username is usually "locked" by default.
How to Make a New WordPress Username Using the WordPress Dashboard
If you already have administrative access to the WP Dashboard, the quickest way to make the change is to create a new user and grant it the same rights.
To accomplish this, you must:
Navigate to your Dashboard.
On the left, select Users, followed by the option Add New.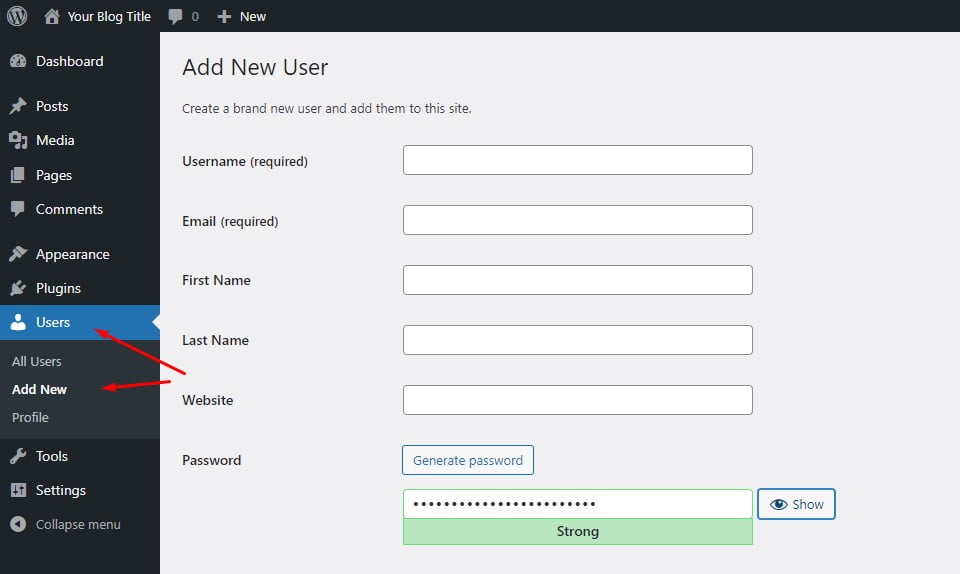 Fill in the required information, such as your username and email address. Some of the fields on this page are optional, such as first/last name, address, and so on.
IMPORTANT: Use a different email address than the one on your current admin account.
Save your changes.
If you no longer want to keep the old user, simply navigate to Users -> All Users and delete the unwanted record.
IMPORTANT: If you previously created content with the user you are attempting to delete, the system will allow you to attribute that content to a different account.
Change the WordPress Username Using a Plugin
As with many of your other requirements, the WordPress community can provide a variety of plugins to assist you in changing your WP username. Edit Usernames, Username Changer, and are just a few of the popular options that have been proven to work well.
We will concentrate on the latter for the purposes of this guide:
Install the Easy Username Update plugin from your WordPress Dashboard.
Once activated, a new option – Username Updater – will appear in the Users section.
On the following screen, you'll see a list of all your WordPress accounts, each with an Update button next to it.
Change the WordPress Username Using phpMyAdmin
Because database changes are involved in the process, this method is best suited for users with some technical experience. If you want to change your WordPress username with phpMyAdmin, you must first:
1. Log in to your control panel and go to the Databases section to find the phpMyAdmin option.
2. From the list on the left, choose your WordPress database.
3. Locate the wp users table and select Edit to modify it.
You can now replace the user login field with any username you want.
4. When you're finished, click the Go button in the bottom right corner.
5. Even if you're not a tech wizard, you now have three options for changing your WordPress username.