Ivacy VPN Review – The internet is a cool place to hang out, but it can also get real scary, real quick. The best way to make sure you're staying out of trouble online is to maintain anonymity by subscribing to a high-quality VPN service. That's not all a VPN will be able to do, though. 
If you're a fan of video streaming, gaming, or want to access hidden areas of the internet like the dark web, a VPN service is your best friend.
From helping you unblock geo-restricted content (for example country-specific shows on Netflix!) and torrent sites for games to spoofing your location and letting you slip right past government surveillance.
A VPN makes sure you get your fill of entertainment, safely. 
If you're looking to subscribe to a VPN service and have quickly found yourself to be incredibly confused regarding which one to opt for, we get you.
With an entire sea of VPN services with stellar reviews floating around the internet, it's hard to decide which one to commit to. 
To make things easier, we're reviewing Ivacy—one of the top-rated, most affordable VPN services available. In this review, we'll be laying down all its benefits (and vices)—hoping to make it a tad easier for you to come to a decision. Here we go. 
Ivacy Overview: What is Ivacy VPN?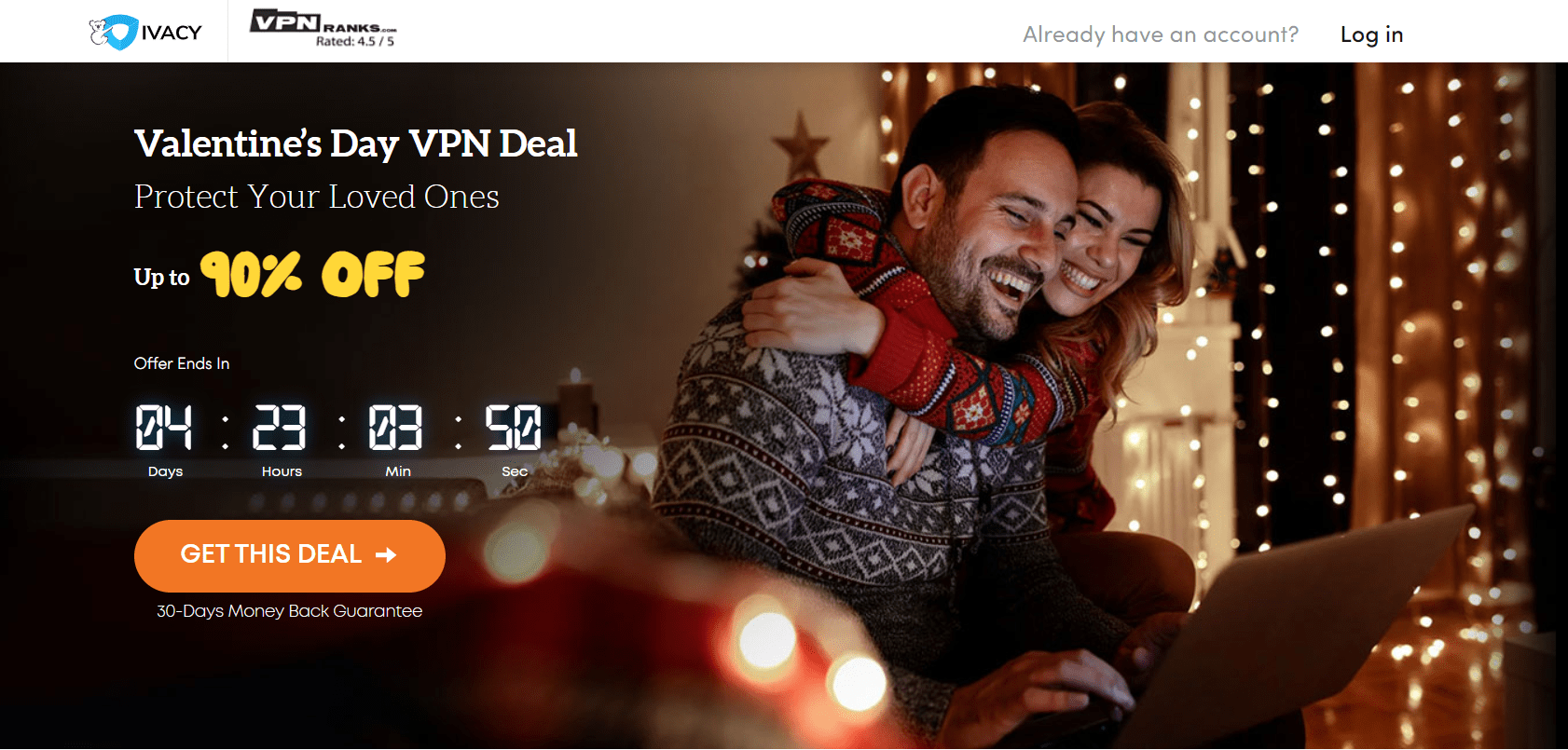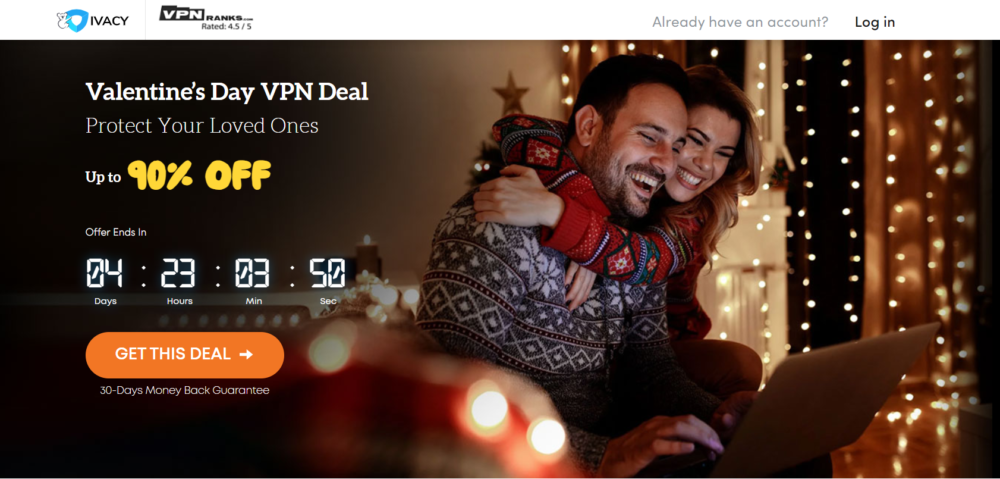 Ivacy is a Singapore-based VPN service that strives to offer its clients top-notch online security at an affordable cost and flexible plans—rounding up to almost the cost of a BigMac per month!
Rated excellent on TrustPilot by over 600 reviewers and as the winner of the BestVPN award for speed by ProPrivacy, this VPN service packs a lot of punch for its price plans. 
Featured by Techradar, Mashable, and ProPrivacy, among many others, Ivacy has managed to charm quite a large audience due to its competence and features. 
Not only that, but the team behind Ivacy understands the value of multi-tasking, and multi-platform-tasking, giving their users the ease of being able to access their product on ten different devices at the same time.
You're not only protecting yourself with this one, you're showing loved ones at home that you care about their safety by making sure it's available on all devices at home.
Among the litany of benefits the VPN offers its users are malware protection, advanced IPsec and IKEV protocols, smart connect feature, and unlimited bandwidth.
If the award by ProPrivacy didn't convince you, this should put you at ease regarding the speed! 
Are you second-guessing the security competence of the VPN? Don't worry! Ivacy features military-grade encryption.
The service also offers a 'no browsing logs' policy, an internet kill switch, high-speed downloading, and P2P support. 
If that's not enough, the service also comes with its own dedicated Kodi app so you can enjoy movies, shows, music, and games whenever you want to!
Apart from that, the service has over 3500+ servers in over a hundred locations around the world. 
Personal data and Ivacy—a match made in Heaven
One of the major concerns users have when using a VPN service is their data privacy. While the storage and selling of personal data are quite common when it comes to free options, paid services are a little more reserved—albeit some still store their user's data to some extent. 
What makes Ivacy stand out is the fact that they follow a 'no data logging policy,' which, in simpler words, means that the application won't save any of your data—yes, any of it.
As an Ivacy user, you can rest assured that no form of your data, including your online browsing activities, browsing history, connection timings, VPN IPs, and even your outgoing traffic, will be saved. 
As a huge step forward in full-transparency and honesty when it comes to claims regarding personal data logging and VPN products, Ivacy has sure taken the cake.
However, there is some necessary information that Ivacy does log—but only to provide you with top-notch, uninterrupted service.
These data points include your name, email address, and payment method you've opted for. 
In addition to that, a massive advantage of using Ivacy is the ability to stay completely anonymous if you want to due to the truck-load of payment options they offer.
Among the many payment methods they offer are credit card, PayPal, cryptocurrency, Alipay, and even BitPay. 
A word on Ivacy's Kill Switch
You probably already know this, but for those of you who don't, most times when you're using a VPN, you're using it to make sure you remain anonymous online. Sometimes, VPN connections glitch, putting your anonymity, and hence, security at significant risk. 
Just one second, and you could lose your public IP address.
This is where a kill switch steps in to save the day. This little feature kills your connection to the internet every time the VPN glitches, only restoring it when the VPN connection is established again.
Luckily for windows and android users, Ivacy does offer a kill switch, however, they have yet to launch the feature for Apple products. 
Tunneling and Ivacy VPN
Basic VPNs route all your internet traffic via one encrypted 'tunnel' to ensure you're protected from potential security risks, threats, or breaches, like hacking.
Split tunneling lets you split your traffic into two 'tunnels', one that the VPN service will encrypt and the other that will remain connected to your internet provider. 
Ivacy offers its users a split tunneling option for Windows and Android giving them the added benefit of streaming foreign movies and accessing restricted pages from their own local IPs.
Safely downloading whatever they want to without your internet speed getting affected, and even accessing their network printer securely while surfing. 
Using Netflix with Ivacy VPN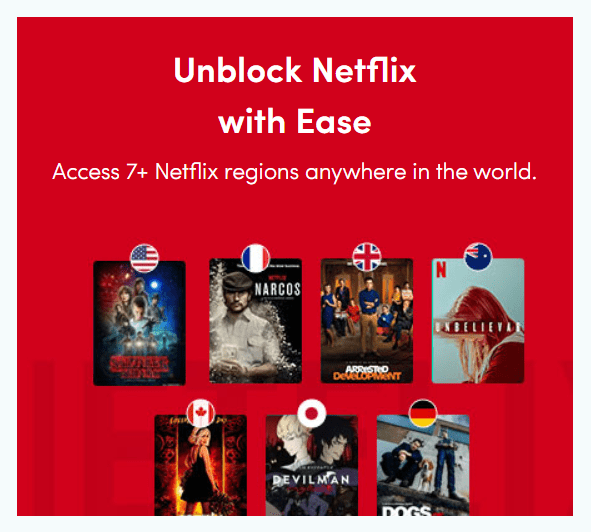 Here's what we say; what use is a VPN service if you can't use Netflix with it?
Here's some good news: yes! Ivacy will let you let unblock geoblocked Netflix shows so you won't miss out on anything that you had your eyes set on but weren't able to watch all because you were in a different country! 
That's not all though, even though you can watch Netflix to your heart's content with Ivacy, another great feature is that you can download and enjoy high-speed.
Finally, you can stream your favorite movies and TV shows without that annoying 'buffering' sign. 
What kind of Encryption does Ivacy offer?
Here's something we all know; some locks are more complex to pick than others—and the most secure lock is the one no one knows how to pick. Think of these locks as 'encryption' and the ability to pick these locks as 'decryption.'
There are certain levels of encryption that you can choose between, or the service provider operates on when it comes to VPNs.
These levels can range from zero, all the way up to 256-bit advance level encryption—which is military standard (which means it's next to impossible to crack)
Ivacy offers military-grade encryption, showing its users that their privacy, personal data, and anonymity will be maintained at all times—the epitome of phenomenal service!
Ivacy VPN Protocols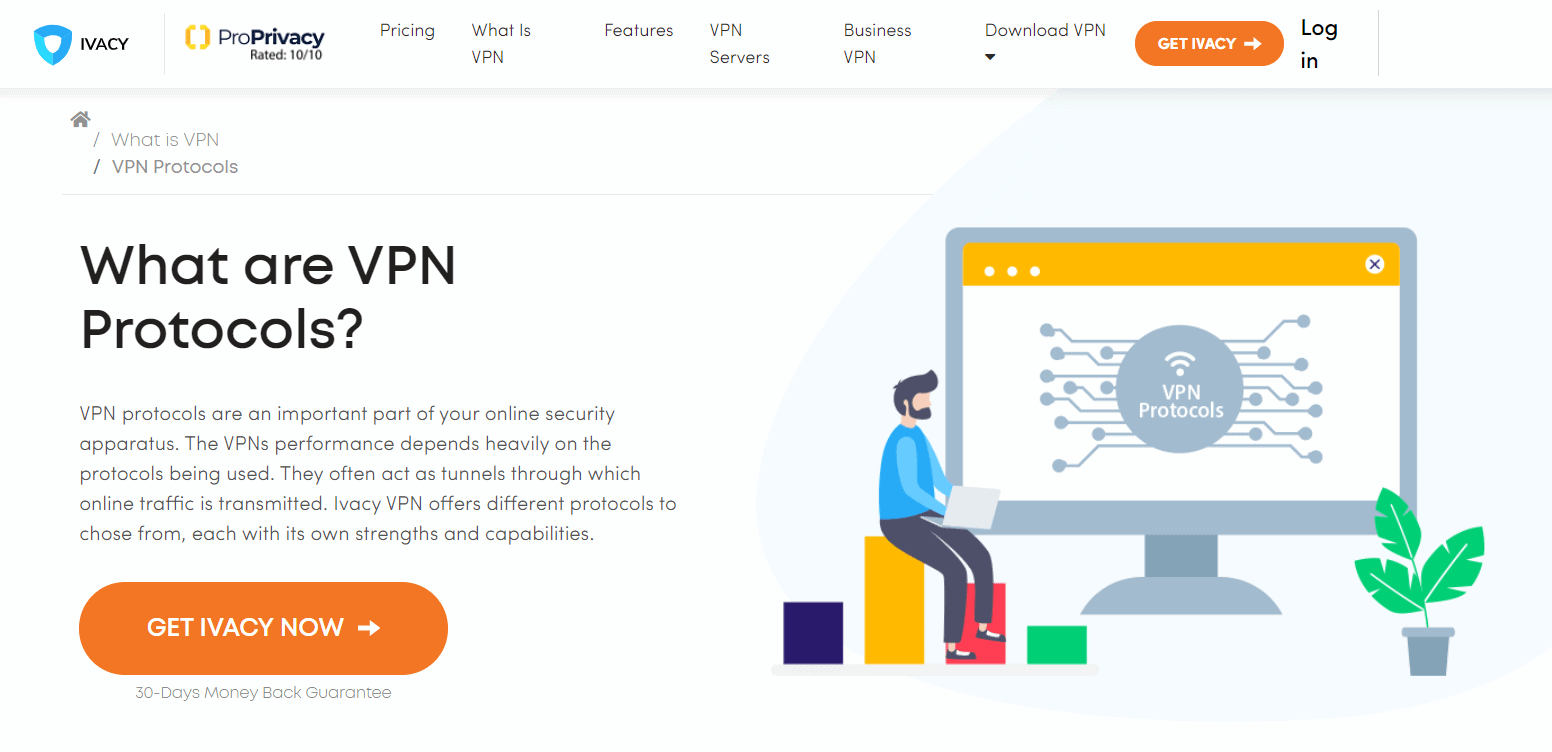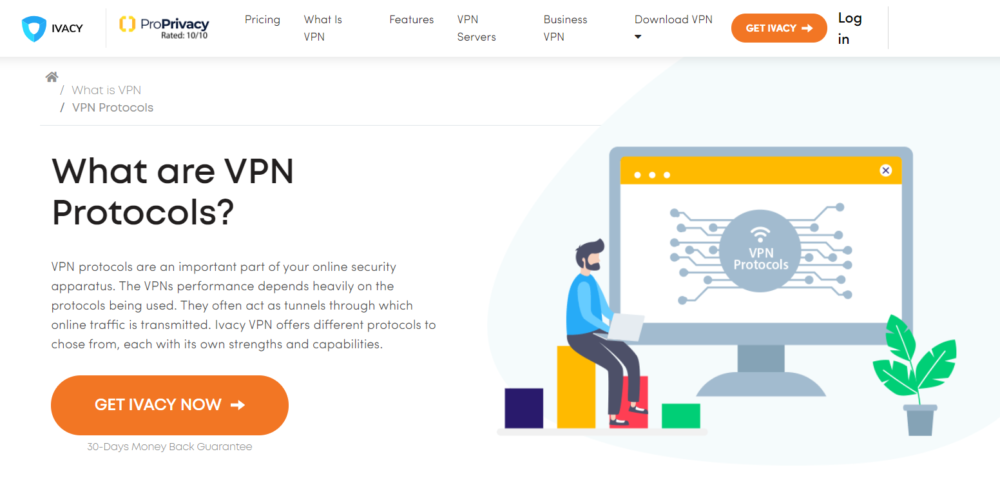 Internet protocols determine how fast or slow a VPN connection will perform by deciding how the data packets will be dispatched across a particular network.
Some protocols focus on providing a higher degree of security, hence compromising on speed. In contrast, others swing to the opposite end of the pendulum, compromising security to ensure that their users can enjoy high speeds. 
One great feature that Ivacy offers its users is the ability to switch between protocols depending on what's more important to them at the moment. There are several options that Ivacy offers. 
For example, Windows users can take their pick between OpenVPN(UDP), OpenVPN(TCP), IKEv2, and IPsec protocols. If you're a loyal Apple iOS fan, you can toggle between IPsec and IKEv2. 
Ivacy currently only offers IKEv1 for macOS users; however, this protocol is outdated and is no longer recommended for use. To gain more insight, let's look at all these options in greater detail one by one. 
OpenVPN
If you're familiar with cybersecurity and VPNs, you'd know that OpenVPN is renowned for its spectacular performance when it comes to speed and security.
As an open-source service that comes from a community of people dedicated to improving and updating their product as regularly as possible, OpenVPN is one of the most secure VPN protocols out there. 
Even though Ivacy does offer OpenVPN as an option, users still have to download and install it manually. 
IPsec/L2TP
IPsec works with Layer 2 Tunnelling protocol to provide their users with a highly secure VPN client. The L2TP works to facilitate and create the split tunneling feature.
While IPsec takes care of the encryption and maintains the security while making sure that the user's personal data isn't compromised in any way. 
IKEv2
The IKEv2 is short-hand for Internet Key Exchange Version 2 and is a popular protocol that works along with kill switches to restore your connection with the VPN service every time your internet connection is restored after getting disconnected. 
This protocol makes sure that VPN glitches don't affect your security and hackers don't gain access to your local IP address in these moments.
This also comes in handy when you're switching between internet connections, or between the Wi-Fi and mobile hotspots—which, you'd know happens pretty often if you're online from your phone or travelling,. 
UDP
The User Data Protocol or the UDP sends messages in the form of datagrams. These datagrams don't require any virtual circuits to facilitate the transfer of data.
One of the many advantages of UDP is that it will work on a relatively lower bandwidth, which means that the messages won't be delayed. 
A prominent disadvantage, however, is that the lower bandwidth also means that some packets might spin out of order or even be lost during the process.  
TCP
TCP or Transmission Control Protocol consists of a total of seven layers that are used to transport data over the network by breaking them into smaller packets.
This protocol also helps make sure each packet reaches its correct destination, making it an excellent UDP partner. 
Here's another fun fact if you want to make sure you're as anonymous as possible online:
Ivacy can also be connected with Tor or The Onion Router to give you access to parts of the internet that aren't indexed like the dark web.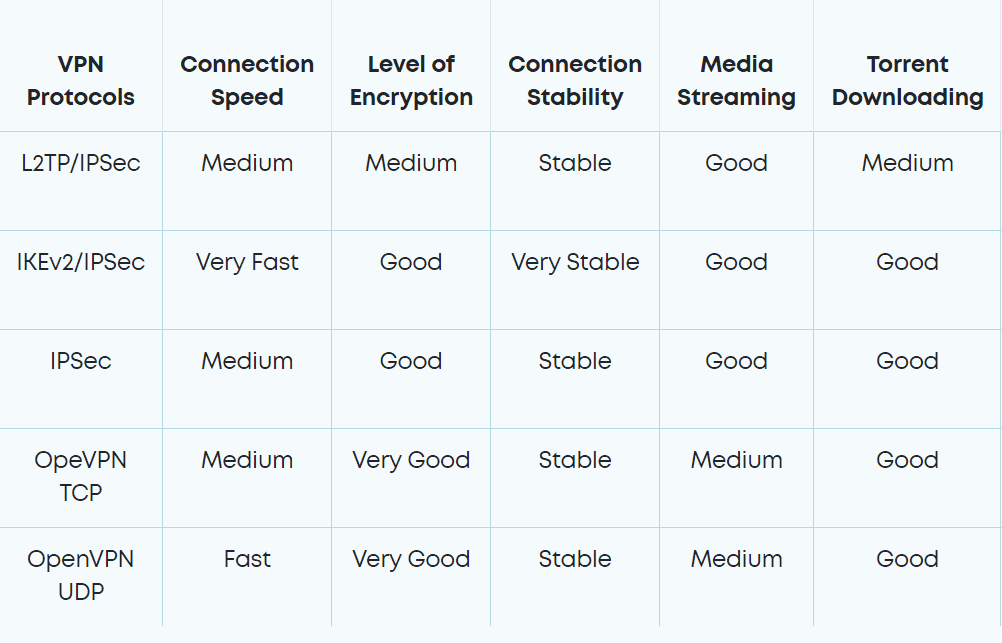 Testing Ivacy
Are you exhausted after that lesson in the technicalities of VPN internet protocols? We feel you! How about we talk about the simpler stuff for a while now? Stuff everyone can relate to and would know about. 
When you're looking to invest your money in a VPN service, you probably first think of things like speed and the security of your IP address, right? How about putting these aspects to the test with Ivacy? 
Ready or not? 
Speed
Let's talk about speed first
Unless you're experiencing ISP throttling (where your internet is intentionally limiting your bandwidth on particular sites), here's a fact you will have to come to terms with sooner or later: using a VPN will decrease your internet speed.
In this case of ISP throttling, however, your speed will increase because your IP address will be spoofed.)
This happens because of the tunneling, the additional security layers, and the added internet protocols—hey, not everything in life comes easy.
However, using a high-quality VPN service like Ivacy will ensure that you don't outright notice the decrease in speed. 
Here, we'll be testing the VPN using the protocol IKEv2 on windows and IKEv1 on mac. Take note that opting for different protocols, for example, the OpenVPN may produce different results. 
Another point to note here is that internet speed is determined by quite a number of factors, instead of just the VPN service you're using.
These factors could include the time of day, your location, the hardware you're using, and even your internet service provider—hence, the results may vary when you perform these tests. 
As you can see, the download speed dropped by 58% on windows and 71% on Mac after we connected Ivacy VPN—however, the speed remained fast enough to binge Netflix without it stopping to buffer. 
When it came to uploading speeds, the results proved to be a little more promising, with speed dropping down by only 5% on Mac and by 29% on windows. 
Finally, ping and latency were tested in milliseconds, where mac performed a little better than windows. But, it was barely noticeable. 
DNS leak test
A DNS leak test is another important test that you need to run because a device could either end up sending DNS traffic entirely out of the established tunnel or, even if it does send it to the tunnel, it could end up connecting to a third-party server. 
As you can see, our IP address is masked, which means that Ivacy did pass the DNS leak test. 
WebRTC leak test
If you're going to use your VPN will browsers like Chrome and Firefox, here's another test that you should let slide by you: the WebRTC leak test—or the web Real-Time communication test.
Here's the scoop on that: webRTC is a collection of technologies that help web browsers communicate with one another without having to pass through an intermediate server. 
This makes sure that you can enjoy faster download and upload speeds, better online streaming, uninterrupted video and audio calls, and quick file transfers. 
By now, you're probably wondering what the problem is, right?
Well, to communicate, the two browsers need to know each other's IP addresses. So, technically, if someone wants your IP address, they can easily use webRTC to get your IP address.
Easy peasy. Of course, this would kill the entire purpose of subscribing to a VPN service in the first place. We get it. 
After comprehensive testing, we can safely conclude that Ivacy efficiently protected us against webRTC leaks. 
Customer Support at Ivacy VPN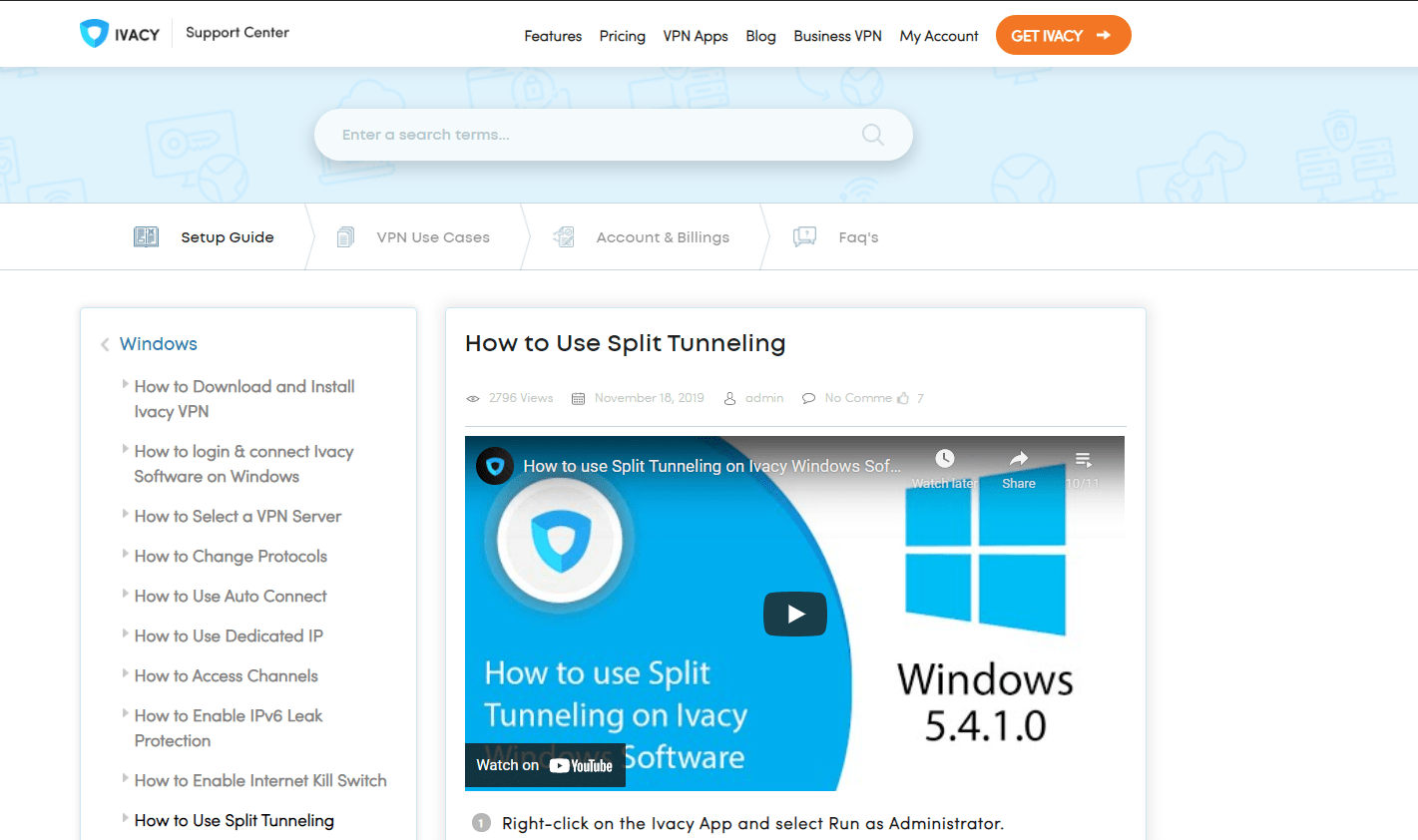 Ivacy is rated excellent by more than 600 users on TrustPilot, establishing it as an overall trustworthy service.
Apart from an excellent repository of articles, guides, and tutorials, the team behind Ivacy also offers round-the-clock live chat support, in-app support, and assistance via email. 
Their comprehensive guides on how to get things started, set up, and troubleshoot minor technical issues are sound enough to be understood and navigated by anyone.
Apart from that, their website lists answers to frequently asked questions that are usually all the help people need. 
If someone needs more guidance, though, their live chat and email support systems are handled by people dedicated to helping their users have a seamlessly smooth experience using their product. 
The Ivacy App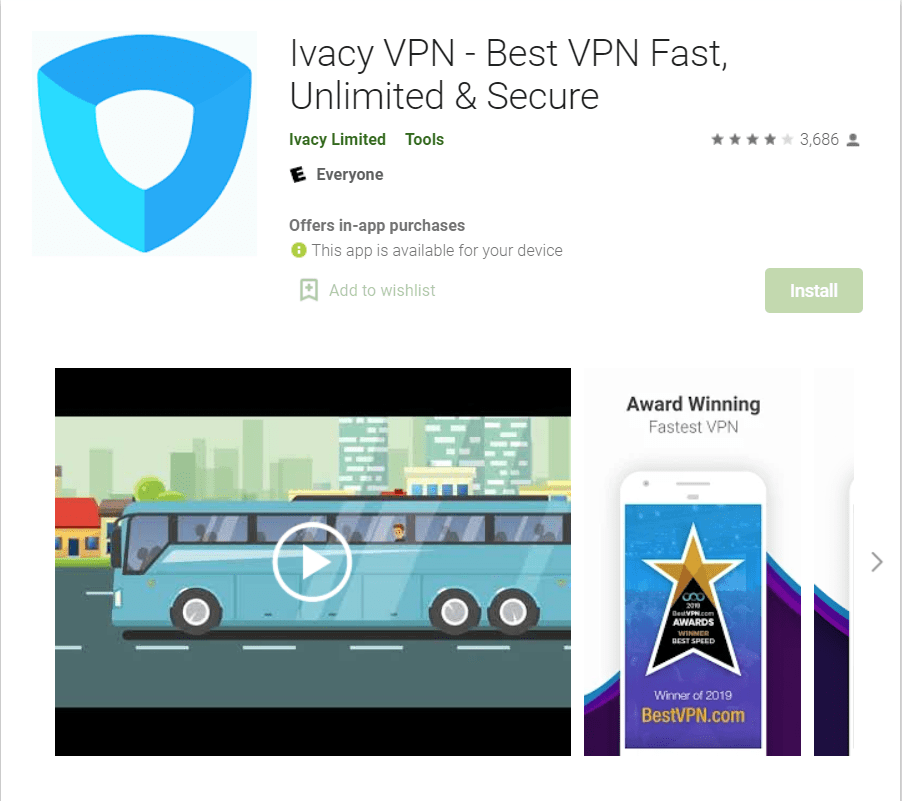 Feel like we've discussed enough machines, protocols, and PC-based testing? Want to head on over to your phone and talk about the app for a little bit? We hear you! Let's dive in. 
Apart from Windows and macOS support, Ivacy also features iOS and Android applications downloaded from the Apple and Google Play stores.
The Ivacy teams understand that not every user has the same motivation behind using a VPN application and aims to customize the user experience by letting them select from options like 'streaming,' 'secure downloading,' or 'unblocking.'
If you've selected the 'streaming' option, you can then take your pick between 'Amazon Prime' and 'BBC.' This will help Ivacy locate the best server to connect you to.
This feature is especially convenient for people who are new to VPN applications and aren't very familiar with technicalities. 
Looking for alternatives? Here are our top 4!
When it comes to VPN services, we admit, Ivacy, even though incredibly powerful, is less popular than its more renowned competitors. If you're looking for options other than Ivacy, we recommend you try one of these four. 
NordVPN
Boasting around 5500 servers in over 59 countries, NordVPN is another exceptionally powerful VPN service.
The product offers connectivity on Android, Windows, macOS, iOS, AndroidTV, Linux, Chrome, and Firefox to provide its users with a smooth experience.
ExpressVPN
Another VPN service that offers a moneyback guarantee coupled with impeccable service is ExpressVPN.
Being one of the worlds' most trusted providers since 2009, ExpressVPN has managed to gather a massive fan following of its own. 
CyberGhost
As a VPN that is popular for its zero-log policy, excellent speed, and high-privacy features, there is sure no going wrong with this one.
With fast access to sites like Netflix and specially optimized servers to give you an uninterrupted HD experience, this one won't disappoint you at all. 
Surfshark
Another excellent VPN service, Surfshark offers free trials for macOS, iOS, and android along with a 30-day money-back guarantee on ALL their plans—which, by the way, lets you save up to 81%. 
Quick Links
FAQs | Ivacy VPN Review
Does Ivacy work with Netflix?
Yes, Ivacy does work with Netflix and lets you unblock TV shows that are restricted in your country.
How much does Ivacy VPN cost?
Ivacy offers three plans: a monthly plan which costs $9.95 per month, a yearly plan which costs $3.50 per month, and a 5-year plan which costs $1 per month
How does Ivacy VPN work?
Ivacy VPN masks your local IP address by connecting you to a remote server. This lets you unblock blocked sites, explore content that Google doesn't index and surf the internet anonymously.
Does Apple recommend VPN?
Yes Apple has VPN but its Very bad for Privacy compared to Android
Are free VPNs safe?
Free VPNs are not safe as paid ones since it needs large networks and good hardware which has expensive bills
Can VPNs Be Hacked?
Yes, VPNs can be hacked but it's difficult to hack. VPNs work by creating a secure virtual tunnel through the Internet to another network or device. Using this virtual tunnel makes it difficult for anyone – including your ISP – to see your browsing activities.
Conclusion | Ivacy VPN Review 2023
Ivacy has been around for a pretty long time, and as a feature-rich VPN service, they have continued to successfully level-up their game through the years and show promise to continue doing the same. 
The features and price make it an excellent option for users looking for a strong, secure, and robust VPN service that is easy to use and over-delivers with its features. 
If you're looking for a VPN service that works on all major platforms, offers great download, upload, and streaming speeds, features a kill switch and split tunneling, and has its own dedicated Kodi app, you won't go wrong with this one.