Don't know how to get started with online learning?
LearnWorlds offers a free 30-day trial so you can explore all the features of their software before making a purchase.
You don't need to give them your credit card information and there's no obligation to continue using their platform after the trial ends. So go ahead and sign up for a free trial today!
With LearnWorlds, you can create beautiful online courses that look great on any device. Plus, our powerful LMS will help you track learner progress and engagement so you always know how your courses are performing.
In this post, I'll talk about the different LearnWorlds plans, the features of its course platform, special trials, and the most-asked questions from users.
LearnWorlds Pricing Plan Overview
LearnWorlds offers three primary pricing tiers and a customizable plan as of this writing. They are named according to their intended market. This makes it simple to select the plan that meets your needs.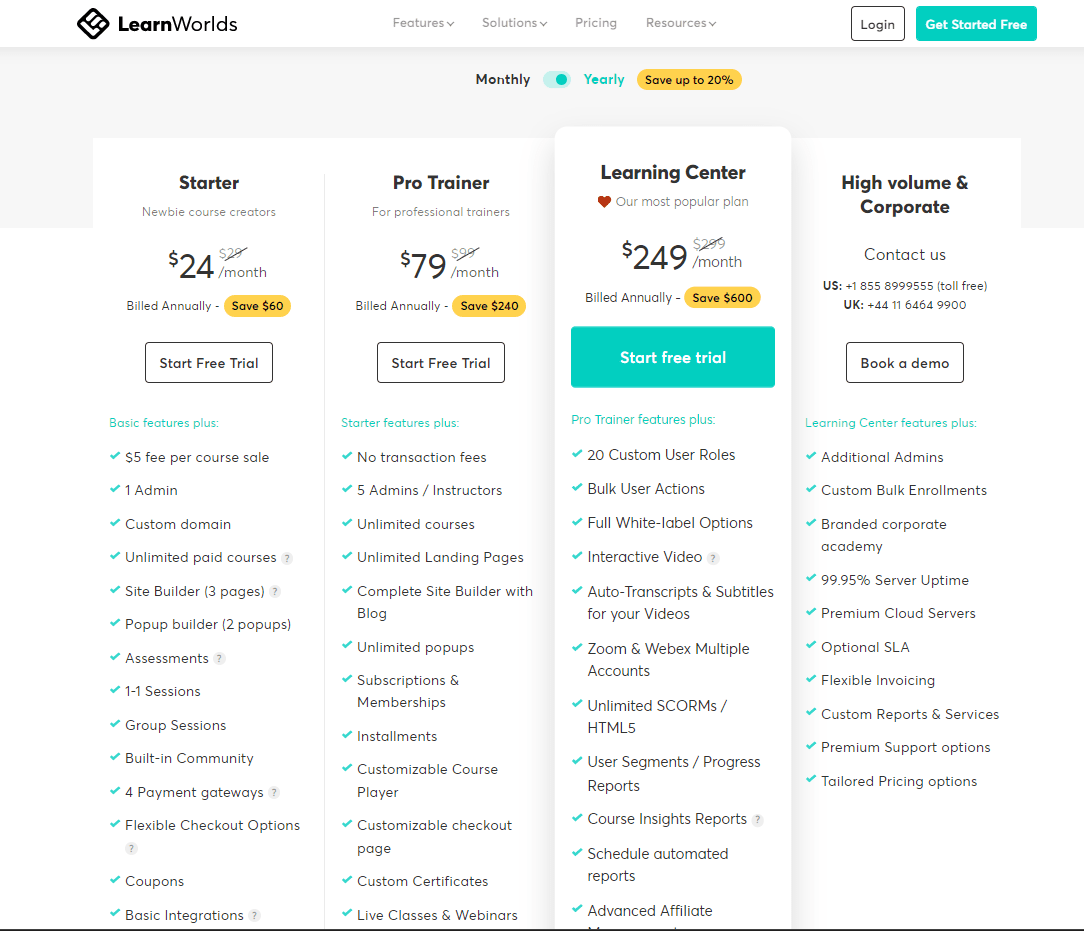 All Learnworlds plans include access to the platform's fundamental features, but higher-tiered plans offer additional tools and stricter restrictions.
LearnWorlds plans are:
Starter

– $29/mo. ($24/mo. if billed annually)

Pro Trainer

– $99/mo. ($79/mo. if billed annually)

Learning Center

– $299/mo. ($249/mo. if billed annually)
The Learning Center can tailor a plan that fits your needs if you're looking for something more than what Learning Center offers.
Risk-Free 30-Day Free Trial
LearnWorlds does not offer a free plan, but a free 30-day trial is available. In addition, unlike some other platforms, no credit card information is required to begin a trial.
Therefore, if you forget to cancel, you will not be charged.
This is an excellent opportunity to learn how the software operates. Don't waste those 30 free days; instead, attempt to learn as much as possible. After making the purchase, it will be simpler to get started.
FAQs About LearnWorlds Pricing
Is there a free trial offered by LearnWorlds?
Yes! Here, you can try LearnWorlds for free for 30 days. Some platforms only give you 14 days, so this is a good deal.
Do I need to put in my credit card information for the free trial?
You're in luck! LearnWorlds doesn't ask for your credit card information just so you can use the free trial.
Is there a LearnWorlds plan that is free?
No. There is no free plan on LearnWorlds. They only offer a free trial for 30 days.
Does LearnWorlds charge transaction fees to use it?
For the Starter Plan, you only have to pay transaction fees. There are no transaction fees for both the Pro Trainer or Learning Center plans.
Quick Links:
Conclusion: LearnWorlds Pricing 2023
LearnWorlds is one of the best and best places to start your digital school course. It also helps you reach more people and grow your business.
Its plans let you teach online courses, sell them, and make money online, all for a price that is easy on the wallet.
In this article, I've gone over LearnWorlds's pricing plans and all of their features in detail. So that you can choose the best LearnWorlds plan at the right price for your needs.
Also, there is a free trial with the plans, thus you can use them and see whether it suits you or not.