In this post, we are going to talk about the Nordlayer Review 2022.
In 2022, security and privacy are growing and pressing concerns for users. It is unsurprising that businesses are increasingly concerned about the security of their data, given that the average Internet user is at risk of insecure browsing.
Businesses that have implemented a remote work structure are now addressing the issue of ensuring that employees can securely connect to the company's cyber infrastructure.
 Thankfully, cybersecurity organizations offer a diverse array of options. However, it is difficult to preserve vital assets while maintaining the level of employee comfort with their utilization.
A secure network access solution, such as NordLayer, offers to safeguard enterprises from internet risks while maintaining productivity.
With infrastructure tailored for businesses of varying sizes, Nord Layer is an asset to any organization. However, what is it, and is it worthwhile? Let's discuss all of the above and more below.
NordLayer Review 2022: What is NordLayer?
NordLayer, formerly known as NordVPN Teams before it debuted on December 4, 2019, is a network access solution for businesses of all sizes.
NordLayer offers a wealth of capabilities that enable enterprises to manage certain network characteristics, with a focus on cybersecurity.
To break it down, NordLayer provides a Virtual Private Network (VPN) for businesses that may be utilized by organization members to protect critical company data.
This secure connection from NordLayer protects vital corporate assets by establishing quick and secure tunnels between users and the core business infrastructure.
With intelligent categorization and access control tools, NordLayer safeguards the data of businesses of all sizes.
Therefore, whether you're a multimillion-dollar corporation or a start-up looking to secure your data, NordLayer can assist you.
Nordlayer User Management
The user-friendly management panel (which is a web client and not an app) makes NordLayer one of the most user-friendly corporate VPN services for beginners.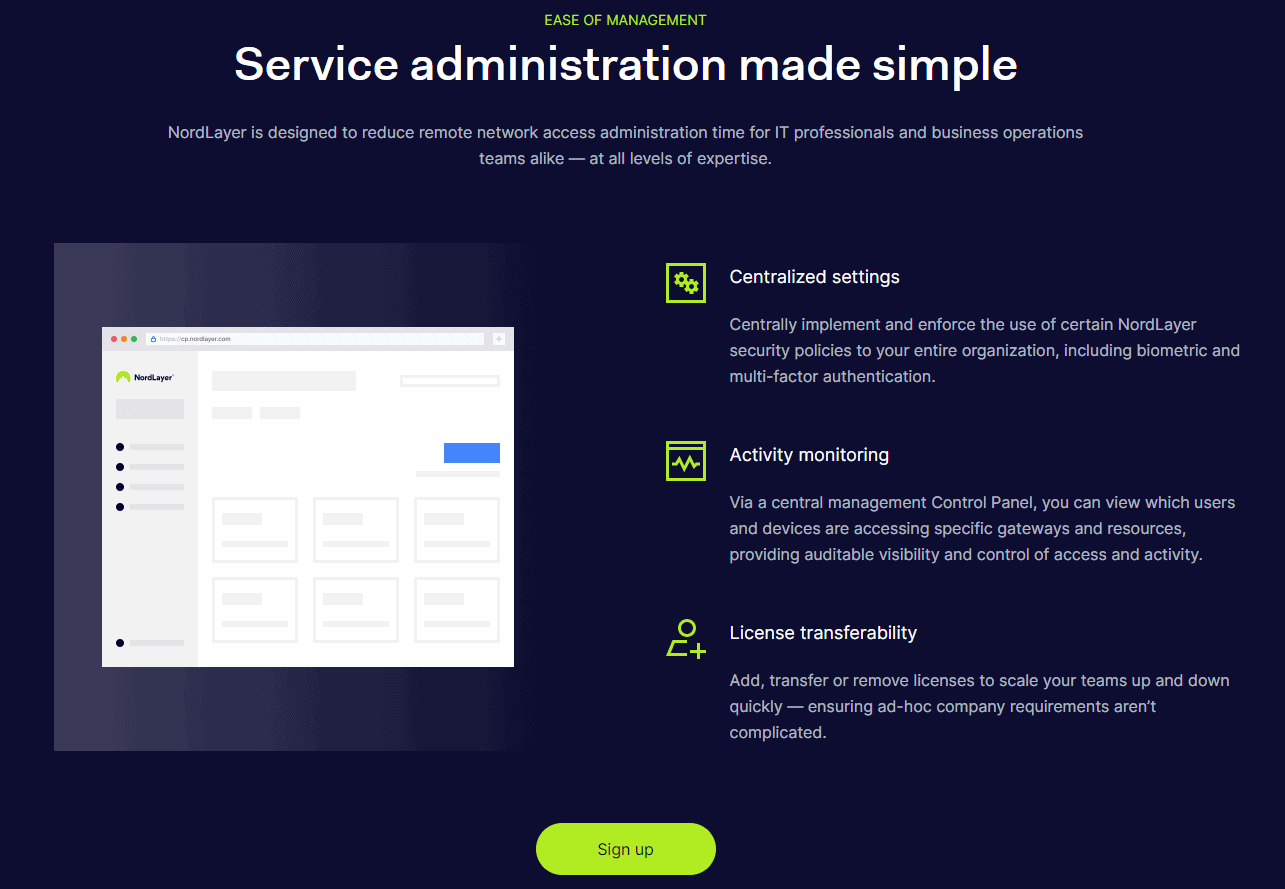 Here's what you can do with it:
Bring in new members

Teams can be expanded by adding members

Add available gateways to new teams

Set up new gateways and servers

Keep track of user activity (active users/gateways)

Configure 2FA and user login options
It is a pretty minimalistic control panel. The sections are:
Organization:

Here, you can manage your teams and individuals individually. You can add new members or gateways to other teams, for instance. Regarding members, you can check their status (Active, Invited, Suspended, Inactive).

Network:

 In this section, you can manage information related to gateways and servers.

Settings:

 Here, you'll be able to configure Smart Remote Access, a function that allows you to access company resources without an internet connection. Don't worry if you don't know how to complete the task; your account manager will assist you.

Downloads:

 This section provides links to every NordLayer application. It also allows you to send staff manual configuration instructions.
Also, Read This:
Speed Performance
Due to the quick NordLynx tunneling protocol deployment, NordLayer is a relatively fast VPN service. In the best circumstances, the program was able to maintain 96 percent of the original download and upload speeds during our tests.
The speeds were actually superior to those of NordVPN, which is a remarkable accomplishment. The speeds with IKEv2 were also rather decent, occasionally decreasing by no more than 20%.
In many situations, however, it decreased by approximately 40 percent, which, while not ideal, is still rather satisfactory. The speed reduction largely depended on the server's distance from us.
In contrast, OpenVPN UDP occasionally preserved greater than 90 percent of the initial upload speed. However, the download speeds were significantly slower.
OpenVPN TCP slows down the speed even further, preserving on average only 12 percent of the initial download speed.
This decrease in performance is to be expected, given that this tunneling protocol prioritizes security over speed. When utilizing OpenVPN TCP, I experienced noticeable slowness, which was not the case when utilizing other protocols.
Nordlayer Plans & Pricing: How Much Does It Cost?
Unlike many other network security solutions on the market, NordLayer's pricing is transparent and does not include any hidden fees or charges.
Initially, there is a 'Basic' plan that costs $9.00 per user on a monthly basis, or $7.00 per month per user on an annual basis, for a total annual cost of $84.
A few of the features included with the basic plan are 24/7 live customer service, multi-layer security, access to a central dashboard, and administration tools.

The 'Advanced' plan is appropriate for medium-sized enterprises and costs $11.00 per user on a monthly basis or $9.00 per user annually. This equates to $108.00 each year.
This plan enables 24/7 tech-savvy live help, dedicated account management, and the possibility to purchase dedicated servers with up to 1Gbps speed and a fixed IP address for $40.00 per month.
In addition, you can contact NordLayer to construct a custom solution for your business by selecting the 'Custom' plan, which needs interaction with the company's technical staff.
Is NordLayer right for my business?
With its comprehensive range of security and privacy features and cheap prices, NordLayer has shown to be a more than capable company security solution.
In a world full of cyber risks for individual users and organizations alike, this solution from the makers of the well-known NordVPN can be relied upon by enterprises of all sizes to protect important data.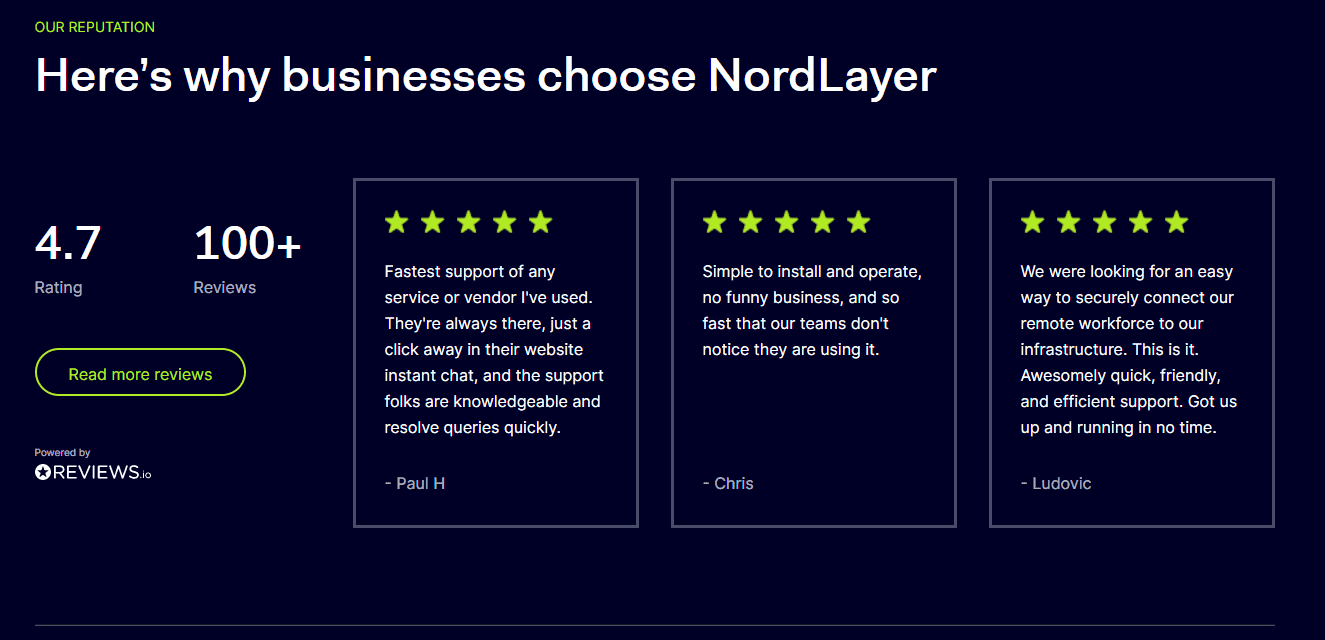 Even if you're a new business looking to establish a solid foundation, NordLayer's Basic annual cost is plenty to get you started and keep you going.
Combining these features with a user-friendly application that maintains a high level of security, NordLayer is an enterprise-focused network solution that you should acquire immediately.
Quick Links:
Conclusion: NordLayer Review 2022
While NordLayer lacks some features seen in high-end network access control software, it is by far the simplest to integrate with an organization's existing infrastructure.
In addition, Nord Security has also a NordLynx protocol that provides customers with a faster and more secure form of tunneling based on the WireGuard.
This should ensure that clients have a seamless and quick user experience.