Proofreading is an important step in the publishing process, and with the help of the best online proofreading jobs, it can be a quick and easy process.
Proofreading is all about attention to detail and finding errors in the content. To be a successful proofreader, you need to be able to read articles quickly and accurately, identify errors, and make corrections.
In addition to writing content on various niches, I frequently proofread many articles. And I've been able to make a decent side income from proofreading work for years.
If you are particular about perfect spelling and punctuation when reading, proofreading may be the greatest way for you to earn money.
Even if you haven't done it before but have a strong command of English, you can master the talent and begin earning money. Proofreading does not require a degree to get started.
It is possible that you may be interested in exploring both of these options:
What you can earn as a proofreader

Work from-home proofreading gigs (while finding the best ones)

What it takes to become an online proofreader
It's possible to earn $100 an hour at the upper end.
BUT!
To get there, you must improve your skill level and sell your service to the appropriate customers.
For this reason – and to answer the questions I posed above – I will list the several venues where you can locate this employment.
In addition, you will get knowledge regarding how to gain experience and increase your earnings.
How much can you earn as a proofreader?
As a beginner proofreader seeking remote part-time work, you can make a minimum of approximately $10 per hour.
While gaining expertise, you can expect to earn anywhere from $25 and $50 per hour.
BUT!
Everything relies on:
Which types of clients do you work with?

How do you handle proofreading tasks? What kind and level do you handle?

To find proofreading jobs, which platform have you chosen?
People with this skill set who work as full-time proofreaders earn approximately $50,000 yearly. (If you check the averages on Salary.com and ZipRecruiter) this is less than a career in freelance writing and editing. This is because the required effort is also less.
Consequently, if you are interested in such profits, you can also pursue a job in proofreading.
Best Online Proofreading Jobs Websites
Authentic vs. Scam
This conflict continues incessantly when searching online for anything.
It is not limited to proofreading or editing assignments, but in this instance, your time is valuable.
In order to protect yourself against online scams, you must work on multiple platforms to determine which will be the most beneficial.
Today, I have prepared a very extensive list of websites where you can quickly locate proofreading jobs.
Despite the fact that the veracity of each of these websites has been verified, you should look at additional characteristics to locate your ideal match.
When I began working on many of these websites, I established my priorities and posed the following questions:
Is it good for beginner proofreaders?
Everyone enters for the first time as a novice, thus it is essential to know which platform is optimal.
Due to the fact that different websites demand varying degrees of expertise, you can simply identify the top websites for beginners using my list.
Either I've stated it in the title, or you'll be able to investigate it after reading the list.
Which one is best for college students to work as a proofreader?
I've also highlighted the finest organizations for college students and whether or not they require a degree to join.
Therefore, continue to the conclusion of the list and you will find numerous suitable options.
Can you tell me which is the best one for experienced proofreaders?
In the same manner, as the preceding two categories, this factor has been thoroughly addressed to share with those who are specifically seeking experienced individuals.
Naturally, if you have expertise and skill in proofreading, you will earn more than those who are just starting out.
In addition to the above-mentioned questions, you should also consider studying platforms that will help you grow your skill level and earning potential as you acquire momentum.
15 Best Online Proofreading Jobs 2023
Here are 15 websites offering online proofreading jobs that you can join.
1. Fiverr [The best proofreading service for beginners]
Fiverr is likely one of the finest locations for novice proofreaders to begin their careers. Here, you can advertise your services as gigs.
This platform encompasses all forms of proofreading work, making it perfect for both novice and seasoned freelancers.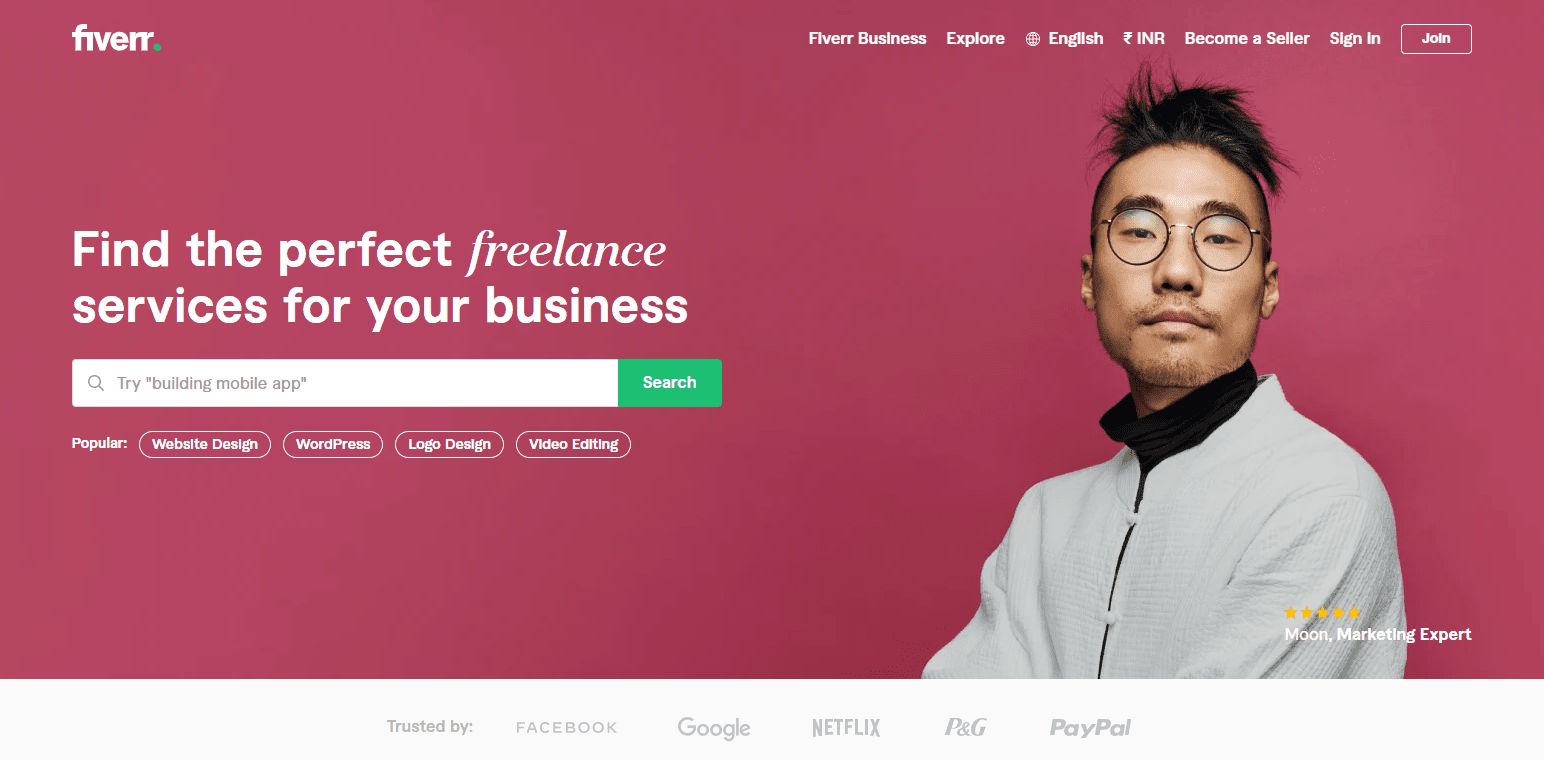 Beginners can begin by giving their services for $5, and as they gain experience, they can devise strategies to earn more.
The thing I appreciate most about Fiverr is that anyone can begin working immediately and may receive their first client shortly after finishing their profile and uploading their services gigs.
You should also be aware that Fiverr is growing increasingly saturated with each passing day. More users are signing up to provide services in various skill categories and levels.
Try to choose a market with fewer competitors.
2. Upwork [The Best Site for Proofreading Earnings]
For the same type of service, Upwork earns more money than Fiverr. You must bid on a variety of job proposals to acquire employment in this freelance market.
You should construct your portfolio and update your Upwork profile if you want to proofread. When clients read your proposal, they frequently check your profile in search of relevant work experience and skill sets.

Although persons with any level of proofreading expertise can join, I recommend that you only join once you have experience working with freelance clients. This is due to the fact that, upon signing up with Upwork, you will receive a limited number of connections.
You require these connections to apply for various jobs. After your free connections expire, you must purchase them in order to submit future job applications.
3. Clickworker [Best Freelance Platform for Beginners – All Categories GIGs]
In order to become a proofreader on Clickworker, you must pass a test after signing up.
This website offers employment in every freelance category, although it is a bit different from other standard freelancing websites.
It divides the entire project into little sections, which are subsequently selected by independent contractors known as click workers.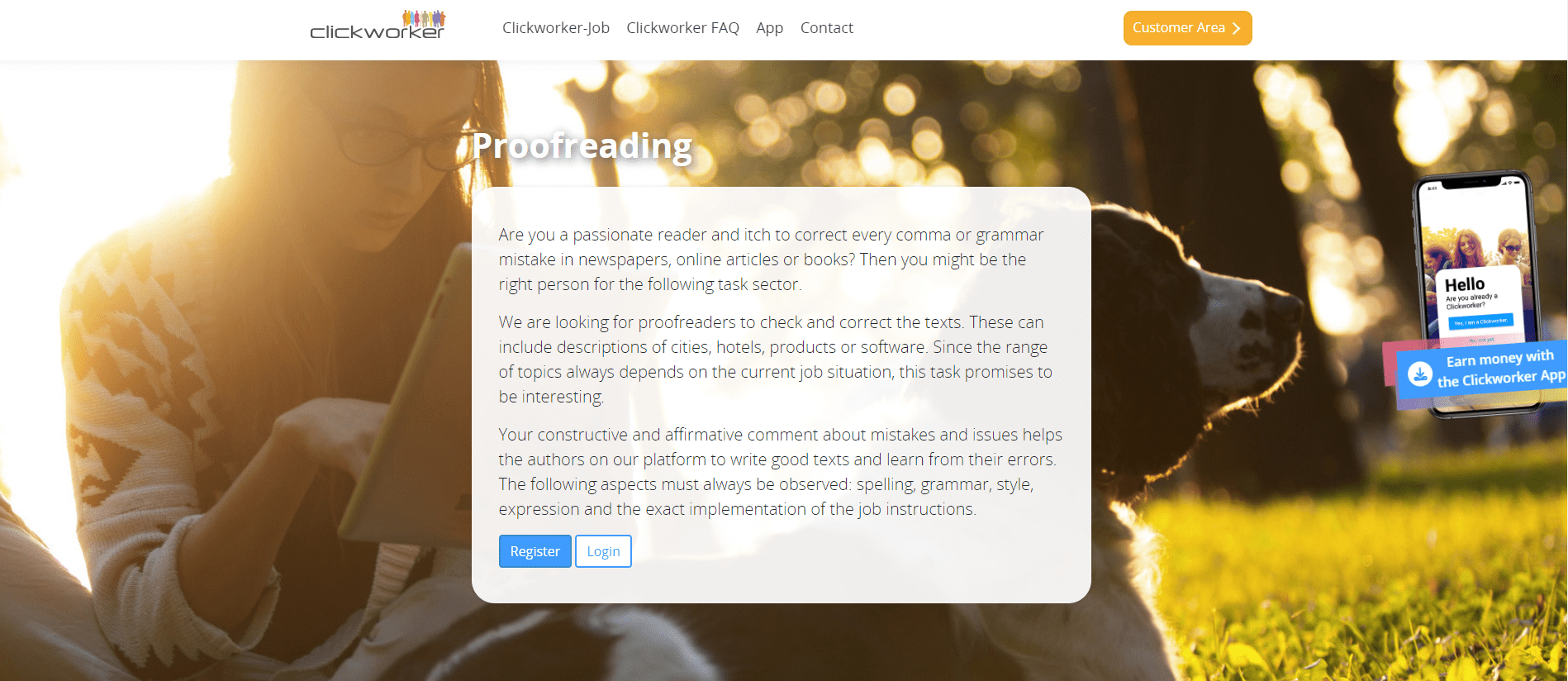 This strategy, known as crowdsourcing, is superior for quickly completing large proofreading jobs. Due to the nature of the task, Clickworker is among the greatest venues for beginning proofreaders.
However, you cannot begin as a proofreader immediately after registering and passing the initial exam. You will join as an author and be required to fulfill writing responsibilities. After completing these writing assignments, you will be able to take an evaluation of your proofreading skills.
This phase will ultimately lead you to begin proofreading jobs for pay.
4. LinkedIn [A social networking platform for proofreaders related to jobs]
LinkedIn is a well-known social network that mostly operates in the professional realm. In addition to all professional employment categories, there is a substantial demand for proofreading and editing services.
On platforms where you are able to interact with anyone, you will have more opportunities to promote your services.
As this is more akin to a social networking network, it may take some time to get employment. In the end, however, your marketing efforts are worthwhile.
P.C: Pixabay
Whether you're seeking a full-time proofreading career or just a way to pay your coffee costs, you can definitely catch up with clients.
If you like working remotely, you can use the tag remote to narrow your job search to relevant prospects.
In addition, once you have searched for the position you wish to apply for, you can enable notification to receive future notifications for similar job posts. In addition, LinkedIn displays jobs that match your profile description.
5. Lionbridge [Find a full-time online proofreading job for Mirco Parts Projects]
Lionbridge is among the greatest sites to look for a full-time proofreading position.
It functions similarly to ClickWorker in that the majority of proofreading-related tasks are divided into smaller tasks. You can search the website for relevant gigs and get started.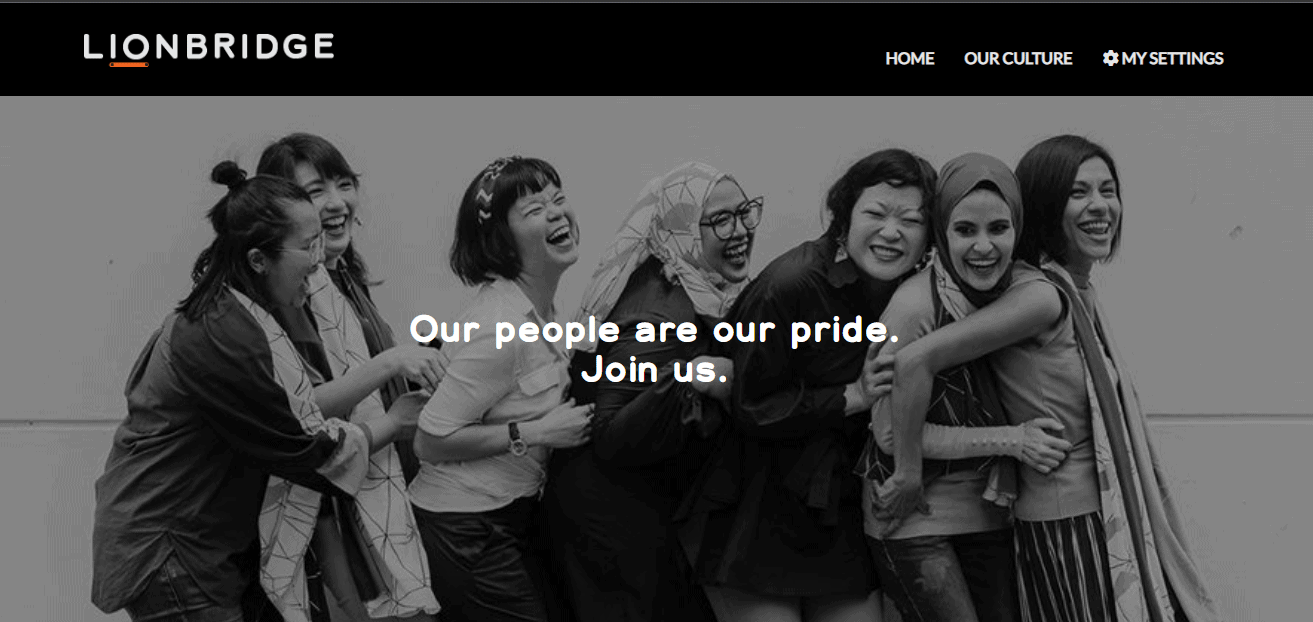 Important: You must pass a skills test after finishing the registration process. Then and only then will you be able to begin your first task.
6. Get Editing Jobs [Topical or Niche Website]
Get Editing Jobs provides opportunities, as implied by its name. It focuses mostly on editing works of all types.
It is an employment directory listing primarily virtual labor. While there are undoubtedly businesses looking for full-time and in-house editors and proofreaders, the majority do not.
If you limit your search to 'proofreader,' you will only see relevant job listings.
7. ProofreadingServices [Full-time and part-time niche-specific proofreading services]
This platform focuses the user's attention directly and specifically on "proofreading."
There are both part-time and full-time employment alternatives, and you have the ability to determine your own working hours.
ProofreadingServices also offers an extremely attractive hourly wage of between $18 and $45, even for newcomers to this profession.
While proofreading expertise is not required for membership, which makes it an excellent option for novices, you must complete a 20-minute test.
You can also interact with other proofreaders on the network, which enables you to sell your services more effectively.
To look for proofreading employment on MediaBistro, you must search their site.
It mostly serves clients seeking freelancing services for digital media, but there are still a substantial number of proofreading-related job openings.

You can also sign up for alerts to receive email notifications whenever an opportunity arises.
9. Guru [Freelancing Platform]
Guru is not as popular as Fiverr, but it functions similarly in that you may locate freelance employment in any category.
Therefore, you must use their search box once again to obtain a list of lately uploaded proofreading employment.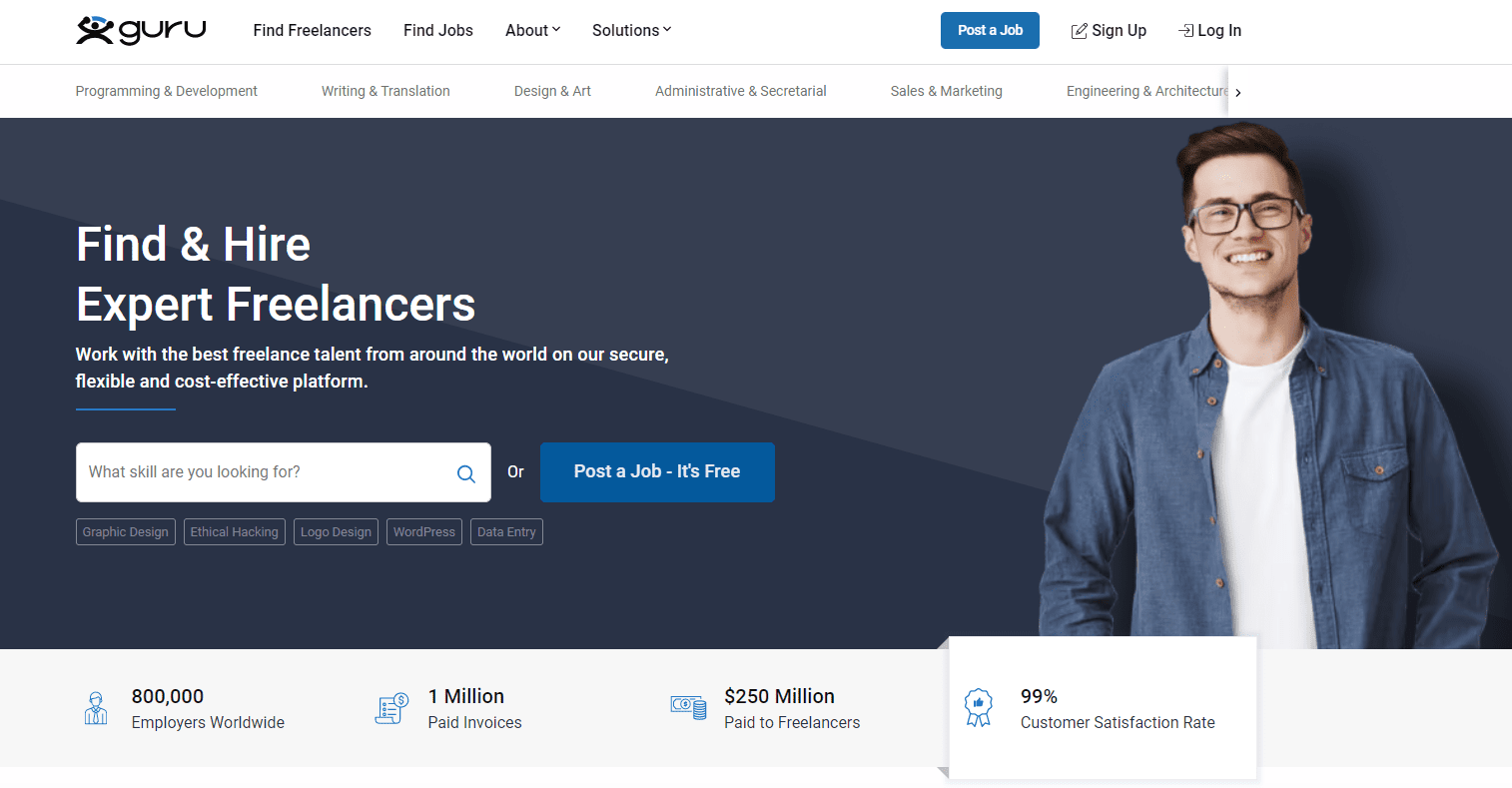 Even though Fiverr is more popular, I normally recommend that individuals who are just beginning their careers search for possibilities on other platforms.
On this platform, you can polish your portfolio by keeping your profile highly relevant and current. This is a requirement for any newbie seeking remote work prospects.
10. FlexJobs [Freelancing Platform]
FlexJobs is, like the majority of freelancing platforms, a place for entry-level category proofreaders to launch their careers.
Simply use their search bar and peruse the descriptions of all proofreading-related jobs.

This enables you to acquire a solid understanding of how clients create their task specifications in order to collaborate with the most qualified freelancer.
11. Freelancer [Freelancing Platform-All Level Of Proofreaders]
Freelancer.com is one of the largest freelancing websites where you may find entire tasks for various proofreading jobs.
It is a job board where bids are required to begin work on any project.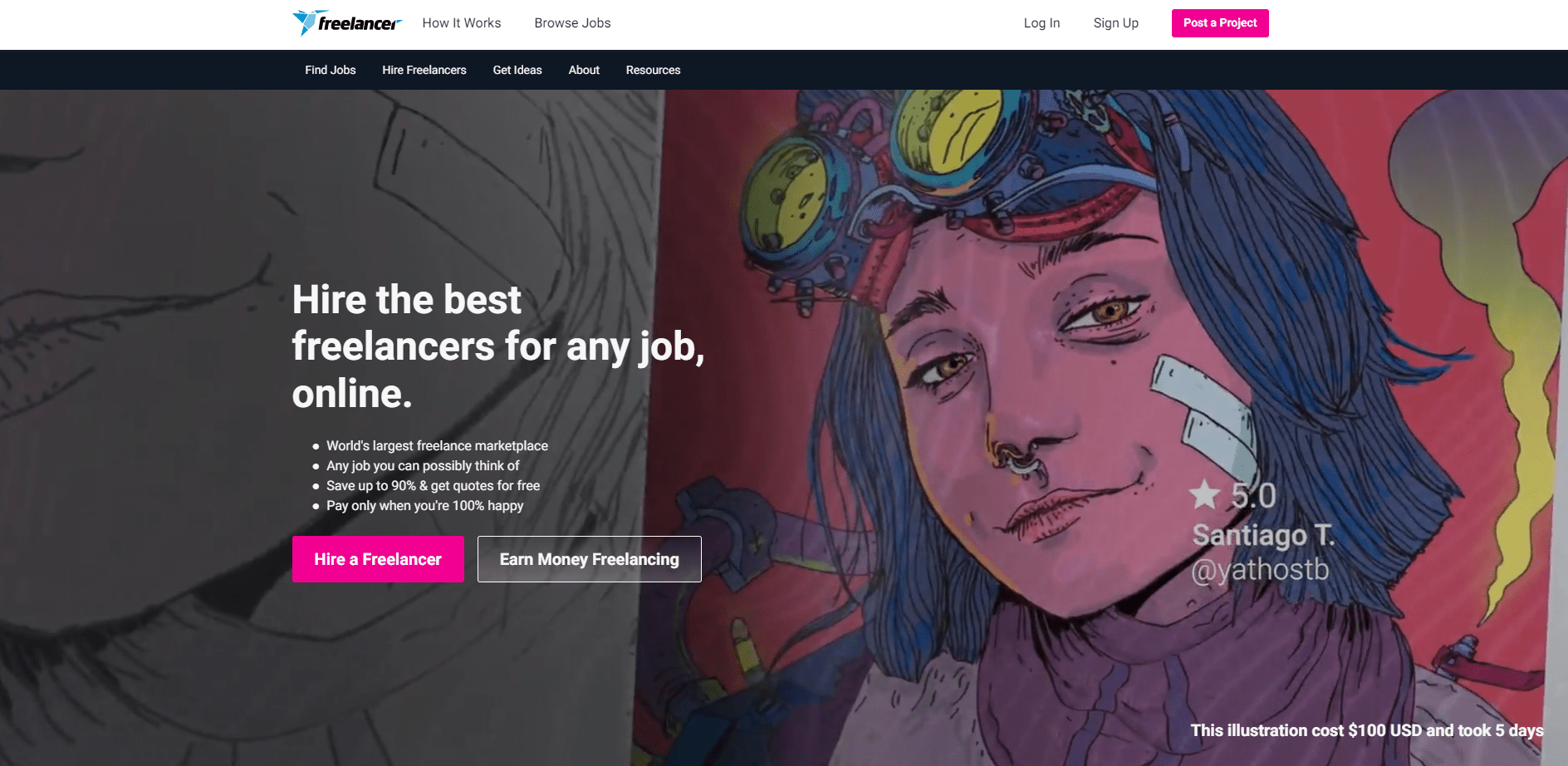 Once you begin to gain traction with various clients, you cannot predict how many of them will be willing to make a long-term commitment.
Today, even agencies and corporations use such networks to find freelancers.
Proofreading Pal mostly seeks college students with GPAs of 3.50 or higher. To qualify and begin working on proofreading assignments, you can either be a college student or a graduate with relevant expertise.

For experienced graduates, a minimum of five years is required for employment. Depending on your labor commitment on this site, you will earn between $500 and $3,000 each month with relative ease.
13. SmartBrief
On SmartBrief, digital media publishers are mostly seeking editors.
If you are interested in this field and wish to proofread news industry-related documents, you must join our website.
For starters, the hourly rate is often $15.
14. R3Ciprocity [Niche-specific proofreading]
R3Ciprocity is a social media site for editors. The credit-based mechanism is really unique. You will receive credit for proofreading the work submitted by other proofreaders.
Credits accumulate as the cycle continues. In addition, these points can be redeemed for cash.
15. Polished Paper [For experienced proofreaders]
Polished Paper pays high prices for proofreading services, but only accepts applicants with experience.
After filling out the registration form on this website, you will be required to complete a 35-question online exam.
During the administration of this test, you can consult format instructions for assistance.
The polished paper claims to provide clients with FIRST-CLASS proofreading services and so never hires inexperienced employees.
Quick Links:
Wrapping It Up: Online Proofreading Jobs 2023
Until now, you must have determined your next steps. If not, allow me to explain the conclusion.
Choose websites that accept novices most frequently if you are a beginner. If you hold a bachelor's degree, you are eligible to apply for more positions.
Regardless of the path you choose, continue learning and climbing the ladder to earn more from proofreading.
You can maintain your goal of maximizing your hourly wage by gaining experience and acquiring high-paying clients and assignments.
Consider constructing your portfolio in numerous web locations.