What's great about having a side hustle is that it often involves activities we're already doing, such as driving. Out of the many driving apps, I have a list of the best ones that you can use to make money.
You can work as a courier or delivery driver, display ads on your car, or rent it out. If you have access to a car and some free time, the world is your oyster.
Being a driver is one of the most convenient and flexible ways to earn extra money, and it can even pay you the same day you work.
What are the different apps to make money driving?
There are numerous apps that pay you to drive, including DoorDash, Instacart, Uber, Amazon Flex, and more. Some jobs do not require a car; you can use a scooter, bicycle, or even travel on foot.
You may deliver items, advertise on your vehicle, rent it out, deliver food, and rideshare. It depends on whether you seek a flexible position or passive income.
13 Best Driving Apps to Make Money 2023
Here are some of the best driving apps to make money:
Uber is one of the best resources for drivers. It offers a convenient way to connect with riders and get paid quickly. The app also provides helpful tools and resources for drivers.
Uber is a transportation network company (TNC) with a mobile app that connects riders with drivers of vehicles for hire.
Uber drivers use their own cars to provide rides to riders who request them through the Uber app. Riders can request a ride, track the driver's location, and pay for the ride using their smartphone.
Uber was founded in 2009 by Travis Kalanick and Garrett Camp. It is one of the leading taxi services and is present in 10,000 cities across 69 countries. The best thing about Uber is that you can create your own schedule and work at any time.
You can register on Uber and get access to the Uber app to make money by connecting with riders.

To become an Uber driver, you must meet the following requirements:
Your state's minimum driving age

Valid US driver's license

A minimum of one year of driving experience in the US (three years if you are under 24) is required.

Vehicles with four doors must be eligible
Earnings: Your earnings are determined by the city you live in and the number of hours you drive. Earnings may be increased by promotions such as Quest and Boost.
Another food delivery firm that gives a great deal of flexibility and compensation is DoorDash. It is accessible in numerous US cities, and the sign-up process is straightforward.
You don't need a car to deliver with DoorDash; you may deliver on a bicycle or even on foot. This thorough study provides additional information regarding Doordash.

The bare minimum prerequisites for becoming a Dasher are as follows:
A minimum age of 18 is required

Ensure that your driver's license and insurance are valid

Receive delivery alerts on your smartphone
Pay: Depending on the city, you can earn between $8 and $15 an hour.
If you enjoy interacting with others, driving with Lyft is an excellent alternative for you. This company allows you to become a driver-partner and build a ridesharing business.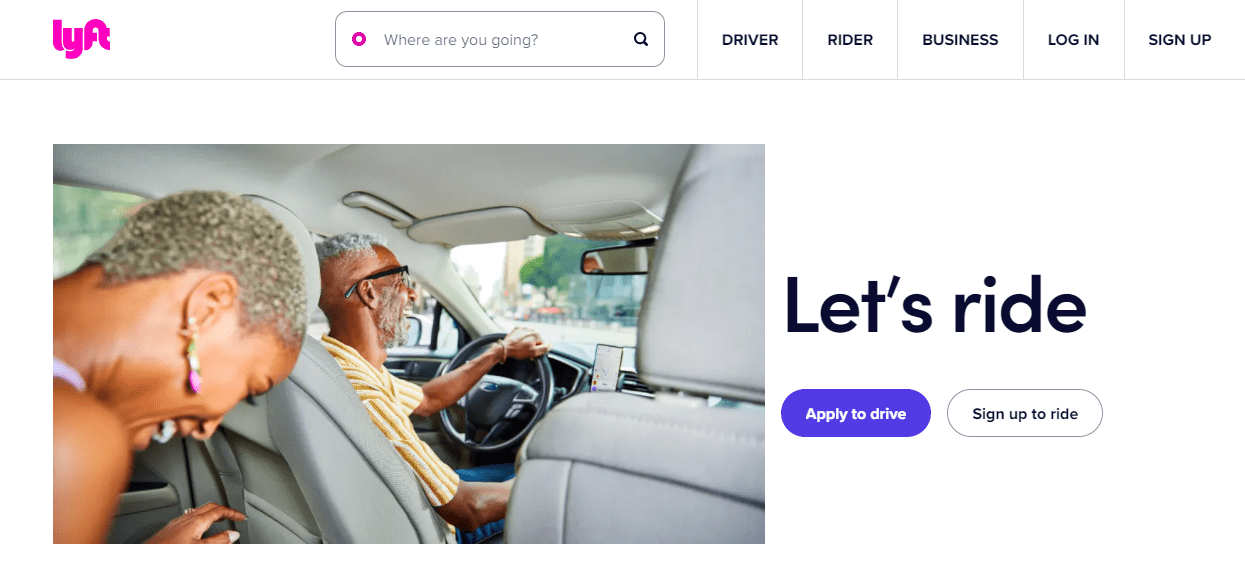 Applying to become a Lyft driver is rather straightforward. You must
You must be at least 21 years old

One-year-old or more valid driver's license

At least five seat belts and four external door handles are required for a car

Own an iPhone or Android device
Pay: As a Lyft driver-partner, you might earn up to $16 per hour. This is dependent upon the time of day and city in which you work.
Getaround is an excellent alternative if you dislike driving but want to make passive income from your vehicle. You may earn money by renting out your vehicle using Getaround.
This is an excellent passive income opportunity for folks who don't use their car often and want extra cash.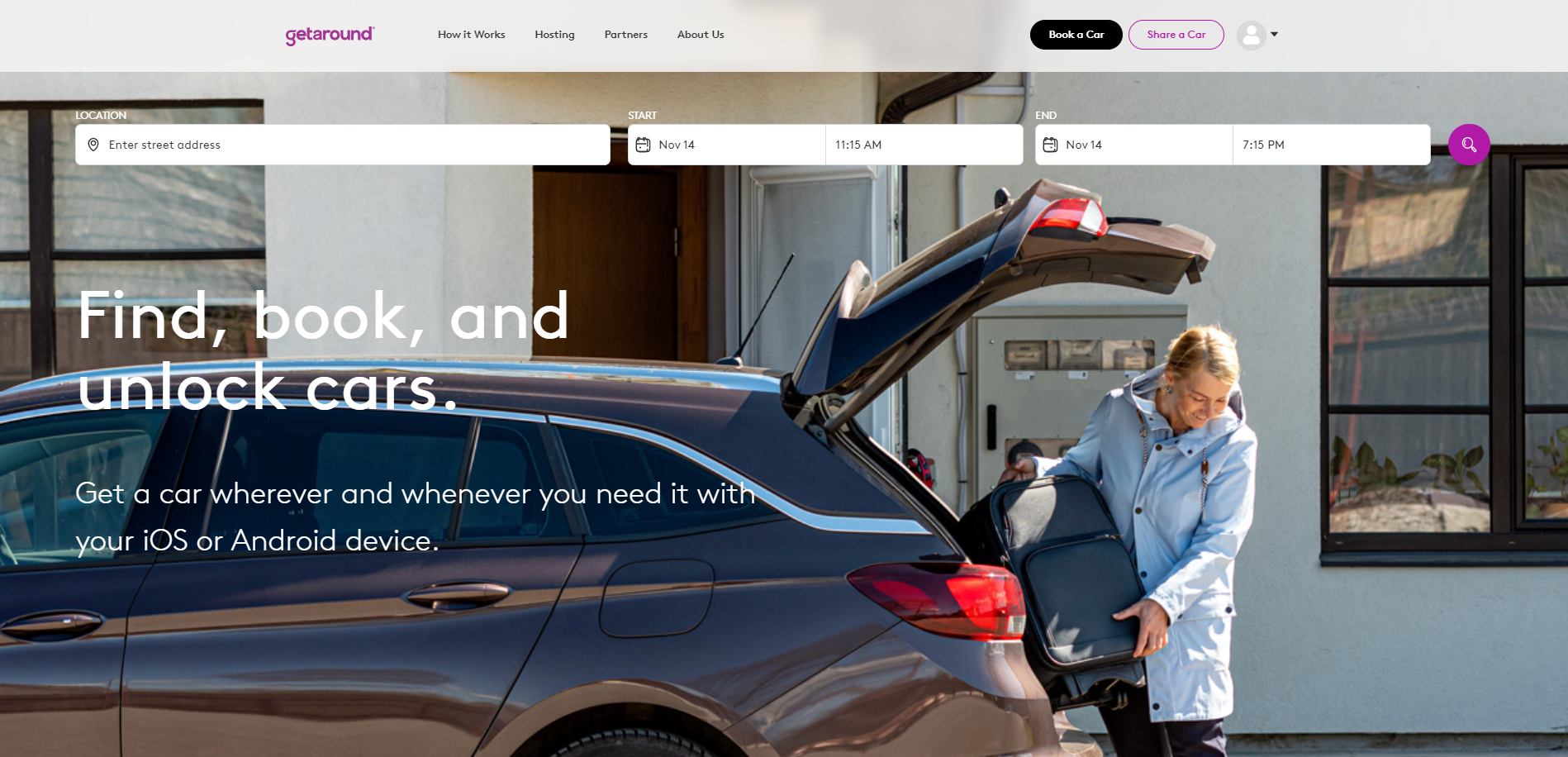 You can hire your car using the Getaround app, and the renters can even unlock the vehicle using the app. Getaround's insurance policy protects your vehicle for up to $1 million.
To list your vehicle on Getaround, it must meet specific criteria, including the following:
Be 2010 or newer

Have fewer than 150,000 miles on the odometer

Seat no more than eight passengers and have a minimum of four wheels.
Pay: You can earn up to $10 per hour, depending on the car's model, year, and market demand. Consider that Getaround deducts a 40% commission from your earnings.
You May Like This:
If you don't mind having advertisements shown on your vehicle, it could be a nice source of additional revenue.
Carvertise is a corporation that pays city-driving drivers to display advertisements on their vehicles. It's that straightforward.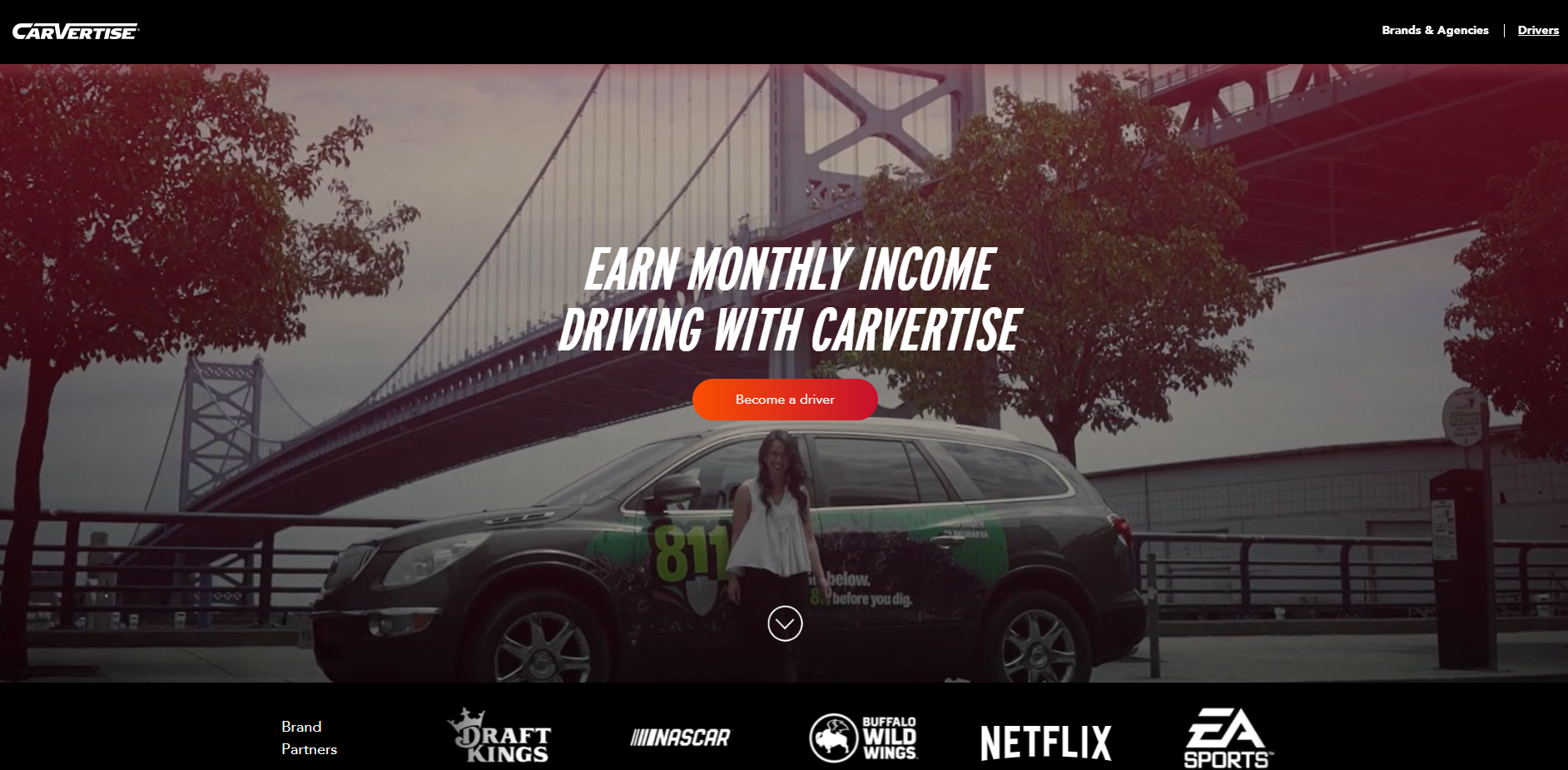 Carvertise is one of the legitimate firms that let you lend your car for advertising purposes, despite the prevalence of fraud in the industry.
After completing the online application and having your profile matched with a brand campaign, you can have your car wrapped and begin driving.
To qualify as a Carvertise driver, one requires
Drive a minimum of 30 miles daily

Possess a spotless driving record

On a 2008 or newer model automobile with factory finish paint.
Pay: Carvertise works on a campaign-by-campaign basis, and they can pay up to $100 per month.
With Instacart, you can use your vehicle to deliver groceries as a full-service shopper, or you can become an in-store shopper and simply bag the items.
You can register online, and after the background check is complete, you can begin your employment. This is an extremely flexible position that allows you to choose your own hours.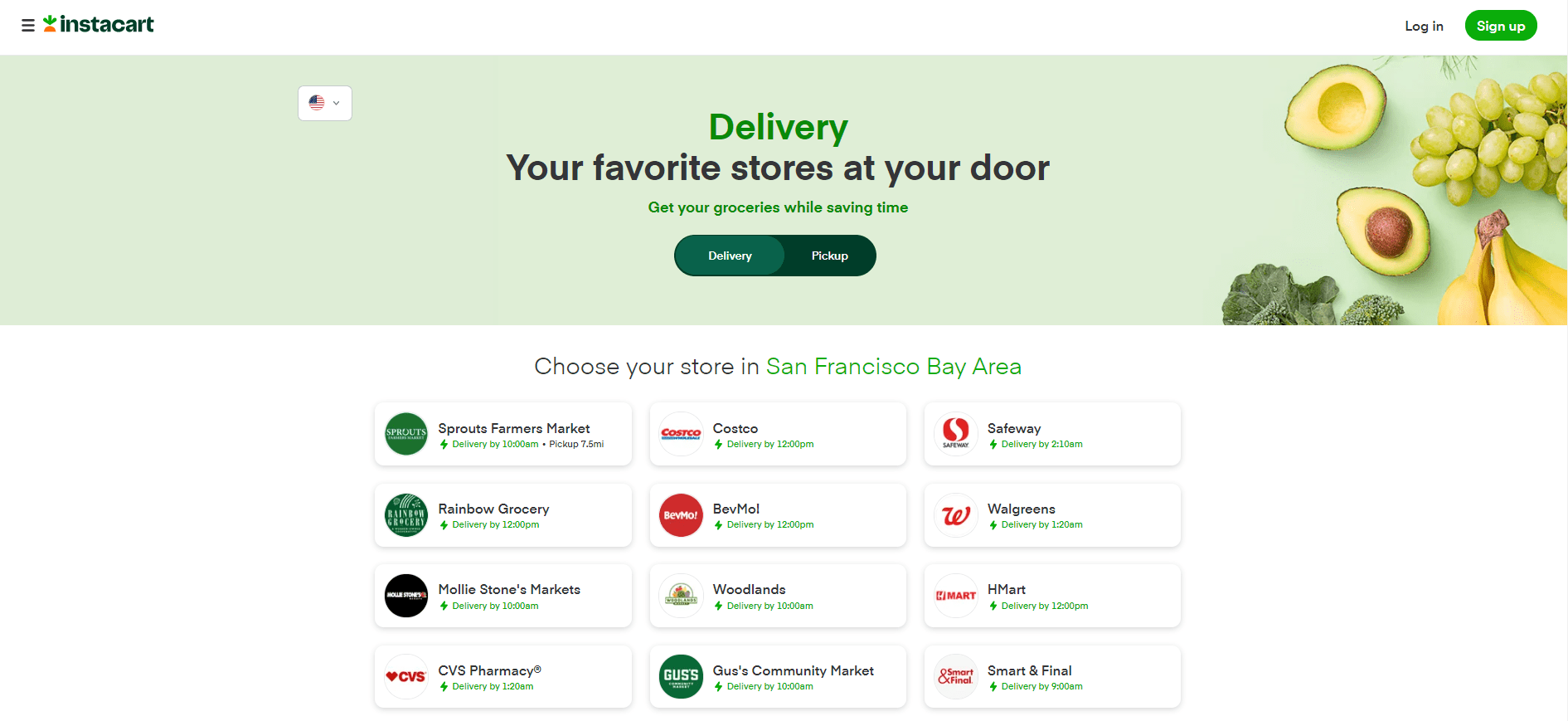 The prerequisites for being a full-service shopper are as follows:
Be at least 18 years old

Be able to work in the United States or Canada

Possess a mobile device with Android 5.0 or iOS 9 or later.

Possess a roadworthy, registered vehicle

Have vehicle insurance

Ability to lift above 30 pounds
Pay: The average hourly wage is between $14 and $15, depending on the region, hours worked, and orders accepted.
Read our comprehensive evaluation of Instacart to discover more about this firm.
As an Amazon Flex delivery driver, you may earn extra money on the side. This site employment offers many advantages, including flexibility and a good salary.
After registering online, downloading the app, filling out the necessary information, and passing a background check, you can begin selecting your hours.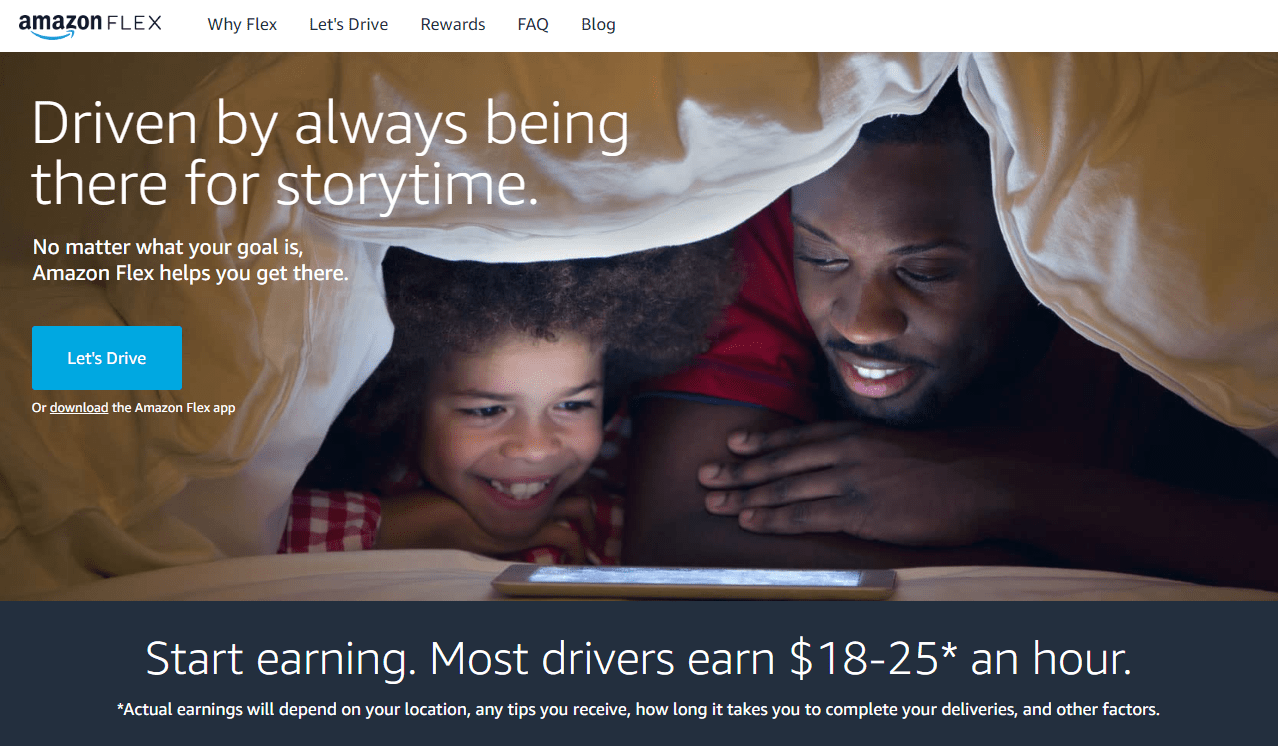 The following conditions must be met to become an Amazon Flex driver:
At least 21 years of age

Own a mobile phone

Have a proper license and insurance coverage.

Possess a qualified vehicle
Pay: You can earn $18 to $25 per hour, according to the website.
Anyone with a car, scooter, or bicycle can be hired via Grubhub. Grubhub was regarded as one of the most prominent food delivery services in the United States.
It collaborates with over 75,000 eateries and delivers to 1,300 cities in the United States.

These are the prerequisites for becoming a Grubhub driver:
Pay: around $12 an hour The cities that Grubhub delivers to in the United States are listed on its website.
The income varies according to the city in which you work, busy times such as lunch and supper, and the number of deliveries. Tips are another method for increasing earnings on Grubhub.
Turo is a peer-to-peer rental startup that allows you to hire your vehicle for additional income. You can list your vehicle for free on the website by providing all pertinent information.
Once the listing is online, renters can rent your automobile. Turo also provides up to $750,000 in insurance coverage to reduce your stress.

The prerequisites for listing your vehicle on Turo are as follows:
Acceptable models must be from 2006 or later

Mileage less than 130,000

The title should be clean

U.S.-registered
Pay: Despite the website's claim, you may be able to earn up to $1,000 per month depending on your location.
Wrapify is a corporation that rents out vehicles for advertising purposes. Wrapify is comparable to Carvertise and also pays highly. You can register online or via the app.
The primary difference between Wrapify and Carvertise is that Wrapify pays per mile driven.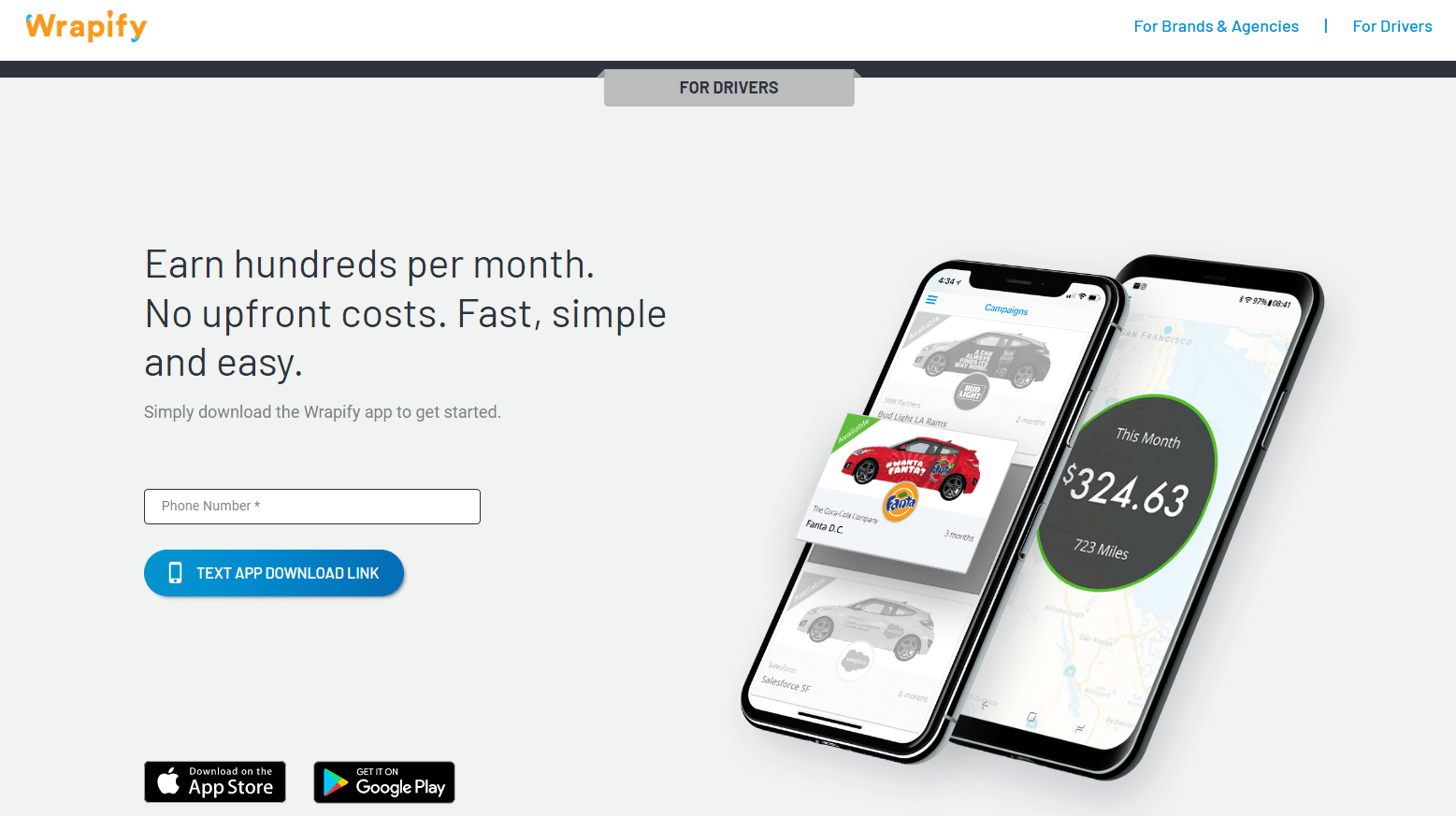 Included among the prerequisites to rent a vehicle from Wrapify are the following:
Be at least 21 years of age

Carry a mobile phone.

On a 2008 or newer model automobile
Pay: Depending on the wrapping type, you can earn approximately $150 to $500 per month.
11. Roadie
With Roadie, being paid to drive is simple. As a Roadie driver, you are able to deliver anything for compensation.
The software allows you to select your own schedule and accept the tasks you desire. Registration is simple online or through the mobile app. It is one of the most versatile driving apps for making extra money.
Roadie's driver requirements include the following:

At least 18 years of age

Have a valid driver's license

Four-star rating within the Roadie community
Pay: Pay depends on distance and gigs, but it generally ranges from $10 to $40.
12. Postmates
As a Postmates courier, you will deliver meals, groceries, and beverages. This organization is among the best options for anyone interested in food delivery careers.
If you want to become a Postmates driver, all you need to do is register online through the Fleet app. After the background check is complete, you are free to proceed.
The following are the prerequisites to becoming a Postmates driver. You must
You must be at least 18 years old

Own a vehicle or bicycle that is insured

Obtain a background check
Pay: Postmates' website states that you can earn up to $25 per hour delivering products.
13. Shipt
Shipt, like Instacart, is a service that allows you to buy and deliver groceries on demand. Shipt functions similarly to Instacart, and it is incredibly simple to apply online.
After passing the background check and downloading the application, you may begin working.
Here are the prerequisites for Shipt shoppers:
At least 18 years of age

Have a current valid mailing address

Possess a valid U.S. driver's license and proof of auto insurance.

Possess a dependable vehicle (1997 or newer)

Knowledge of fruit and vegetable choices

Have the ability to lift 45 pounds

Possess an iPhone (iOS 10 or later) or Android smartphone (5.1 or newer)
Pay: Shipt shoppers receive a base pay of $6 per hour plus tips.
FAQ About Best Driving Apps To Make Money
How much money can a driver make?
It depends on your employer, the distance you travel, and the number of trips you make. When determining your pay, always include expenses like petrol, insurance, and car upkeep. Many ridesharing and delivery drivers increase their revenue by registering with multiple companies. This affords them additional funds and flexibility.
Which service is superior: meal delivery or ridesharing?
If you want less social engagement, food delivery is an excellent option for you.
How can I generate more money from cars?
In addition to food delivery and ridesharing, you may generate passive income by renting your automobile through firms such as Turo and HyreCar.
What if I do not own a vehicle?
Not having a vehicle does not prevent you from earning money. You might use organizations such as DoorDash that allow meal delivery on foot. The Miles app is another simple method to earn additional money by walking. Simply walk, run, bike, or use the train to earn incentives redeemable for gift cards.
Quick Links:
Final Thoughts: Best Driving Apps To Make Money 2023
Getting paid to drive is simple, and it can sometimes be entirely passive revenue.
You must ensure that your automobile is in good condition, that you can drive specific distances, and that you have a valid license and insurance.
Consider the aforementioned driving applications to generate money from your automobile if you are interested in earning extra money.