Looking for an in-depth review of Oxylabs? We're here to help you out, in this article, we have shared detailed insights about Oxylabs that you must know before making a purchase.
URL blocking and similar ways make it quite a hassle to get data and these have become too common these days. Website owners use these technics to secure their websites from hacking and other forms of unauthorized access.
Some websites limit access to their website to target only certain GEO locations where most of their target customers come from.
Even with the Blocks and limited access, not everything is lost. People still find their way around and are able to get to almost any content they want. So how do they really do it?
They use proxy servers, though… Oxylabs is definitely one of the platforms which offer high-quality proxies.
Oxylabs Review: What are Oxylabs?
Oxylabs is one of the tech companies that focuses on getting large amounts of web data and crawling web pages.
With more than 1.5 million dedicated proxies and 30 million residential proxies in more than 180 countries, there's no doubt that the company is committed to giving its clients premium-level proxies.
Oxylabs has been harvesting and extracting web data successfully for more than a decade.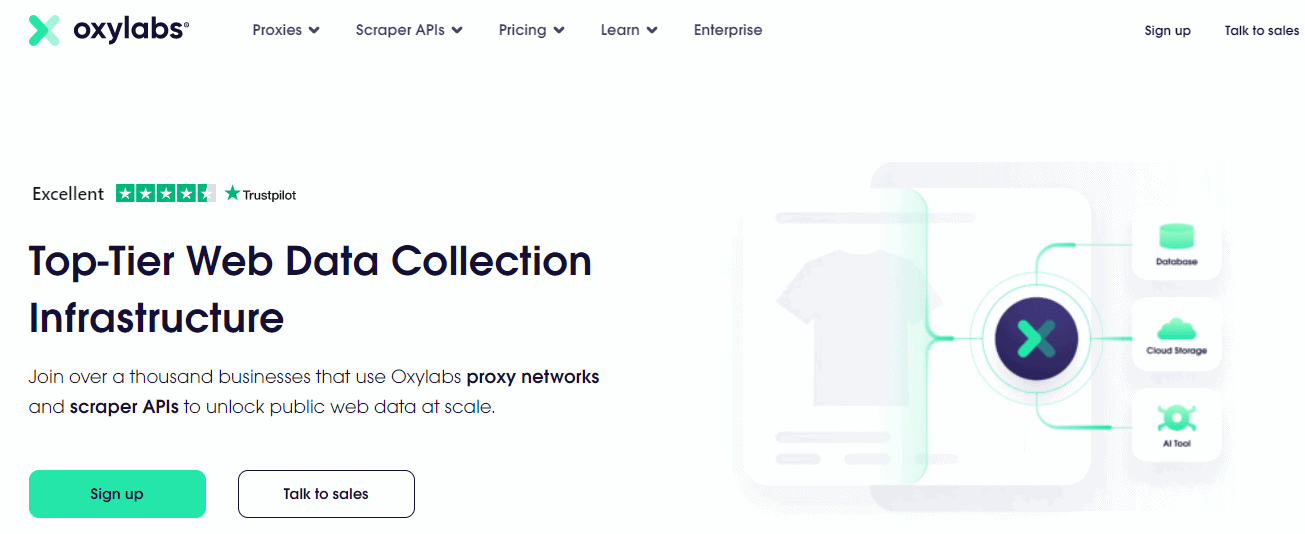 They give businesses tools and proxies that make it possible to hide your identity and keep your privacy when you use the Internet.
Simply put, Oxylabs focuses on both IPs for data centers and IPs for homes that support the HTTP/HTTPS and SOCKS 4/5 protocols.
What Features Does Oxylabs Offer?
A company such as Oxylabs can benefit you in many different ways. Here are a few of their most popular features:
1. In-House Rotation: They do all of their IP switchings in-house, so you only need to sign up for an IP address, and they will rotate it every time you send or receive a message.
2. More Than One Location: With Oxylabs, you have the option to use proxies in more than one location, from South America to Asia, Europe to the United States.
3. Full IPV6 Support: With Oxylabs, you can harvest data from search engines using IPV6, which is very convenient. The company also takes advantage of internet protocols.
4. Customized Setup: Data Extraction Projects offer custom-made configurations, so you are able to meet your needs because it is unique.
5. Around-the-clock support: These guys offer you technical support whenever you need it, and their friendly staff is more than happy to assist you over the phone or via email.
Support team members are available 24 hours a day, literally every day, so no matter what time you need help, they will be there.
6. 99% Uptime: Oxylabs' data centers offer customer-designed software so that they can provide their clients with some of the most reliable data centers.t is 99.9%.
Safety Features are Built in: IP addresses that have already been restricted or blocked will be blacklisted so there will be little chance of you getting in trouble with the IP address you are provided with.
7. Advanced Stats: You can access all of the information you need to make the appropriate queries, as well as track how much their service costs and how much you use it.
Session control: Session control minimizes the chance of being blocked or even receiving incorrect data.
8. The diverse amount of resources: The IPv4 data from this company contains over 750,000 IP addresses from all the major continents, as well as high bandwidth, which is always nice.
Ethicality in Web Scraping
Honeygain, a crowdsourced web intelligence network, became Oxylabs' main Residential Proxy provider when they signed an exclusive wholesale contract with them in March 2021.

This contract makes sure that Oxylabs Residential Proxies meet the criteria for Tier A+ proxies, which include full transparency and financial rewards for the people who use their network.
Also, Read This:
Oxylabs General Datacenter Proxies

Oxylabs shared data center proxies are a powerful and cost-effective proxy solution. Scraping jobs will be successful if the integration process is simple and the infrastructure is reliable.
With the shared data center proxies, you get a common proxy pool of 20,000 to reach targets in the United States and Europe. The pricing for these is as follows:
Starter Plan
Cost per GB- $15 Per Gb.
Storage- 20GB included.
$300 min monthly.
Shared data center – $0.60 / GB 100$/mo
Business Plan
Cost per GB- $12 Per Gb.
Storage- 50GB included.
$600 min monthly.
Shared data center – $0.55 / GB 200$/mo
Corporate Plan
Cost per GB- $9 per GB.
Storage- 100GB.
$900 min monthly.
Shared data center – $0.48 / GB 500$/mo
Enterprise Plan
Custom price per GB.
Storage- 1 TB+ .
$5000 min monthly.
Shared data center – custom price / GB 1000$/mo
Oxylabs Dashboard
The Oxylabs dashboard has five sections: an overview, three sections for proxy services (Next-Gen Residential Proxies have their own Dashboard), and one section for your account.

Once you buy one of the services, you can keep track of how your proxy is being used, change the settings for authorization, access the public API, and read the relevant documentation.
You can also keep track of how often you use it.
Location Coverage By Oxylabs
Oxylabs' network is mostly spread out over more than 6 continents, and they are working hard every day to add more resources.

Here, they can send IPs from many different countries and also give people choices.
Oxylabs Scraper API
Scraper API is an all-in-one tool for scraping the web quickly and effectively. Their data scraper API lets you get data from any public website in real time.
It is easy to use and doesn't require the client to have any extra resources or infrastructure.
Scraper API For Search Engine
Here, it's easy to get both organic and organic SERP data with the help of Scraper API. Just get the monthly search volume (MSV) or the ranking data for any keyword in raw HTML or JSON format.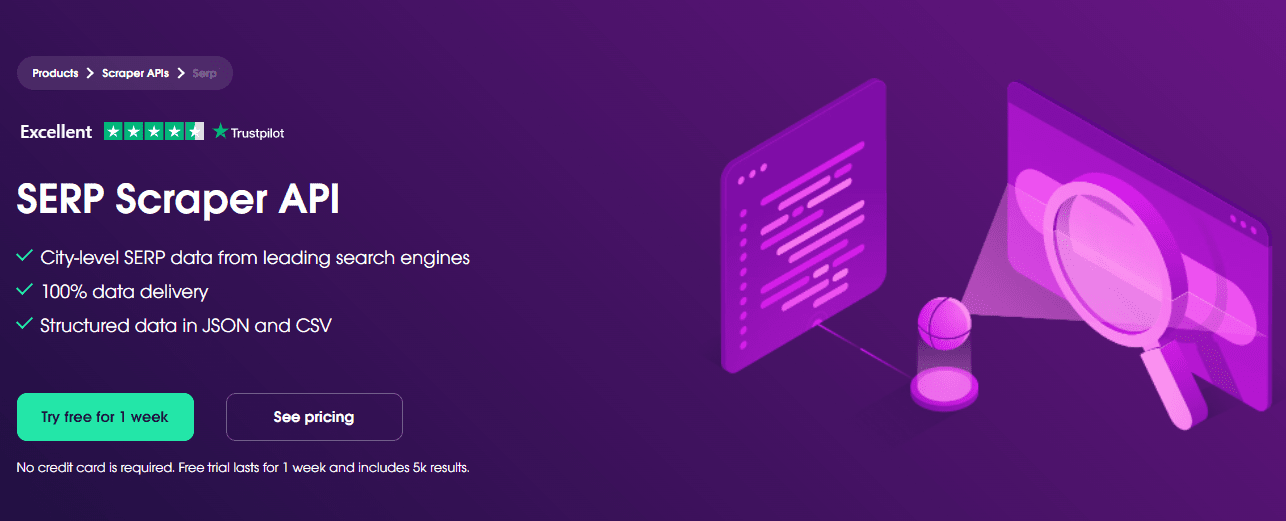 The best Scraper API is one that can handle any number of requests in any place and for any keyword. When you use natural geolocation IP addresses, you will get a lot of accuracy.
Scraper API For E-Commerce
With the Scraper API, you can easily keep track of all the changes in the prices of products in the most popular retail marketplace.

Now you can easily get data from product pages, product offer listing pages, review pages, and many other places.
Oxylabs General Proxy Pricing
Oxylabs offers proxies:
Private Proxies

Shared Proxies

Residential Proxies

SOCKS5 Proxies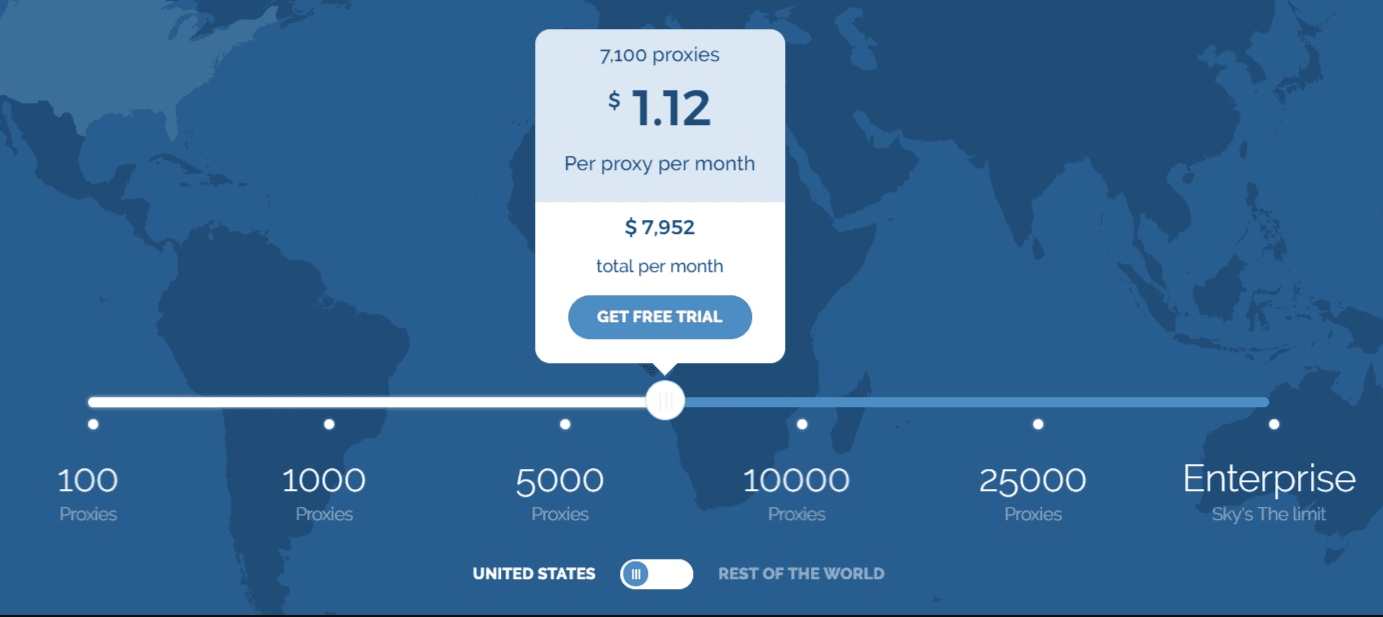 Just choose where the proxy is and how many IPs you want. The price per proxy starts at $1.78. Here, you can choose from a list that starts at 100 IPs. And you can turn the slide bar to see the real prices based on your needs.
Oxylabs Customer Support is Available 24*7
If you'd like to talk to a real person right away, Oxylabs offers 24/7 live chat support. To get answers to any questions you might have, you can also contact their sales representative or search their documentation.
FAQs about Oxylabs

Documentation for Oxylabs

You can chat live with us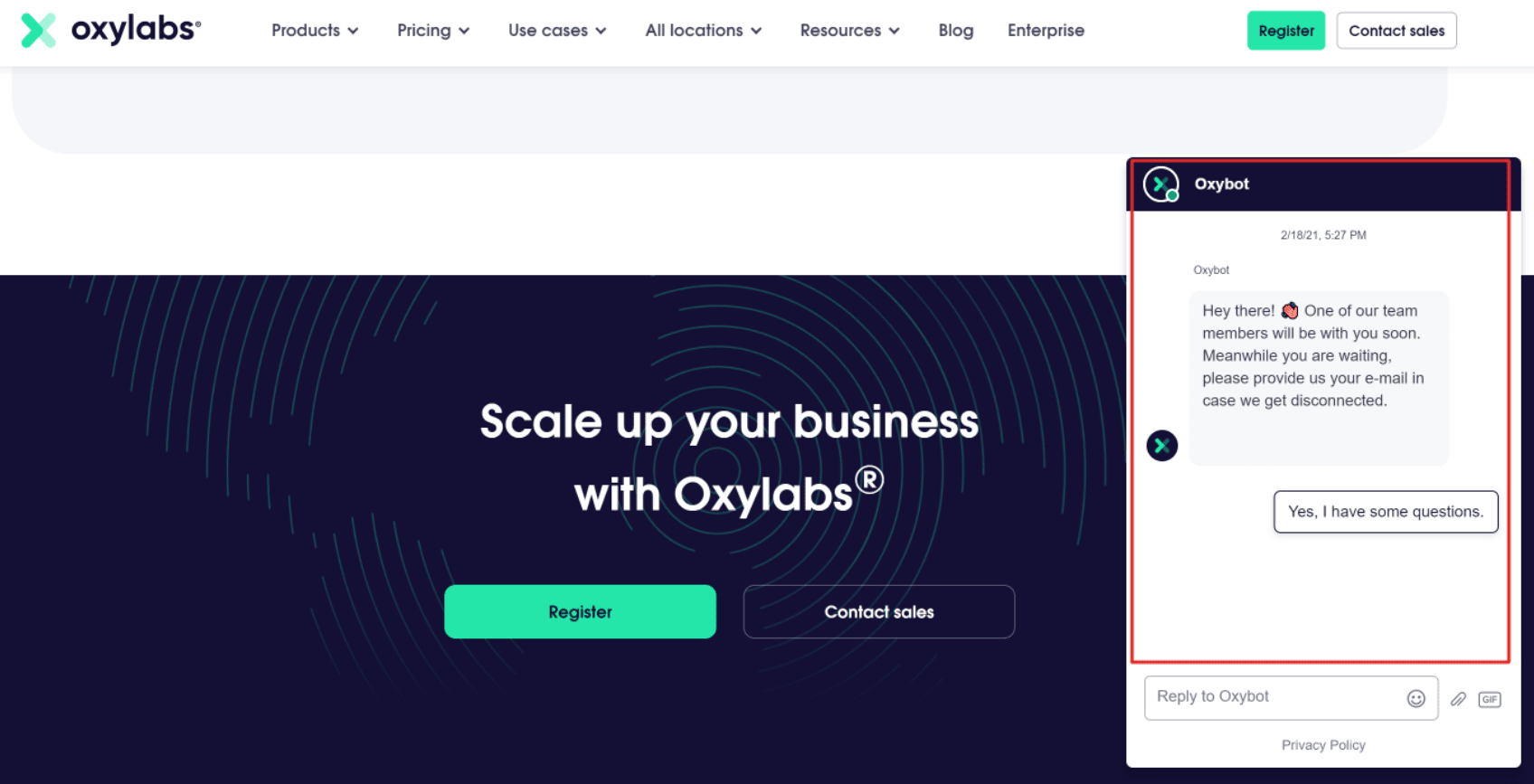 Once you buy one of their products, they offer their Dedicated Account Managers hands-on support. Their representatives are available by email or live chat to answer your questions. They communicate smoothly and promptly.
Quick Links:
Conclusion: Oxylabs Review 2023
As I said, there are hopes. If you are in the audience that Oxylabs wants to reach, you can be sure that you won't be disappointed.
It's not the kind of service where you put something in a cart, pay for it, walk out the door with a thin instruction manual, and that's it.
We're talking about business, so be subtle, polished, and straight to the point. You'll get to know real people who will remember your name and needs and go out of their way to make sure you're happy.
You'll get good service, but what's more important is that it will be reliable. Both the proxies and the scraping tool are really top-notch.
In short, you won't have to worry. In exchange, you will have to pay more. The entry level is also pretty high. For Oxylabs, "basic" means 50GB of residential proxies.
With more advanced plans, the prices get a lot better, but then we're talking about 1TB of data or 5,000 IPs.
All of this comes down to two questions: do you need the best proxy service and will you use it to its fullest? If you answered yes, you may have just found a proxy provider.