In this Control D review, we delve into a powerful DNS service that aims to revolutionize your online experience.
With its extensive features and customizable options, Control D offers users unparalleled control over their DNS resolution, web filtering, and traffic redirection.
From bypassing geo-blocks and enhancing online safety to improving productivity and browsing speed, Control D promises to deliver a comprehensive solution for individuals, families, and businesses. 
Join us as we explore the key features and benefits of Control D and assess its effectiveness in providing a safer, more efficient, and personalized browsing experience.
Control D Review 2023: What is Control D?
Control D is a powerful DNS service that offers extensive customization options to enhance your online experience.
At its core, Control D is a customizable DNS filtering and traffic redirection platform that goes beyond the capabilities of a standard DNS resolver.
DNS, which stands for Domain Name System, is like a phone book for the Internet. It translates human-readable domain names into IP addresses, allowing your devices to locate websites and services.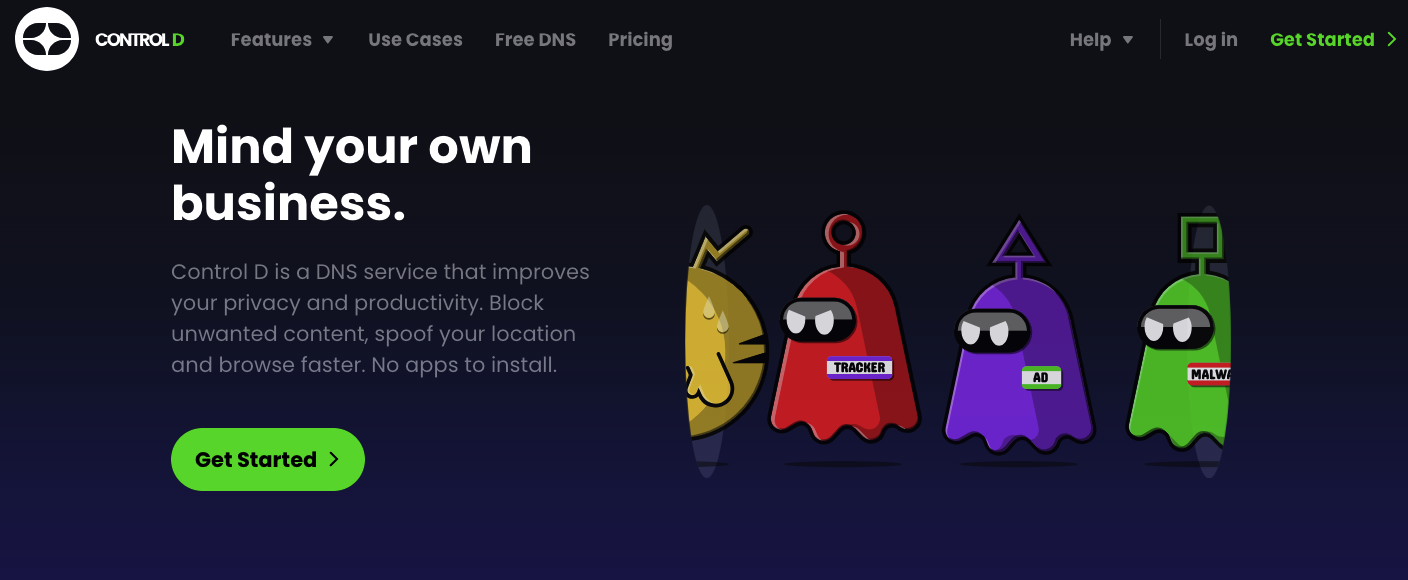 Typically, when you enter a domain into your browser, your request goes from your device to your router, which then forwards it to a DNS server (such as your ISP's server or a third-party resolver like Cloudflare or Google).
Eventually, the request reaches the authoritative DNS server that holds the IP address associated with the domain.
Control D functions as a DNS resolver but with added features and flexibility. While a traditional DNS resolver provides static responses, Control D allows you to exert granular control over DNS resolution, redirection, and blocking. 
With Control D, you can customize how domains get resolved, redirected, or blocked. You can prevent specific domains from loading, spoof their IP addresses to a location of your choice, or route the traffic through one of over 100 supported exit proxy locations.
This transparent proxying feature masks your client IP and lets you control the flow of both SNI (Server Name Indication) and non-SNI-enabled traffic.
Control D Pricing & How To Buy Guide?
Step – 1: Go to the official website of Control D and click on 'Pricing'.
Step – 2: Click on 'Select' below the plan of your choice.
Step – 3: Fill in the details asked, do the puzzle, and click on 'Create Account'.
Step – 4: Choose your payment details, fill in the details asked for, and click on 'Finish'.
You will then get a configuration code.
Step – 5: Go to this link and click on the OS you use. For now, I am going with 'Windows'.
The download will automatically start. Let it complete and then open it. 
Step – 6: Fill in the configuration code and click on 'Configure'.
That is it. You are good to go.
Pros & Cons Of Control D
Pros
Extensive customization for personalized browsing profiles.

Ability to bypass geo-blocks and access restricted content.

Powerful web filtering tools for enhanced online safety.

The teleportation feature offers over 100 locations for browsing.

Productivity scheduling for improved focus and efficiency.

Faster browsing experience with optimized content delivery.

Privacy enhancement through blocking unwanted content and tracking.

User-friendly interface for easy configuration and management.

Support for modern protocols ensures compatibility and security.

Comprehensive analytics for monitoring and insights.
Cons
Quick Links:
Conclusion: Control D Review 2023
Control D is a highly recommended DNS service that offers a multitude of features to enhance your online experience.
With its extensive customization options, Control D allows you to create unique browsing profiles for different devices, ensuring personalized settings for each family member.
By bypassing geo-blocks, you can access restricted content from any location without the need for a separate VPN installation. 
Control D also prioritizes the safety of your family by providing powerful web filtering tools, enabling you to block adult content, drug-related websites, and more.
With over 100 locations to choose from, Control D allows you to teleport to different countries, providing both privacy and access to geo-restricted content.
Moreover, Control D boosts productivity by enforcing customized schedules that block distracting websites and content, helping you stay focused and efficient.
By eliminating unnecessary tracking and ad code, Control D optimizes your browsing speed, ensuring a faster and more streamlined experience.
Additionally, Control D emphasizes privacy and productivity, allowing you to browse the internet with enhanced privacy and without the need for additional applications.