If you're looking for a high-performance cloud storage solution, IceDrive is an ideal choice.
It is a next-generation platform that provides users with fast, secure, and reliable data storage. IceDrive offers a range of features that make it easy to store, access and share files online.
From the very beginning of its development, the team behind IceDrive focused on creating a platform that would be incredibly intuitive and user-friendly while also providing top-notch security measures to protect customers' data.
With its ultrafast servers located around the world and its strong encryption technology, IceDrive stands out as one of the best cloud storage providers in the market today.
IceDrive Review 2023: What Is IceDrive?
IceDrive is a cloud storage and backup service that allows users to securely store and access their files from anywhere.
It offers features such as end-to-end encryption, automatic backups, file sharing, and integration with other applications.
With IceDrive, users can choose from a variety of storage plans and can upgrade or downgrade at any time.
Additionally, IceDrive has a user-friendly interface and offers customer support through email, live chat, and a knowledge base.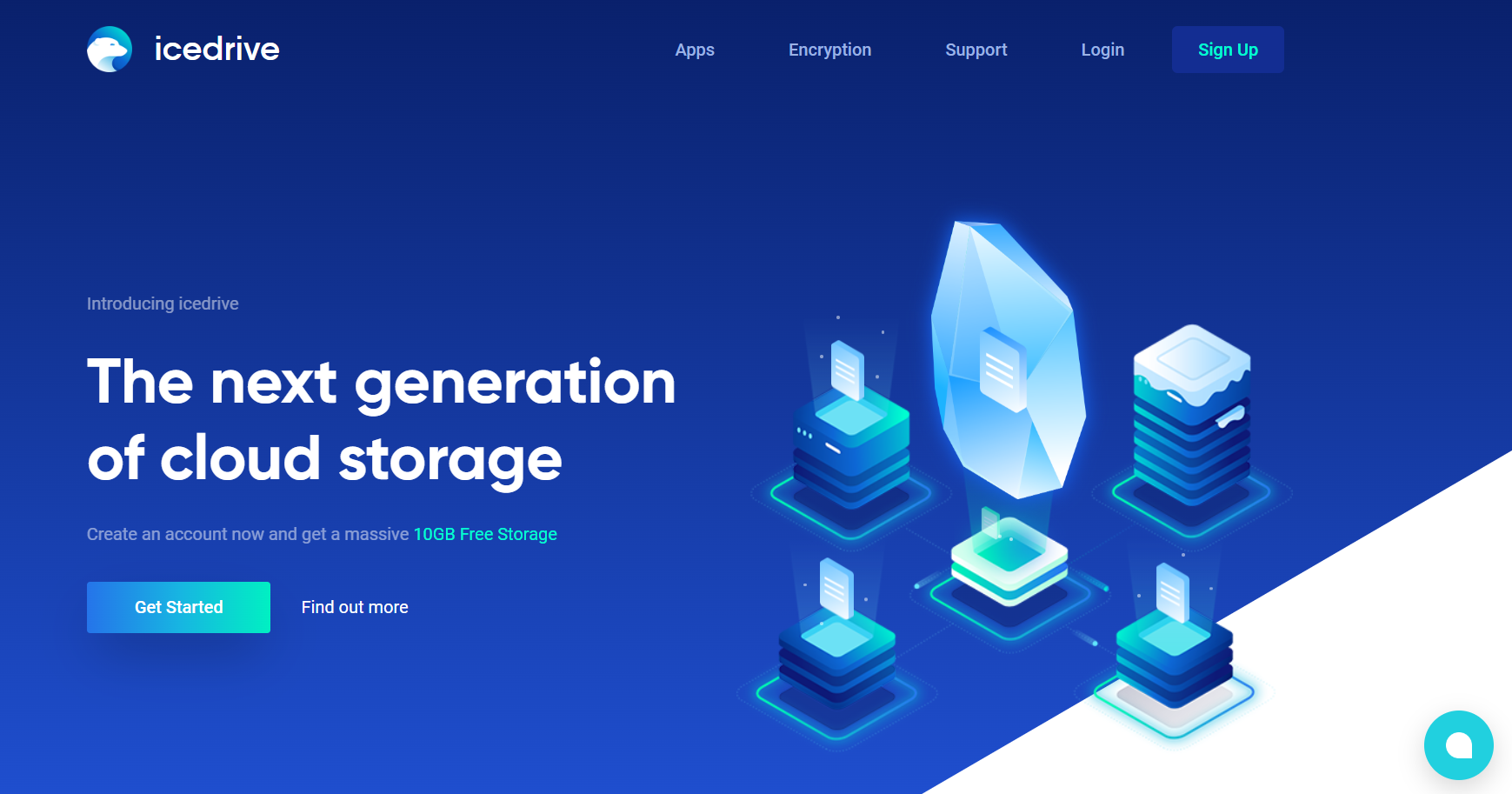 It allows users to store, share, and access files from anywhere with an internet connection. It was launched in 2019 and is based in the UK.
One of the main features that sets IceDrive apart from other cloud storage services is its innovative use of a virtual drive.
This virtual drive functions like a traditional hard drive on your computer, allowing you to drag and drop files to and from the cloud.
This makes it easy to use and understand for users who may not be as familiar with cloud storage technology.
Another feature that IceDrive offers is its security measures. The service uses end-to-end encryption to ensure that all data is protected and kept private.
This means that only the user who uploaded the data has access to it. IceDrive also offers two-factor authentication to add an extra layer of security.
IceDrive offers a range of plans to suit different storage needs and budgets, ranging from a free plan with 10GB of storage to a 5TB plan for a monthly fee.
It also offers a lifetime plan for a one-time fee, which allows users to store up to 5TB of data without worrying about monthly payments.
IceDrive Pricing: How Much Does It Cost?
IceDrive offers a range of pricing plans to suit different needs, all of which come with some notable benefits.
The 10 GB Cloud Storage plan is the most affordable option and comes with 3 GB of daily bandwidth, but it does not include client-side encryption.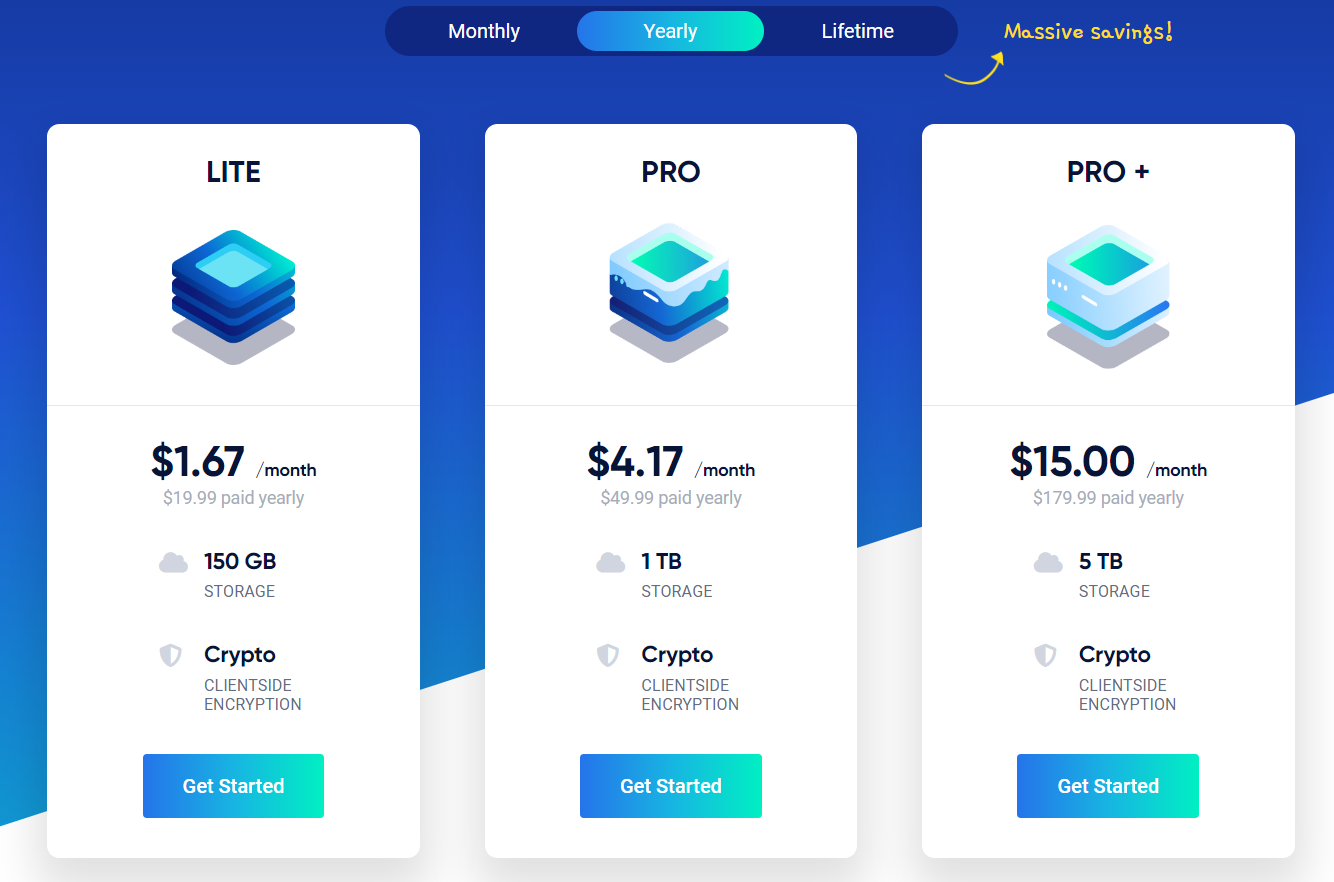 For those who prioritize security, the Pro and Pro+ plans offer unbreakable client-side, zero-knowledge encryption.
In addition to security and storage, IceDrive offers several other useful features.
Password protection allows you to control access to your shared files, while share timeout ensures that your files are only shared for a set amount of time. Upgraded features on the mobile app provide even more functionality.
IceDrive stands behind its service with a 14-day money-back guarantee. If for any reason you are not satisfied with the service, IceDrive will provide a full refund for peace of mind.
With a variety of pricing plans and useful features, IceDrive is a solid option for anyone looking for secure and reliable cloud storage.
You May Also Like This:
IceDrive Web App
IceDrive is a cloud storage service that provides a web application with a comprehensive set of features and an intuitive UI.
The online application is suited for all current browsers and screen sizes, allowing you to access your cloud storage from anywhere.
You may manage your files using drag-and-drop, right-click, and keyboard shortcuts using the IceDrive online application's complete file manager.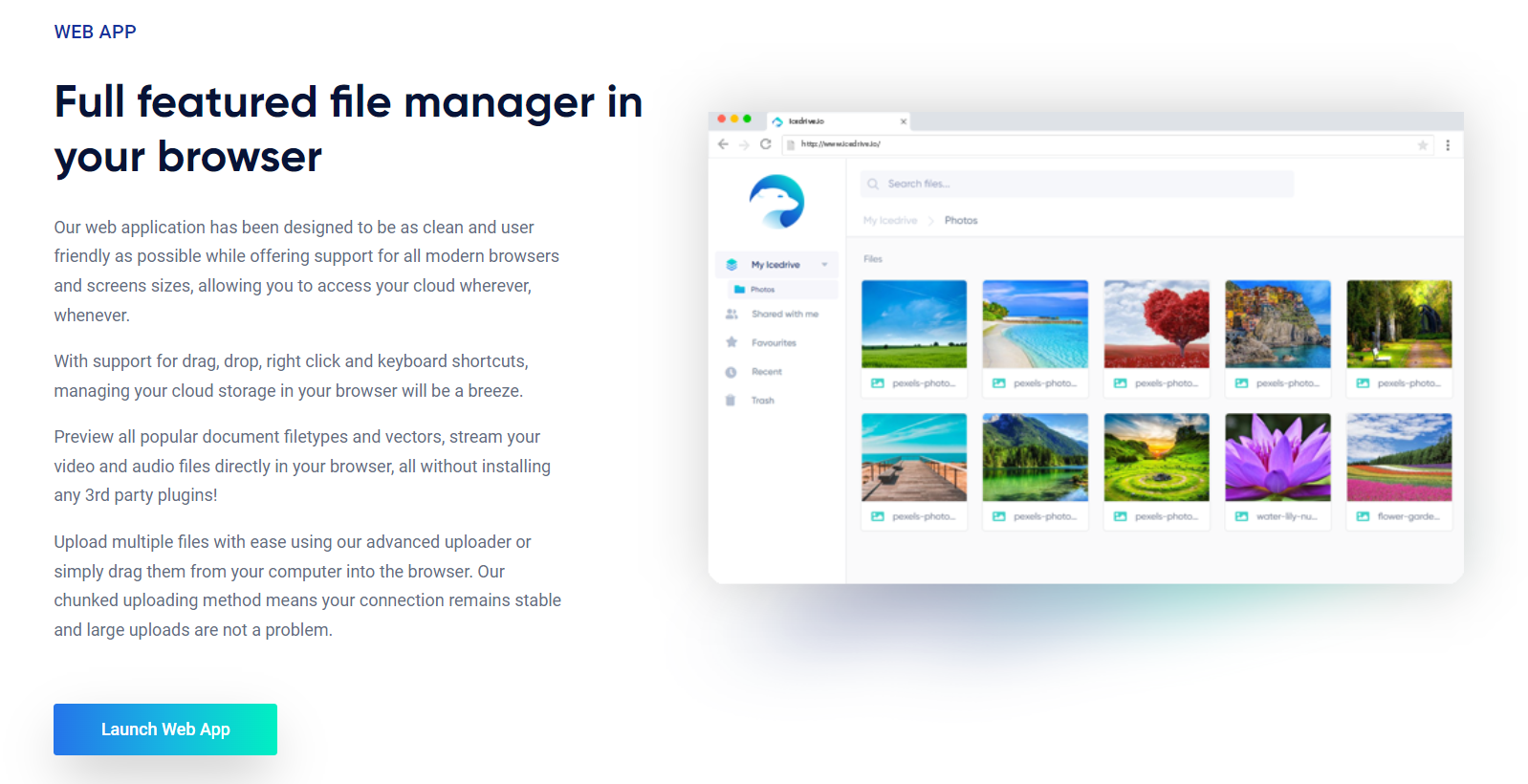 It also enables previewing common document file formats and vectors directly in the browser, as well as streaming video and audio files without the need for additional plugins.
Multiple file uploads are a pleasure with IceDrive's sophisticated uploader, which utilizes a chunked uploading mechanism to guarantee that your connection stays steady and that uploading huge files is not an issue.
In addition, the online client for IceDrive supports document conversion, enabling you to convert the common document and vector formats to a format that can be previewed in the browser.
Icedrive Collaboration
IceDrive for PC
IceDrive PC App is a novel desktop application that enables you to access and control your cloud storage space as if it were a real hard drive or USB stick inside your operating system.
With the IceDrive PC App, you can easily edit, upload, delete, and open files, using the same capabilities and interface as your native operating system.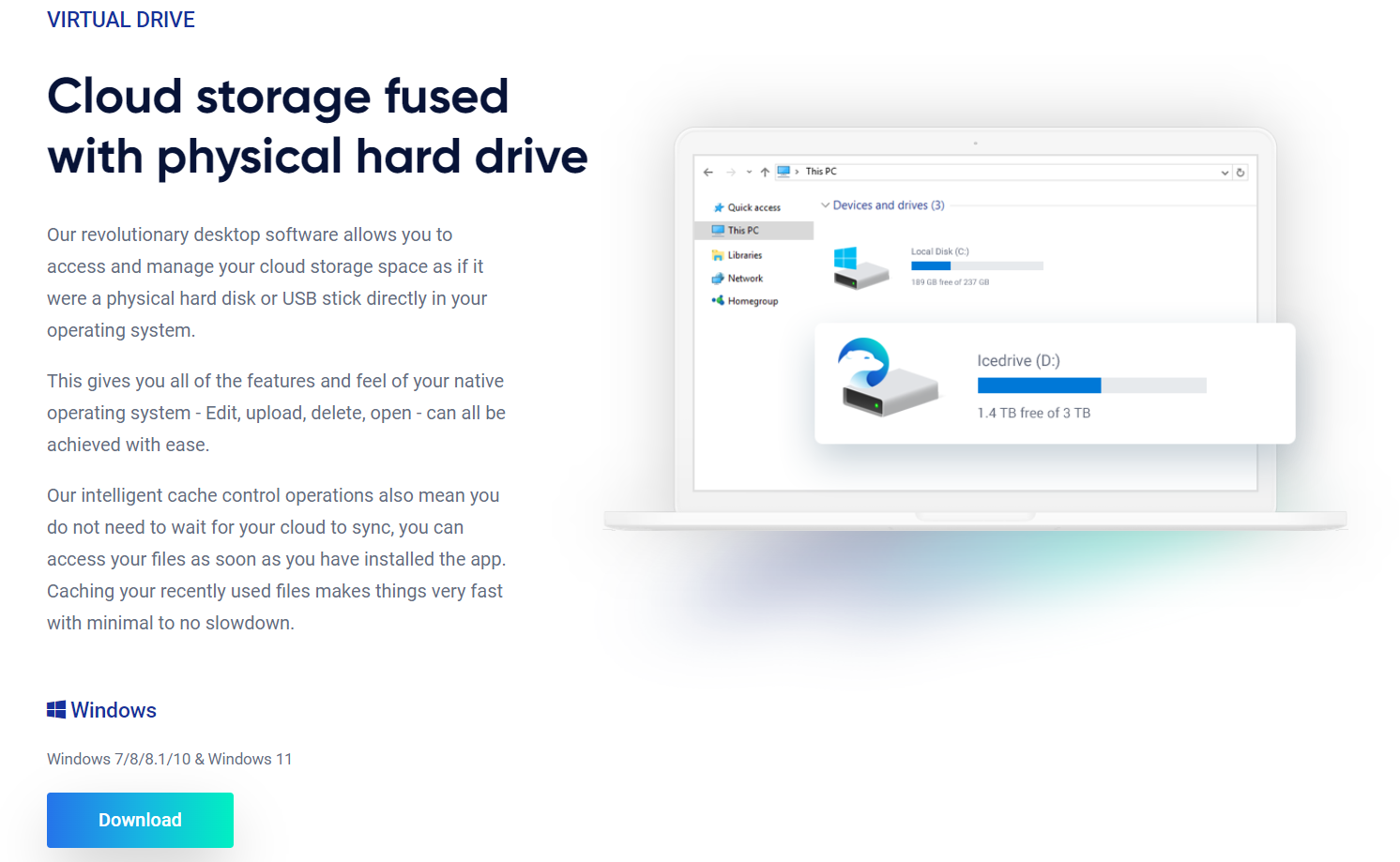 The program supports Windows 7/8/8.1/10 and Windows 11 and delivers a natural OS experience, enabling you to utilize the cloud as if it were an additional hard drive inside the main operating system environment.
In contrast to other cloud storage services, IceDrive PC App does not need bandwidth or time-consuming synchronization, making it simple for users to mount the drive with a single click.
In addition to the PC version, IceDrive provides a portable app with complete functionality that can be used on any operating system.
The portable program has all the capabilities of the desktop version, including the ability to upload and download files and folders, stream media with an integrated media player, preview all common document types, and see photographs without the need to download.
Using the portable app, you can also edit files using native apps. Changes to a file are downloaded to a temporary place, and then the program monitors the file for modifications and immediately uploads the updated version to your cloud.
With the IceDrive PC App and portable app, cloud storage management has never been simpler or handier.
Quick Links:
Conclusion: IceDrive Review 2023
IceDrive is an excellent cloud storage system that gives users a great deal of flexibility and features.
Its prices are competitive and the wide range of integrations makes it easy to use with several different services.
The security features are strong, providing users with peace of mind when it comes to keeping their data safe and secure.
With the ability to easily access files from any device, wherever you go, IceDrive provides users with convenient file storage solutions that can be used on any platform or operating system.
If you're looking for a reliable cloud storage provider that offers a wealth of features while remaining affordable, then IceDrive is your best bet.
It's sure to provide all the features you need to store your important files securely and conveniently.