In this blog, I am going to discuss MultCloud Review 2022.
About MultCloud
MultCloud is a web-based cloud data transfer service that enables users who use multiple cloud storage accounts to transfer cloud drive files from one cloud to another or migrate the entire cloud data from one cloud to a new account without downloading and uploading.
MultCloud currently integrates over 30 + leading personal and business clouds such as Google Drive, Dropbox, OneDrive, MEGA, and more.
With MultCloud, cloud fans no longer need to carry out the manual migration which will not only cost a lot of time but also bandwidth.
It's available on the monthly plan, quarterly plan, yearly plan, and lifetime unlimited plan.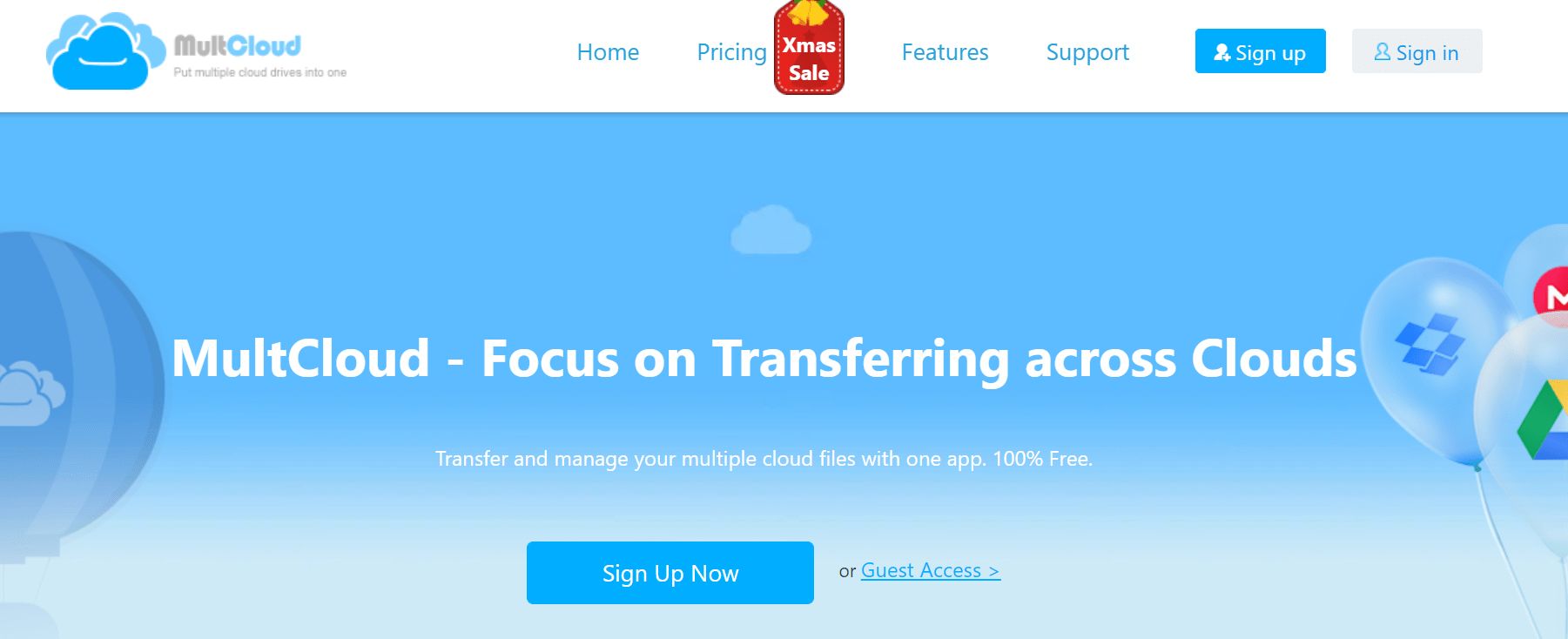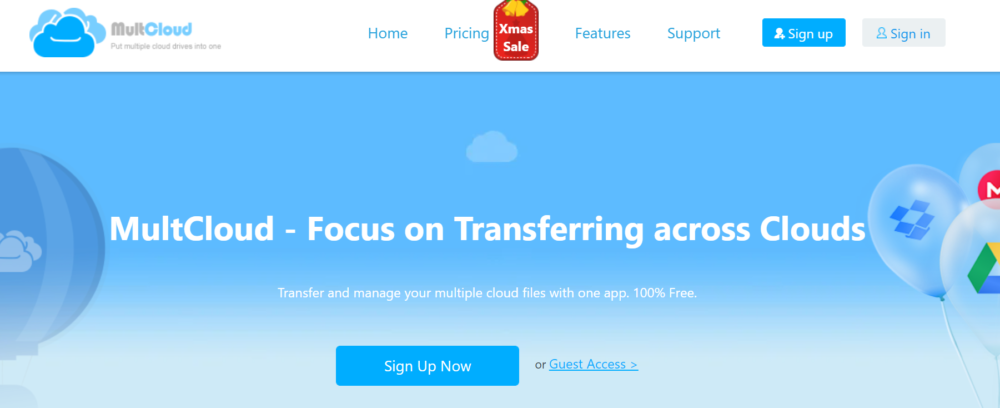 Salient Features of MultCloud
MultCloud, as one of the leading multiple cloud storage management in the market,
Not only allows you to transfer files across cloud storage accounts directly but also enables you to create sync relations between clouds so that you can always keep your data consistent at all times.
Cloud Explorer
MultCloud makes multiple cloud storage management a lot simpler. You will be able to manage multiple cloud storage accounts in one place within one login by using "Cloud Explorer". 
As you can see from the screenshot above, you can add many clouds that MultCloud supports for management so you no longer to log in and log out several times to manage your different clouds.
MultCloud not only allows you to manage multiple clouds in one place but also has no limit on the number of clouds to add even though they belong to the same cloud provider.
Cloud Transfer
If you are looking for solutions to transfer files from one cloud to another cloud directly, then MultCloud you cannot miss as its "Cloud Transfer" is designed to help users to resolve cloud to cloud migration issue. 
For "Cloud Transfer", not only allows you to move files between clouds but also enables you to migrate users from one cloud to another account.
If you want to keep your data safe and under control, MultCloud has the "Schedule" function, which allows you to make a backup for your important data regularly.
Cloud Sync
As a professional cloud storage manager, one feature that must be mentioned is "Cloud Sync".
For its "Cloud Sync", there are 2 types, one is One-way sync and another one is Two-way sync.
When you use One-way sync, you will see there are 7 sync modes, they are "Simple Sync", "Mirror Sync", "Move Sync", "Cumulative Sync", "Update Sync", "Incremental Backup Sync" and "Full Backup Sync". 
If you want to sync files to multiple locations at the same time, MultCloud also can give you a hand, which can improve your work efficiency and reduce labor costs.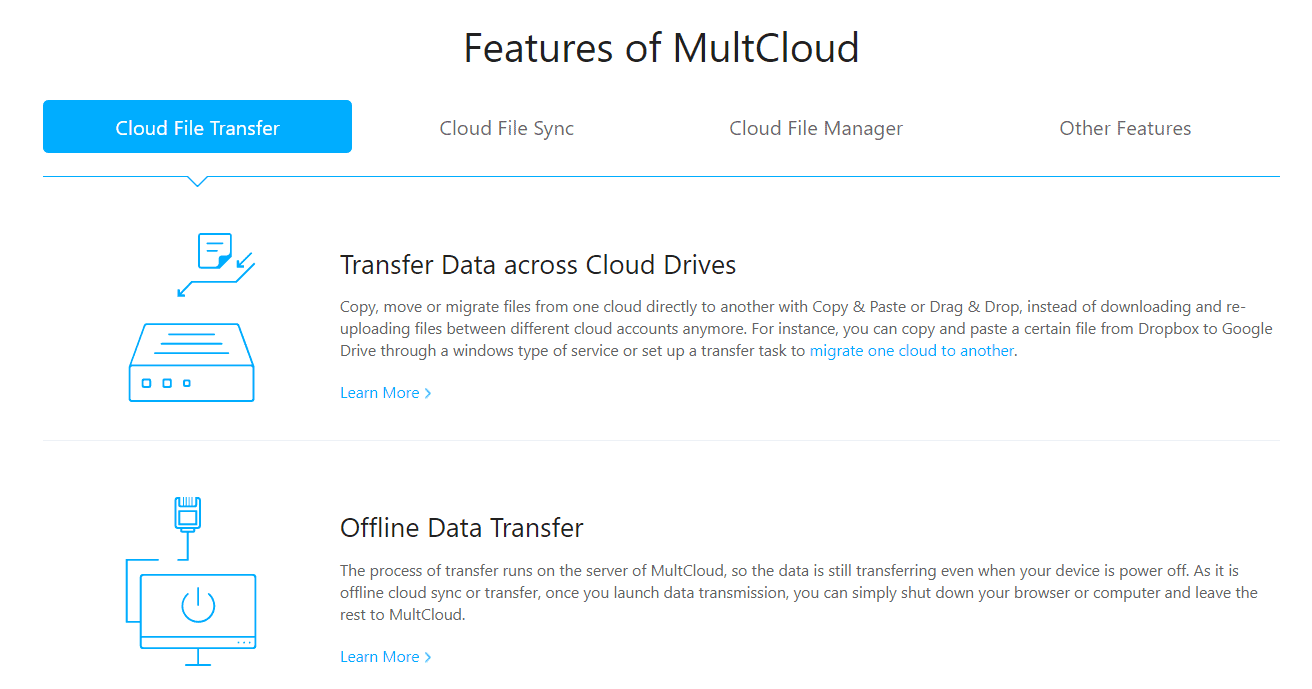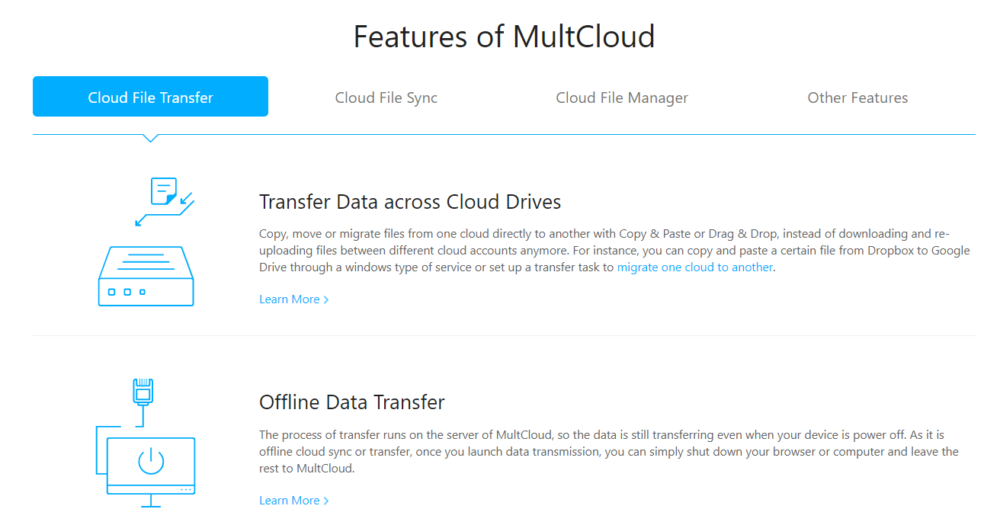 Free Plan

$0.00

Monthly

$9.9

Billed Monthly

Quarterly

$24.90 ($8.3/Month)

Billed Quarterly

Yearly Unlimited

$119.9($9.9/Month)

Billed Yearly

Data Traffic
30GB

Data Traffic/Month

150GB

Data Traffic/Month($0.066/GB)

200GB

Data Traffic/Month($0.041/GB)

Unlimited

Data Traffic

Additional Data Traffic

Upgrade to Subscriber If Data

Traffic Limit Reached

Billed at $0.099/GB

If Data Traffic Limit Reached

Billed at $0.099/GB

If Data Traffic Limit Reached

Unlimited Data Traffic,

No Need to Purchase Additional Traffic

Synchronization Modes
2

Modes

8

Modes

8

Modes

8

Modes

Type of Servers

General Servers

VIP Servers

VIP Servers

VIP Servers

Level of Technical Support

Normal

Level

Priority Level

Priority Level

Priority Level

Cloud-to-Cloud File Transfer/Sync

√

√

√

√

File Explorer for Multi-clouds

√

√

√

√

Scheduled Transfer/Sync

–

√

√

√

Quintupled Transfer Speed

–

√

√

√

Doubled-Syncing

–

√

√

√

File Transfer/Sync Filter

–

√

√

√

Upload Encryption

–

√

√

√

Why is MultCloud the Choice for You?
After logging in, you will see it has a clear interface and it won't ask you to have any tech skills or knowledge to start the migration process.
Your personal information won't be stored in MultCloud as it does not have any storage space. You are the only one who has access to your personal information.
Incomparable Transfer Speed
MultCloud's file transfer speed surpasses industry products and it can transfer petabytes of data in weeks instead of months.
14 days Money-Back Guarantee
If you don't like the software, or if there is any failure due to the inability to transfer data, they will provide funds within 14 days.

FAQs | MultCloud Review
🤔 Is MultCloud secure?
It's an advanced encryption that can effectively protect your data from being tampered, intercepted, and cracked. Please rest assured, it's 100% safe for you to use the service of MultCloud.
🤷‍♂️ Is multi cloud free?
Free Web App for Transferring Files across Cloud Drives and Managing, Syncing for Multiple Clouds.
🙋‍♀️ How do you use MultCloud?
To get started, browse to the MultCloud website--you can take MultCloud for a spin without having to sign up. To do this, hover over the Sign Up button and click on the link to Experience Without Signing Up. Otherwise, click on the Sign Up button to register. Either way, the MultCloud Cloud Explorer then appears.
Quick Links
Conclusion | MultCloud Review 2022
MultCloud is an unbeatable product for multiple cloud storage management particularly for these people who have multiple clouds to use.
For me, it deserves five stars as it not only enables you to manage multiple clouds in one place but also transfer files between cloud storage services directly without any glitches.
With it, all you need to do is follow some simple instructions and you reach your goal. I hope that you find this MultCloud useful.