In this blog, I am going to share PDF WIZ Review 2023.
If you are a professional, a student, a regular user of the internet, or a freelancer who needs to deal with the documents, you have some or other time searched Google for a PDF tool.
PDF (Portable Document Format) in today's time is one of the most used formats of documents, but the problem with PDFs is that they cannot be edited, and thus you have to end up converting them to some other format before you can edit them. 
Converting your PDFs to Word, Excel, or Powerpoint is not an easy job on Windows, and that is where you need a PDF converter to do this job.
But considering the plethora of tools available in the market, it gets tough to choose one out of them.
Here in this article, we will be reviewing one such PDF converter named PDF WIZ, an incredible tool which is developed by Starzsoft which can do a lot more than just simply converting the PDF. PDF WIZ makes converting the PDF files a breeze. 
Let us begin this comprehensive review by knowing more about what PDF WIZ is.
Now let's dive deeper into PDF WIZ to see what it does, how easy it is to use, and what kind of outcomes you can expect when using PDF Wiz. But before that, let's give you a brief introduction to the PDF WIZ developers, Starzsoft!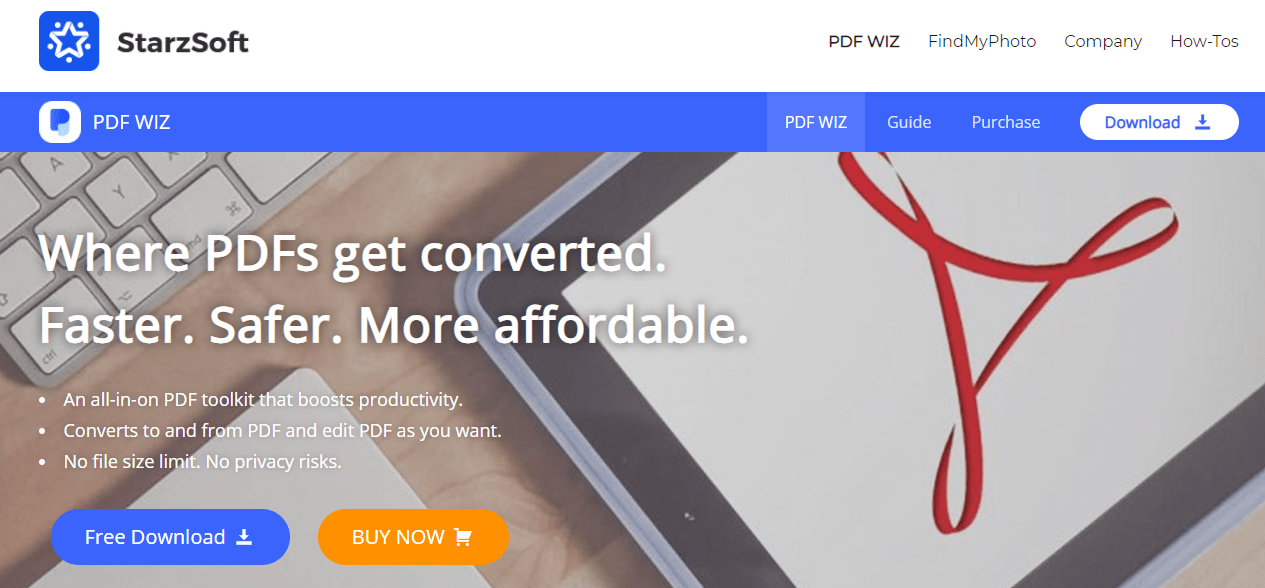 PDF WIZ Review 2023– Is It A Worth PDF Conversion Tool?
What is Starzsoft?
In 2016, Starzsoft was created by a group of tech enthusiasts hoping to build awesome PC software and mobile apps to help enhance our digital life. We put the needs of clients in the first place and are committed to meeting them.
Two products have now been released: the free FindMyPhoto Android app to retrieve deleted images from all Android phones and tablets, and the PDF WIZ PC program to convert and edit your PDF files.
Introduction to PDF WIZ
PDF WIZ lets you edit your PDF documents and also convert them to various formats like Image, Word, XPS, EPUB, etc, and vice versa.
This way, you can make edits to the PDF files and also make changes to a document. Before you upload, you can also convert an existing file to PDF format.
Along with the PDF editor it is, PDF WIZ offers a massive bunch of amazing features like letting the users compress the PDF files, merge these files, protect them with a password or remove the one that already exists as well as split the PDF files.
It has a pretty simple and basic interface that directly shows the features, and you can simply click on the options given on the basis of your requirements.
Once you select the option, you are then redirected to the page where you can either drag and drop your file or choose the file source.
Once you add the files, then click on the Run icon for getting started with the process. The entire process, as well as the easy interface, is user-friendly and super easy to work on. 
All in all, this tool is a bundle of a plethora of useful tools which are needed for PDF-related tasks. In the next section, we will talk about how you can use this tool for converting the files according to your requirement.
Download the software and see the difference yourself.
An all-in-one PDF toolkit that boosts productivity.

Converts files to and from PDF

Edit and manage PDF as you want

Manage password-protected PDFs

No file size limit. No privacy risks

The Features Of PDF WIZ
→ User Interface And Security
This is probably the best part about this incredible tool. Talking about the tool's User Interface, it is safe to say that the company has really done an incredible job.
The UI design is such that even a newcomer can use it. You do not have to be a techno expert to use this tool.
The next most crucial aspect is the security it offers to your files when you are converting them. When it comes to PDF WIZ, it keeps the security of all your files intact when you are converting them, making it an amazing tool for all your PDF-related work.
→ Various Formats
The next most interesting feature of this tool is the number of formats it offers. When you want to convert your PDF into another format, you definitely want your desired format in the best possible way.
With the PDF WIZ, you can convert your file in various formats like HTML, EXCEL, PPT, WORD, and many others.
If you wish to use the document in the Microsoft Word Process, you also get the DOC as well as DOCX formats.
You do not even have to worry about corruption or loss of data, and the entire process is pretty smooth, making it super popular.
→ Cross Converter
While you can convert the PDF files to various formats like Excel, Words, and others, you can use this tool for a lot more than just that. Here you can also convert an image into PDF format.
Regardless of whether your image is in PNG, BMP, TIFF, or JPG format, you can convert it to PDF format in the best possible manner. Here you can also convert your Word File into JPG, BMP, and also other formats. 
→ Remarkable Features
The tool offers you various functions like merging various files and numerous PDFs in just one single file. You can also split a single file into various files if required.
Here you will also get to extract a single page that you wish to send to someone. The image extractor lets you extract the image from a PDF in the best possible way.
With the compression tool, you can properly compress the PDF files, and your files, too, are saved from getting corrupted.
Next, we will be discussing the reasons why you should be using the PDF WIZ. 

Why Should You Use PDF WIZ
→ To begin with, converting a PDF to other formats as well as from other formats to a PDF is super easy. 
→ With this tool, you can easily extract, merge as well as do password management.
→ In today's time, where everything is fast-paced, speed is of utmost importance, and PDF WIZ successfully stands right on what you expect. You do not have to worry when using PDF WIZ as it can work offline on the device, which saves a lot of your time in uploading files (especially the ones that are large in size).
→ It also offers you security because the online conversions need you to upload files to the servers, but here you can do it right into your system, which saves you from any sort of security threat.
→ PDF WIZ offers its users the benefit of limitless conversions.
→ The incredible part about this tool is that it takes into consideration the formatting aspect, which basically means that when you convert it to some other format, the formatting style remains the same, whereas, in the case of other converters, they end up changing the font family and also the other formats at times.
→ In the case of other converters, converting a single file might be an easy job but gets messy when it comes to multiple files, but the PDF WIZ lets you convert all your files without any mess or delay.
→ PDF WIZ also offers an option of selecting various quality standards like Low, Standard, and High.
3 Simple Steps for PDF Conversion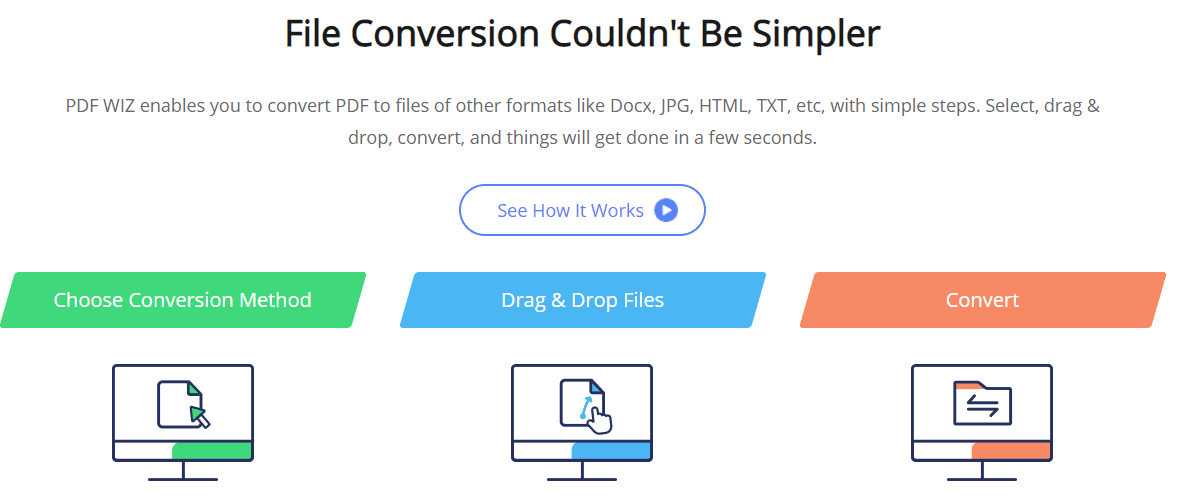 PDF WIZ helps you to quickly convert PDF files to files in other formats, such as Docx, JPG, HTML, TXT, etc. Just follow 3 easy steps, pick, drag & drop, convert, and in a few seconds, things will get done.
Choose Conversion Method
Drag & Drop Files
Convert
Supported Conversion Formats in PDF WIZ
PDF WIZ helps you to convert PDFs to Word, Excel, PowerPoint, Image, HTML, EPUB, and XPS files in various formats. The exact saving format can also be selected as you prefer.
PDF to Word (doc. & docx.)

PDF to PowerPoint (ppt. & pptx.)

PDF to Excel (xls. & xlsx.)

PDF to TXT

PDF to Images (png, jpg, bmp, gif and tif)

PDF to HTML

PDF to EPUB

PDF to XPS
You can also move files from PDF to other files and from other files to PDF. We currently offer the features of Phrase, images, EPUB, and XPS to PDF conversion. In the future, this list will surely grow.
Word to PDF

Image to PDF

EPUB to PDF

XPS to PDF
Other PDF Tools
PDF WIZ does more than transform files. It can be used to separate, merge or extract PDF pages as a convenient tool; shrink PDF files to a smaller size, and uninstall your current PDF password or add a password to secure your PDF.
Split PDF

Merge PDF

Extract Page/Image

Compress PDF

Add/Delete Password
Salient Features of PDF WIZ
Price: $1.66 per month

No Size Limit

No Email Registration

No Privacy Risk

Superfast Speed
To cancel a 1-month or 1-year plan subscription to PDF WIZ, please send an email request to [email protected] one week before the plan expires. After receiving your submission, we will help you cancel it.
Please send a message to [email protected] within 1 week after purchase in order to get a refund for what you buy. It is not possible to entertain requests sent after that duration. To learn more details about our refund policy, click here.
Why PDF WIZ is better than others?
Since PDF WIZ operates offline on your own Windows computer, it converts files without being affected by the internet's speed and transparency, thereby saving you from long-term uploading and converting when it comes to large-size files, and making the whole process risk-free because you're going to do everything on your computer without uploading your files to any server.
Other than that, it also splits PDF, merges, compresses, extracts pages or images, and handles passwords.
Here are 5 reasons why we think that PDF WIZ is better than others.
1. Managing PDFs has never been easier!
PDF WIZ lets you do the conversion quickly and easily if you intend to convert PDF to other files or other documents such as Word, images, EPUB, and XPS to PDF.
Other than that, it also splits PDF, merges, compresses, extracts pages or images, and handles passwords.
2. Fast and efficient
The Internet won't limit the use of PDF WIZ to convert files. PDF WIZ helps you to convert files in seconds without downloading files, even if your device is connected to the low-speed internet or has no connexion.
3. Risk-free
Online converters have your files reserved. This isn't any secret. Offline converters such as PDF WIZ are your option to make sure your confidential documents do not get leaked out. Without thinking about the possibility of privacy, you can do everything inside your machine.
4. Bulk Conversion
It's easy to convert a single file while converting 10 or 20 isn't. It takes time and effort, but when you do it online, it always falters. This can be achieved within a couple of seconds with PDF WIZ.
5. Preserve Formatting
Not only does it convey material such as words, pictures, tables, etc. when PDF WIZ converts files, but it also conveys the templates, formatting, and font styles as they appear in the original files.
Quick Links
FAQs | PDF WIZ Review
💁‍♀️ What is refund policy at PDF WIZ?
The PDF WIZ has a 7-days refund policy. You can mail them at [email protected] within 1 week after payment for getting a successful refund.
👉 What file formats does PDF WIZ support?
The PDF WIZ supports the conversion of all types of file formats such as Word, Excel, PowerPoint, images, HTML, EPUB, and XPS.
👍 Does file format is preserved in PDF WIZ?
Yes, PDF WIZ preserves the file format of all files.
🤷‍♀️ Is PDF WIZ Really Worth It?
PDF WIZ is definitely worth it because of the plethora of features it has to offer. From converting PDFs into different formats and vice versa to splitting, merging, and extracting the PDFs, PDF WIZ is the all-in-one tool that can help you with all the PDF-related needs.
🙇‍♂️ Is Your Data Safe With PDF WIZ?
With PDF WIZ, the conversions are done locally, and thus your sensitive data does not get online or outside the PC. There is no uploading or downloading of data involved in this entire process.
🙎 Is This Tool Easy To Use?
One of the best things when it comes to the PDF WIZ is the simple and easy-to-use interface of this platform. For using the PDF WIZ, you do not have to be a technological expert. Even a newcomer can use this tool with a lot of ease and comfort. All in all, the users get an entirely hassle-free experience.
Final Thoughts- PDF WIZ Review 2023
PDF WIZ is a lot more than just a PDF converter, and it also lets you convert with ease.
It has a simple interface and is a feature-packed tool that offers quick conversion without any data corruption or errors.
The quality is well-maintained too. Hopefully, this article will help you to decide whether this tool can work for you or not.