How much is Tailor Brands Pricing? How much does Tailor Brands cost?
What is Tailor Brands?
Tailor Brands is a famous online logo design service that allows users to create easy bespoke logos for businesses and brands in about 10 minutes.
Not only that, but Tailor Brands' unique and engaging "Branding Toolbox" has practically everything covered, from logo design to presentations, and even complete brands. The toolkit also includes marketing tools to assist users in publicising and promoting their own logo designs.
The software is as swift as a deer, allowing customers to create attractive logos in less than 30 seconds on the spot, with additional customizations taking roughly 10 minutes.
Entrepreneurs can give their businesses a boost in the worldwide market by using their distinct and simple design and branding solutions.
Tailor Brands eliminates your need for getting a costly graphic designer for your service. It doesn't require any technical skills, to begin with, and above all, you have a great set of tools. It is used by over a million users online and a new logo is designed every second here.
Want to know more about Tailor Brands? Read our detailed Tailor Brands Review.
Tailor Brands Pricing: How Much Does Tailor Brands Cost?
So, how much does all of this cost?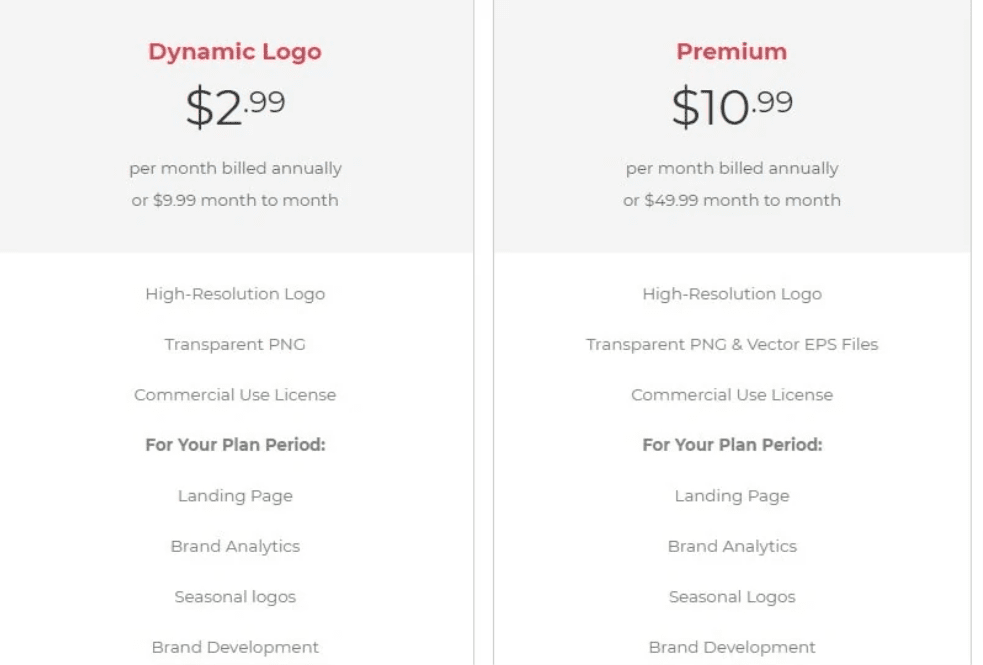 Tailor Brands offers three subscription options:
Basic: $9.99 per month, or $3.99 per month if you pay for a year in advance.
Standard: $19.99 a month, or $5.99 per month if you pay for the entire year in advance.
Premium: $49.99 a month, or $12.99 per month if you pay for the entire year in advance.
If you sign up for a two-year subscription, you'll get an additional discount. For example, if you pay for two years in advance, the Basic plan costs only $2.50 per month!
Remember, playing around with the tool and creating a logo is completely free.
All plans include the following features:
Logo in high-resolution
Complete control of your logo Social media logo sizes
Tool for resizing logos
When you upgrade from the Basic to the Standard Plan, you gain access to more professional features such as:
Your logo in vector EPS format
A tool for creating business cards and stationery.
A unique logo maker for the holidays
You get even more with the Premium plan, such as social media analytics and automation.
Is Tailor Brands really free?
While users can create logo ideas for free on Tailor Brands, downloading logos costs money.
Are Tailor Brands expensive?
Designing your logo is free, and you only pay when you're ready to download the final files. They've switched to subscription plans, which vary from $9.99 to $49.99 per month (which seems odd for a branded product). If you pay annually, you will receive a discount.
Are Tailor Brands real?
Tailor Brands was developed in 2014 as a suite of machine learning-powered branding and design tools for non-technical users. On the internet, there are many Tailor Brands reviews – some positive, some negative.
Conclusion
Tailor Brands is, to be honest, pretty fluid and easy, even for those who are making their first tie logo. It's quite simple to use.
However, you may find the design possibilities to be a little repetitious at times. If you're searching for something smooth and appealing on the spot, Tailor Brands is a good option.
Once you've finished designing your logo, you can use the Tailor Brands Branding toolkit to advertise it more successfully. The toolkit gives you access to all of the necessary promotional resources.
With options starting at just $2.99 per month, Tailor Brands is one of the most cost-effective platforms of its kind on the market. As a result, Tailor Brands is worth a go!