WebinarJam affiliate program is a convenient method to earn some additional income.
In this article, we'll discuss the Webinarjam affiliate program's earning possibilities as well as how to get started.
What Is WebinarJam, and How Does It Work?
WebinarJam is a cloud-based webinar solution that allows you to organise and host webinar events, including private webinar rooms and live streaming on Facebook and YouTube.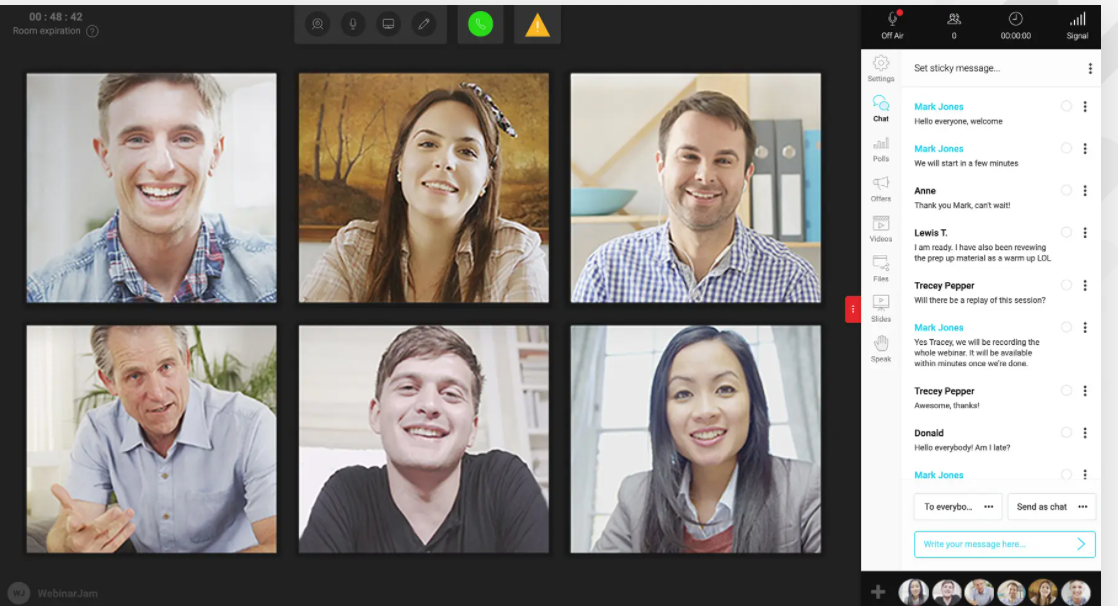 You may also use this excellent tool to create webinars by using pre-existing films, animations, and slides, or simply sharing your computer screen with the audience. Your audience can register for your webinar events using the platform's attractive pre-designed landing pages. You can also add particular call-to-action buttons, additional marketing content, and links to payment sites for paid webinar sessions to your landing pages.
Live Chat, Attendee Spotlight, Active Offers, Drawing Board, Polls & Surveys, Video Injections, Flexible Scheduling, Email & SMS System, Handouts, Paid Webinars, Panic Button, Always-On Room & Control Center, and many more features are available on this platform.
Furthermore, the WebinarJam platform has one of the most lucrative affiliate systems, allowing you to advertise WebinarJam products and services while earning substantial commissions.
Also read: WebinarJam Review
WebinarJam Affiliate Program: 40% Recurring Commissions

The WebinarJam partner programme compensates you for your marketing efforts by paying you large commissions on every transaction you make. This is how the application works and how you can begin using it:
Who is eligible to participate in the WebinarJam Partner Program?
The WebinarJam affiliate programme is for anyone who wants to spread the news about WebinarJam to the rest of the world.
WebinarJam Affiliate Program is for you if you are an affiliate marketer, an online business, an online trainer, an influencer, a coach, a consultant, or a blogger.
In addition to maximising your marketing efforts with the WebinarJam platform, the programme allows you make extra money.
How Do I Become a Member of This Affiliate Program?
It's simple and quick to become a WebinarJam affiliate partner. All you have to do is follow the steps below:
Step 1: Click here to join WebinarJam's partner programme.
Step 2: Next, select "AFFILIATE SIGN UP" from the drop-down menu.
Step 3: Read the user agreement on the prompted page and then click "I Agree" to proceed.
Step 4: Next, click "Free Sign Up," fill in the required information, and then submit by clicking "CREATE A FREE ACCOUNT."
Step 5: Check your email for confirmation of your affiliate link.
WebinarJam Affiliate Commission Structure 
The WebinarJam affiliate network pays you 40% of every sale and recurring payment that your referrals make during their first year of WebinarJam membership.
Your commissions will be automatically adjusted if your referrals upgrade their WebinarJam account plan at any point during the first year.
How Do I Make Webinarjam Affiliate Links?
Webinarjam makes it simple to create your own affiliate connections. Go to the "Promotions" area of your Webinarjam affiliate dashboard page.
For recruiting other affiliates, you can create an affiliate link or a JV broker link. Choose your desired connection and a one-of-a-kind one will be produced for you. When you use a JV broker link, any affiliate that joins through you is linked to your account, allowing you to monitor their individual success at any moment.
You can now promote Webinarjam using this link and earn a commission for your efforts.
As an affiliate, how can I promote Webinarjam?
As an affiliate, you may advertise Webinarjam in a variety of ways. Some of your options include:
Use Google AdWords to reach out to potential consumers and affiliates through pay-per-click advertising.
Connecting with like-minded affiliate marketers and clients who might be interested in conducting webinars with Webinarjam is easy with social media. This medium also blurs geographical lines, allowing your affiliates and clients to be located anywhere on the planet.
Organic SEO is a process in which you utilise content and non-paid tactics to rank high in search engines for relevant keywords so that your consumers and affiliates can find you quickly.
Create a blog and post information on it on a regular basis so that people can learn about your products and buy them through your link.
Writing unbiased reviews about the things you offer and comparing them to other similar products is a significant draw because it adds value to your readers and assists them in making the best decisions possible.
Conclusion: Is It Worth It To Join The Webinarjam Affiliate Program?
Because the Webinarjam affiliate programme is attractive and has the potential to help you earn thousands of dollars per month, the answer is an emphatic yes. From signing up to getting funds, the entire procedure is simple and painless.
To top it off, Webinarjam is a popular platform that comes with a slew of capabilities for effortlessly and successfully delivering live webinars, which is a huge plus for affiliates.