In this post, I've featured IObit's Advanced Mobile Security Review for android phones.
As we all know that securing a mobile phone is not just putting a case on the back of the phone or use a screen protector and we protect it from the outside but for the inside we never do anything.
That's the biggest mistake we usually do and left our phones vulnerable from the inside.
Most of the problems happen in the inside system of the mobile phone.
So to secure that you can use AMC security for android and it is totally free. It is like a bodyguard of your mobile phone and you should use it for the protection of your device.
What Is Advanced Mobile Care Security?
It is one of the products offered by IObit for mobile phones and it is only for android devices. The installation is free and you can easily find it in the play store.
Most of the security apps available on the play store do not focus on their design and interfaces but IObit did a really great job in designing the user interface of AMC and it will look great on any device.
The explanation of its working is very little but still, it does a great job in protecting your device.
The download is totally free and the core features of AMC are free of cost which is really good for antivirus software for android. In core features, you will find anti-theft, protection from viruses, privacy, and much more.
The lifespan of a smartphone is not more than one year.
Because you only focus on the outside protection and never think about the inside where untrusted apps, websites, and viruses attack continuously and you will never know about it until you add an antivirus in your smartphone.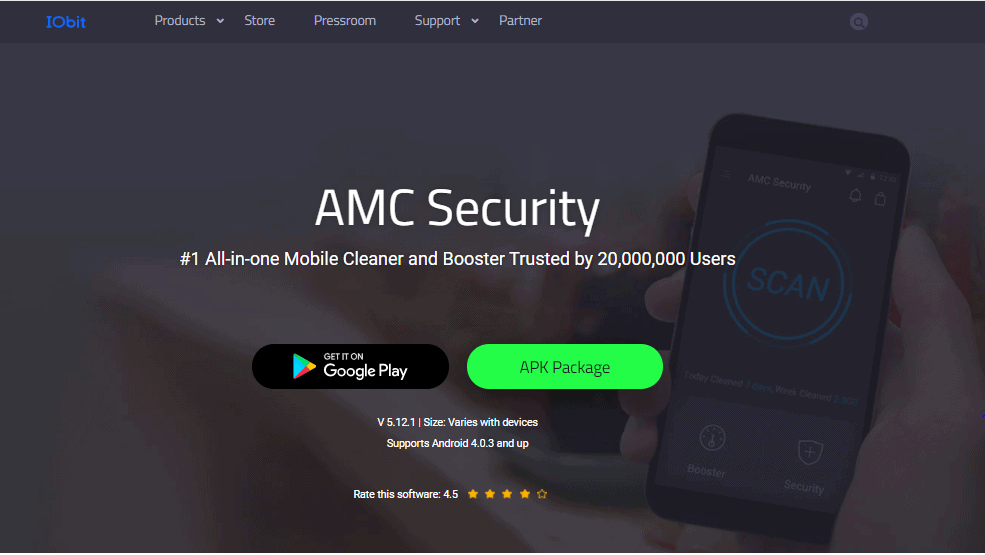 Features of Advanced Mobile Care Security
Boost The Performance Of Your Mobile
There are more than 20 million users who are using AMC for the protection of their device which is a really good number for antivirus.
By using AMC security, you can boost up the performance of your smartphone because it cleans all kinds of junk files like cache junks, privacy records, residual files, useless APK files and it also clears those applications which do heavy usages of your RAM.
This will also help you in cleaning up your phone storage because these junk files take most of the space of your phone storage.
It has a RAM booster from which you can clear the RAM of your device anytime you want.
Everyone loves a smartphone with an amazing performance but for that, you have to consider trying AMC security.
Power Booster & Battery Saver
We all face problems because of the battery of a smartphone and it can go out anytime if not charged.
But with AMC's Power Booster we can put to sleep those applications which automatically start even if you close them once.
These applications do heavy consumption of your battery.
They are the real reason for short battery life.
Many companies offer batteries of higher mAh but after some time it loses its efficiency because of overcharging and heavy consumption through applications.
It has also a battery saver mode which you can turn on a low battery and it shuts down all the applications after that you will only be able to use your smartphone for calling and texting purposes and it gives more than an hour to the battery which is really good.
Privacy Locker
With this option, you can protect your privacy through a password which only you can access.
There are many things you keep in our phone which you don't want anyone else to see so to protect that data from intruders, you can use AMC security.
It is a multi-featuring software which offers a lot of things to you.
With that, you can protect your important and private data, photos, videos from outsiders. You can also hide those files to protect them with this option which is really cool.
Antivirus Scans
Everyone wants a virus-free device but at some point, we all do mistakes and end up having a virus inside our device which can corrupt your data or leak it to third parties which can be really frustrating but with AMC you can detect this malware.
On the scan page, you will find two options for scan first one is Fast Scan and the other one is Deep Scan. The Fast Scan takes just a few seconds to scan your device.
The time actually depends on the device.
The Deep Scan option takes more time than Fast Scan because it scans all the files of your smartphone only for the first time but after that, the timespan of scans reduces because it ignores those files that the app already scanned for you.
After finishing the scan it will show you the malware and junk files on your device and after that, you can easily just clean it up with just a click.
This also increases the efficiency of mobile games and you will not face any kind of lag if you have just finished a scan.
Theft Protection
This mobile malware can be scary but if you download apps trusted from Google Play then most likely you will never encounter that malware.
The biggest issue is theft of your smartphone which can lead to a disaster because you just don't lose your phone you also lose your data and much more.
Just think about the possibilities of what a thief can do with your data and that is the real scary part.
But if you have AMC security installed on your device then you don't have to worry about misuse of your data because you can just remotely wipe out all the data.
It also gives the location of your phone from which you can find your phone.
You can remotely unlock your phone by sending a special SMS command to your phone.
After the unlocking of your phone, you can trigger a 93db alarm and to shut that you have to enter your own code in it.
A thief can not decrease the volume of the alarm or shut it off without the code which is a really nice feature.
Web Protection
There are many websites which can attack your phone and phishing sites can steal your login credentials and you won't be able to do anything about it if you are not using AMC security to protect your phone from these types of attacks.
For online protection, IObit has tools like Anti-Phishing and Surfing Guard.
The Anti-Phishing feature requires the installation of a plugin and the other one is in the default settings and they only support on default browser and Google Chrome.
The anti-phishing tool is new and the company is improving it constantly but you will be happy with the results.
Call & SMS Blocking
Nowadays most of the attackers use text messages to spread spam links, force victims into installing malicious software, or worse.
Along with that you also get all kinds of junk text messages from many companies and for that, you can use this feature of AMC security.
The new version of AMC can only block calls because after the android version 4.4 most of the text message blocking tools stopped working.
But you can put your contacts in the blacklist of AMC and then you won't receive any calls and texts from them but there is a downside of it because the caller will still be able to hear a ring before it dumps them to the voicemail with that they can figure out what their number is in the blacklist of your phone.
You can also stop spam callers like calls from companies which can be really useful.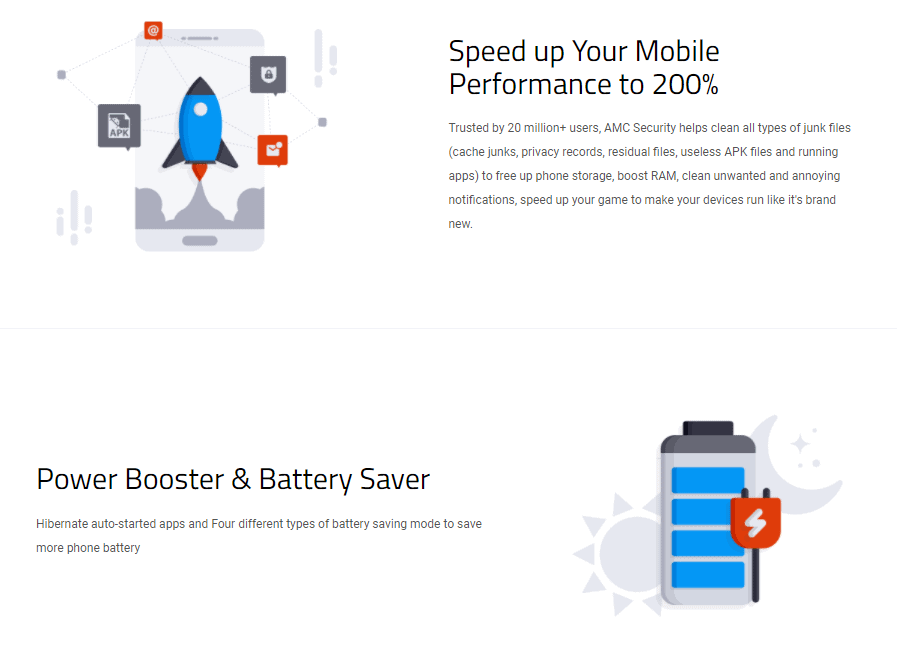 Who Should Consider Using It?
Every smartphone user faces problems like malware affecting the performance of the mobile, people see their private and important photos, and much more.
Most of the all-battery can be a real problem. Imagine you are on an important call and then your phone switched off in an instant and that can be really frustrating.
But if you use IObit's AMC security then you won't have to face these problems period. It is one of the best antivirus software available for android.
It has also some extra features which can be really helpful. Like theft protection is the major one.
It helps you in finding your lost device and antivirus scans keep your phone away from malicious applications.
It also reminds you to shut off those applications which run in the background and do the consumption of RAM and battery.
When your phone goes in low battery mode then automatically turn on the battery saver and shuts down all the running applications and you will only be able to use your phone for calling and texting purposes which increases the life of the battery.
Customer Support Of Advanced Mobile Care Security
As usual, the customer support of IObit is awesome. You can send your queries to the support team through the support option.
On opening the support option it takes you directly to the official website of IObit where you can find solutions to your problems.
Even if they are technical or logical still you will find help from the support team within a few hours.
In the paid extension of IObit's AMC security, they provide 24/7 customer support to their customers where they instantly reply to your queries.
You will find support in the free version also but it isn't as effective as the paid version.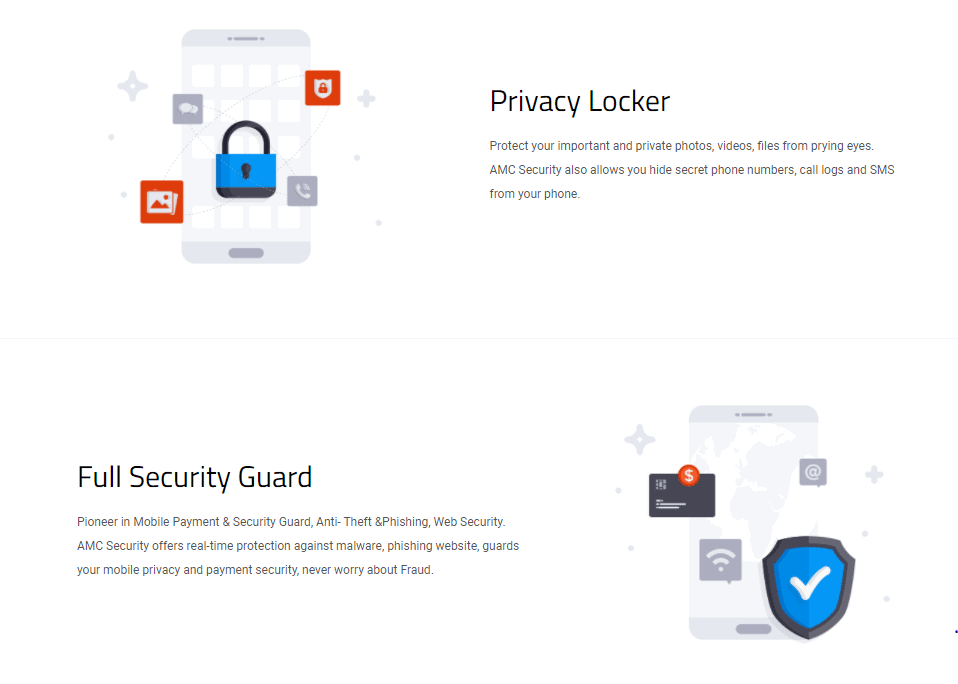 Pros and Cons of Advanced Mobile Care Security
✔ Pros
Design Of User Interface is really good.
Fast Malware Scans
Good Customer Support
❌ Cons
Phishing Protection is not that much effective.
Anti-Theft Features are limited.
Quick Links 
FAQs | Advanced Mobile Care Security Review
🤔Is it safe to purchase a product via your website?
🙋‍♀️ How long is the valid service time of the license code?
The valid license code service time for all of our products (except for MacBooster) is ONE YEAR. And the service time starts from the date the license code is purchased. The service time of the MacBooster license code is a lifetime. You can click here to resend your license code, get installation instructions and other detailed information.
🤷‍♂️ Can I use my license code for ASC Ultimate 12 to register ASC Ultimate 13?
Yes, ASC Ultimate 12 license code during its valid service can be used to register ASC Ultimate 13. Please click here to view the detailed registration steps. The version upgrade is free of charge. Note: Free giveaway license code for ASC Ultimate 12 cannot be used for ASC Ultimate 13.
👉 How do I renew my license code?
We always provide a renewal discounts to our customers. Customers can renew their license code here. By renewing, your current subscription will be extended for another 12 months automatically and you will keep your current license code.
Conclusion | Advanced Mobile Care Security Review 2023
There are many tools are provided by AMC Security-Protector and most of them are working effectively.
This software is much more than an antivirus for android it offers full protection of your device which is really good for a free antivirus.
Most of the malware comes through untrusted applications which you may install in your mobile phone accidentally or on purpose but it does all kinds of harm to your phone.
That's why you need an antivirus for your phone also.
You use antivirus for your PC but never think about using one for your smartphone because you never think of the possibilities and you just think what could really go wrong,
Use untrusted applications and open spam links on your phone but you forget about the most important thing which is, your mobile phone is also running on a system similar to a PC.
It also needs good antivirus software. AMC is the best option you will find on the internet. You can also check other customer's reviews in the review section of Google Play for this application.
If you like this post on Advanced Mobile Care (AMC) Security-Protector then don't forget to share your opinions and experiences in the comment box and share it with your friends and coworkers who really need antivirus software for their mobile device.