Creating brand awareness in people's minds is very important. Proper advertising is very important to let the audience buy the product. It's similar to SEO optimization, CRM platform ad campaigns. 
The main goal of advertisements is to collaborate with advertisers to create the best content to reach potential buyers.
This is more like a demand-supply chain. Where demand takes care of the money spent on advertising campaigns. Whereas the supply side is to provide integration necessary for the demand. 
When we look at the way advertising strategies have evolved throughout the years, it's fascinating.
There used to be only one Ad network company who were showstoppers. But when you look at the ad network companies now, they have grown tremendously over Television ads, digital ads, and other ad campaigns. 
The publishers look for innovation from the ad companies to make their product stand out and attract more customers affirmatively. Ad networks like Smartyads and Google AdSense used to be on top of the game. 
But over the decades, there are hundreds of ad network companies that started budding and have made a breakthrough in customer targeting and provide a wide range of options for ads on television, mobile, social media, etc., 
Let us discuss the different types of ad network companies and analyze which is best among all of them.
Before you start reading the article, take a look at Anstrex. It's a tool that digital marketers use to spy on ads and get a lot of information about them, check out the full Anstrex review.
Top 10+ Best Ad Networks 2023
Here are some of the best ad networks that you can join today:
1. AdMaven
AdMaven is worth the investment since it provides unique advertising possibilities, such as pop-ups beneath advertisements. As a publisher, you may use these offers to increase your revenue. Regardless, if you are a marketer, the platform may assist you in increasing your conversion rate.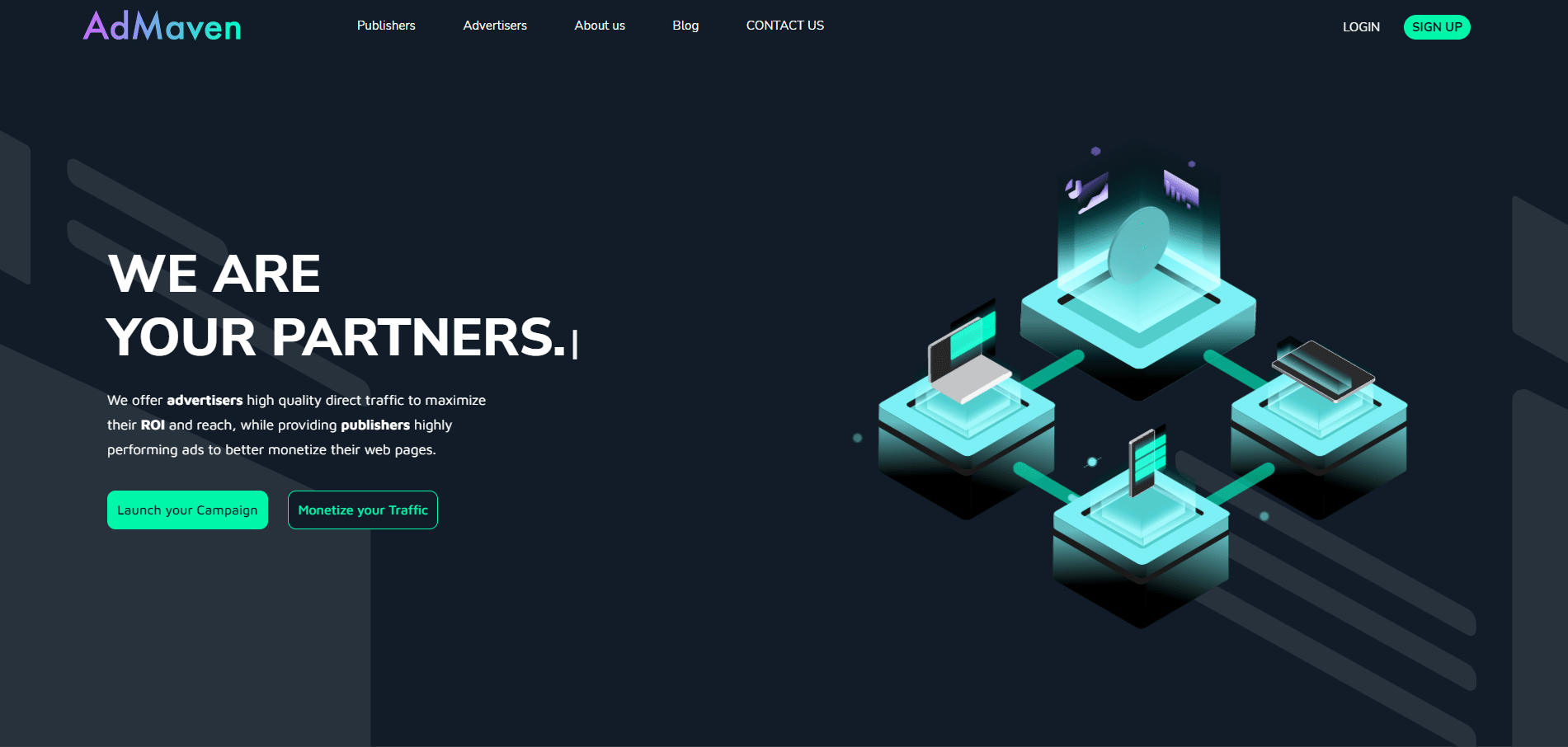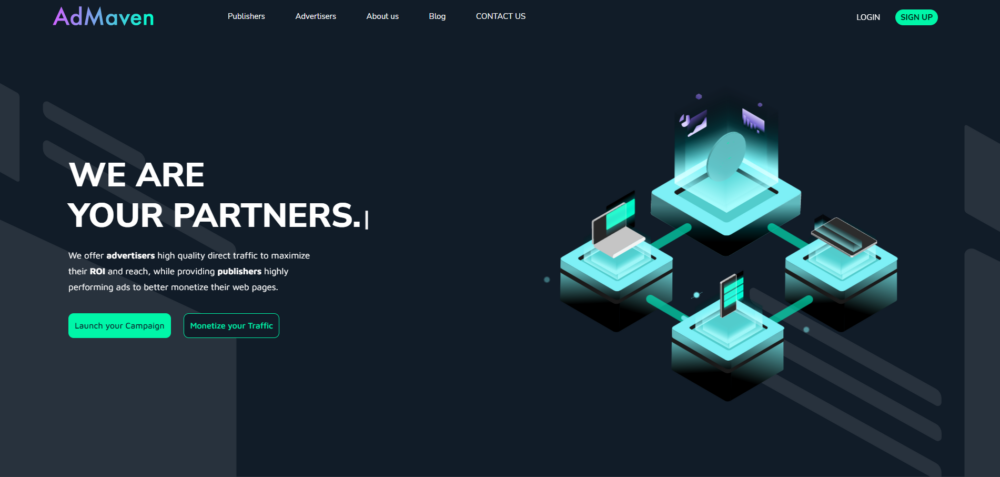 While there are certain disadvantages, such as a minimum withdrawal of $50 and $1000 by Wire Transfer, there are also some advantages. Nonetheless, AdMaven is very praiseworthy, particularly if you're looking to diversify your website's revenue sources. 
Additionally, Admaven's ad solutions have a greater rate per mile impressions (CPM) than other ad approaches in the business. As a result, the AdMaven network is a viable choice that is very achievable thanks to its diverse ad possibilities and sophisticated technologies.
AdMaven is an advertising network that collaborates with publishers and advertisers. It is a major advertising network that specializes in pop-under advertisements that work well with publishers. Pop-under advertisements cause a new page to load whenever a user clicks on a website.
Key features of AdMaven
Multiple formats

Optimization experts

Dedicated support

Endless direct traffic

Authentic user experience

Complete transparency

Easy integration

Adaptive platform

Global coverage

Monetize every user
Why Do We recommend AdMaven?
AdMaven is a well-known Pop Under Ad Network. It is a well-known internet platform that specializes in pop-under advertisements. A pop-under is a procedure that occurs when a website is clicked and an unexpected new page is opened. AdMaven is an expert in internet advertising.


Ad-maven is a good example of a CPM company, with respectable conversion rates for its advertisers.

By partnering with reputable publications, AdMaven can develop a solid connection with its audience.

 

AdMaven enables them to properly monetize each of their sites and respond quickly.

AdMaven typically provides its advertisers with roughly 500 million daily impressions.
Payments: 
Ad-Maven allows its publishers to get paid in a variety of ways and at times that suit their requirements. 
As a result, publishers may quickly transfer their earnings once they hit the $50 threshold. Ad-Maven mostly uses PayPal, Payoneer, Bitcoin, and Paxum (for a minimum of $500), USDT, Capitalist, WebMoney, and wire transfer (for a minimum of $1000) to pay its publishers
Customer Support
They provide live help to their Publishers and advertisers during business weekdays. Additionally, this Ad Network provides personal account managers to its advertisers and publishers. AdMaven offers support through chat, email, and Skype.
2. Clickadu 
Can you imagine having a product or brand and creating a website to enunciate the existence of your brand to the world? But that alone is not enough, because you got to do more.
You have to create awareness and attract more customers to buy your product, you need to promote your brand, that happens only via advertising, that's how important it is. 
Clickadu is one such ad network striving to promote your brand effectively. They have almost 15000 Ad campaigns. They endeavor to make more than 3.5 million conversions on a daily basis. 
They have their expertise in many fields which could give you an increased Cost per 1000 impressions CPMs, over 250 countries with guaranteed 100% ad reach rate.
They have reached over 3 billion viewers and have turned more than millions into potential buyers through their ad campaigns, video ads, pop-ups and now banner ads. 

Pros and Cons of Clickadu
Pros:   
No minimum traffic & campaign tracking 
There is no minimum traffic required for ad approvals for your website. Clickadu provides a dashboard in which it will give you a detailed analysis of all the campaigns that are currently happening, and those which are scheduled to happen.
You can get all the data from this dashboard to know your prospective leads to convert into buyers. 
 When you are displaying the product that has to be recognized, you in turn want to know the numbers that you could possibly convert. Hence, clickadu provides a conversion rate tracker with which you could keep track of the leads. 
Traffic control, Fraudster filters, and malware protection
Clickadu provides a 100% ad fill and traffic rate for publishers. It also helps detect fraudulency bots and gives complete protection against viruses and malware. 
Cons :
Competing with other Big Ad networks
 Clickadu was founded in 2014, although it became a big hit in a short span of time, it is still finding its way to the top competing with other networks, so it hasn't reached a whole lot of publishers who would prefer clickadu to other networks.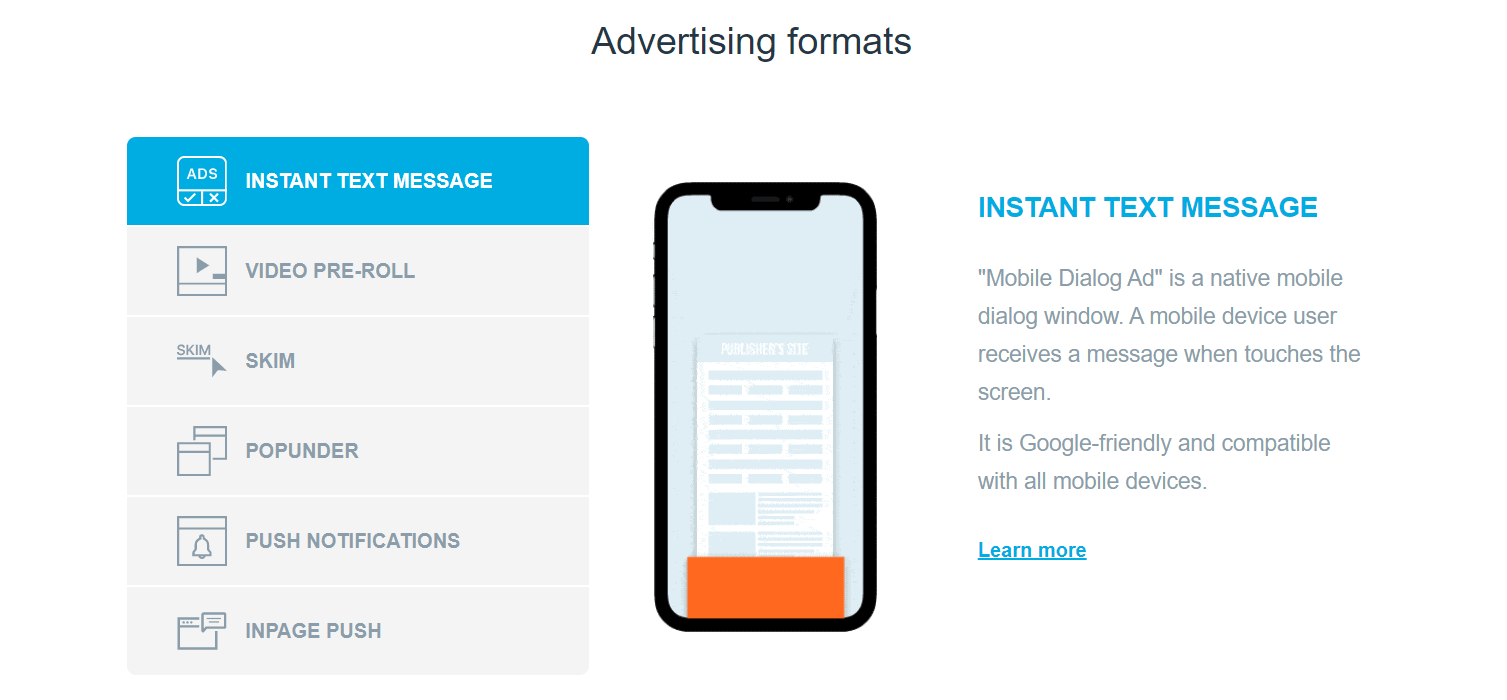 Pricing
For advertisers, the minimum deposit is $100 to create advertising campaigns. 
3. Adcash:


Adcash is a self-service online advertising platform for media buyers, affiliates, ad networks, and publishers. The platform generates 300 billion ad requests per month, allowing advertisers to reach global audiences and publishers to monetize web traffic with minimal effort"
The platform allows online advertisers, media buyers, and affiliates of all levels to create, optimize and convert highly targeted ad campaigns through one easy interface.
Adcash's in-house optimization technology, variety of features, ease of navigation and exclusive network of publishers and 200+ Supply Partners make it one of the leading ad networks on the market today.
The platform brings in around 250K conversions per day, with 200 million unique users logging in daily from 195 different countries.
Let's take a look at some of the features that have contributed to its growth in the last decade.
Adcash Pros
The ability to reach global audiences:
The Adcash network goes through a rigid screening process to ensure that only the strongest traffic sources make their way onto the platform.
Advertisers can unify their media buying efforts in one place with an exclusive network of publishers and access to 200+ supply partners.
Advanced anti-ad fraud technology:
The Adcash platform's sophisticated fraud filters saved advertisers $12.1M in 2020 alone. These cutting-edge anti-fraud measures ensure that unwanted traffic or bots are eliminated leaving only the strongest leads to convert on.
The CPA Target and other automated bidding features optimizes advertiser ROI and streamlines the campaign creation process, freeing up valuable time that would otherwise have been spent manually optimizing campaigns.
Campaigns are run across the strongest (multi-device) ad formats to further boost engagement and increase ROI. These include, In-Page Push, Interstitial, Pop-Under, Banner and Native Ads.
Live tracking and reporting
Advertisers can monitor their campaign performance in real-time straight from the advertiser dashboard, making data driven decisions to strengthen their conversions.
Advanced campaign targeting
Ads can be tailored to the right audiences, with a wide range of in-panel targeting options, including device type, geo, vertical, operating systems and more.
Account management and online support
Advertisers have access to a multi-lingual support team on email and live chat, and depending on your needs you can also get your own dedicated account manager with expert tips to help grow your campaign traction.
Adcash Cons
While Adcash does offer adult traffic, their supply volumes targeting this traffic source are somewhat limited compared to other platforms.
4. Monetag: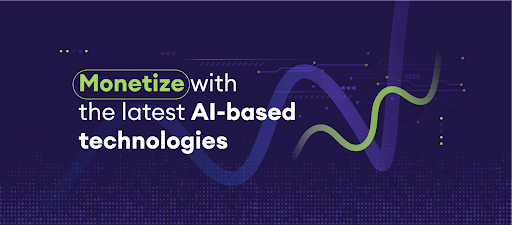 A wide range of audiences can be monetized using the high-tech platform Monetag, which has access to global advertisers and solutions that are focused on generating high revenue.
You may take advantage of numerous monetization formats with Monetag, including Popunder, Push Notifications, In-Page Push, SmartLinks, Interstitials, and Vignette Banner.
Monetag has developed unique algorithms for better user-advertiser matching. The platform is easy to use, and publishers can easily create and paste their ad codes.
Monetag also provides the MultiTag solution for people who do not have time to spend examining data to identify the optimum formats.
Now, all you have to do is simply install our all-in-one code and it will automatically determine the most profitable ad format for your website. In addition, the company provides great support as well as personal account managers for additional assistance.
Pros of Monetag:
Take control of your monetization: 
You have full access to comprehensive revenue information as a publisher. Calculate your earnings by ad format, country, zone, and other variables.
Most profitable formats will help you earn more:
You can use various formats for your ads like SmartLinks, Interstitials, In-Page Push banners, Onclick ads, Push Notifications, and Vignette banners.
Easy payouts across the world:
Don't spend your time looking for better terms elsewhere; they provide unmatched payment terms that you won't find anywhere else. Receive your weekly income automatically through your chosen payment option.
Utilize their premium product and earn more revenue by referring Monetag to your friends, followers, and colleagues.
Their advertisements circumvent ad-blocking software, resulting in a 20% increase in income. Due to the advertisements' relevancy and quality, they stay unobtrusive.
Their ad formats are compatible with any monetization strategy and ad network. Increase your earnings even if monetizing your visitors involves a mix of advertising types.
They only show clean ads: 
All of their advertisements are carefully monitored 24 hours a day. There is no way for viruses, spyware, or filthy material to get through. Engage your audience with high-quality advertisements!
100 % of your visitors are monetizable! We work with a diverse range of marketers in every nation and specialty, ensuring that no impressions are wasted.
Cons of Monetag:
Restrictions on specific ad – inventories:
You can monetize almost all audiences. Furthermore, the rules are stricter on adult and bot audiences, such as inventories cannot be monetized through Monetag Platform.
5. Zeropark 
Zeropark is like the terminator of all ad networks which has SSP (Self Serving Platforms), Optimisation options, and AI-powered Assistance to track down the possible leads. It also provides all kinds of ad formats like pop understand, ad banners, sliders, pop-unders.
You name it, Zeropark has it. Zeropark is known for its ad exchange feature widely. 
It has acquired over 35k ad campaigns. More than 6000 users and over 3.7 billion ads marketed on a daily basis. Let us see the pros and cons of Zeropark.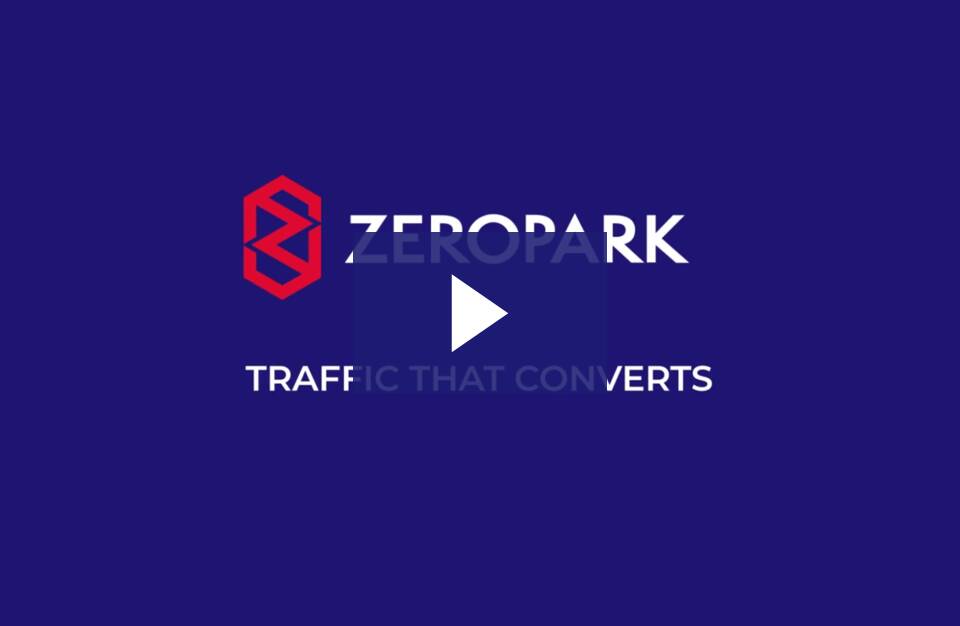 Pros and Cons of Zeropark
Pros:   
Automated options and Target options
Zeropark provides an automated optimization that enables you to create a campaign for a scheduled time. It gives you pinpoint details of target options with the help of browsing devices, android and iOS devices, geo targets, and device types.
APIs and multiple campaigns
Zeropark allows you to integrate with the tools you want to have your own customized options and also to increase the CPM. It provides multiple targeted campaigns to be held at once. So you can target more users at the same time if you have more than one website.
Zeropark provides high CPM for customers with the help of a high volume of traffic that's obtained from various platforms including Ecommerce, dating platforms, App download pages. 
Campaign approvals and malware protection
Zeropark gives approval to campaigns quicker than other ad networks. It also provides the best anti-fraud protection to the data. 
User Interface and traffic distribution
 Zeropark offers a simple user interface UI to publishers who can get an understanding of it easily. It also allows you to distribute your traffic across different platforms like Adsterra. It can include blogging, social media platforms, and websites.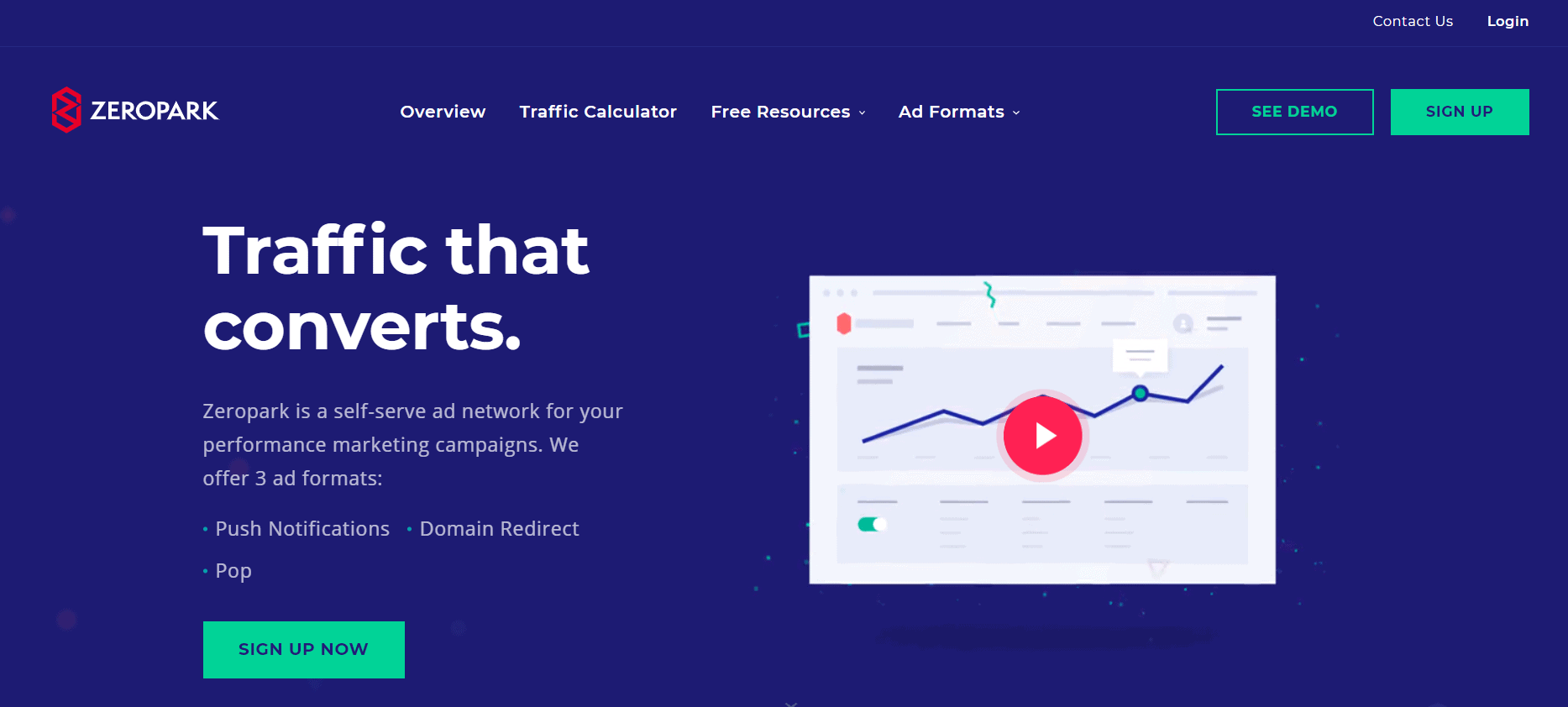 Cons:
Unlike other ad networks, Zeropark has a high payout starting at $100, which is a concern for beginner-level or small-level users and publishers. 
The traffic report of zeropark is not always updated. There might be a glitch, in that case, you got to do the tracking via other means. 
Drawbacks of having a wide range of options
Zeropark provides various target options, eventually, that is not necessary for small businesses or publishers. Hence, it ultimately reaps a lot of benefit to high-end users who need a wide range of optimizations, SSP, and options to lock their specific targets. 
Pricing
The minimum initial deposit amount of Zeropark services is 200 USD. 
6. AdOperator 
AdOperator.com, is a dynamic ad network that uses Push Ads, In-Page Ads, and Popunder Ads. for advertisers and publishers. The platform allows you to promote your direct or indirect advertisement campaigns.
It aims to ensure that your commercial is seen by the right people. Your advertising campaign can be shown digitally in a number of ways. Since its launch, the service has steadily expanded.

They offer a self-service advertising platform from which you can buy Web Push Traffic from virtually any geo you can think of. You get two options to choose from.
If you wish to advertise and drive targeted traffic to your business, you need to register as an advertiser. And if you want to monetize your website traffic, you can join as a publisher. They offer different ad formats for publishers (in-page, popunder, direct links) Payments by request.
Payments by request
Payments by request are available if a minimum $50 balance is reached. You can get the payment on Paypal, Webmoney, Paxum. To get more payment options you can contact your manager to help you get money via Capitalist, Payoneer or Bank Transfer. Simple steps to start working as a Publisher: register, add site/domain, verify, create tag, start to send traffic.
Impressions
This advertising network receives more than 100M impressions per day, with Android accounting for 90% of the total and desktop accounting for the remainder. 
AdOperate sells native formats like Push, in-page, whose traffic is generated on a cost-per-click (CPC) basis, while popunder traffic is generated on a CPV (cost-per-view) basis.

The In-page push ads of AdOperater generate about 300 million impressions. While the conventional push notifications of AdOperator generate over 2 billion impressions. Their popunder ads generate about 120 million.

The accuracy of traffic sold by AdOperator peaks at 98%, and there is no overspending on clicks or slowed spending encountered whatsoever due to a low campaign budget.

AdOperator is considered by several marketing experts as a much more cost-effective alternative as compared to Google advertising, which can quickly deplete your monthly budget.
For push advertising, AdOperator has a wide inventory of legitimate publisher sites across various niches. For your promotions, you can use their native CPC bidding model.
It is also possible to target people who you feel can most likely convert into potential customers with pinpoint accuracy. Unique filters, white lists, black lists, mobile operator targeting and IP are some of the options you can use. You will get instant access to accurate campaign statistics. This will assist you in making critical decisions. 
Referral Programs

AdOperator also has one of the best referral programs in its class, through which you can earn money without making any effort with 7% commission earnings.
If you bring someone to the platform, who is interested in buying traffic, then you will get a commission with the help of their referral program. It's hassle-free and signing up is quick as well. Once you sign up, you will receive a unique referral link on your registered email. Just share the link with a partner, and get 7% of the revenue. IT'S THAT SIMPLE!
Visa/Mastercard, Paypal, crypto, and WebMoney, Paxum, and Wire transfer are all options for adding funds to your account. AdOperator is a prepayment service.
The minimum deposit via wire transfer is $500, and the minimum deposit via Paypal, Paxum or Credit Card is $100. For Credit Card, PayPal, and Wire Transfer, they will cover the commission. The transaction commission for Paxum is a bit low.
Aside from all of the word-of-mouth advertising and features, AdOperator has a very user-friendly self-service format where you can buy the web traffic you need.
7. Roller Ads:
RollerAds is a self-service platform that utilizes the CPC pricing model. RollerAds Advertising is renowned for delivering 100% genuine global traffic. While it is a new advertising network in the world of digital advertising, where hundreds of ad networks already exist.
Despite its rapid growth, it has already become a viable alternative for over 10,000 publishers and thousands of advertisers due to its highly focused programmatic strategy and sophisticated technology.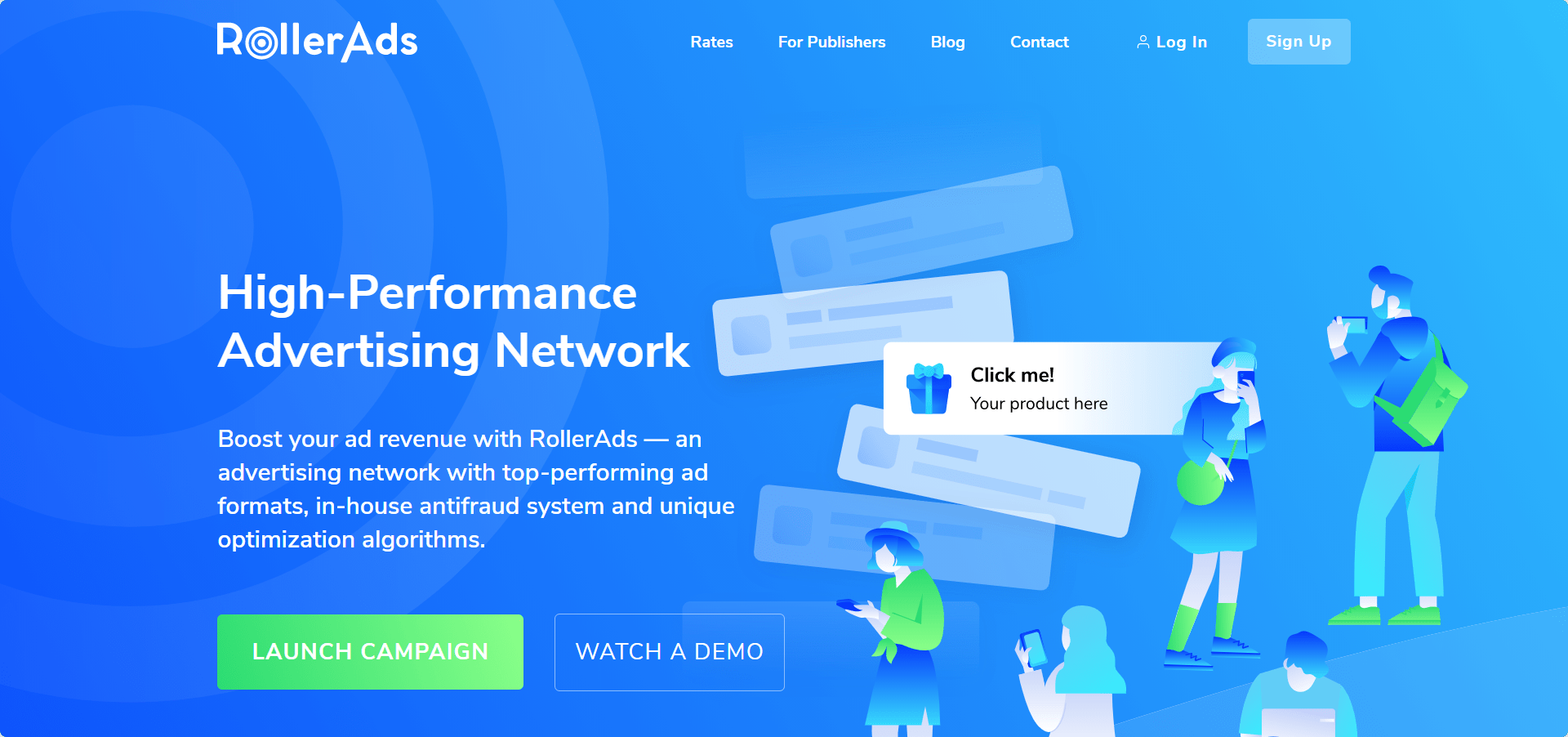 RollerAds is a self-serve platform that utilizes programmatic bidding to operate autonomously.
A self-serve platform, also known as a demand-side platform, is a kind of demand-side platform that identifies an advertiser's intended target demographic more precisely and links them to the particular publishers that sell their inventory to them.
It works more like an auction, ensuring that the appropriate advertisers connect with the proper publications, benefiting both parties.

Key Features of Roller Ads
Even the smallest bid is just $0.001!
Trafficking that is 100 percent genuine
With a range of targeting choices, you may reach the most profitable audience possible.
Automated programs will have no opportunity of defrauding you of your winnings.
Every day, millions of individuals all around the globe interact with their advertisements.
When compared to other ad forms such as emails, banners, and videos, this format has a high click-through rate.
There are many targeting possibilities.
Offers have the greatest possible reach when they are clicked.
Payment Methods Accepted: PayPal, Payoneer, WebMoney, Paxum, Capitalist, Credit Card, and Wire Transfer.
Why We Recommend Roller Ads?
Roller Ads is a turnkey solution for advertisers and publishers seeking a reliable platform to fuel their push notification marketing campaigns. Users of this platform will undoubtedly profit from it. Here are some of the reasons we like Roller Ads.
Here are some of the reasons as to why we recommend Roller Ads –
Additional revenue generation through current ad types.
Numerous payment options.
Campaigns that are simple to manage and include helpful campaign features.
Genuine traffic, devoid of bots.
A system that is secure and anti-fraud.
5 % commission on referrals.
Publishers earn a lot of money.
Charge only for clicks provided.
Numerous Options for Targeting.
8. Adbuff
Sometimes when you have a fixed revenue in mind but your AdSense CPM just doesn't live up to that level, maybe you should try something new like Adbuff.
The success rate of Adbuff is high, much better and sometimes exceeds the level of other ad networks.
The features that Adbuff gives are quite amazing. Especially the guaranteed 100% fill rate. It provides CPA, CPC, and CPM respectively. Some other features and disadvantages of using Adbuff are as follows.

Pros and Cons of Adbuff
Pros:  
CPM rates and effective tracking tech
The Adbuff gives a high CPM rate and also has the best technology to track your lead and analytics. 
Dashboard and tech support
Adbuff gives current stats about the upcoming ad campaigns, prospective clients, closed deals on your dashboard page. Also, you could customize drag and drop the things you want on your page. It provides 24-hour excellent tech support. Your tickets get resolved in a 1-day window. 
Personal manager, Payments on time and bonuses
The Adbuff provides a personal manager to your advertising to manage your campaigns. You could also opt for SSP if you want to do things your own way. It provides payments on time using Net 45. It also gives a sign-up bonus of $25.
Cons:
High minimum payout, language, Net 45
Net The main drawback of Adbuff is that you need to have a high minimum payout of $100 and $500 for wire transfer. Those who are starting out as a small business find it faltering to pay such a high payout. It also uses Net 45 which delays the payment unlike other Net 15 or 30. And yet it is available only in English language countries USA, Canada, Australia & UK. 
Pricing
Adbuff minimum deposit is $100.
9. Sharethrough
The Sharethrough ad network's main motto is to offer independent access through fine-quality ads. It provides great technical support, very engaging User Interface easy to organize. The following are the pros and cons of sharethrough.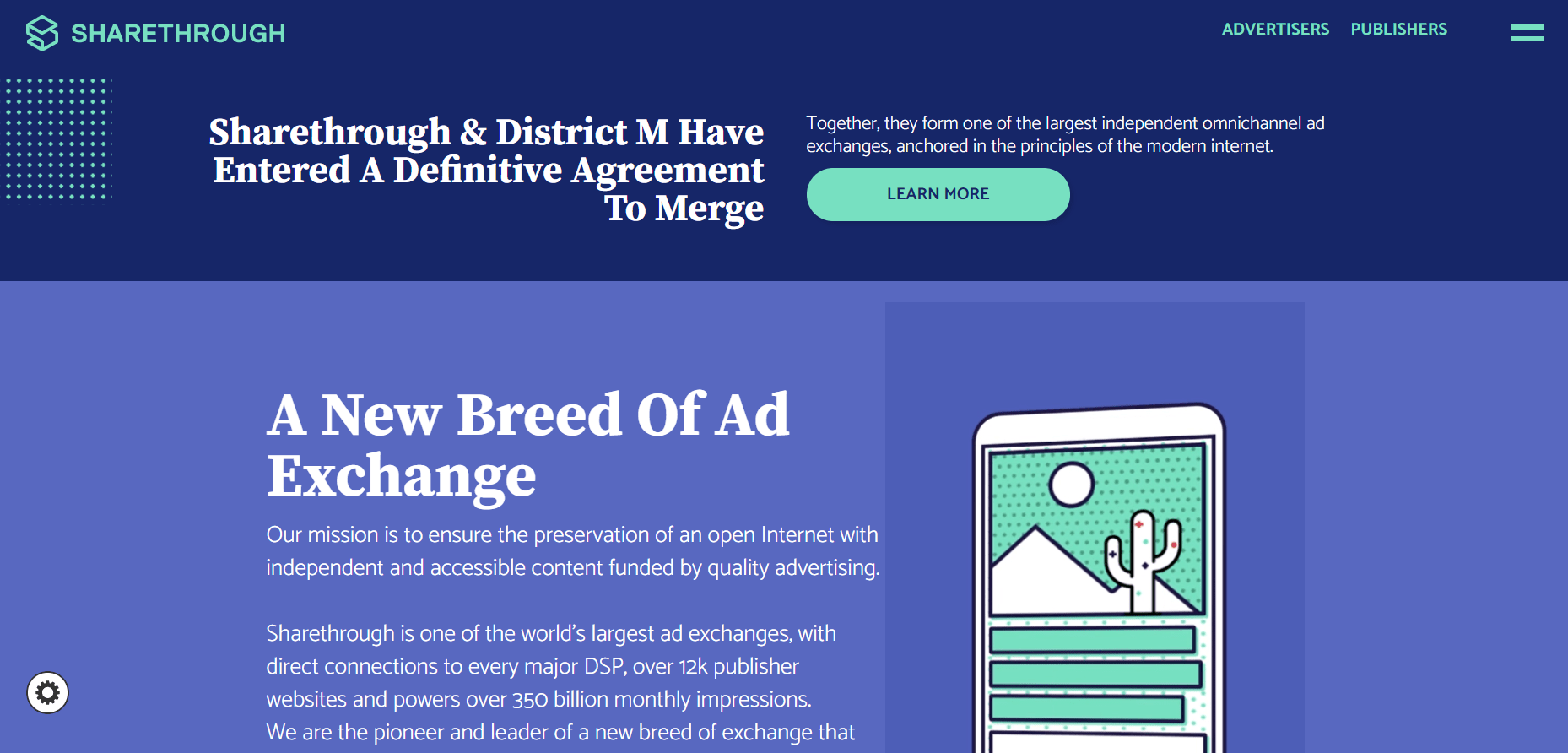 Pros and Cons of Sharethrough
Pros : 
Video advertising and campaign management
It provides a distributed Video advertising system over many social media platforms to increase the CPM rate. It provides organized and systematic campaign management.
Cons :
Placement of ads on a website
The ads are placed randomly on a website, it may be completely a different brand with an irrelevant website, the probability the customers would click the ad is very less.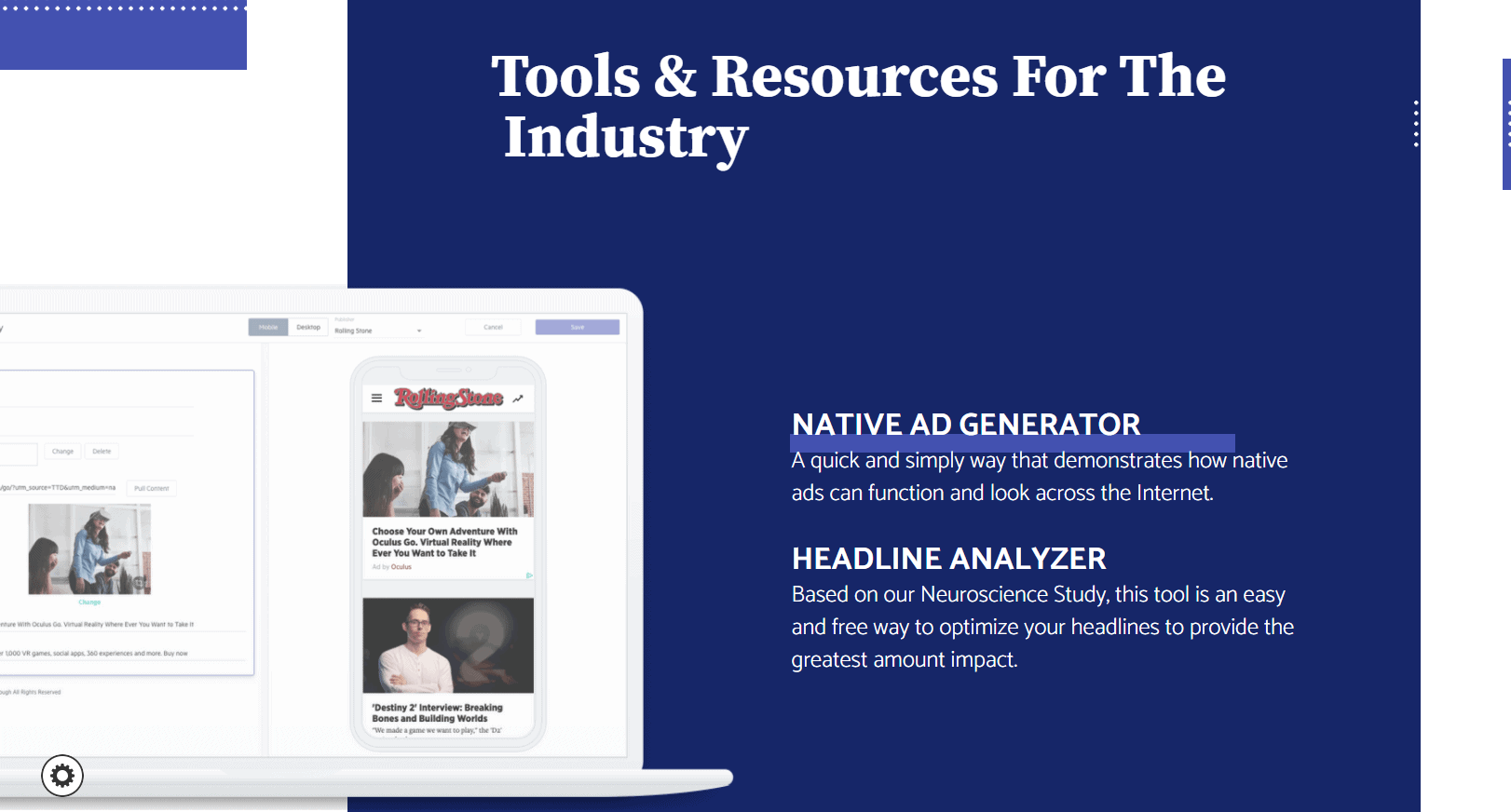 Pricing
The minimum deposit value for Sharethrough is $100.
10. Leadbit
When many ad networks give a high minimum payout for their users, not everyone who wants their product advertising could afford it, especially for a small-scale business or startup. Keeping that in mind, Leadbit introduced its advertising programs which benefitted a lot of small-scale businesses.
It focuses mainly on CPA. The following are the pros and cons of Leadbit.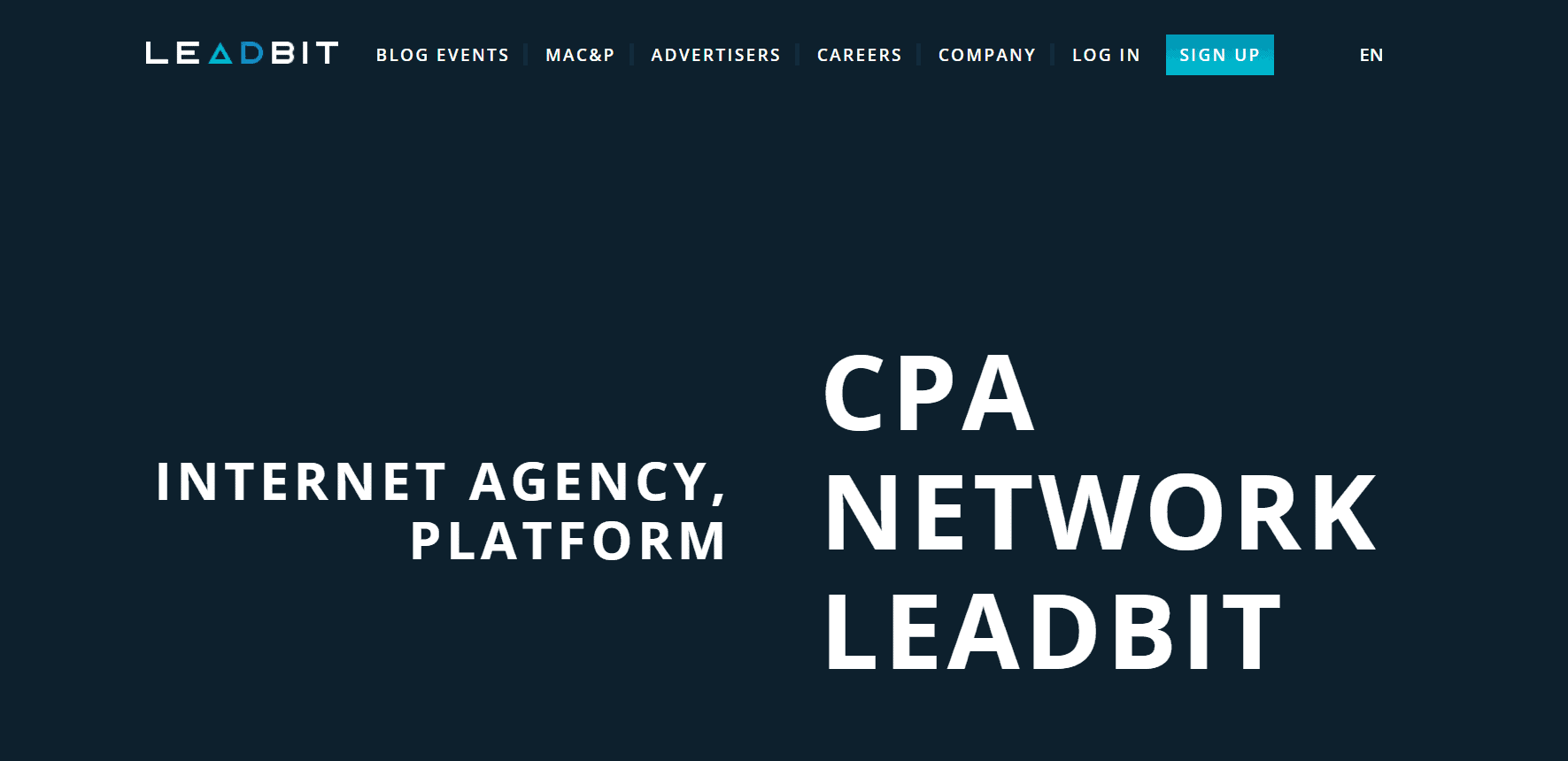 Pros and Cons of Leadbit
Pros :  
Tracking & Analysis, professional team
It provides a systematic analysis report for tracking leads and it has a highly skilled professional team who's available to assist you in case of any queries related to your customization options or anything.
Tech support and payments
Leadbit provides round-the-clock customer support for any issues related to your CPA or ad campaign. It provides payments on time, the best affiliate network to do so.
High conversion rate and high payouts
The conversion rates that Leadbit provides are crazy, they have more than 800 ad offers and all of them turned out to be highly converted rates. They also offer you high payouts.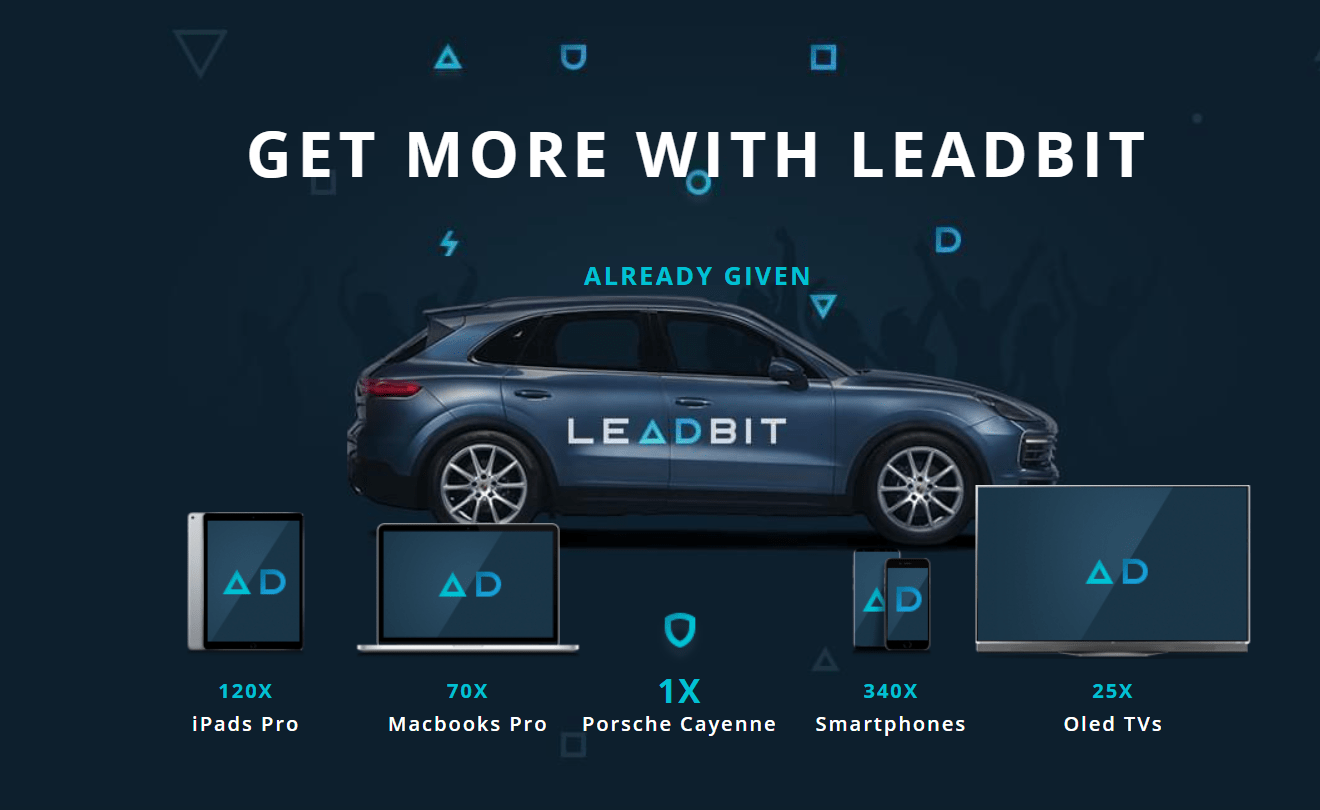 Cons :
High payouts, the conversion rate is crazy high, great offers, the customers are satiated with what Leadbit offers them with nothing to complain.
Pricing
The minimum deposit value for leadbit price is less than $99.
11. Hilltop Ads
Hilltop ads were founded by a UK-based advertising network. It is not so popular among other ad networks. It is mostly known for its pop-under ads like the Adsterra network.
Its motive is to monetize publishers and small-level bloggers to increase their monetary income via these ad campaigns provided. It also provides distinguished features for both publishers and advertisers which is a bonus!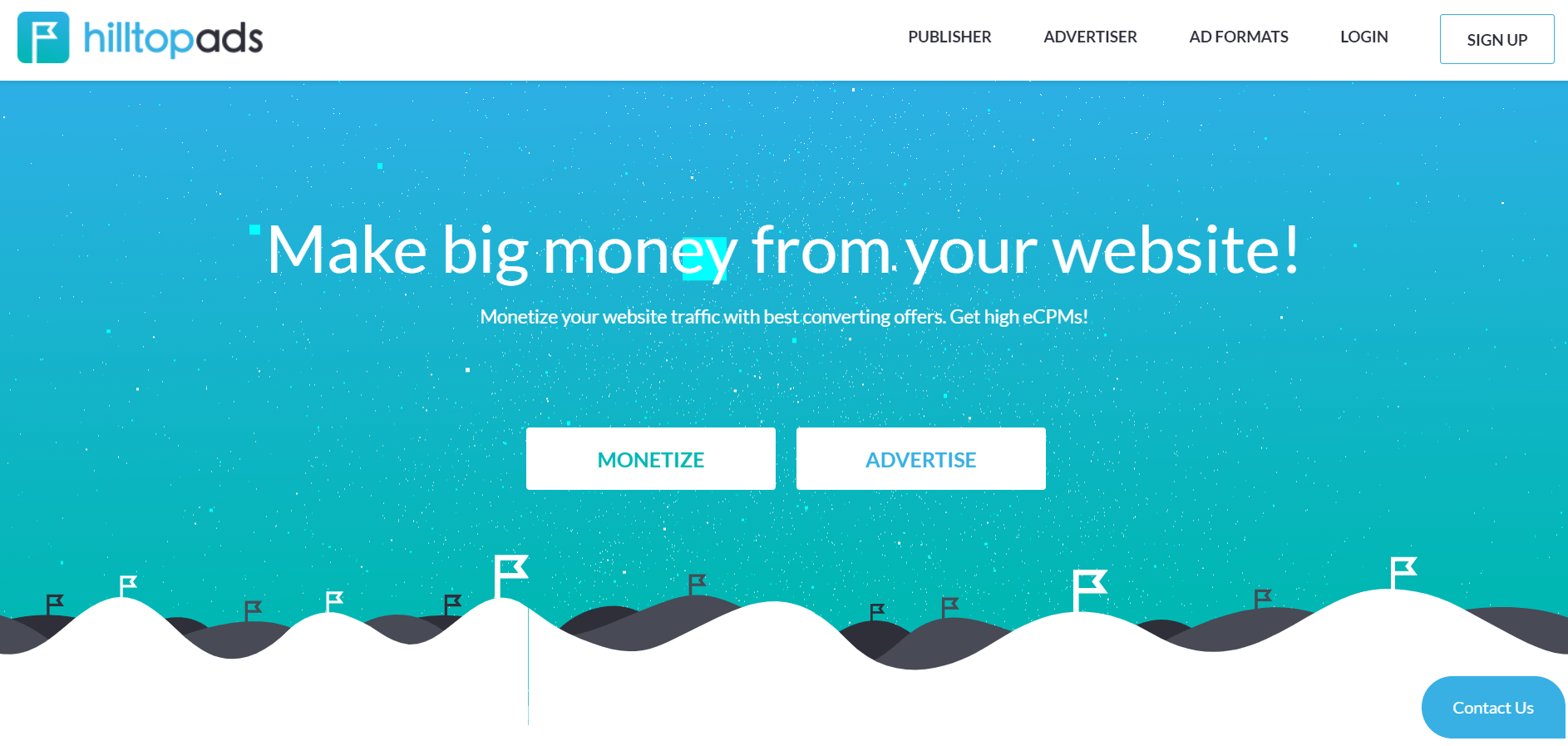 Pros and Cons of Hilltop Ads
Pros:   
Single dashboard multiple purposes
Who wouldn't like to have everything controlled and monitored under the same dashboard? Hence Hilltop ads give the comfort to Publishers to have an optimized dashboard as well as to Advertisers. 
Targeting and malware protection
It gives a whole list of options to choose targets based upon mobile devices, geo targets, country, language, IP address, and much more. It gives protection against viruses and malware. 
Optimization and minimum payout
It gives optimization for a higher CPM and also has a minimum payout of just $50.
Cons:
Non-symbiotic with AdSense
Hilltop ads are not symbiotic with AdSense and also offers a specific minimum payout for different money transfer platforms.
Pricing
The minimum deposit starts from $50 in Hilltop ads. 
12. Adsterra 
If you are planning to swing between two or more ad networks besides Google AdSense. Then Adsterra is just the right one for you. It was found in 2013 and the features and accomplishments it has made throughout the years are insurmountable. 
It had more than 200k ad campaigns. 

12k and more publishers

26 Billion CPM (Impressions/month). 
          Adsterra provides different ways for the user to make money online. Even if it's just $5. It provides a bunch of amazing features.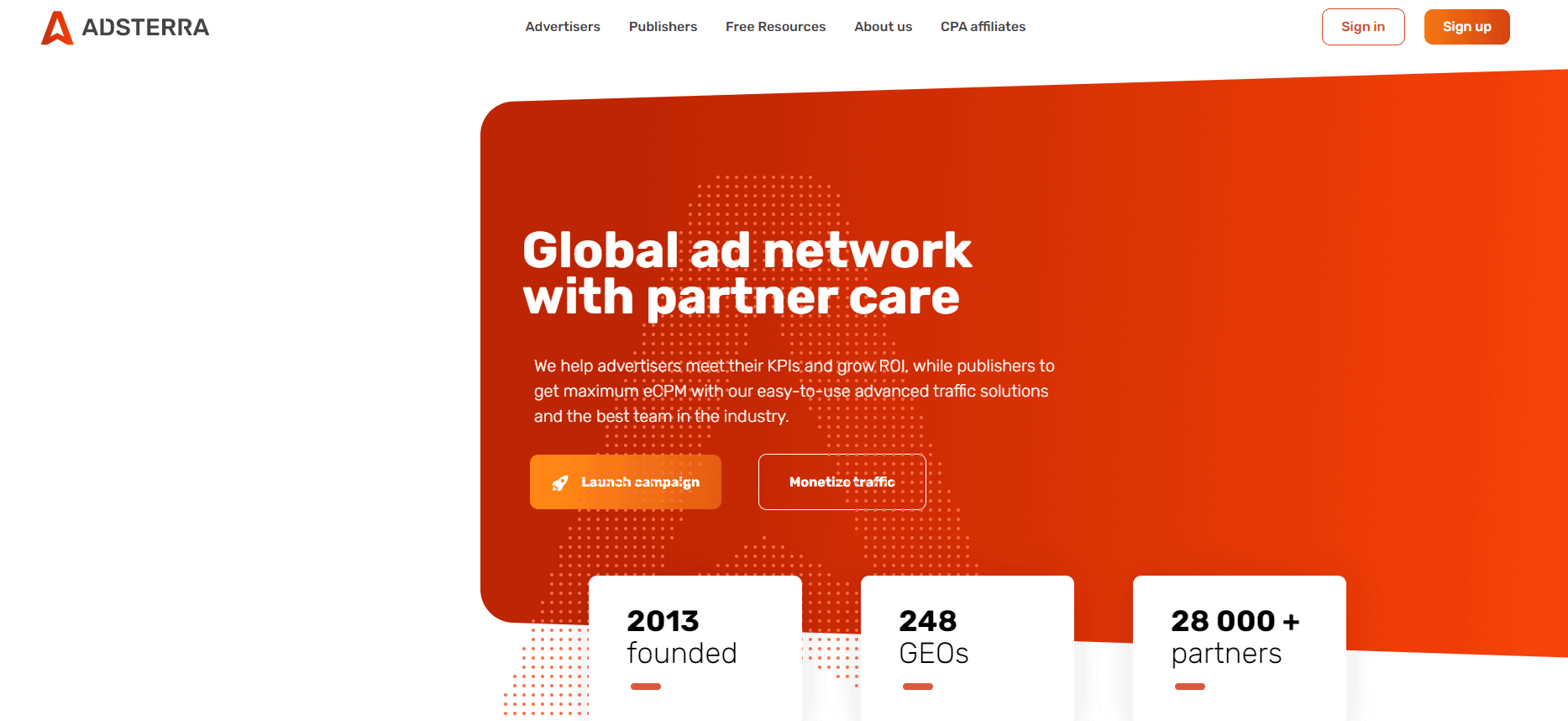 Pros and Cons of Adsterra
Pros:   
Monetize your traffic from various platforms 
If you're an avid blogger but you are not sure if you could monetize your blogging page, if you are one of those who are active in social media platforms, you could absolutely make money through Adsterra irrelevant to you having a blogging page, website, or Facebook. It monetizes every post and article effectively. 
No minimum traffic, malware protection 
It gives protection from fraud and malicious viruses. It has no constraints on traffic as far as your website gets approved by Adsterra. 
Wide range of payments and ad formats
You can even pay by Bitcoin in Adsterra and it also provides more options like PayPal, Paxum, etc. It provides a wide range of ad formats from pop-under, sliders, text ads, etc.., The main reason why Adsterra is famous is because of pop-unders. 

Cons:
Albeit it provides a wide range of ad formats, monetizing ways, Payment options, no minimum traffic required, and many more flexible options. Yet the application of Adsterra is not beyond pop-unders. 
Pricing
The minimum deposit value for Adsterra is $100.
13. SmartyAds 
SmartyAds has almost everything automated using AI assistance which includes bidding and reports analytics. It provides a fantastic SSP with optimization options and also it provides DSP Demand side platforms that give permission to connect directly with the publisher or advertisers.
The Dashboard is solid, gives precise data on analytics, and makes navigation easy for users. 
SmartyAds provides millions of publishers a choice to choose its network over Google AdSense. The SmartyAds connects SSP and bidders directly through RTB protocol. 

Pros and Cons of SmartyAds
Pros:  
Targeting potential leads yet again
One of the unique features SmartyAds provide is that it allows retargeting. When the Demand supply chain is retargeted, the chances of increasing the CPM is very high and also you can increase the net revenue. 
Tech support and User Interface
The SmartyAds tech support is reliable and the DSP it provides analyses and targets ads towards only the bunch of clients who would eventually turn into prospective buyers. The User Interface provided by SmartyAds is really easy and flexible.
Ad format and ad customizations
The SmartyAds allows you to customize your ad according to your customer's likes. Depending on which you could always alter respectively. The flexibility and also the various ad formats it offers increases the CPC and CPM.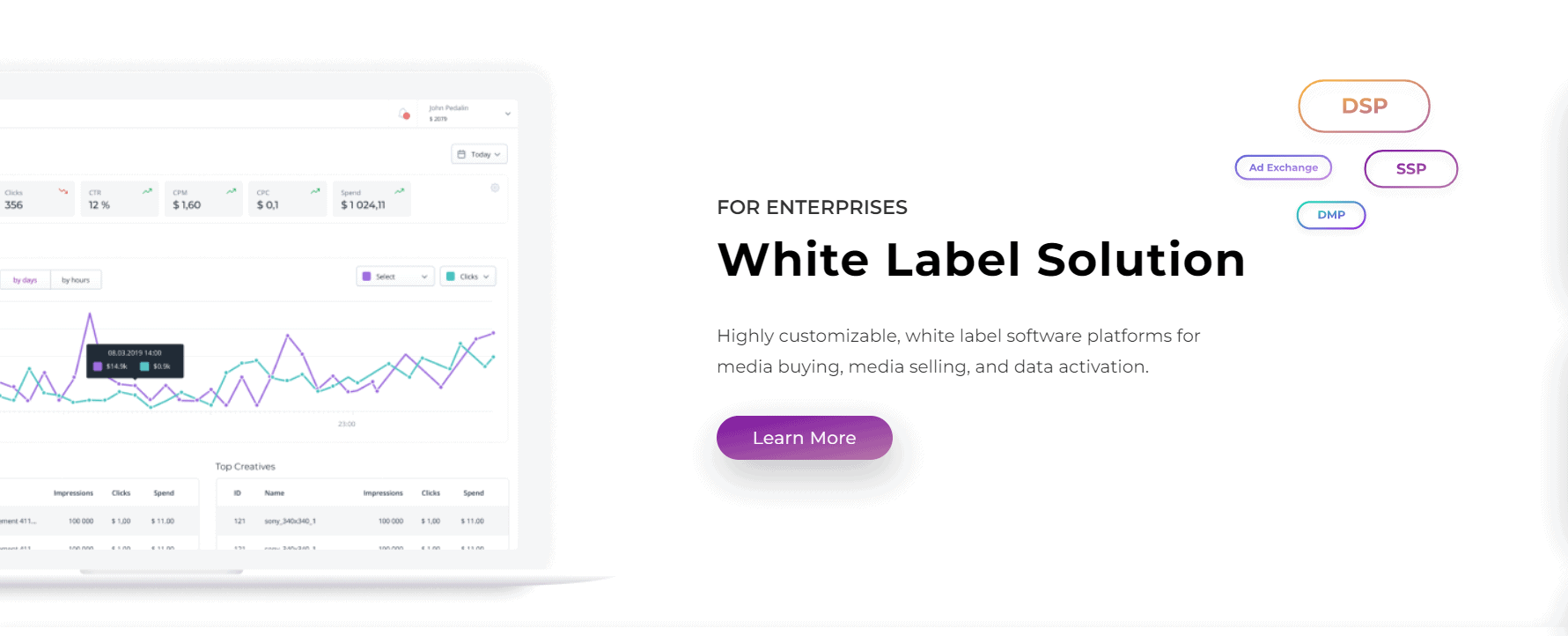 Cons:
A bit on the expensive side
SmartyAds is suitable for small bloggers and those with a small-scale business. Given that, the cost at which we pay for small campaigns is very high. Especially for small businesses, it is quite on the expensive side. 
Pricing
The recommended first deposit for the platform used should be at least $1000.00 for your first campaign. 
For the second campaign, it's $500.00.
14. BidVertiser
BidVertiser is a top-of-the-line self-serve demand-side network that generates high-converting traffic. From exclusive traffic to segmented targeting, different monitoring options, and comprehensive analytics, you'll find everything you need to turn traffic into cash.
With over ten years of experience, the ad network is well-established and continues to be a common choice for affiliate advertisers.
If you're having trouble finding consistent, high-quality traffic, BidVertiser might be the solution. They run a self-serve DSP with proprietary traffic sources from a range of ad formats – both desktop and mobile, mainstream and adult – for both desktop and mobile.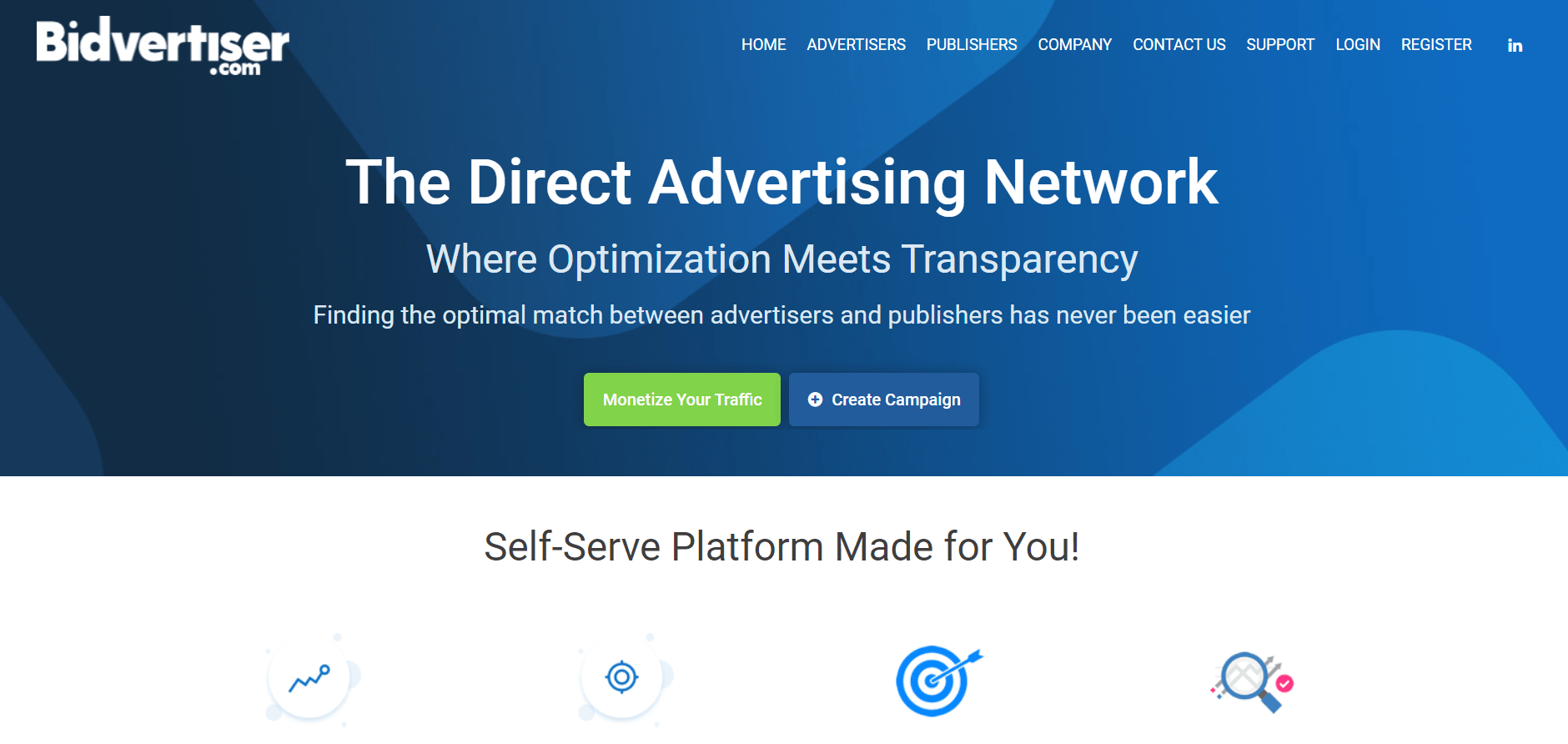 Key features of BidVertiser
Here is a list of the key features that you can experiment with while using BidVertiser. 
Proprietary in-house platform

Direct, Push, Native, Pop, and, Contextual Pops 

Mainstream and Adult traffic

Geo, State, ISP, Carrier targeting

Language Targeting

Targeting based on Browser, device, and OS

Browser and OS Versioning

Quality Score, Day Parting

Global Postback

Manual conversion upload

Bid automation via CPA targeting

Whitelisting

Blacklisting automation

Segmented Analytics and Reports

Only High-Quality Traffic 

Multiple payment methods: Credit Cards, PayPal, Payoneer, WebMoney, Crypto, and Wire

Direct Brand Traffic (NEW)
Why do We recommend BidVertiser?
BidVertiser aims at providing features and modules that blend cutting-edge ad serving and real-time optimization with machine learning based on concurrent and historical big data.
Learn more about the BidVertiser system and how we make every impression count by reading on.
Every second, thousands of transactions are analyzed.

Hundreds of data vectors are optimized in real time.

Top-of-the-line fraud detection with a zero-tolerance failure policy

A malware-free environment is ensured by constant innovative scanning.

Have complete control over your data center with distributed cloud for super-fast delivery

Precise fingerprinting feature that ensures each user has a unique identity and secure experience
Pricing
In general, the preliminary amount you can deposit with BidVertiser is $100, using various funding options such as PayPal, credit card, WebMoney, crypto, and bank wire.
However, if you sign up right now and use our coupon code 'BAY50', you will instantly get an exclusive $50 added to your account with no deposit required. –
All you need to make sure is that you have a valid credit card for making sure that the card is valid and used only once per customer. Once this is verified, the bonus will be added to your account right away.
Customer Support
BidVertiser also boasts of a super responsive custom support team that consists of highly skilled and knowledgeable personnel who are ready to assist you 24/7. You can reach out to the support team anytime via:
Quick Links
FAQs | Best Ad Networks 2023
❓Can I use multiple ad networks?
Yes, you can use more than one ad network depending on your convenience. A publisher can always use more than one ad network service.
❎ My campaign got rejected, what's the reason?
Your campaign might have gotten rejected if you have violated the rules and regulations of your ad network.
👍🏻 Do I need to have a website or a network of sites for affiliate programs for India?
No. Most affiliate networks allow traffic from Facebook, apps and banners.
🤔What type of targeting can I choose?
You can choose any type of target based upon iOS, Android, Mobile devices, Geo targets, Country, IP address etc., provided by your corresponding ad network.
💸What is the minimum deposit amount for?
The minimum deposit amount is the price you pay for the ad network to get the services offered by it to the advertisers to create ad campaigns, dashboards, tracking targets, and other features. It differs from one ad network to another.
Conclusion | Best Ad Networks 2023
We have various ad networks offering unique features on their own. If you are looking for a CPA-based network, choose the one most suitable for it. If you want more CPM rates, then you could try SmartyAds and Adbuff, which give higher CRM rates compared to Google AdSense.
It would be best if you saw the conventional dashboard, target tracking, customization options, and many more according to your brand advertising convenience. 
Many ad networks have a high deposit amount, which is nonrefundable, you could choose other affiliate networks like Leadbit and Bidvertiser, which have a minimum deposit amount for your first campaign. 
You need to always keep in mind that your requirements are fulfilled, and you need to choose the best network that gives you profitable monetization than those which doesn't show any improvement.
If you're still skeptical on which one to choose, you can always try out the free trial of the ad network which you think would work for you; go for it when you're confident enough that this is the one for you.