Do you want to start your own bookkeeping business but need help?
Finding a good training program that teaches everything you need to know about running a successful small business takes a lot of work.
Bookkeeper is the only program that teaches you how to run a successful bookkeeping business from the ground up. Its primary goal is to teach you how to grow your business successfully.
This course has excellent ratings and reviews and offers a 100% money-back guarantee if you are not satisfied with your experience within the first month of training.
In this article, I will review Bookkeeper Launch and help you decide if this course is worth your money.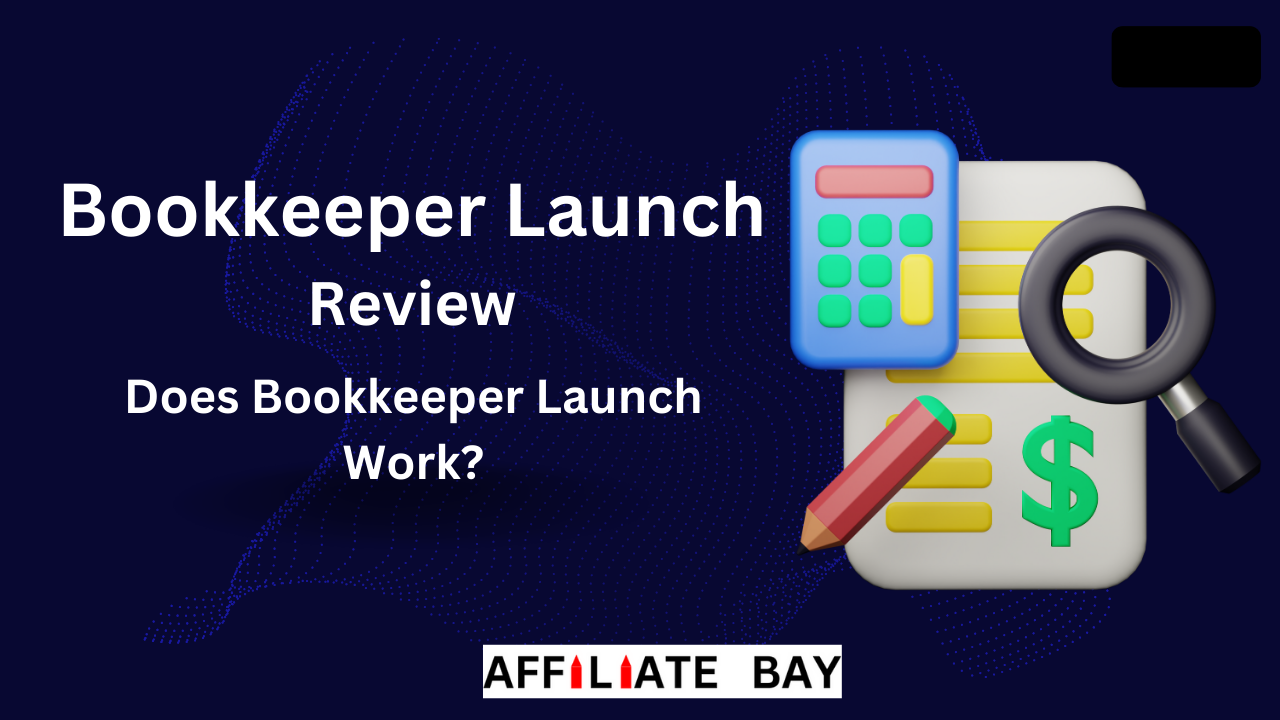 What Is Bookkeeper Launch?
Bookkeeper Launch is the perfect program for you if you want to work from home as a bookkeeper. It teaches you everything you need to know about bookkeeping and accounting, even without experience.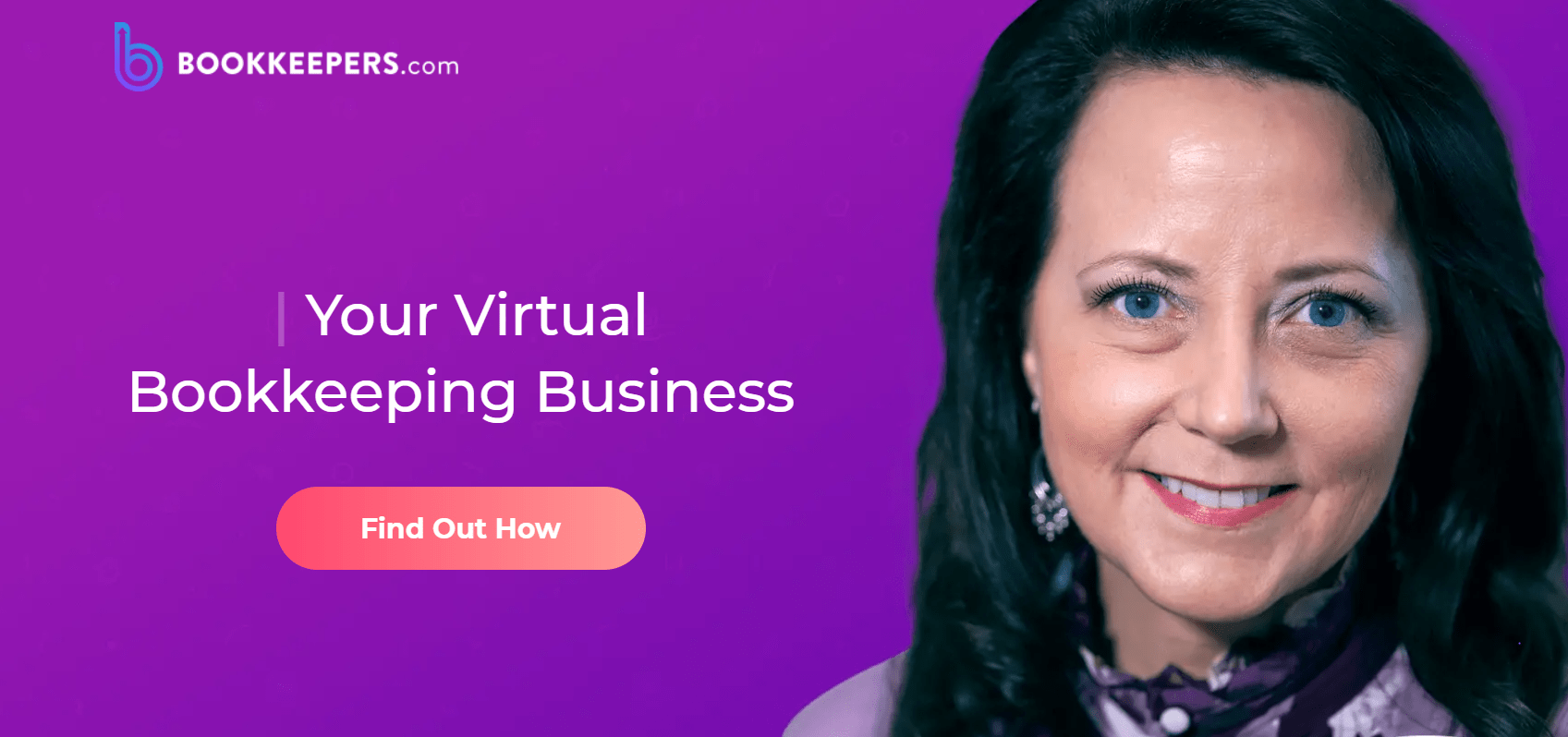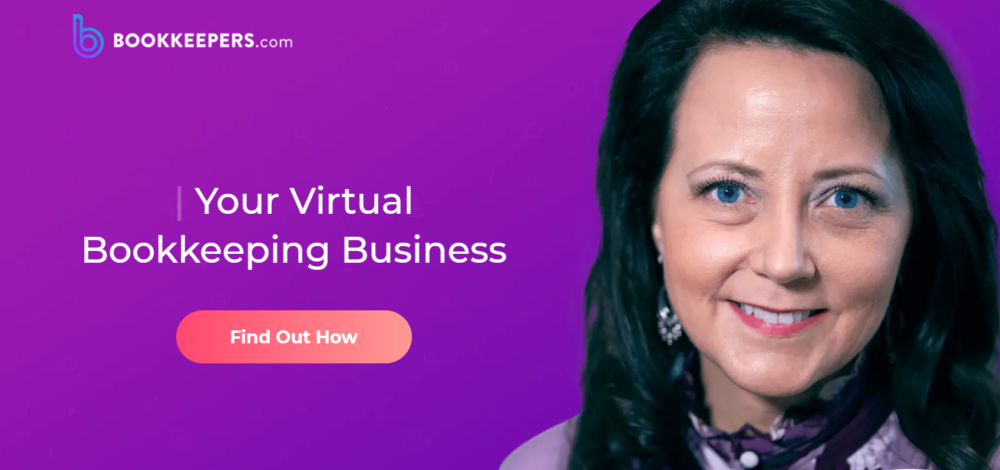 You will learn to handle various financial tasks, such as managing budgets, tracking income and expenses, and keeping records. You will also learn how to run your bookkeeping business and attract clients.
Bookkeeper Launch was created by Ben Robinson, a certified public accountant and the founder of Bookkeepers.com, which provides bookkeeping services and additional courses. Ben has been teaching online since 2015 and has helped thousands of people become successful bookkeepers.
What Can You Learn From Bookkeeper Launch?
Here are a few pointers that will tell you what Bookkeeper Launch is going to help you learn:
Skills to know the software you will be using
Maintaining records and data
How to make clients
How to keep your clients
Making your identity via your personalized website
Attracting clients to your website
How to network
Who Is Bookkeeper Launch For?
Bookkeeper Launch is suitable for anyone who wants to start a business and work from home. The course allows students to create their schedules while earning a living.
To run the business, you can be someone other than an expert in mathematics or have any bookkeeping experience. You don't have to be a tech whiz to take the Bookkeeper Launch course.
This course is only for you if you are willing to put in the effort or have enough time to devote to it.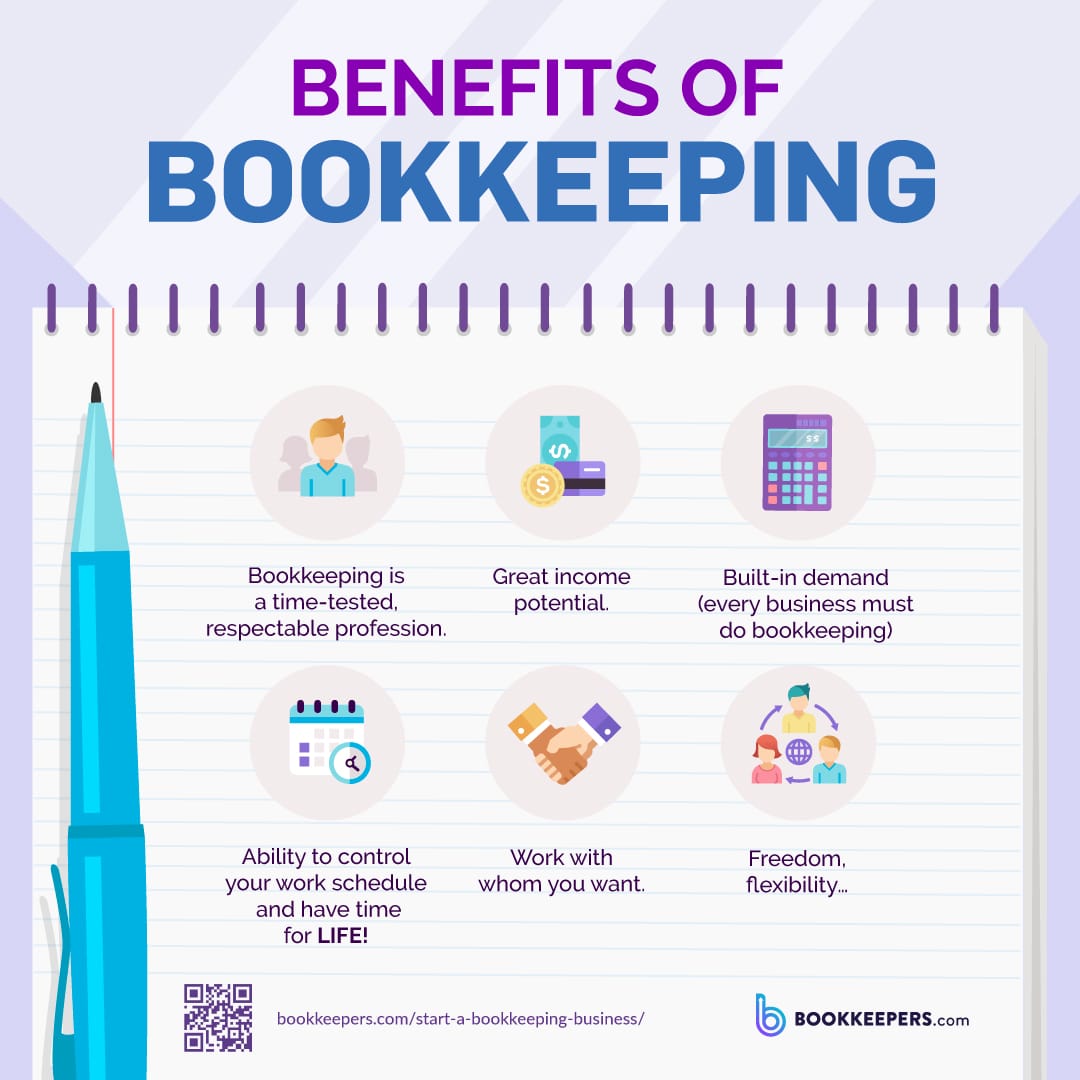 Bookkeeper Launch reviews
Bookkeeper Launch Reviews on the BBB
The Better Business Bureau has given Bookkeepers.com (previously Bookkeeper Business Launch) an A+ rating and 5 out of 5 stars based on 75 customer reviews: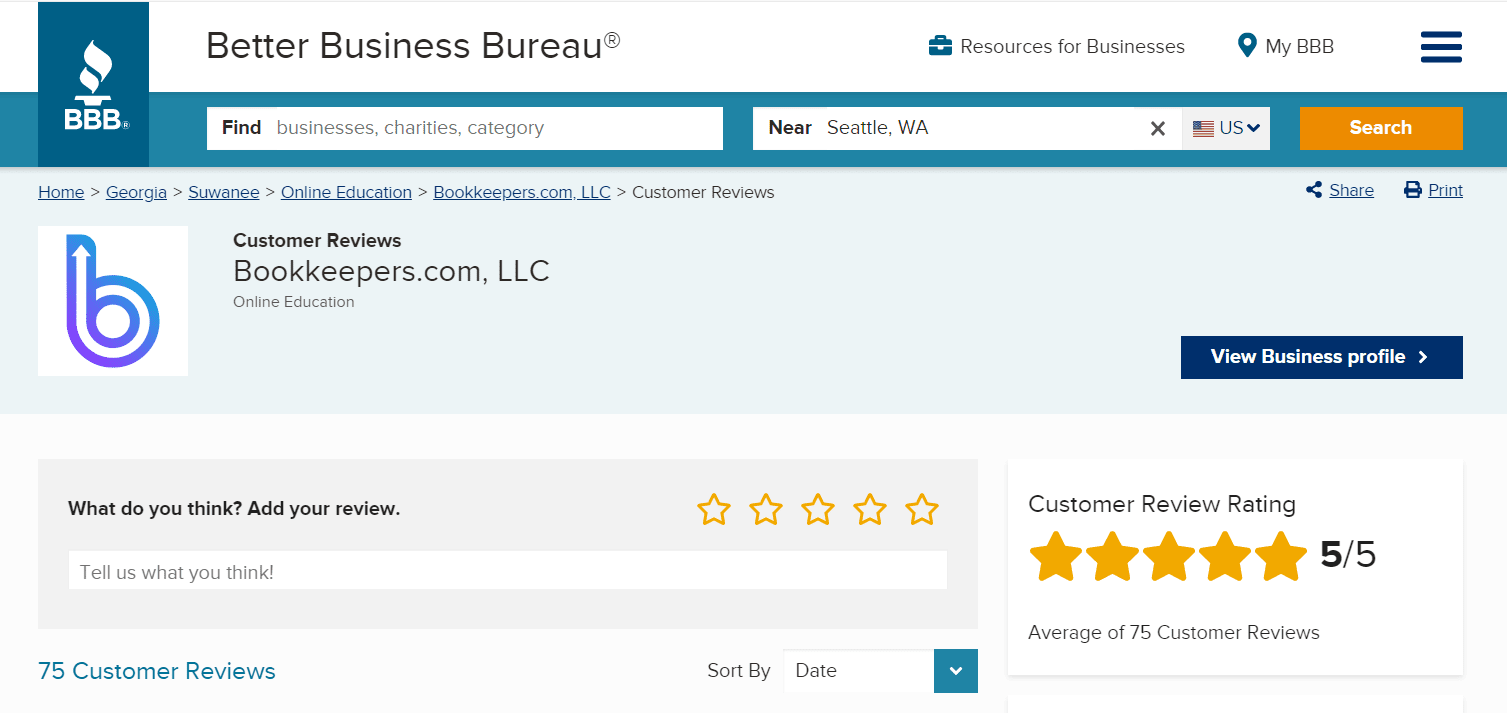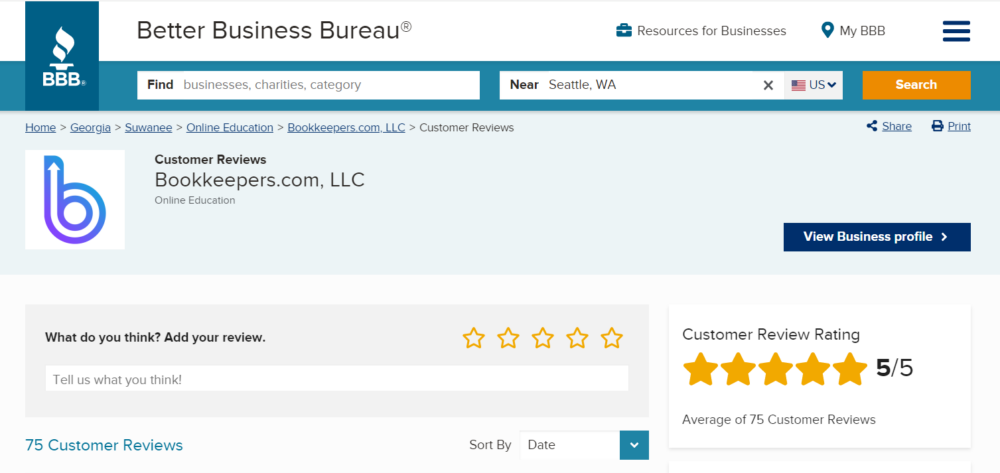 Bookkeeper Launch Student Reviews From Facebook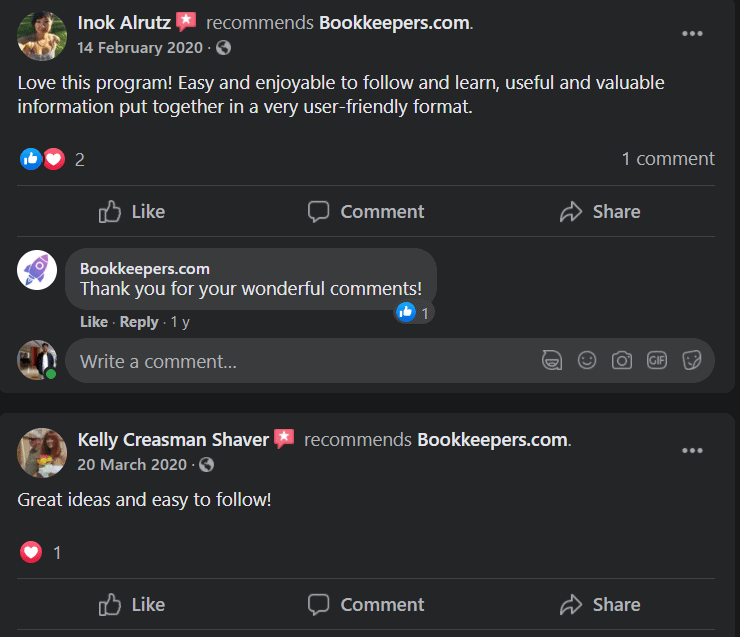 Bookkeeper Launch Course Content: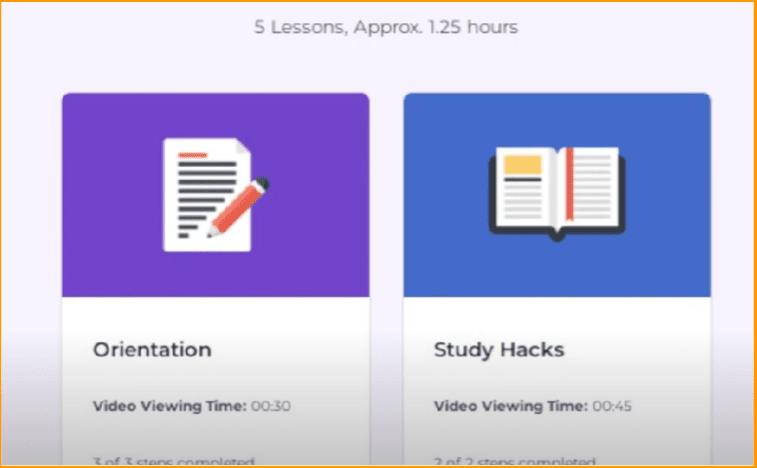 Here is what you get inside the Bookkeeper Launch course:
There are six main sections and two supplementary objectives in Bookkeeper Launch. Let's briefly look at what you'll learn and do (because as you know new skills, you have to practice them).
Days 1-15-Go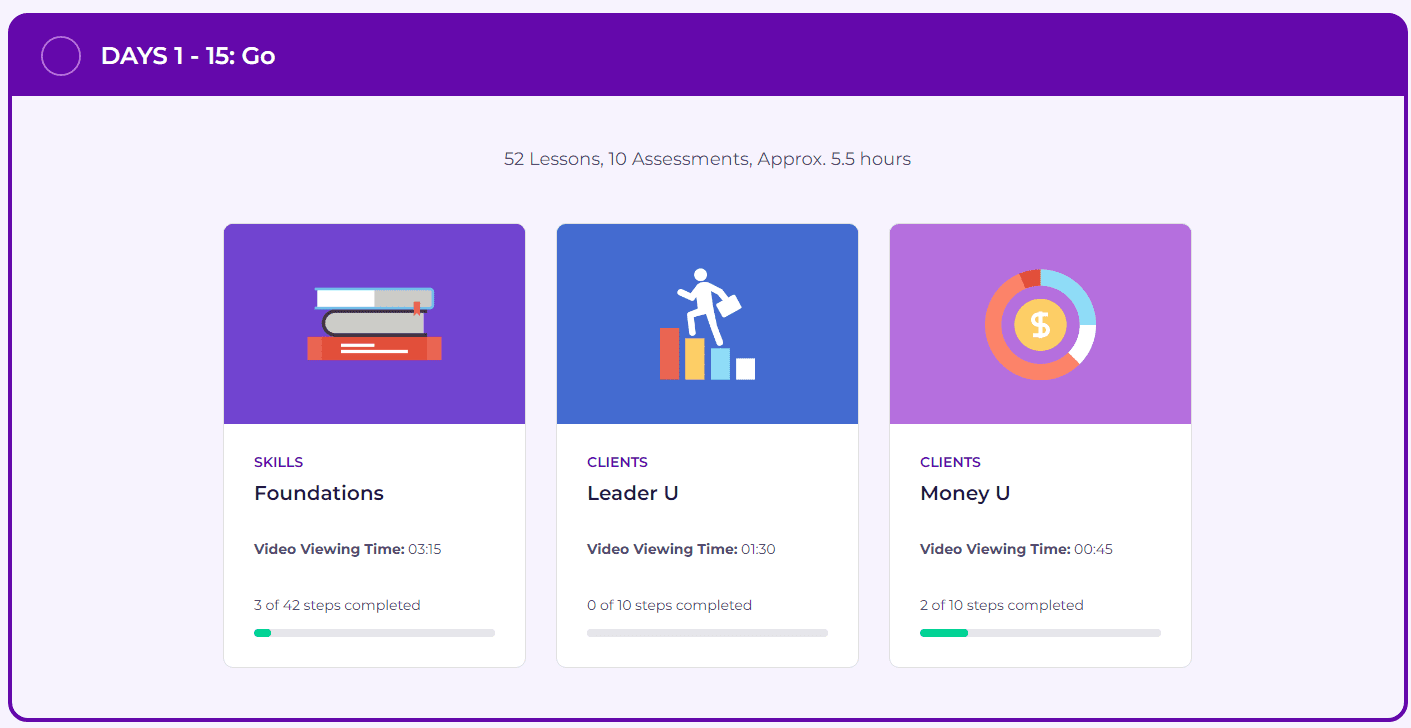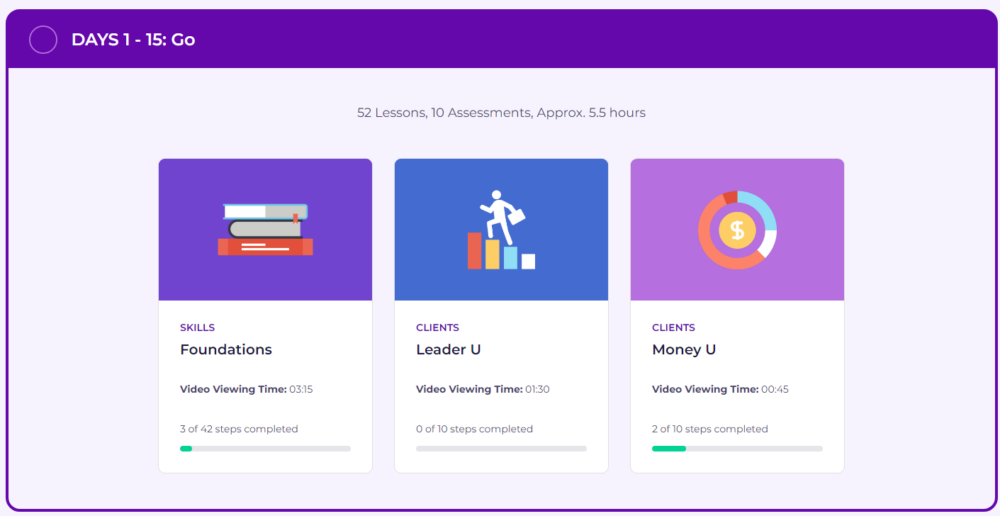 The Get Started segment (Days 1–15) gets you off to a good start. These units will teach you the fundamentals of bookkeeping as well as the attitude of a great bookkeeper:
Foundations (Foundational bookkeeping principles)
Leader U (A different way of thinking about yourself, your business, and bookkeeping)
Money U (Setting yourself up for success and thinking about money differently)
Days 16-30 – Ignition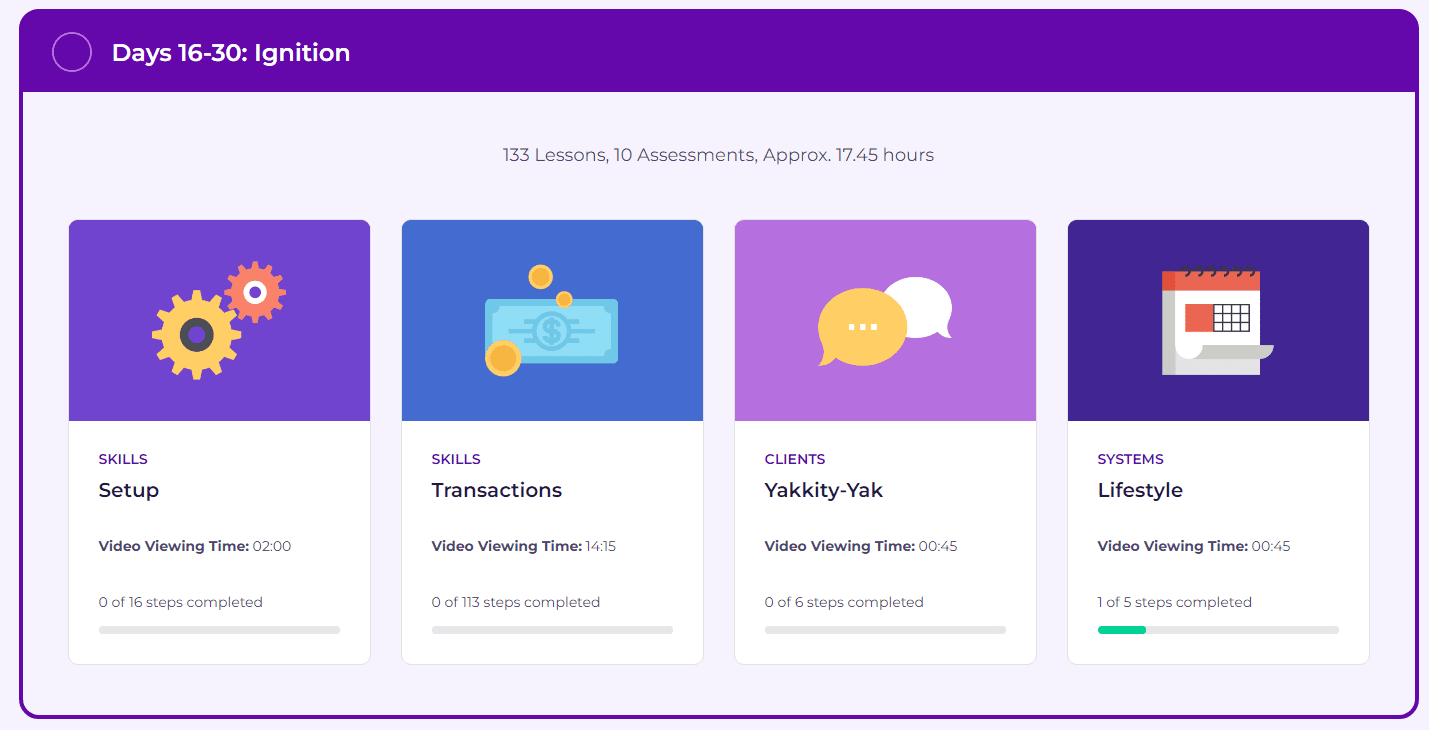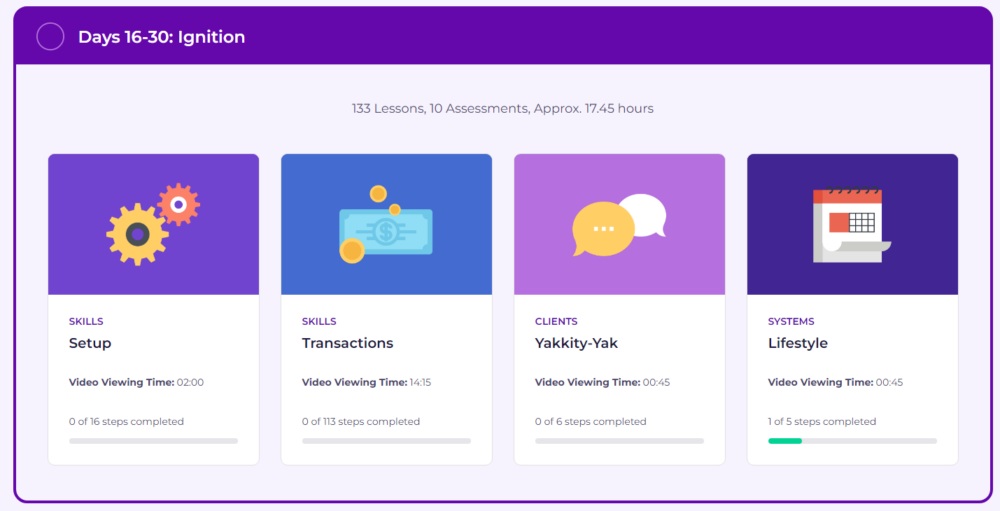 (Days 16-30) walks you through the core concepts of bookkeeping:
Setup (Navigating QuickBooks Online, cloud-based bookkeeping software)
Transactions (Includes 116 lessons, bonus activities, and an answer key!)
Yakkity Yak (The non-salesy way to find the right clients for your new bookkeeping business)
Lifestyle (Building a business that supports the life you want)
Days 31-45 – Liftoff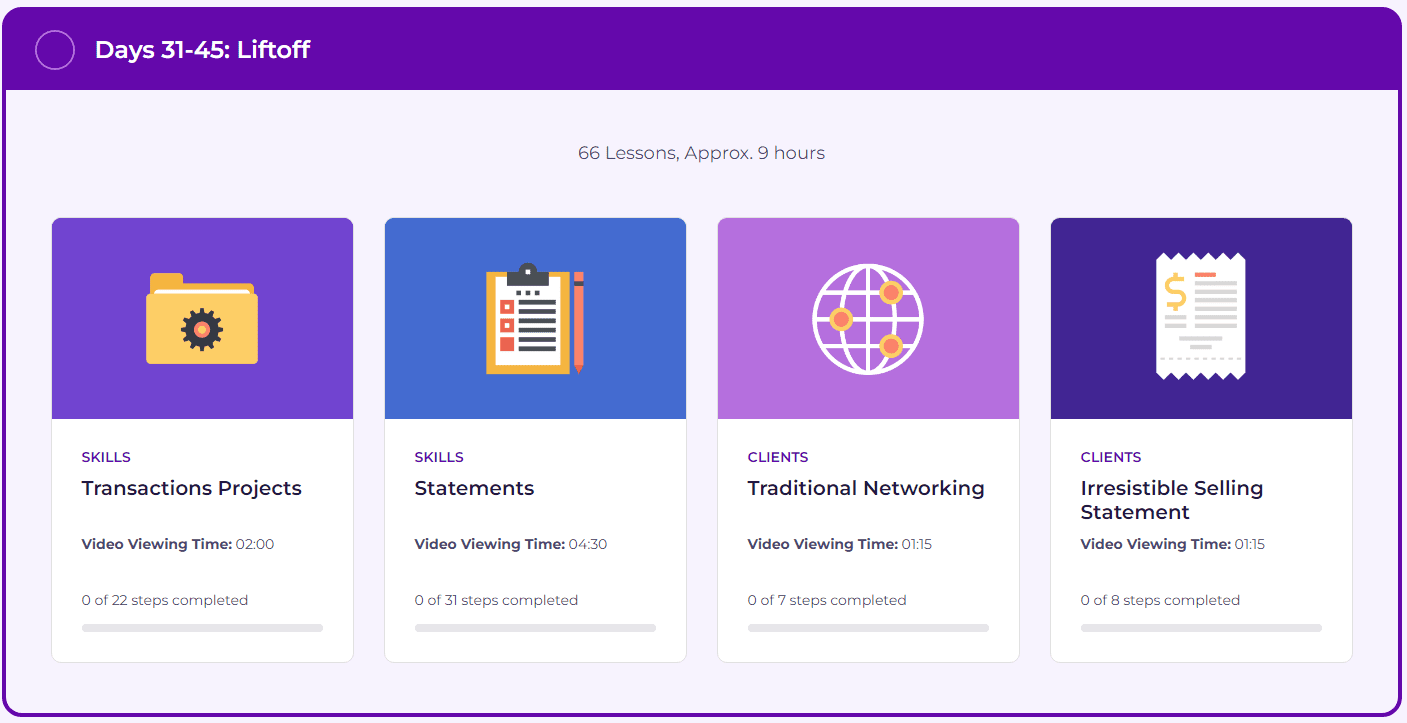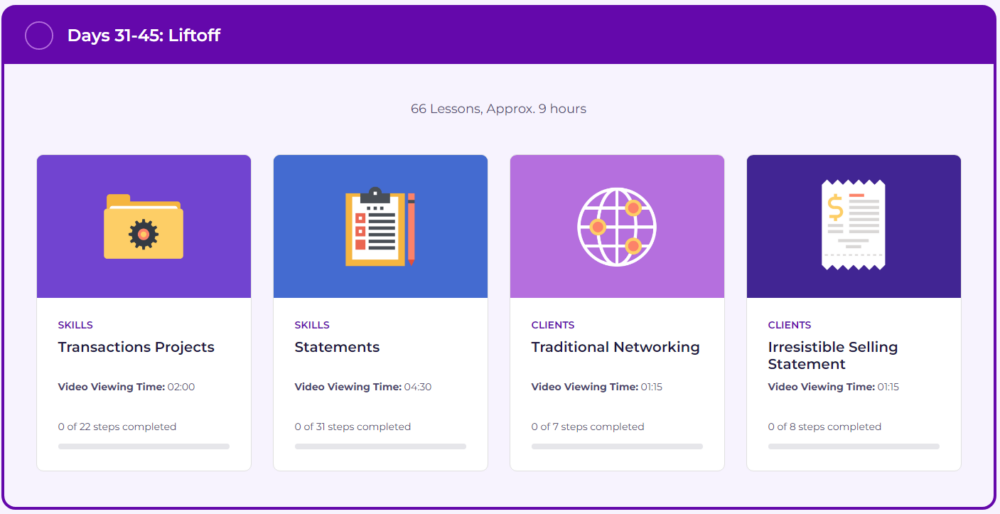 You'll learn exactly what you'll perform for your clients as a professional bookkeeper in Liftoff (Days 31-45), including:
Transactions Projects (Closing Project and Final Project to test your understanding of transactions)
Statements (Preparing statements and delivering them to clients)
Traditional Networking (What it is and how to do it, even if you're new to it)
Irresistible Selling Statement (What it is, why you need it, and how to create your own)
Days 46-60- Ascent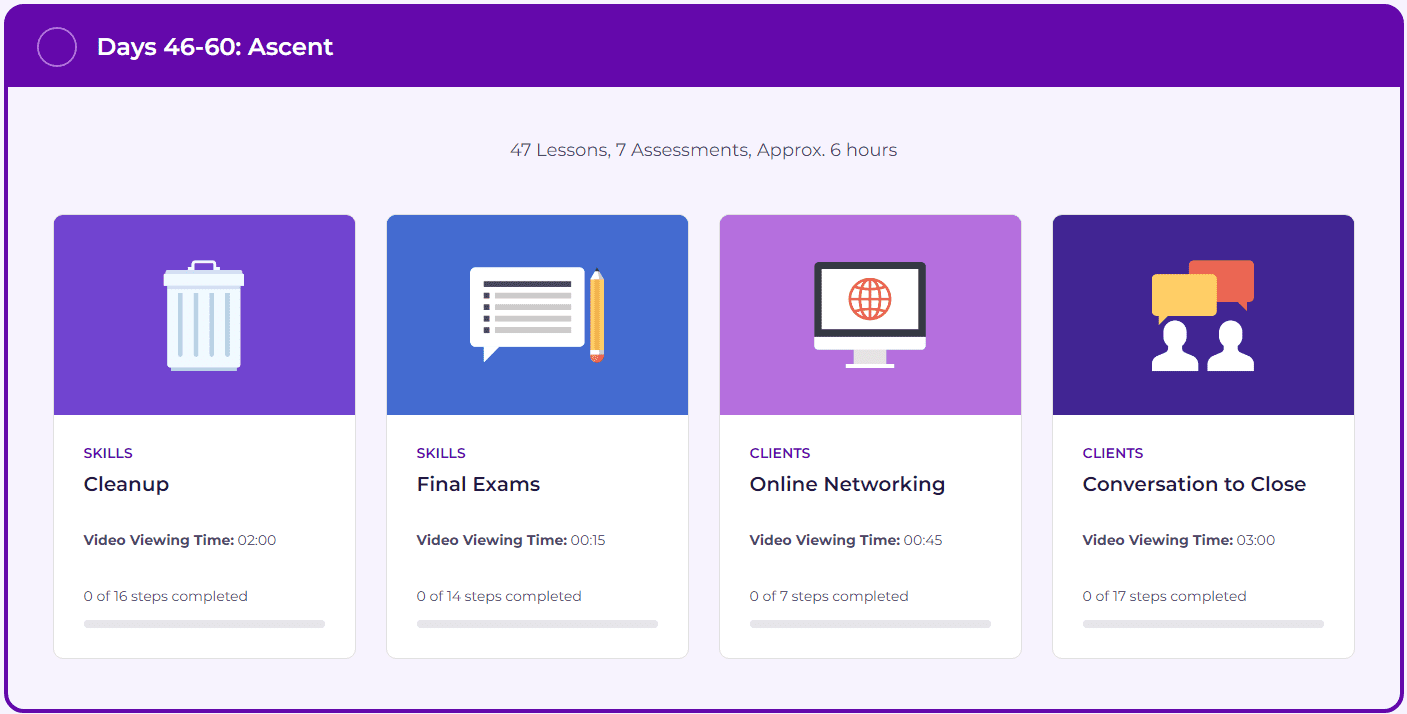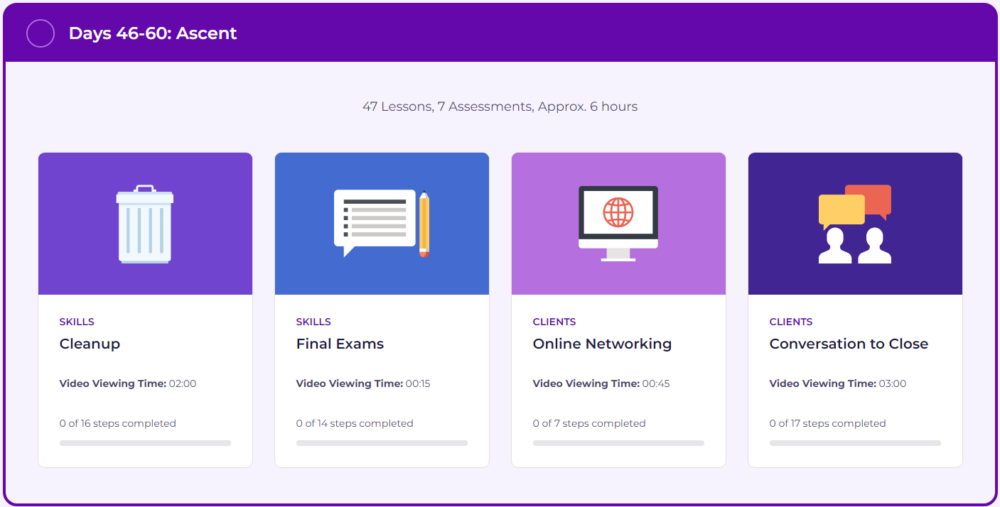 Ascension is up next for Days 46-60. To find your first clients, you must test your expertise and gain advanced abilities in this part.
Cleanup (An improved unit on how to clean up the books of a new client)
Final Exams (book knowledge and practical application)
Online Networking (Another new unit on how to use your time online to help you market your business)
Conversation to Close (How to turn leads into paying clients without being sales at all)
Days 61-75- Acceleration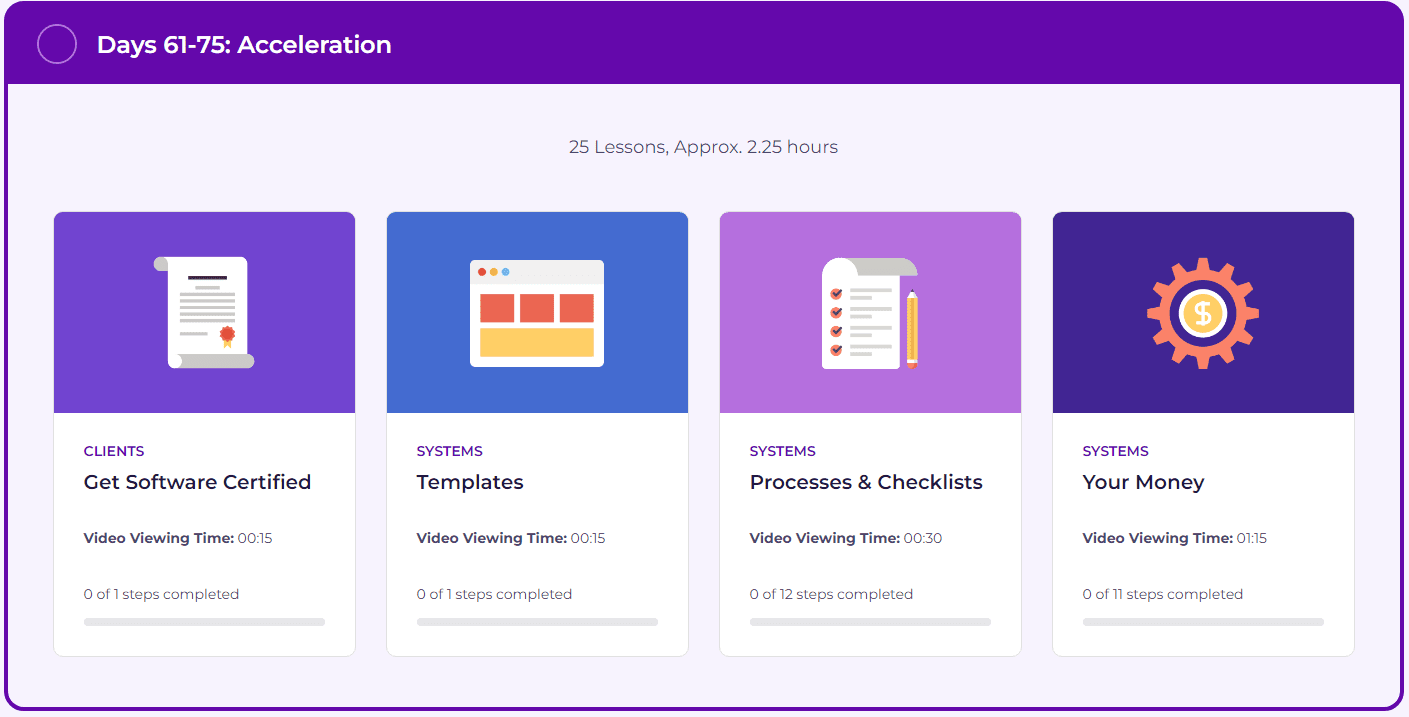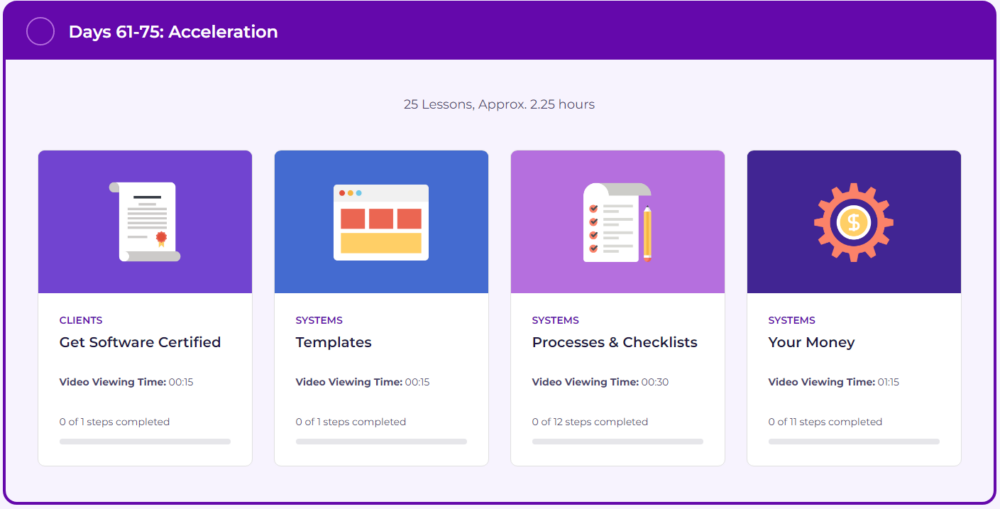 The Acceleration section (Days 61-75) introduces you to practical systems you may use right now to jumpstart your bookkeeping profession.
Get Software Certified (a mix of motivation and explanation of why this is a critical step to take)
Templates (A collection of customizable templates that means you'll never have to "start from scratch")
Processes & Checklists (Another library of configurable templates for the processes you'll need to get more done in less time as a bookkeeper)
Your Money (Ben discusses several money truths and tactics to help you manage your new income.)
Days 76-90- Orbit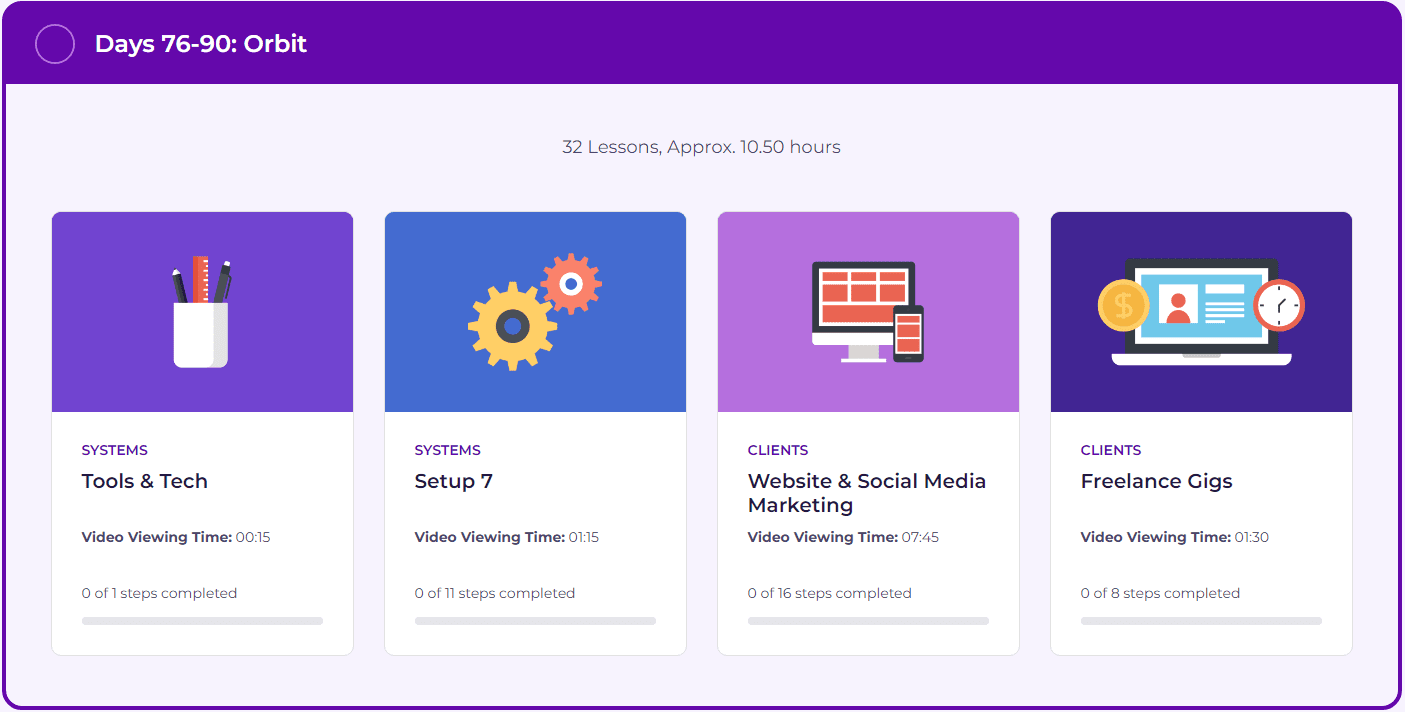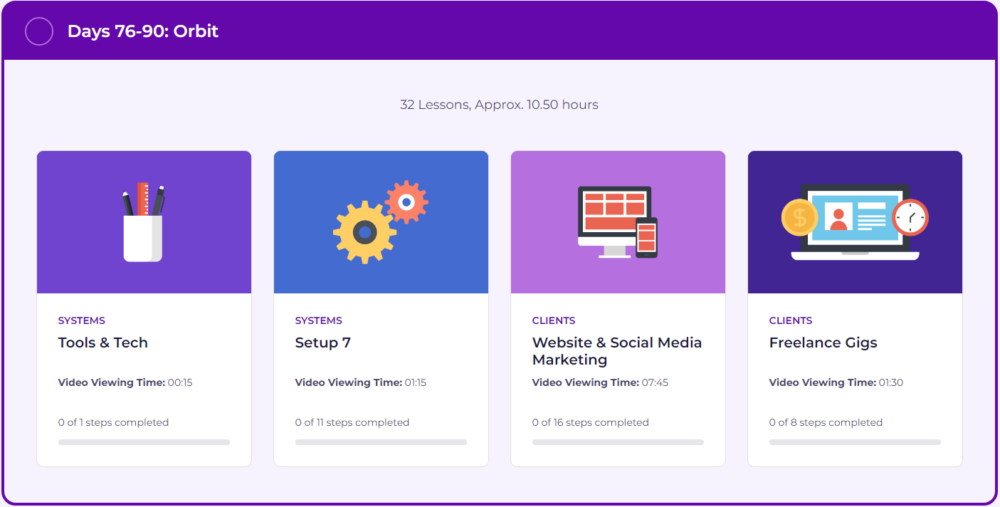 The final component of the main course, Orbit (Days 76-90), is where you set up your own official bookkeeping business.
Tools & Tech (Resources to get the job done faster and better, plus tips on when less is more)
Setup 7 (The seven essential steps to setting up your bookkeeping business, plus an interview with a lawyer)
Website & Social Media Marketing (This new unit explores how much to do when to do it, and the Website Challenge)
Freelance Gigs(A structured method to find high-paying freelancing gigs with eight simple rules)
Mission 1: Serving 1st Client For 2 Months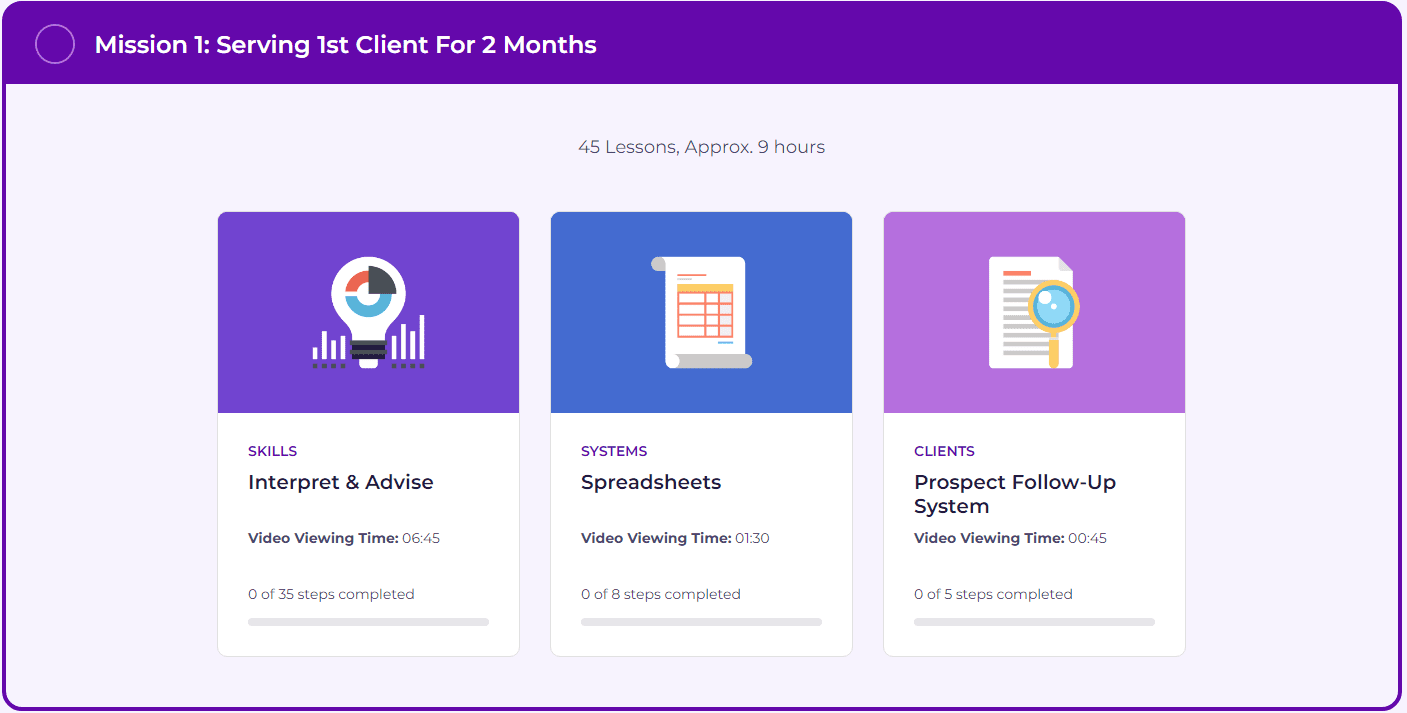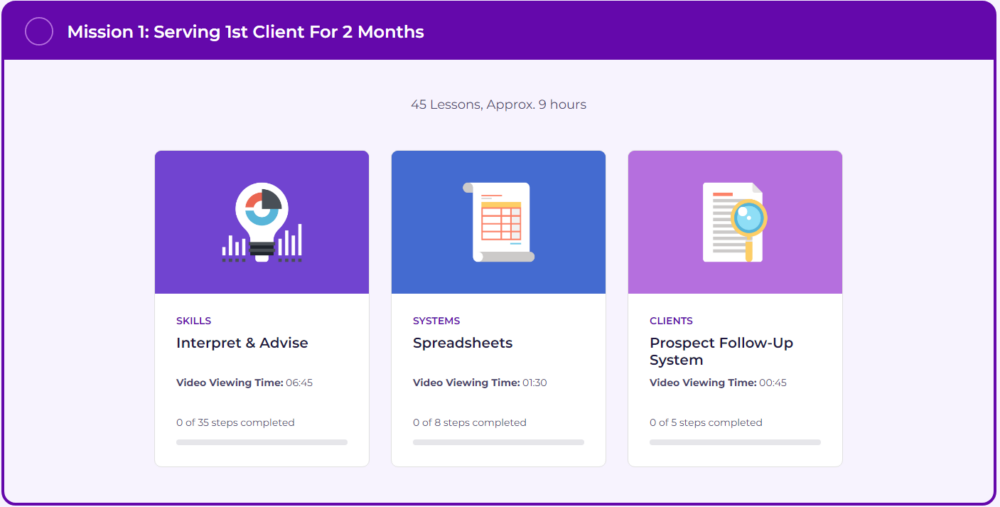 Mission 1: Serving 1st Client for 2 Months is your next step. These mission units will assist you in growing your new firm while providing more specialized services to your initial client.
Interpret & Advise (This section has been updated to provide more information on understanding the statements and being a trusted advisor to your clients.)
Spreadsheets (Everyone should be able to use them!)
Prospect Follow-Up System (A method to gather and enter information on prospective clients, then follow up with the ones who need you most)
Mission 2: Serving 3+ Clients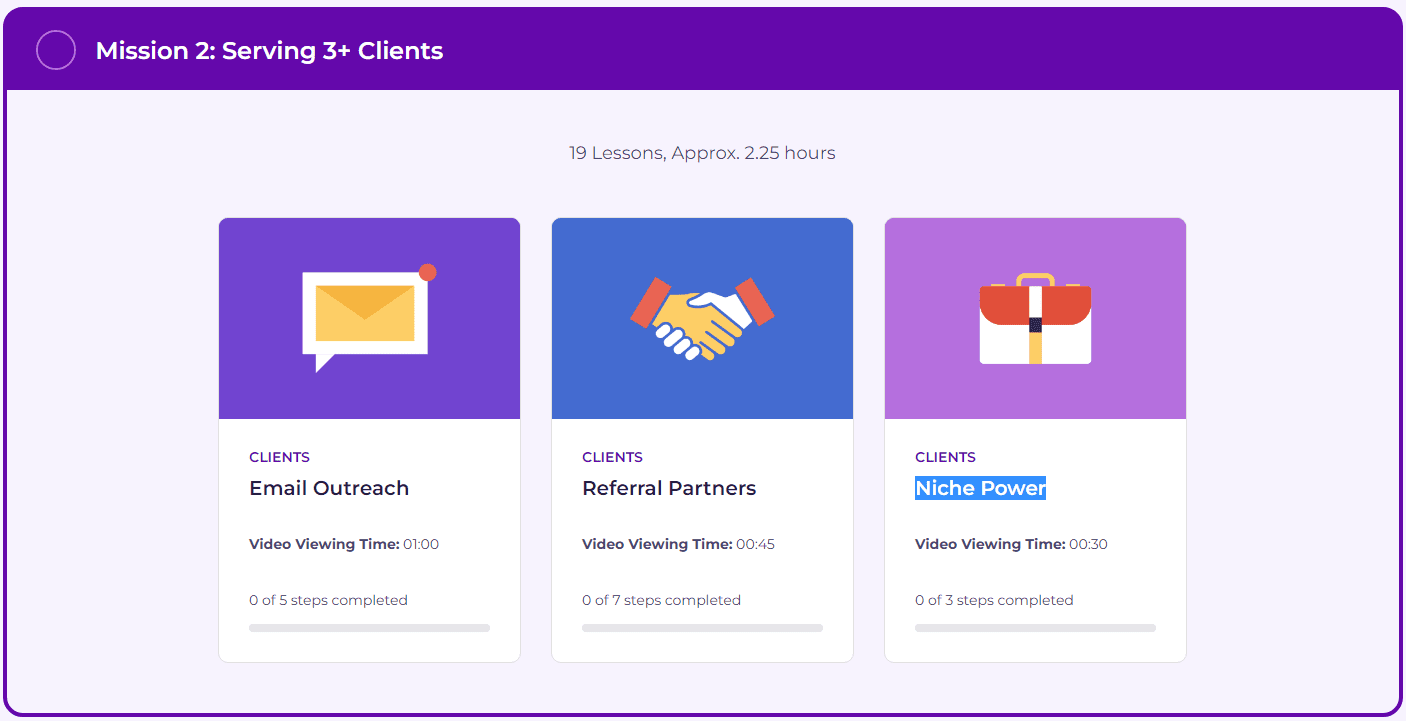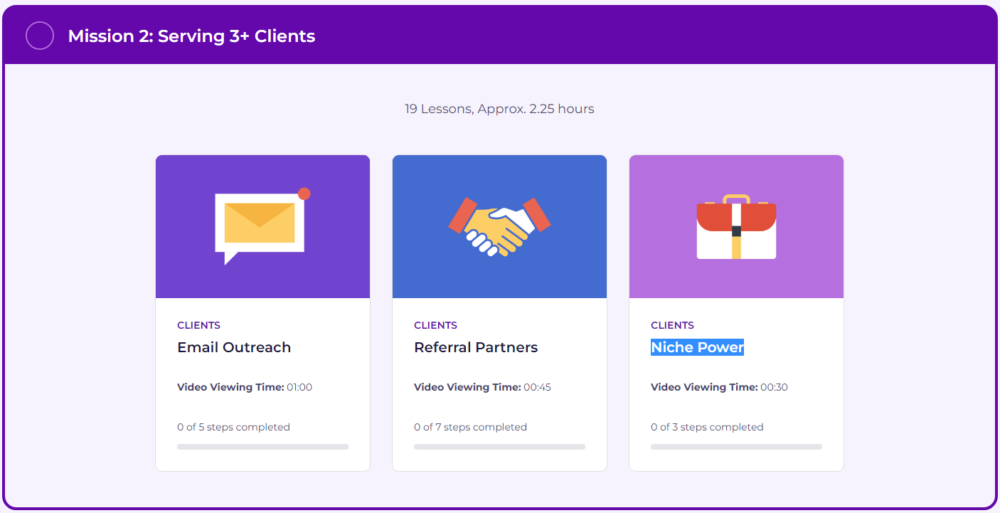 Mission 2: Providing service to three or more clients. Here are some tips to help your business thrive now that you have a growing client base.
Email Outreach (Learning which potential clients are the best fit for your business)
Referral Partners (How to use referral partner marketing effectively)
Niche Power (Why specializing in a particular industry and becoming an expert pays richly, and how to do it)
Bookkeeper Launch Pricing: How Much Does Bookkeeper Launch Cost?

Bookkeeper Launch is a one-of-a-kind program that is currently the only one that formally educates you about your responsibilities. It educates you, establishes your business, and, most importantly, legalizes you as a Bookkeeper.
You cannot compare it to other brands because it is the only one in the field. However, with all the extra amenities the course provides, your investment here is quite convenient for a middle-class person.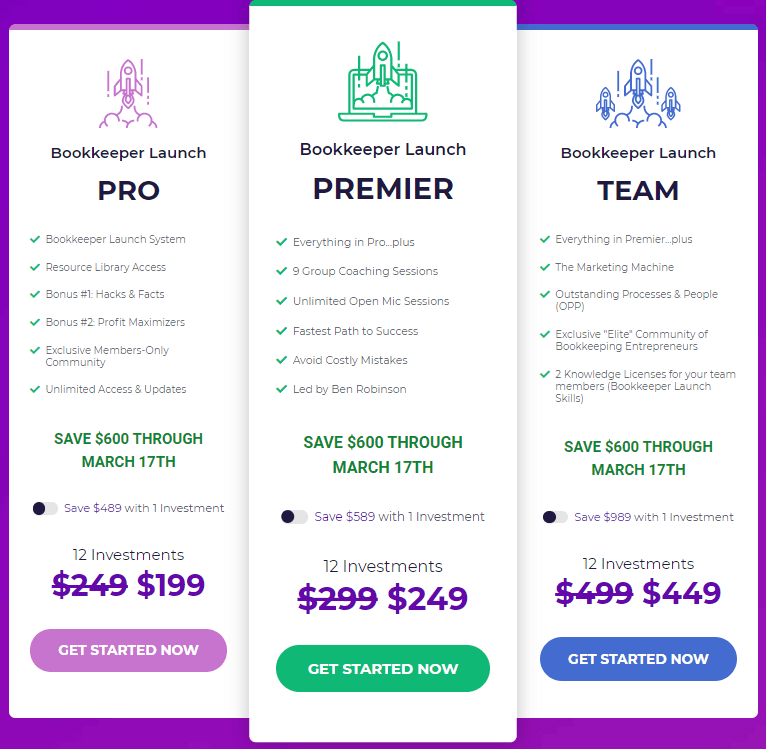 If you are a beginner, buy the Bookkeeper Launch PRO instead of the Bookkeeper Launch PREMIER because both programs almost have the same skeleton. However, with Premier, you get more accountability and additional coaching to help you succeed more rapidly and efficiently.
You could always upgrade later if you are willing to dive in deeper. But for now, if you are a total new bee, at least understand the basics, you can opt for specialization after you are entirely confident with what you are doing.
If you are not satisfied with what Bookkeeper Launch provides you, you get the advantage of a 100% money-back guarantee within the first 30 days of your subscription. No questions asked.
1. Bookkeeper Launch PRO
With the pro version of the course, you get a solid bookkeeping base with lifetime access and updates to all the resources and a private members-only group.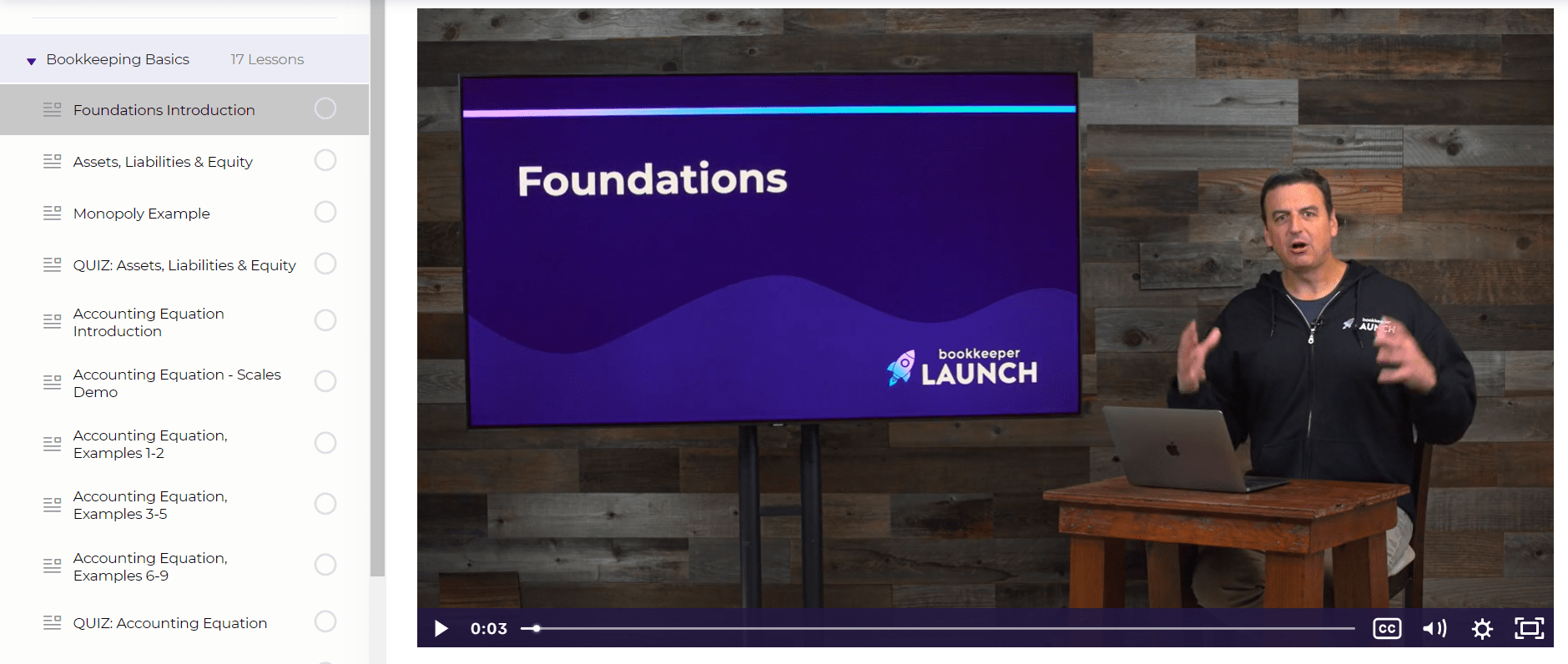 It will start with the absolute basics of the program and the things you want to understand. Overall it covers these topics:
Foundation Of Bookkeeping
How to be Efficient
Creating and Registering Your Business
How to Price Your Services
Marketing
Attaining Clients
Growth
The Bookkeeper Launch Pro costs $2,499, or $249 if you pay in 12-month installments. You can save $489 with 1 payment in full.
2. Bookkeeper Launch PREMIER
The Pro plan will give most students everything they need. But if you choose the Premier plan, you'll get 8 more coaching sessions and the chance to be guided by a mentor.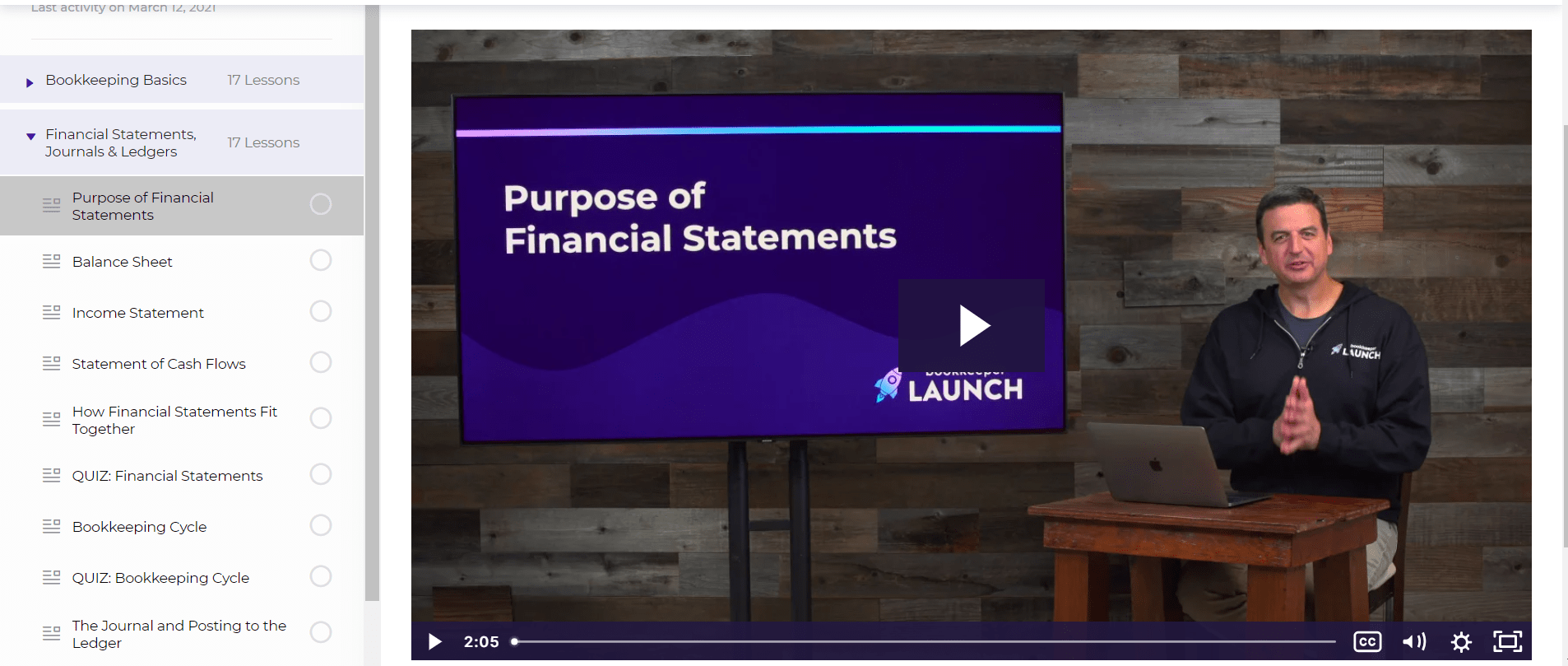 These eight sessions are held for you in an audience of successful online bookkeepers who will tell you about their field.
They give lectures and explain what being out in the real world is like. The lecturers take up your doubts and explain every answer in detail. This is a more modern approach to traditional schooling.

Unique Features that Bookkeeper Launch Program Provides (for both PRO and PREMIER):
Question and Answer Sessions with Professionals each week
Facebook Support Group with over 6,000 members
Legal Consultation and Access to an Attorney
Constant Email Support
The Bookkeeper Launch Premier costs $2,999, or $299 if you pay in 12-month installments. You can save $589 with 1 payment in full.
3. Bookkeeper Launch Team
The team plan is best for people starting a business and wanting to hire several bookkeepers at once. It also gives you access to a few more training pieces.
Get everything that's included in Premier Plus:
The Marketing Machine
Outstanding Processes & People (OPP)
Exclusive "Elite" Community of Bookkeeping Entrepreneurs
Licensed access for 2 of your team members to the 21st Century Bookkeeping Skills section of Bookkeeper Launch
The Bookkeeper Launch Premier costs $4,999, or $499 if you pay in 12-month installments. You can save $989 with 1 payment in full.
Bookkeeper Launch Success Stories
Here are some of the success stories for Bookkeeper Launch: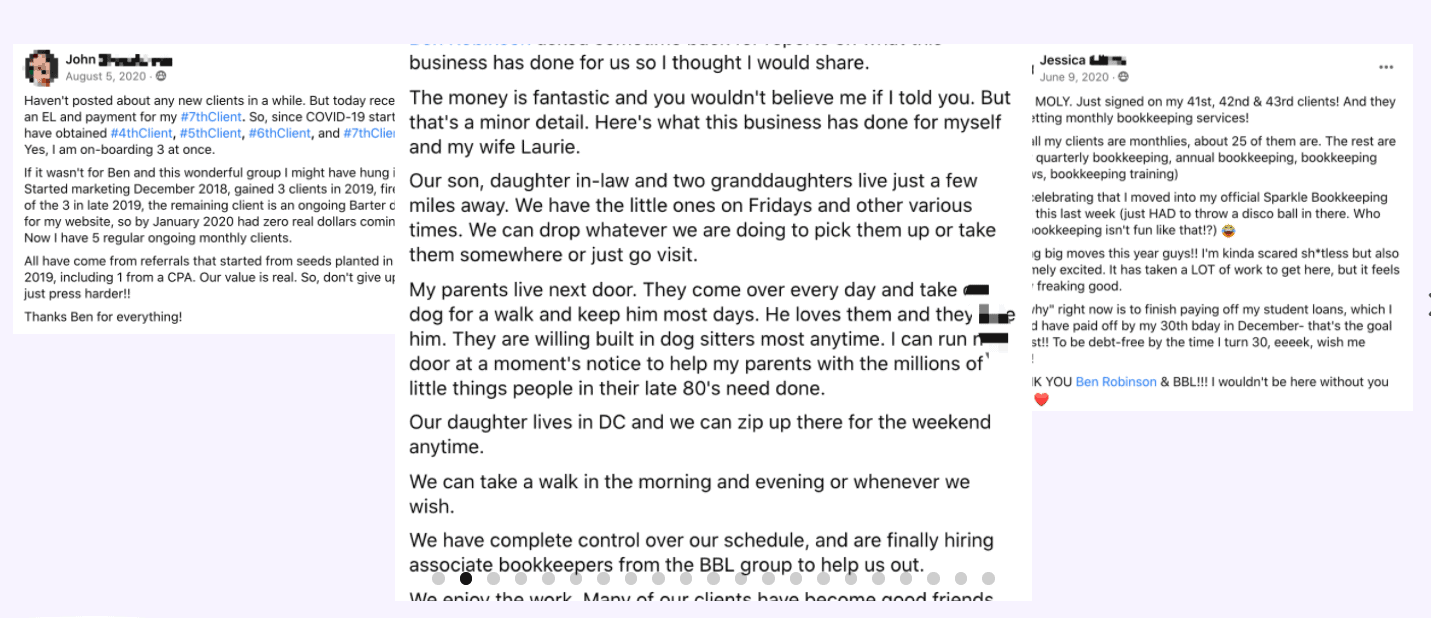 Quick Links
FAQs
Why should I choose to be a Bookkeeper?
The Bookkeeper job provides various benefits. You get the flexibility of your work hours; you can work with one or more clients, get Good Pay, and have Stability in Work.
What is Bookkeeper Launch?
Bookkeeper launch is a top-to-bottom course to learn bookkeeping and turn it into a profitable business. They will teach you to build a successful bookkeeping business from scratch.
Is Bookkeeper Launch Right For YOU?
Bookkeeper is the right choice since you will get work stability and flexibility. You will get good pay, and you can even work from home. You can work part-time as well as full-time.
Conclusion
Bookkeeper Launch is a legitimate and helpful course that teaches you how to start your own bookkeeping business from home.
The course has been updated and improved from its previous version, Bookkeeper Business Launch, and it offers new features and strategies to help you grow your business.
I enjoyed the Bookkeeper Launch course. The course is well-structured and clear. The content is high-quality, and the support is amazing. You also connect with other bookkeepers and people already in business, which is excellent networking to build your client list.
The course's bonuses, like access to their library and Facebook Community, make a huge difference as these traits add to your confidence.
You'll be ready to launch your business from home in no time after taking this course.
If you want to start a lucrative bookkeeping business, I strongly suggest you check out Bookkeeper Launch and become a bookkeeper today.