In this post, we have shared the Inventory Lab Review. Read further to find if it is for you!
If you're an Amazon seller, then you know that there are a lot of challenges associated with running your business.
For example, how do you find profitable products to sell? How do you manage and track inventory?
How can I make sure my expenses are low? What's the best way to analyze profitability?
And what about taxes and accounting compliance?
Selling on Amazon FBA is a great way to scale your business and reach new customers, but as an Amazon seller, you have to be careful not to lose money in the process.
As much as we'd love for everything about selling on Amazon FBA to be easy, it's just not.
The biggest pain point for most of us is inventory management. Especially if you are doing any sort of third-party fulfilment (Fulfillment by Seller or Merchant Fulfilled Prime), then you know that labelling items can take quite a bit of time…and mistakes happen all too often when labelling products manually.
The fewer times you can touch a piece of inventory as you process it, the better. By listing through Seller Central…and then printing your labels on a sheet of 30…and then separating the items out into the various fulfilment centres, you are spending a lot of time touching each item multiple times.
This is inefficient! It also leads to mistakes that cost even more time and money!
Today we have featured Inventory Lab Review, with its proper insights, we have also covered its pros and cons, so let's get started the best way to lessen some of the legwork associated with the Amazon business is Inventory Lab.
As a matter of fact, it has a major role to play in enhancing competence and profitability. A lot of times Inventory Lab is also referred to as IL and there is no denying the fact that Amazon FBA has made it rather simple for the online merchants to begin listing and selling on Amazon.
Inventory Lab Review (8 Pros & 2 Cons)
Inventory Lab comes with an impressive set of tools that will help you manage your inventory in a way that is both automatic and accurate.
This software tool allows you to see which items are selling well, which ones need more attention and even helps you forecast future sales so that you know when it's time to restock or make changes to product listings.
With Inventory Lab, managing your Amazon business becomes much easier than ever before. The interface is intuitive enough for anyone who has used Excel or Google Sheets before, but still powerful enough for those who want some serious features like forecasting and advanced A/B testing options available at their fingertips.
All this makes managing inventory on Amazon less stressful while providing actionable insights into what needs improvement on every aspect of your company's operations!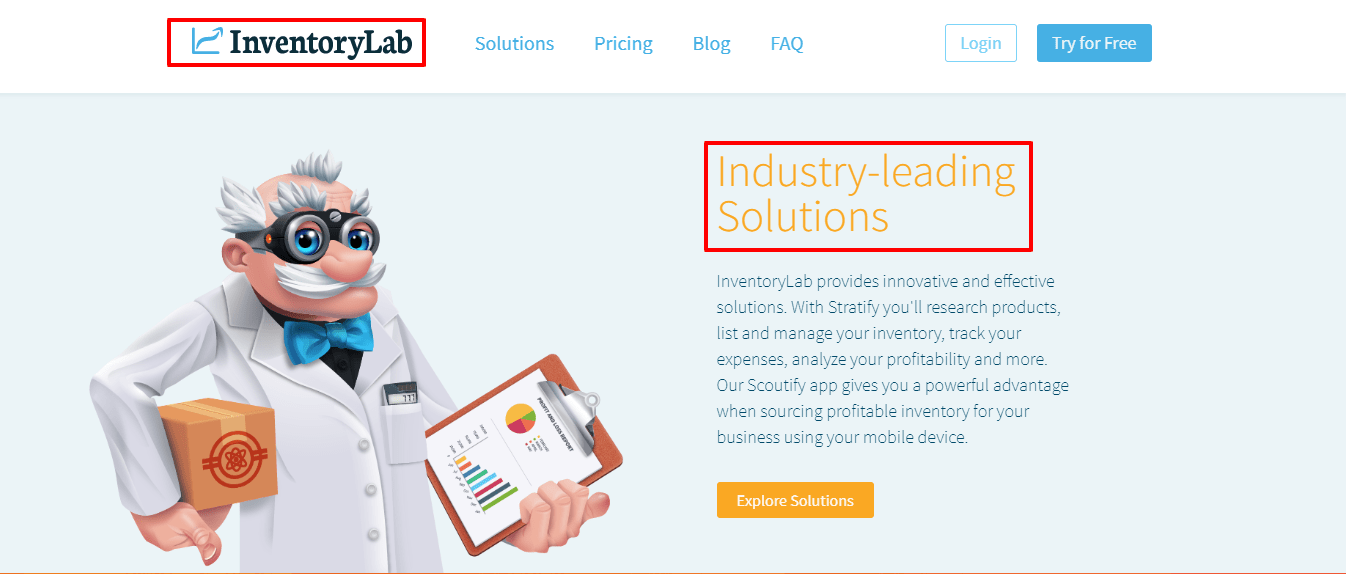 There are several aspects of the business that you will have to take care of yourself. This will become more than important, especially if you are interested in pursuing selling that engagement full time.
Inventory Lab Pros & Cons
Pros:
Comprehensive posting, research, and accounting web application.
Very easy to use interface.
Capacity to print labels.
Capacity to make live batches that go right to Amazon shipment plans.
Comes with a live only scanning application.
Live chat customer support
30-day free trial
Scoutify App for scouting
Yearly and monthly subscription.
Cons:
Accounting reports are a little messy.
Slightly costly amazon tool.
How To Use Inventory Lab for Amazon Inventory Management? 
Inventory lab is a comprehensive tool where you can research and list the products. Besides this, you can also manage the inventory and profitability.
Inventory Lab offers two tools for this purpose:
1. Stratify Inventory Lab Review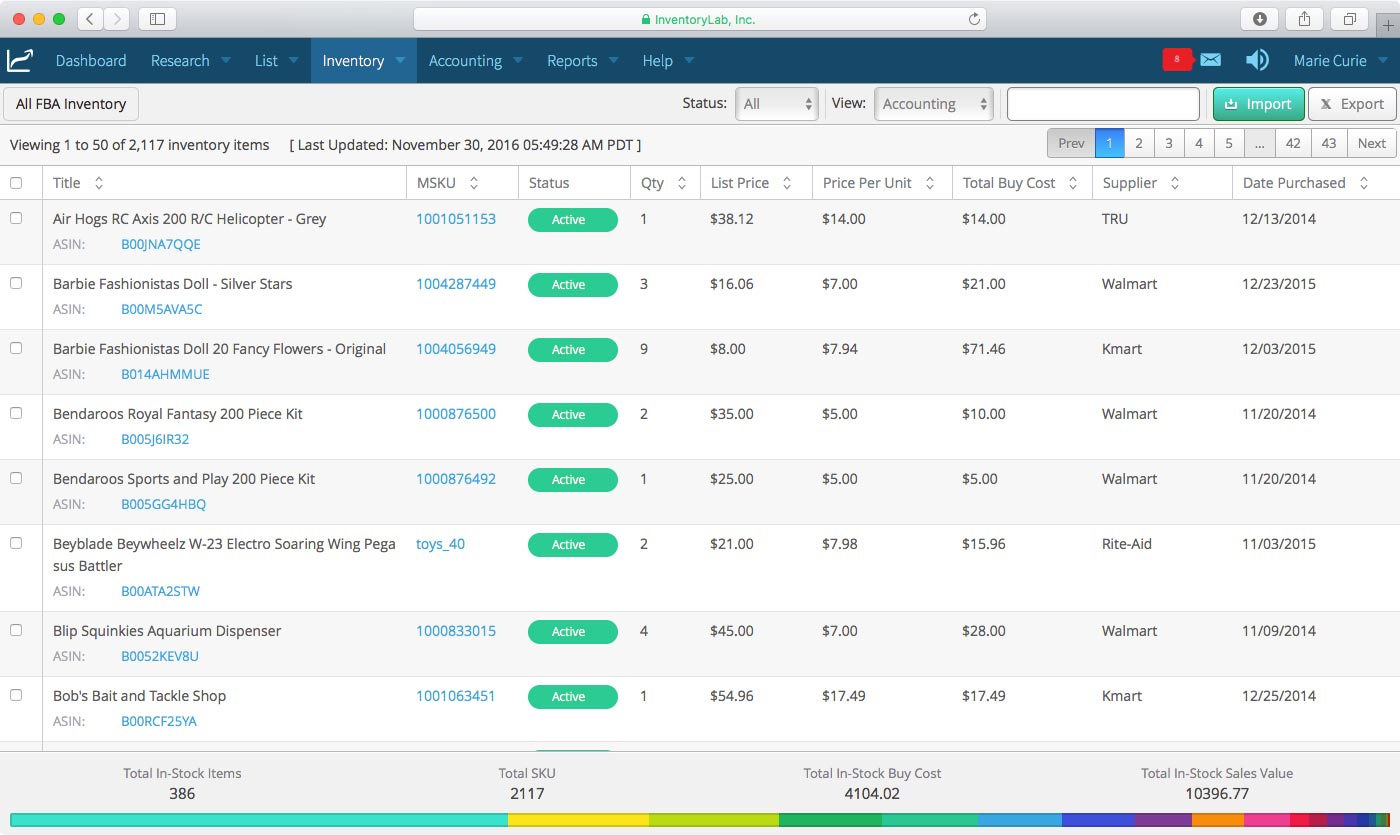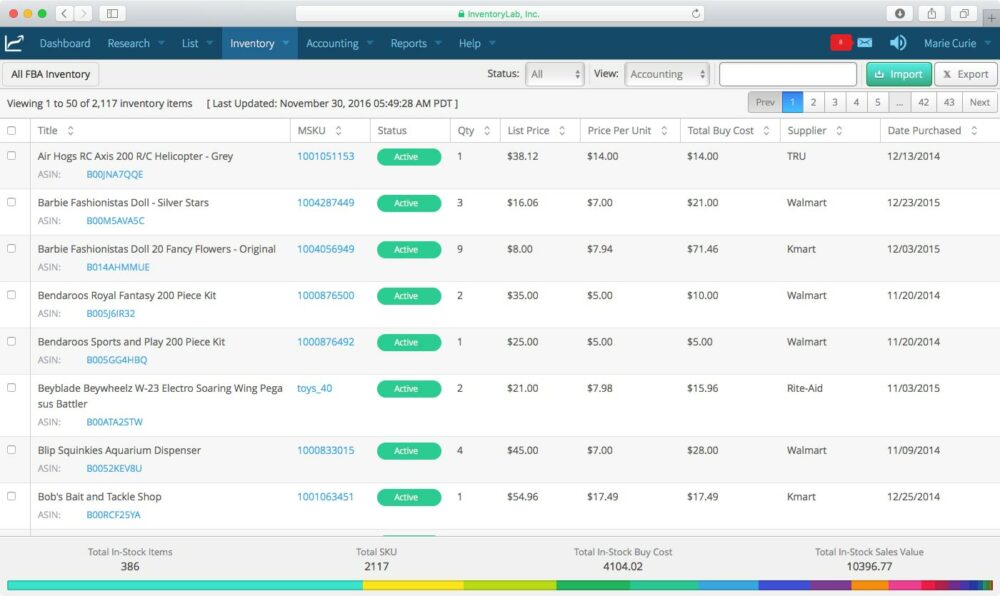 This tool is useful in finding the profitability of the product. Users can use the detailed data to do product research.
Using the Inventory Lab dashboard, you can list the products, print labels, track profits and losses for your product, and also complete FBA shipments.
The dashboard has an accounting dashboard that lets you track expenses,  view the total in-stock values, and monitor your sales.
Lastly, you get comprehensive reports that can tell you about the most profitable products and sellers.
2. Scoutify Tool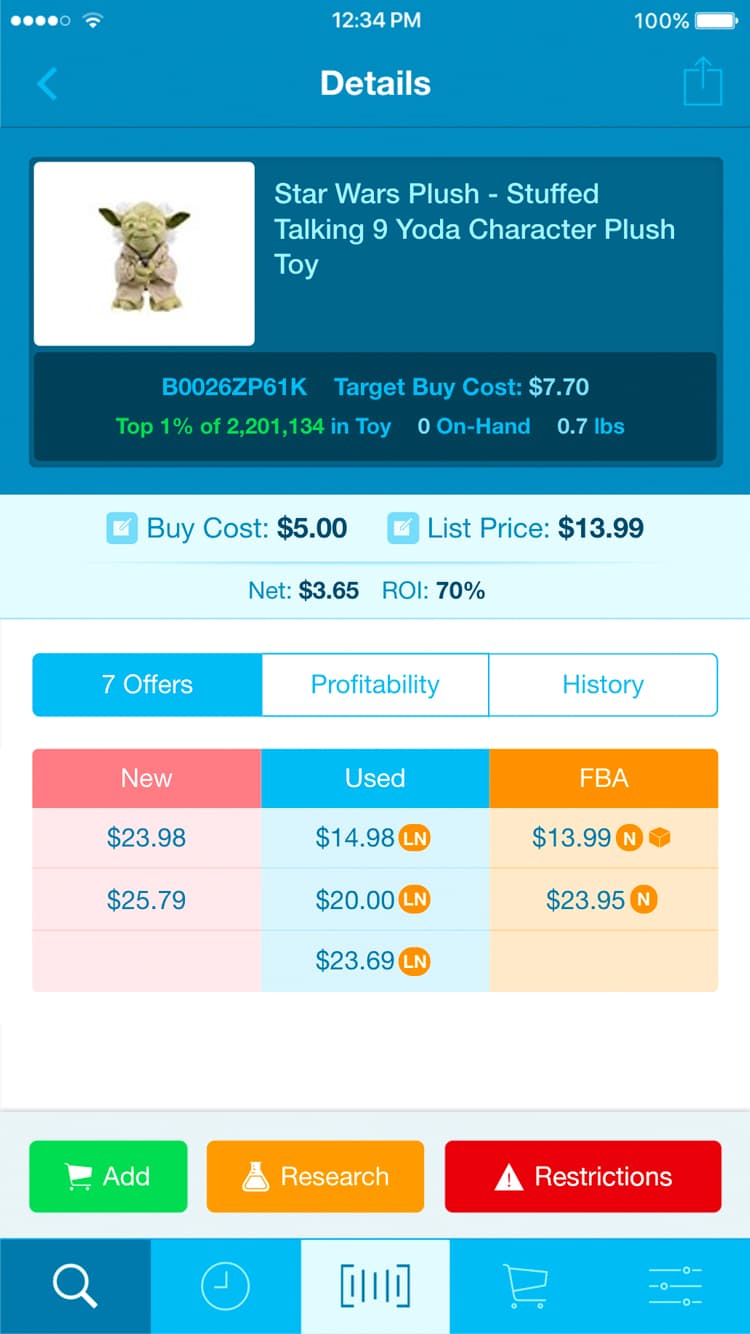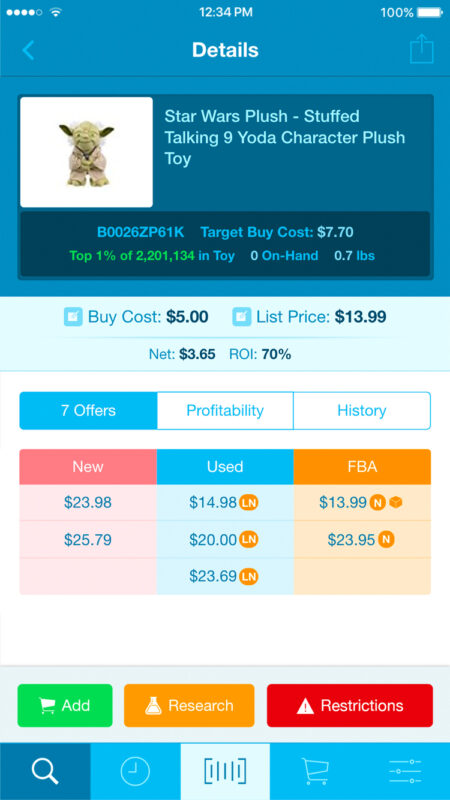 Scoutify is the mobile version of Inventory lab. On downloading the app, you can calculate the profitability of each of the product in your inventory.
One thing that I liked most about the Inventory lab's Scoutify is the bar code scanner that is completely free here.
Inventory Lab Features & Benefits 


Feature-packed listing service:
A desktop barcode scanner is put to use for the purpose of scanning an item into the 1system. You will be getting to know all about the FBA, Merchant Fulfilled, used, and new prices.
Also, you will get to know if the item is up for sale by Amazon and who actually owns the buy box.
List related to Inventory Lab:


You will also be getting all the information about the particular item's category, current sales rank, size tier, and any prep required, just like the poly bagging. Also, there is flexibility in terms of entering the buy cost, supplier, and min/max price for each inventory item.  
You will be happy to know that Inventory Lab plays a crucial role in limiting the number of FBA warehouses where the inventory is sent.
Does Zen Arbitrage actually work? Will you be able to profit within 30 days? Check out our complete review of Zen Arbitrage and know if it is really a business.
Superb accounting capabilities
:
The best part of the Inventory Lab is the fact that it allows you to organize your finances with the help of useful bookkeeping tools.
It means that if you are really interested in making your Amazon FBA business money-spinning, you need to be well aware of the numbers.
You need to get a clear picture of where your money is going and coming. 


InventoryLab is an amazing all-in-one tool that helps you manage inventories automatically. Inventory Lab is designed to help manage both your inventory and accounting processes in one place!
Which Sellers Can Make The Most Out Of  Inventory Lab?
If you are facing some of the issues already mentioned in this article and you feel that you are paying a lot of money for solving the problems, then it is high time that you consider a solution like Inventory Lab.
One thing should be crystal clear to you by now that Inventory Lab is for Amazon sellers and not for eBay.
Also, it is meant for the Amazon US marketplace.
So if you are interested in using it, then you can either be an international seller who has also launched into the marketplace of the US or a US seller.
FAQs On Inventory Lab Review 
✅ What does Inventory lab do?
InventoryLab works as the feature-listing service for the Amazon sellers. It helps sellers information such as FBA, Merchant Fulfilled, new, and used prices, as well as whether Amazon is selling the item and who owns the buy box.
🔥 Is Inventory lab a Repricer?
Inventory lab is not a repricer but works with aura amazon repricer. It works by listing the items on Amazon and setting up the prices using the aura amazon repricer. Users can list new items in inventory and track key metrics like SKU and profitability.
🚀 Is Inventory lab Good for accounting?
Yes. Inventory lab can also work as the accounting software for your Amazon business by giving information on profit and loss and the overhead expenses. Thus, the software can prove to be a great time saver and cost saver.
🏆 Is there an app for Inventory lab?
Yes. Inventory lab has a great mobile app for Android and iPhone. Sellers can use this app for free.
⚡ Does inventory lab work with eBay?
Yes. Inventory Lab works with other marketplaces like eBay and Etsy.
⭐ Is Keepa included in Inventory lab?
Keepa is now included with the Inventory lab. This app helps to identify the progress of your Amazon product and track the performance. This can be done by using the Keepa link.
🎉 Does inventory lab work with QuickBooks?
Yes. Inventory lab works with Quickbooks.
InventoryLab on Social media
The InventoryLab team is full of dedicated remote workers spread across the United States and China. We blog from RVs, basement offices, co-working spaces, industry conferences….and we might be in our PJs 😁

Read our new post here! https://t.co/z3ebW9BmOQ pic.twitter.com/eZxfWUkpgn

— InventoryLab (@InventoryLab) October 28, 2021
Congrats to our newest swag winner, Tina! Thanks so much for reading the Q4 newsletter. Keep an eye out for more chances to win! pic.twitter.com/oDbqB8WcmS

— InventoryLab (@InventoryLab) October 19, 2021
It's that time again! Join us this Thursday for OpenLab with Jeff and Kim, while Andrea tunes in live from #WhiteLabelWorldExpoNY https://t.co/RdpCrS2iOo pic.twitter.com/MmZOEeVDJW

— InventoryLab (@InventoryLab) September 27, 2021
Conclusion: Is Inventory Lab the Best Amazon Seller Software? Inventory Lab Review
When you talk about the pricing, then you will be very happy with the quality of the services of the Inventory Lab. It is definitely great value for money.22% Of sellers rely on Amazon as their primary source of income. In such a case, Inventory Lab like tool becomes extremely important. 
Some of the impressive recent updates are the ability to add in Shipping Rate to the ROI calculator as well as expiration dates on the basis of the rising trends and customer feedback.


Managing your Amazon business is a time-consuming process. You have to track profits, keep an eye on inventory levels and make sure you are always getting the best price for your items.
Inventory Lab has been designed with these problems in mind and can save you hours of work each month. It's easy to use interface makes it accessible even if you aren't tech-savvy, while its advanced features give experienced users access to powerful tools that help them grow their businesses quickly and easily.
Using this tool means that you can spend less time managing crucial aspects of your Amazon business so that you can focus on growing it further instead!
At the end of the day, it is a good sign. You need to keep up with the pace of business on Amazon as it is really fast-paced.
For this purpose, you will be requiring tools like IL or Inventory Lab. Go for a 30-day trial and then you can analyze the extra time required for your core business.
Meanwhile, check out some of our Amazon Tools Review:
More Posts From AffiliateBay.Net: