In this post, I've featured my honest SaleSource Review that includes detailed insight into this platform.
Finding profitable products and drop shipping are two aspects where marketers struggle the most. If you're looking for a one-stop solution for your eCommerce business, look none other than SaleSource.
Wait, before making any conclusion, lets first discover what SaleSource can do for you!
In-Depth SaleSource Review 2023
SaleSource is an AI-powered & all-in-one dropshipping software that helps you find winning products for sale on your own eCommerce store. This is a reliable, fast, easy, and risk-free dropshipping platform trusted by 25,000+ Shopify merchants.
SaleSource claims to offer 100 million winning products that have been picked by AI and divided into niches of all time. SaleSource also offers a chrome extension so that you can dominate dropshipping and product research with this powerful tool.
SaleSource also helps you spy on your competitors and see what other Shopify stores are selling the product you're analyzing.
With just one click, you can find winning products on AliExpress, Amazon, WooCommerce, and eBay. You can also analyze Shopify stores with SaleSources' deep analysis.
SaleSource Chrome Extension
The Chrome extension of SaleSource lets you analyze rival products. You can dominate dropshipping and product research with this powerful tool. You don't need to import data or images in order to do product research.

It automatically triggers you when a user navigates to browse product listings on the SaleSource platform.
The Chrome extension also provides details of product specifications, sales charts, supplier details, and important data of that product's pricing.
If you're searching for a way to find profitable dropshipping products, then check out our Sell The Trend review, which is an excellent tool to assist you in finding lucrative dropship items.
Product Center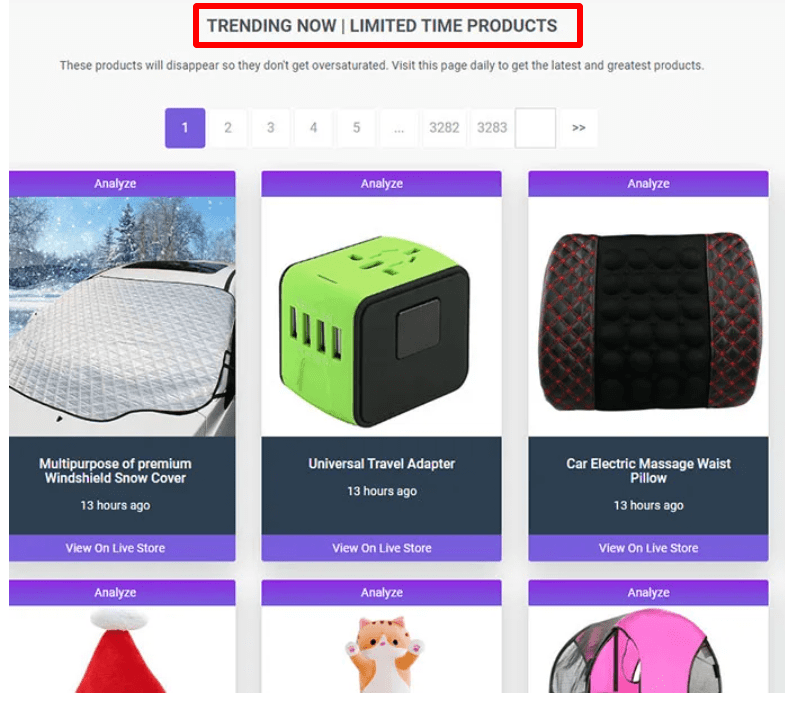 This is the most demandable feature of SaleSource. With the help of the Product Analyzer, you can access information about trending products you might want to add in your stores.
The Chrome extension of SaleSource will help you import and upload images of the products.
Product Analyzer saves your time by showing various trending products then you don't have to search manually for a single product. You can also gather information about your competitors, marketing videos for products, sales locations, and more.
Store Center

Another best feature of SaleSource is Store Center that contains sections Top Stores, Store Analyzer, Store Tracker, and Store Checklist.
The Top Store section will show the current list of most successful dropshipping sellers on Shopify which is refreshed and updated weekly. You will find three buttons under this section; Best Sellers, Analyze Store, and Track Store.
When you click on the Best Seller button, you will be able to see top-listed stores along with their estimated revenue statistics.
With the Analyze Store button, you have deep insights into these specific stores. It gives you detailed information on many metrics that includes the length of operation and how much traffic the store receives.
Track Store allows you to track your competitors' store and trending products. With these features, vendors can access and analyze sales estimates for a wide range of stores, products, campaigns, apps, and more.
Marketing Center
This part of SaleSource includes Traffic Checker, Product Video Finder, and Facebook Video Ad Finder.
Traffic Checker
This feature of Traffic Checker provides you information about visitor traffic. It gives you data about specific product pages' visiting time of visitors. This is the best way to access major information about a user's step in the store.
Product Video Finder
This feature contains top-performing marketing videos that will give you a concept about marketing campaigns. You can learn from the videos from the top sellers and use their tactics for your stores.
Sale Center
The Sale center contains a huge number of training videos that help you learn how to use SaleSource. You will learn how to find winning products for sale and view competitors' products.
If you need support for important sourcing help, you can choose the Pro or Elite plan to access the SaleSource's in-house team support.
How Does It Work?
You can use this platform on the desktop and mobile. SaleSource also offers a 7-day free trial. All you have to do is create an account and you'll instantly get access to analyze your first 5 products.
This tool automatically searches for world-class suppliers, creates high-quality product videos, and uses premium tools to generate the highest quality reports for each product.
Browse all competitors of the product, find the best selling products, and get access to new and popular products with a single click.
With SaleSource customized dropshipping success features, you can view USA dropshipping suppliers, viral video products, and track best-selling products or Shopify stores.
With their trusted supplier form, you can enjoy factory prices for every product and 7-day shipping from China to the United States.
Additionally, SaleSource instantly shows detailed metrics of your competitors such as date of site creation, store apps & technology they are using, and much more.
This is a huge platform and offers a lot of features. So don't get lost, just go through step by step in order to use SaleSource.
Click on this link for Alternatives to SaleSource
Benefits Of SaleSource
Instant Competitor Intelligence
With SaleSource you can view all the stores such as Shopify, Amazon, WordPress & many others for selling a particular product. You can spy on your competitors' apps, themes & accurate sales estimate by their VolumeFind2 algorithm.
Find Top Suppliers
With just one click you can instantly view all suppliers for any product along with the cheapest price, USA shipping, and countless other benefits. This will save your time, money, and keep your customers satisfied.
View Top Buyers
You can see who ordered the most units to determine market research. Join the Chrome extension for product research on one click where you find products at any time.
Get Results on Autopilot
This is another Chrome extension exclusive feature that views detailed trends of the past 6 months of the units of a product sold per day. It will give you an overview of the top trending products for the past 6 months.
Shopify Made It Simple
You can get weekly updates of products the top stores on Shopify sell and emulate their success with SaleSource. You can find over 20,000 top-selling & famous stores.
Disappearing Daily Trending Products
This is your personal dropshipping product feed. Here products disappear automatically before it becomes saturated.
Deep Shopify Store Analysis
With deep store analysis, you will find out everything about any Shopify store in just a matter of seconds. With this analysis, you will find details of all their best sellers, recently uploaded products, accurate sales estimate and more.
Why Choose SaleSource?
Now you may be wondering why someone is not ordering smartphones directly from the vendor's website.
An interesting phenomenon here plays an important role. First of all, the internet is huge. On the other hand, most consumers have no idea which vendor to contact
if they want to buy something. Most are in a hurry and don't waste time figuring out which vendor best meets their needs.
When people buy things online, they aren't just buying products. These are the marketing, brand, trust, and lifestyle that this product represents.
SaleSource dropshipping lets you focus on product marketing. In other words, you can say the right thing at the right time and give real people the right value.
Since you do not store inventory, you are free to do these things. In addition, you do not have to deal with most other challenges associated with running an eCommerce business.
Pricing Plan of SaleSource
Let's now analyze the most important part of our SaleSource review that is the pricing. The tool comes with three pricing plans that can be paid monthly or annually.
In addition, a FREE trial plan is available which gives users full access to the software with the ability to scan five products.
It's Essential (basic) monthly plan is priced at $49 per month, allowing 1 user to access over 100 million products. If you talk about the yearly price of this plan then you have to pay only $29 per month.
Click Here For Detailed Pricing
This plan also contains features like:
New Trending Products (Daily)
Exclusive Personal Product Feed
Competitor Intelligence
Competitor Ad Campaigns
Product Description Generator
Bulk Product Video Finder
Deep Shopify Store Analyzer
Deep Product Analyzer
Best Product Research Chrome Extension
Shopify & Product Research Training
24/7 Live Chat Support
100+ Conversion Boosting Features
Now take a look at other plans
Pro – $99/month Or $59/month (For Yearly Subscription)
Pro plan contains all the features of the Essential plan that allows access to 1 user. But there are also some additional features such as:
Factory Pricing
Custom Conversion Training
Tailored Advertising Training & Support
Elite – $299/month Or $199/month (For Yearly Subscription)
The elite plan contains all the features of the Pro plan that allows and allows access to 5 users.
Quick Links
Conclusion:- Salesource Review (Pros & Cons)
Salesource is an excellent eCommerce product research tool that can be an answer to small business owners and online drop shippers.
Of course, you can run all aspects of SaleSource manually. However, this requires a certain amount of time. SaleSource does great job-saving money and money for business owners. Also, with SaleSource, no time is spent on products that are no longer sold.
So, if you are serious about starting and running a successful online business, it is cheap to pay $69 a month because you have a better opportunity to sell.