Ever noticed how some sneaky sellers on Amazon try to mess up their competitors' data?
They put up fake reviews, mess with product info, and cause trouble. Keeping an eye on your Amazon products is super important, but doing it all by yourself takes up time and energy.
But guess what? This super cool tool called AMZAlert can help you out.
It's like a superhero for your Amazon listings! This tool keeps checking your products and warns you if anything's fishy. This saves you lots of time each week and lets you chill knowing that if someone's messing with your reviews, you'll find out super fast.
Today, I have featured AMZ Alert Review, with its proper insights, and I have also covered its pros and cons, so let's get started.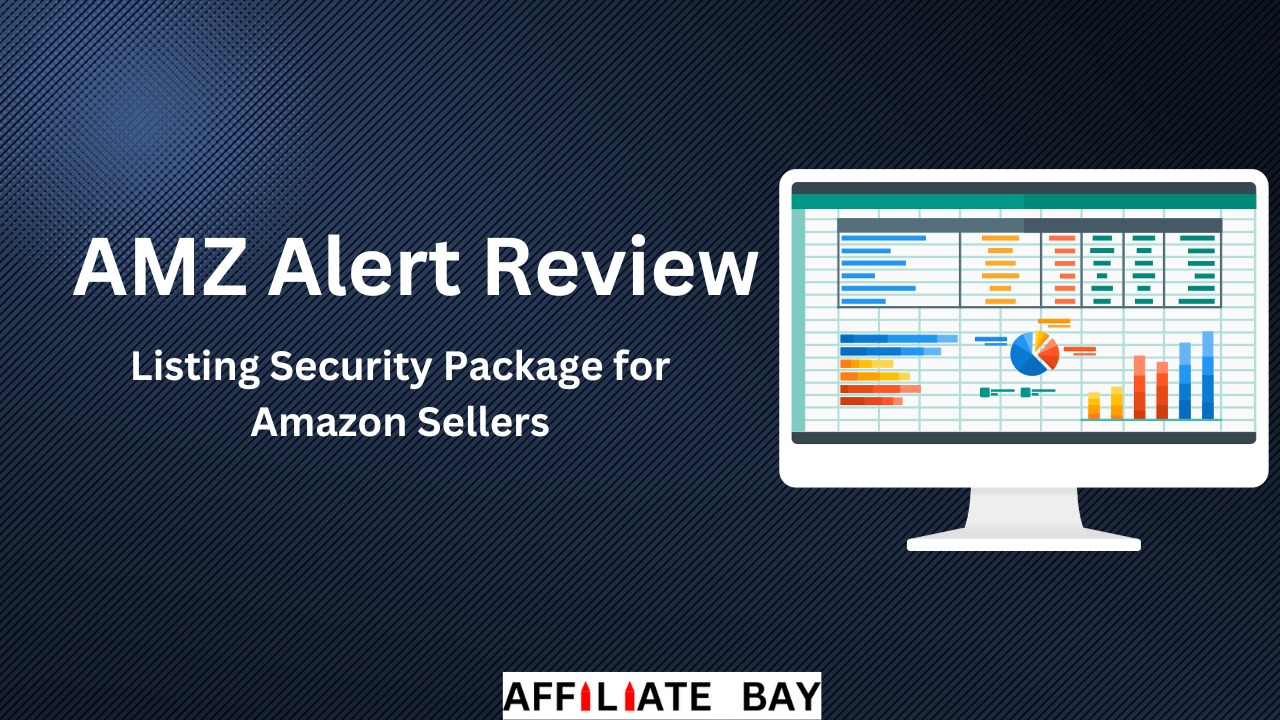 What is AMZ Alert?
AMZ Alert is one of the best software trackers available in the market, designed to help improve the overall business rankings of Amazon sellers.
It helps promote the product and to track sales.
The reason I prefer AMZ Alert for selling products of my own is that it gives constant negative review alerts as well as competitor analysis – both of which are necessary to help improve seller rating as well as to keep a check on seller preference.
The best part about this software is it provides 24-hour strong Amazon store surveillance.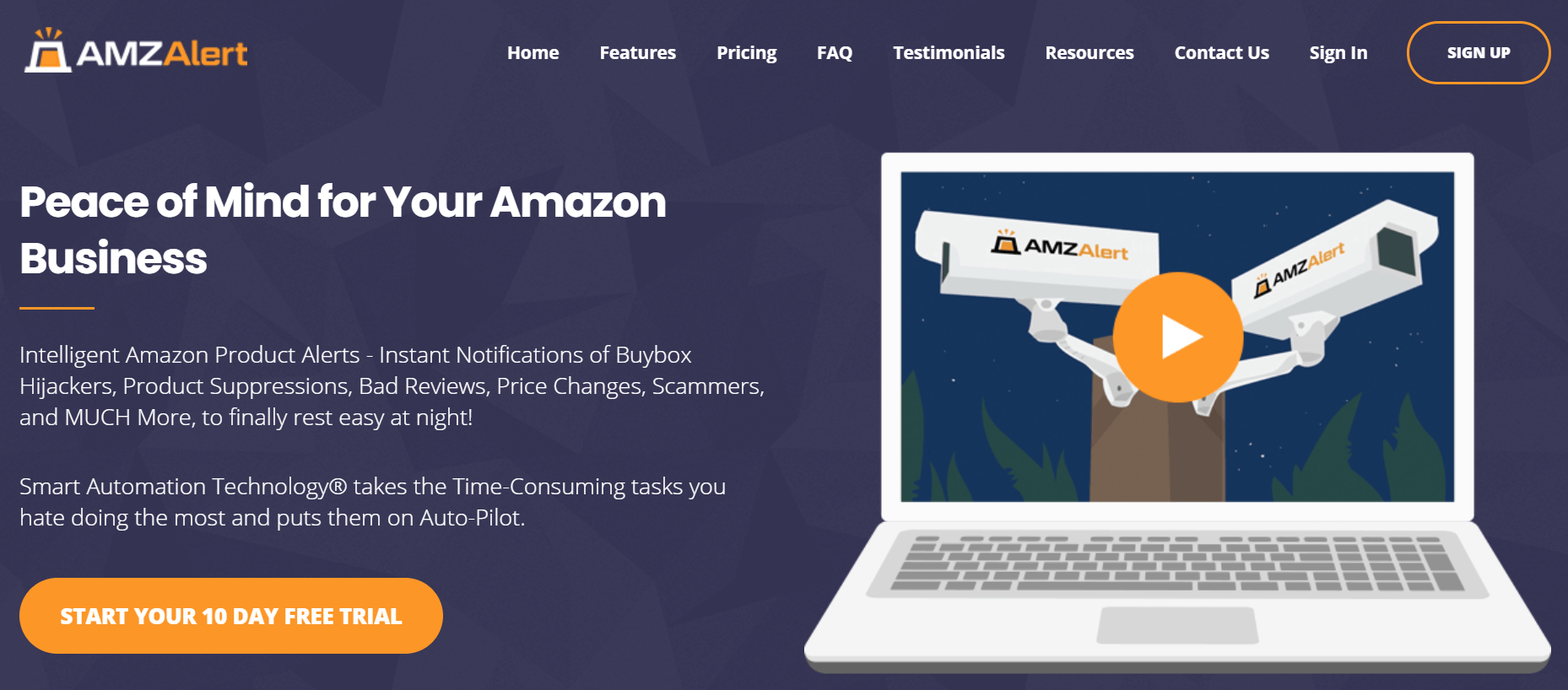 As a seller, my utmost priority when selling a product is to see that my sales remain high, my product garners good reviews and manages to woo buyers, my listing remains topmost, and more – all of which are possible thanks to AMZ Alert.
Using AMZ Alert helps keep a constant vigilance of scammers and hijackers.
You will often notice that unnecessary negative reviews tend to spoil your reputation as a seller, making a buyer skeptical before buying from you.
This is when AMZ Alert comes to your rescue, sending an instant email and a text notification so that prompt action can be taken to prevent excess damage or any damage.
The pricing of the AMZ Alert software can be divided into three categories – The Start-Up category, the Premier category, and the Elite category (considered the most popular to avail).
Click here and know if ScanPower works. My team has reviewed ScanPower and got to know if it can be a real Amazon business or not. Check out our complete review.
Features of AMZ Alert:
Product Listing Alerts:
With AMZ Alert, you can effortlessly stay on top of your product listings. The platform notifies you about any changes or updates to your listings, ensuring you're always aware of how your products are presented to potential customers.
Whether it's a modification in the product details, pricing adjustments, or changes in availability, AMZ Alert keeps you informed so you can make timely decisions.
Running your Amazon store can take up a lot of time and can be quite challenging. If you have a lot of different products (ASINs) to manage, you'll need a tool like AMZAlert to help you out. We must be honest and admit that AMZAlert is one of the best solutions.
Unlike Listing Eagle, AMZAlert doesn't send alerts right away. Instead, it sends them every 15 minutes, which we think is fast enough.
The great thing about these alerts is that you can customize them to fit your needs. You can even turn them off for products that don't pose much risk or choose which team members receive specific alerts. This feature is handy because it helps you keep things organized and prevents you from having to forward alerts to your team constantly.
Review Monitoring:
Customer reviews play a crucial role in building trust and credibility on Amazon. AMZ Alert's review monitoring feature lets you keep a watchful eye on your product reviews.
This way, you can promptly respond to customer feedback, address concerns, and celebrate positive experiences. You can improve your products and overall customer satisfaction by staying engaged with your reviews.
Amazon Sales/Marketing Alerts:
AMZ Alert helps you by delivering sales and marketing alerts directly to your inbox. You'll receive notifications about important events such as changes in your sales volume, spikes in demand, or shifts in your competitors' strategies.
This real-time data allows you to adapt your sales and marketing approach for maximum impact.
Business Automation Features:
Running a successful Amazon business involves managing a multitude of tasks. AMZ Alert's business automation features streamline your operations.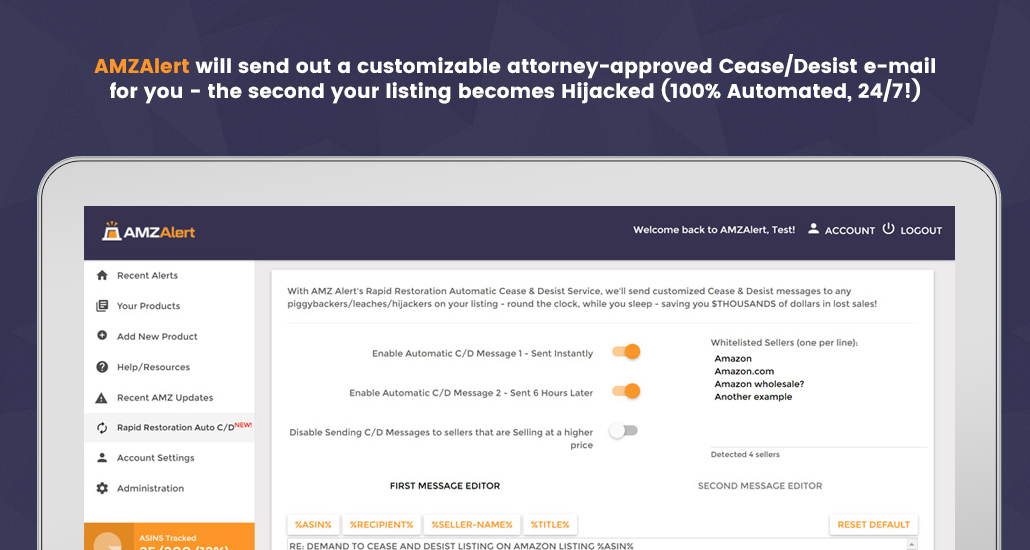 You can set up automated rules that trigger actions based on predefined conditions, from inventory management to pricing adjustments. This saves you time, reduces the risk of errors, and ensures your business runs smoothly around the clock.
What I liked about AMZ Alert? 
I used AMZ alert solely to review it here, and I liked several things about this software.
Let's have a look at what I liked about each of these features:
Amazon Sales And Marketing Alerts –
It looks into product suppression and frequent and sudden takedowns.
It alerts for losing or gaining buy boxes due to hijackers.
You get notified of unwanted or parasitic new sellers who might appear on your listing.
The product was flagged as 'Adult' all of a sudden.
Users get the 24*7 stock and inventory alerts.
Amazon Product Listing Alerts
This feature notifies the user of all kinds of changes that takes place within Amzon marketplace. Let's look at these changes:
Change in the title of the product.
Change in the product image.
Change in the product category.
Change in the bullet points of the product.
Change in the description of the product.
The product is marked as another product's add-on item.
Amazon Reviews
The appearance of negative reviews at the top, based on votes.
Change in the number of stars and ratings of the product.
Notified about sudden deletion of reviews.
Business Automation-
Helps send automated cease/desist (C/D) messages to hijackers.
Helps send automatic comments to negative reviews.
It helps to assign specific alerts to specific people.
AMZ Alert Customer Reviews


Quick Links:
Conclusion: Is AMZ Alert Worth It? 
 If I had to give an honest and unbiased opinion of the AMZ Alert software, I would say it's a must-have for every Amazon seller, whether a professional or a novice beginner.
This software not only helps ease the workload but also helps maintain stable traffic to your seller profile, which is necessary to maintain a healthy reputation amongst buyers.
Therefore, in conclusion, I would like to say that if you wish to see your business shine and reach greater heights, then AMZ Alert is your one-stop solution.
You can start with the lowest subscription and see how your business does wonders by managing the negative reviews on automation.