Are you one of those who likes to edit the videos before putting them across for others to watch? Are you looking to build your brand with video editing?
According to the U.S. Bureau of Labor Statistics, there is expected to be 11% growth in the employment of film and video content editors between 2018 and 2028. That's why a video editing tool like Movavi is getting all the attention it deserves.
Movavi is a video editing tool of the 21st century designed with uniqueness and a modern interface. Movavi can surely help you with your video editing work, especially if you are an amateur.
In this post, I have shared the detailed Movavi Review 2023 and if this video editor software is safe to use! Let us read in detail about the Movavi video editor software to understand how it can work for you.
What is Movavi Video Editor?
Movavi is a video editing software suite that can help you trim your videos, add music, and use other editing tools to make your work look more professional.
You might not get all those tools in Movavi that the pro professionals use; however, it has enough tools that you would enjoy as an amateur.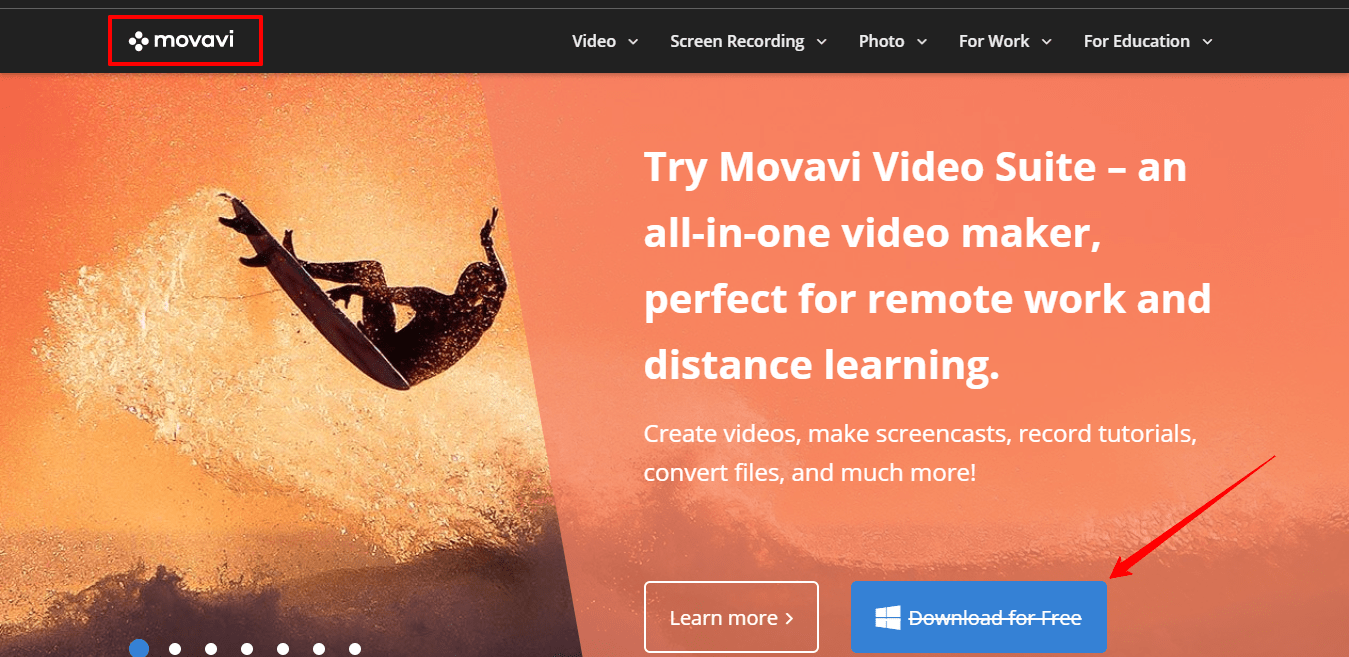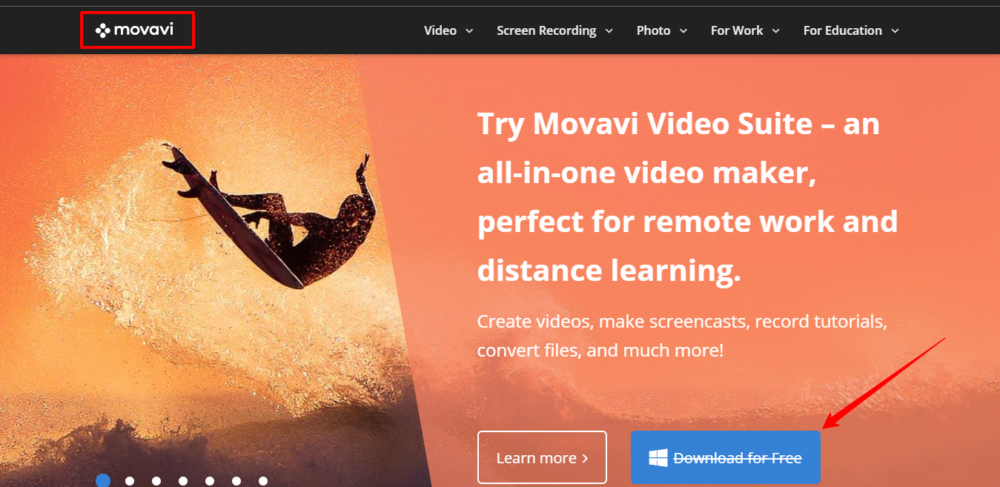 The clipping tool that comes in as a built-in feature is the most attractive feature of Movavi. Using this feature, you can clip a small portion of a video from a lengthy one and make it into a separate video itself.
It allows you to add graphics and music to this new video, thus helping you create a new file.  This software also supports different extensions for the file and enables you to edit them in the future.
Currently, It has reached version 12 for Windows and Movavi version 4 for macOS with support to 14 languages.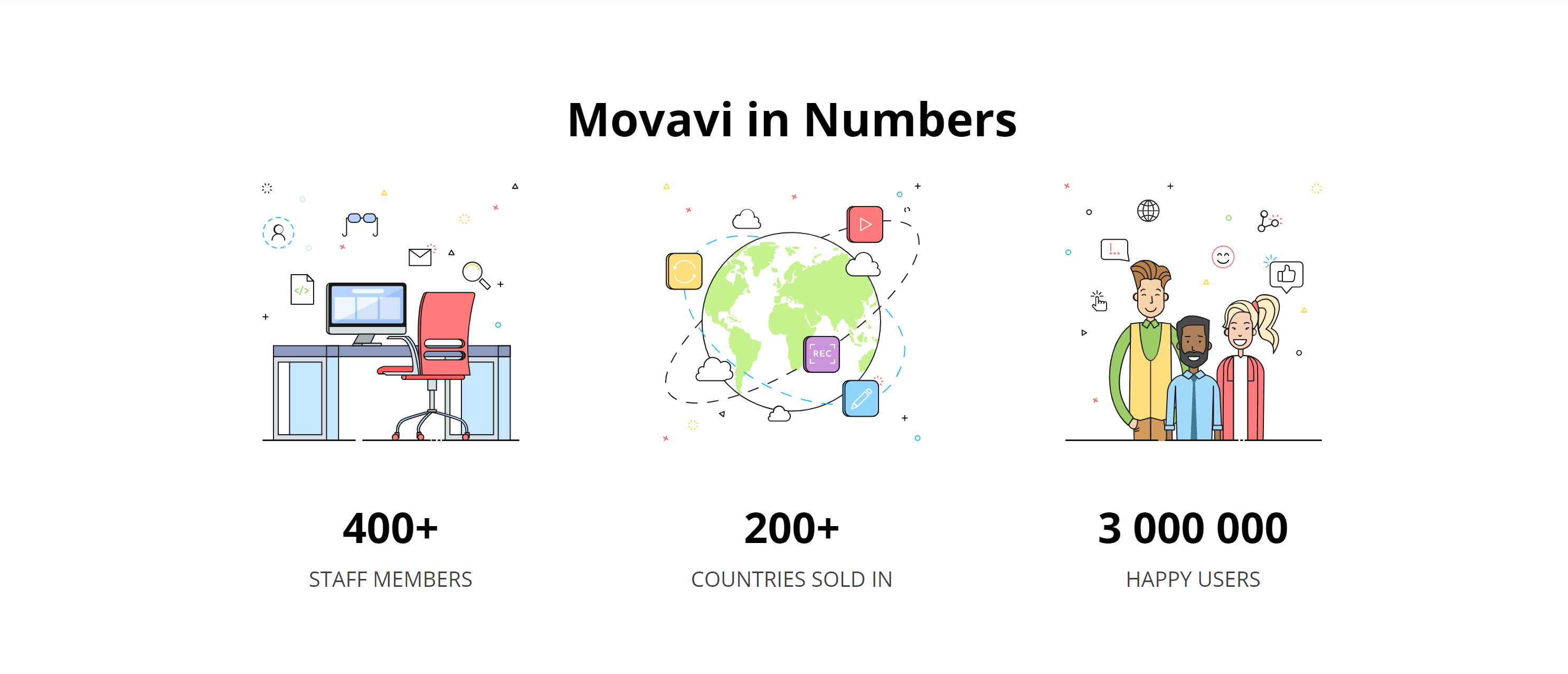 The one thing to be aware of while purchasing this software is that there are different versions available in the market.
If you want the latest version, then you can buy it from the website directly; however, the older versions are available on the Amazon website as well.
There are other products available under the name Movavi. We shall throw some light on these products in this review.
In my review, I have covered various questions and by the end, you will understand why Movavi is a must-have video editing tool. 

– What is Movavi?

– Why use Movavi?

– How to use Movavi for video editing?

– Pros and cons of using Movavi?

– Who should use Movavi?

– Is it worth the price?

– Would I recommend this software to friends or family members who want to edit videos on a budget?

– Tips and Tricks to use Movavi Video Editor Plus?

There are so many video editing software available in the market. It is quite hard to find the right one that suits your needs and requirements.

Movavi Video Editor is an affordable and easy-to-use video editing software. It offers a range of features to make high-quality videos. It a simple and intuitive software with a user-friendly interface that lets you create professional videos without any difficulty.
Is Movavi Safe To Download?
Yes. Movavi is 100% safe to download. You can download Movavi for free from their official site.
Once you begin the installation process, it will be installed within seconds. The installation wizard wouldn't ask you for any permissions. Click on Start and the Movavi Video Editor is ready to launch. Here is how the Movavi looks after the launch.
Chances are that you might get lost in the overwhelming number of features that Movavi offers. But stay calm and you can also try some amazing guides.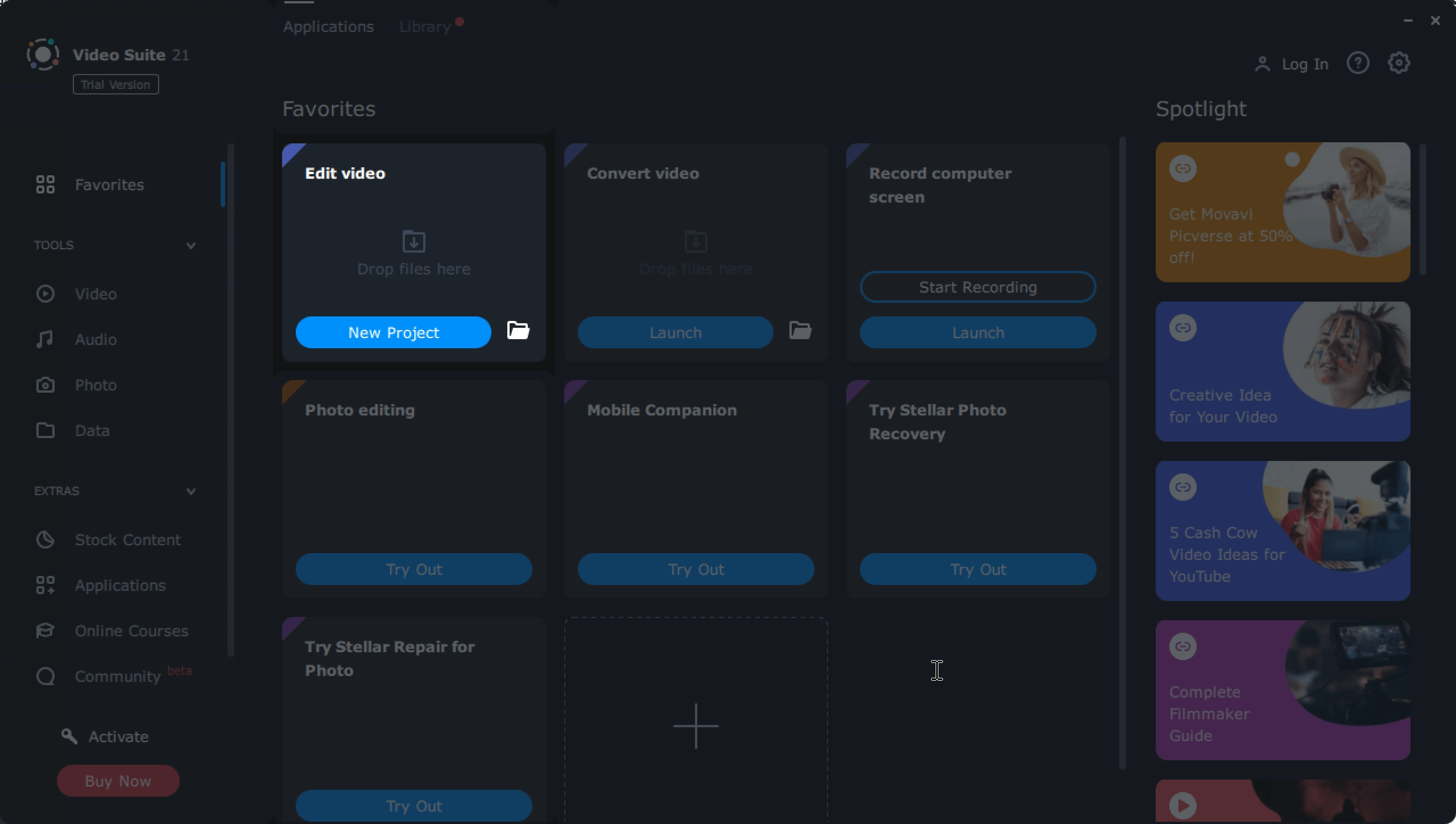 I have given the complete how-to guide of Movavi below in this review. In this review, I will be sharing only about the video editor and video suite software.
Who Is Movavi For? 
Be it the amateur or the expert, Movavi has a lot of things to offer you. It comes with tons of features and effects that make editing a breeze.
This video tool is for someone who wants to maximize their video audience by directly sharing it on the streaming platforms. For creating engaging, informative and professionally designed videos, this video editor is an amazing choice.
When it comes to customer support, interface or pricing, Movavi offers incredible value for money.
Here are some amazing use cases for Movavi editor:
Video Ads: Movavi video editor lets you create quick and professional-looking video ads within minutes. Just pick your tools and you will be able to create the video ads.
YouTube videos: For the YouTube video creators, this editor works well for the gaming, tutorial or other creators who want to add effects or split the videos. It creates footage for a high-quality, professional-looking end result.
Product Demo Videos: Movavi has a knowledge base that gives a detailed guide for creating step-by-step product guide videos.
How To Use Movavi Video Editor? (Step By Step Guide)
With the easy-to-use video editor, you will be able to create compelling videos in no time. The installation is quick and simple. There are no passwords or accounts to be created on the platform.  
User Interface
Movavi's clean, intuitive interface is easy to learn, even if you have not used a video editor before. The library navigation is a super slick combination of timecode and progress bar. 
Though it still has quite a few shortcomings when it comes to making videos with professional results. 
The design is simple and modern, with intuitive icons and buttons so to import, cut or adjust the timing of clips. The dashboard has all the tools you need to help turn your videos into awesome projects. 
Someone who has earlier used a tool like TechSmith Camtasia will find Movavi fairly easy to use. Both of these tools have almost the same type of interface and the right side of the editing window has all the editing tools.
If you have just downloaded it, the tool gives a tutorial and set up guide along with the use of each video editing feature.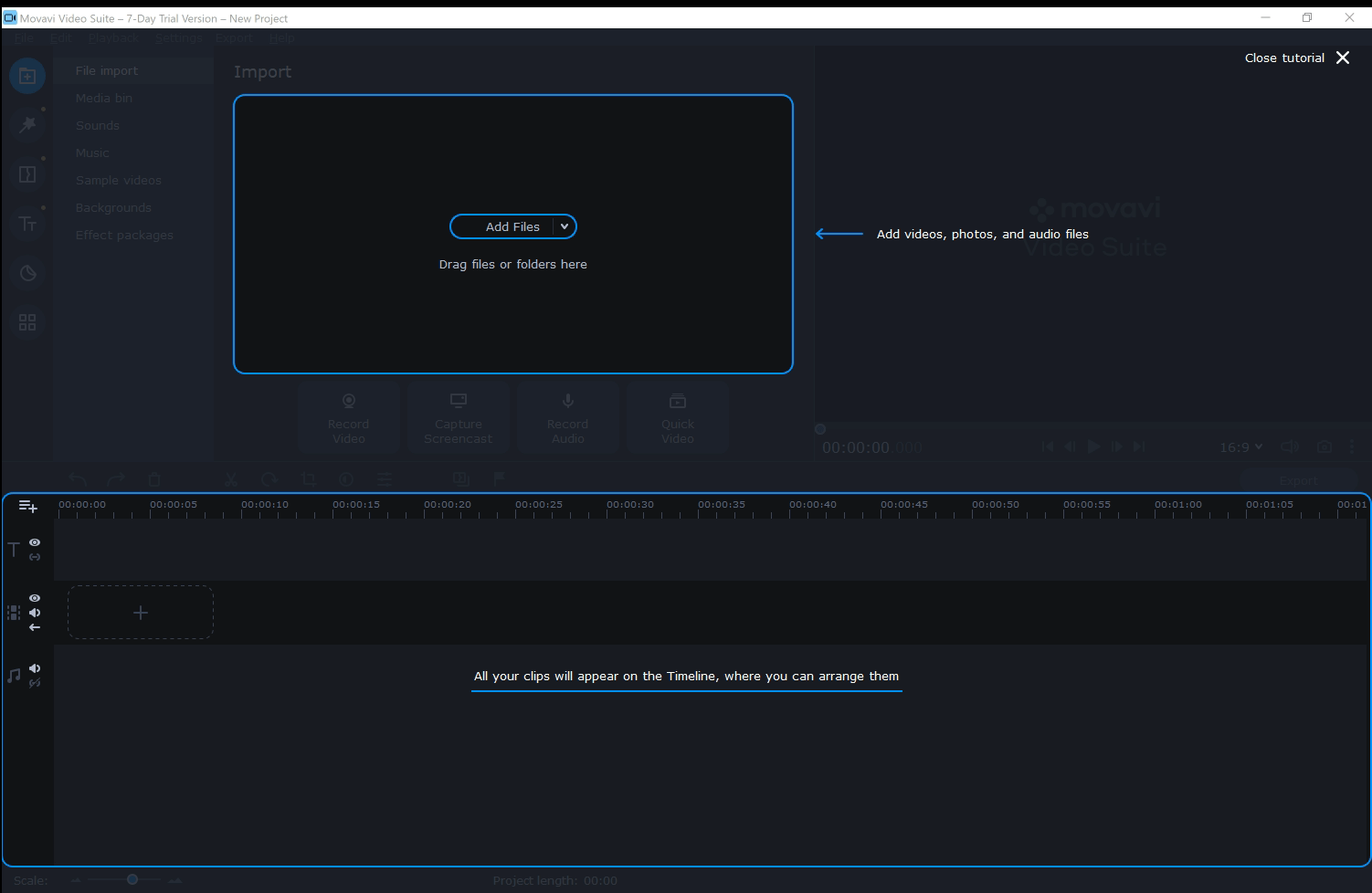 Though the user interface is pretty simple and the design becomes fairly easy. If you are looking to learn more, you must check out the Help section or knowledgebase section to know more about how Movavi works.
Click on Add Files to import your video and drag this video to the left hand panel of the editor.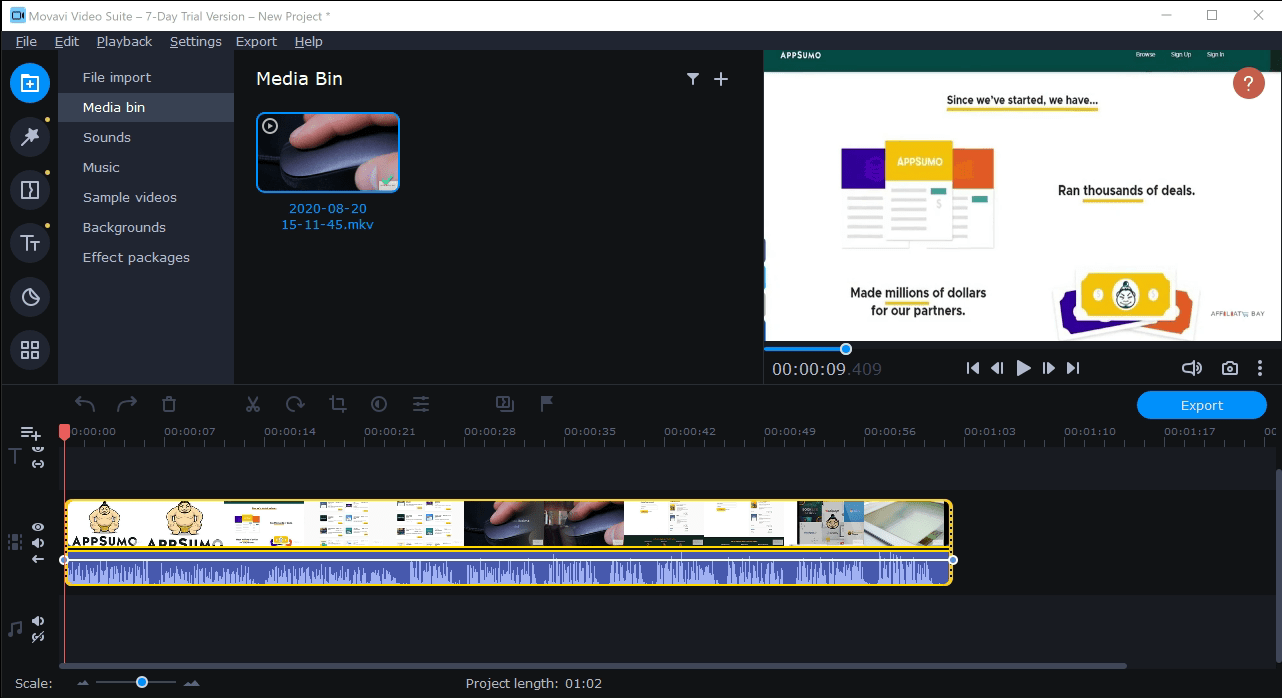 Just like Camtasia, you can trim or edit any part of the video. You can also expand the track which will eventually increase the length of that part of the section.
Screen Capture or Recording Video
Further, the screen capture feature enables us to record the screen. This is a great tool for the presenters or for creating demo videos. Just click on the Capture screencast to start recording your screen. You can either record your whole screen or choose to record the specific part of the screen.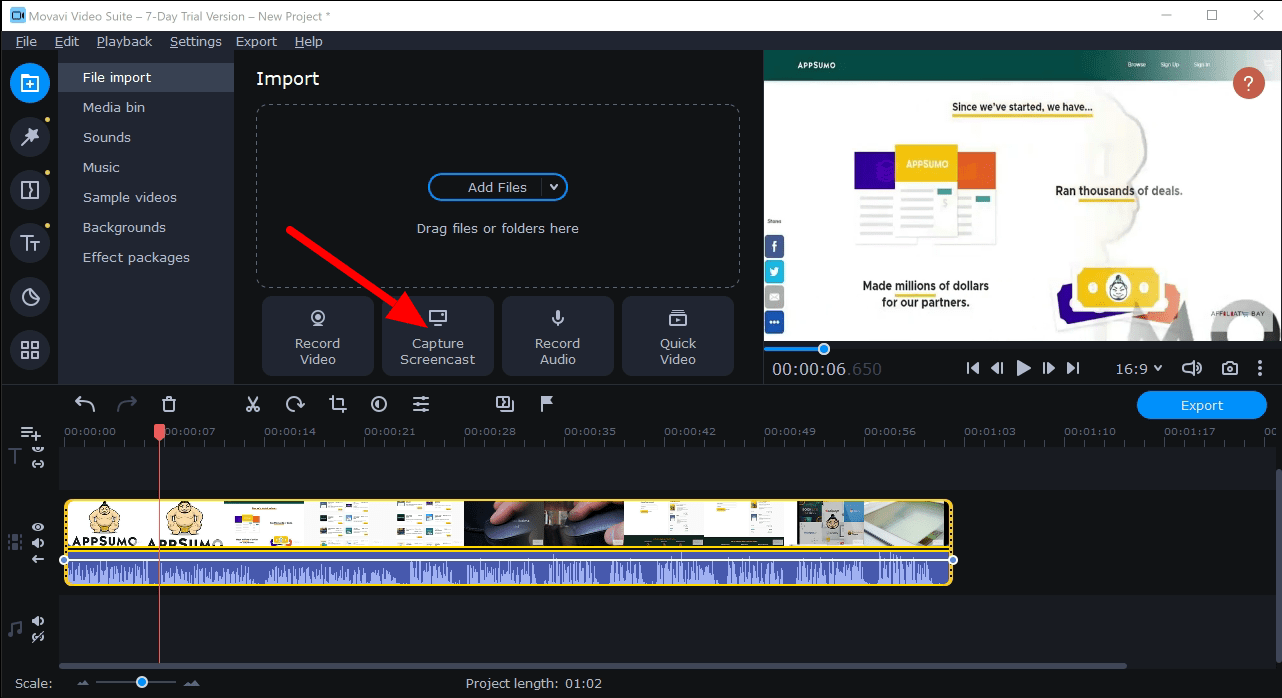 Similarly, recording a video using the webcam could be of great help for Movavi users. By simply clicking on the 'Record Video', you can start recording the video. For those making tutorial videos or something, this option is a great plus.
Video Effects
The background music can also be added to the video, or even a catchy tune is available.  All this is included without having any additional charges or any external paid services. 
The editor may be basic in design and interface but includes powerful tools to fulfil all the needs. The video and photo effects have been challenging to use, but the guide has sorted out the problems. 
Though the effects seem to be much more basic and straightforward, you can upgrade them to find more in the store. Apart from this, there are a number of additional editing features to add to your video. 
Similar to other tools, you can preview and apply changes later.
Now, the editing tools are no less than the wizard.
Video Stabilization
One of the most highlighted features of the Movavi video editor is the video stabilization method. It ensures that the camera shakes during recording does not cause any effect to the video.  I even tried to correct and stabilize the video that was shaken. Well, the Movavi editor can stabilize the minor to moderate shakes. You can also choose to increase the accuracy level and stabilization to adjust the video.
Overlay
This option is a great feature to put one video over another layer of the video. To put a picture-in-picture effect, the videos can be edited in the form of different tracks. You can change the position and size of the video by using the tracks.
Once done save the result and export the video in any format that you want.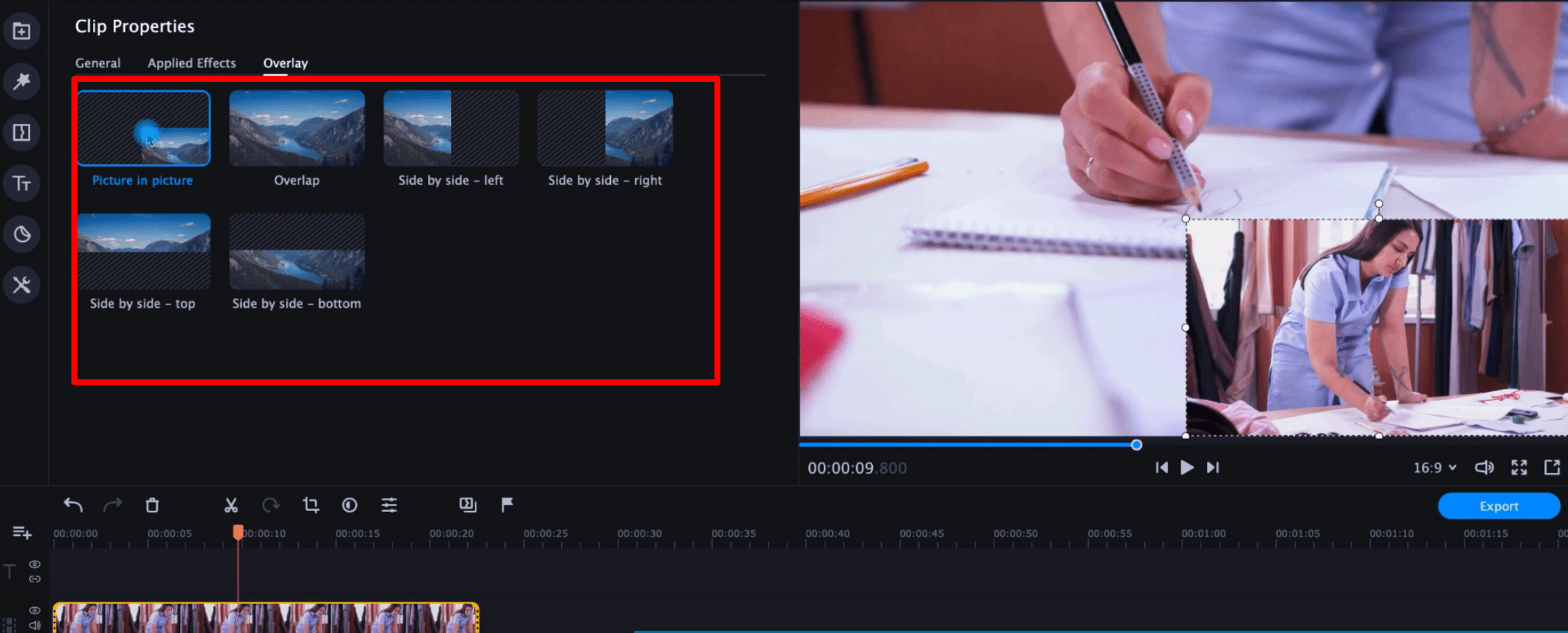 Highlight and Conceal
These features are great if you are looking to hide or highlight a specific part of the video. You can use this option to highlight the part of the video by selecting or dragging the cursor on that part of the video.  These features are a great plus if you are creating the fast-moving videos and want to only highlight certain parts.
Chroma Key 
Chroma Key can be used to replace the object or background in a video or photo. I was looking for this feature for recording the sessions and webinars. Movavi video suite is indeed one of the most intriguing tool when it comes to the features like Chroma key. You can use this feature to replace the green screen or another background with coloured backgrounds or other images and videos.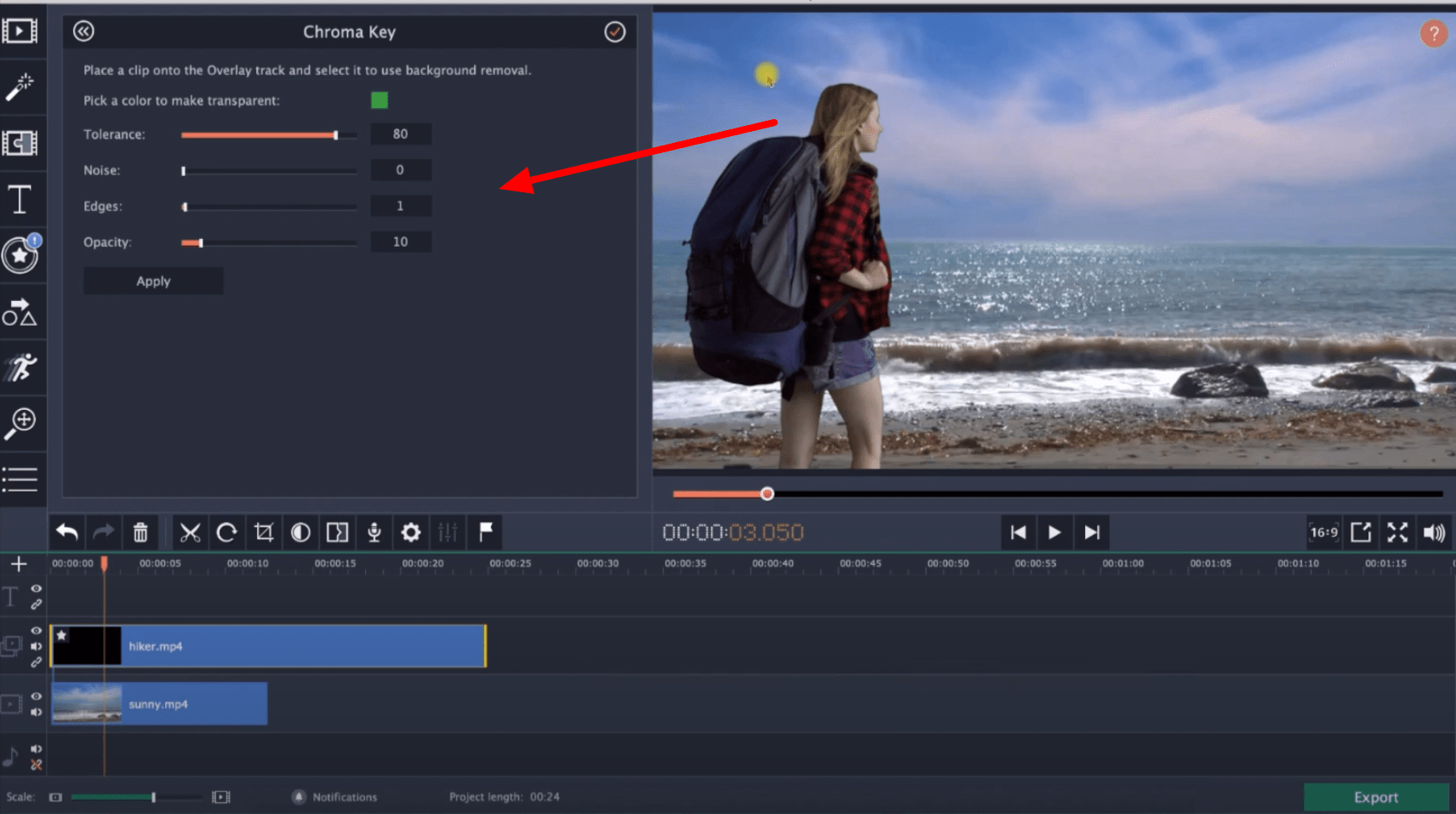 Movavi is an amazing video editor that comes with professional video editing tools and comes with a free trial.
Watermark is present in free version.
Movavi is the best video editor with almost no bugs to report! It comes for free and has powerful effects and transitions with various tools for video editing. It is the best tool that I have used in such a pricing.
Project Workflow
One of the drawbacks to Movavi is its Workflow. The interface is not cluttered with options. 
The options available are surely the ones everyone was looking for. While it's a capable video editor, it still lacks many features found in similar video editing programs. 
Think of it as making a vacation video for all the social media channels. You don't even require any other software too. 
It is just a workload of seven steps that will be needed to edit a video. However, that doesn't mean it is the most complicated ones. 
All you need is to follow these steps:
Step 1: Add Media to the program.
Step 2: Double-click the video and add it to the track. You can now split the video and form different segments.
Step 3: Add the effects that you want to try. You can preview the changes.
Step 4: Try as many effects and transitions or filters to the video.
Step 5: You can also add the soundtrack or background music to the video slides.
Step 6: Export the video and download in any format that you want.
If you are looking to learn more about the Movavi editor, check out these How-to guides on Movavi.
The tool also offers a wide range of output options covering all the formats of video and audio. 
The image or video output received will always be on a positive note for users. It's easy for those who want to start quickly and will enjoy the rendering features and options in their way. 
You can also share the video on active streaming platforms. All the videos made and saved can also be shared on Google Drive or all social media accounts. After completing the project, don't just render it out. Export it to a number of file formats to upload the video to multiple outlets. 
Customer Support
Movavi has friendly people who will always want you to succeed. The support team is available 24*7 for users.  Live chat, phone, and email support make it easy for the users to seek the advice or the help they are after.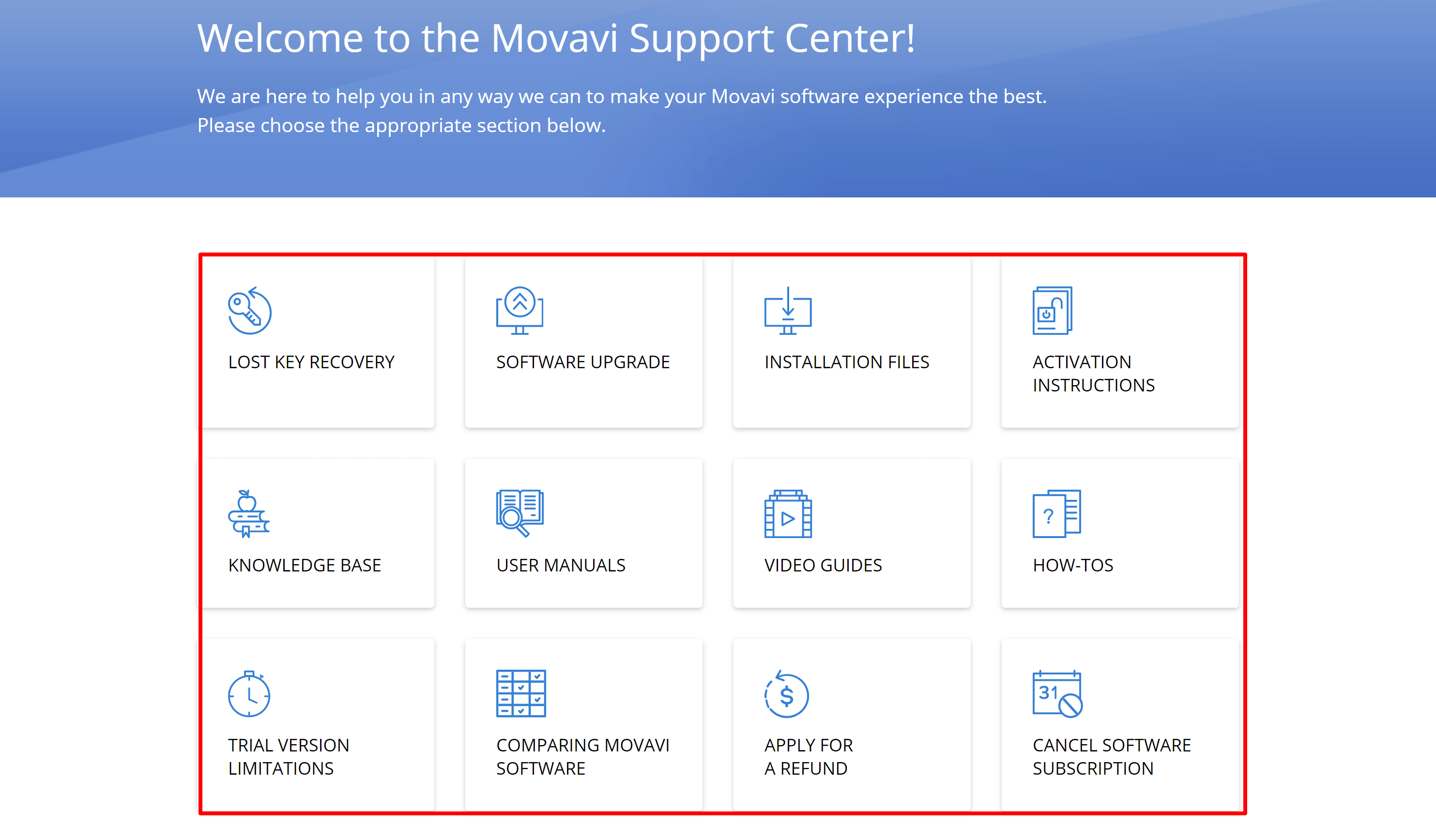 The software also comes with video tutorials, how-tos, and user manuals. These videos are quite descriptive and would give you details on how to perform specific tasks when editing your videos.
I tried and read each How-to guides and the guides were pretty impressive and easy to understand for the beginners. You can also look for the YouTube video tutorials by exploring their Movavi tutorials channel. There are tons of support and FAQs section that makes the support more intriguing.
Movavi Products
Before writing the Movavi Video Editor Review, I wanted to try this software to make sure it is a legit editor tool. I installed this tool and started with its trial of 7 days.

In this section, I have given a short review of Movavi clips, Photo Editor, Video Converter, and Screen Capture Review.
Movavi Clips Review
If your heart is in shooting the videos using your smartphone and need an easy way to edit them without transferring them to a computer, Movavi video clips can give you the solution.
Whether you have a smartphone or a tablet, you can download this application to your device, provided it is an Android device.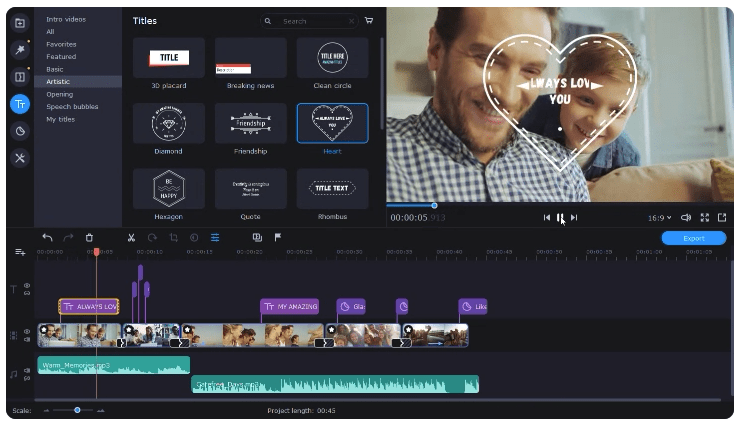 Using this tool, you can clip a section from an existing video to create a new one. It also lets you add music to your video before saving it.
Movavi 360 Video Editor Review:
This software is designed for personal computers. If you have an old PC that runs Windows XP operating system, then you can use this tool.
Generally, most of the programs become incompatible with older versions. However, Movavi 360 Video Editor is compatible with newer and older Windows OS versions, be it Windows 10 or Windows XP.
It has effects such as transitions, cinematics, and audio converter which works the same way as Camtasia.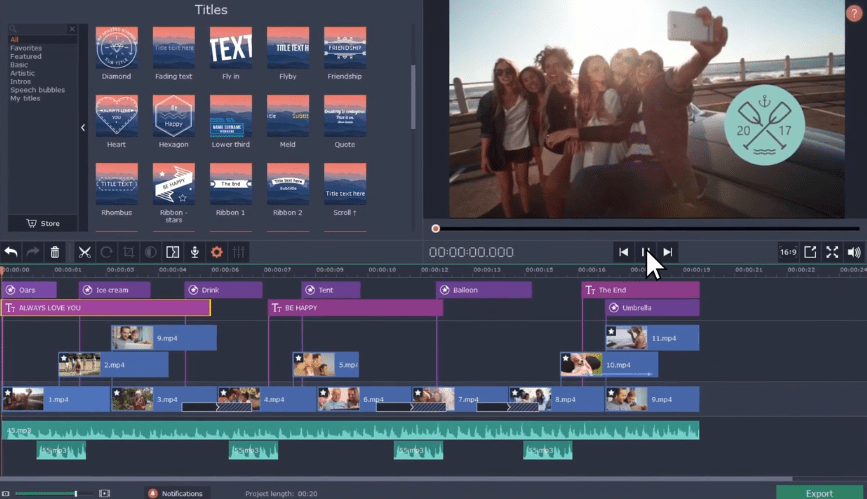 Once you complete the editing, you can preview the video before presenting it to others.
Whether you want to share the video on social media or upload it to the YouTube channel, you can do so within minutes using this software.
Movavi Video Converter 19 Review:
Whenever you find some good videos on YouTube, it is natural that you wish to save them on your personal computer.
Movavi Video Converter is a software from the brand that lets you capture and convert videos of any extension or format.
This program can also work on different platforms that you use every day.
If you want to extract audio clips from any of the videos, you can do so using the Movavi converter.
Thus, saving your favorite music to your PC is not a challenge anymore.
Movavi Video Editor For Business
The only tool Movavi has created for professional use is the Video Editor for Business.  The companies can create videos that can be used as commercials or advertisements online.
In addition, if companies want to create videos targeting the clients, they can easily do so using this package.
While it costs more than the other products, it is definitely worth buy for the companies who need to create videos often to improve their business.
When you purchase their Video Editor for Business, you get two Movavi activation keys, thus allowing you to use the software on two different computers.
You also get a personal account manager to support you in your editing program. Big companies like Google and Intel make use of this software to support their business.
How Much Does Movavi Cost?
It depends on the product you are willing to buy and the version of it. The video suite with a photo editor costs $99.95/year.
By visiting the official website, you can compare the prices of all the products available along with their usage and applicability.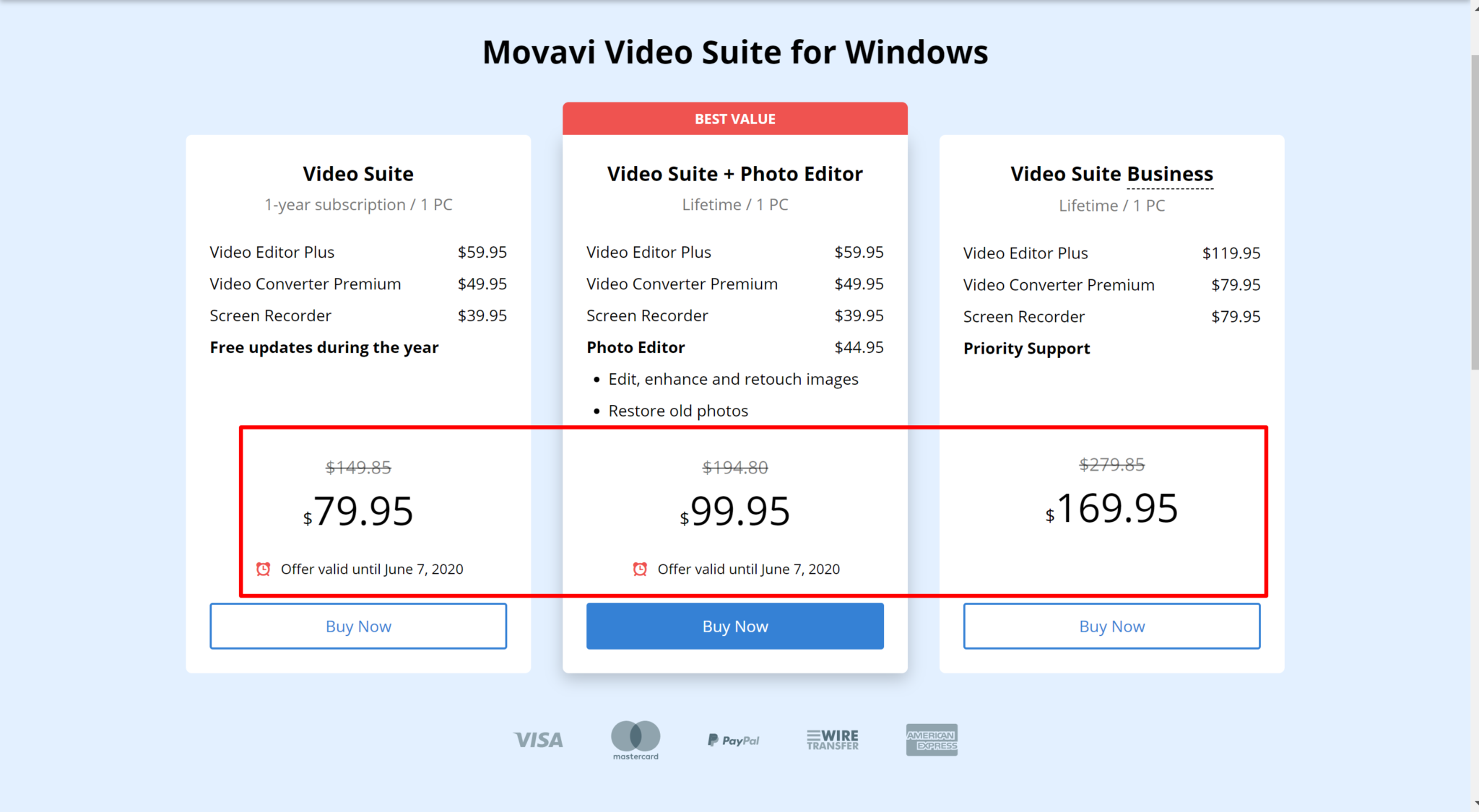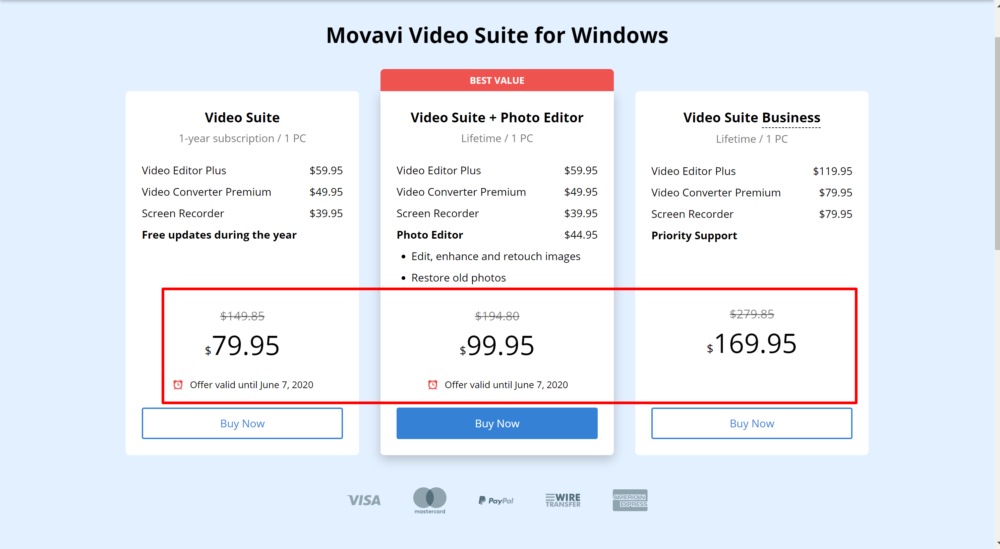 You can go for the Movavi software Suite with a seven-day trial before purchasing it. 
Also, Movavi offers a 20% discount on its video suite tool. You can use this discount at checkout.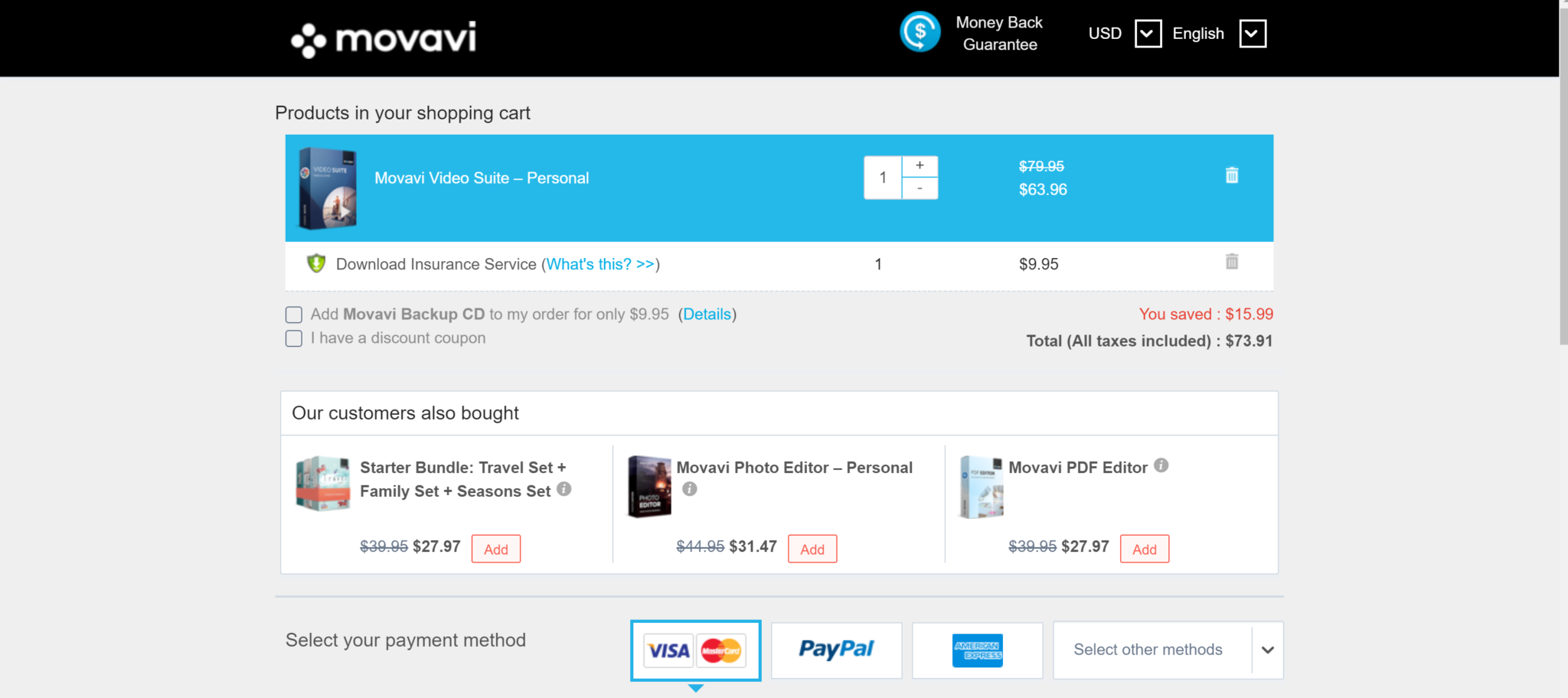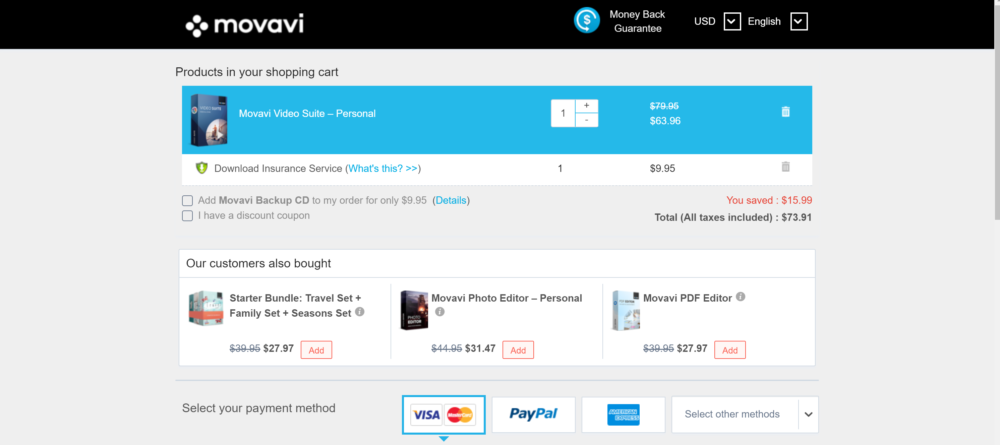 After the completion of the full seven days, you will be asked to upgrade to the paid version to continue to use the software.
The full version of Movavi Suite for the Windows version costs around $149.85 and the business version of the software suite costs a little extra, at around $169.95, but comes with a business license.
These two packages come with a single activation code, allowing you to install the software on a single computer.
Movavi is an amazing video editor that comes with professional video editing tools and comes with a free trial.
Watermark is present in free version.
Movavi is the best video editor with almost no bugs to report! It comes for free and has powerful effects and transitions with various tools for video editing. It is the best tool that I have used in such a pricing.
Movavi Affiliate Program
Movavi Affiliate program is basically designed to make it easier for the general public to earn money when suggesting their programs to our friends and family through links.
Movavi offers a significant 30% commission to its members. As you start referring clients via the Movavi affiliate program your commissions will increase as your sales increase. They also offer you discounts and exclusive bonuses.
And there's more…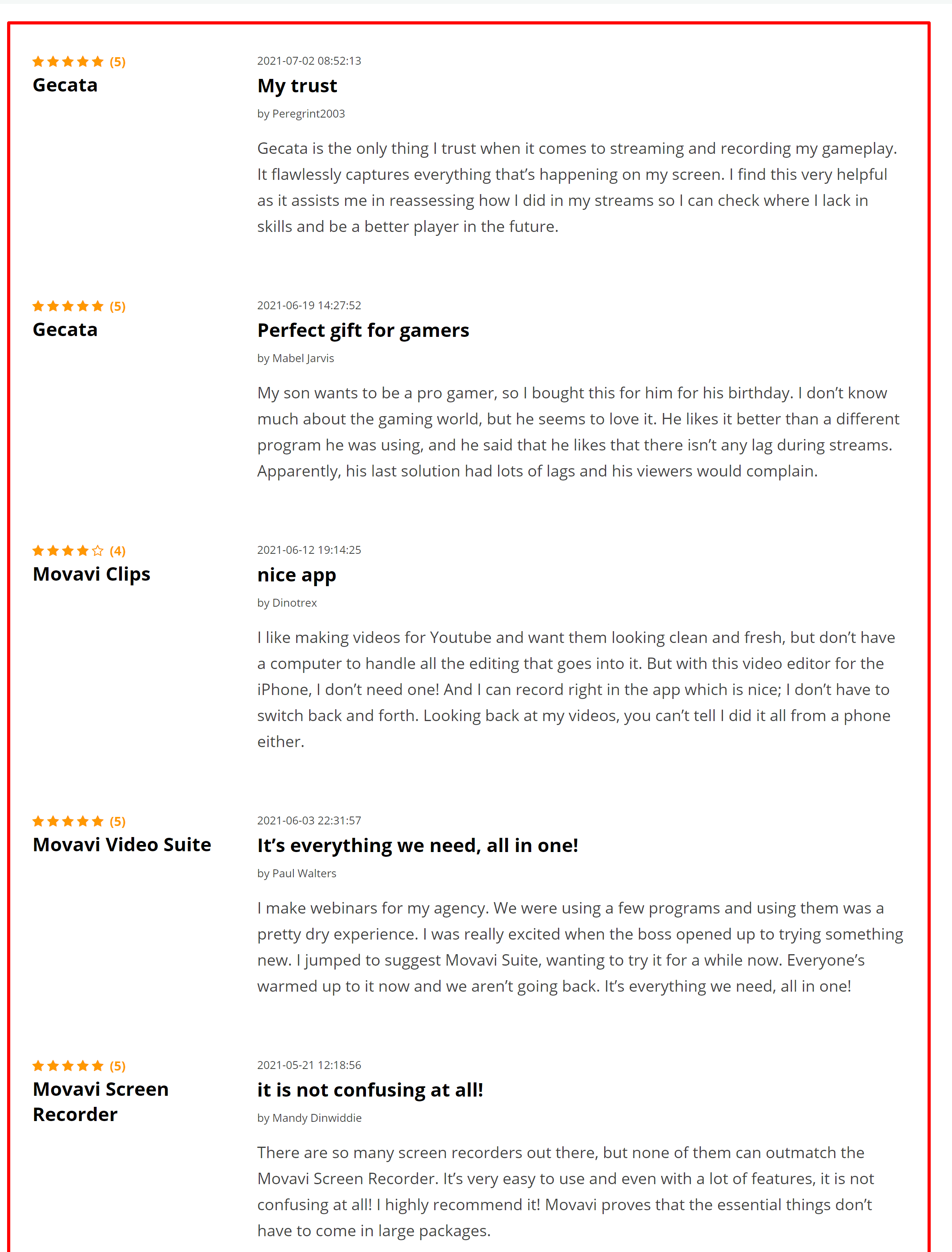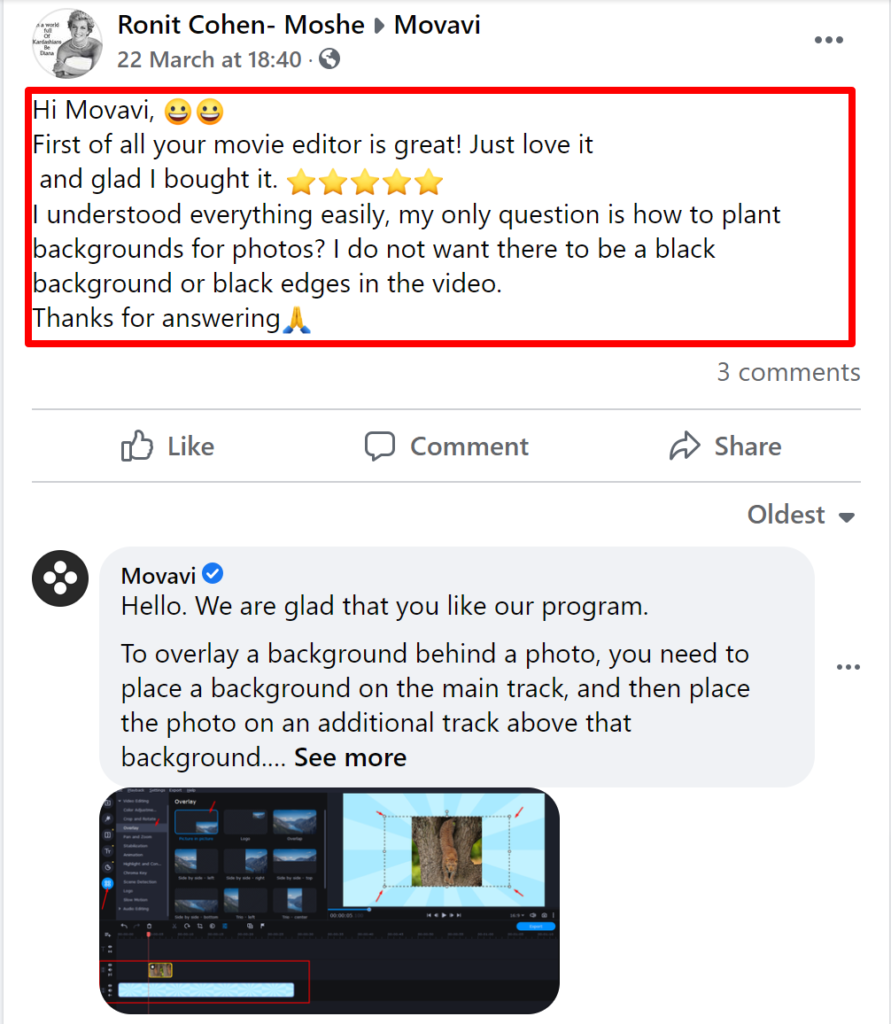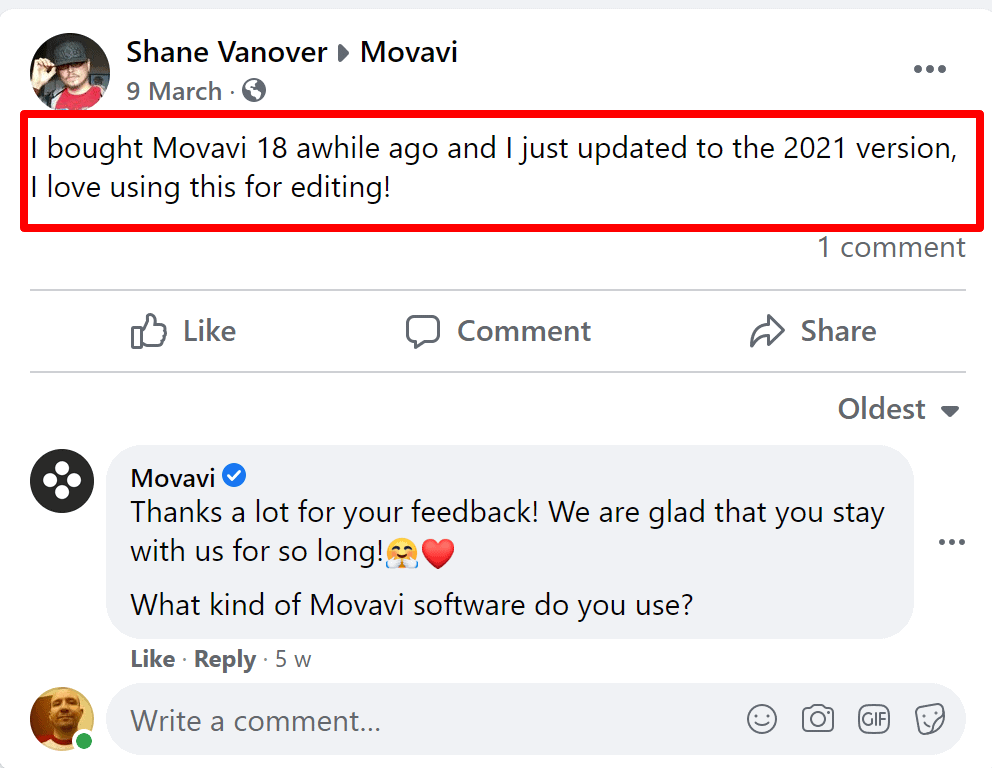 Read more reviews of Movavi on their site.
Movavi On Social Media:
Conquer the creative universe with Movavi ✨

Spring sale is open now! Up to 90% off 👉🏼 https://t.co/Z29JZlX8CH

Videomakers, gamers, designers, teachers, business people, travelers – everyone will find Movavi software for their needs!#movavi pic.twitter.com/pstHzDvWeH

— Movavi Software (@Movavi) April 14, 2021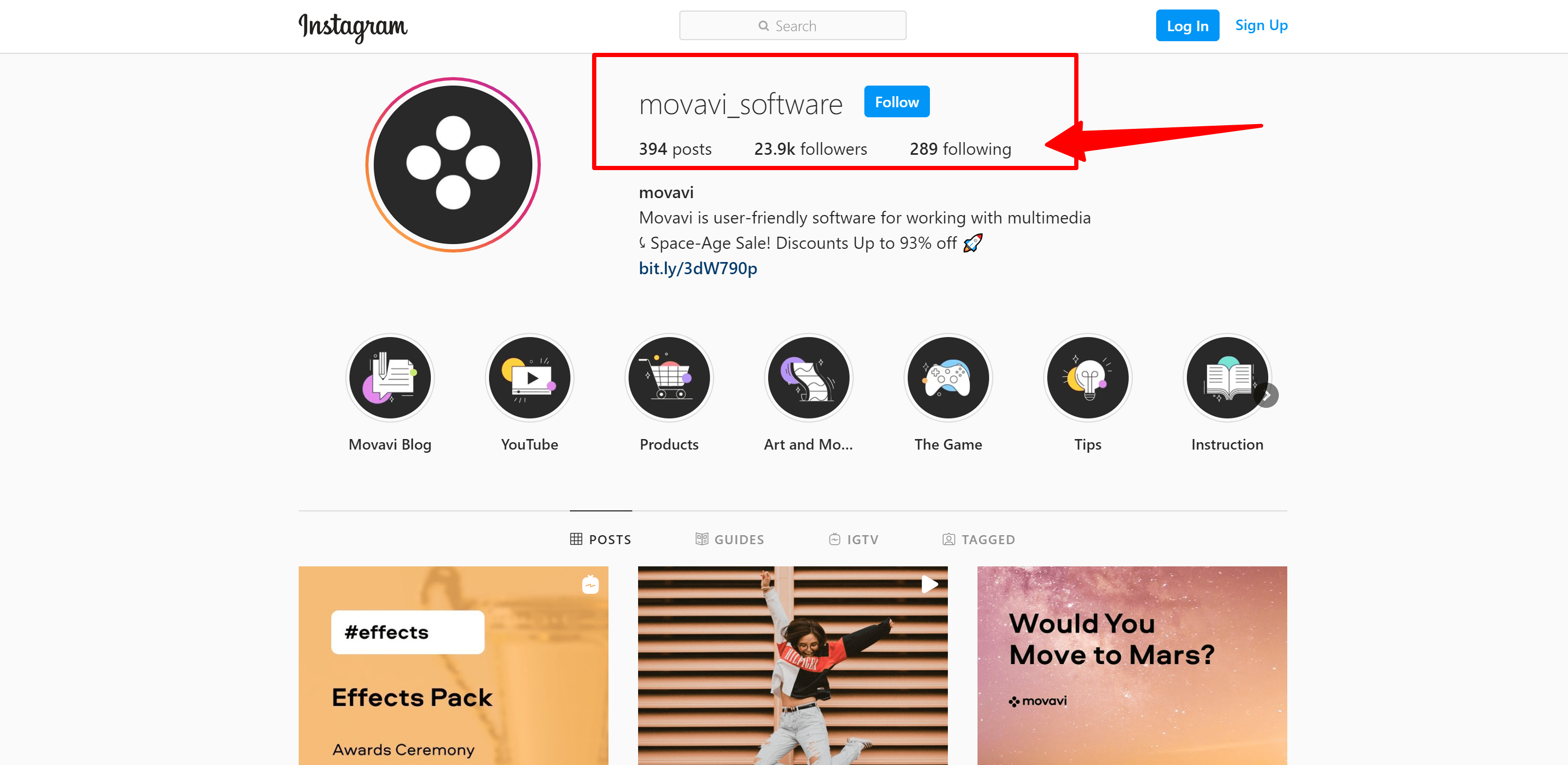 FAQs On Movavi Video Editor:
👉 Is Movavi Free To Use?
Movavi can be downloaded and installed for free. Movavi Photo Editor and Movavi Clips are available to all the users. You can download the photos and clips without the watermark for free. However, Movavi Video Suite has watermark videos.
💯 How long is Movavi free trial?
Movai Free trial lasts for seven days with the options to use any feature.
😲 Is Movavi Better than Filmora?
Filmora has rich features with more cinematic features. However, if you want to create a simple video and share it with your friends, or any small events, you can try the Movavi suite tool. Filmora is also more expensive as compared to Movavi editor.
💥 How much is Movavi Video Editor Plus?
Movavi Video Editor Plus gives a 1-year license for just $39.95. You will need to renew your subscription after a year. This also comes with a discount of 20%.
💥 Is Movavi good for YouTube videos?
Movavi is rated as the top video editor by various YouTubers for its top video quality. It can be pushed directly to YouTube using the export option so that you don't need to download it.
💼 Is Movavi a subscription based?
Yes. Movavi gives a yearly subscription as well as the lifetime subscription.
⚡ How can you remove the Movavi watermark?
The free version of Movavi editor gives the videos with watermark. The only way to remove the watermark in Movavi videos is to purchase the premium license of the software.
✔ How to use the green screen in the Movavi video editor?
Movavi green screen option can be used by overlaying the original video and keeping the background video below. Next, use the Chroma key feature and process the overlay.
🎉 How to add text in the Movavi video editor?
To add the image, simply launch the program and add the video or image. You can use the Title option to add text or subtitles and creatives to the videos. Click on Add text and simply enter the text.
🥇 Will Movavi give you virus?
There are various fake advertisers claiming that Movavi gives you virus. When you install this video editor, the Windows Defender Firewall will protect your system from the viruses if any. Movavi uses the firewall to block these viruses.
✅ How can I get Movavi for free?
Movavi photo editor and Movavi clips are completely free to use. The other products does not come for free. Videos and slideshows are available with watermark for free.
📁 Which is better iMovie or Movavi?
Both of these software has tons of features and functionalities. Movavi is a great tool for the creators and Windows users. iMovie is a better option for the Mac users.
💰 Can you get a refund on Movavi?
If your case falls under our refund policy, you can apply for a refund within 30 days after purchase or three days after renewing your subscription.
🏆 Is Movavi video editor a monthly subscription?
Movavi video editor does not give any monthly subscription but you can get the yearly or lifetime subscriptions.
😲 Is Movavi a lifetime?
Yes. Movavi video editor comes for the lifetime license as well.
💲 Does Movavi work on Mac?
Movavi works both on Mac as well as the Windows devices.
Movavi Top Videos & Tutorials: Movavi Video Editor Plus Review
How to Make a Video with Pictures and Music?
How to change voice in a video 🎶🎶🎶
How to activate Movavi Video Editor? | Windows
How to add SUBTITLES WITH BACKGROUND to a video?
Movavi Review Conclusion: Should You Try Movavi Video Editor? Is Movavi Any Good? 
Movavi is completely safe to download. It is a software suite that works the best for amateurs as well as professional video editors as it has features suitable to both the type of users.
The instructions are easy to follow, and one can easily get used to the features. However, there are customers who have negatively reviewed the product owing to the problem, such as the inability to use all the tools.
In my opinion, Movavi is one of the best video software that justifies it is pricing. One of the best things is its ease of use. It is more affordable and comes with various creative tools.
Features: 1. Supports all popular formats such as .avi, .mp4, and others 2. Ability to play MKV files on a mobile device (4:3) 3. Ability to add subtitles and adjust the audio volume 4. Being able to extract video data from Blu-ray 5. Very easy to use interface 6. Optionally clean the output file 7. Very easy to customize 8. Simplified feature set 9. Possibility of saving your work 10. Support for Windows 8/8 64-bit

Advantages: It offers a wide range of features that will help you in editing videos of any type (even if it is for an amateur). Using Movavi makes your videos look amazing and this will be the best choice for you if you are looking for making great quality videos with minimum effort

Benefits: Movavi is a complete software suite that contains all the tools needed to edit your videos. It comes in handy when you are looking for a good video editor because it has tons of features that can help you edit your videos quickly and easily.
If you want to buy Movavi, go for the trial version of it and get familiar with all the tools so that you can make your final decision. It has cool features that make it reliable for newbies.  If you need an affordable, easy to use and feature-rich video editor tool, Movavi Video Editor is the best tool for you. 
I have read various reviews of Movavi and these were all from the creators of the YouTube channel. Luckily, 90% of the online reviews were positive about it.
If you are looking for video editing software that works on both Windows & Mac, I would recommend you to try Movavi for free and subscribe to it.
Learn More About Movavi Video Editor: 
Want to learn more about Movavi?
Their about page is probably a good place to start.
You can also follow their blog or contact them.
Or check out their socials on Facebook, Twitter, YouTube and Instagram
Other Video & Photo Editor Reviews:
More On Affiliatebay: