Discover which antivirus is better with this Malwarebytes vs Avast comparison.
As personal computers and smartphones proliferate, and internet users continue to grow, a treasure chest of information and opportunities has opened up. 
Now we can browse the internet wherever we are, watch movies whenever we want, and purchase things by swiping our fingers. The flip side is we risk our privacy and personal information more than ever before.
Every day, AV-Test, an independent organization performing IT security research, registers more than 350,000 malware samples. The cost of ransomware attacks is expected to reach nearly $11.5 billion this year as well. 
In 2016, Yahoo suffered one of the biggest data breaches in history, compromising up to 3 billion user accounts. Uber riders' and drivers' personal information was stolen during the same year. 
An antivirus program is therefore essential for protecting your privacy and data from the bad guys, whose tactics are becoming increasingly sophisticated and brazen as time goes by. 
On the Internet, you can also find several antivirus programs for free, but they are often not up to par to protect your computer and give you peace of mind. Most of these free packages lack the advanced features and utilities common to modern antivirus suites and offer limited anti-malware protection.
A comparison of one of the most popular antivirus brands, Malwarebytes, with another, Avast, is given in this guide. The comparison focuses on the features of both products, how well they protect you against malware, how they affect system performance, etc.
Are you in a hurry? Below are quick comparisons that show which company wins in each category.
Malwarebytes vs Avast: Overview
Below we will have a glimpse of the features and functions of both platforms.
1. Features
Winner: Avast. Security suites offered by Avast are more comprehensive than those of its competitors.
2. Malware Protection
Winner: Avast. Independent tests demonstrate that Avast's malware protection is superior to Malwarebytes.
3. System Performance
Winner: Avast. Once against Avast scored better in one of the two independent tests we examined, while Malwarebytes abstained from participating in the other evaluation.
4. User-Friendliness
Winner: Tie. The best antivirus software depends on which company offers the simplest and most intuitive user interface.
5. Pricing
Winner: Malwarebytes. Avast is more expensive than Malwarebytes, so you can buy more licenses for a lower price.
6. Customer Satisfaction
Winner: Malwarebytes. Malwarebytes generally receives better ratings from independent customer review sites.
In the end, Malwarebytes is the winner, as its security suites offer more security-enhancing features and additional utilities than Avast. Also, independent tests show that Avast is better at detecting and removing malware than Malwarebytes.
Malwarebytes vs Avast: Impact on PC performance
It is imperative that you consider not only the features and protection provided by an antivirus, but also the impact it has on the performance of your PC.
A security program shouldn't slow down your computer or even cause it to freeze. The providers should take measures to ensure lower CPU usage, which is why it's crucial to consider what they do.
A lot of people have complained about high CPU utilization on online forums since Malwarebytes came out. You can also put a limit on how much CPU the antivirus can use if you use a Mac. The level of detail can be set to High (up to 100%), Medium (up to 50%), or Low (up to 25%).
For faster scanning, it is recommended to set the level of detail to High. Additionally, no matter what operating system you have, you can turn on Play mode, which hides the antivirus notifications.
Due to Avast's real-time protection running in the background, higher CPU usage is to be expected. However, running quick scans showed that it was almost two times higher than Malwarebytes.
The game mode is also an Avast feature that reduces unnecessary background activity by adjusting system settings.
In addition, if your CPU usage is excessive because of the antivirus, you can try a few things. Avast Cleanup can be uninstalled, the latest antivirus update can be installed, and the Avast Cleanup tool may be removed.
In this round of Avast vs Malwarebytes, Malwarebytes ensures better PC performance and even includes CPU usage settings.
Winner: Malwarebytes
Malwarebytes vs Avast: Pricing & Plans
If we ignore the free tiers, Premium is the least expensive plan ($29.99/year). In addition, its Premium + Privacy plan is cheaper than Avast's.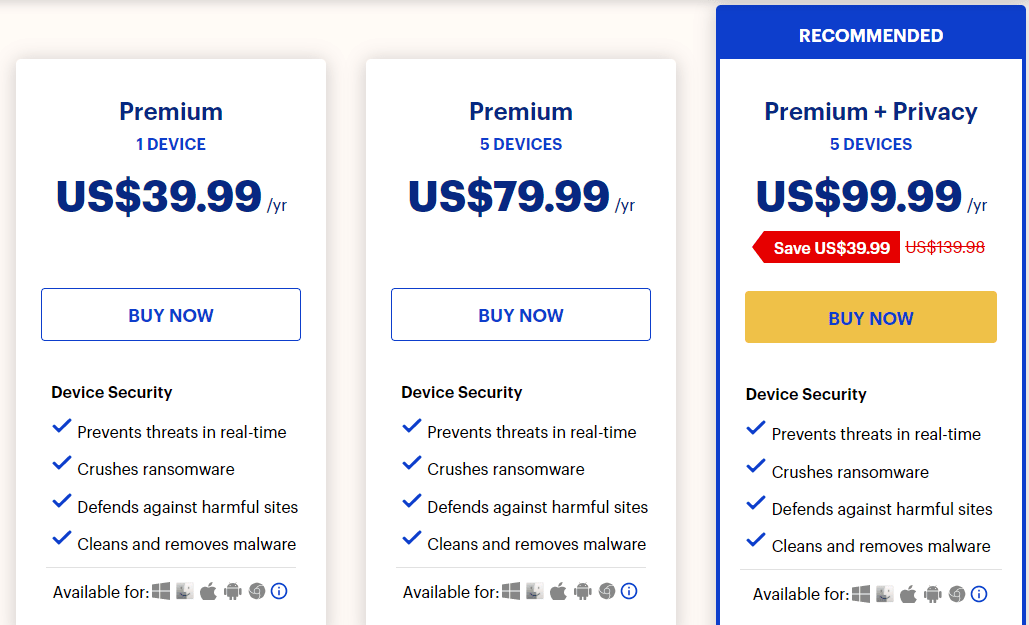 | | | |
| --- | --- | --- |
| Plan | Avast | Malwarebytes |
| | | |
| Free | $0.00 | $0.00 |
| AntiVirus Plus/Premium | $50.28/year | $29.99/year |
| Deluxe/Premium + Privacy | $69.48/year | $49.99/year |
| | Check Pricing | Check Pricing |
Considering the Malwarebytes Premium + Privacy plan is the best value for money. You get a no-log VPN with wifi security and a cheaper price than Avast.
Winner: Malwarebytes
Malwarebytes or Avast Antivirus: Free vs Premium plans
With regards to the free plans, Avast (undoubtedly) offers the best one. As opposed to Malwarebytes, Avast offers a real-time firewall and protection from viruses, ransomware, and malware, which Malwarebytes does not offer. Free of charge!
The premium plans differ between the two providers. Among the features of Avast Premium Security are webcams, fake websites, and sensitive information protection. This software can be purchased for up to ten computers.
Avast One is a subscription for one device that offers a similar set of features as Premium Security for one device, except that it includes VPN, tracking protection, automatic driver updates, and the Avast Cleanup tool.
Secondly, Malwarebytes Premium gives you more features than the free version. Not only does it offer virus scanning, but it also provides real-time protection, ransomware prevention, and exploit protection. Besides the no-log VPN, you also receive servers in dozens of countries with the Premium + Privacy tier.
All in all, I recommend going with a paid plan from Malwarebytes. Avast is much more expensive, but you will still get top-quality protection from them.
Malwarebytes vs Avast: Customer support
| | | |
| --- | --- | --- |
| | Avast | Malwarebytes |
| Email | ❌ | ✔️ |
| 24/7 live chat | ❌ | ❌ |
| Phone line | ✔️ | ✔️ |
| Twitter and Facebook | ✔️ | ✔️ |
| Knowledgebase | ✔️ | ✔️ |
Winner: Malwarebytes
It is important to make sure you get quality assistance from the providers when purchasing a service. Because you're paying for it, you deserve good customer service if something isn't working as expected.
Based on this comparison, Malwarebytes offers more support options. Avast only provides phone support, while Malwarebytes has both phone and email support. Therefore, whenever you run into more complex issues that guides and FAQs cannot resolve, you will always have access to live human support.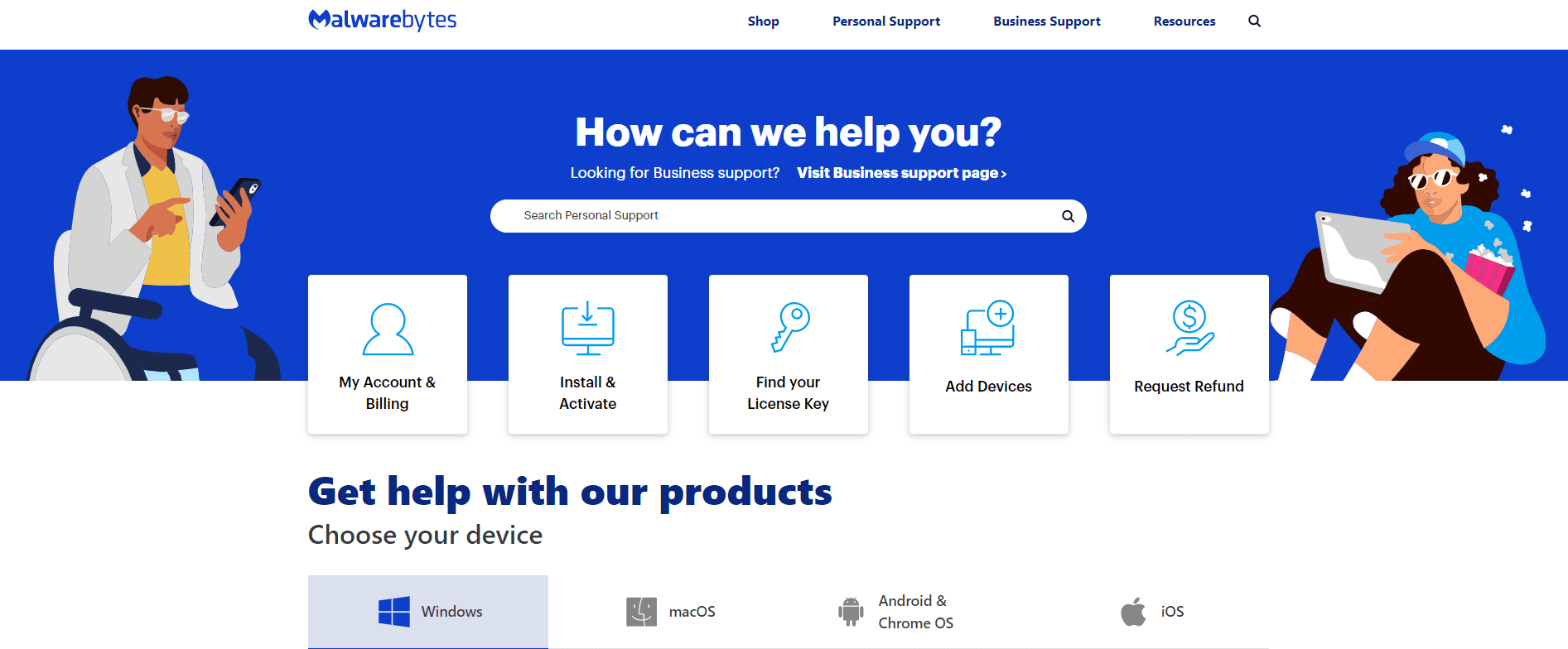 You can contact them via Twitter or Facebook, but it would be more convenient if you contacted them by email or phone, both of which are provided.
As far as customer service options are concerned, both companies provide similar options, but when it comes to Avast vs Malwarebytes, I would prefer the latter because it has better support options.
Quick links:
Conclusion: Malwarebytes vs Avast 2023
Malwarebytes comes out slightly ahead in this comparison between Avast and Malwarebytes, both of which have their advantages.
All the main features of Malwarebytes are accessible directly from the dashboard thanks to a very convenient interface. Despite Avast's range of features, Malwarebytes makes sure that scan speeds are not affected and has great applications for different platforms.
Support is available around the clock with Malwarebytes. Phone support is only available with Avast.
Avast and Malwarebytes are both good antivirus programs but according to me, Malwarebytes is better. That's because it offers better performance, great security from threats, as well as outstanding customer service.