Kajabi vs Podia: Main Differences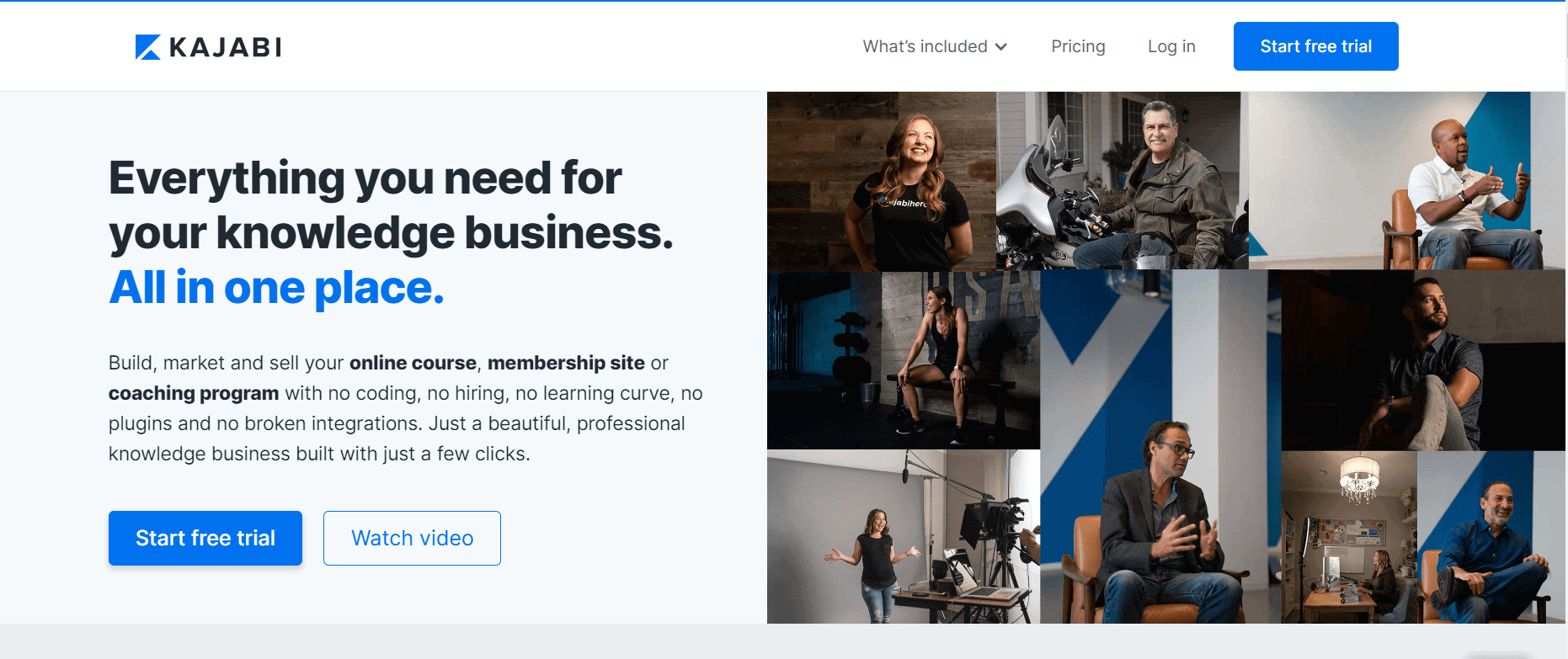 The primary distinctions between Podia and Kajabi are as follows:
 

Podia is a better fit for folks who are just starting on a limited budget, while Kajabi seems to be geared for medium-sized firms.
 

Podia's website is more intuitive and easy to browse, but Kajabi's website is more complicated and less user-friendly.
 

Podia is less costly and has fewer features, but Kajabi is much more expensive and has more functions.
As a result, it's unsurprising that floods of course makers and instructors are on the lookout for the ideal software to assist them in capitalizing on the trend.
Fortunately, there are a plethora of online platforms available to assist you in developing, marketing, and selling your course – each offering something somewhat different. However, as expected, some are more respectable than others. Given the number of options, selecting the ideal learning platform might seem to be a time-consuming and tedious endeavor.
A simple Google search returns an astonishing number of online course builders, many of which offer comprehensive suites filled with features and tempting discounts.
To assist you in narrowing your search, we're going to offer you a list of significant characteristics and distinctions to consider.
Does it make sense to you? Fab! Therefore, without further ado, let us begin!
Kajabi vs Podia: Email Marketing & Automations
The email marketing skills of Podia are limited. It will not function as a full-featured email marketing platform. And I will explain why. 
Podia does not provide a built-in sales funnel or landing page builder. Additionally, it lacks an email list management system that enables you to tag subscribers and segment your list. Again, it lacks email marketing automation guidelines.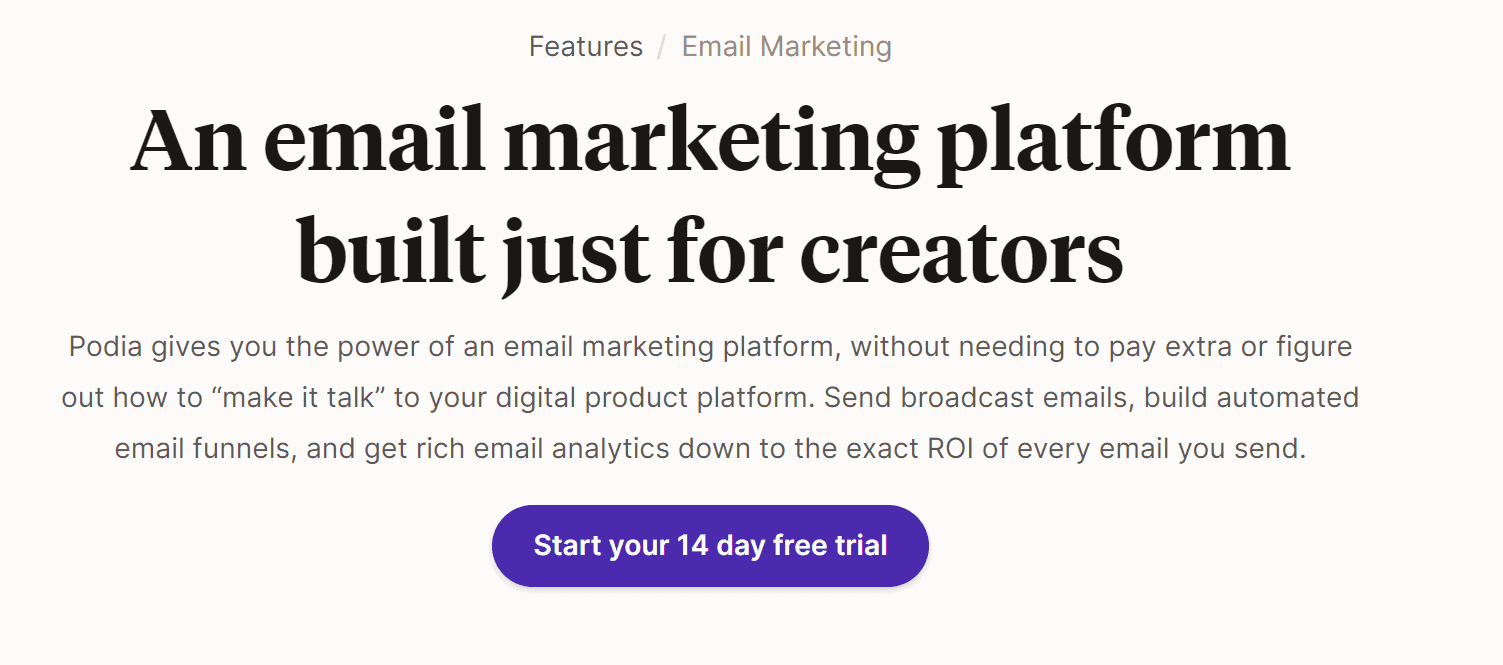 As mentioned before, Podia's email marketing tool allows you to perform two things. These include sending emails to already enrolled students and conducting an onboarding campaign.
However, email marketing in Kajabi is a beast unto itself. You may send email broadcasts or email sequences to your list. This simplifies the process of building a drip campaign.
Additionally, you may construct forms in Kajabi. By embedding these forms on a Kajabi or other website, you may gather opt-in subscribers. Additionally, you may arrange webinars and events using the events tool. You may also send email alerts to your subscriber list for events.
Kajabi vs Podia: Ease of Use
With Kajabi, you can take care of the majority of your business's requirements in one place. You can promote, send emails, manufacture goods, and live online classes, especially if you are just getting started.
They offer a step-by-step educational approach. Additionally, they are regularly improving features to ensure that even the most inexperienced user can utilize them.
You do not need to learn any kind of coding to use Podia. It's easy to get started and build your storefronts and product offers. The customization menu is extensive enough to express your individuality but not so extensive that you get overwhelmed by options. Customers may easily access and purchase things.
I'm going to call this a tie since both systems are geared at assisting both vendors and buyers in every way possible.
Kajabi vs Podia: Course Creator
Both Podia and Kajabi enable course developers to integrate a variety of materials into a cohesive learning experience. Both tools are intended to be as versatile as possible, while their interfaces may be significantly more or less attractive depending on your prior experience.
Podia is an incredibly simple course-building tool that enables you to upload any kind of file and deliver your course material in whatever format you choose.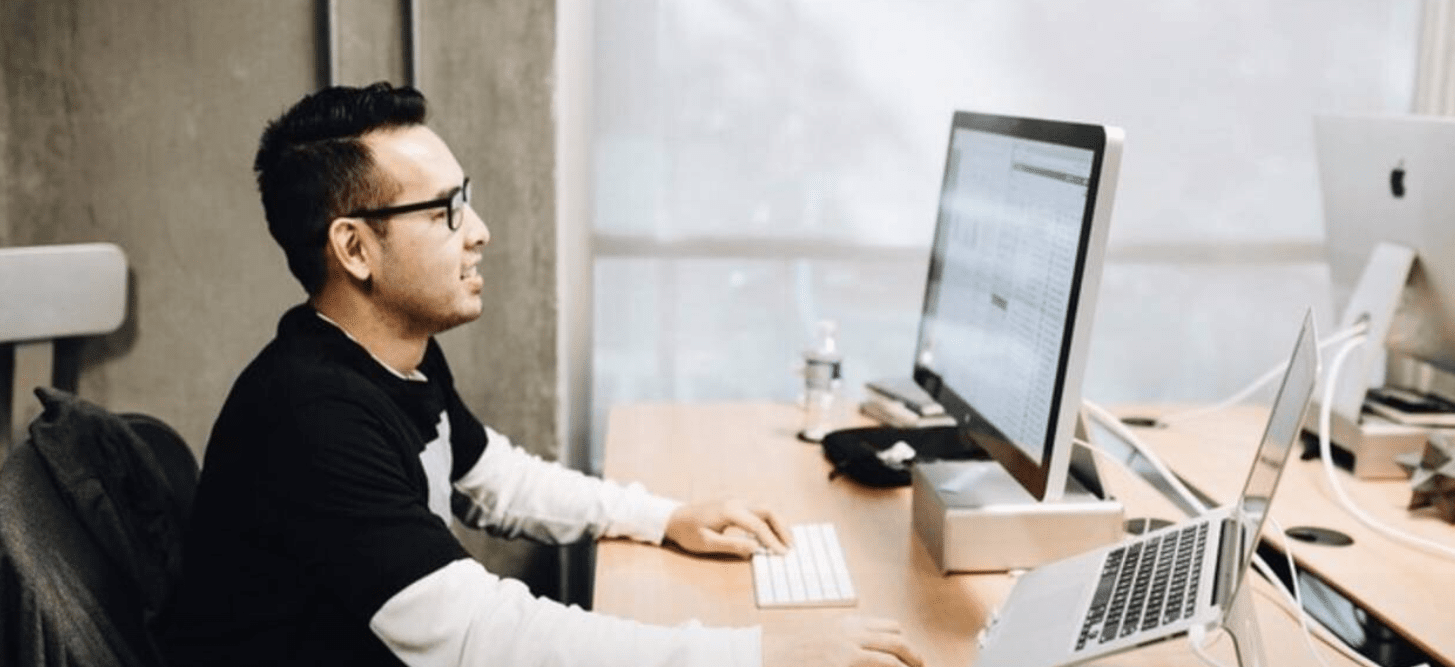 You may pre-launch courses and gradually roll them out based on your requirements. You begin your course development adventure by deciding on the product you want to create and then working with a blank slate to create it.
Podia's website does not identify which video hosting service it uses, however you may submit anything without regard for file size limitations. Kajabi enables you to upload files up to a file size of around 4GB, therefore you may need to do some additional steps.
Kajabi enables users to create courses via the use of "product blueprints." These blueprints are completely customizable, and they serve as a jumping-off point for designing your courses. With Kajabi, you will have the option of beginning from scratch, which is excellent if you already have a course in mind.

Having the blueprint option ready is advantageous if you're a complete newbie since it will give you a decent notion of where to begin creating. You may include video, PDF, and audio files into your site, and there are even possibilities for hosting interactive films and webinars.
You may upload files straight from your PC or through Google Drive or Dropbox with Kajabi. Podia and Kajabi will both aid you in moving your content to their platforms if you have already begun constructing elsewhere.
Kajabi Vs Podia: Integrations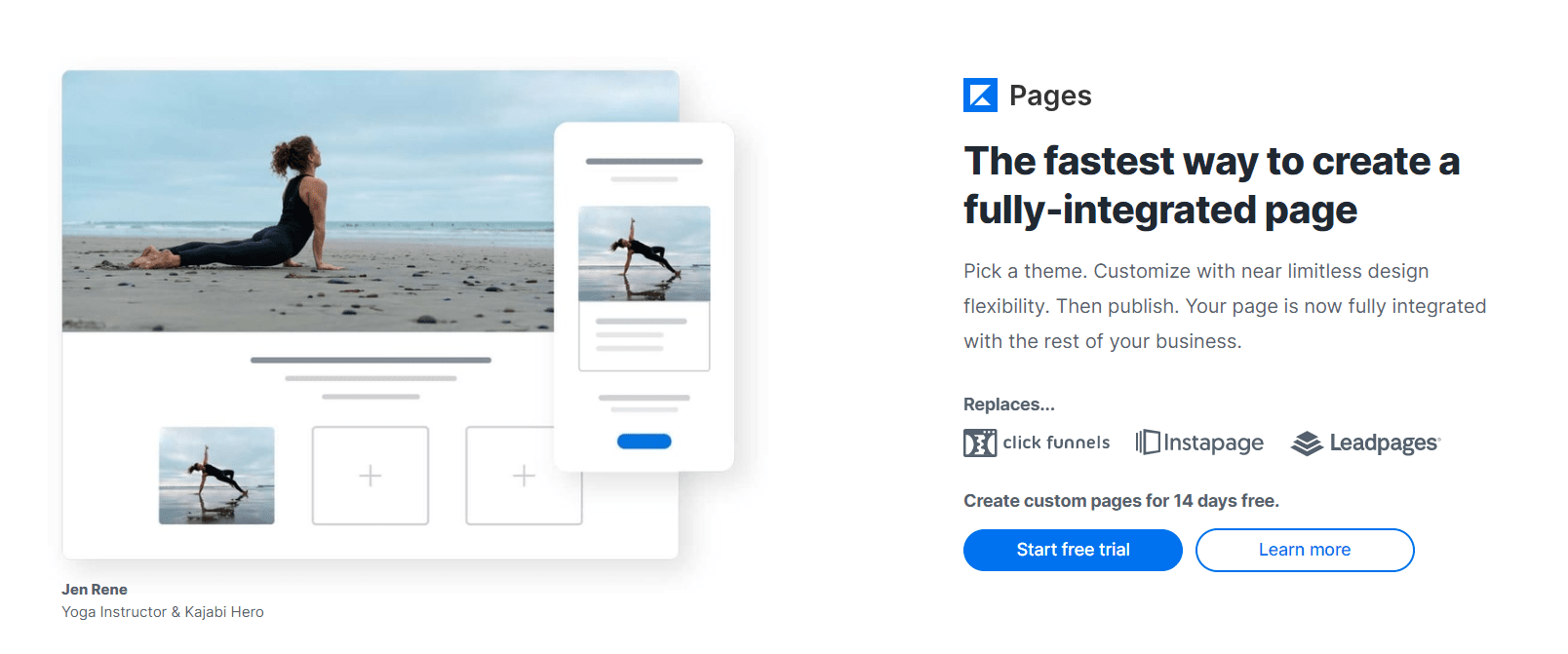 Both systems provide a robust integrations library.
Kajabi has ten pre-integrated apps, including ClickFunnels, Google Analytics, ActiveCampaign, ConvertKit, Drip, and MailChimp.
Additionally, the platform offers a Zapier connector, which enables over 1000s of non-native application integrations.
You may use Zapier to connect third-party applications that are not included with the platform.
To be precise, you do not need to employ any integrations.
You currently have all the tools you need, and so do not require any further services.
Having said that, if you are already acquainted with and comfortable using another service, you may integrate it.
Integrations with Kajabi are simple to set up and take just a few minutes.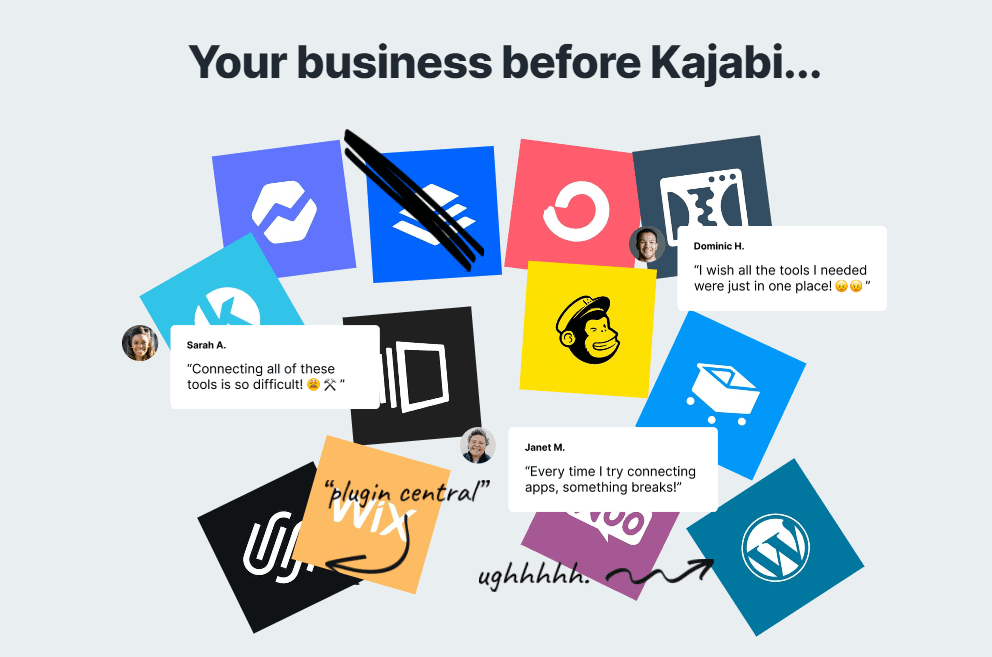 Podia also integrates with several prominent apps, which is advantageous given the limited functionality of some of its email and marketing functions.
Podia integrates with major email marketing platforms such as MailChimp, Drip, and ActiveCampaign.
Additionally, Podia just implemented a Zapier connector, allowing for the customization of integrations with non-native applications. Fortunately, Podia has strong integrations, since they compensate for the platform's inadequacies in other areas.
Kajabi Vs Podia: Sales Funnels
Not just email can be automated using Podia and Kajabi. Sales funnels are one of the most effective methods for increasing conversions and income generation for company owners. Essentially, they are tactics that assist you in automating the process of converting a random visitor to a loyal client.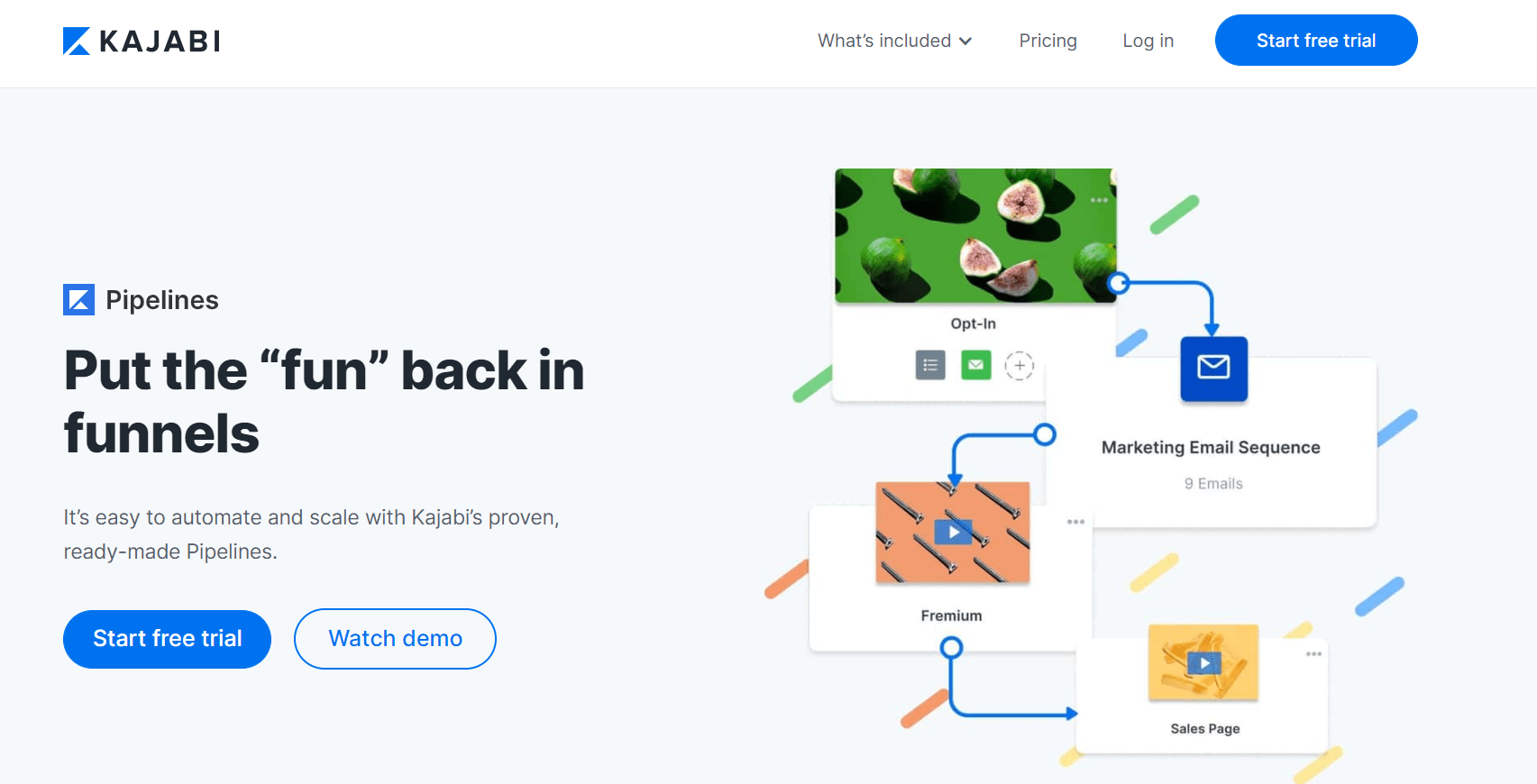 Sales funnels may be comprised of a variety of components, ranging from landing pages and sign-up forms to email marketing campaigns. Podia does provide some sales funnel possibilities, but not nearly as many as Kajabi. Podia enables you to construct email drip campaigns that nurture your customers gradually, but that is all.
Kajabi has a comprehensive sales funnel builder as part of its service. In case you've never developed a sales funnel before, the "Pipelines" system includes blueprints for pre-designed sales funnels.
You may create sales funnels for a variety of purposes, including gifts, product launches, free books, webinars, and coaching programs. Everything is quite well-crafted, and you won't have to bother about coding campaigns and automation yourself.
Naturally, if you like the concept of designing and implementing your bespoke pipelines, you may do so as well. There is also the opportunity to begin a campaign from scratch. While Kajabi's pipeline functionality is completely automated, you may customize it by adding your code.
Kajabi Vs Podia: Email Marketing
Email marketing is one of the most important tools accessible to many company leaders and educators. This is because email makes it simple to establish rapport with your target audience. Email is more successful at converting clients than practically any other kind of marketing.

However, to reap the rewards, you'll need an email marketing provider. The good news is that if you're utilizing Podia or Kajabi, you won't need to select an email marketing supplier separately. Both methods support email marketing, and both allow for the creation of clean, professional-looking campaigns.
Podia has several beautiful themes, but customizing choices are relatively restricted. You may modify just a few items, such as the bold and italic typefaces. Podia, on the other hand, goes well beyond this.
Podia provides access to over 15 templates that may be customized to meet your specific requirements.
Additionally, you'll get a slew of pre-built sections that let you include a variety of different types of material, countdown clocks, video samples, and photos into your campaigns. Additionally, the Kajabi email includes a subject line validation tool, which increases deliverability as you type your subject line.
The program scans for spam triggers automatically and recommends what you should change.
If you want to ensure that your efforts are generating tailored conversions, you may also utilize email segmentation tools such as Podia or Kajabi. You may segment clients using Podia based on their purchases, pre-launch registration experience, lead capture forms, and membership criteria.

Additionally, the Kajabi email has a range of default categories for you to investigate, including inactive subscribers, subscribers, and folks you are unable to contact due to bounced emails.
Additionally, you may construct custom segments to make it simpler to segment your consumers based on the aspects that affect your conversions the most.
After segmenting, you'll be able to design automated campaigns and broadcasts in response to particular triggers, as well as monitor the effectiveness of individual programs.
While both systems in this comparison provide automation, Podia's email capabilities are sometimes somewhat limited. It is not, however, a comprehensive email marketing platform.
On the other side, Kajabi is a more robust email marketing provider. Your emails can be seamlessly integrated with the rest of your classes, product offers, and website. Additionally, you'll be able to develop landing pages for new items and create whole sequences depending on client behavior.
Kajabi Vs. Podia: Designs & Themes
If you've ever used a product for which you fell in love with the design, you understand how much aesthetics may impact how an experience feels. When teaching a course, you want a topic that will captivate your students while also promoting your business.
The appropriate design choices can enable you to bolster your online image and establish a closer connection with clients.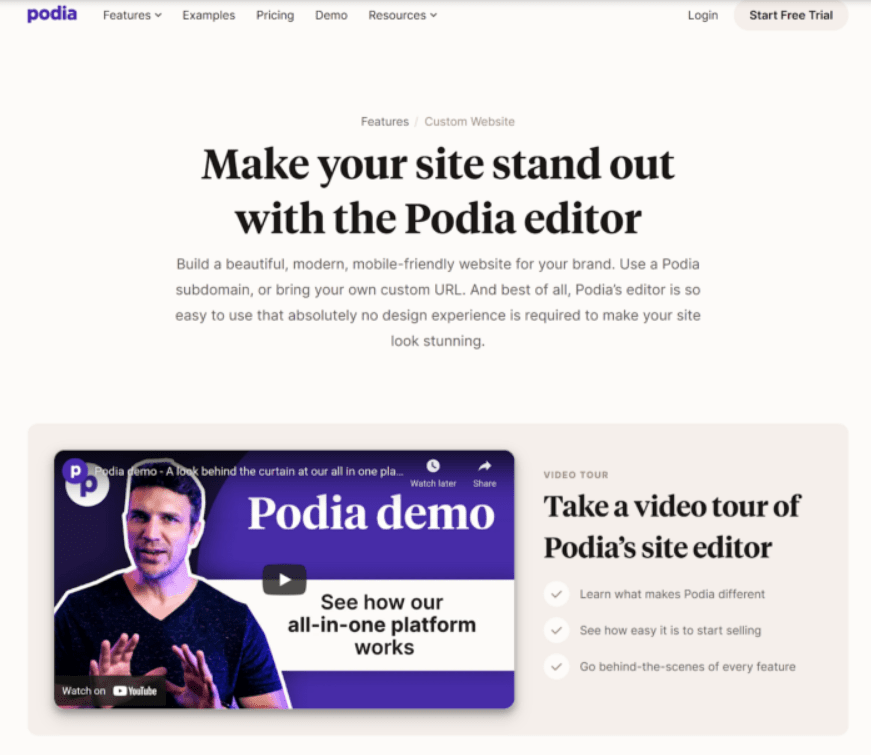 Podia enables you to customize a few features of a single basic theme, including the header and body fonts, as well as the background and text colors. Additionally, you may include your logo in a certain material, but that is it.
Although Podia is an all-in-one platform that includes a website builder, blogging is only available on select levels.
Podia does enable you to create FAQ pages, testimonial pages, and a variety of additional blocks for your site. However, there are prebuilt themes that limit your customizing options.
On the other hand, Kajabi enables you to create a whole website using a variety of customizable themes. In the same area, you may create anything from a communal setting to a membership site. Each theme provides the same level of customization for how you want things to appear and feel.
Kajabi enables you to create several different pages for your website by using a variety of different themes. You can customize each aspect with your logo and content, and the majority of the experience is extremely straightforward. Kajabi also provides pop-ups for your website, allowing you to attract visitors' attention and maybe generate leads.
Kajabi vs Podia: Customer Support
Unless you're on the Basic subscription, Kajabi provides 24/7 live chat assistance. For Basic plan members, live chat help is accessible during fewer hours.
Additionally, there is a Help Center where you may put in a topic or subject and articles and advice will appear. Billing, pipelines, website design, and payment mechanisms are among the included subjects.
The site has a common pop-up chat window, or you can click over to the Kajabi Gmail account and submit a more thorough question(s) there.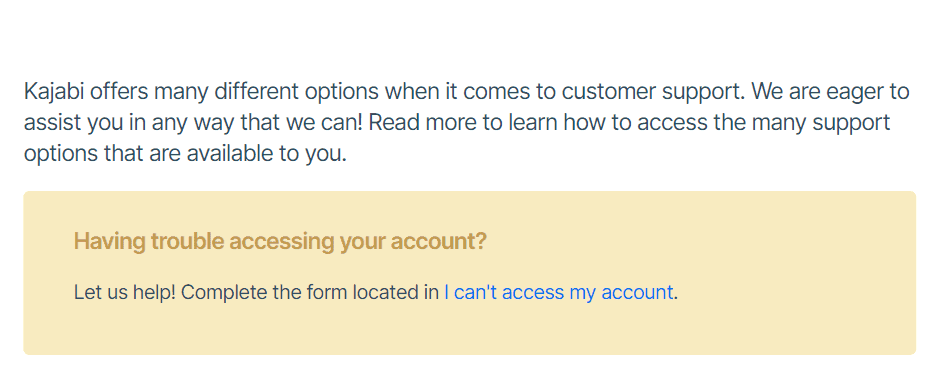 Within the Help Center's 'Quick Answers' area, you'll find subjects organized by category, such as website, marketing, settings, products, people, partners, liquid documentation, mobile, billing, and FAQ.
Alternatively, you may visit Kajabi's blog. They cover topics such as "Fireside Chat: All About Pricing," "How to Increase Customer Engagement & Retention Using The Kajabi Mobile App," and "How It Works: Lightning Fast Animation Within Kajabi Pages" over there.
We mentioned Kajabi University before, and here is essentially where all of Kajabi's step-by-step assistance tutorials are located. There is also an Expert Academy for Pro plan users, which is headed by Brendan Burchard, an author, lecturer, coach, online trader, and social media influencer.
Regardless of the package, you're on, Podia provides help by live chat, email, or video. According to their website, their average response time is two minutes.
Monday through Friday, from 9 a.m. to 6 p.m., you may get live chat help. If you need help outside of these hours, Podia states that they will "reply to you 24 hours a day, seven days a week" through email or message using their contact form.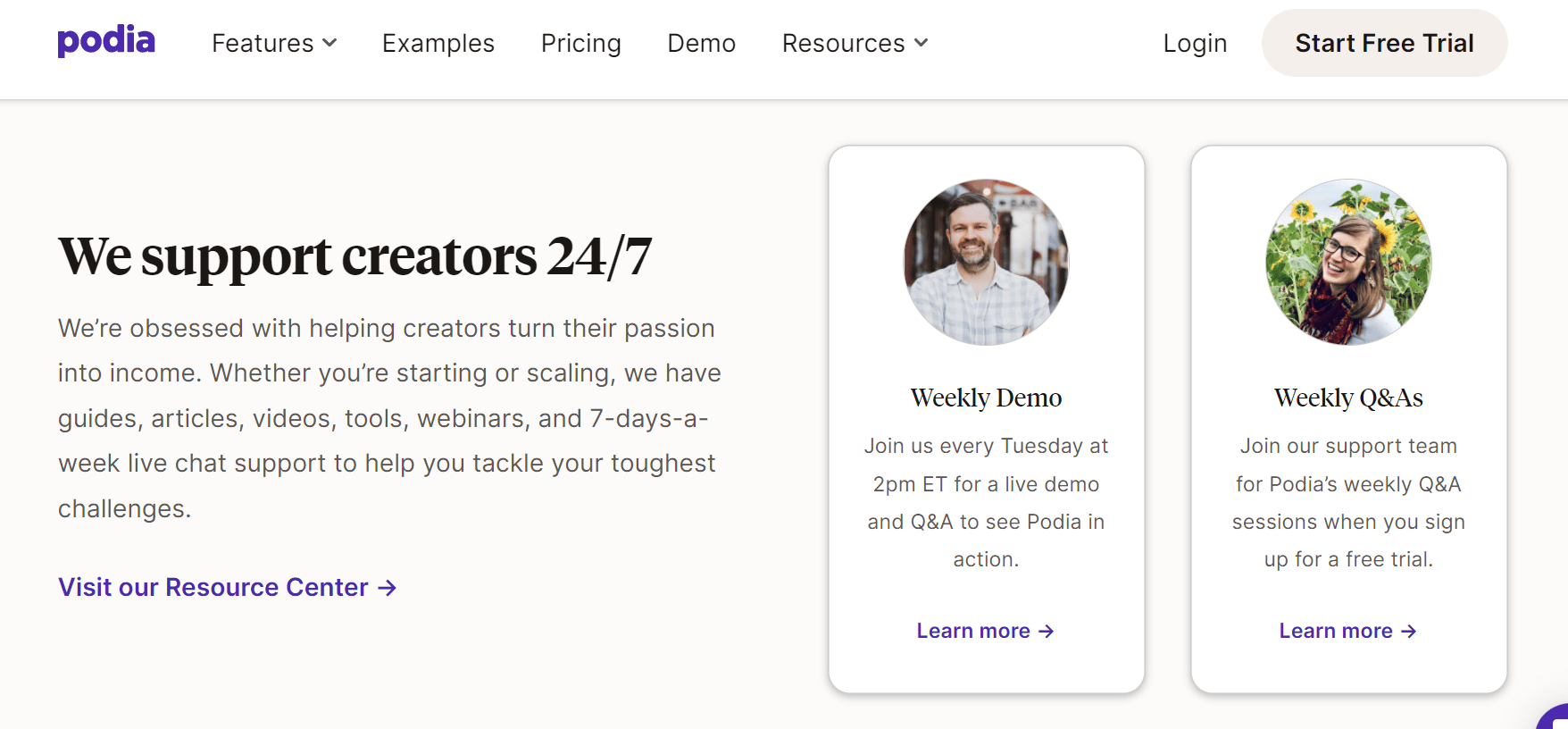 Additionally, there is a Resource Centre accessible through Podia's website. You'll discover a wealth of educational articles here, like "4 guaranteed techniques to identify the ideal social media platform for your company" and "The 5-step path to developing an internet business that works on its own."
Additionally, there are "How To" guides on a variety of themes, like "How to develop an excellent membership site," "How to design, sell, and profit from an online course in 2020," and a variety of other topics, including entrepreneurship, digital marketing, and sales.
Additionally, Podia supplies toolkits to its clients. For instance, if you're not comfortable writing sales copy, they've produced a free kit that does it for you. Simply respond to a few questions about your firm, and they will take care of the rest.
Quick Links 
FAQs : Kajabi vs Podia
✔️What is better than Kajabi?
Teachable, Podia, Thinkific, are some of the best alternatives of Kajabi.
✅ Is Podia better than Teachable?
Podia is the superior option if: You're seeking exceptional value. Podia's straightforward price structure makes it simple to know precisely what you're getting for your money at a glance. Additionally, with Podia, you have access to capabilities that Teachable reserves for its more costly programs.
🔥 Is Kajabi the same as Teachable?
Teachable provides a free option, but Kajabi requires a subscription. Teachable enables you to develop and sell an unlimited number of courses on all plans (including the free plan), but Kajabi puts a restriction on the number of courses/products per plan.
Conclusion – Kajabi vs Podia: Which is better?
Both Podia and Kajabi provide a wealth of built-in functionality and a slew of connectors, both on the platforms and through Zapier.
Choosing the best option for your course is not always straightforward. Especially when you want additional features like payment plans, opt-in forms, and the simplicity of an easy-to-use backend.
If you value the simplicity of use and adaptability above all else, Podia is likely to be your first pick. It's simple enough for novices, yet has enough functionality to aid with scaling.
Alternatively, if you're looking for something more complex from the start, with extensive sales funnels and access to outstanding templates or blueprints, try Kajabi.
In any case, you're certain to get the resources you need inside these two immersive platforms to guarantee that your audience receives fantastic results. Best of luck with the development of your online course or membership business.