Podia vs Thinkific: Ease of Use
Podia is the most user-friendly platform in general, regardless of whether you are a novice or an expert user.
This is to be anticipated, considering the platform is a course delivery platform, on the other hand, Thinkific is course management on an enterprise-level software geared for classroom-based instruction.
Creating a course in Podia is a simple process. Decide on the product you want to create first, then add sections (these are chapters or modules), followed by files/links/text/or quizzes. Although the menu for Podia's course creation is minimal, it allows for a great deal.
Once you've created the portions of your course, a basic menu shows next to each segment; utilizing only four easy menu choices, you can design your complete course and even create a full drip sequence.
Additionally, you may drag and drop lesson portions and their associated information around in podia by using the up and down arrows.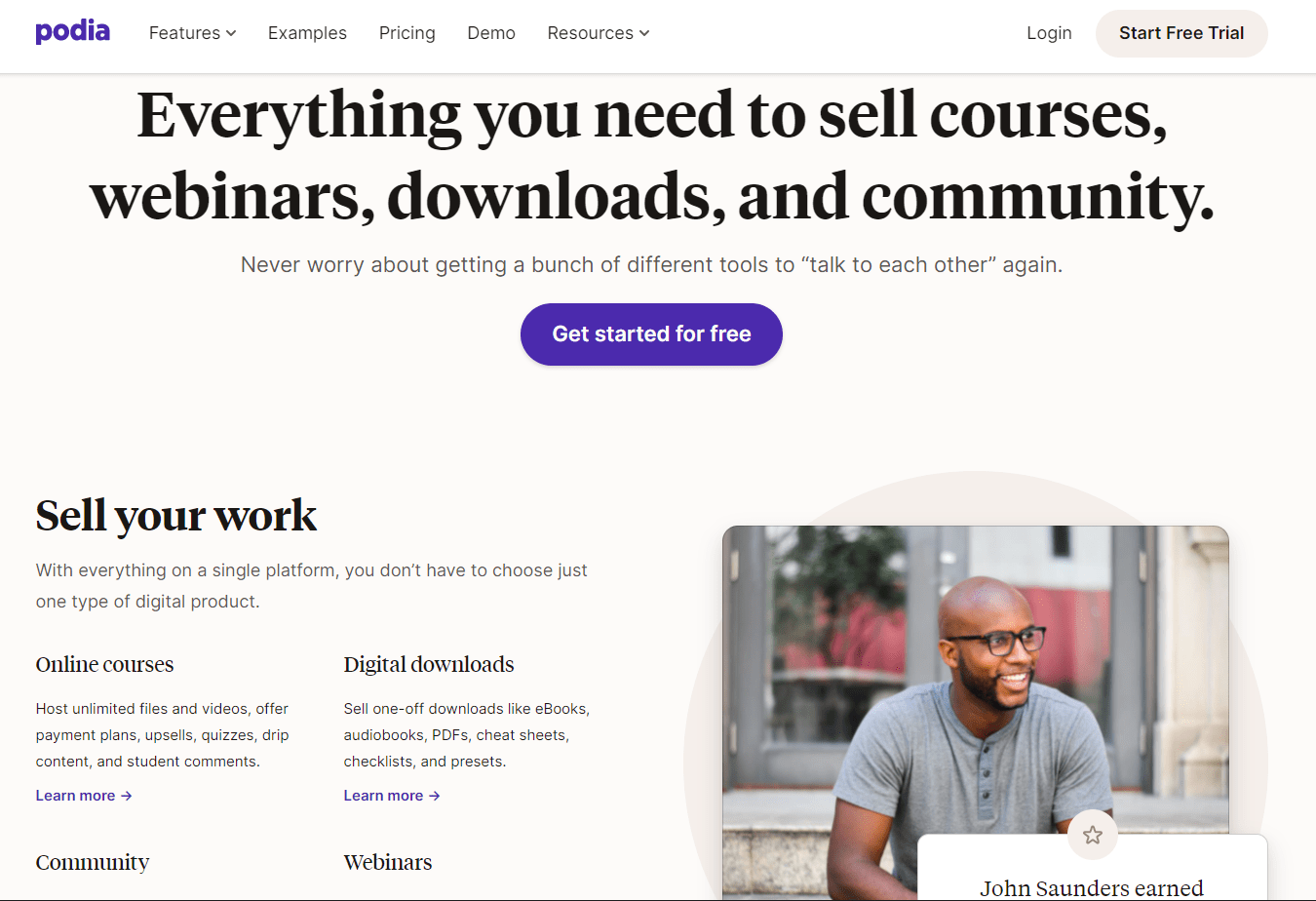 Podia enables you to include links to your downloads in the download's title description. This is beneficial for you in terms of conversion, but it also means that students may access your material without having to re-enter the course platform.
The options on the goods page are similarly straightforward. From the same page, you can modify presell settings (preselling enables you to sell your course today but provide it in the future by specifying a future start date), price (including upsells), comment settings, and integrations.
If you're wondering how to sell your course, Podia has a sales page builder that's similarly simple to use.
Creating a course on Thinkific is a little more involved and difficult. To begin, you must build a school. Next, you must create courses inside the school. Finally, you must flesh out the courses by adding chapters and material.
Is Thinkific so difficult to use that you can't do it yourself?
No, although you may have to scratch your brain a little bit before you are convinced that you are doing it correctly. It helps that Thinkific has compiled a handy checklist of tasks to assist you, but
Now, the real process of establishing your school and courses is a little more involved than this neat little checklist suggests.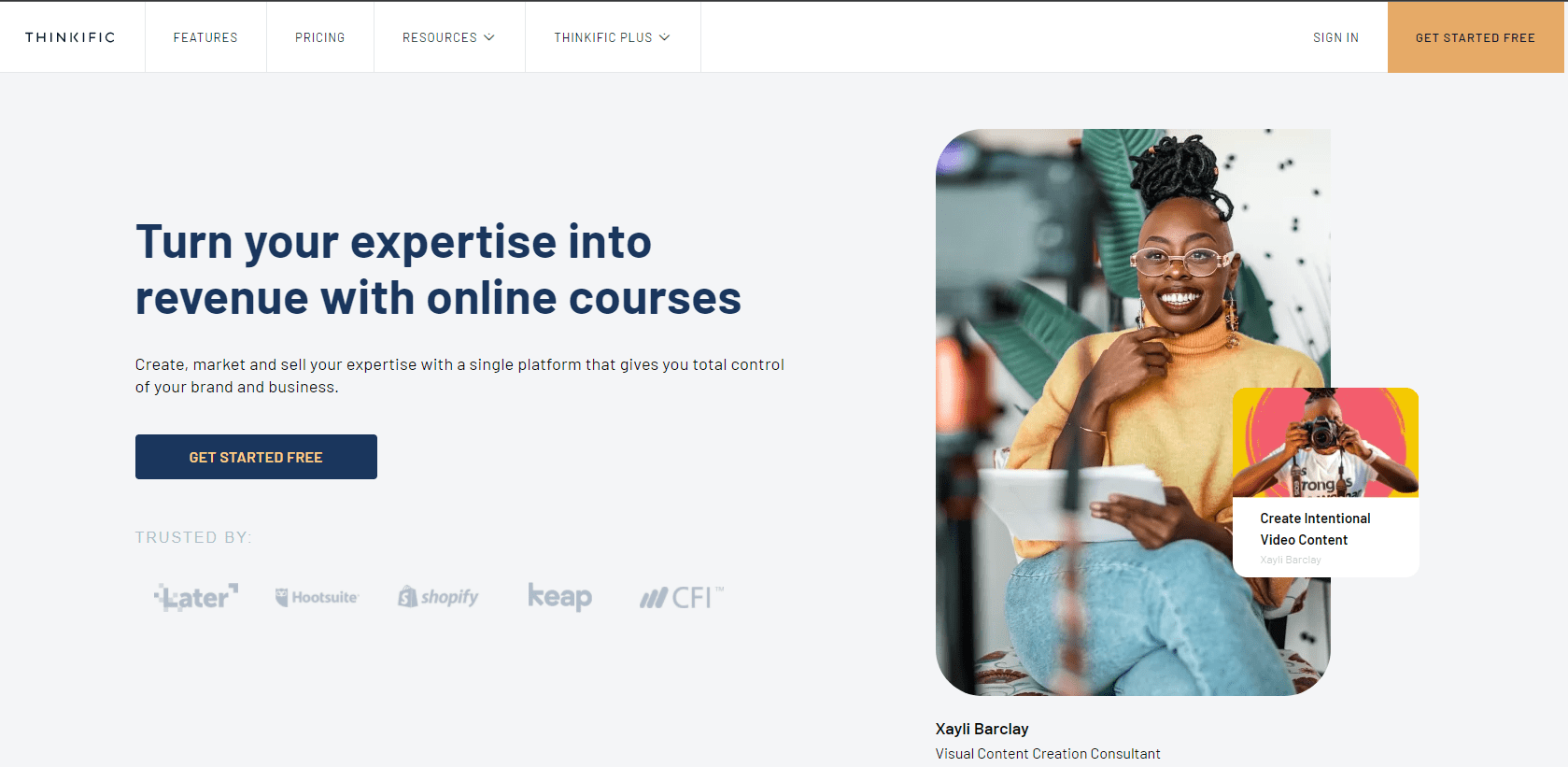 Each item in the checklist is more complex than it seems, and not all tasks are completed in the same tab. For example, after checking the third box on the list, you must quit the page below and travel to "design your site" on the left-hand menu of your dashboard to work on your school's look. 
Additionally, the site builder is sleek and simple to use, however I did get confused while building pages because choices such as default pages, the home page, and about page are all duplicated in the same menu.
Thinkific might make things a bit more orderly by consolidating all of these pages into a single tab and speeding the page creation process significantly.
In Podia, there is little that you must find out. The menu selections are straightforward, and the process is far more organized than on Thinkific.
Want to get an attractive offer on Thinkific? Then click here to check out the best deals and offers available on Thinkific plans.
Podia vs Thinkific: How Much Does It Cost?
Podia is a beginner's tool. Its basic package is $ 39, which is reasonable but excludes helpful features like certificates, integrated checkout, and mentoring. Additionally, it limits community members to 1000 and discussion topics at 15.
The shaker plan is $ 79 and includes the ability to remove podia branding, host 15,000 community members, debate an infinite number of community subjects, and send emails to an unlimited number of recipients.
On the mover and shaker plan, you must pay an extra $ 20 per month for team seats.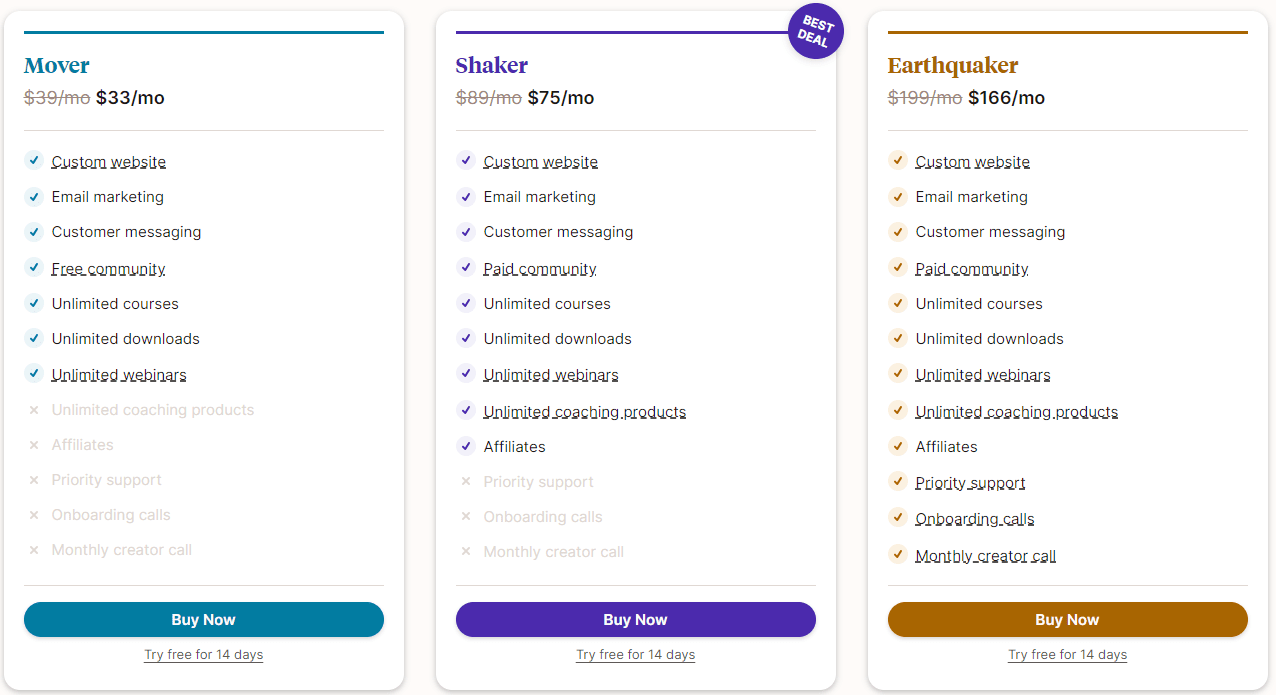 If you want customized assistance and team seating, the earth quaker package is your best option. This will cost $ 179, but you will still be limited to 50,000 email recipients and 100,000 community members.
Thinkific offers an entirely free plan. Although this is beneficial for novices, it cannot be integrated with any autoresponder, schedule, or drip tool.
Other Thinkific price tiers include basic, which costs $ 49 per month, pro, which costs $ 79 per month, and premier, which costs $399 per month.
Although the basic plan includes drip material, chat assistance, one-to-one student email, a custom domain, and discounts, it does not include live classes, adjustable course pricing, or advanced course features such as assignments.
These capabilities, in addition to two administrator accounts and priority assistance, are included with the pro subscription.
Thinkific also offers a $ 499 customized growth plan that is combined with the pro plan. The growth + pro plan offers you access to some of the premier plan's features.

I believe the plan is superfluous, given that the premier plan is $ 100 cheaper and includes all of Thinkific's advanced features.
Finally, Thinkific offers a plus package for those whose education empire requires more robust capabilities than the premier plan offers. The plus plan's price is available upon request.
While Podia does not offer a free plan, it is often less expensive and includes important capabilities such as sophisticated email automation and messaging in its base subscription.
While Thinkific's free plan may provide you with the time and resources necessary to get your courses company off the ground, it is so restricted in functionality that it may make course selling more difficult.
Additionally, Thinkific's basic and pro plans exclude capabilities that are included in Podia's mover and shaker plans.
Let us immediately begin!
FAQs on Podia vs Thinkific
Are podia any good?
I strongly suggest Podia as a platform for an online business owing to the low price and simplicity of usage. Podia is ideal for creating a customized online platform that enables you to sell digital downloads and online courses to clients.
Are podia better than Teachable?
Podia is the superior option if: You're seeking exceptional value. Podia's straightforward price structure makes it simple to know precisely what you're getting for your money at a glance. Additionally, with Podia, you have access to capabilities that Teachable reserves for its more costly programs.
Does Thinkific have a free plan?
Yes. With the Thinkific free plan, you are restricted to three courses, but you may have an infinite number of students. Naturally, as you may guess, you will not have access to all features.
Can I use Thinkific for free?
The free plan offered by Thinkific is rather substantial. On their free plan, you may have an infinite number of students and create up to three courses. This covers all hosting services for material such as videos. Additionally, you'll have access to their quizzes and surveys, as well as immediate access to any income you generate.
Quick Links:
Conclusion: Podia vs Thinkific 2023
Now that we've reached the conclusion of our Podia vs Thinkific comparison, it's entirely up to you. Which online course creator is the best fit for your business? Both provide excellent features to their consumers and provide comparable prices on their lesser plans.
Therefore, if you're still undecided, these are the providers we'd recommend:
Podia is a good option if you're searching for a straightforward and user-friendly service. Their customer service is well regarded, and their online course editor is exceptionally user-friendly. You'll quickly grasp it!
Additionally, Podia is a comprehensive solution that includes live chat and email marketing tools and allows you to sell digital items in addition to online courses. In the long run, this reasonably priced solution enables you to diversify your material.
In a nutshell, Podia is ideal for solopreneurs and self-taught course teachers.
Whereas Thinkific may be the better option if you're more concerned about design freedom. Their beautiful templates are simple to change, and if you have any web programming experience, you can put them to good use!
Thinkific also surpasses Podia in terms of course development – with a mix of quizzes, polls, interactive presentations, and much more, as well as compliance requirements and certifications, you're sure to keep your audience interested!
However, Thinkific is somewhat more costly than Podia, and you'll need to subscribe to third-party programs to make use of more advanced email marketing capabilities.
In a nutshell, Thinkific is suitable for establishing a typical classroom learning environment and scaling online schools.
If in doubt, you can always join up for a free trial of Podia or Thinkific. In this manner, you'll be able to evaluate their primary characteristics for yourself.
Have you worked with any of these online course builders? We'd love to hear about your experience in the comments section below! Continue to share your expertise, and we look forward to speaking with you soon!