This article is all about Teachery Review and if you want to know about this then stay tuned with us till end.
By letting an online course platform handle all the technical stuff, you can focus on creating and selling your best content. Teachery does exactly that.
It has a lot of great features and a great pricing plan for beginners. It is one of the most attractive online course platforms out there.
Teachery has a few disadvantages, too, as any other product does, and it is not suitable for all course creators.
Teachery is undoubtedly a powerful tool for online learning, but is it right for you?
I will address your question by providing you with a detailed overview of the platform's features, pricing, and overall pros and cons.
Let's get started.
Teachery Review: What Is Teachery?
Using Teachery, you can create Sellable Online Courses from your expertise and monetize it.
The two co-founders of Teachery are themselves course sellers and created Teachery to address the most common challenges beginners encounter.
Has their mission been accomplished? They've definitely made progress. Teachery offers a lot of benefits. With all the features and tools it comes with, you'll be up and running in no time.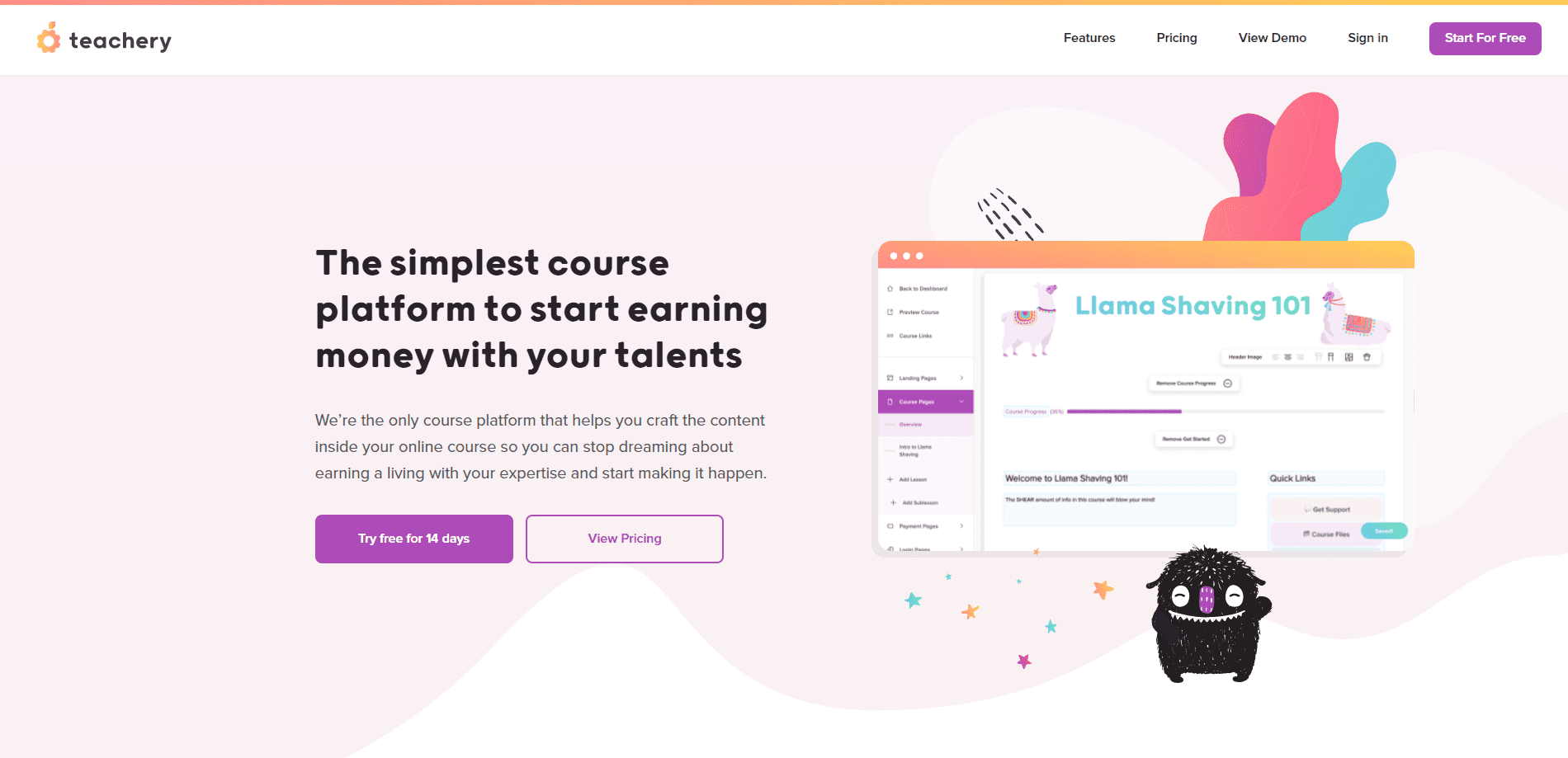 Creating and selling courses on Teachery does not require any technical skills. An easy drag & drop interface makes it easy to construct a course online. It's a user-friendly product.
Furthermore, it provides an equally impressive learning environment for your students and allows them to focus on their studies without any distractions.
Despite its many great features, Teachry is primarily designed for beginners and intermediate course developers who don't require advanced features.
To better understand what Teachery offers, let's explore its features in greater depth.
What You Need to Know About Teachery ?
You've seen a quick overview of Teachery's different features. Let me now show you how to use Teachery.
Step 1: Get a free account by signing up
Create a free Teachery account by clicking Start For Free.

Sign up with your name and email address.
That's it, your free account has been created.
Click Get Started to start creating your course.
Step 2: Design Your First Course
In the online education industry, Teachery has one of the best onboarding processes.

As you create your first course, it guides you through each step.
Start by naming your course.
Explain in a few words what your course is all about.
Now you have created your first course on Teachery.
Let's begin by creating the lessons.
Step 3: Create Your Course Lessons
A lesson is an individual module in a course that focuses on a particular subject. A course can have an unlimited number of lessons, and sub-lessons can be created.
You can add more lessons later. Teachery helps you create the first three lessons during the onboarding phase.
After naming your lessons, describe them briefly.

Your first three lessons have been successfully created.
Creating your course content is now the next step.
Step 4: Create Your Course Content
Your course builder will appear once you've created the first three lessons. This will let you add content, create new lessons, and customize your course.
All options for editing individual pages, course settings, styling options, etc., are listed on the left side of your screen.
Click on "Add course content block" from your dashboard to begin building your content.

Adding a video, audio, or presentation to a content block is easy. Just give it a title and add a brief description.
There is no limit to how many contents blocks you can put into a single lesson.
Step 5: Edit Your Course's Appearance
Additionally, you can edit the appearance of your course using the course builder.
The header image can be changed, the course logo can be added, the color theme can be changed, and the call-to-action buttons can be customized.
Step 6: Set Up Your Stripe Account
The Teachery integration page lets you connect your Stripe account with Teachery so that Teachery can pay you for your course sales. Nine different currencies are available for students to use to pay.
You can use Zapier-Teachery to set up PayPal payments, but Teachery does not yet support PayPal payments. Congratulations! The Teachery course you created is ready for sale.
Prices and Free Trials for Teachers :
You can try Teachery for free for 14 days (no credit card needed.) All premium features are available to you during the free trial. After the trial period, you must choose between the three plans.
There are no differences between these plans. On the other hand, you'll save 20% if you choose an annual subscription.
Unless you're considering other platforms' transaction fees in addition to their monthly fees, $49/month or $470/year probably isn't that cheap.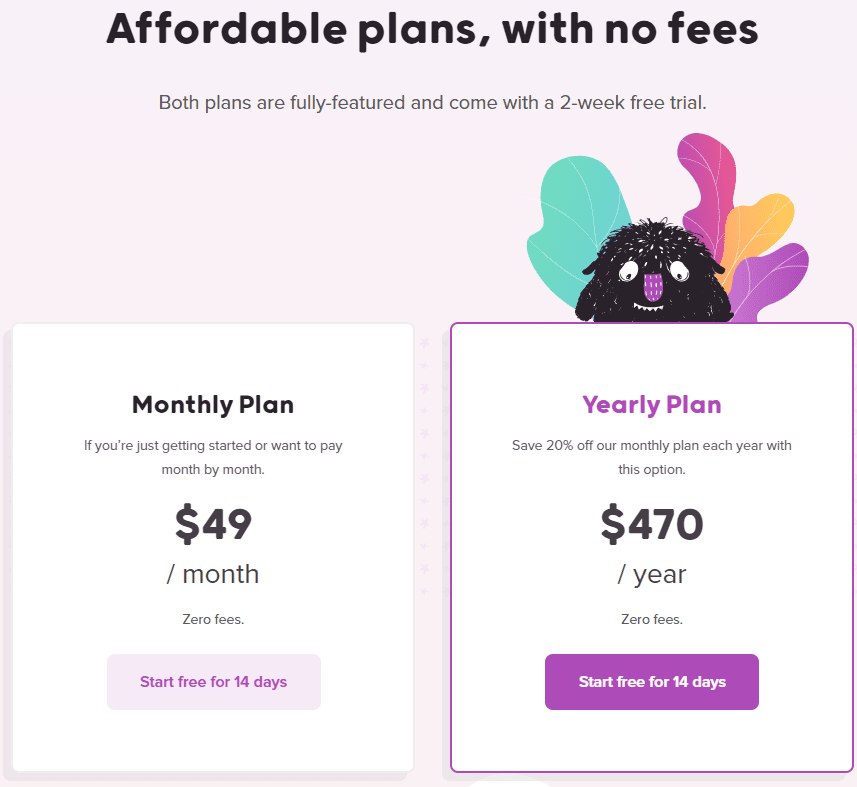 A high sales volume can result in thousands of dollars in transaction fees each year. Transaction fees are not an issue with Teachery.
There is no fee for each course sold at Teachery (the standard payment service fees still apply). You will save a lot of money in the long run if you do this.
Quick Links :
Conclusion: Teachery Review 2023
Using Teachery, anybody can create a high-quality course due to its eye-catching templates and innovative layout.
Further, the marketing tools provided by the platform allow you to keep a close eye on customers, which facilitates continuous improvement.
In spite of the fact that it is significantly cheaper than some of its nearest competitors.
It is worth the effort to create a Stripe account if you do not already have one, even though it is not integrated with Paypal, the most widely used platform of today.
The system is convenient to use, efficient, and accessible, as well as monitoring the needs of its users in a timely manner. The trial is free! What are you waiting for?
Take a look at Teachery today and see how it works for you.