Thinkific Affiliate Program is a robust online learning platform that allows you to run online courses, market them, and sell them. Check out our Thinkific review for more information on how the platform works and what it offers.
Affiliate programs are available through Thinkific for course creators. We have the expertise to review this program as industry professionals who are very familiar with the platform.
Whenever a client renews or upgrades a contract, Thinkific pays affiliates a generous 30% commission.
Your referrals will receive a commission if they sign up within 90 days of visiting the platform and visiting the website. Having a PartnerStack account is required to become an affiliate. 
Thinkific Affiliate Program: Overview
In this review, we assess the platform's most important features so you can decide if it is worth your time. Thinkific's Affiliate Program and the pros and cons of each of these factors can be understood by evaluating quality, commissions, payout time, and promotional material.

1. Quality of The Product
Thinkific is a great product that provides a lot of useful features for its users. With a completely free plan, creators can host their videos and content, customize their branding, and host multiple courses simultaneously.
This product is highly recommended since it has so many features, numerous plans, and a user-friendly platform.
2. Commissions
In Thinkific's Affiliate Program, you will earn 30% recurring commissions, which is a great deal. A browser tracking cookie will be placed on the computer of anyone who visits Thinkific without immediately signing up.
By following them during this tracking period, you'll receive a commission if they sign up within 90 days of their first visit. You can earn as much as $1700 per referral if they join within this period.
3. Payout Time
After you earn a commission from Thinkific affiliates, you will receive your payment instantly every month.
While it may take users a little while to sign up, the cookie duration of 90 days makes this more of a minor concern than in other affiliate programs. You may have to wait a while before starting to earn consistent revenue from Thinkific's Affiliate Program, however.
4. Promotional Material
You can explore Thinkific's promotional options to promote your online course affiliate program after you've set it up. How can you reach your potential advocates? Here are some tips:
Social media

Email marketing

Blogging

Know-how from Thinkific partners

Events and conferences related to education

Newsletters

Banners

Sandbox account for testing and demonstrating

An individual with a dedicated manager

Texts

Referral links
How to Join the Thinkific Affiliate Program?
It is fairly straightforward to become an affiliate of Thinkific. Registering through PartnerStack is very easy. Just click the link below. Your request to become an affiliate is typically reviewed within 2 to 3 business days.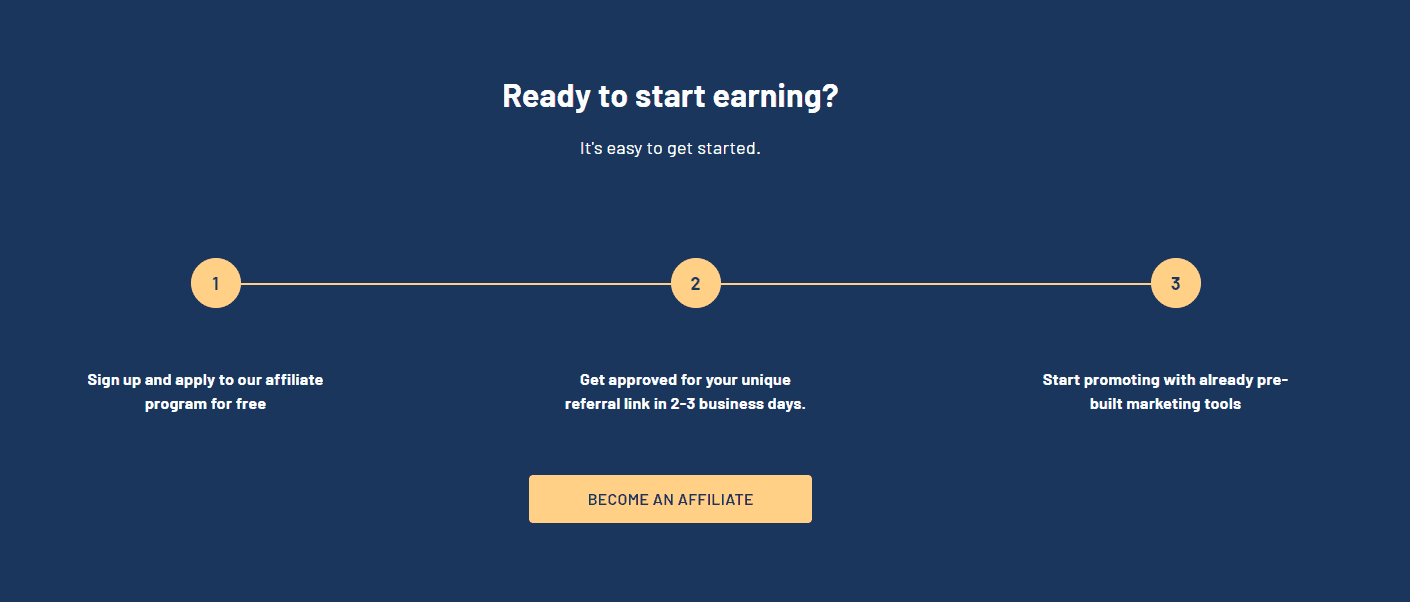 When approved, you'll receive an email invitation. Your unique referral link can be found under the Links tab, which you can use as a means of promoting Thinkific.
In addition to providing information about your business and audience, you will also be required to complete the registration process. Completed registration should take no longer than 15 minutes.
How To Make Money With the Thinkific Affiliate Program?
Affiliates can promote Thinkific in a variety of ways to earn commissions. Your content needs to be relevant and engaging because, as with any product, you need to know what will help you convert your audience. 
You can promote the platform in the following ways:
Blog posts highlighting the product's features, such as reviews.

Video reviews and walkthroughs on YouTube.

Stories posted on social media about people who have used the product, its features

A series of emails promoting the platform and linking to other resources, like YouTube videos

Promoting Thinkific's registration process and benefits through infographics and other marketing methods

Advertising on social media platforms such as Facebook and Instagram
FAQs On Thinkific Affiliate Program
I would like to join the affiliate program. How do I do that?
It's easy to sign up for the Thinkific Affiliate Program. This link allows you to sign up for PartnerStack, a third-party tool offered by the platform. After registering, you'll receive a notification asking you to log in after the approval process takes a couple of days. Click on the Links tab to find your unique referral link. The link can be distributed on the channels of your choice.
What is Thinkific's payment policy?
If a new subscriber pays for the platform on an annual or monthly basis, you get a recurring commission of 30%. During the 90-day cookie tracking period, if someone signs up via your affiliate link within 90 days, then you will be eligible for a commission.
Is the Thinkific Affiliate Program Right For Me?
If you're a course creator who loves Thinkific and wishes to share its benefits with your target audience, the Thinkific Affiliate Program is an excellent opportunity. By referring sales to Thinkific, you can earn a commission. Providing online courses to entrepreneurs and DIY content creators could be your perfect match.
What can you earn from the Thinkific Affiliate Program?
With a recurring commission of 30%, you could earn as much as $1700 per referral per year.
How Do You Track Your Progress As A Thinkific Affiliate?
Using the Thinkific Affiliate Menu, you can view your progress, which includes your affiliate links, general information, and settings. The financial reports section displays your payouts, total commissions, commission breakdown, and the number of visitors who clicked on your affiliate link.
Quick links :
Conclusion: Thinkific Affiliate Program 2023
The Thinkific affiliate program presents a great opportunity for course developers whose audiences would benefit from exploring the platform. You can earn recurring commissions of 30% up to $1,700 per referral as an affiliate.
It offers affiliates a wide range of promotional materials for marketing the platform, including extensive video content. 
Payout experience is one area that still needs improvement. The program is still worth looking into and can provide excellent value if you are able to reach the right audience.