CAM or adult live streaming affiliate programs offer a lucrative opportunity for affiliate marketers to monetize their adult traffic by promoting live webcam sites.
By partnering with these programs, affiliates can earn commissions based on the number of users they refer to these sites, as well as any revenue generated by those users.
In this guide, we will discuss the various strategies you can use to monetize your adult traffic with CAM affiliate programs efficiently.
I will also tell you about one of the best CAM affiliate programs I believe is perfect for beginners and expert affiliates. So let us begin. 
Monetizing Adult Traffic With CAM Affiliate Programs
1. Choose the Right CAM Affiliate Program:
To maximize your earnings, select a CAM affiliate program that offers competitive commission rates, reliable payments, and robust support.
Consider factors such as the popularity of the platform, conversion rates, and available promotional materials. Research various programs and read reviews to find the one that best aligns with your target audience and marketing strategies.
2. Create High-Quality, Engaging Content:
To attract and retain your audience, create engaging content that showcases the benefits of the CAM platform you are promoting.
You can write blog posts, create tutorials, record video reviews, or design infographics. Focus on the unique features of the platform, and share your personal experiences to build trust with your audience.
Remember that high-quality content is key to driving more clicks and conversions. Lots of promotion tools are available also for cam affiliate programs such as live cam widgets, chat heads, etc.
3. Utilize SEO and Keyword Research:
Optimize your content for search engines by incorporating relevant keywords related to adult webcam sites. Conduct keyword research to identify popular search terms and phrases that your target audience is likely to use.
Incorporate these keywords naturally throughout your content, meta tags, and URLs to improve your search engine rankings and increase organic traffic.
4. Leverage Social Media and Online Communities:
Share your content on social media platforms and online communities where your target audience is active. Join forums, groups, and chat rooms related to adult webcam sites, and participate in discussions.
Share your expertise and offer helpful advice, while subtly promoting the CAM platform you are affiliated with. Remember to follow the rules and guidelines of each platform to avoid any penalties or account suspensions.
5. Utilize Paid Advertising:
Invest in paid advertising to reach a larger audience and increase your earnings. Consider using pay-per-click (PPC) campaigns, social media ads, or native advertising to promote your content.
When creating ad campaigns, target specific demographics and interests that align with your target audience to maximize your return on investment (ROI).
6. Track and Analyze Your Performance:
Monitor your affiliate marketing performance using the analytics provided by your affiliate network of choice.
Track metrics such as clicks, conversions, and earnings to identify which strategies are most effective for your audience. Analyze your data and adjust your marketing efforts accordingly to maximize your revenue.
7. Ensure Compliance with Laws and Regulations:
When promoting adult content, it is crucial to comply with all relevant laws and regulations. Ensure your content is not accessible to minors and include appropriate disclaimers on your website.
Familiarize yourself with local and international laws related to adult content promotion to ensure you operate within legal boundaries.
For all these, I recommend Jerkmate's CAM affiliate program via CrakRevenue. Let us understand more about them.
What is CrakRevenue?
CrakRevenue is a renowned affiliate network that offers a reliable platform with a vast range of offers for affiliates and merchants.
Established in 2010, CrakRevenue has built a solid reputation in online marketing and especially in adult affiliate marketing. 
One of the main strengths of CrakRevenue is the extensive selection of high-converting offers across multiple niches.
Their diverse portfolio includes dating, CBD, health, adult gaming & cam, gaming, and ensuring that affiliates can find something that aligns with their interests, regardless of their niche.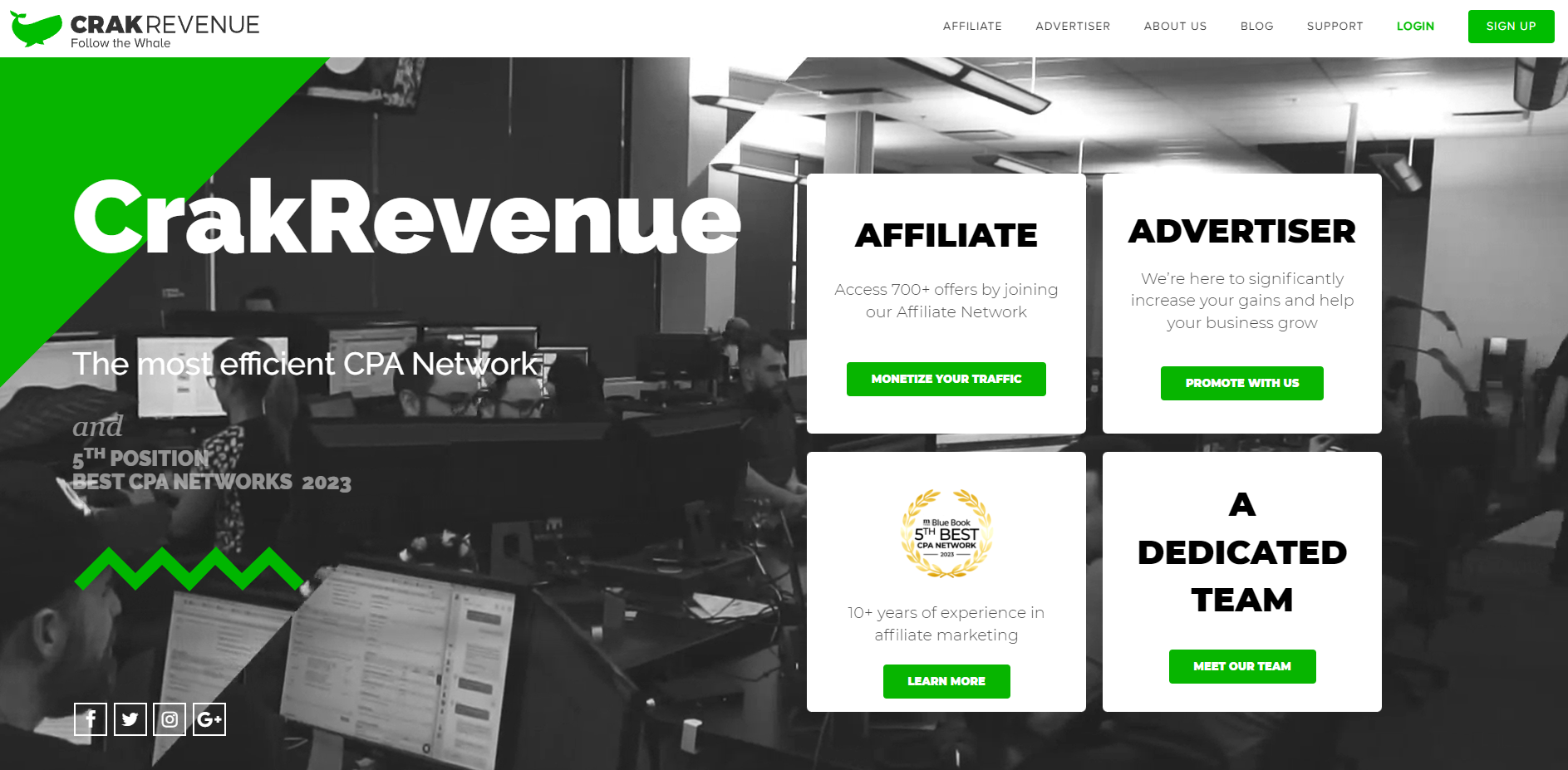 CrakRevenue's reliability and trustworthiness are further bolstered by its decade-long experience in the industry.
The platform's mobile optimization allows affiliates to manage their accounts from anywhere, providing ease and convenience.
Additionally, CrakRevenue's detailed campaign performance data enables affiliates to make adjustments to maximize their return on investment (ROI).
Affiliates often prioritize the reliability of a network and its payout terms when choosing a platform. With over a decade in the business, CrakRevenue is recognized as one of the most dependable networks in the industry.
CrakRevenue's current payment threshold is set at $100, which means affiliates receive payments once their balance reaches this amount.
The primary payment method is PayPal, but CrakRevenue also supports other methods such as MassPayCheck, Paxum, ePayService, Wire, PayPal, and Bitcoin.
Thorough research is essential in determining if a network's customers experience payment issues.
Remarkably, it is difficult to find negative reviews about CrakRevenue, further emphasizing its credibility and reliability in affiliate marketing.
Quick Links:
Conclusion: How to Monetize Adult Traffic With CAM Affiliate Programs?
Monetizing adult traffic with cam affiliate programs like Jerkmate can be a lucrative endeavor for affiliates looking to capitalize on the thriving adult entertainment industry.
Jerkmate, a popular adult live-streaming platform, offers a range of features and benefits that attract a diverse audience, making it an excellent choice for affiliates seeking to monetize their adult traffic.
Partnering with reliable affiliate networks such as CrakRevenue can further enhance the success of monetizing adult traffic through cam affiliate programs.
With its vast selection of high-converting offers across various niches, user-friendly mobile-optimized platform, and detailed campaign performance data, CrakRevenue presents a robust and trustworthy solution for affiliates.
When choosing an affiliate network to monetize adult traffic, it is crucial to consider factors such as reliability, payout terms, and the variety of offers available.
CrakRevenue excels in these areas and has a proven track record of being a reliable affiliate network in the industry.
By leveraging the opportunities provided by cam affiliate programs like Jerkmate and reliable affiliate networks such as CrakRevenue, affiliates can effectively monetize adult traffic and maximize their earning potential in this thriving niche.