Are you having trouble converting online leads? Are you looking for a way to make your website or landing page stand out from the competition?
Unbounce is an innovative all-in-one platform that provides businesses with powerful tools to build and optimize their web pages and generate high-converting leads.
Whether you're a small business owner, digital marketer, or in charge of lead generation at a large corporation – Unbounce features can help you get the conversions you need.
In this blog post, we'll cover all of Unbounce's features so that you can decide if it's right for your business. Ready to learn more? Let's dive in!
Main Unbounce Features 🙌
Unbounce is a platform that helps you create, publish and test landing pages without any help from a developer. In addition to its easy-to-use editing interface, Unbounce comes with a wide range of features to make your landing pages as effective as possible.
Some of the main features of Unbounce include:
1. A/B Testing:
Unbounce allows users to quickly create multiple versions of their landing pages, so they can test different aspects such as headlines, images, or call-to-actions, and measure which ones convert better.
A/B testing helps marketers refine their messaging and identify the best way to engage prospects.
2. Customizable Templates: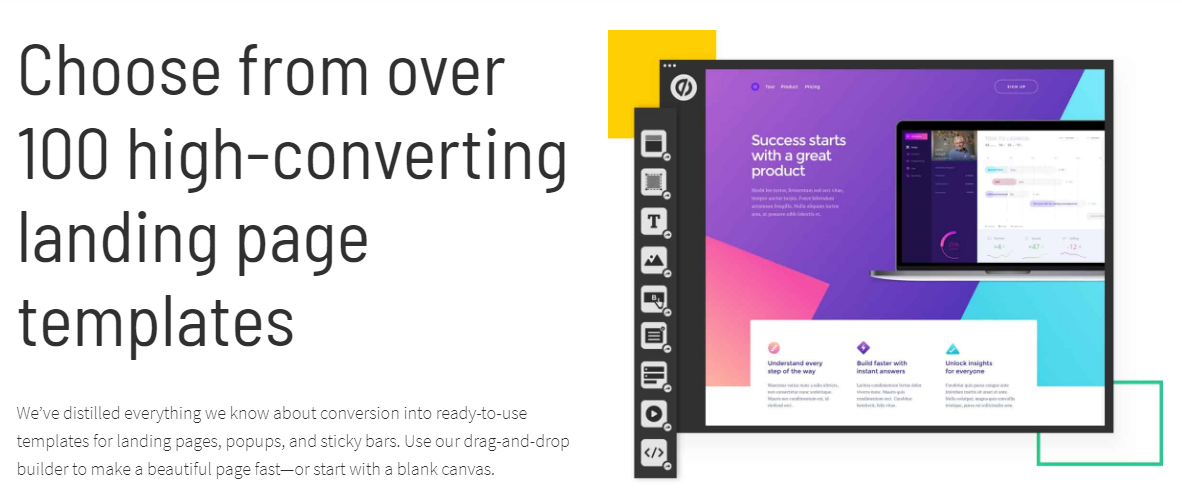 Unbounce provides a library of customizable templates to help users save time and quickly build out high-converting pages without coding or design knowledge.
Users can choose from over 100+ pre-designed landing page templates that cover the full range of marketing needs, from lead generation to product launches.
3. Dynamic Text Replacement:
Unbounce also features dynamic text replacement, which enables users to customize web page copy based on the user's search terms. This helps marketers create personalized messaging and drive higher click-through rates and conversions.
4. Conversion Insights:
Users can learn how their landing pages perform with Unbounce's Conversion Insights tool.
This feature reports which landing page elements are most effective and allows marketers to optimize their lead-generation efforts.
5. Integrations :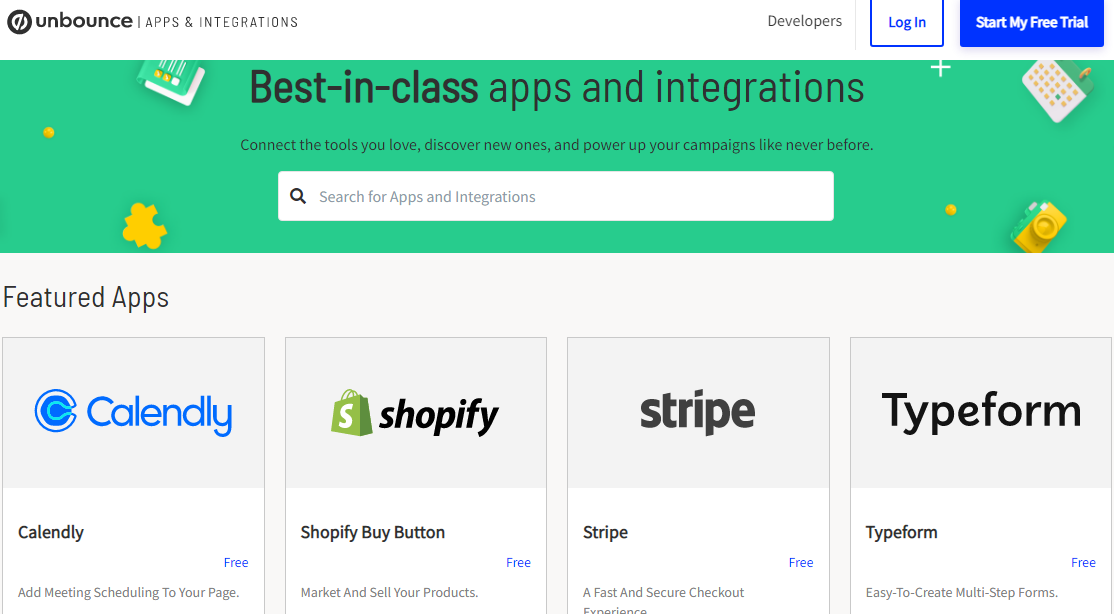 Unbounce integrates with popular marketing tools such as Google Analytics, MailChimp, and Salesforce. This helps users save time and easily automate email marketing campaigns, lead generation, and customer segmentation processes.
Unbounce is an invaluable tool for marketers looking to create high-converting landing pages with minimal effort. The platform's comprehensive suite of features helps users maximize their online presence and drive more conversions. !
6. Mobile Optimization:
Unbounce also makes sure that landing pages are optimized for mobile devices so users can reach the widest possible audience.
With its easy-to-use drag-and-drop editor, users can create fully responsive landing pages in a matter of minutes. This helps ensure that all visitors have a good experience, regardless of their device.
7. Lead Generation: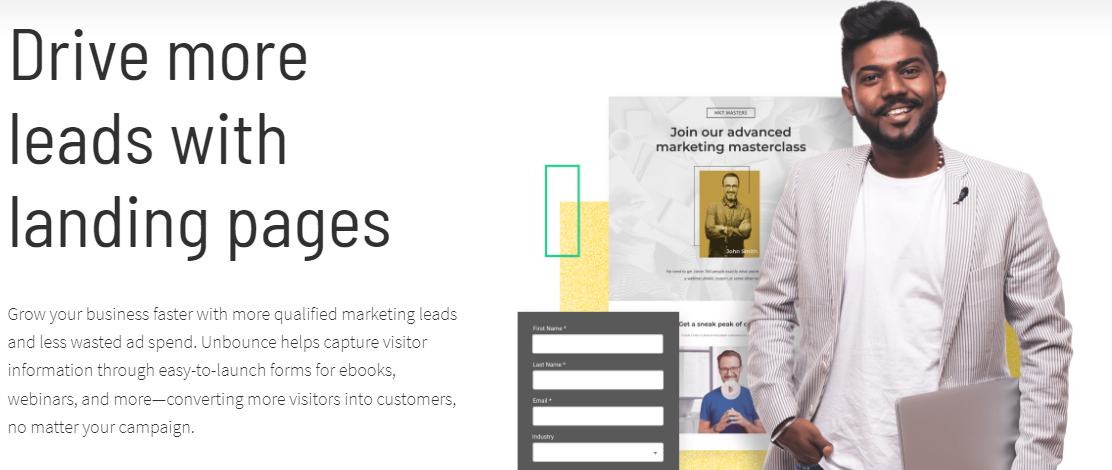 Unbounce helps users capture leads with its built-in lead capture forms.
The forms can be customized to collect any information needed, and the data is stored in Unbounce's secure database for easy access later on. This helps marketers build their list of prospects and nurture leads more effectively.
8. Design Versatility:
Unbounce offers a wide range of customizable page templates and layouts to create landing pages that are visually appealing, optimized for conversions, and tailored to specific customer personas.
It also provides full design control, allowing users to easily adjust colors, fonts, images, buttons, and content blocks.
The drag-and-drop page editor makes it easy to get started and build landing pages in a matter of minutes.
9. Advanced Analytics:
Unbounce includes comprehensive analytics, with features such as A/B testing and heat mapping to help users measure performance and make informed decisions about their marketing campaigns.
It allows users to track key metrics such as time on page, page views, bounce rate, and conversion rates.
This data can then be used to identify areas for improvement and refine campaigns for maximum impact.
10. Optimized CTA Placement:
Unbounce enables users to place call-to-action (CTA) buttons in the optimum positions on their landing pages to maximize conversions.
This can be done through features such as smart CTA placement recommendations, which identify the best placements for CTA buttons based on user data.
11. Lead Generation and Capturing:
Unbounce makes it easy to capture leads by providing an integrated lead capture form that can be used to collect customer information.
It also integrates with popular email marketing platforms, allowing users to import leads into their campaigns seamlessly.
12. Automation:
Unbounce simplifies the process of managing and optimizing landing pages with its automated optimization capabilities.
Its Auto Optimizer feature automatically tests different versions of a landing page to identify the best-performing variant, while its Dynamic Text Replacement feature helps ensure that pages are personalized and relevant to each visitor.
13. Security and Reliability:
Unbounce takes user data security seriously, offering secure communication protocols, encryption, and access control features to keep customer information safe.
It also has built-in uptime monitoring tools to ensure the maximum availability and reliability of landing pages.
Quick Links
Conclusion- Unbounce Features 2023
Unbounce is a powerful tool that can help you create better landing pages, improve conversions, and increase ROI.
With its wide range of features, Unbounce makes it easy to create and test high-converting landing pages so you can get the most out of your marketing campaigns.
If you're looking for a way to take your digital marketing to the next level, Unbounce is definitely worth checking out.