The topic of today's post is a Credit Hero Challenge Review. I'll look at everything the program offers, including what you get, the coaches, the price, and more.
If you've been looking for ways to start a business, I suggest you read to the end of this article because the Credit Hero Challenge could be the right program for you.
Credit Hero Challenge Review 2023: What Is Credit Hero Challenge?
Credit Hero Challenge is a program that says it will help you start a business that fixes your credit. We all know how important it is to have good credit, so there will be a market for the business once it's up and running.
You will get a lot of educational materials, like videos and PDFs, that will help you build a credit repair business step by step.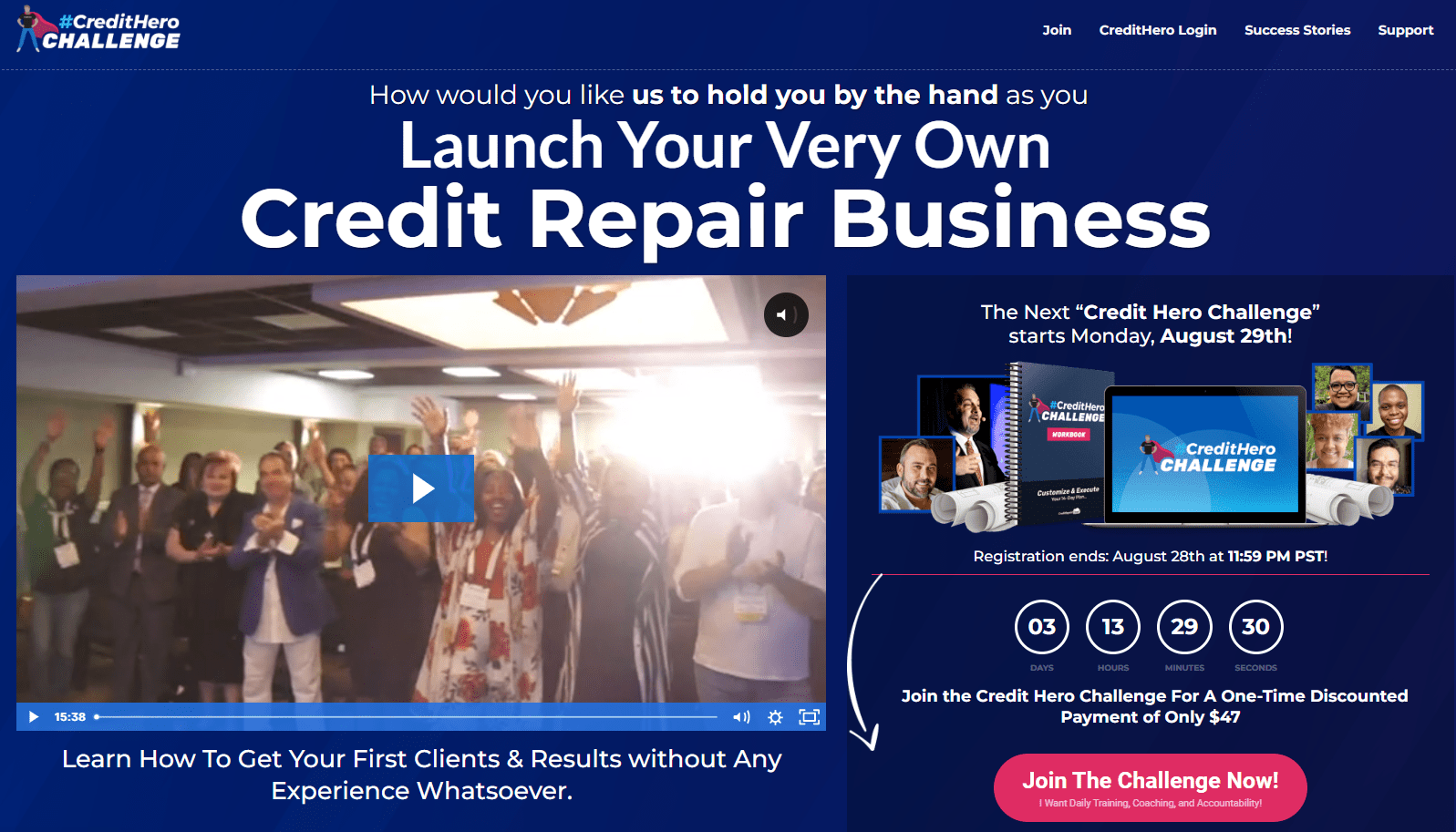 Your clients will benefit from your credit repair expertise by improving their credit scores.
Your clients will be happy to pay you if you can help them save money, which is a great way to run a business. And if you can help them improve their credit score consistently, they will pay you and tell their friends about you.
The Coaches
People are not just picked at random to teach the Credit Hero Challenge program.
The program coaches have a lot of business experience, which is why they know so much about starting a credit repair business and raising credit scores.

Daniel Rosen
Credit Repair Cloud, the most popular credit repair software, was founded by Daniel Rosen, a self-made eight-figure credit repair entrepreneur.
In the Credit Hero challenge, he will help you build your own business using the same steps he used to build his own business.
He will show you how to grow your credit repair business as he did.
Corey Gray
Corey Gray knows a lot about how to fix your credit. He has worked in the field for over 20 years and shares what he has learned in the program.
Corey will show you how to dispute bad things on your credit report and build a good payment history.
CRC Experts
Lastly, we have the CRC experts who run the live group chats and answer your questions about the business of credit repair.
They will also ensure that you do the tasks and that this business model works for you.
When you're just starting, it's worth a lot to have your questions answered.
Credit Hero Challenge Pricing: How Much Does It Cost?
After looking at the program's value, let's look at the price.
As you can see in the breakdown below, the course is worth $1,806 in total.
Start-up credit repair training and a 14-day credit repair challenge are for  $997

A Fast Track Credit Repair Roadmap is for $97.00

Credit Repair Business Workbook is for $97 

Unfair Advantage Credit Repair Sheets is for $49
But right now, you can get full access to the program for only $47. Not only that… you can also get your money back with Credit Hero Challenge. If you are unhappy with the course, you can get all your money back ($47).

This program is great for you if you want to start a business and take on a challenge. And since the price is so low and you can get your money back, there is no risk.
If you want to change your life and sign up for this training, you can use the button below to get access. I also looked on the Internet to make sure you were getting the best deal.
Quick Links:
Conclusion: Credit Hero Challenge Review 2023
I hope you have liked my review of the Credit Hero Challenge. As you've seen in this article, the program comes with a lot of great content to help you get started with this business model.
You will have access to everything you need to start your own credit repair business. Everything you've read about in this article is also part of the program.
If you want to start the program and make the most of this business opportunity, here's what you need to do.
Also, you can get your money back with no questions asked within 30 days if you don't like the educational material.