Do you want to get your own credit repair business off the ground? Or do you want your business to stand out from the crowd by sending your dispute letters?
Then, DisputeBee is the only software that can turn your slow but steady business into a profitable one.
The Disputebee software makes it easy to grow your business quickly without the hassle of hiring a credit repair company. This top credit repair software has the answer to every problem you have.
DisputeBee will become your credit partner and help you start your credit repair business, whether you want to make a lot of different dispute letters or want a business plan that can be done or will work.
Want to hear the most exciting news? Well, this software has a great set of futures, and it won't break your bank account at all.
This post will go over the DisputeBee review and explain why it is the best credit repair software on the market.
DisputeBee Review 2023: What Is DisputeBee?
DisputeBee is a secure and affordable credit repair software that allows you to get rid of all the wrong and inaccurate information from your own or your client's credit card reports, thereby reducing your financial burden.
Credit dispute letters are easy to make whether you're sending them for your business or for your clients.

This software has been around since 2018, and it has helped a lot of business professionals streamline their work. It is also a useful tool for people who want to fix their credit.
DisputeBee is a reliable piece of software that saves you time by sending all dispute letters to credit bureaus automatically. The only software that allows you to make well-written and personalized letters for your business is this one.
How Does DisputeBee Work?
Three simple steps are required to use the software.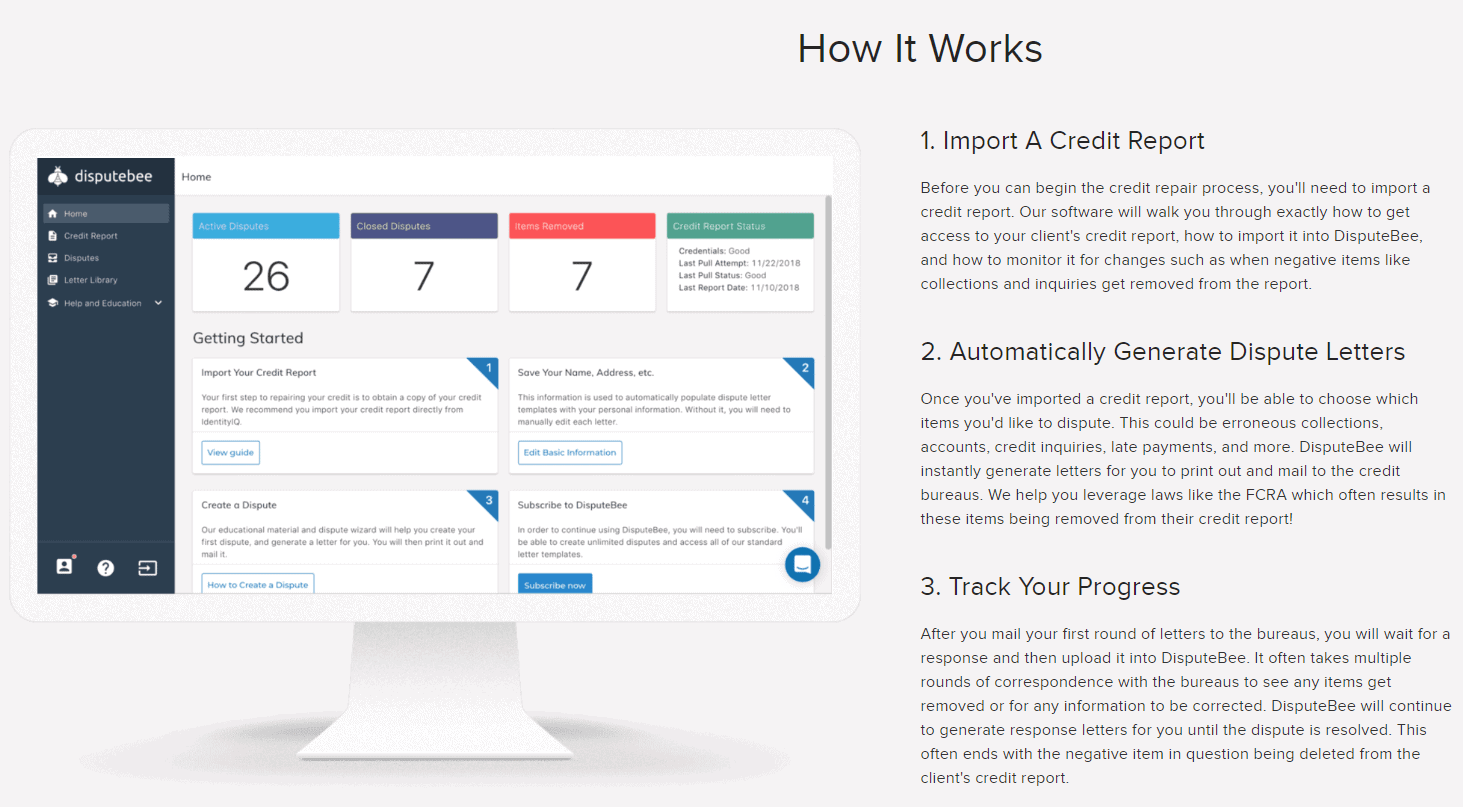 1. First, you need to import your credit report and use the dispute wizard tool to get rid of any negative or wrong information.
2. Then, DisputeBee will make your dispute letters for you, which you can then print out and mail.
3. The last step is to check in every 30 days to see how things are going. Depending on the creditor, you may get a "verification" letter or a "deleted" letter.
DisputeBee Review: Pros and Cons
Here are some of the pros & cons of Disputebee:
Pros
Delivers educational information

Interactive dashboard

Add unlimited members

Create unlimited clients

Supports all 3 bureaus

Pre-written letter templates

Dispute process tracker

Remove negative items and increase credit scores
Cons
The cost is pricey according to some people

Need to wait for your results
Quick Links:
Conclusion: DisputeBee Review 2023
In the end, all I have to say is that DisputeBee is a real piece of software you need to take your credit repair business to the next level.
It lets you do everything, like make custom letter templates, send mail via API, add as many team members as you want, and integrate e-contracts.
DisputeBee is one of the best business software for credit repair and professional software for credit repair.
This software will make it easy for you to write your dispute letter and keep track of it. DisputeBee should be at the top of your list if you plan to start a credit repair business or use it personally.
So, this is the end of our whole article. I hope you enjoyed reading this article about the DisputeBee review. Tell me what you think about DisputeBee in the comments.