If we have learned anything while being closed at home this year, it is that if you have a computer and Internet access, anything is possible.
My point is not that you can make video calls with overseas friends, learn productivity tips, or bake (although we've all learned to make homemade bread over the last few years.)
I'm talking about the chance to create a better professional life for yourself by using your laptop exclusively.
In the midst of the current pandemic, starting your own freelance business may seem daunting if you do not know where to begin or lack the necessary skills. It is not surprising that demotivation is common on some of the most popular freelance platforms because of the fierce competition and high service fees. 
In the business world, there is one platform that will give you a safe haven – Brybe Marketplace. With Brybe, business owners and talent can connect and collaborate from all over the world. 
Let's explore this platform in more detail.
What Is Brybe?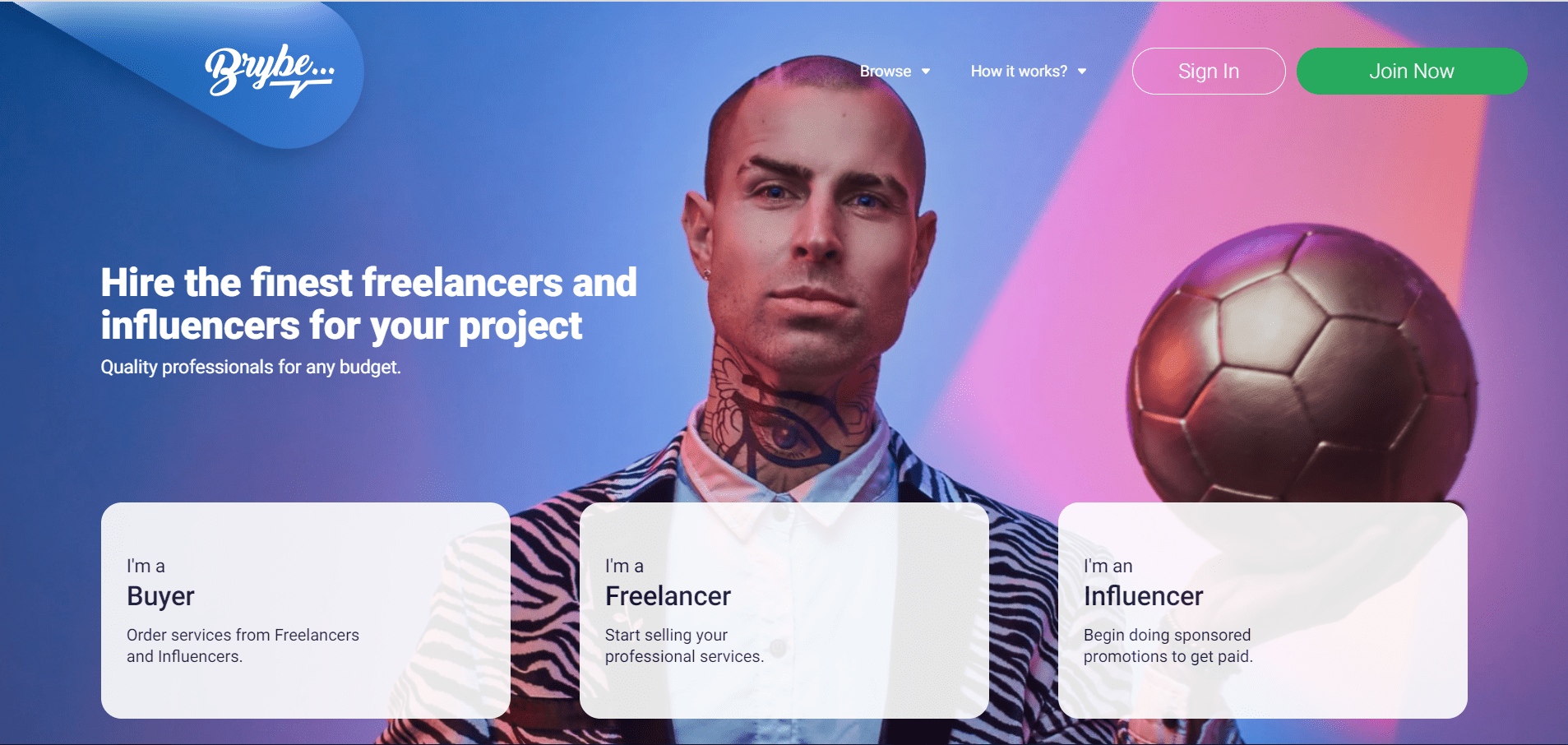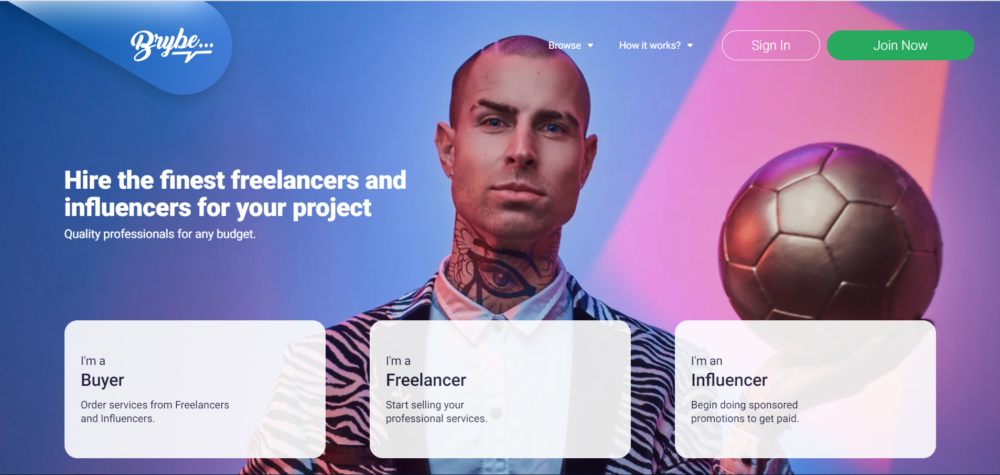 A marketplace for freelancers and influencers, Brybe enables businesses to find freelancers and influencers.
Influencers can use the platform to partner up with businesses and initiate sponsored social media campaigns. Using this program will allow you to make some money without much effort and monetize your social accounts.
A freelancers' section is also available on Brybe. You can browse and apply for job openings posted by clients on the marketplace. Offering different services through gigs is also possible.
Brybe Features
If there are dozens of freelance platforms available, why use a platform like Brybe?
Listed below are a few reasons why joining Brybe could be beneficial for your career.
Low Competition
Brybe has established itself as a platform for influencers and only recently opened up its market for freelancers.
The number of job postings will be on the lower side accordingly. However, it will also mean fewer freelancers can compete.
When you're competing on a platform like Brybe, your chances of winning a job are higher than if you were on a freelance marketplace.
Build your profile now by creating an account. Your freelancer profile will rank higher in the marketplace as the freelancer marketplace grows in popularity.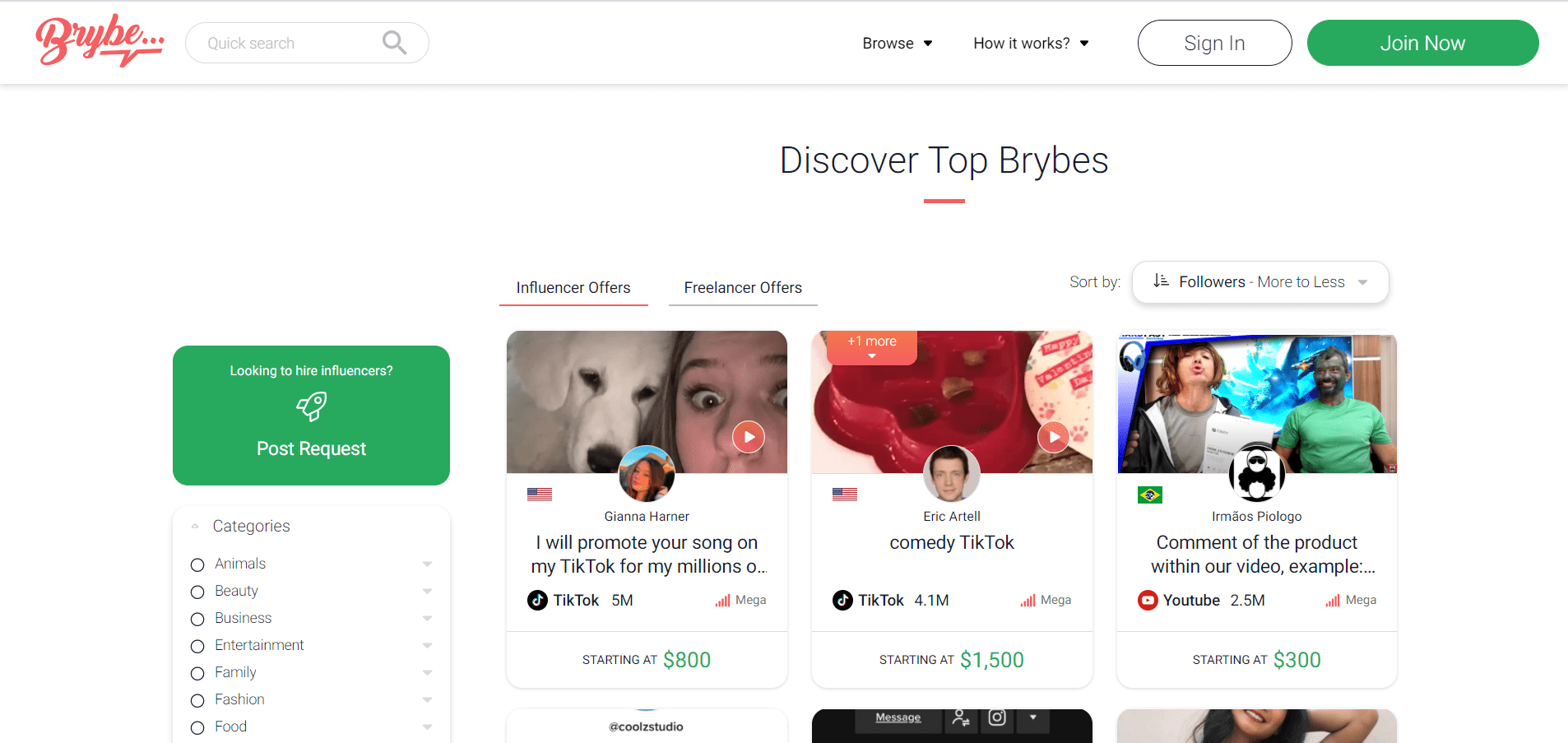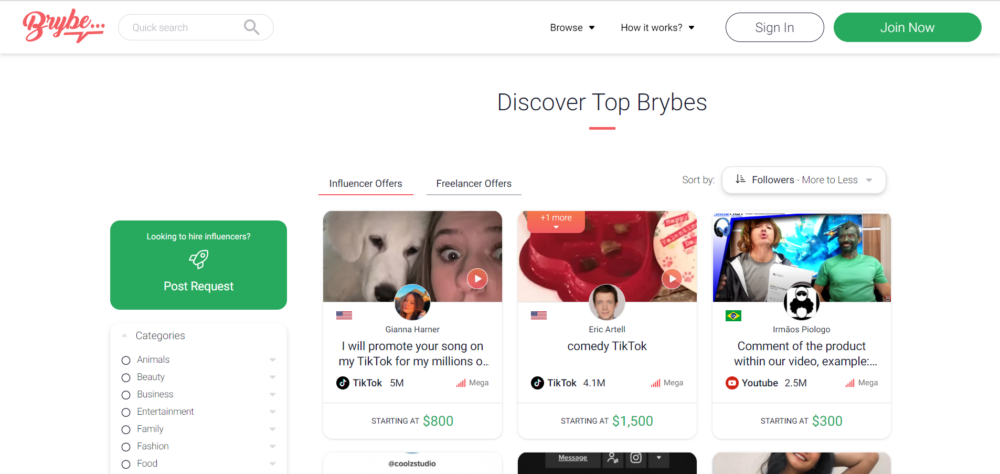 No Platform Fees
Creators and freelancers do not pay a platform fee on Brybe. There is no charge for using it.
New sites like Brybe, which charge much fewer platform fees than big freelance marketplaces, are quite refreshing as far as freelancers are concerned.
All of your earnings from Brybe will be yours to keep.
Are you looking for a fantastic place to start freelancing? FreeUp is the solution. Click here and check out our review of FreeUp, which includes all of the information you need. Read our article to see if FreeUp is worth your time.
Create Packaged Offers
You can browse the job postings and apply for projects, and you can also create gigs (like on Fiverr) to provide temporary services.
Create a gig on Brybe so clients can easily find you if you're good at creating logos, websites, or social media content.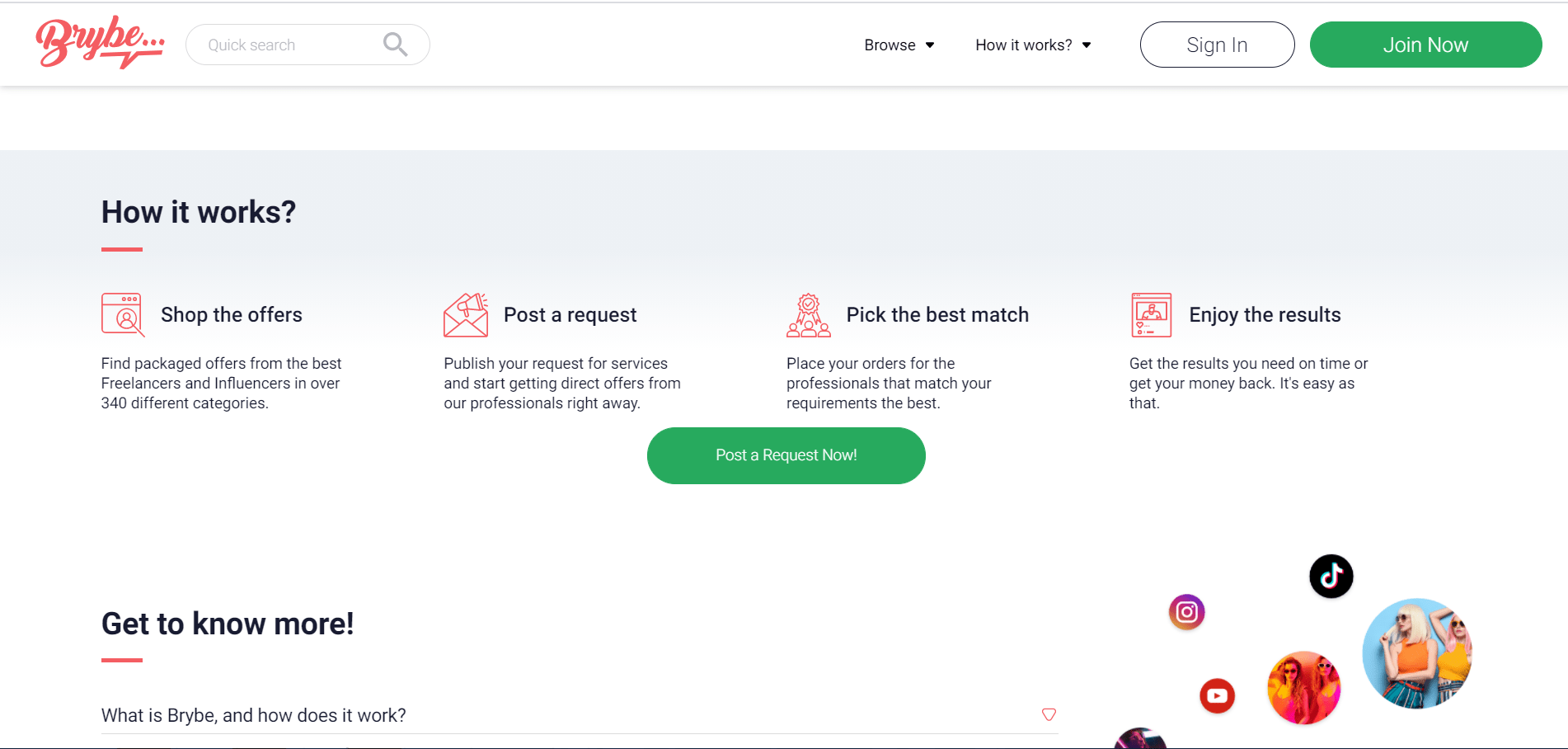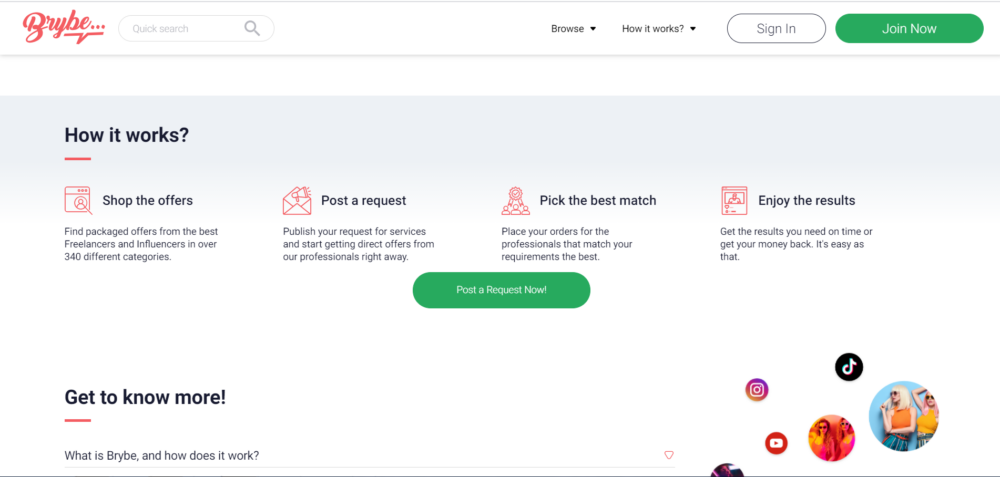 Set Your Own Prices
As opposed to most freelance marketplaces, Brybe does not restrict the price of its services. Prices for gigs can be set by you.
There is a review system, however, on the platform. Rankings are affected by this. But delivering quality work on time can boost your ratings and get you promoted to the top as long as you deliver it on time.
Make Money With Your Social Channels
Brybe can help you monetize your social channels even if you're not a freelancer.
As an influencer, you can join Brybe if you have a social media account with 500 followers.
Your social media accounts will then be an excellent platform for promoting business and brand products.
Many influencers with over ten thousand Instagram followers charge over a hundred dollars for promoting their products. You can earn extra money doing this.
Can Anyone Join The Platform?
Brybe currently allows anyone to join the platform.
There is no requirement for freelancers. To be considered as an influencer, you need no more than 500 followers on your social media accounts. It's done!
All Brybe users are welcome, whether they're on Twitter, Facebook, YouTube, TikTok or Instagram.
Things are likely to change soon, though. As the freelance marketplace grows, new restrictions and limitations will emerge. Usually, when a new platform is introduced, this will happen.
You now have the opportunity to apply for Brybe and start building your profile.
How To Find Freelance Work with Brybe
Freelance work on Brybe can be found in two ways.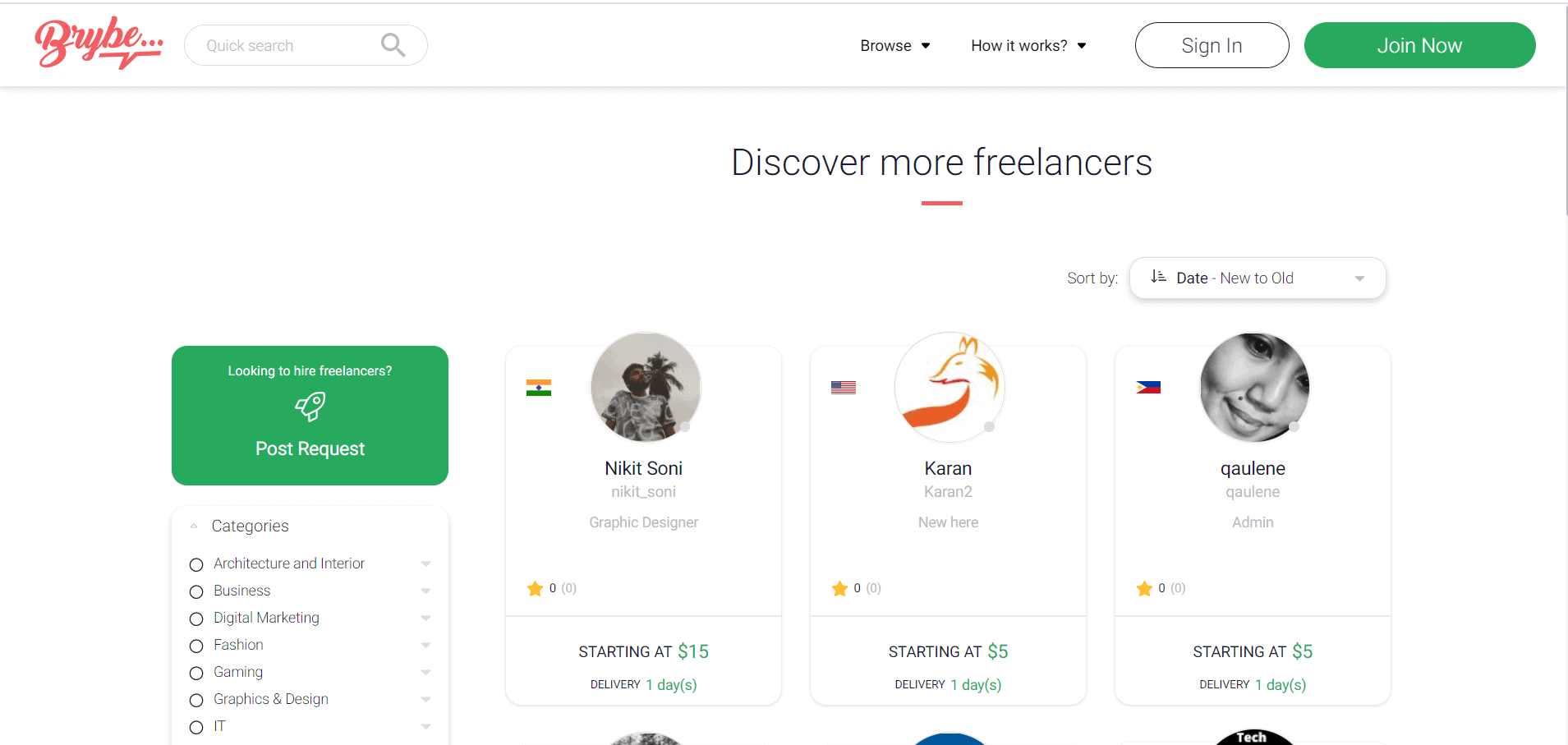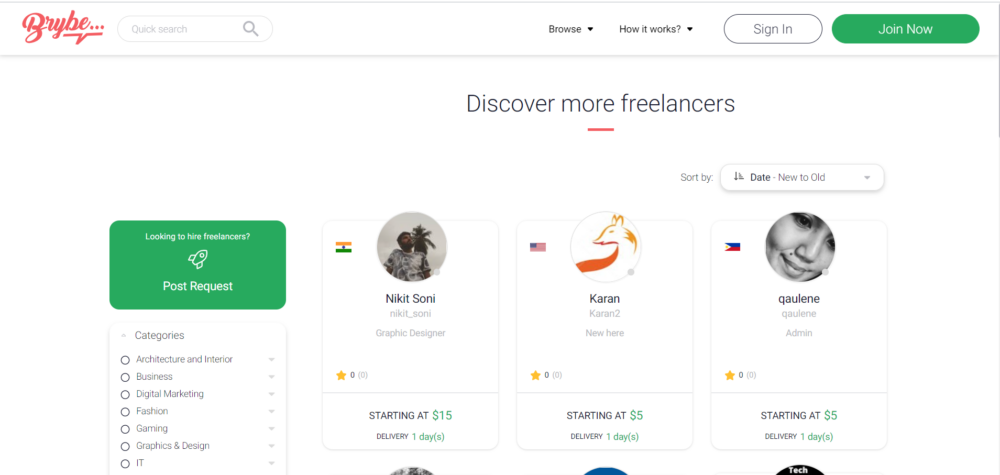 Browse Job Postings
Finding work on Brybe is as easy as browsing the jobs posted by businesses and clients.
There are multiple categories for buyer requests, which makes it easier to find jobs in that section.
Whether you're an influencer or a freelancer, there are plenty of opportunities. Reviewing apps and products will be easy gigs for you to find. Additionally, there are higher-paying gigs.
Creating a freelancer profile is still necessary to apply to these gigs.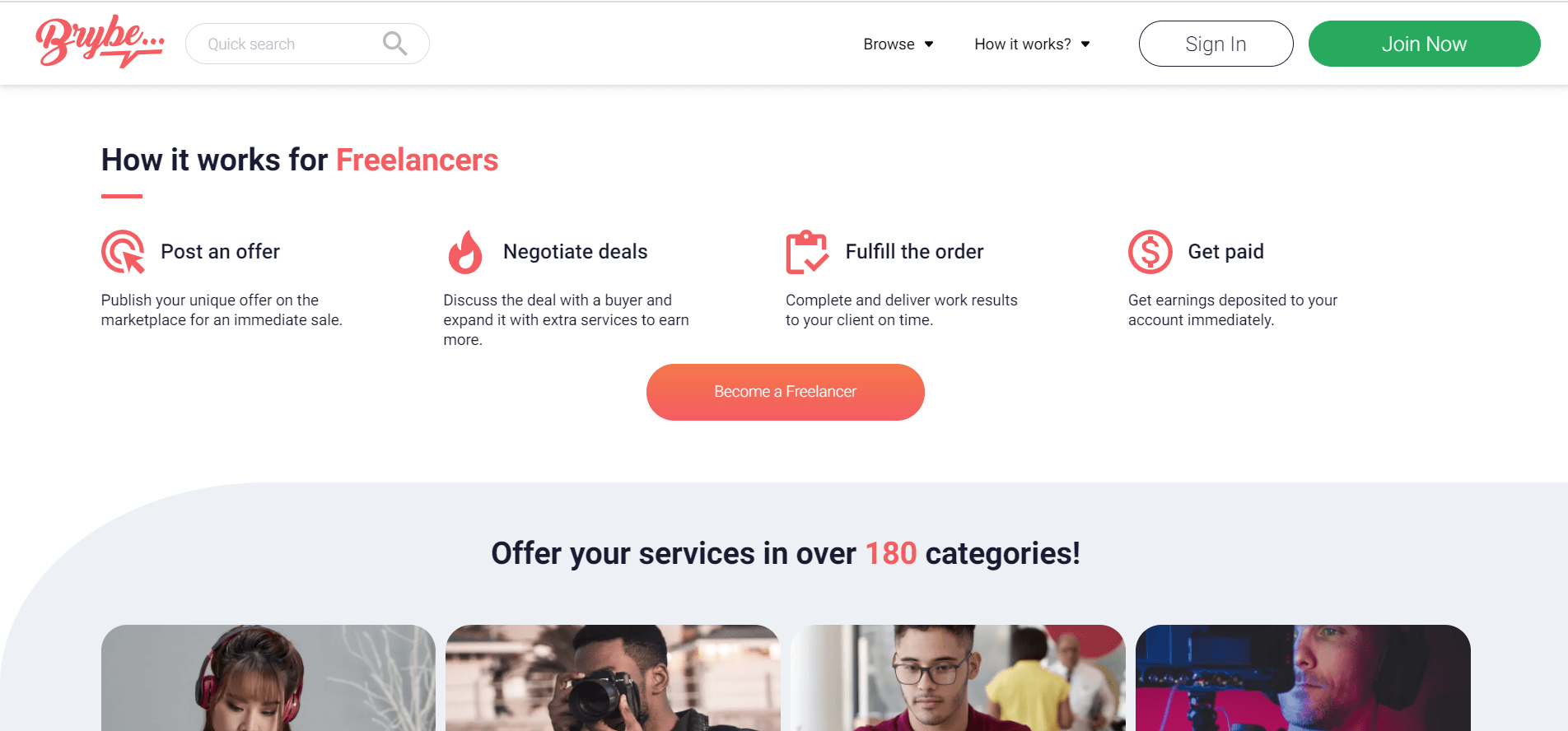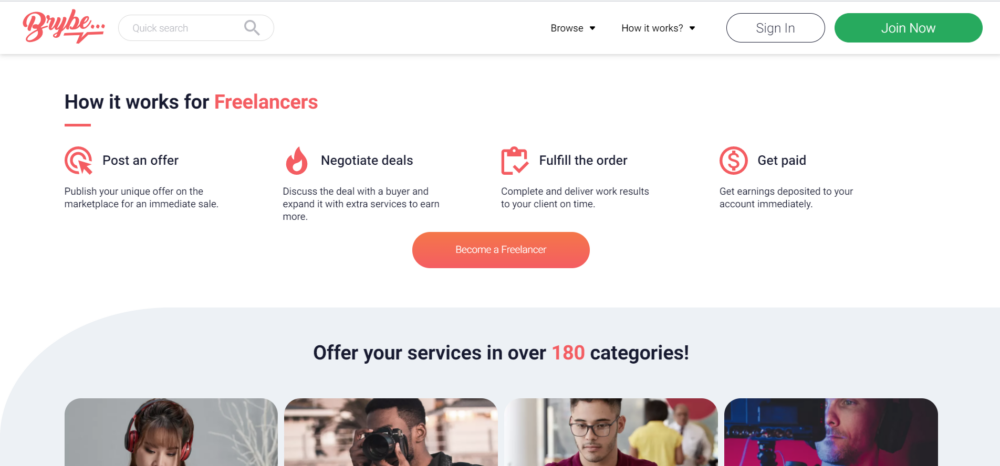 Create A Gig
As well as offering one-off services, you can create gigs.
The gig system works just like Fiverr's. However, Brybe won't use its awful algorithm as Fiverr does. You may also be competing with a highly crowded field.
How To Monetize Social Channels with Brybe
Brybe influencers


You can use Brybe to find sponsorships and earn money on the side if you have a large following on Facebook, YouTube, Instagram, TikTok, or Twitter.
Your social accounts can be connected to your account once you have created one as an influencer. After that, buyers can submit requests.
Another option is to set a fixed price for your social media posts when you create a packaged offer.
Who Should Use Brybe?
The Brybe community is open to everyone. It's free and has no country restrictions or requirements. It hasn't happened yet.
It is however most useful to new freelancers as a place to launch their careers. In addition to being able to easily find work without any competition.
Although primarily designed to help small businesses and newbies in the digital world, the potential of Brybe Marketplace is not to be underestimated.
According to their website, Brybe's talents have collaborated with brand names like Adidas, Neutrogena, Jeep, Samsung, and many more. It's an all-in-one marketplace, but let's check who can benefit the most from using Brybe. 
Small to Midsize Brand Owners
Businesses and entrepreneurs with modest budgets do not have the luxury of hiring seasoned freelancers or mega influencers. But that does not mean they don't need professional services to do the job correctly. Brybe Marketplace can help with this.
For small business owners, you can find skilled professionals for as little as $5 per deal, depending on what you need. More than 23K members and 15 industries are available, so you can certainly find talent that suits your business.
You can also search through Brybe Marketplace for celebrity influencers and contact the agents for a possible collaboration if your budget allows.
There are many celebrities whose names are listed on Brybe, including Messi, Ramos, Rosalia, Nadal. 
Freelancers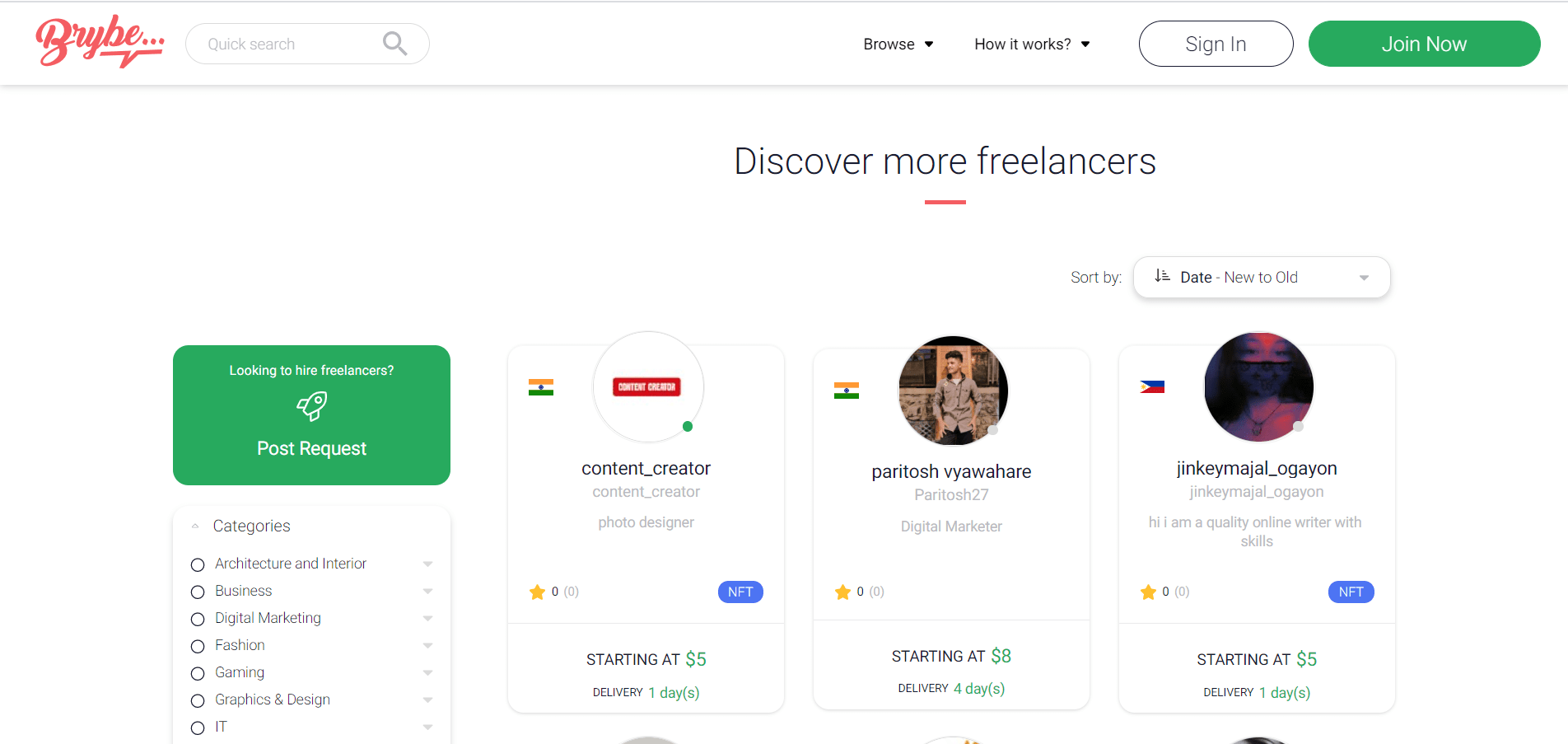 Adding freelancers to Brybe Marketplace is a new feature, but it adds considerable value. Brybe Marketplace provides a platform for designers, developers, marketers, and marketing agencies to build their profiles as freelancing professionals.
These are just some of the industries represented on Brybe Marketplace, including digital marketing, photography, gaming, and fashion. In addition to adding their portfolios and experience to their job search, freelancers can search for jobs right away. 
Influencers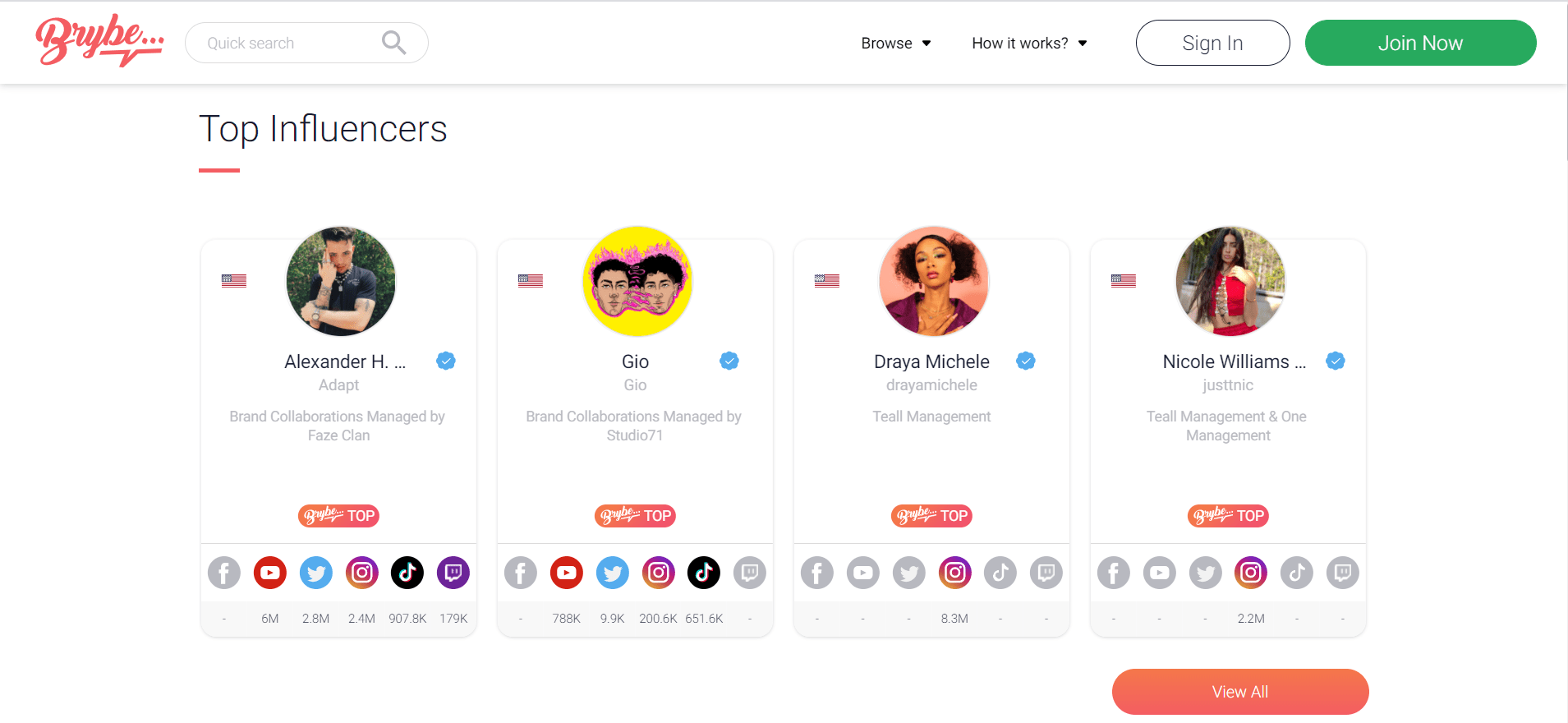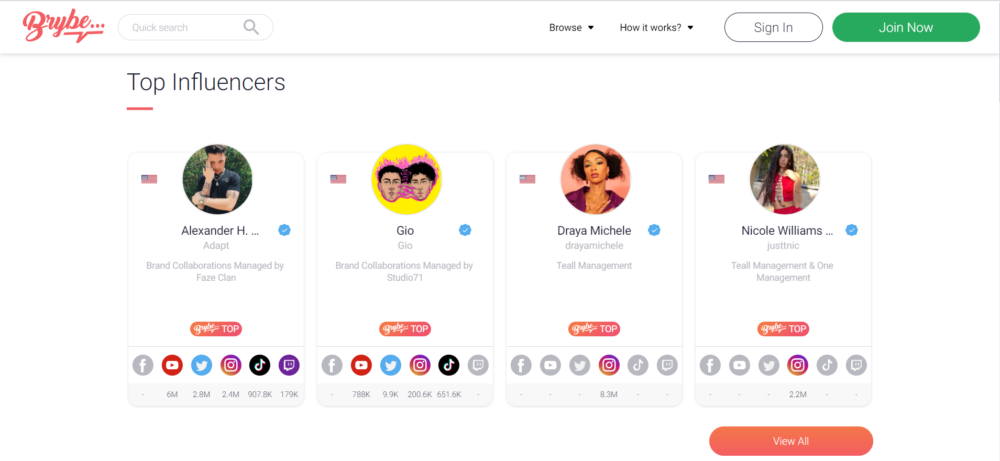 You qualify as an influencer at Brybe Marketplace if you have 500 or more followers on a social media account. If you are an influencer, you can set up a profile and send offers to high-end brands regardless of your location, industry, or type of influencer (nano, micro, macro, or mega).
The buyers will find it easier to learn more about you if you connect your social media accounts with your Brybe profile. You can also create packages with influencers, so take advantage of this benefit. 
Pricing
It is a straightforward process when it comes to pricing. Registration and access to all of Brybe's features are free. A 20% fee is paid by brands on top of what influencers themselves set their price (or you negotiate with them). Brybe charges no fee to influencers – it does not take a cut from their payments.
While they develop more features, they're considering becoming a subscription model (or just adding one). A new feature will be introduced soon, so we'll hopefully establish a more cohesive pricing model.
Pros and Cons of Brybe Review
As a whole, it provides outstanding services. 
Quick Links-
Conclusion | Brybe Review 2023
Brybe Marketplace's founders, designers, developers, and marketers took a refreshing approach in making the platform one-of-a-kind. Though it's a relatively new product, it is growing in popularity. 
With Brybe, businesses will be able to find affordable freelancers and influencers with top-rated ratings. Also, with Brybe, these individuals can build their brand much more easily while keeping all the money they earn along the way.