Looking for an unbiased FreeUp Review? I've got you covered. In this review I will discuss if FreeUp is worth it and whether you should give it a try.
Hiring freelancers is hard. It's time-consuming, expensive, and you're often not sure if the person you hired will do a good job or take your money and run.
Most companies spend at least 6 hours per hire on average; that's 6 hours of lost productivity for each new employee!
With FreeUp, hiring freelancers has never been easier. FreeUp take care of everything from screening to payment so you can focus on what matters most – growing your business!
FreeUp Review 2022: How Does FreeUp Work?  
According to statistics of 2019, approximately 23 percent of the start-ups failed mainly because they failed in finding a team that can work accurately according to their business needs.
It is tough to believe the possibility of this happening because of the numerous candidates who are looking for promotions and even employment.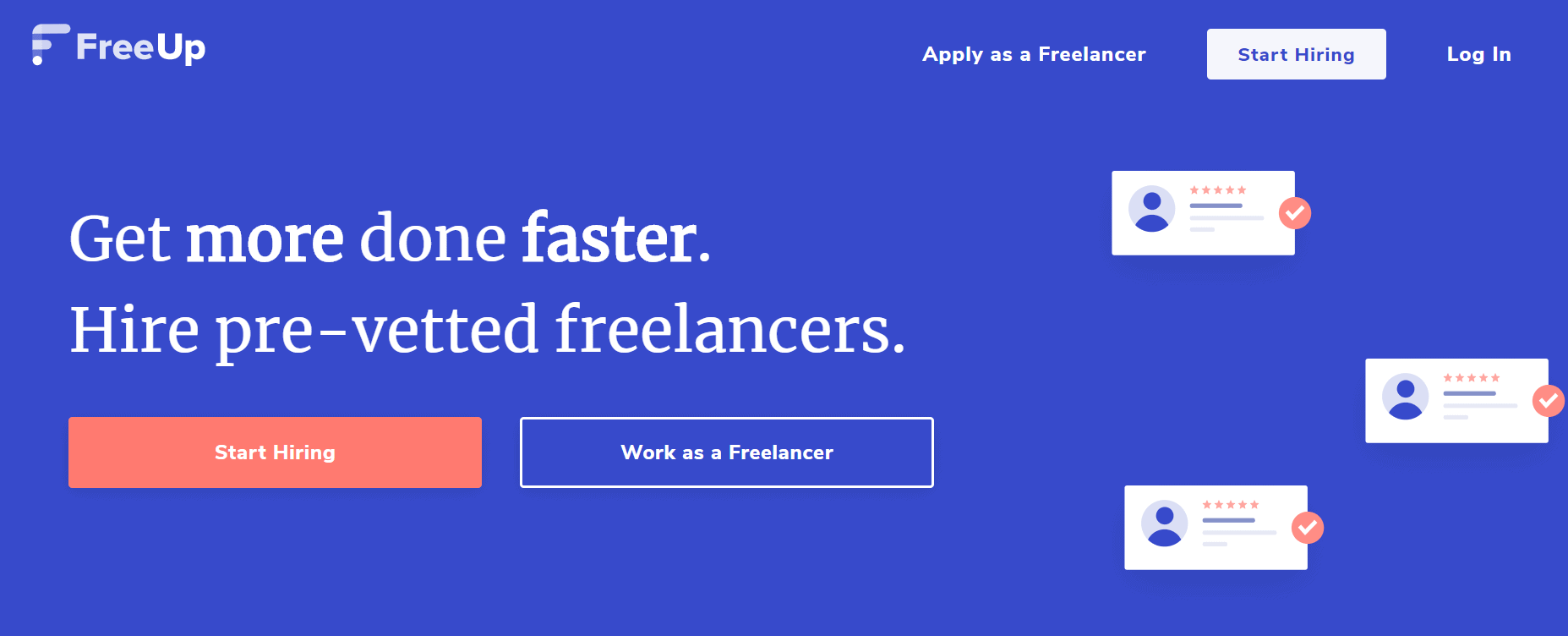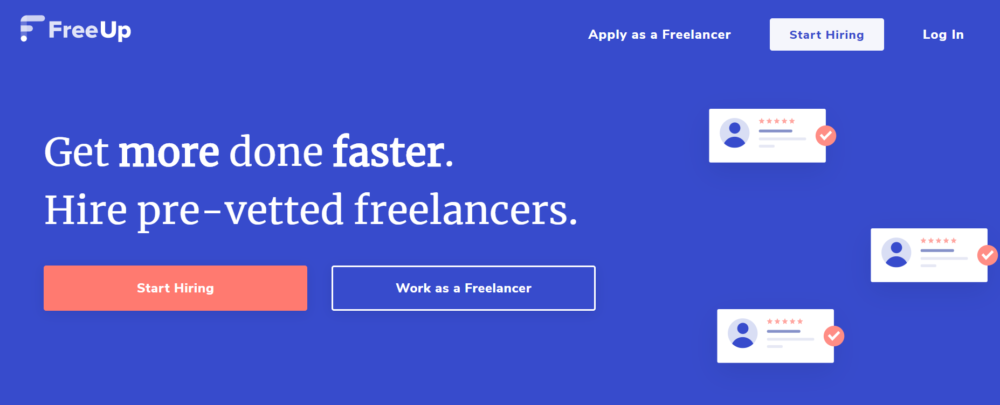 FreeUp tries to combat this by pulling out the applicants who are not qualified enough to match up the level of your business with their wide array of quality freelancers. They promise quick and easy access to top-tier talent.
It is very easy to get started with FreeUp. You can simply create your free account and then set your specification for an ideal freelancer for your business.
FreeUp will then match you with the freelancer that can work best for your business in one business day.
You can then set up an interview with the matched freelancer and can verify if they can work well according to your business needs.
Once your hiring process is complete, you can simply manage each aspect of the entire process via your account, which includes billing approvals, communication as well as deadlines. 
Why Do I Recommend FreeUp? 
The United States has more than 28.8 million small businesses, and thus there is tough competition when it comes to hiring top-notch candidates for the business.
It is important to take prompt actions. You don't have enough time to skim your way through the old and rudimentary ways of catching up with freelancers.
It also understands the problems and challenges you are facing.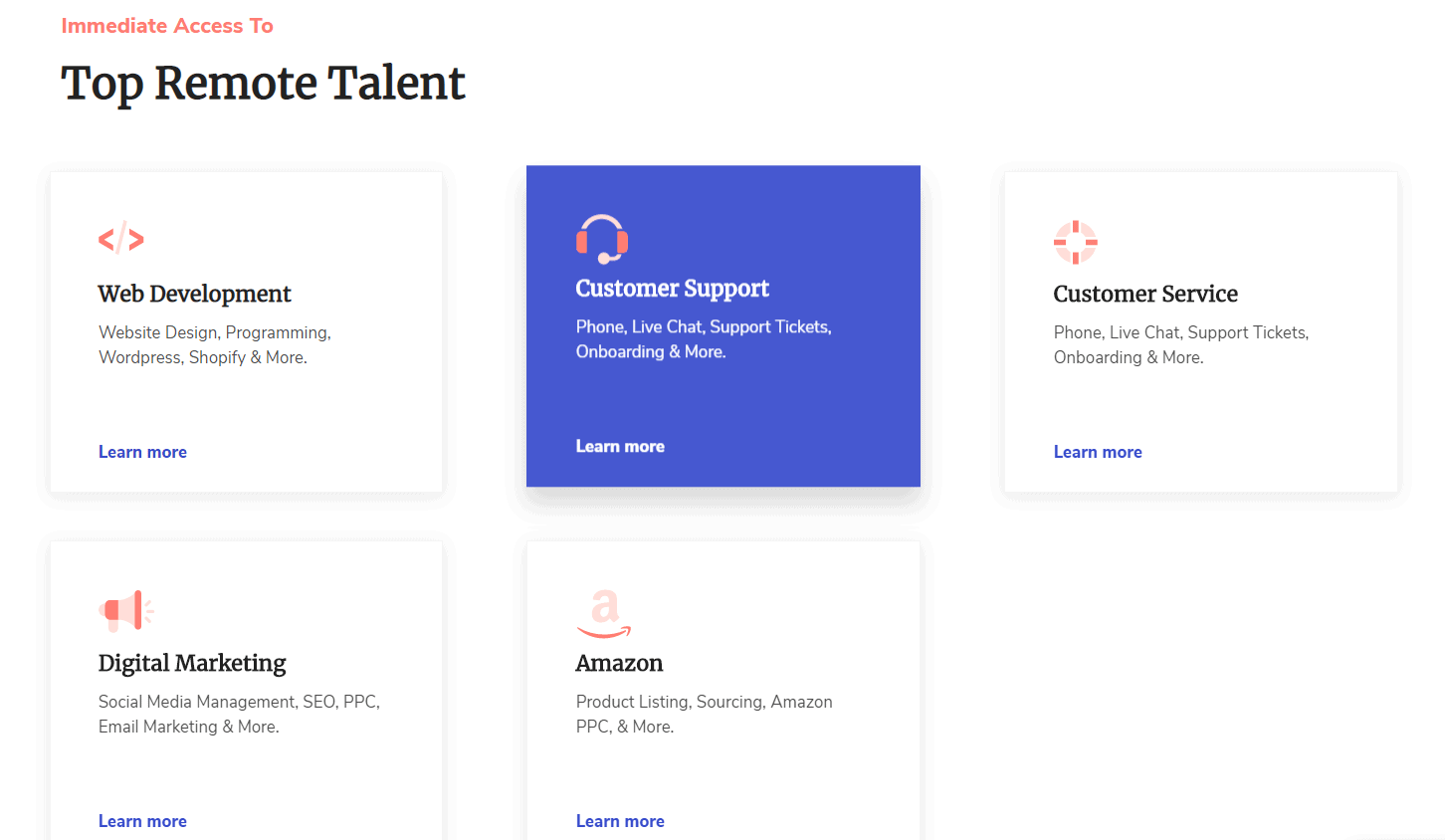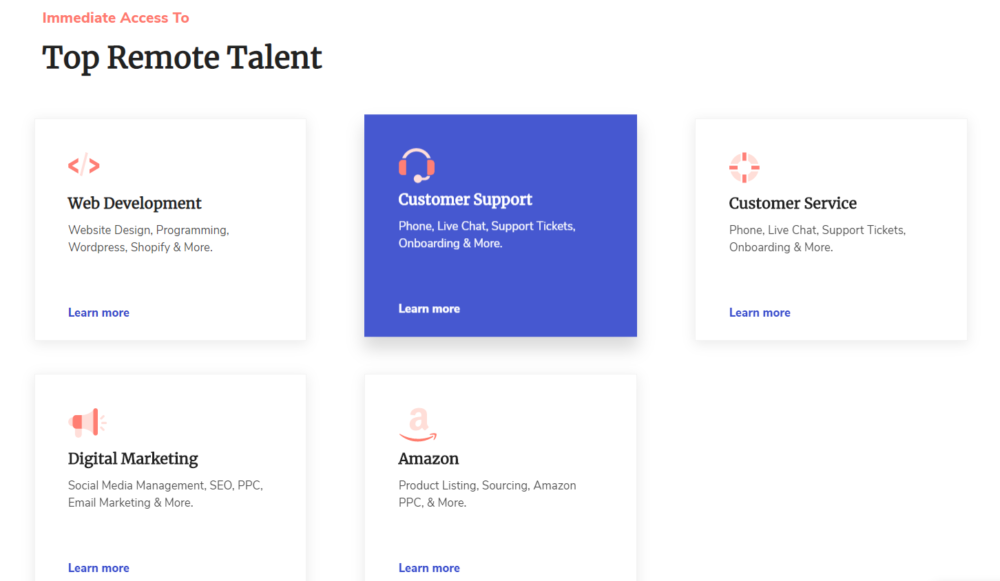 The founders of FreeUp Connor and Nathan began with their eCommerce business in the year 2015. Even they faced a lot of staffing issues like other fast-paced businesses around.
Connor And Nathan then created a four-part model to combat this problem. 
In order to ensure top-notch quality, it screens each and every freelancer before they accept them. 

It focuses on providing a hands-on experience for the clients. 

It also skips the profiles of freelancers. 

Lastly, it matches the freelancers and clients really fast for a pretty streamlined process.
Though it took a lot of effort, they still ended up creating a system that can work within the parameters in order to offer small businesses and startups the support they require.
It also offers the selection of both entry-level as well as skilled freelancers who are thoroughly vetted through the 4-step process.
Few Things Which Made Me Skeptical Of FreeUp
FreeUp is very good at what it is meant to do. I faced no issues and complaints while using this network. However, as with every good thing, there is some setback or flaw.
There are flaws or skeptical bits about FreeUp; however, none of these is very major or ruins your experience with this platform. 
Some of them are as follows:
1. FreeUp is Fresh and not that Big
FreeUp is Fresh and not that Big when Compared to its Competitors. It is relatively new and still small in size when compared to competitors such as Fiverr or Freelancer.
FreeUp does eradicate the common complaints from various other freelancing platforms, it still feels new, and people may trust others more than FreeUp.
The network of freelancers and the services provided at FreeUp is also low when compared to the competitors. However, it still is very satisfactory when it comes to what it is providing.
2. The Rigid Selection Process
The Rigid Selection Process can Make you Skip Someone which is Better Suited for You.
The best part about FreeUp is also sometimes the first thing that may leave you in doubt while using this platform. Yes, I am talking about the selection and screening process applied by FreeUp.
They generally eliminate a large number of freelancers who do not satisfy their criteria. However, you may find your perfect candidate in those rejected ones. This is not an issue but still feels like a thing to talk about.
How Good Is FreeUp Customer Service?
FreeUp is known to offer incredible customer support when it comes to businesses. There are many stories of freelance failures that are floating.
A business runs in losses if the freelancer quits or if they fail to deliver.
Though these situations cannot be completely prevented by the FreeUp, the process they follow can mitigate and combat a few issues, for example, the freelancers who quit abruptly.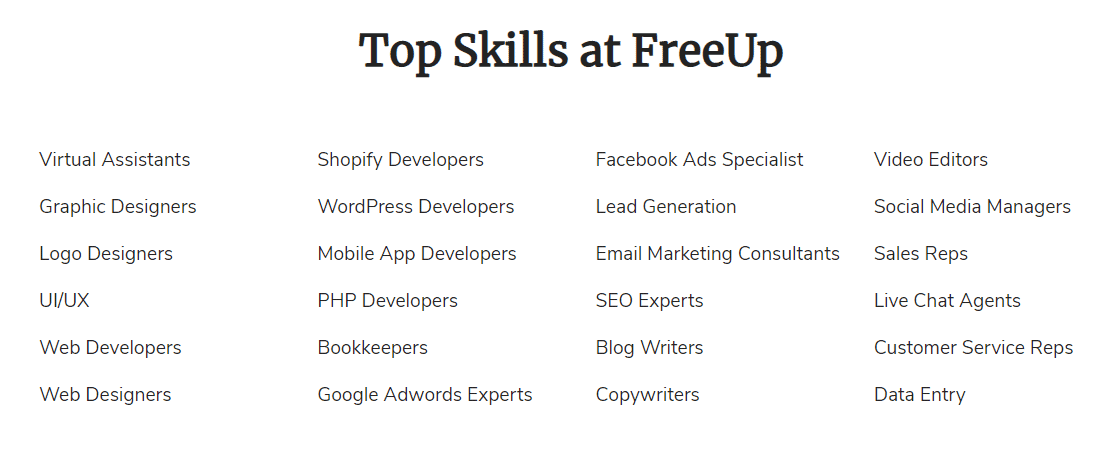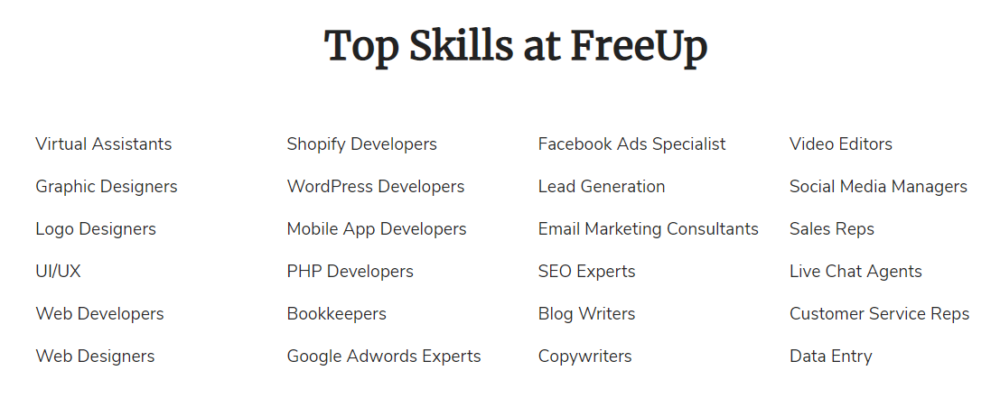 FreeUp provides its clients with 24/7 support, and they are pretty responsive too.
They claim to have a really low turnover, but they still cover the replacement cost in case the freelancer quits. In order to make things seamless, you can expect the new candidate to match immediately.
FreeUp also has a list of hiring resources online, so if in case you have questions regarding hiring you can get your answers.
You can also submit an email in order to receive eBooks, cheat sheets, or also schedule a meeting for consulting with the team. You also get a plethora of valuable advice. 
FreeUp Testimonials & User Reviews: 
Here is what the users have to say about FreeUp:
To say that FreeUp changed our lives is an absolute understatement.

Tonya Dawn Recla, CEO, Super Power Experts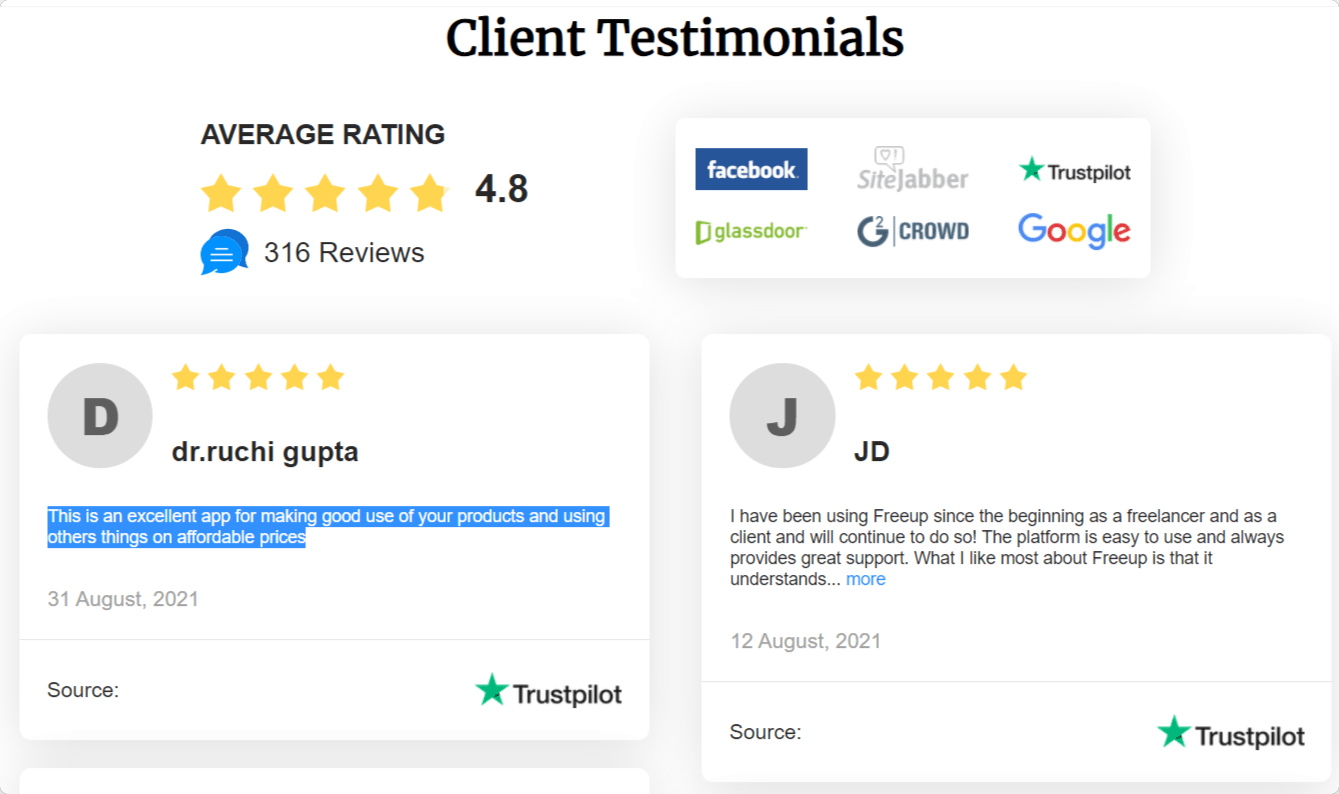 Freelancer Stories
Top 3 Best FreeUp Alternatives

Here are the best alternatives of FreeUp:
Freelancer:
Freelancer is a website that has been around for quite a while and has been rated favorably by many. Unlike FreeUp, it doesn't have a time limit on its tasks and projects.
Both sites are great but when it comes to free up scoring higher when it comes to flexibility & how easy it is to use when using the site from my everyday experience.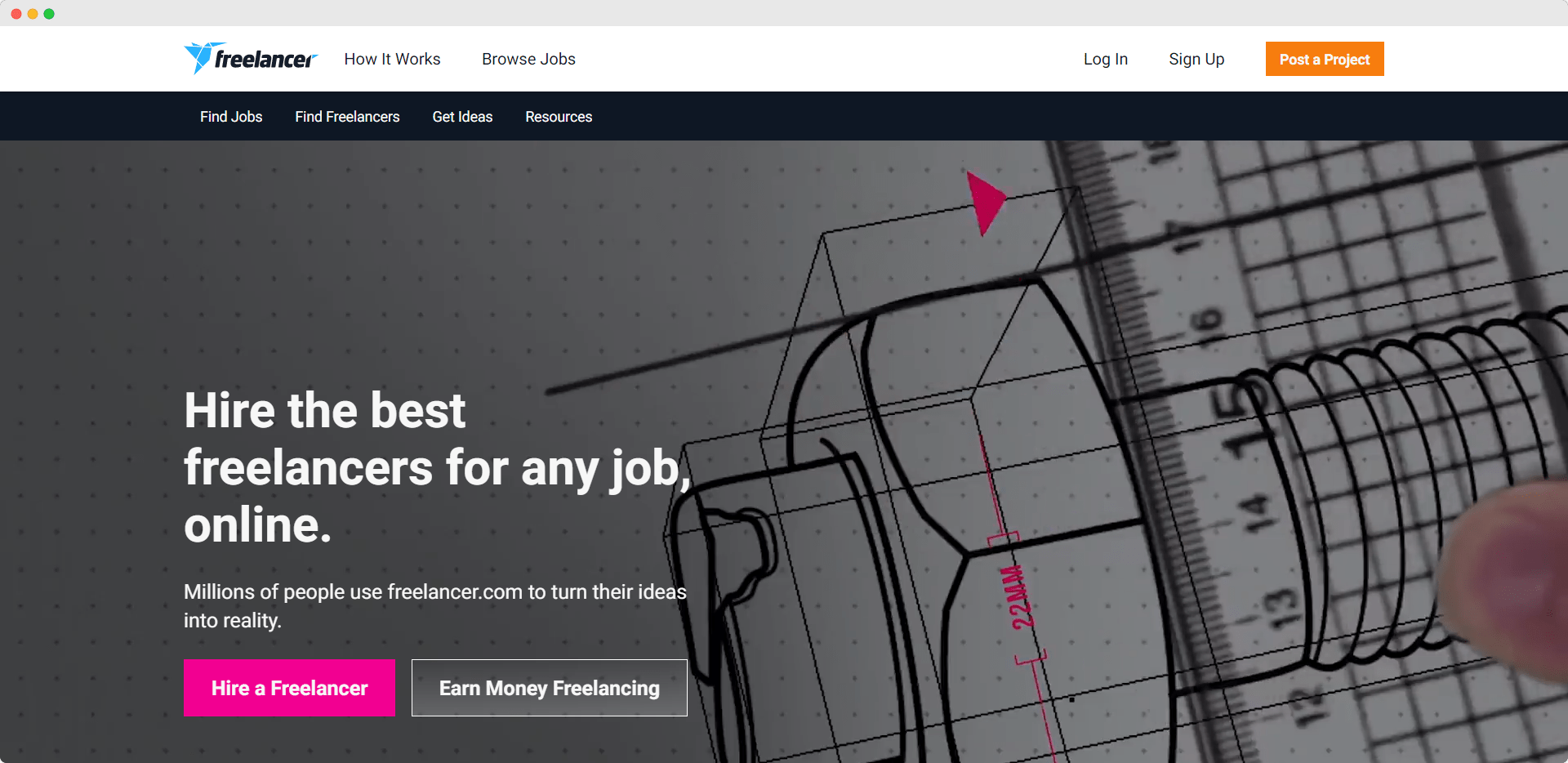 Freelancer I found to be more hectic and time consuming when trying to post a job with all the submissions, upvotes & downvotes.
No sign up fees at either site is another bonus as it means you can just enter your details in and then get started from that point.
I would recommend both sites as they have different things that each does differently which will suit everyone's needs . But for me if its a new job board I'm going to head back to FreeUp!
Guru.com
Guru.com is an older company that has been in business for more than 20 years. FreeUp is much newer and only recently came around in the past few years.
Guru has a much larger user base with well over 10 million registered users while FreeUp has only 250,000 registered users.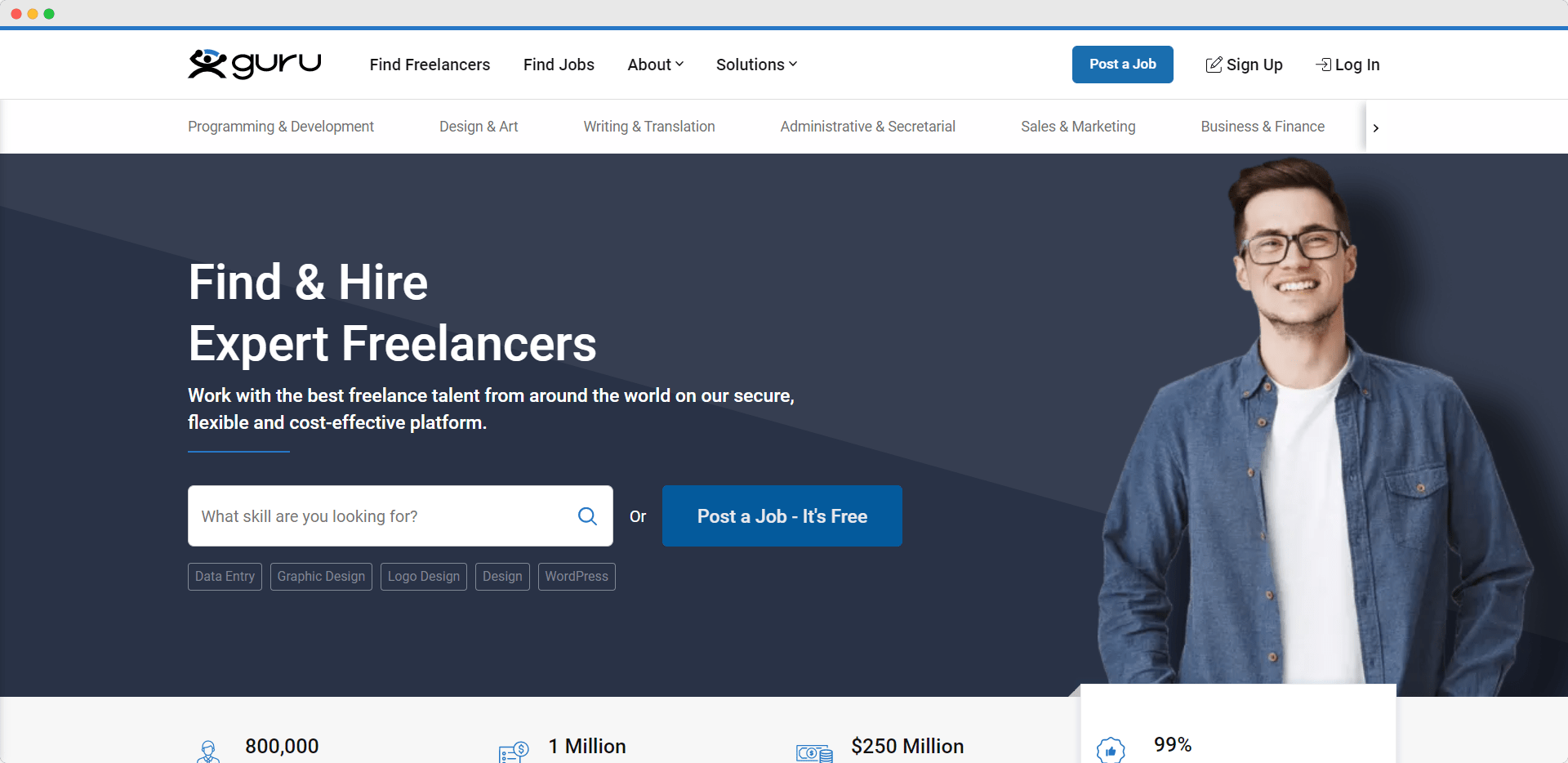 While both companies offer similar services, they provide them in very different ways. Guru provides its services in the form of hourly rates while FreeUp offers fixed bids for projects.
Guru tends to work more with mid-range projects, while FreeUp works on higher end projects. Guru also offers hourly rates for some freelancers while FreeUp only has fixed bids.
If you are interested in working on mid-level projects, Guru may be the better choice while if you want to bid on higher level jobs or get paid hourly then FreeUp may be the better option for you.
Either way both companies are legitimate and provide excellent services that can help connect freelancers with clients looking to hire them.
Upwork
Upwork is a freelancing website where you can connect with clients and get paid. There are many features on the site such as payment options, client feedback and reputation, and more to look for in a client or job.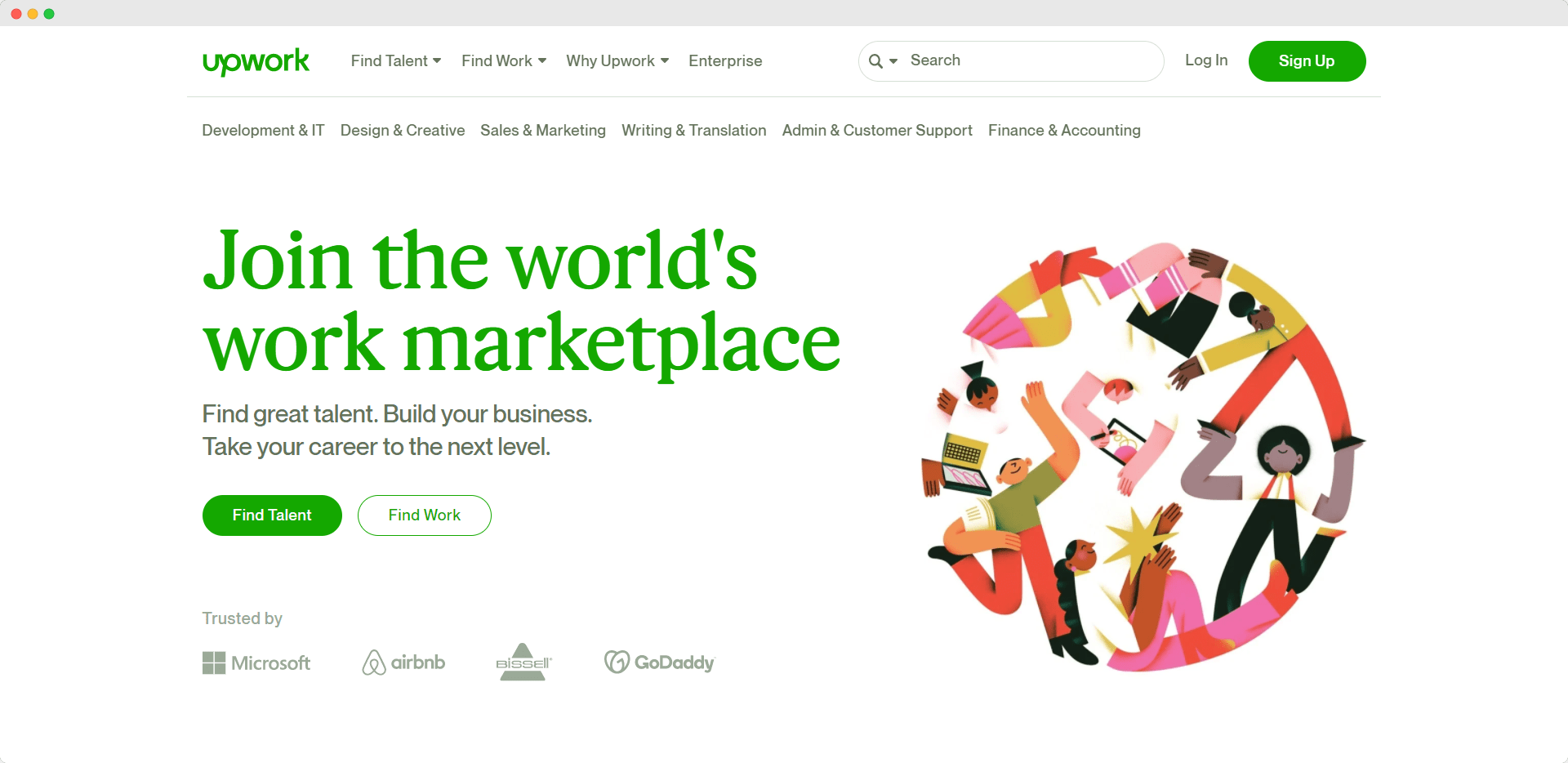 Free Up has no such features. The site does not allow for any communication between freelancers and clients before starting a project, which means that there is no ability to work together to create a contract or set the scope of the project, nor is it possible to outline expectations or reward structure (if necessary).
However, if you go with Upwork, you'll have to do a lot of the legwork when it comes to finding people to work for you.
They may have a large number of freelancers, but they also offer an easy entry procedure. You have the option of choosing who you want to work for you, but this might consume time during the recruitment process.
Quick Links
FAQs About FreeUp Review
👉 Do I get to set my hourly rate if I am a Freelancer?
If you are a Freelancer, you are capable of setting up your rate by the hour. You will be prompted to set this up when joining the FreeUp network. You can also reject the projects which are not paying you enough. However, FreeUp recommends that you stay on the price given to the client earlier and don't change it later.
🙋‍♀️ How can I check the total hours I have given to the client?
You can easily check the number of hours you have spent working on your client's job. Just click on the Clients tab in your FreeUp account, and you will get a detailed look at the hours you spent on the job. This page would also tell you the amount you will get from the client based on the hours you spent. The Timecard button will tell you the hours within a particular time period.
🤷‍♂️ How can I trust that the freelancer doing my work is experienced and expert at what he is doing?
Every freelancer on FreeUp has to pass certain screening tests, interviews, and such relevant things. Hence, all the freelancers on this network are trustable and experienced at whatever the work they are given.
🤞 Is FreeUp legit?
Yes, FreeUp is a legit platform. It takes away all the headaches associated with hiring freelance talent by doing it all for you - no more wasting time trying to find quality talent.
😁 Is FreeUp good for freelancers?
FreeUp is an excellent platform for Freelancers. It is a very well organized platform. They are professional and have a good way to find freelancers for clients. They are also responsive to questions or concerns about projects. FreeUp has categories for projects, but they could have even more.
🆓 Is FreeUp really free?
There is no sign up fee or monthly fee for FreeUp to find you a job. You can set your own hourly rate and how much work you want to do.
🤑 How does FreeUp make money?
On FreeUp, people who are freelancers set their own rates. Entry-level positions pay $5 to $10 for people outside of the U.S.; Mid-Level workers charge $10 to $30 and experts can charge up to $30 or more. The site takes a 15% commission on all work.
Conclusion | FreeUp Review 2022: Is FreeUp Good For Freelancers?

FreeUp is a pretty much new and upcoming website for connecting freelancers with clients and clients with freelancers without any hassle.
The screening and selection process on this site does mean that you don't have to waste your time around with inexperienced and inefficient freelancers.
It saves a lot of time and effort from your side, which you may waste on searching for quality influencers. This saves your time so that you can focus on your other stuff.
If you are frustrated over how long you have to wait and how much energy you have to waste to find a worthy freelancer, then FreeUp will literally free you up.
FreeUp takes up all those tedious and time-consuming aspects of hiring away from you.
There is no downside whatsoever to using FreeUp to hire freelancers. However, you may crack better deals in regards to pricing when choosing freelancers from other sites.
If you would like to know more about FreeUp you can visit their about page, and to reach out to the FreeUp team you can check out their contact page. You can follow their blog, and get regular updates from their social media pages like Facebook, LinkedIn, Twitter, and YouTube.
FreeUp on Facebook:
Here are some latest posts from FreeUp's Facebook page:
FreeUp on Twitter:
Here are some latest posts from FreeUp's Twitter handle:
⏰ Check out 13 Amazon outsourcing tips to save time and money!
👉 https://t.co/LDGXaCNfqT#Amazon #FreeUp #outsourcing #outsource pic.twitter.com/Nqs76LtXVj

— FreeUp Marketplace (@freeupmarket) September 14, 2021
JIRA Project Management Tutorial for Beginners (2021) https://t.co/lzNeZKsayY via @YouTube #JIRA #agileprojectmanagement #FreeUp #projectmanagement

— FreeUp Marketplace (@freeupmarket) September 14, 2021
Business Acceleration Network and FreeUp have partnered up to support you in your hiring needs.

Learn more HERE 👇
🤝 https://t.co/jBecblktFl#FreeUp #hire #hiringprofessionals #hiringfair pic.twitter.com/kSxWYDPEA8

— FreeUp Marketplace (@freeupmarket) September 13, 2021
FreeUp on YouTube:
Here are some latest posts from FreeUp's YouTube page: