In this article we are going to discuss on Why Graphy Is The Ultimate Course Creation Platform. You want your customers to become repeat ones and for that, you need to make sure to keep adding value to their life.
Once you have decided on your course content, you need to make it interesting by creating actionables and crafting it in such a way that the learner becomes engrossed in it. A major way to do that is by gamiifying your content.
Adding quizzes and Live tests – videos that hold attention till the end of the chapter. Furthermore, community engagements for students work very well when it comes to online education platforms.
Now, with Graphy there is no barrier to your field of content. From cryptocurrency to digital art, you can make everything desirable as a course for your students. Your income scalability definitely depends on the quality of your course.
How Does Graphy Ensure The Best Quality For Courses?
The most important feature for an educator is Content as we spoke about so far. Let's explore that first. When you click Add First Chapter in the content option on the Graphy, a myriad of options will appear.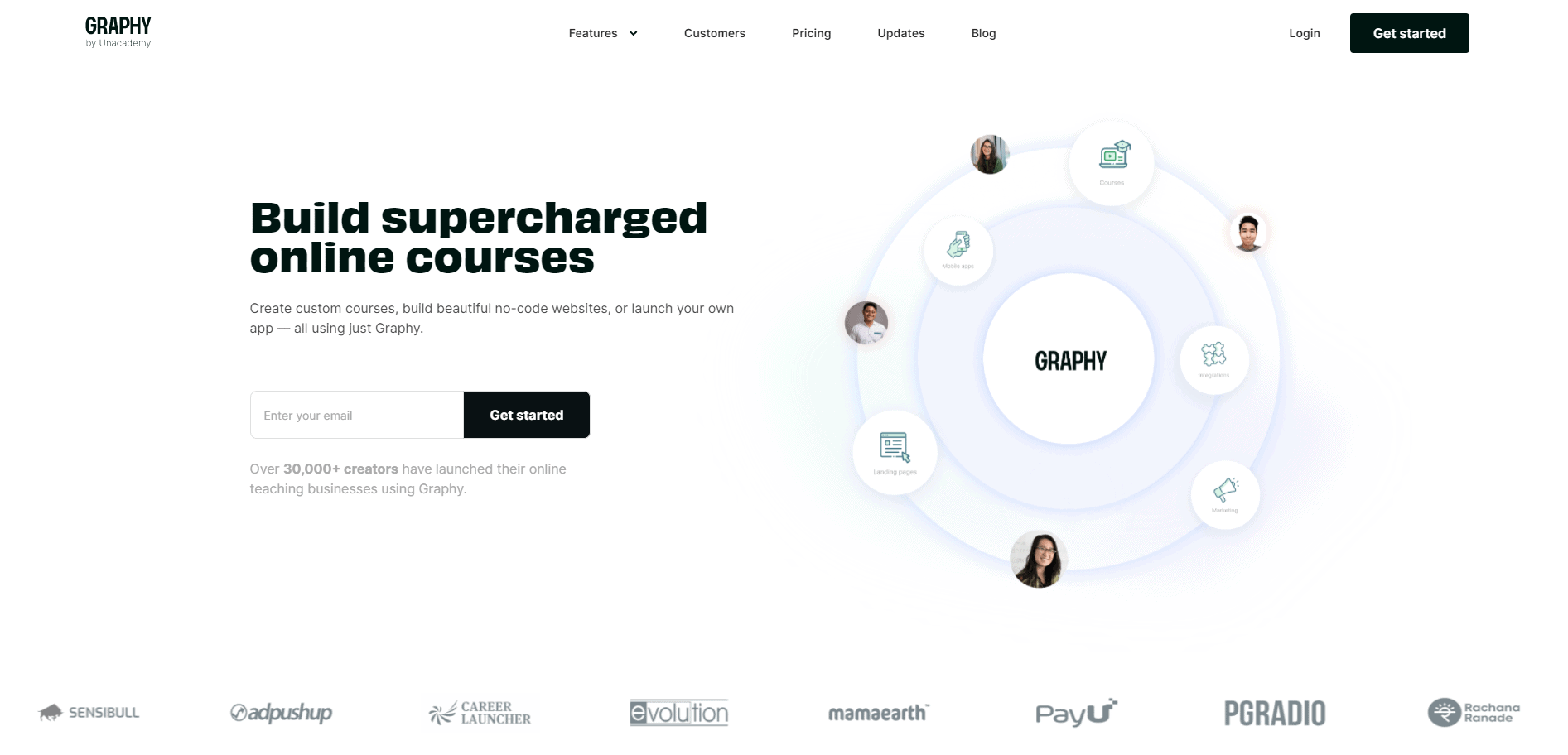 These are the following things that you as an educator can upload in your courses
PDFs

Videos 

Audio files

Scorm Packages 

Downloadable files – the ones which you would want your users to download and keep it with them

Text files 

Third party links – which needs to be embedded

Quizzes – both subjective and objective (MCQ as well)

Live Test – a quiz that occurs in a specific time interval

Live classes – where Graphy will give a paid license of zoom from their end to the creators to conduct sessions. You can also integrate your own YouTube channel. 

Assignments – here, as an educator you can ask your students to upload something from their end. For example, if there is an assignment on extempore, the student can upload a video of him/her speaking through which the educator can evaluate

Forms – You can make google forms to collect information 
Questions that you as an educator might have with Graphy: 
The user/student should not be able to skip anything and the course should follow the manner in which I have defined it. By skipping, the course might not be as effective as it could be, and students may not benefit from it, which negatively impacts me, the educator. 

I also want to set up some criteria that the student/user should watch a particular video – a sort of course compliance 

I don't want the student to go through everything – a PDF or just content that I have added to be essential 
Graphy's Solution For The Questions:
Go to the Rules section and click on Enforce Sequential Learning. This feature ensures that the student is completing a particular video or marking it as completed and only then can they can move ahead. They cannot directly jump to any later video. 

If you want your students to view the complete video so that they can get the gist of it for better understanding. You can simply click on the Enforce Complete Video Viewing for which they will have to watch 90% of the video.  

Go to Prerequisites and unable it – the students will automatically have to read what you have uploaded 

You can set up criteria for the students  to score 90% and till the time they have not – they can't move ahead in the course 

Content Dripping or Scheduling – You can unlock your courses/modules/ every week or at a defined time as per your choice and only then does it become available to the students. The best way to understand this is GOT episodes being available to you every Monday! Doing this is pretty easy.

Click on Enrolment Wise which will enable the students to access your course as per your time interval, starting from the day of their enrolment. Secondly, click on Fixed Date if you want. For example, you might want to release one video today and the next on the 7th then the 14th, etc.

You can select the dates and submit – you can set this up on every item added to the chapter. You can also add a preview video easily, if you want to give the first 10 chapters for the preview that is also possible. 
Pricing of Courses in an Optimum way with Graphy:
Once you are done with publishing your course you can click on Set Course Price- 
Add pricing thereafter – you can give it for free, a one-time payment option, or switch to a subscription model using RazorPay or Stripe.
Subscriptions are as simple as those from Netflix or Amazon. You can set up a name, value, and validity to the course – for example, if you want the course to be valid for 90 days and after that, it expires. Plus, if the listed price is supposed 2000 and the final payment is 1800, it will show as 10% off for the user/student.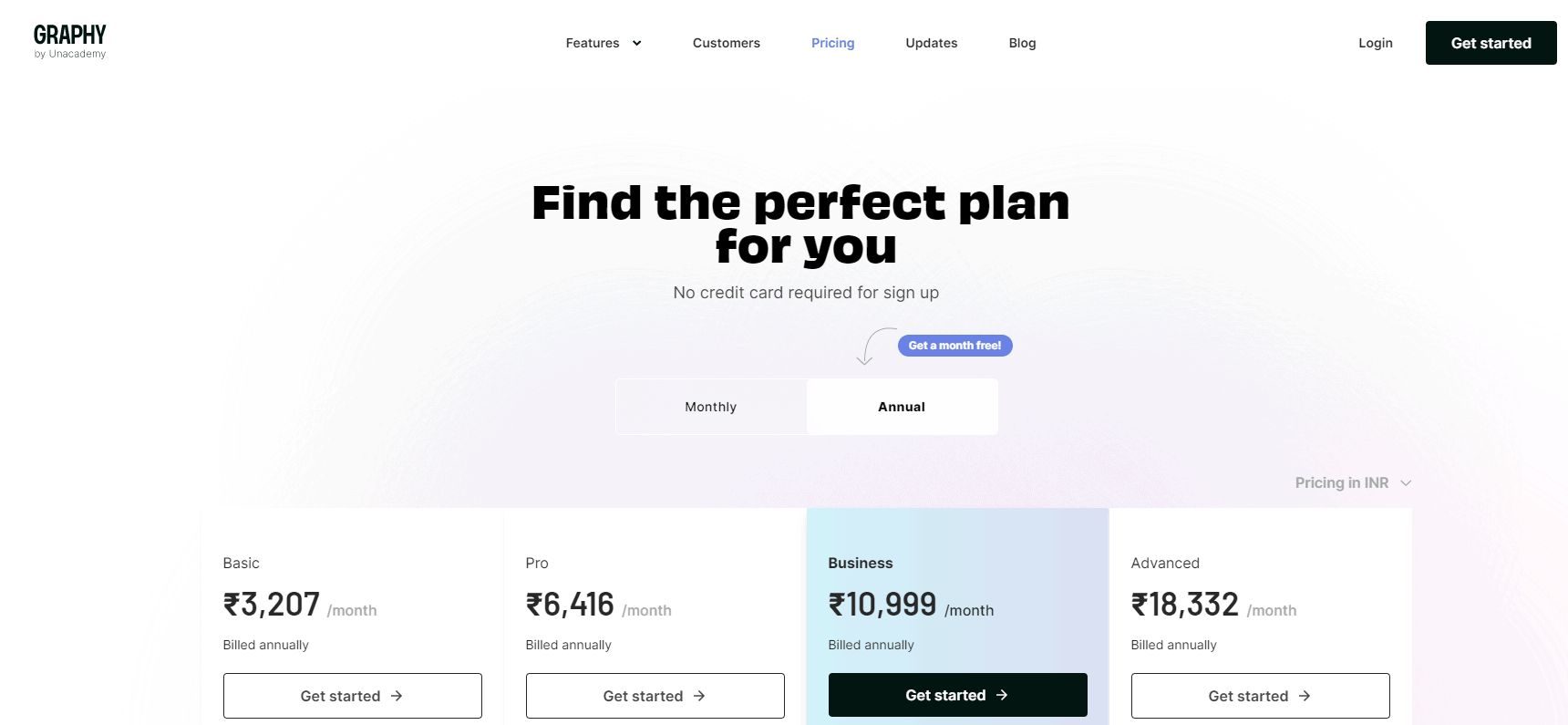 All GST and taxes are inbuilt as features. When a student buys your course, you can offer him/her cashback within the limits you want. This is very similar to what Paytm and Ola Money offer.
So here, according to the example, the user/student will get INR180 cashback if he/she purchases it for INR 1800 which will be valid for 50 days. If within this time frame they are purchasing any other course they can use these coins to do so.
With Graphy's Single course Checkout, you create a sales page and the moment someone clicks on Buy Now  – they are redirected to your payment gateway (chosen by you). They can also purchase with Cart Functionality.
Marketing Tools that Enhance Journey as an Educator:
SEO descriptions and Keywords or scripts if you want to add

Blogs – Helps improve the SEO of your site and google rankings

Promo Codes – If you want to offer discounts on special occasions or festivals to improve your business, this is what you use. You may create as many codes as you want for specific packages or any course. Do suggest them on the check out pages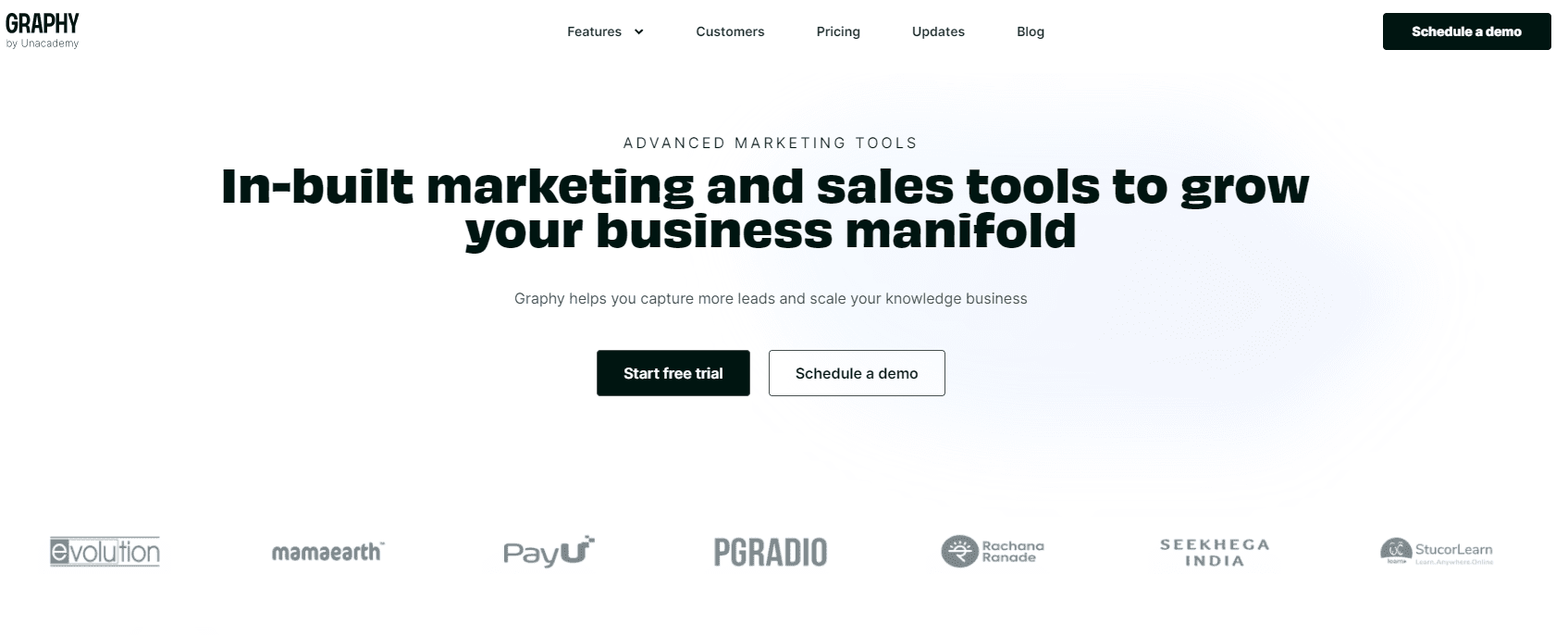 Wallet & Credit – You can add a name and value of your choice 

Refer & Earn – Similar to Uber, your students and users are able to earn wallets by referring friends to Graphy. This will help them to get some discount on the course 

Affiliate settings – These settings allow you to let your students promote your course since they are the only ones who understand it since they have already taken it. The user/student would be keen to do it as well since they will be getting a commission out of it. It is very simple giving commission to your students to get more students. You as a creator have the liberty to put forth your Terms and Conditions
Quick Links:
Conclusion: Why Graphy Is The Ultimate Course Creation Platform?
As you can see, with Graphy you have a plethora of options to choose from. These features will not just help you build a robust online education platform but scale up your business 10x times.
With its Advanced Integrations like Zoho CRM, Segment, Webhooks, Custom Email Integrations, and Zoom Enterprise – Graphy is the Ultimate go-to solution for all online educators.