Does Envato Elements offer a free trial? Can I use the Envato Elements free trial offer?
In this article, I will talk about the Envato Elements free trial and how you can get additional discounts on your purchase.
Whether you're a beginner or an experienced designer, Envato Elements has a lot to offer.
Let's check the details about the Envato Elements free trial and tips on how you can get the most of out Envato.
What was Envato Elements Free Trial?
The Envato Elements free trial was a fantastic opportunity for new users like myself to enjoy the complete Envato Elements experience without any cost for a period of 7 days.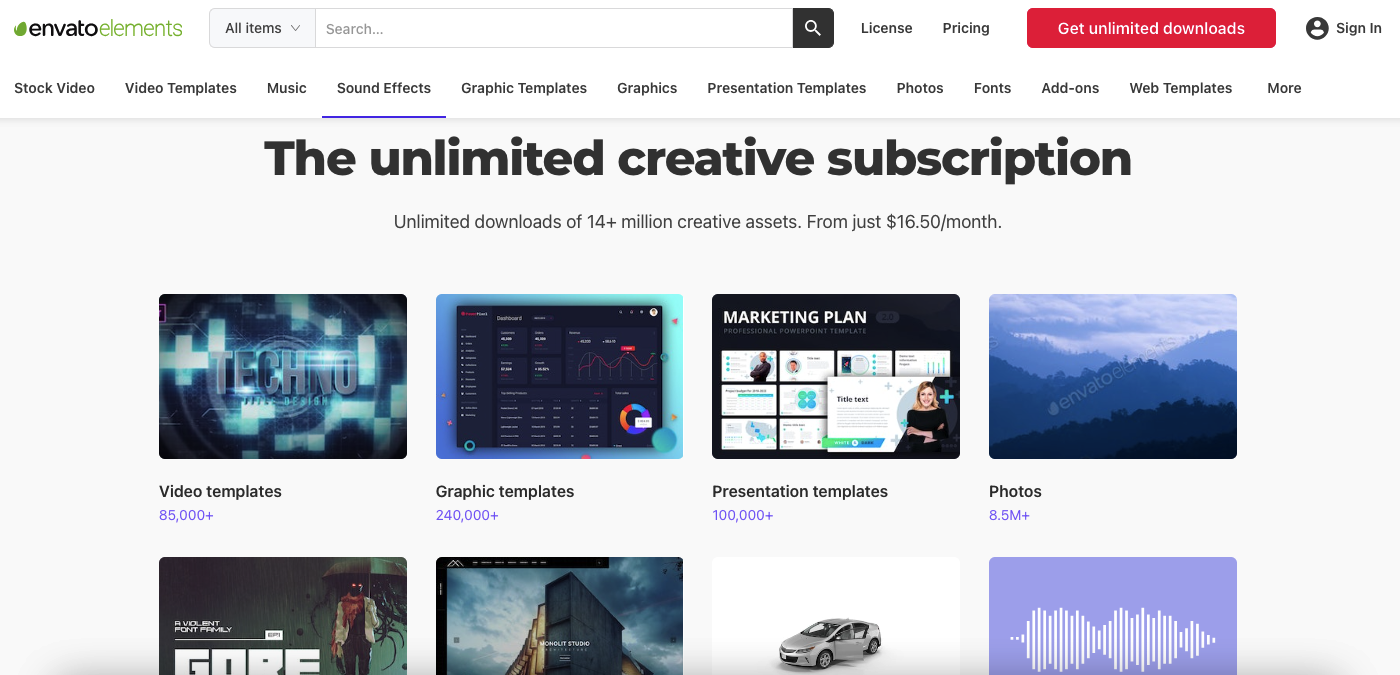 Unfortunately, it was discontinued indefinitely in March 2023. A lifetime commercial license was also included with all creative assets I downloaded during the trial period.
The best part was that I had the freedom to cancel my subscription anytime during the trial period without any charges.
Although the free trial is no longer available, there are other platforms you can explore, such as Shutterstock, Adobe Stock, iStock, and Depositphotos, which offer their own free trial options.
How much do Envato Elements cost after a Free Trial?
Envato Elements offers flexible pricing plans to cater to different needs and budgets. Here's an explanation of the pricing options available:
1. Individual Plan:
Starting from $16.50 per month, the Individual plan provides access to millions of creative assets for one user. With unlimited downloads, users can freely explore and use a wide range of resources.

The plan includes simple commercial licensing, allowing users to utilize the assets for commercial purposes. It offers the flexibility to cancel the subscription at any time.
2. Teams Plan:
The Teams plan is designed for groups of five or more members and starts from $10.75 per member per month.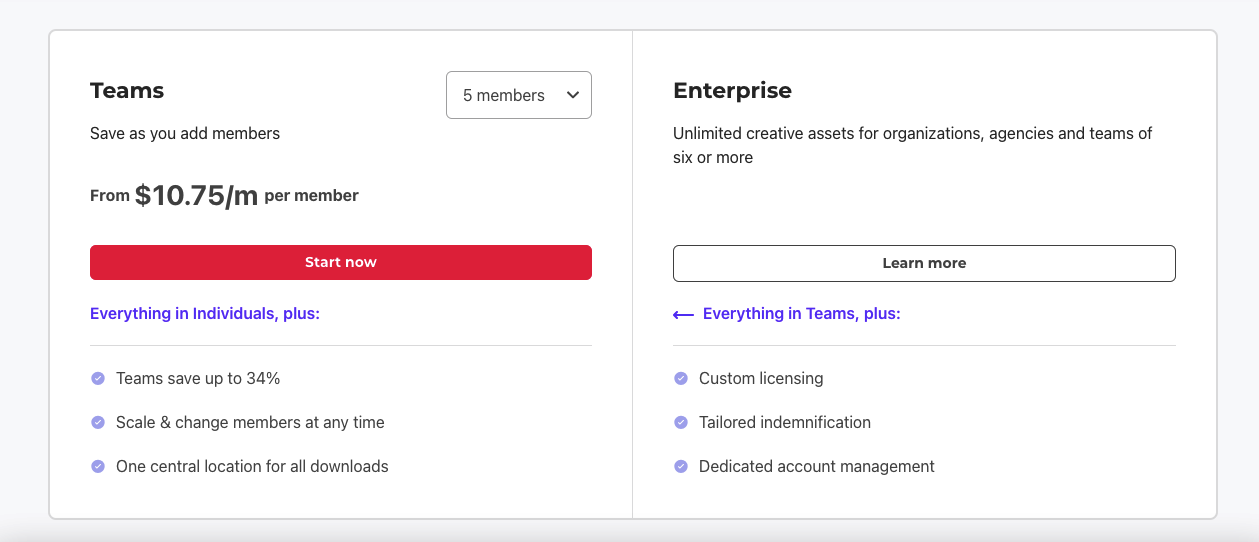 In addition to all the features included in the Individual plan, the Teams plan offers savings of up to 34% as more members are added.
Teams can easily scale and adjust the number of members as needed. The plan also provides a central location for all downloads, making it convenient for collaboration and sharing within the team.
3. Enterprise Plan:
The Enterprise plan is tailored for organizations, agencies, and larger teams of six or more members. It offers unlimited access to creative assets and includes all the features of the Teams plan.
Additionally, the Enterprise plan provides custom licensing options, allowing organizations to align the licensing terms with their specific requirements.
Tailored indemnification and dedicated account management are also available to meet the needs of large-scale operations.
How to Save Money on  Envato Elements even after the Envato Elements trial has been closed?
Envato Elements offers a special discount for students – 30%, making it the most valuable subscription option for students. Take advantage of this discounted rate to access unlimited creative assets at a more affordable price.
Steps to Avail 30% off on Envato Elements
1. Click on Envato Elements Pricing Page.

2. Click on Learn More on the banner saying Students.

3. Click on Verify your email address as a student to get 30% off. OR alternatively, you can also verify your email address by entering the box here.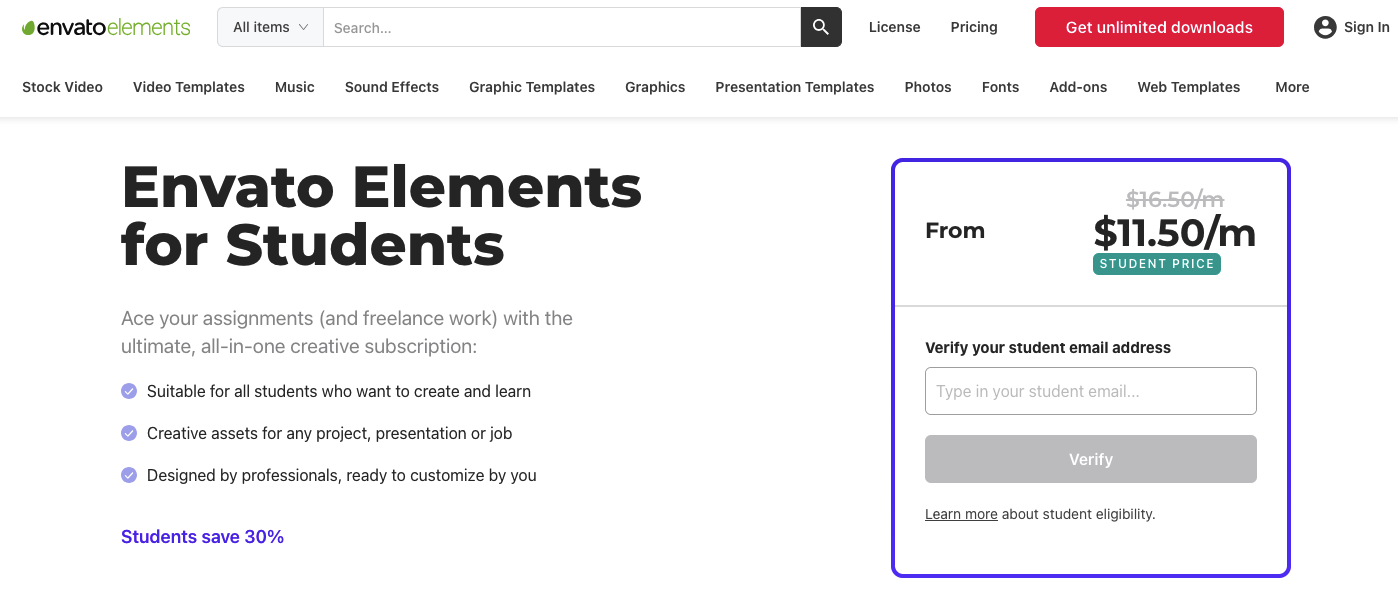 4. After your email address is verified, you can buy the plan at a discounted price.
Quick Links:
Final Verdict On Envato Elements Free Trial
While the Envato Elements free trial has ended, there is still an opportunity to save on your subscription.
In order to take advantage of the discounted pricing offered by Envato Elements, students, teachers, and faculty can sign up for a student plan at a discounted price.
By availing of the student discount, you can enjoy a 30% discount on unlimited downloads of creative assets.
This is a great way to access top-quality templates, save time on your projects, and stand out from your peers.
If you meet the eligibility criteria, don't miss out on the chance to unlock the full benefits of Envato Elements at a discounted rate.