In this post, you will get in-depth info about ProxySeller along with its features and pricing policy.
What are Proxy Servers?
Proxy servers have been designed in a way to enable millions of websites and businesses to easily look up information for their projects and assignments with the simple push of a few keys.
These servers act as an intermediate connection between you and the company with whom you are working. The concept can be understood in a way as if a stockbroker is taking your shares and investing them during the share market runs to the right company in whom your stocks are being invested upon.
ProxySeller ProxySeller Review 2023: Buy Best Private IPv4 and IPv6 Proxies
Applying this concept to the internet world, a proxy server works as an intermediate medium between you and the website server you are trying to connect with and seeking resources from, performing certain tasks on the behalf of another computer.
These are technical intermediates or gateways between you and the internet separating end users from the websites and greatly simplifying the complex task of researching and information gathering over the internet.
Numerous platforms have been developed over the course of the last decade, that offer users and webmasters to purchase dependable and trustworthy proxy servers.
Just entering the keywords "Proxy servers" on Google will lead you to hundreds of platforms that sell proxies.
However, not all of them are reliable or perform well. In this post, we will give you a review of Proxyseller.com, a similar platform that is popular among web users for purchasing reliable proxy servers!
About ProxySeller
Proxy-seller is an online proxy platform that lets you purchase powerful personal and individual IPv4, and IPv6 proxy servers as well as dedicated and mobile proxy servers for websites like online games, social networks, eCommerce, education websites, and more.
It is a proxy platform that only uses reliable private dedicated IPs, thus ensuring complete privacy and anonymity of the browsers.
Proxy-seller is an internationally recognized proxy platform and currently provides international proxy centers from the USA, France, Germany, Russia, Ukraine, Kazakhstan, Netherlands, England, and Canada.
They are also developing proxy centers for other countries as well. They offer cheap and cost-effective private USA IPv4 and IPv6 proxy servers that are available for purchase just for $1.5 per month!
The proxies offered by Proxy-seller do not provide any restrictions on speed or traffic to customers and work perfectly for craigslist supreme, similar sneakers resources, dating sites like POF and match.com as well as for SEO purposes!
Their proxies also offer a wide range of nets and subnets.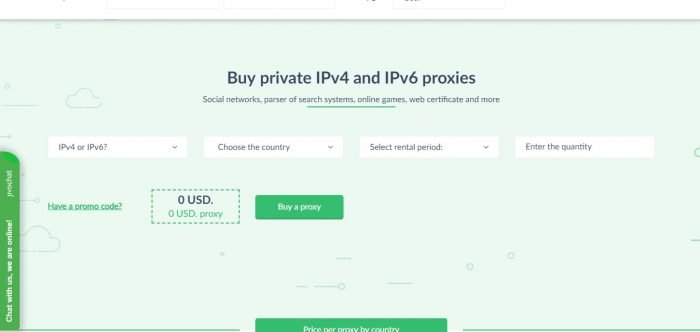 Featured proxies
Proxyseller currently offers the most powerful and performance-oriented proxy servers in the market.
IPv4 proxy
Proxyseller IPv4 proxies are fast, reliable, and capable of improving the efficiency of the internet business. These proxies are cost-effective and ensure complete anonymity.
IPv6 proxy
IPv6 addressing protocol was developed to replace the usual IPv4 when IPv4 has exhausted its quantitative and functional capabilities. Without going into technical details, IPv6 is:
128 bits in the address;
The architecture of addressing the future;
The infinite number of network entities;
Cheaper and more powerful proxy than Ipv4.
Dedicated server
Proxy-seller's dedicated server is the perfect choice if you wish to dispose of all the resources of your hosting server yourself while sharing something with other users in a virtual hosting space.
This allows you to have complete control over your hosting server as if you are buying a whole individual computer for yourself and having all access to it and are in charge.
Ukrainian Mobile Proxies
Ukrainian dynamic proxies are one of the four highlight proxies offered by Proxyseller along with their IPv4, IPv6, and dedicated servers. This proxy is commonly used for the following few reasons:
Websites like Instagram and Twitter, are used by millions of subscribers. A mobile proxy here is popularly used during situations of distributing bans at the earliest opportunity.
These mobile proxies allow you to dynamically rotate your IP address so that you can effortlessly work with several accounts at the same time and use third-party applications.
Mobile proxies allow you to bypass all restrictions simply because of the use of the new p0f technology and that there is no discrepancy between the User-Agent string. A mobile proxy makes it much easier to work between such discrepancies because they are easily monitored when using a variety of programs, supposedly providing anonymity.
Affiliate Program
With Proxy-seller's powerful affiliate program, you can receive 30% on the first payment and receive 10% for the rest ones, making it a reliable and stable source of income for users around the globe.
The program allows you to share your affiliate link via messengers or your e-mail with your friends, acquaintances, and partners, plus you also have the option to share the links in comments below the videos, articles, etc.
Other big benefits of signing up with their affiliate program include referrals for their entire duration and no minimum amount for withdrawal.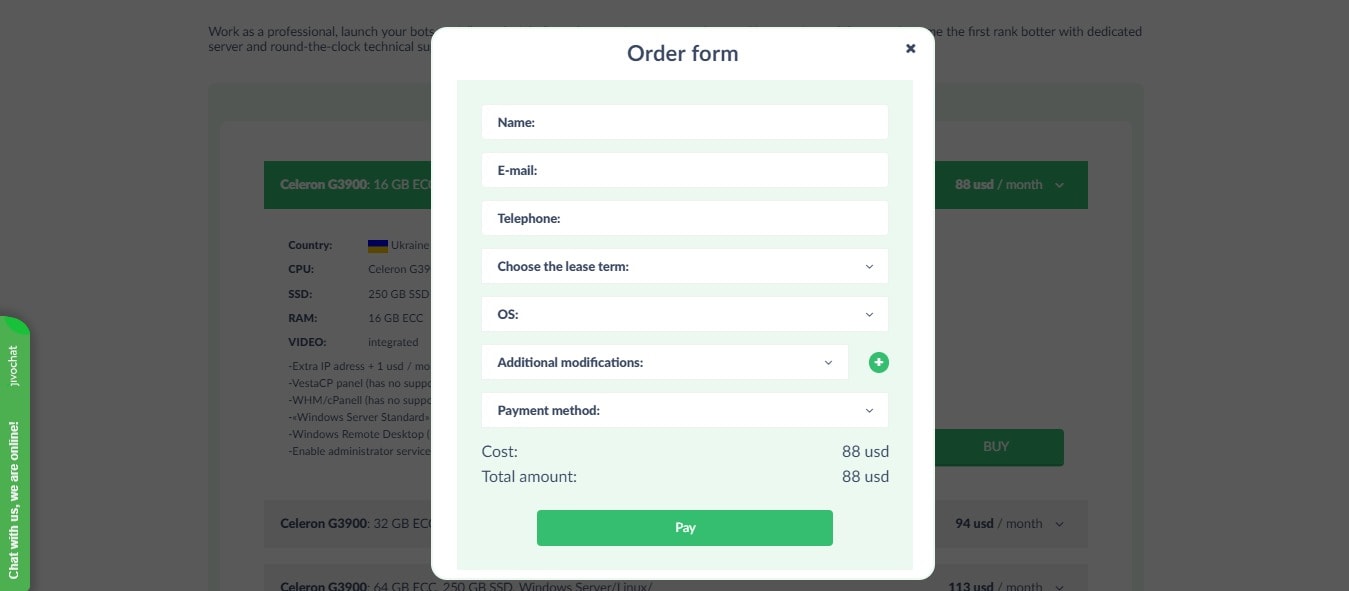 Proxies deal for:
SEO-promotion
Working with Key Collector
Work in social networks
People who visit online bookmakers and make bets
Players of online games. This also includes bots
Webmasters
Traffic arbitrage
Posting ads on CraigsList
Conventional users, and surfers, watch videos and bypass restrictions.
Proxies work with:
Google
PariMatch: Betfair bet365
Yandex
Instagram
Steam
Perfect World
Facebook
Warface
ArcheAge
Periscope
World of tanks
World of Warcraft
Amazon
eBay
YouTube
Kaspersky Lab
Proxy Seller Features:

1. Speed:
Proxy sellers offer extremely fast speeds, so that you can quickly access the websites you need. Their servers are very powerful and stable, so they ensure that your connection remains reliable and consistent.
This is especially important when you're trying to visit multiple sites in a short amount of time – proxy sellers provide a way for this to happen without sacrificing performance or security.
Additionally, the quality of their proxies is extremely high, so that you can be sure your data is safe and secure when it passes through them.
With such quality services, proxy sellers are a great way to make sure you have reliable access to all the sites you need.
2. Subnets:
When you choose to buy proxies from a proxy seller, there are certain features that can help you make the most of your purchase.
One such feature is the ability to divide and customize your proxies through subnets. Subnets allow you to create multiple IP addresses within a larger network so that you can manage your online activities more efficiently.
This is especially useful if you need to access multiple websites or services, as each subnet can be dedicated to a specific purpose.
With proper subnetting, you can limit the amount of IPs used and thereby reduce your costs while still being able to take advantage of all of the features a proxy has to offer.
Subnets also allow for greater control over access and security, as they allow you to restrict certain types of traffic while still allowing other types.
This makes them a great option for businesses that need to ensure their data is secure and protected.
3. Technical Department:
Their technical department is staffed with highly experienced and knowledgeable engineers who specialize in proxy services.
They are available 24/7 to provide support and guidance on any issue you might encounter when using our proxies.
Their team can assist with setting up your proxies, troubleshooting any connection issues or optimizing their performance for the best possible results.
They also have a comprehensive FAQ page that contains answers to frequently asked questions about using our services.
They are always looking for ways to improve our product and offer the best service possible, so if you have any feedback or suggestions we would love to hear from you.
Their technical department is here to help with anything proxy related!
4. Refund & Replacement:
Proxy Seller provides customers with a hassle-free refund and replacement policy. If you're not satisfied with your purchase, Proxy Seller allows you to return the product for a full refund or exchange it for something else.
They also use secure payment methods and guarantee the safety of your personal information. With Proxy Seller, you can rest assured that you'll be getting quality product and excellent service.
You can shop with confidence knowing that your satisfaction is their top priority.
Proxy-Seller Pricing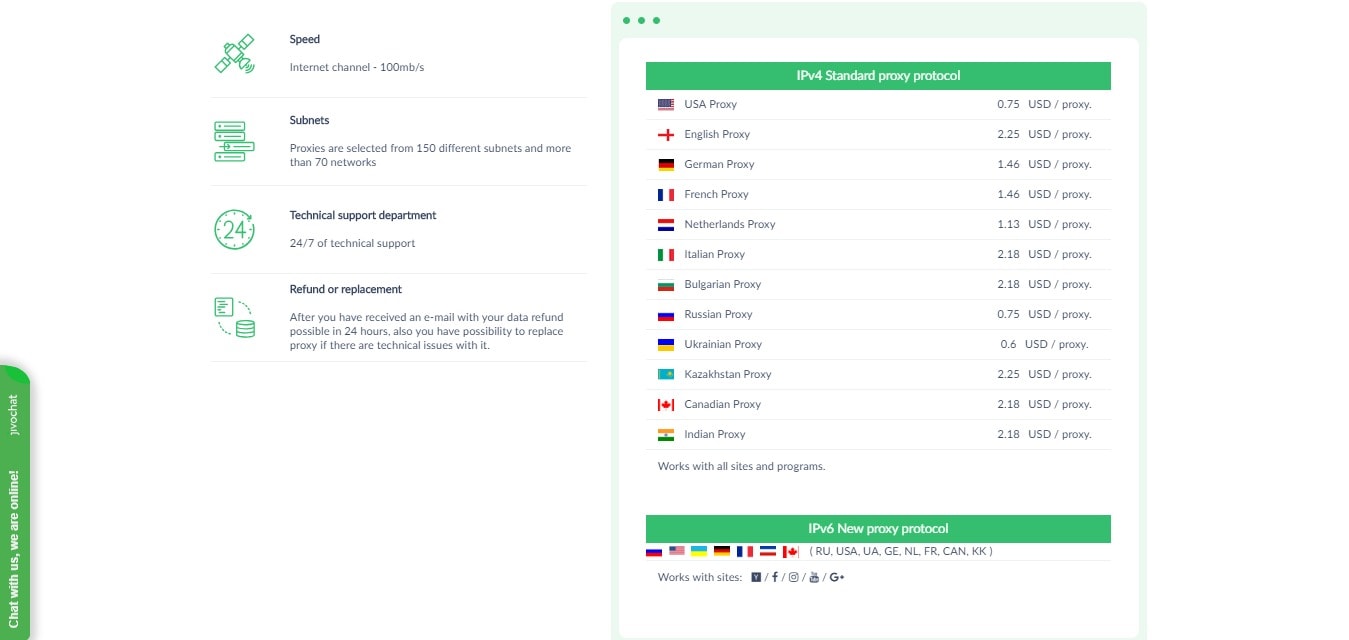 Pros & Cons of Proxy Seller:
| | |
| --- | --- |
| Pros | Cons |
| | |
| Access to Restricted Content | |
| | |
| | |
| Access to a wide variety of proxy servers | |
Proxy Seller supports SOCKS5 and HTTPS Protocols:
The system in question is capable of supporting SOCKS5 and HTTPS protocols, both of which are fundamental for maintaining secure and reliable network communications.
The SOCKS5 protocol, for instance, is widely used because it grants access to files, web pages, and other resources on a network, while also ensuring that authentication and encryption are in place to protect sensitive data from unauthorized access.
HTTPS, on the other hand, is a protocol that encrypts data transmitted over the internet, guaranteeing that all online activities remain private and secure.
It is often used to secure online transactions and exchanges of sensitive information such as credit card details, social security numbers, and passwords.
By supporting these protocols, this system provides users with the necessary tools to secure their internet activities and keep their personal information safe from prying eyes.
Support
Proxyseller boasts of a super-responsive 24/7 technical support team consisting of trained specialists, who are ready to solve any kind of issues during proxy use with big pleasure.
E-mail: [email protected]
Skype: proxy-seller.com
ICQ: 310-040
Quick Links:
Conclusion: ProxySeller Review 2023
Proxy Seller is the best option to purchase when it comes to the safety and anonymity of your browsers. If you are looking for reliable proxy services then ProxySeller is definitely worth a try.
Proxy Seller on social media: