Give me a High Five! You too are a movie buff like me. If you are like me who works to survive but watches movies to live, then this article is going to change your life.
What if I told you that you could turn your pastime into a source of income? You may not believe this, but it is entirely possible to earn money by watching movies.
From part-time jobs that earn a few extra dollars per month to high-paying jobs that could land you in the local news, we have you covered.
In this guide, we've compiled 18 legitimate methods for earning money while watching movies and videos on your own time.
How much can you earn watching movies?
It is difficult to estimate how much money you can earn by watching movies because it is highly dependent on your strategy, the platform you use, and the number of movies you watch.
However, it is possible for the majority of side hustlers to earn an additional $10 to $200 per month… especially if they stack platforms!
To find a method that works for you and begin getting paid to watch movies, simply select one of the following options. We have outlined everything in the entertainment industry, from part-time apps to full-time careers.
18 Best Ways to Get Paid to Watch Movies 2023
Skip scrolling social media when you have a spare moment. Get paid to watch movies instead by trying one of these fun ways:
InboxDollars is one of the most popular reward websites, where you can earn money by completing surveys, shopping online, and watching movie trailers.
The website offers cash rewards of approximately $0.01 to $0.04 per short video playlist viewed. The average length of a playlist is a few minutes, but they can range up to nearly thirty minutes.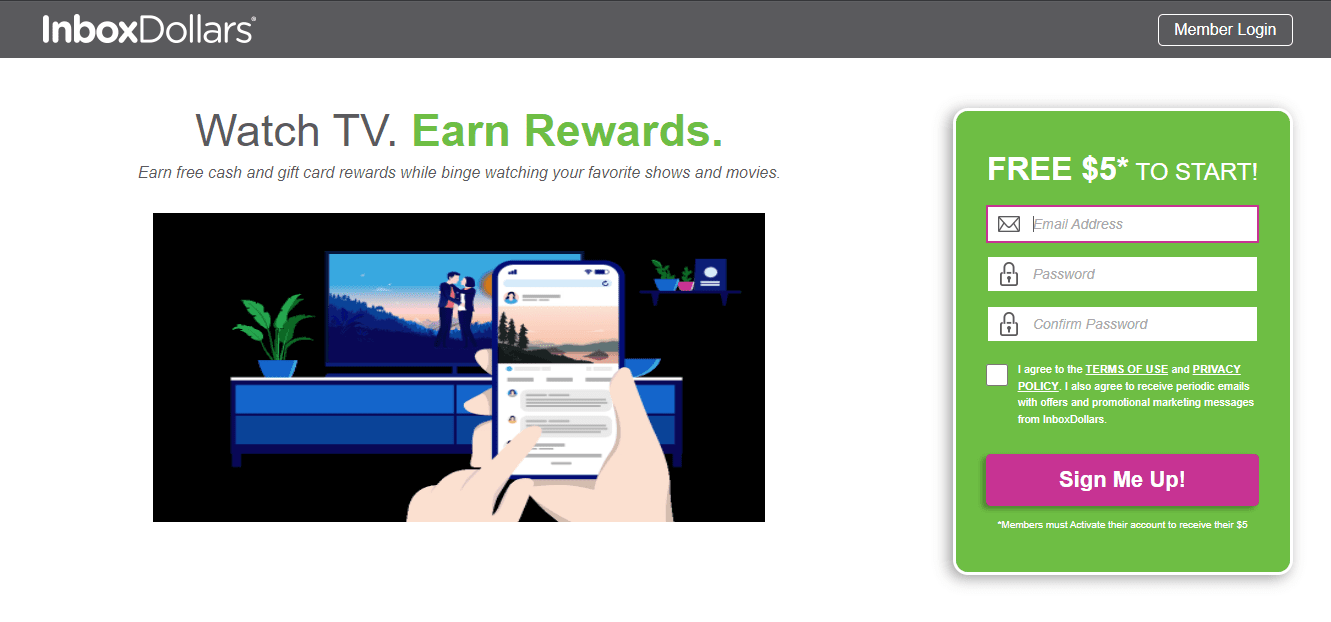 Note that in order to receive payment, you must watch the entire playlist. InboxDollars provides a $5 sign-up bonus and a $30 minimum withdrawal threshold.
Those who value flexibility may enjoy taking surveys and watching advertisements in their spare time on this website, but those interested in legitimate earning opportunities may be disappointed.
2. Sign up for Nielsen's Panel
Signing up for Nielsen's panel is one of the simplest ways to get paid to watch movies.
Nielsen is one of the oldest and most reputable providers of market research, specializing in the collection of data on media consumption patterns.
Consider Nielsen's Computer and Mobile plan if you're the type of person who can't wait to tell others about your new favorite television show.
To begin earning money, you need only grant Nielsen access to your viewing data. You can also enter their monthly sweepstakes for a chance to win up to $10,000.
The company tracks your viewing habits for $50 per year, but you can also enter their $10,000 monthly sweepstakes.
Swagbucks is another well-respected site that offers rewards, primarily cashback and e-gift cards.
On Swagbucks, there are numerous ways to earn points, including shopping, taking paid surveys, watching movies, and playing entertaining games.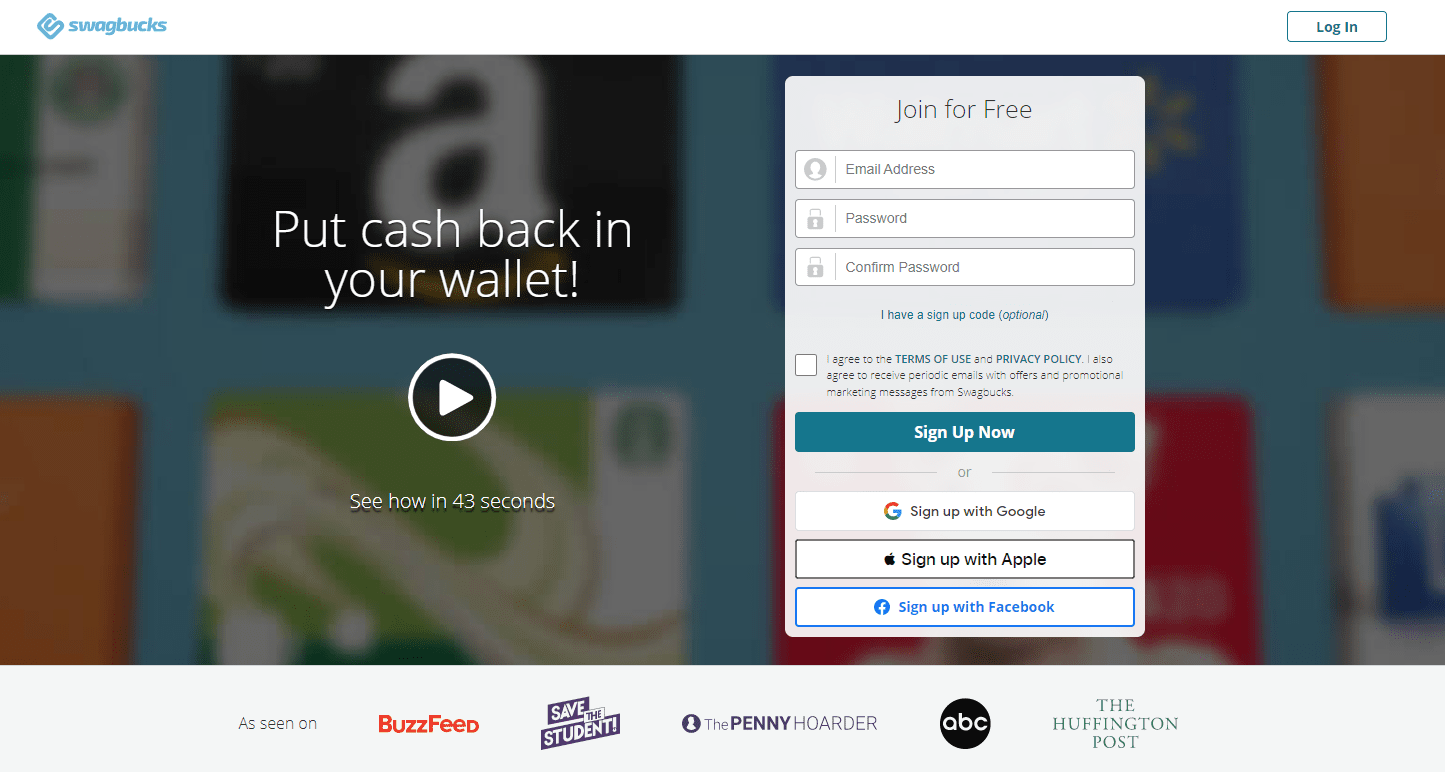 Once you've earned a total of $10, you can choose from over 100 gift card options. A popular feature of Swagbucks is the ability to run videos and advertisements in the background.
This allows you to earn money while going about your daily activities with relative ease.
You will visit a movie theatre as a mystery shopper and then report on your experience. Typically, this involves completing a brief survey regarding the quality of the film, the theatre, and the staff.
You may also be asked to take photographs or videos, count audience members, or answer questions about the film's plot.
Market Force is one of the most prominent mystery shopping companies, and they frequently have assignments for movie theatre mystery shoppers.

Register as a certified field associate to begin (CFA). Once you are onboarded, you will be assigned localized tasks.
Despite requiring more work than most other websites, this is a fantastic opportunity for movie buffs. And if you are already a theatre checker, you may be able to earn extra money while working your day job.
5. Make money as a movie editor
Film editors are essential to a film's success. They do everything necessary to transform scenes into the final product you see in theaters.
This includes removing unnecessary footage, adding transitions, and arranging the scenes in a logical order.
While you may not be able to obtain a job as a film editor immediately, you can begin by editing your own films. This is an excellent way to gain experience and gain knowledge.
Once you have an impressive portfolio, you can reach out to small production companies to determine if they require assistance.
As a film editor, you are ultimately compensated for watching films, but you also play a crucial role behind the scenes.
6. Join Focus Groups
Studios for film production and other businesses are always looking for honest feedback. Consider joining a paid focus group to provide this type of feedback.
Ultimately, initial impressions matter in the film industry. If a focus group dislikes a trailer, the studio may alter it before releasing it to the general public.
Numerous websites provide access to opportunities to join focus groups. Keeping It Reelz is a well-known example of a website that offers thousands of films and trailers.
Join the platform and review and discuss movies with other site users to earn compensation. In exchange, you will receive reward links from the merchants you choose.
7. Work as a movie tagger for streaming platforms
Netflix and Hulu employ individuals to categorize and tag the content they stream manually. Does this sound too good to be true? It isn't!
Taggers are required to add relevant keywords to everything they watch to aid users in discovering new films and television programs.
In addition, Netflix taggers are required to assign metadata and descriptions in a database using information such as the movie's release date, language, and genre.
This is an incredible opportunity to earn up to $800 per week simply by watching movies. Unfortunately, these positions are scarce. Be on the lookout for the next available position.
You May Like This:
8. Get paid to watch trailers on AppTrailers
AppTrailers, as its name suggests, pays users to watch movie trailers. This is a simple and entertaining way to earn extra money in your spare time.
The average length of a movie trailer is less than five minutes, so you don't need to invest much time to earn extra money.
Download the AppTrailers app from the Google Play store and peruse the available trailers to begin earning. You will earn points that can be redeemed for PayPal cash or gift cards for every trailer you view.
With the majority of trailers offering less than 5 points, or a half-cent, your earning potential is quite low. However, if you're okay with that, this is a simple way to earn some extra cash in your spare time.
AdWallet operates somewhat differently than comparable feedback platforms. Instead of randomly scrolling, AdWallet matches you with relevant products and services.
When a match is made, the website sends a link to the short video via text message. Each video pays between $0.50 and $3.00 and takes only a few minutes to view.

Although there is a limit on the number of videos you can view, the rate at which you earn is up to 100 times that of sites like InboxDollar and Swagbucks. Additionally, you can earn $1 for each referral!
10. Work for Checker Patrol
Checker Patrol assists businesses in promoting their products to consumers. For instance, movie studios may be interested in your local movie theater's prices or whether their posters are displayed.
As a Checker, you would visit the specified location and document what you observe with photographs or videos. This is an easy way to earn extra money if you enjoy freelancing or going to the movies
11. Work as a closed captioner
The captions you see when you click the CC button on platforms like Amazon Prime are written by closed captioners. Closed captions are intended to assist the deaf and hard of hearing.
Also, this job pays you to watch movies and television shows.
Since you must concentrate on writing captions, this is not the most enjoyable way to earn money while watching movies.
However, you still get paid to watch movies and television programs, correct? According to Rev, the highest earners at the company earn $1,574 per month.
12. Earn rewards on MyPoints
MyPoints is an app that pays users to watch movies. To begin, you only need to fill out a questionnaire and confirm your email address.
You can earn up to 500 points per day on MyPoints by watching online videos. Points are awarded upon completion of a predetermined video playlist.
Once you've earned enough points, you can receive payment via PayPal, gift cards, or shopping vouchers.
13. Make money captioning movies
As film and video platforms continue to make their content accessible to deaf individuals, transcription jobs are becoming increasingly prevalent.
As a transcriptionist or closed captioner, you are responsible for writing subtitles for films, videos, and advertisements.
If you are confident in your ability to accurately transcribe audio, it is relatively simple to land a transcription job. Depending on your employer and level of experience, your hourly wage could range from $10 to $75.
14. Start your own podcast to discuss films
You could also consider starting a podcast in which you discuss movies. There are numerous podcasts available about movies. And you could even start your own.
Advertisers and sponsors pay podcasters for their content. Similar to having a blog or YouTube channel, you must build an audience for your podcast before you can begin earning money.
In order to build an audience, you will need to consistently distribute high-quality content. ThePodcastHost.com provides a step-by-step guide on how to start a podcast, which you can view here.
Podcasts enjoy immense popularity. In fact, one of the most well-known podcasters, Joe Rogan, made a $100 million deal with Spotify.
Although you may not earn as much, you can still earn hundreds or even thousands of dollars per month from your podcast.
15. Write movie reviews
Movie critics are compensated for viewing films and sharing their opinions publicly.
What a fantasy! You must be a strong writer, have a keen eye for detail, and be able to concisely express your thoughts and feelings about a film in order to be a good film critic.
If you want to make a name for yourself as a movie critic, consistency is essential. However, if your objective is to earn money by watching movies, there may be no alternative.
16. Launch a YouTube channel
If the idea of becoming a film critic appeals to you, consider modernizing it by creating a YouTube channel. In addition to getting paid to watch movies, you will also have the opportunity to develop your own creative process.
To begin, you only need a camera and an opinion. As you develop an engaged audience and personal brand, you can enter into partnership agreements, place advertisements on your videos, and more.
Although it can take years to monetize a YouTube channel, your earning potential is nearly unlimited.
17. Work as a pet-sitter
The next service on the list is pet sitting. If you enjoy both animals and movies, this could be the perfect job for you.
Many individuals require pet care at some point, such as when they are at work or on vacation. Thus, they employ a pet sitter. This job involves caring for a pet, but there is also downtime during which you can watch any movie you want.
Here are some places where you can find pet-sitting jobs:
Pet-Sitter.com

Rover\sPetBacker
This job can also be quite lucrative, with Rover, for example, paying up to $1,000 per month!
18. Create your own YouTube Account
Do you want to be compensated for watching your favorite films?
One of the best ways to accomplish this is to create a YouTube channel dedicated solely to film.
Channels such as Screen Junkies, WatchMojo, and WhatCulture primarily provide top ten lists ranging from the best horror films to the worst movie performances, as well as trailers in the case of Screen Junkies.
These channels receive countless views. You could create your own channel dedicated to movies. You are able to watch movies of your choosing and then create videos from them.
You may create video reviews, top ten lists, or anything else you desire. CinemaSins and Screen Junkies are two examples of movie-related YouTube channels that provide creative content.
For instance, Screen Junkies is well-known for its Honest Trailer series, in which it creates humorous versions of trailers for new and old films.
CinemaSins is also inventive, as it provides a sin count for films that enumerates their flaws and errors.
You can be as straightforward or inventive as you like. It is important to note that YouTube does not pay creators of videos.
Rather, once you reach a certain number of channel views, you become eligible to become a YouTube Partner. As a YouTube Partner, the advertisements that play on your videos generate revenue for you.
According to online reports, YouTubers earn between $0.25 and $7 for every 1,000 views they receive. AdSense offers a variety of payment options, including Electronic Funds Transfer (EFT) and checks, that are deposited into your AdSense account.
There are additional ways to generate revenue from a YouTube channel. For instance, you can earn money by creating sponsored content for brands or by selling your own merchandise.
Get Paid to Watch Movies FAQs
How can I get paid to watch online videos?
Sign up for websites such as Swagbucks, MyPoints, and AppTrailers in order to earn money by watching videos. These platforms will pay you to view movie trailers and commercials, complete surveys, and play entertaining games.
What website pays for movie viewing?
You can earn money on InboxDollars, Swagbucks, and Neilsen by watching movies. You can earn additional money by viewing movie trailers, tutorials, and advertisements on AppTrailers.
Can you earn money by watching Netflix?
If hired as a Netflix Tagger, it is possible to earn money by watching Netflix. Taggers are paid between $25 and $30 per hour to watch and classify films for the benefit of other viewers. A Netflix tagger is intended to enhance the platform-wide search experience. Netflix has approximately forty taggers at present, and they are no longer accepting applications. However, you can monitor their job board for new openings.
Quick Links:
Final Thoughts: Get Paid to Watch Movies
You can always get paid to watch movies and videos if you want to earn extra money without exerting much effort. With so many options available, there's no reason not to try!
Utilize platforms such as Neilsen and Swagbucks to earn rewards for viewing brief advertisements. Even if it only adds $100 to your monthly income, why not get paid to do something you enjoy?
Consider becoming a movie critic or a closed captioner if you're looking for more permanent work.
These positions provide a stable income and frequently include additional perks, such as early access to new movies.
Then why are you still waiting? There is no better time than now to get paid to watch movies.