Almost everyone has heard of Duolingo and Memrise when it comes to language learning apps, but those aren't the only ones available.
Lingodeer is a relatively new app that started with a focus on Asian languages but now supports several other languages as well. There are a lot of similarities between Duolingo and this program but it seems to be much more effective (at least for me).
When it comes to Asian languages, this is especially true. Previously, I tried Duolingo to learn Chinese and was really dismayed at how bad it was. Compared to Duolingo, Lingodeer is much better.
Despite this, I would still recommend Lingodeer over Duolingo for languages such as German, French, and Portuguese.
The point is not to say Lingodeer is the only resource you should use to study or that it is the best. The site still needs quite a bit of work. Later on, I will address it too in the review. 
As of now, Lingodeer provides Japanese, Korean, Spanish, French, Chinese, German, Portuguese, and Vietnamese courses in English.
In addition, courses are taught in other languages. One may be able to take a Japanese course taught in German or an English course taught in Korean.
The courses I tried for this review were German, Chinese, and Spanish. My Spanish and Chinese are pretty advanced, but my German is brand new.
LingoDeer Review 2023: What is LingoDeer?
Lingodeer emphasizes the importance of mastering a language in its entirety because fluency is much more than just its parts. In addition to its grammar-based structure, the traditional lessons will help you develop your knowledge of vocabulary, grammar, pronunciation, and sentence structure.
 Moreover, each lesson gives you a rounded understanding of the language as a whole. Keep reading to learn more about LingoDeer.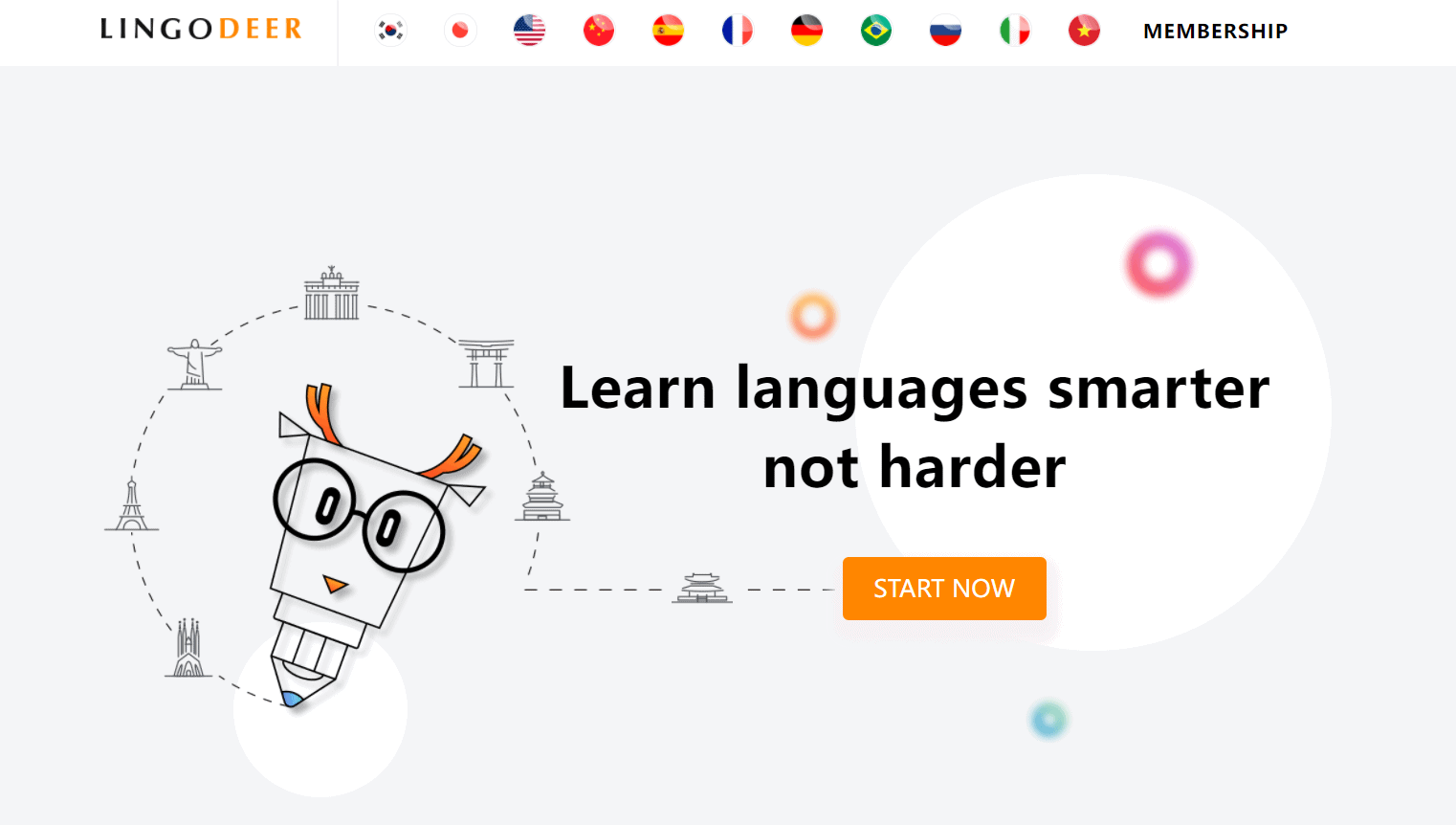 What Can You Do On LingoDeer? 
There are four main features of LingoDeer's curriculum: the lesson itself, in which you are given vocabulary and asked to construct sentences; learning tips, which explain the grammar points in detail; story mode, which gives you a video clip and reading and listening exercises; and vocabulary, where you practice the words you have learned.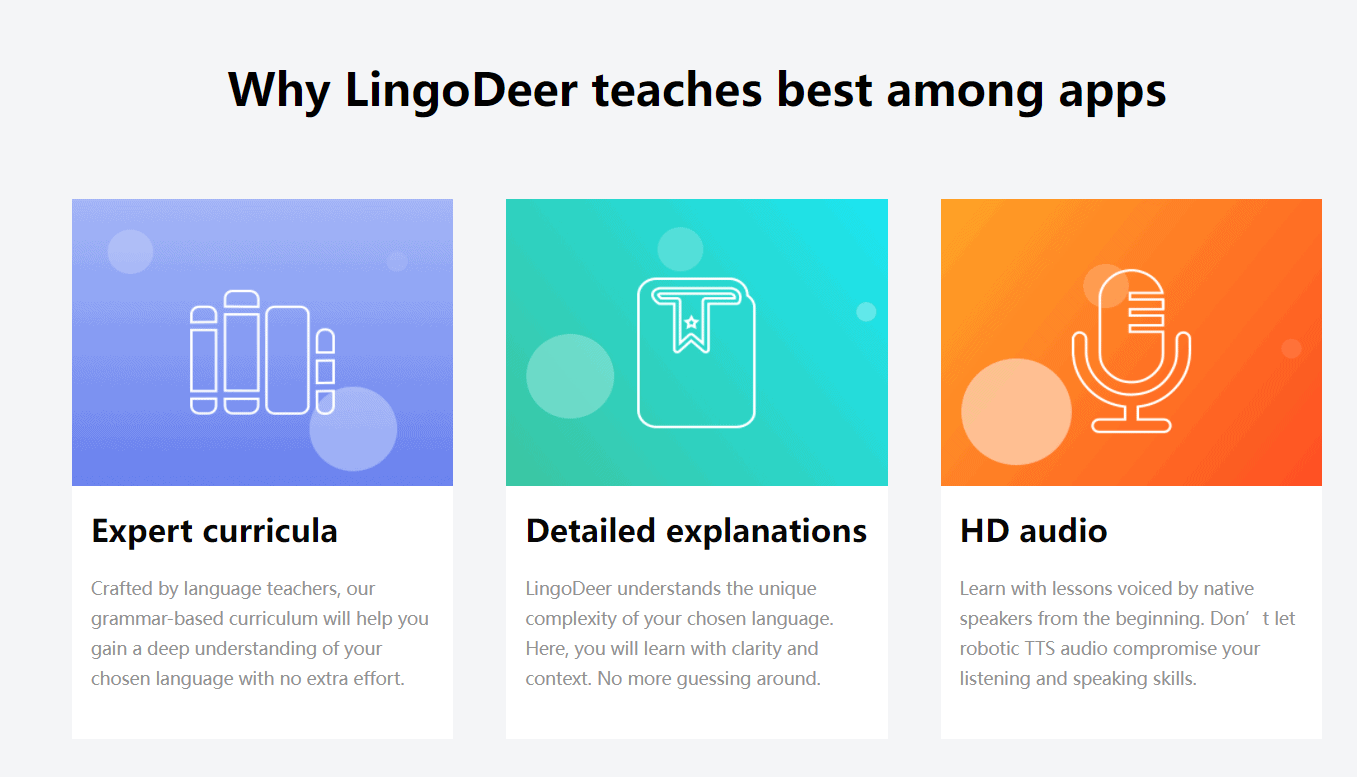 Lessons
The lessons in LingoDeer will make sense if you're familiar with the Rosetta Stone approach. Picture prompts often accompany the words that you're practicing so that you can choose the one that best represents the word.
If you are learning a language that does not utilize the Latin script, you are provided with romanized script alongside the language script in order to aid in pronunciation. You will need to use this until you are comfortable with the writing system. The accompanying audio can sometimes be misleading (Korean is a big offender), but the crispness and clarity more than makeup for this.
You can also select from multiple-choice, complete-the-sentence, match, and type the sentences yourself, which you don't see very often. Languages that use scripts other than Latin will require you both to install the appropriate keyboard and to know the alphabet well enough to input it. 
If this is an issue for beginners, LingoDeer offers a solution: just press the "Help me!" button, and the exercise will be transformed into a point-and-click exercise.
Looking to learn new languages and want to know if Glossika is the right platform? Then you must check out our review about Glossika and find out if it is worth it.
Learning Tips
LingoDeer's Learning Tips are as close to textbooks as you can get. A Learning Tips page with charts and examples explains each grammar point in great detail for each unit. To maximize its use as a learning tool, the explanations are concise and the examples are clearly defined.
Story Mode
There will be a short video, a reading exercise, and a speaking exercise in this section. The reading portion of LingoDeer consists of questions in your target language. In spite of the fact that you may not be able to read the entire question, what you can figure out from the context is the answer. 
After listening to the audio examples, you are required to record yourself speaking. As you play back your audio, you will be able to hear your pronunciation improve.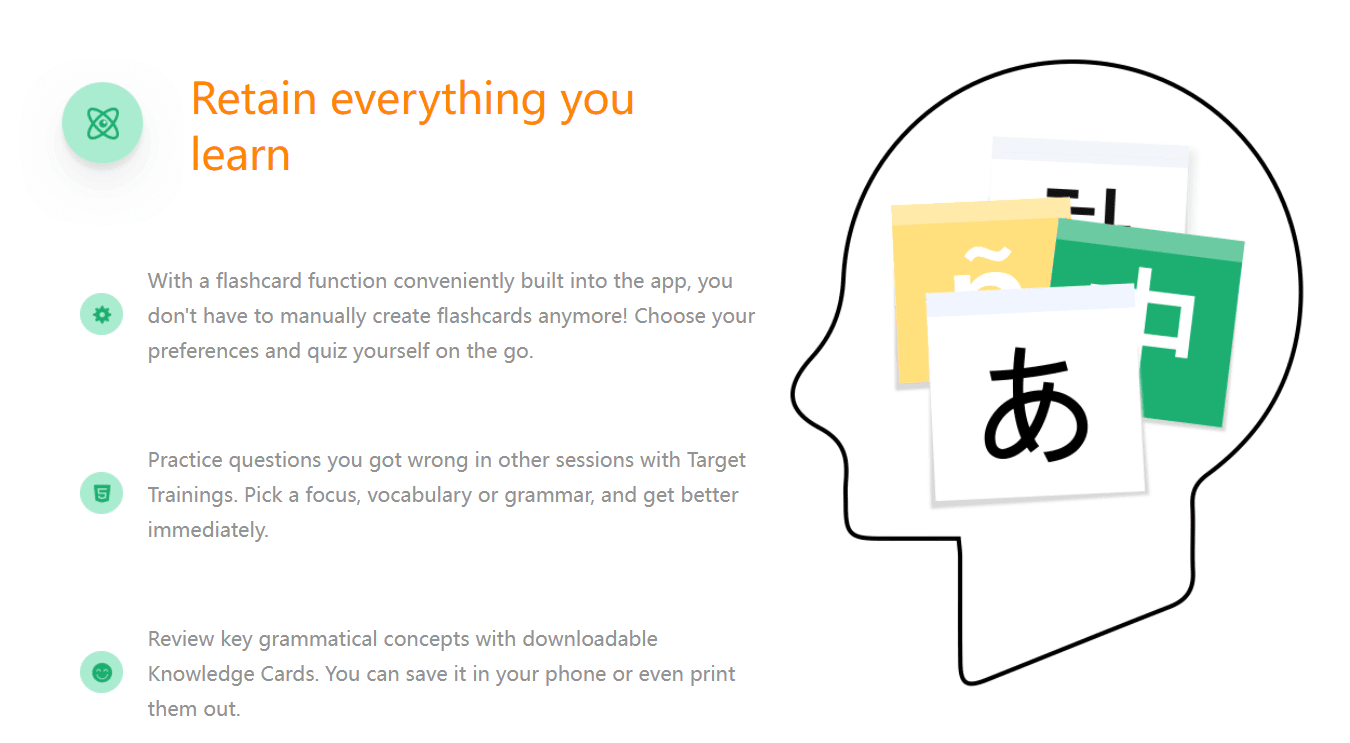 Vocabulary
As with the lesson portion of Lingodeer, the vocabulary section provides you with a complete list of the words you learn in each unit, so you can review them in case you need to. 
Character Drills
The Chinese and Japanese lessons in LingoDeer for mobile include character drill exercises to help you learn how to write the characters in the correct stroke order as well. 
Travel Phrasebook
Except for Vietnamese, LingoDeer offers travel phrasebooks for all of its languages. This feature is exclusive to the mobile app, but covers a wide variety of essential phrases, such as self-introduction, greetings, travel, dining, shopping, and much more. You do not need a subscription to access this feature. 
LingoDeer+
With LingoDeer+, an app exclusive to mobile devices, you can learn languages in a unique and engaging way. In addition to the base program, LingoDeer+ offers a multitude of games to allow the student to switch up the curriculum. With its colourful design and fun games, this can be an excellent option for children to learn a foreign language. 
What Does LingoDeer Look Like?
Featuring a cute deer mascot and easy-to-navigate design, LingoDeer makes it easy to use for anyone. Once you're logged in, you will see your dashboard, where you can keep track of your lesson progress as well as your progress toward your daily goal. 
From your dashboard, you can move into the individual lessons, or if you feel the lessons you have so far unlocked are too easy for you, you can opt to test out of some of them and move straight to the content you haven't learned yet.
There is also a mobile app available from LingoDeer for those who want to learn while on the go. There are some features (such as drills that enable you to practice character development and conversation skills) that aren't available on the desktop browser version, but the application functions nearly identically. 

What Languages Does LingoDeer Offer?
LingoDeer offers 12 languages at the moment:
Japanese

Mandarin Chinese (simplified characters)

Korean

English

Spanish (European and Latin American)

French

German

Portuguese 

Russian

Italian

Vietnamese 

Arabic
On their website, they claim that more languages will be added in the near future. In addition to English, LingoDeer offers instruction in several other languages.
It should be noted that LingoDeer focuses on "the three major languages" of East Asia. In terms of features and course content, Chinese, Korean, and Japanese are the most popular.
Most of the languages they offer have at least one level of official courses, and their other language courses are of equal quality to those of the big three.
Who is LingoDeer Best For?
LingoDeer is ideal for students hoping to learn Chinese, Korean, or Japanese since it provides more content for those languages. Choose one or all three! LingoDeer does not preclude you from learning other languages as well. 
There is currently a Level 1 (beginner level) and a Level 2 (intermediate level) course for all languages at LingoDeer, except for Vietnamese, which has the "essential beginner" course. It doesn't matter if you're just getting started or feeling a bit challenged, LingoDeer can help you achieve fluency.
How Much Does LingoDeer Cost?
LingoDeer does not require you to input a payment method or make a payment to try it out. No account is needed to try it out. We offer everyone free access to each language's alphabet and pronunciation guides. 
In the event you like the program and would like lifetime access to all of its features, you can pay $159.99 (or $99.99 if you catch a sale) as a one-time fee. Subscriptions are also available for $14.99 monthly, $39.99 quarterly, and $79.99 annually. Comparatively speaking, the price is quite reasonable!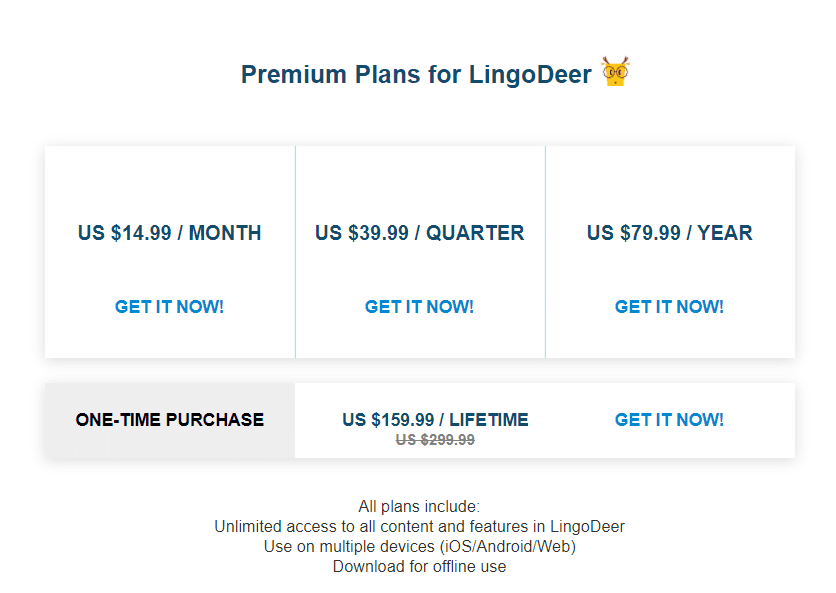 The LingoDeer+ mobile app is not included in this subscription. It will cost you $59.99 for lifetime access, $8.99 a month, $17.99 a quarter, or $71.99 a year. Depending on your learning needs, you will have to choose one or both programs.
Quick Links 
FAQs | LingoDeer Review
👍 Are the levels in LingoDeer Plus mapped to the main LingoDeer course?
The content-database for LingoDeer Plus is separate from that for the main course. Nonetheless, both courses follow a progression from A1 to B1.
👉Can LingoDeer make you fluent?
You can use Lingodeer to get introduced and started learning a foreign language, but it will not take you from beginner to fluent. Other resources will be needed.
🤩Is LingoDeer 2021 worth it?
It is true that this app is a great choice for beginners, despite all of the hype. In terms of how it works, it is very similar to Duolingo, even down to its adorable animated mascot. However, it has additional features that Duolingo lacks, such as extensive grammar explanations.
🤷‍♂️Is LingoDeer better than Duolingo?
Lingodeer is a better option for people who have set goals, while Duolingo is better for dabblers and beginners. When it comes to students of Mandarin, LingoDeer's algorithm can determine whether or not their pronunciations are accurate.
LingoDeer Review: Final Thoughts 2023
LingoDeer is a program that I would recommend that is well worth the subscription cost, especially if you purchase the Lifetime Membership.
Several of the lessons have unusual topics, and there is a lack of speaking practice, but those are only minor inconveniences compared to the rich variety of excellent features.
Due to the fact that this program is recommended for new language learners, I recommend it. For those who are more advanced, I would say that it is a great tool to review what you've already learned in a way that keeps you interested.
The information provided in this article is intended to help you learn a foreign language more effectively and to prompt you to try new learning methods. Good luck!