In this blog, we are going to take a look at Yabla Review 2023 to know it is an effective way to learn new languages or not.
With various language platforms offering so many different ways to learn a language, it gets hard to choose your course. But in my opinion, language immersion is the best way to learn a new language since each of our experiences points to the same method. 
Since it was the same method we used to learn our first language, wasn't it? What could go wrong? 
And with Yabla offering more than 1000+ videos in each language, language immersion gets easier. 
Yabla Review 2023– Is It Worth Your Money?
Why Did I Choose Yabla? 
Being a traveler, I always recognized the benefits of learning a new language, but it hit me more challenging last year when just a few words of French helped me connect to locals in Brussels. As soon as I started conversing in French, the locals became friendlier.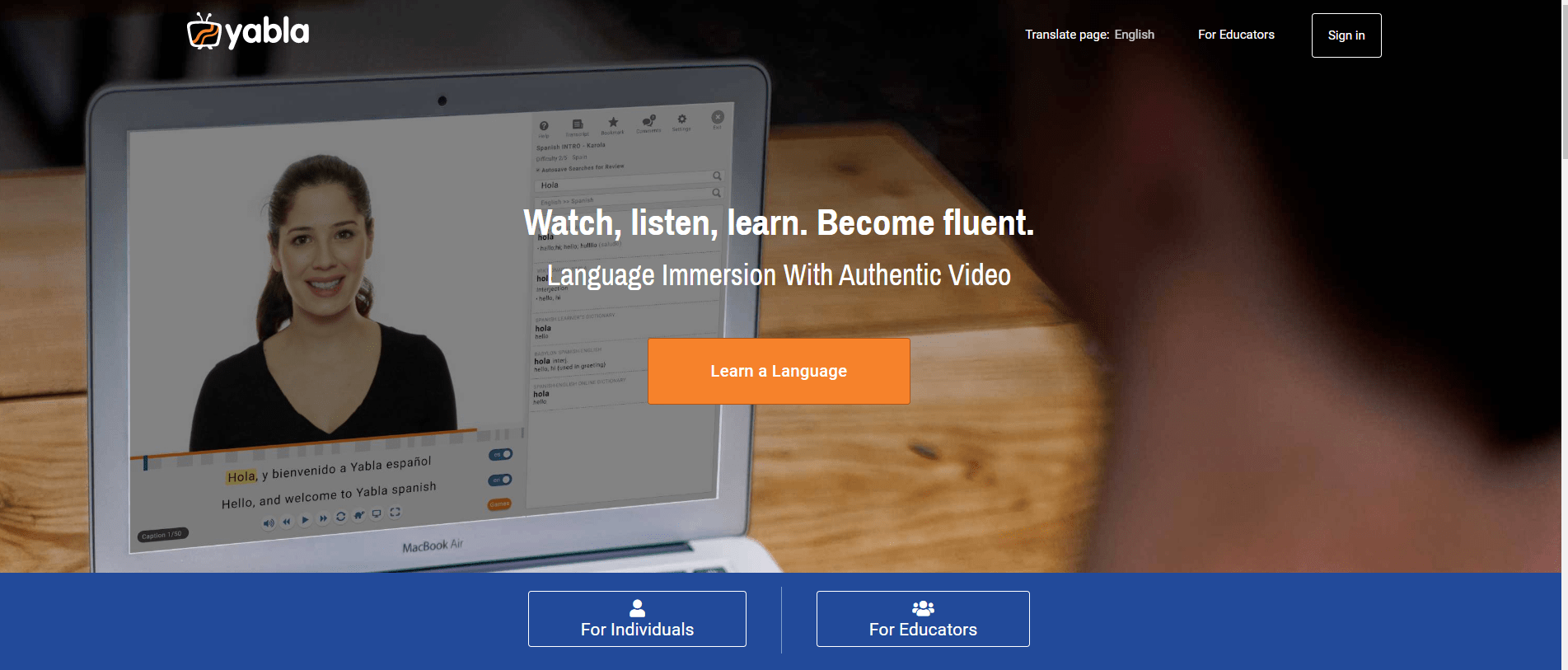 My trip just got more interesting from there. I got invited to a local's house for dinner, went to a tucked-away inn which was, by the way, very popular with the locals, and overall had a personal and richer cultural experience than I would usually have. 
I even picked up some more French before I left. And that made me realize that listening was the best way to learn a language. And narrating my experience to a friend, she introduced me to Yabla and ended my search for a language learning platform.
Yabla immediately fit my terms of wanting to learn a language just by listening. And with the variety of the content they had to offer, I was sold! 
What Is Yabla? Yabla Overview
Yabla is a language immersion tool that helps you become proficient in a new language by using their simple mantra: Watch, listen, and learn.
The platform offers six languages for you to choose from, namely Spanish, French, Italian, German, Mandarin Chinese, and English.
Yabla is completely focused on learning a new language by using authentic video content with interactive controls. To provide an amazing learning experience, it has an extensive library for all languages.
The library offers content of various difficulty levels and genres such as documentaries, dramas, sports, people, music, art and culture, action, etc. 
Based in Newyork and established in 2001, Yabla is a platform both for learners and educators. Also, just so you know, the word Yabla is derived from the Spanish language, meaning 'he or she speaks or you speak'.
So, let's get started the Yabla way. I speak about it, so you know if you want to as well.
For Whom Is Yabla Meant For?
Yabla is meant for anybody who wants to learn a new language for any purpose. Be it a hobby, expansion of cultural horizons, wider career scope or even to make travel more interesting by learning the local language.
But since Yabla lacks speech exercises it also creates an obstacle for a fresh learner and works more as an input tool. So Yabla is mainly for an intermediate learner and advanced learner.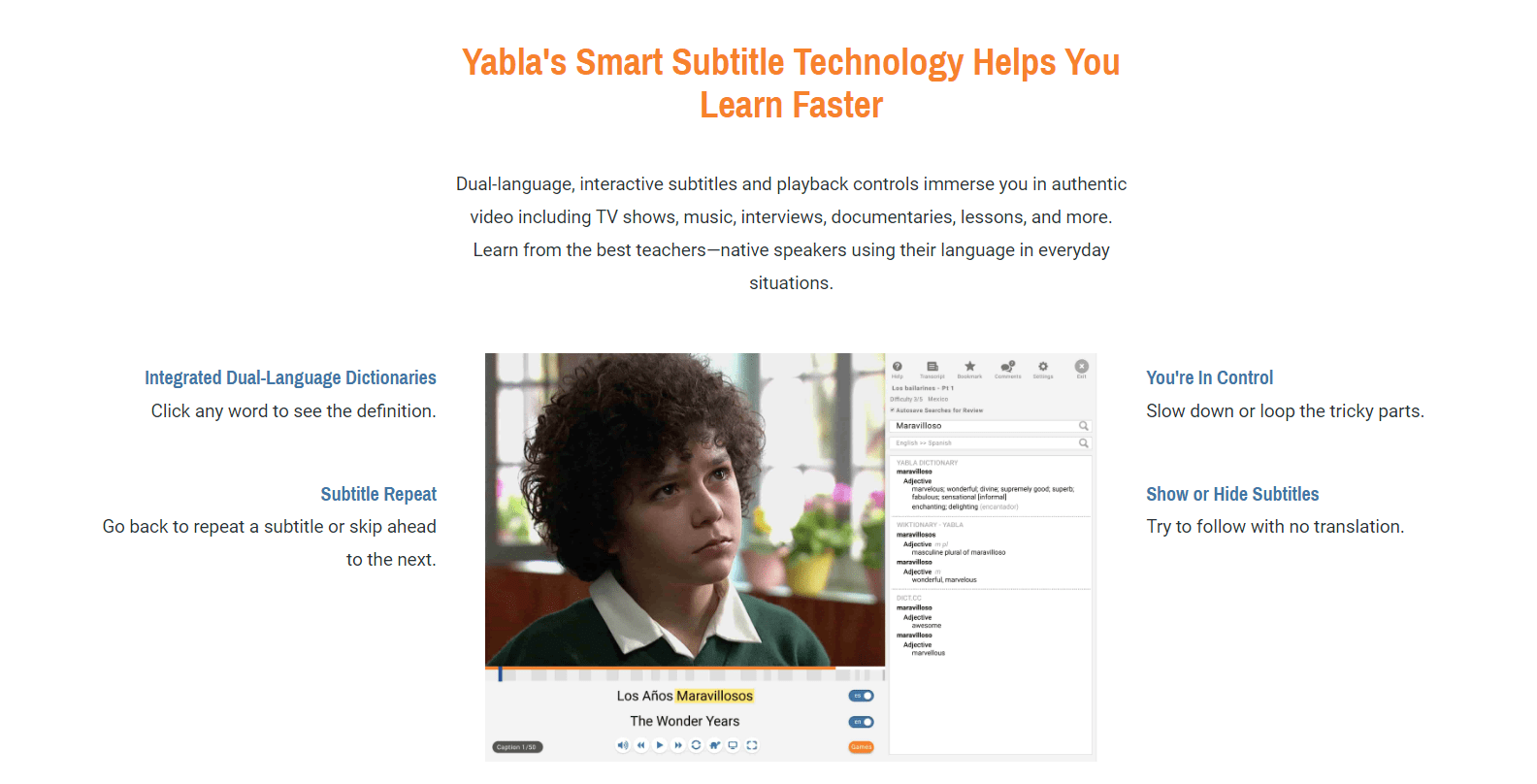 Because in both these cases, the learner will be at ease and navigate through Yabla with basic knowledge of what he wants to watch and what will enhance his skills. As opposed to a person who is just starting since Yabla is not that organized with content. 
You should also keep in mind that any language tool isn't a complete product in itself. Yabla too lies on the same lines. It is a tool that helps you improve your basics. Keeping this in mind will help you to know what exactly to expect from it.
Looking to learn new languages and want to know if Glossika is the right platform? Then you must check out our article on Glossika review and find out if it is worth it.
Key Features Of Yabla | Yabla Review 2023
Here are the best features of Yabla:
1. Dashboard 
The dashboard helps you track your progress, set goals for yourself, and even stay updated with Yabla News. 
2. Yabla's Own Video player 
As we discussed earlier, Yabla's video library is extensive and filled with natural and authentic videos to give the learner a rich learning experience.
If you are just starting on Yabla, you should know that the videos are divided into small segments and a simple rating tool of 1 to 5 is used to define the difficulty level of the videos.
The real-life content on Yabla looks like a very big advantage to me since you can only best pick the rhythm or the nuances of a language when it is used by the natives or in its natural form, something that educational content designed traditionally might lack. 
Each video is assisted by subtitles, in your language as well as your target language. You can toggle it on and off as you wish. You also have the option to watch the subtitles in both the languages together, individually or not at all.
While some people may think to watch with subtitles is cheating, but subtitles activate the speaking and listening parts of the brain at the same time and help you learn better. 
Another tool that helped me learn faster was, when I clicked on a word, it immediately got looked up in Yabla´s dictionaries and was also automatically added to the deck of flashcards. 
Along with subtitles and dictionaries at hand, what I appreciated with Yabla's video player was the Slow button which turned the speed down to 75% or even 50% of the normal speed.
This tool came handy when I couldn't grasp the dialect of the characters but did not want to get lost with the track of the series.
3. Games on Yabla
To keep a track of your progress, you need tests and that is exactly what Yabla's games help you achieve.
These games are not so playful but rather can be termed as interactive exercises and help you learn a great deal. 
4. Multiple Choice 
In this game, a clip is played and one word is missed out of the subtitles. You have to then listen to the speech and then choose the correct answer from the multiple-choices. This game helps you practice your listening skills. 
5. Fill in the Blank 
This game is similar to the Multiple Choice game but without the options. Here you are required to type the missing word which helps you test your spellings. 
6. Scribe 
Scribe is Yabla's patented dictation game. This game again focuses on using your ears but increases the difficulty level.
Here you have to type out the whole sentence after listening to it. But don't worry, you still have the Slow and Replay buttons on the video so you can go at it again if you couldn't grasp it the first time around.
Scribe also rates you between 1 to 3 stars. One star meaning you were struggling and 3 meaning you aced it. 
7. Vocabulary Review
It is a basic flashcard game in which you are given a word in either your target or chosen language and are expected to choose the right translation before the timer goes off. This game can be boring for some but I particularly found it insightful and as a break from the video content. 
8. Flashcards 
Flashcards is a game equipped with the word sets you have created for yourself. Don't remember creating them? No wonder! Because they were automatically created when you looked up words while watching the video content.
If you don't exactly remember looking up the word or the context of it, Yabla gives you an option to look up the exact video segment from which the word was saved as well.
But there are 2 things in particular that I didn't like about this game. The first being, that it uses a robotic voice for the words and not a real voice like used for other parts of the exercises and content.
And the second being, that even if it is quite effective it presents too much information at once and leaves you spreading yourself too thin. 
Yabla Pricing Review: How Much Does It Cost? 
The cost for a Yabla subscription for a month amounts to $12.95/month, but you are eligible for a discount by signing up for multiple months at a time, like $55 with the annual plan. 

Yabla also offers a free 15 days no-questions-asked trial period, after which if you want to continue you can pay $12.95/month, $54.95/six months, or $99.95 for a year.
But bear in mind that these plans give you access to the coursework of only one language of your choice. 
Also, just to be sure if you want to go for Yabla, you can even access some sample videos and get a feel of how Yabla works.  
Is Yabla Meant For Children Or Adults? 
With so much video content, this burning question is bound to exist in everybody's mind. Is Yabla's content interesting as an adult? Or a worrying parent might even ask if the content is child friendly? If his/her child will come across something on the website that they shouldn't be exposed to.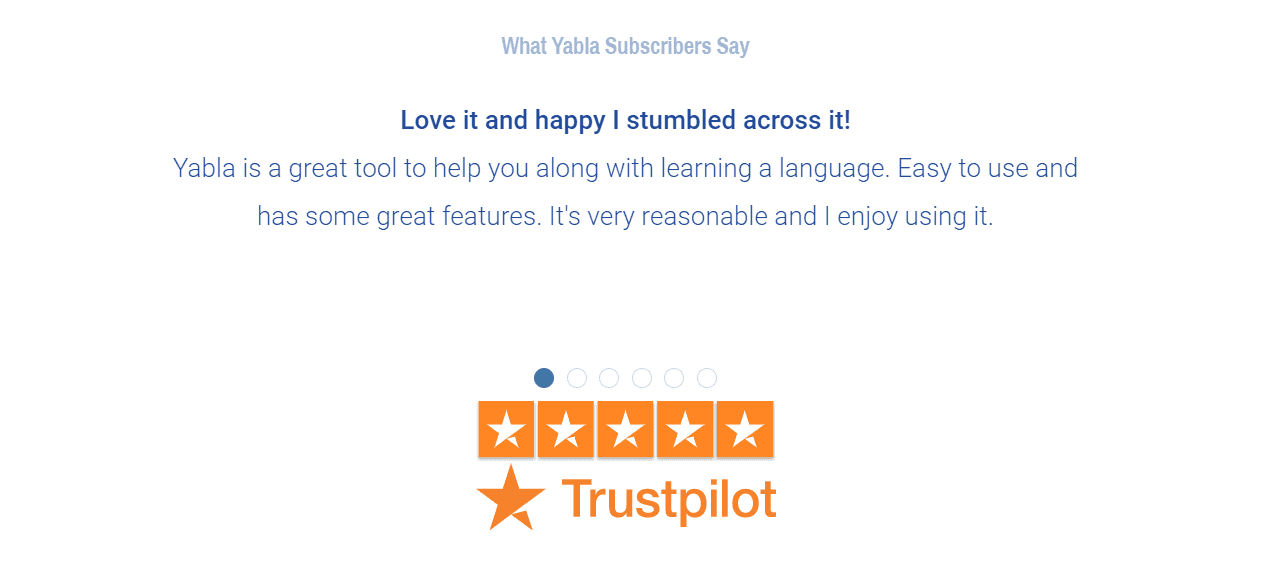 Honestly, I took a tad bit longer with video content on other platforms because the content was highly boring for an adult.
But with Yabla, that problem was solved immediately. Yabla had me hooked on to its TV series right from day one. There is so much content for adults that some videos even come with a warning of Viewer Discretion Advised!
But, if you are a parent, even before it crosses your mind, let me tell you that Yabla does have a content filter. Be rest assured as this content filter makes sure only family-friendly videoes show up when your kid is using Yabla. 
Yabla's Interface And The Fuss About It – Needed Or Not?
Yabla runs on an older web framework and has many people complaining about it but I honestly don't see any problem. As long as I have used Yabla I haven't encountered any functional problem because of its older framework. 
It would be pleasing to the eye to have a newer and sleek UI but the lack of it should not cause a problem to the user. Because Yabla is giving you exactly what you came for: Language learning. Maybe just not in a fancy box. but that should not affect the product's value, should it?
Get LingQ Coupon Codes and get 40% discount on annual membership.
What Do I Think Yabla Could Improve For A Better Experience?
1. Choice of languages
Currently, Yabla only offers six languages to learn from, limiting your choices too —French, German, Italian, Chinese, Spanish, and English.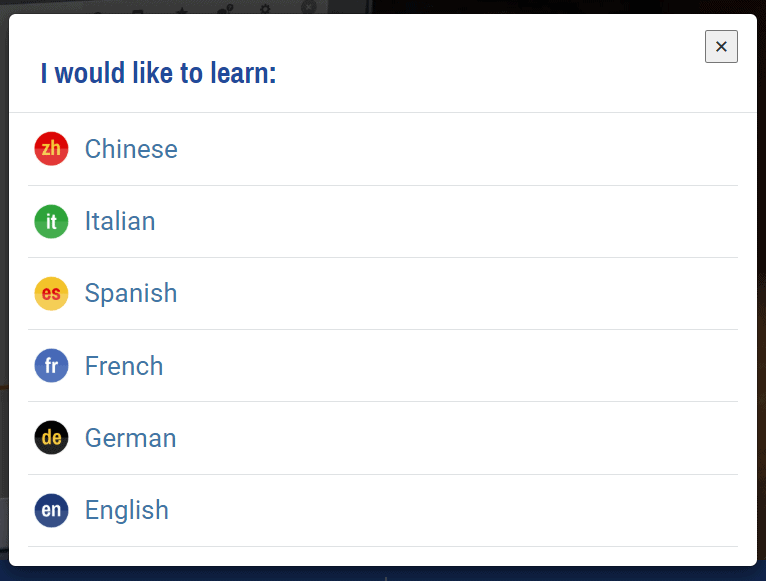 You are in luck if one of these languages is what you were looking for, if not you would have to shift to another learning platform. 
But let's hope Yabla adds more languages to the list. 
2. Subscription
A monthly/annual subscription of Yabla entitles you to learn only one language at a time. For every new language, you wish to learn you have to pay additional charges for a new subscription.
Personally, as I was learning a new language as an added skill and was stuck between French and Spanish, I would have liked access to both the languages, so I could have decided better with the experience that sparked my interest more. 
According to my, Yabla should let you access at least two languages of your choice if not more. 
Also, read:
FAQs About Yabla Review
👉 Is my computer compatible with Yabla?
You can try the free demo version if no problem persists it means you are good to go.
👉Which language is best to learn with Yabla?
Yabla has a lot of content in whichever language you choose. So, any language that you choose to learn through Yabla promises you a rich experience.
🤫 Does Yabla boost your writing skills?
Yabla is mainly focused on helping you learn by boosting your listening skills. With a few exercises available on Yabla, you get to practice spellings but it still remains a platform focused on listening skills.
🙄 Is Yabla family-friendly?
Yes, Yabla's content filter is quite strict so you can conclude that it is family-friendly.
🤟 Is Yabla's app available on Android?
Currently, Yabla is available only for IoS users.
Yabla Review Conclusion: Is It Yabla Any Good? 
If Learning new languages is your forte, then Yabla is surely here for your rescue. As mentioned, it's plans are good enough to excite you to start with it as soon as possible.
You can have different options, other than Yabla as mentioned above, but my personal opinion will consider Yabla as the first preference because of its advantages over the others. 
So choose wisely, and enjoy your language learning.