Creating a mobile app from scratch can be an expensive and time-consuming process. Finding a reliable developer to create a feature-rich app that complements your business goals can be challenging.
Moreover, keeping up with the latest trends and technologies can be overwhelming.
It's essential to have a mobile app that mirrors your website, and it's even more crucial to have complete control over your app's design and content.
AppMySite offers an intuitive and affordable solution to convert your website to an app, without the need for coding or technical expertise.
With AppMySite, you can create a customized mobile app that aligns with your business goals in minutes, rather than weeks or months.
Let us know more about AppMySite in detail
What Exactly is AppMySite?
AppMySite is a new app creation tool that lets businesses make mobile apps that are just like their website but have more features.
This means that businesses don't need to know how to code or hire a developer to make their own mobile apps.
The platform has an easy-to-use design that makes it simple for people to make apps that help them reach their business goals.
The next-gen app sample is one of the best things about AppMySite. This free app maker has strong app sample features that let users see every change they make to the design of the app in real time.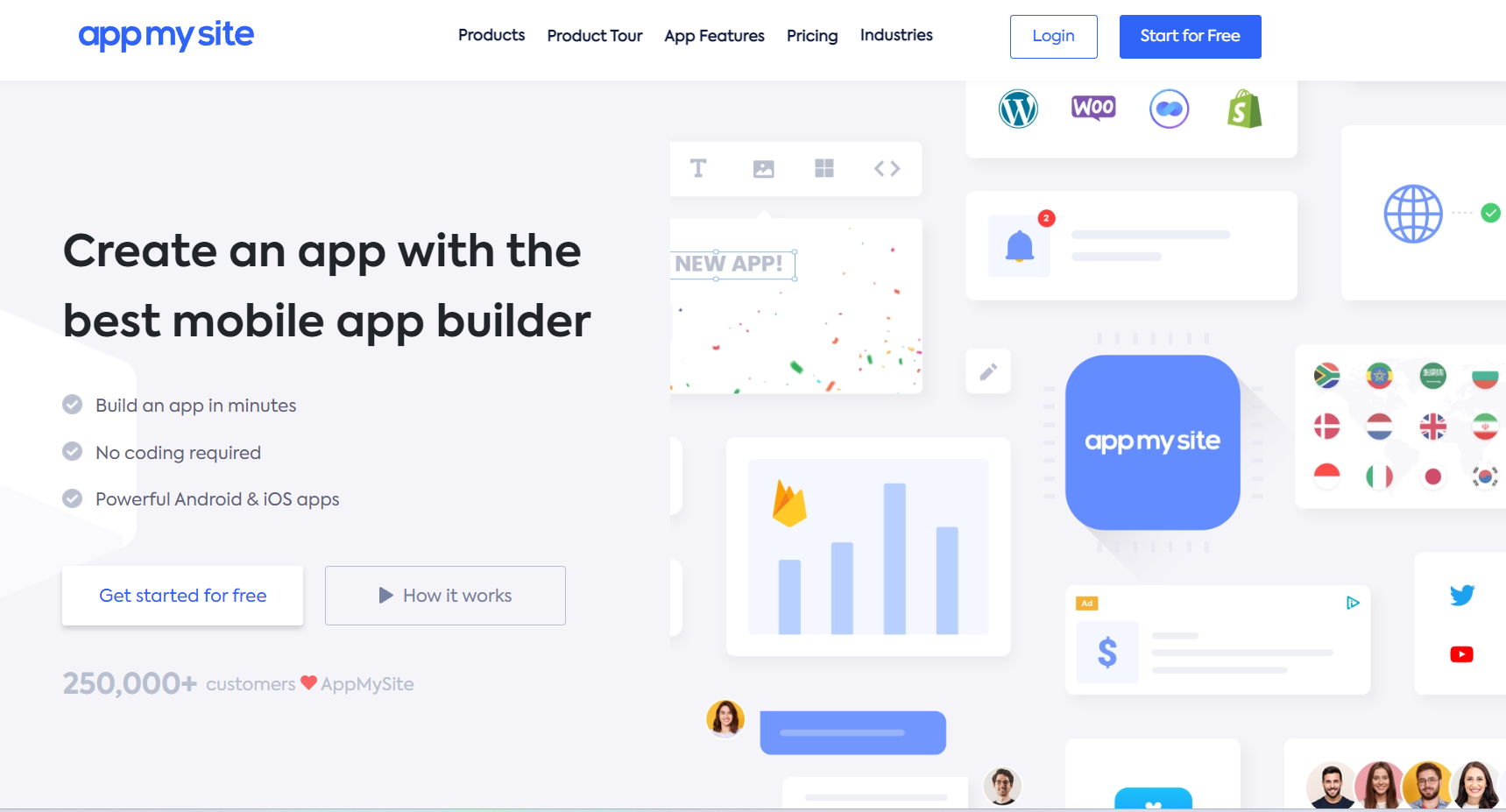 This lets people make apps that work perfectly and make better design choices. Users can also test how well their plugins work together, making sure that their app is fully useful and works well.
No matter what is on a website, AppMySite has an app for it. AppMySite lets you turn your blog, eCommerce store, or CMS website into a dynamic and powerful mobile app.
The app works for a wide range of industries and uses cases, so businesses of all kinds and types can use it.
When it comes to making a great mobile app, personalization is key, and AppMySite gives you full freedom to make changes.
Users can change the content of their apps to fit their brand goals by adding features that work with their app type and type of business.
Users can control what other people see on the app and change the settings with just a few clicks.
AppMySite also has code-free live updating, so users can easily create every part of their mobile app and make changes on the go with the best no-code mobile app maker.
This feature is especially helpful for businesses that want to make quick updates or changes to their app without having to go through a long development process.
Major Features & Benefits of AppMySite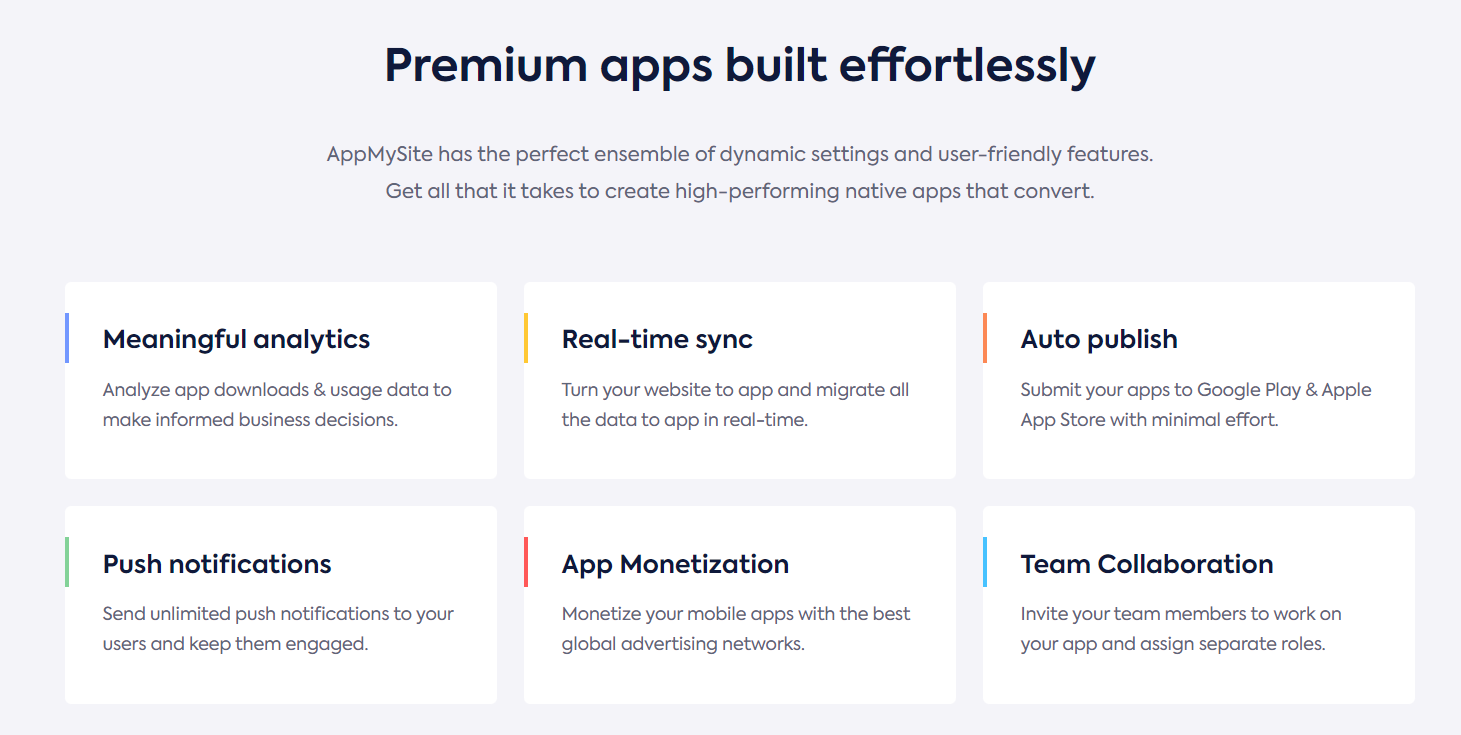 1. Team Collaboration:
With AppMySite, you can invite your team members to work on your app and assign them separate roles.
This feature is extremely useful for teams working on the same project. AppMySite ensures that all team members have access to the app and can work on it simultaneously.
2. Auto-publish:
Submitting your apps to Google Play & Apple App Store can be a tedious process.
However, with AppMySite, you can easily publish your apps with minimal effort. The platform provides a streamlined process for publishing your app on both app stores.
3. App Monetization:
AppMySite allows you to monetize your mobile apps with the best global advertising networks. This means that you can earn money from your app by showing ads to your users.
The platform offers a range of advertising networks to choose from, ensuring that you get the best returns for your efforts.
4. Real-time sync:
AppMySite allows you to turn your website into an app and migrate all the data to the app in real-time.
This ensures that your users have access to the latest information from your website. This feature also saves you time and effort as you do not need to update your app separately.
5. Push notifications:
Push notifications are an excellent way to keep your users engaged and informed about new updates, features, and promotions.
AppMySite allows you to send unlimited push notifications to your users, ensuring that they are always up-to-date with your app.
6. Meaningful analytics:
Analyzing app downloads and usage data is crucial for making informed business decisions. With AppMySite, you can analyze your app downloads and usage data to gain insights into how your app is performing.
This feature helps you understand your audience better and improve your app's functionality and user experience.
Quick Links:
Conclusion: AppMySite Review 2023
AppMySite is a highly recommended app builder platform that enables anyone to create professional mobile apps without any coding knowledge.
With its easy-to-use interface, intuitive features, and powerful tools, AppMySite simplifies the app development process and allows businesses to create customized mobile apps that align with their goals.
From easy app development to instant app delivery, AppMySite offers a range of benefits that make it an excellent choice for businesses looking to build their own mobile apps.
With its team collaboration, app monetization, real-time sync, push notifications, and meaningful analytics features, AppMySite ensures that businesses can create, launch, and manage their mobile apps with ease.
Whether you are a website owner, a freelancer, or a digital agency, AppMySite has plans for everyone who wants to build a mobile app.