Today in this article, I am going to share my in-depth review on Diib.
In order to grow your online business, an online entrepreneur needs an all-in-one tool for managing their website analytics, improving their performance, and identifying additional growth opportunities.
In order to decide if Diib is right for you, you want a Diib review that covers the tool in-depth from all angles.
Taking a comprehensive look at its features is what I plan to do in this copy in order to help you make an informed decision.
Additionally, you should check out the interface, pricing, and customer service of an SEO Analyzing and Reporting Tool.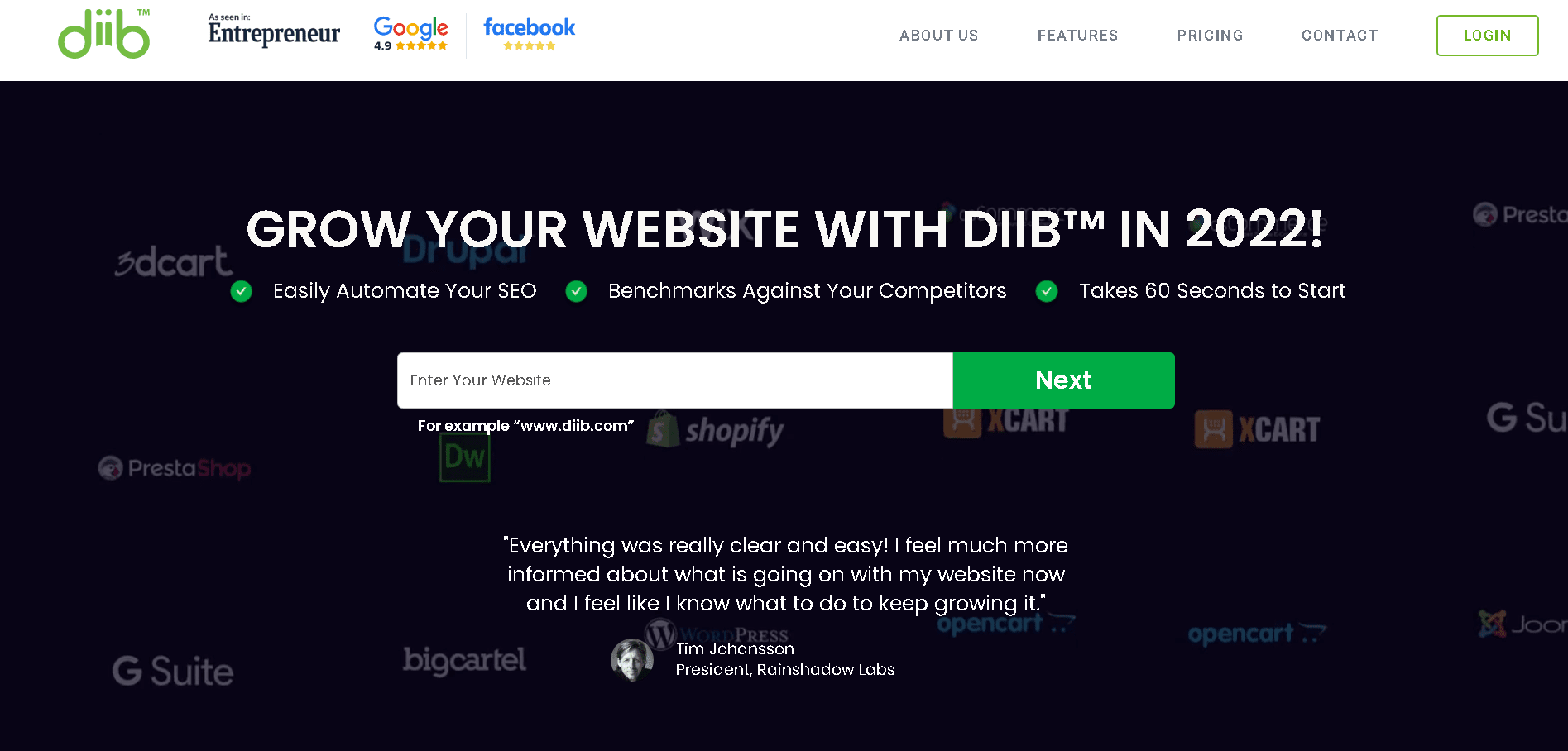 Diib Review 2023: What is Diib?
Diib is a platform that provides you with data and answers that claim to let you know what should be done to grow your website. 
Basically, Diib will analyze your site and provide you with a step-by-step plan to increase traffic and presence online. Does that claim hold any truth or is it just baloney?
Let's take a look at the amazing features of DIIB
"Awesome" gave away the truth, didn't it?
How Can Diib Help You Grow Your Online Presence?
In my previous post, I promised you a step-by-step guide for using diib to get more traffic to your site. Let me tell you how you can take advantage of the awesome features of DIIB.
1- Diib Dashboard- Overview of What You Need to Fix Right Now!
There is an alert section on your dashboard.
Please fix those issues as soon as possible, since diib identified them as priority fixes, meaning that fixing them will boost traffic almost immediately.
Pro tip: Ensure you prioritize problems by clicking "All Alerts" first.
2- Objectives for Sustained Growth
Things on this tab are neither alerts nor urgent, but still, require your attention in order to guarantee traffic growth.
There are four categories of reports:
Objectives for Visitor Experience

Traffic Objectives

Mobile Experience Objectives

Social Media Objectives
I recommend you take your time to sort these out and get them done as quickly and early as you can, depending on the site and the number of recommendations you get. 
Basically, it will make your site a better place to be in the long run, especially in the long run.
Diib Review: SEO
There are three sections in an SEO report:
Keywords

Search Engine Indexing
1. Keywords
All your ranking keywords can be viewed here, along with metrics like search volume, ranking changes, paid traffic costs, etc.
Keyword reports in DIIB have a twofold value.
Your ranking for ALL keywords is displayed to you in a very digestible format at the beginning of the report. There is no clutter, just data.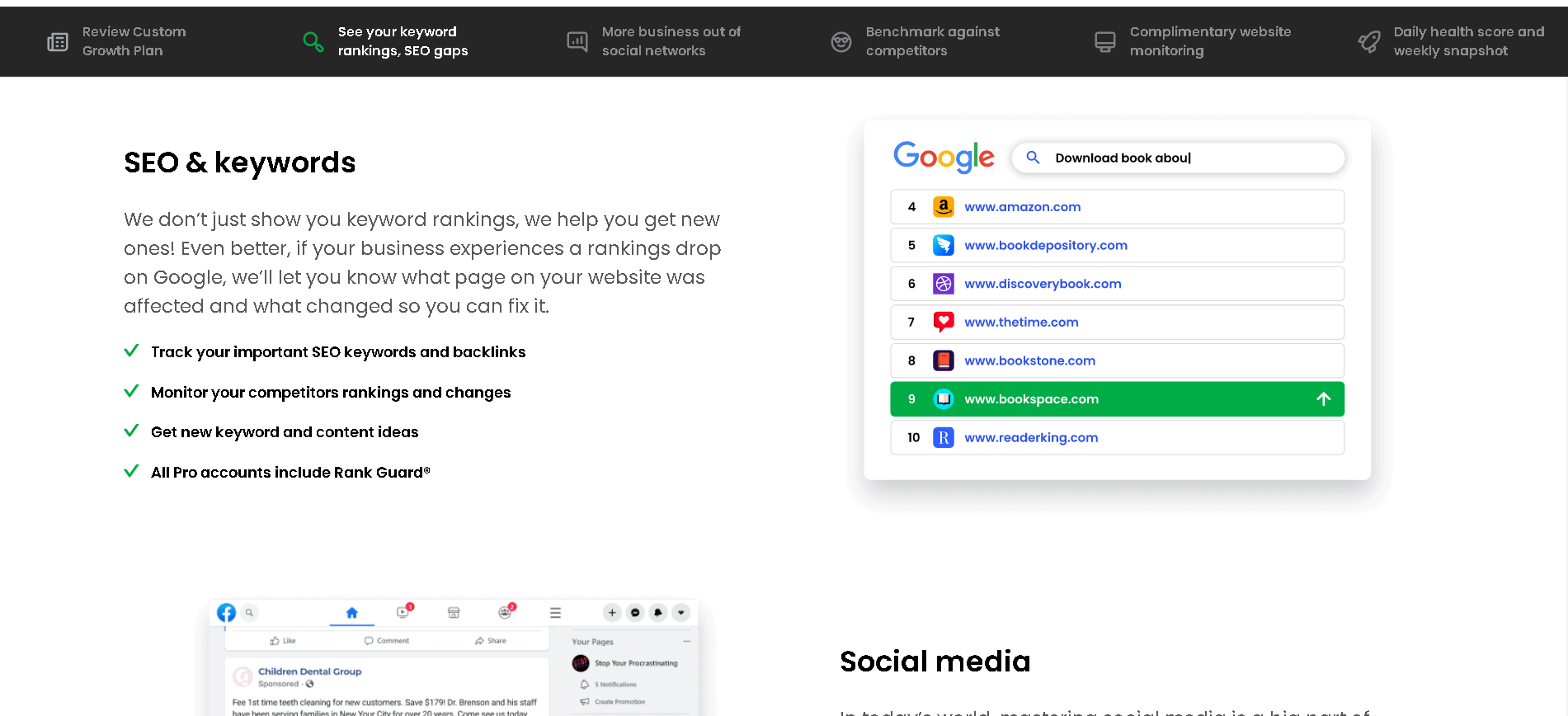 To improve your traffic numbers, you need this knowledge.
Exactly how?
Then map the keywords that rank between 11-20 to the pages and posts that correspond to them.
To boost those posts, do the following:
Increasing the number of internal and external links they receive;

The post has been updated;

The post will appear on the first of the blog where it has the most authority…
Rankings could grow tremendously here!
2. Backlinks
Links pointing to your site are captured by Dibb, and they display them along with metrics such as:
Strength of a domain, 

anchor text 

receiving url on your site.
This is all excellent information since you need to know who's linking to you and what anchor text they use. Unfortunately, Diib does not distinguish between unfollowed and followed links.
In the Diib cons section, I discuss how this limits the report's usefulness.
3. Search Engine Indexing
The no-index tag appears in the header of all the pages on your site.  This way, you can check if you accidentally blocked something.
The newly indexed page should then be unblocked so you can gain an SEO boost.
How Good Is Diib's Customer Support?
Even though Diib offers a lot of self-help resources in its learning library and is extremely easy to use, it is not enough.
A challenge you might encounter using this service will still require assistance from the support team. Therefore, we need to assess how Diib manages its customer support.
Diib's customer service team is available seven days a week through email. You will receive a response within 1-2 business days during weekends and holidays.

Contact our sales department if you need assistance with billing issues. ( Monday to Friday, 9 am – 5 pm MST). Furthermore, if you subscribe to the pro plan, you will receive dedicated support at any time.
The following social media channels allow you to connect with Diib and stay up to date on new developments. Additionally, I have collected additional information that this Diib review may find useful. Let's see what it can offer.
Quick Links:
Diib Review 2023: Is It Worth It? 
Although you can see from the review that this is a service that can help those who are less experienced and in search of a cheap way to get quick results for their website, we are not sure if it is suitable for more experienced website marketers.
If you have tried Diib or had experience with it, we would love to hear your thoughts.