We're going to discuss 10 of the best fitness affiliate programs with you in this blog post.
As the world has entered the 21st century, people have now become increasingly conscious about their health. They want to stay healthy in order to maintain a healthy state of mind.
To achieve this, they engage in activities such as early morning exercises, meditation programs, gyms or yoga classes, or premium fitness programs.
Fitness is a great example of an evergreen niche. Its revenue grows by nearly 9% per annum, which is quite impressive given that the fitness industry is currently at least worth $64 billion.
As a result, you have the opportunity to earn a dumpster full of cash!
Why Should I Invest in Fitness Affiliate Programs?
For many years, the fitness industry has grown steadily and consistently.
The online fitness industry is expected to grow at a rate of 30% per year until 2027.
Much top fitness or health-related companies have launched their affiliate program in order to capitalize on the rising demand.
Starting an affiliate program allows a company to compete with competitors who do not have an affiliate program.
These fitness affiliate programs allow fitness bloggers to join as affiliates and earn good commissions when their referrals make a purchase using their affiliate links.
As a result, anyone who runs a health or fitness blog can benefit from affiliate marketing by joining one of these fitness affiliate programs.
You can earn a consistent income by promoting fitness-related products such as fitness trackers, treadmills, health programs, and others.
Top 10 Fitness Affiliate Programs of 2023
Do you want to find the best fitness affiliate programs? You've arrived at the right place.
There are hundreds of fitness affiliate programs, so choosing some of the best programs from among them is difficult because not all of these programs are suitable for promotion.
So far, I've discussed some of the best affiliate programs that pay out handsome commissions on each successful referral sale.
I've compiled a list of the best and highest-paying affiliate programs to save you time and effort.
FanFuel Affiliate Program
ACE Fitness Affiliate Program
TRX Training Affiliate Program
Reebok Affiliate Program
Titan Fitness Affiliate Program
NordicTrack Affiliate Program
BodyGym Affiliate Program
Nike Affiliate Program
National Academy of Sports Medicine (NASM) Affiliate Program
Fitbit Affiliate Program
FanFuel Affiliate Program
Wolfson Brands' affiliate arm, FanFuel, is a UK-based company dealing in supplements for the health, fitness, and wellness markets.
The health supplements they offer cater to a variety of markets, including life extension, bodybuilding, and hair loss as well.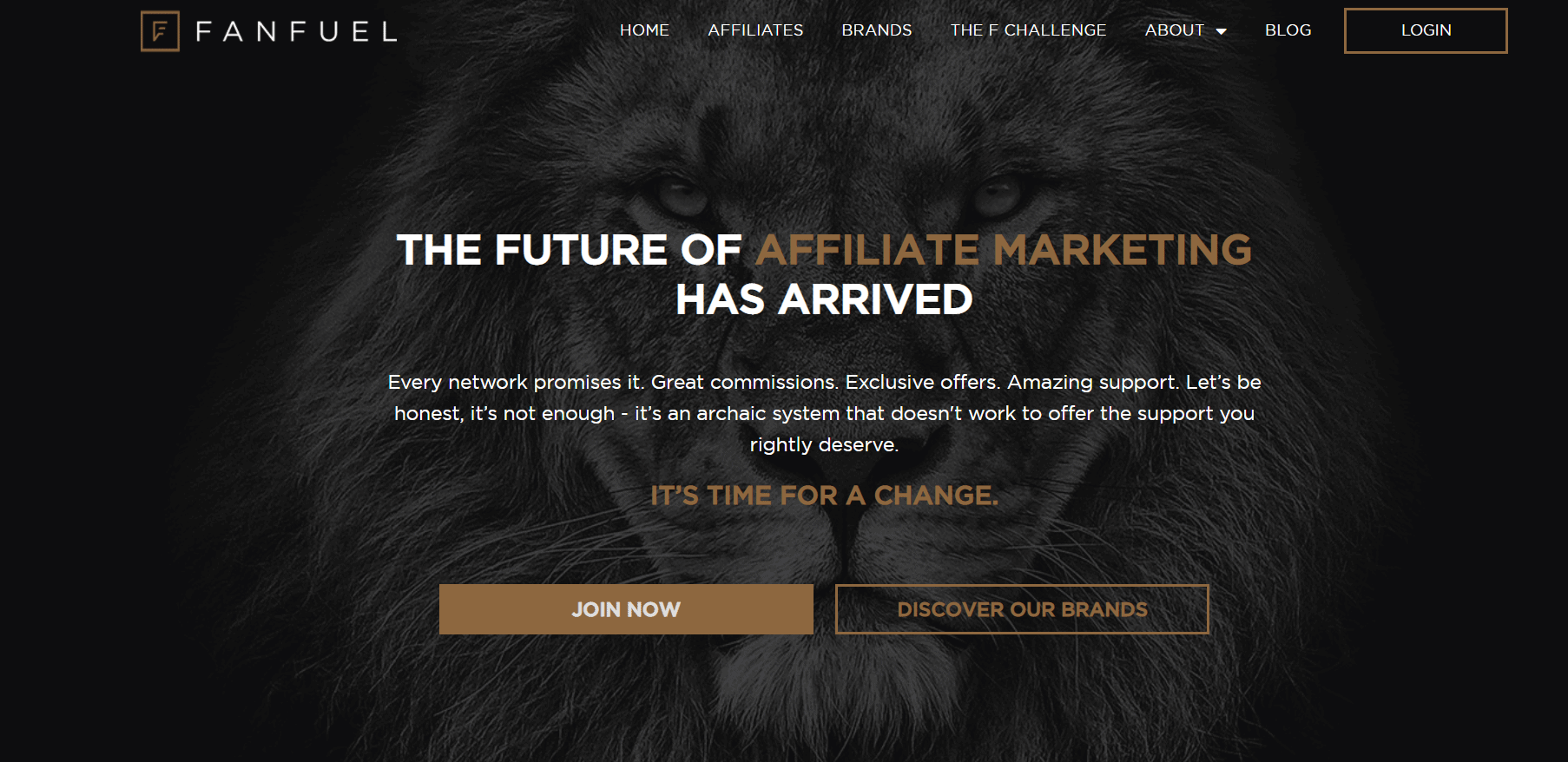 FanFuel has also employed athletes and health & fitness influencers for promoting their products. As a result, fitness enthusiasts can see how effective their products really can be – social proof sells.
Salient Features:
Commission: 40% per sale

Cookie Duration: 90 days

Payment Methods: Bank transfer, PayPal, wire transfer, and Payoneer

Products: Health supplements
On everything you sell on your fitness blog or channel, you can earn at least 40% commission, with the possibility of recurring commissions.
As a result, Fanfuel is one of the best supplement affiliate programs available, as well as one of the highest paying affiliate programs in fitness, as well as one of the finest affiliate programs in general.
ACE Fitness Affiliate Program
The American Council on Exercise (ACE) Fitness is a renowned non-profit organization that certifies health & fitness professionals.
Their mission has always been to motivate people to be proactive in the fight against diseases related to inactivity like obesity, diabetes – Type 2, heart disease, stroke, cancer, etc.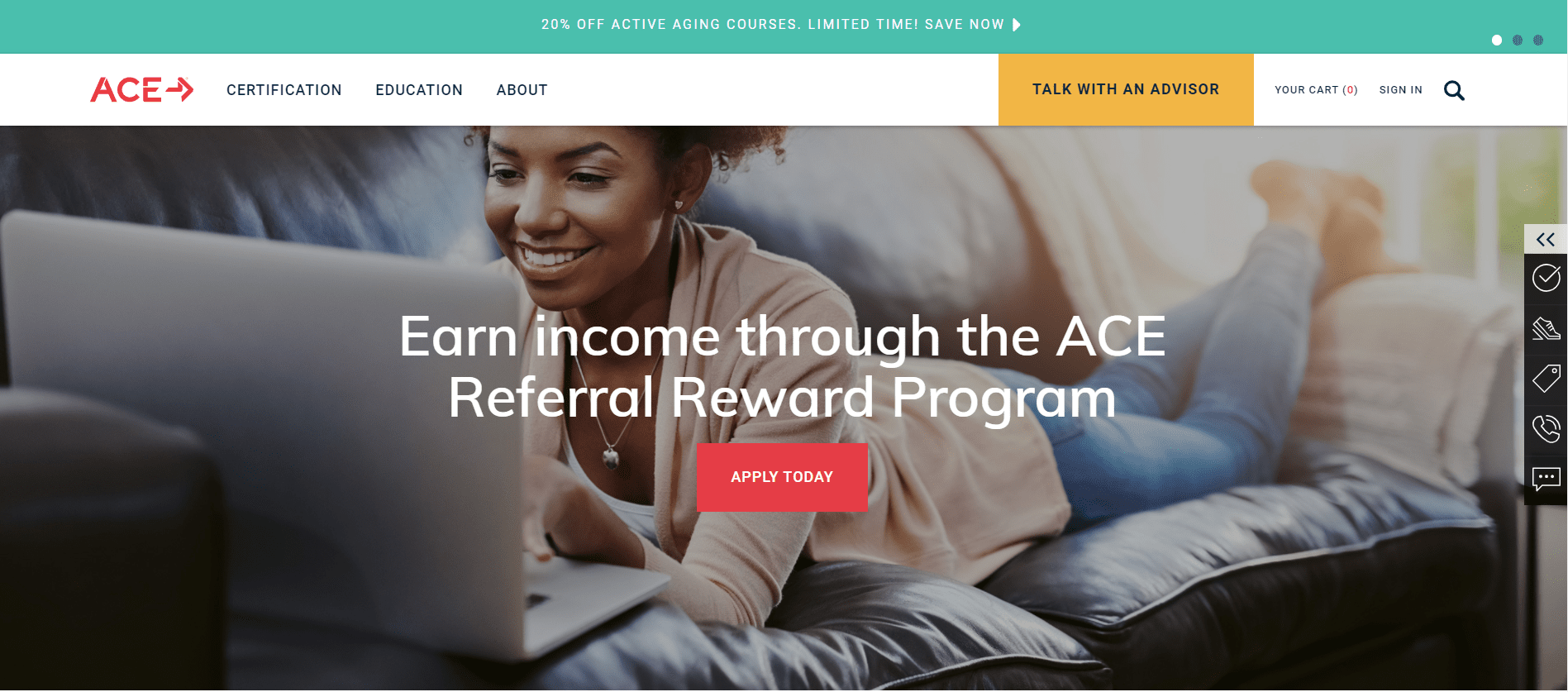 Impact manages its fitness affiliate program, which pays a 7% commission on every future fitness coach you refer.
An ACE 'Personal Trainer' certification will cost between $849 to $1,499, so each successful referral could net you $100 or more.
Salient Features:
Commission:  7% per sale

Cookie Duration: 90 days

Payment Methods: Direct Deposit, PayPal, Cheque, Wire Transfer

Products: Certification for fitness training 
The ACE Fitness affiliate program gives you access to a market of 650 million obese adults. To combat this health issue, there is a growing demand for trained fitness gurus.
TRX Training Affiliate Program
TRX (Total Resistance Exercise) is a body-weight and suspension training equipment manufacturer founded by Randy Hetrick, a former Navy SEAL.
They allow you to set up a gym almost anywhere, indoors or out. Users can design fitness programs on the fly using only a set of heavy-duty straps and their bodies.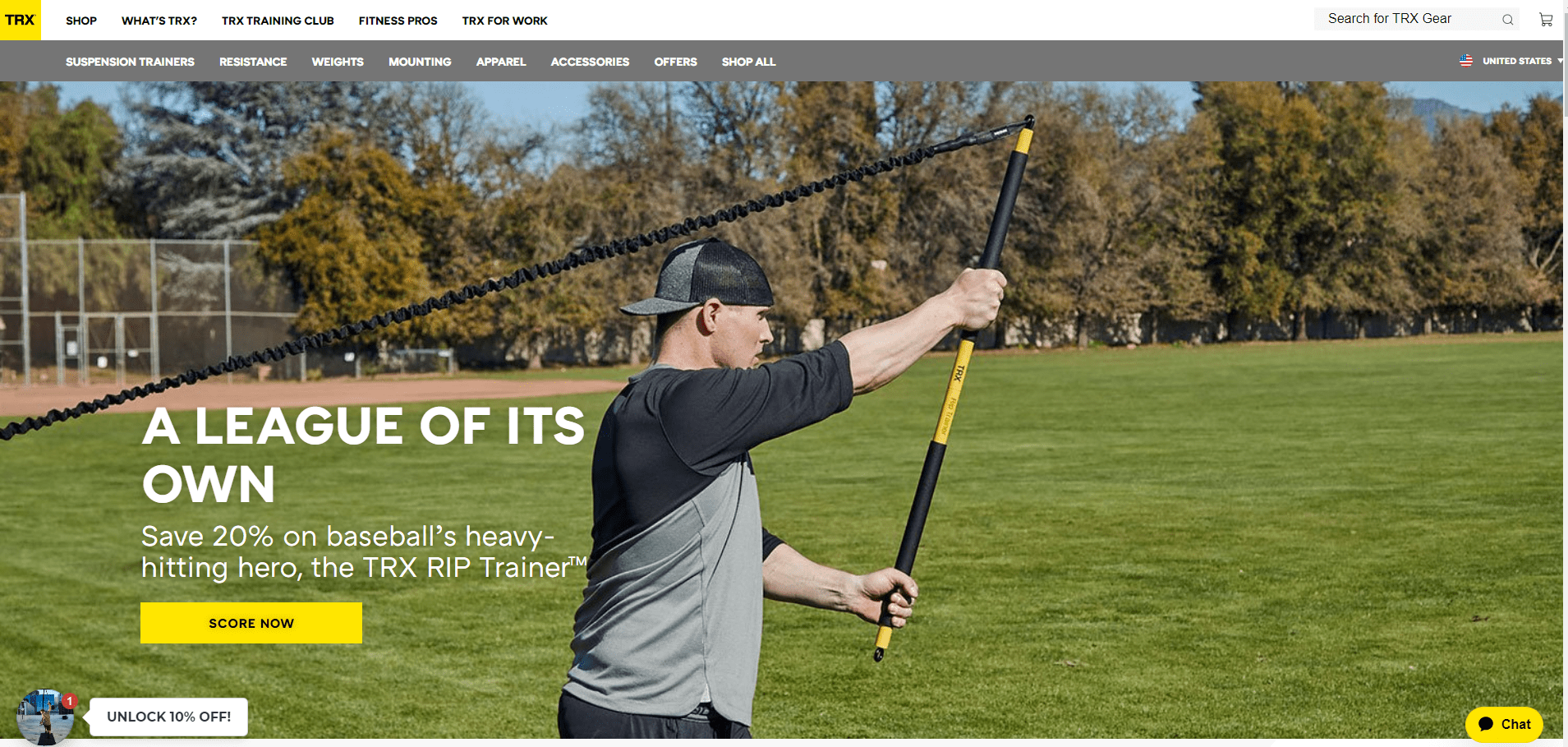 As a result, your visitors may be able to save money on gym memberships and exercise at home or on the road.
TRX equipment isn't cheap, but that's a good thing since their affiliate program pays a commission rate of 5% and has a $200 Average Order Value.
Salient Features:
Commission: 5% per sale

Cookie Duration: 30 days

Payment Methods: Direct deposit, PayPal, wire transfer

Products: Exercise equipment
TRX has had several impersonators, but their brand remains the most well-known in the fitness market, particularly when it comes to suspension training.
Their brand's recognition can go a long way toward increasing your conversion rate by a few percentage points.
Reebok Affiliate Program
Reebok is yet another major fitness brand with affiliate programs that made our list. It has grown from a company that first manufactured running spikes in the 1890s to a lifestyle brand worth more than US$2.4 billion.
The fact that Reebok is a household name provides a significant advantage for affiliate marketers promoting their products.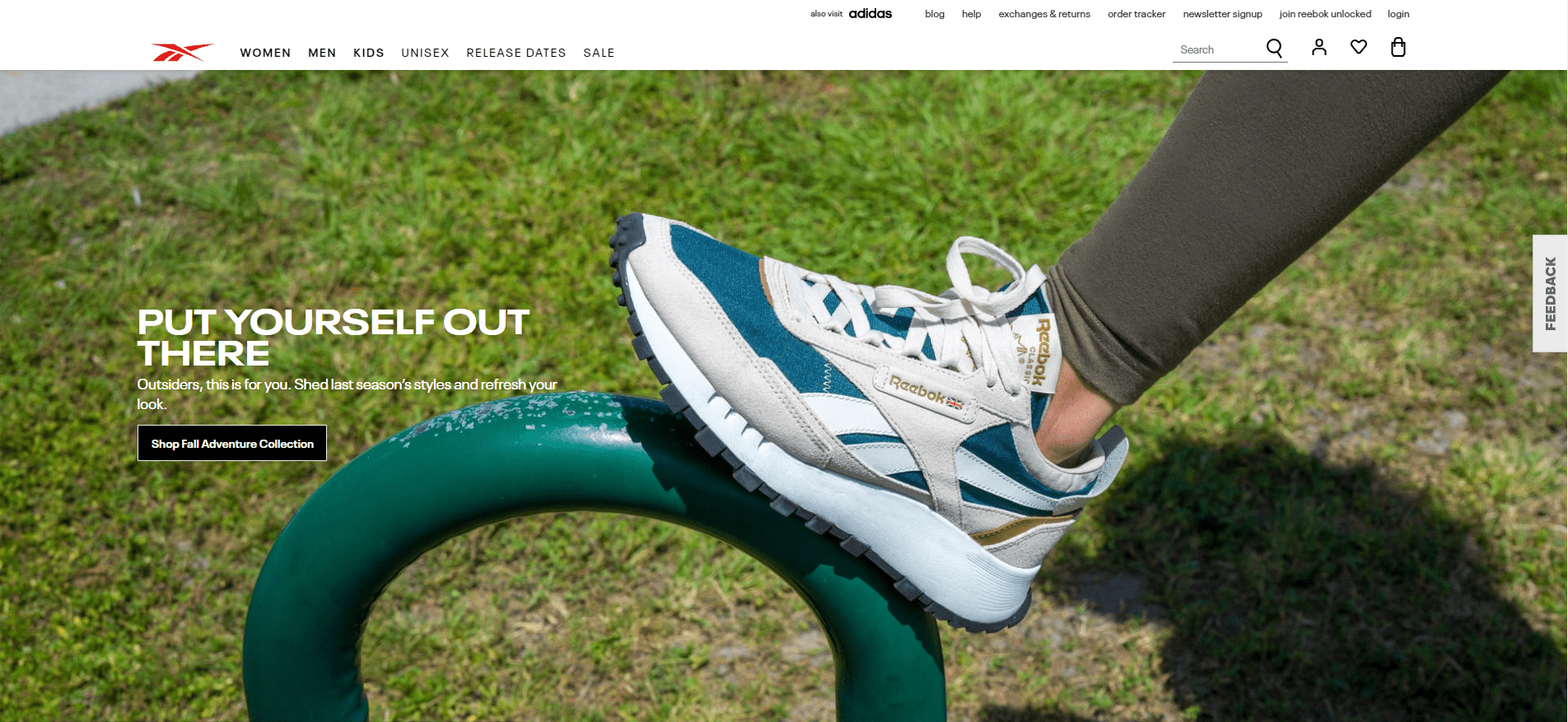 As a result, there should be less friction during the conversion process. The disadvantage is that Reebok products are widely available in most physical stores.
However, if you can come up with a unique angle/high volume of traffic, Reebok will pay you a commission of 7% on sales made through their US online store.
Salient Features:
Commission:  7% per sale

Cookie Duration: 7 days

Payment Methods: Direct deposit, Check, Payoneer, and wire transfer

Products: Sports clothing & footwear
They are an international sportswear manufacturer with a well-established market presence, so you can and should capitalize on that.
Titan Fitness Affiliate Program
Titan Fitness sells a variety of products that will appeal to people who enjoy lifting, swinging, or hitting heavy objects.
They primarily sell weight racks, free weights, kettlebells, and boxing equipment, which are ideal for anyone looking to get ripped or stay physically fit.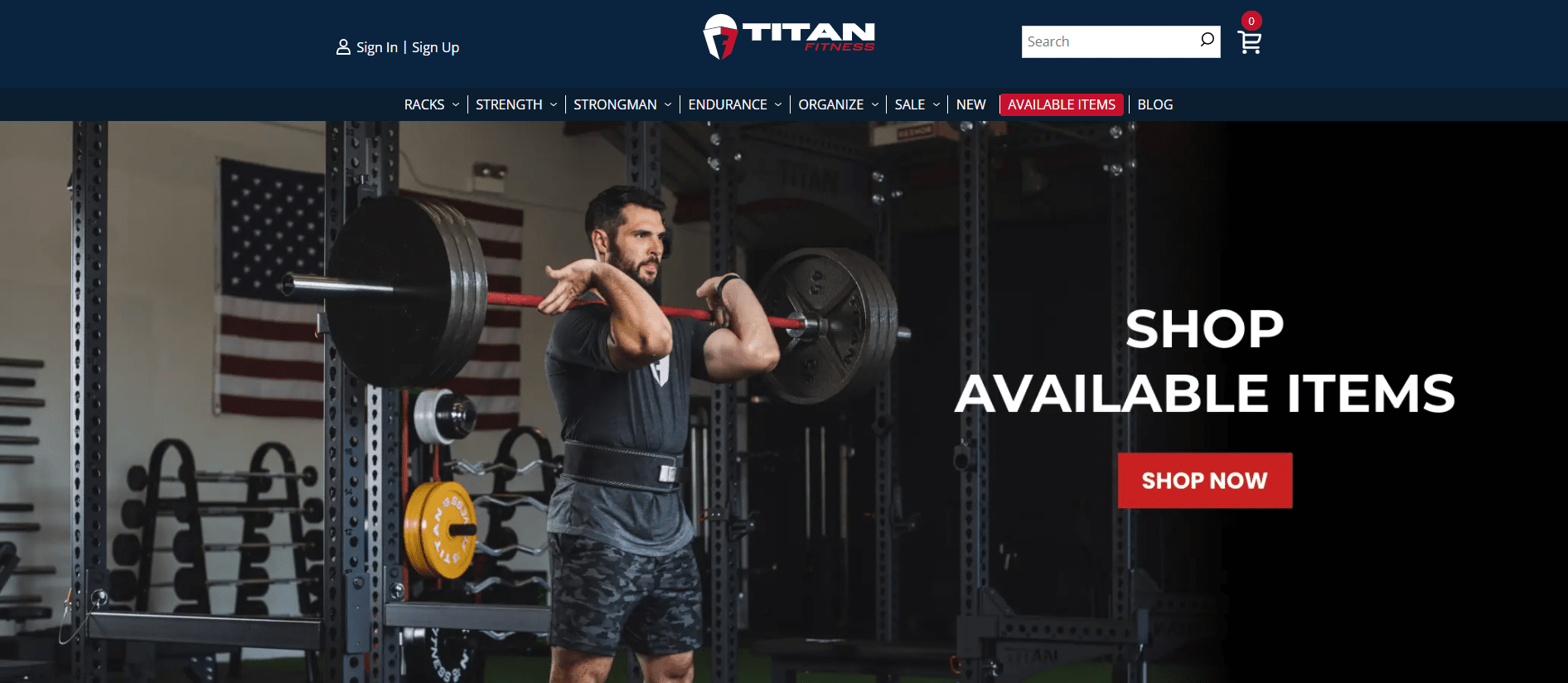 And the good news is that their gear isn't too expensive, so you can keep your bank account full while trimming your waistline and bulking up on lean muscle mass.
In terms of commission structure, you earn 5% on any Titan Fitness branded product and 4% on everything else they sell.
Salient Features:
Commission rate: 4%- 5% per sale

Cookie duration: 30 days
Some people may be put off by the lower commission rate, but it's fairly typical of what you can expect in this niche.
You also get unlimited referrals within their 30-day cookie, so you can take advantage of that as well.
Also, Read This:
NordicTrack Affiliate Program
NordicTrack is most well-known courtesy of their original skiing trainer, but they also manufacture treadmills, elliptical trainers, rowing machines, exercise bikes, free weights, etc.
This company even offers financing over a 36-month period to help you assist a potential customer in taking that leap of faith into investing in fitness.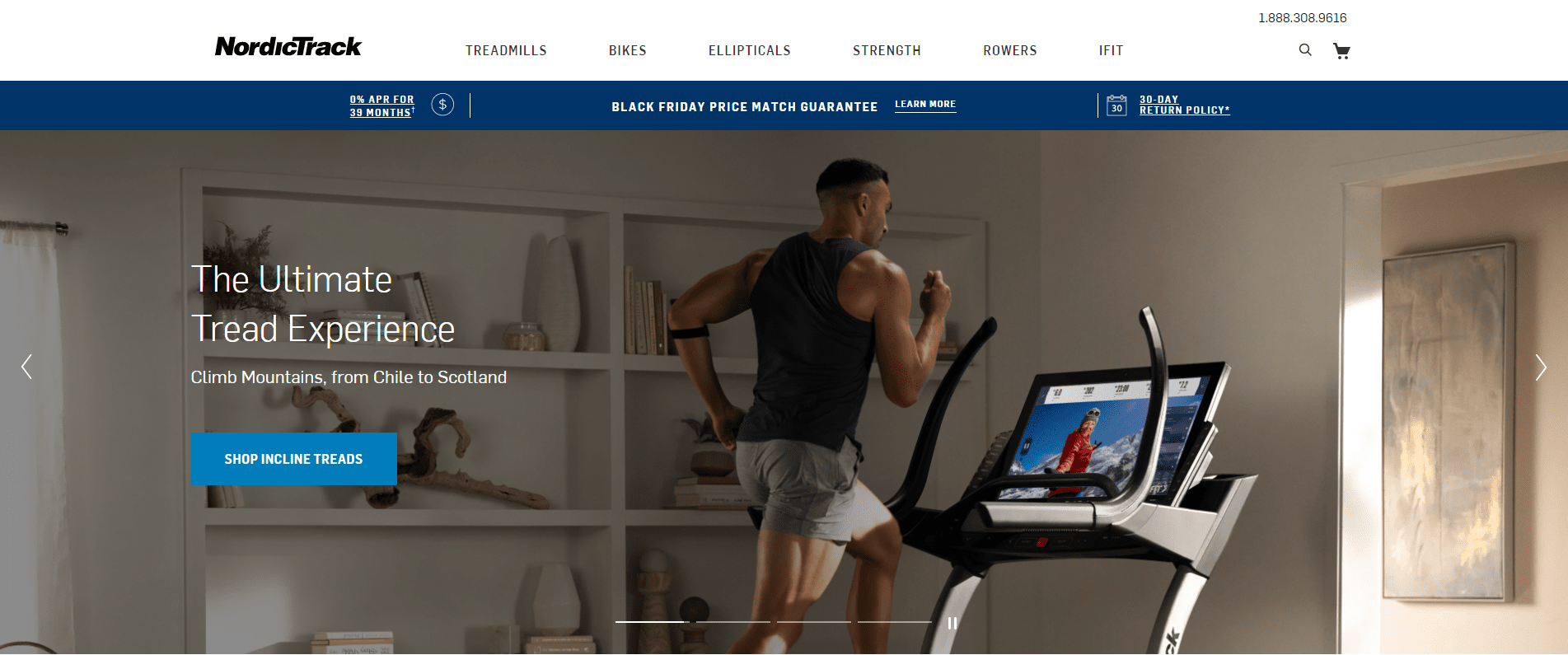 The NordicTrack affiliate program pays a commission of 7% on all the sales referred by your affiliate link.
Because the price of their treadmills starts at $2,199, a single referral of the product can be worth approximately $153.93 in commission to you.
As a result, this is one of the best finest affiliate programs in terms of earning potential.
Salient Features:
Commission: 7% per sale

Cookie Duration: 90 days

Payment Methods: Payoneer, Direct deposit, or cheque

Products: Home gym equipment
NordicTrack is a renowned name when it comes to personal fitness, having a product line to match along with a commission structure that makes investing in them worthwhile.
BodyGym Affiliate Program
The BodyGym is one of the most renowned portable and lightweight workout systems that allows an average person to perform over 150 different exercises using only a static bar and resistance bands.
Not every person in your target demographic has enough space to build a garage or basement gym in their home; they require alternative solutions for fitness.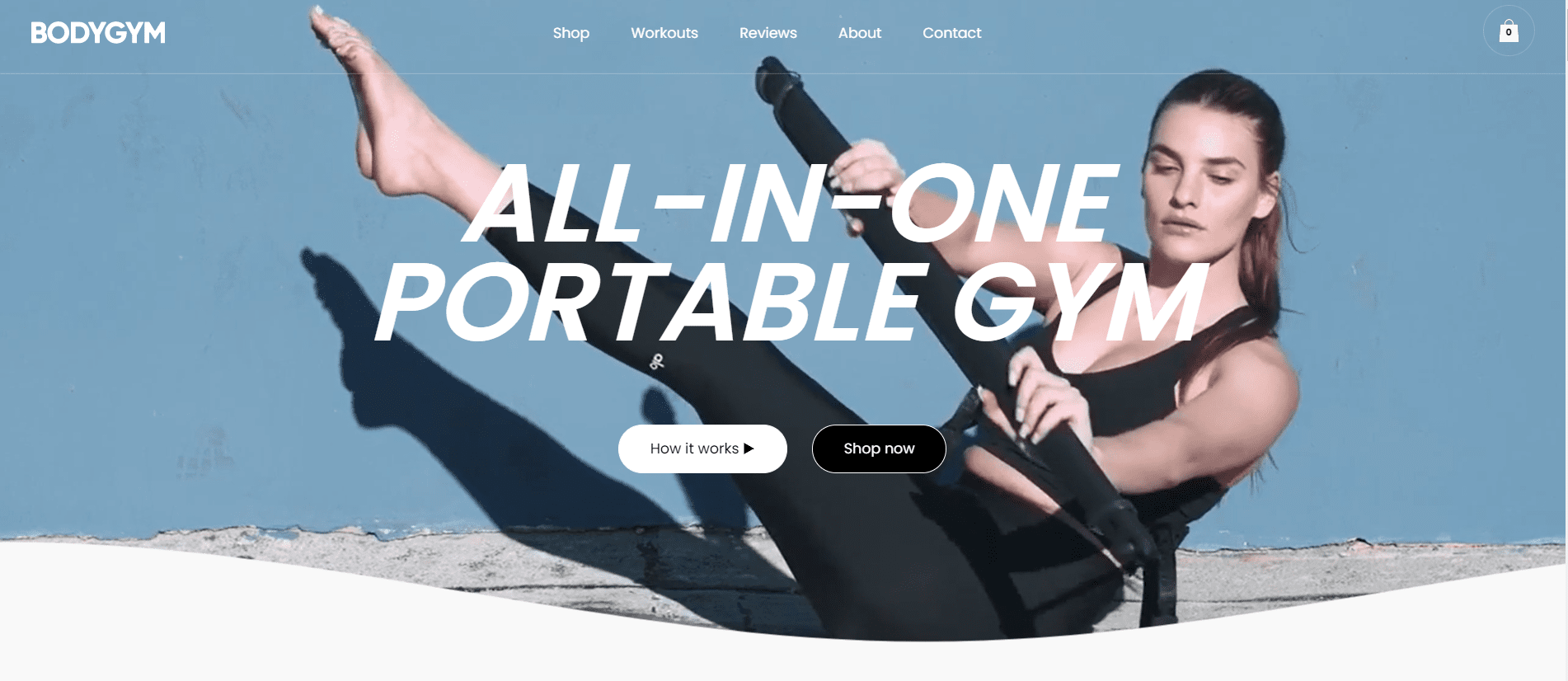 So the BodyGym avoids this issue by reducing the physical footprint required for intense workout programs to a few square feet.
Affiliates who promote this offer earn a 10% commission on all sales, which is slightly higher than average for products in the fitness niche.
Salient Features:
Commission: 10% per sale

Cookie Duration: 30 days

Payment Methods: PayPal

Products: Fitness equipment
BodyGym is ideal for those who cannot afford a traditional gym or simply do not enjoy the experience.
With a price tag of only $120, this device is also less expensive than other types of home exercise equipment.
Nike Affiliate Program
Nike is a well-known brand name in the fitness industry. What began in 1972 as a small business selling its own brand of sneakers has grown to become a multibillion-dollar international brand.
In case you didn't know, Nike manufactures and sells a wide range of high-end sports shoes, from running shoes to professional golf shoes. But they've also become well-known for their sportswear collection.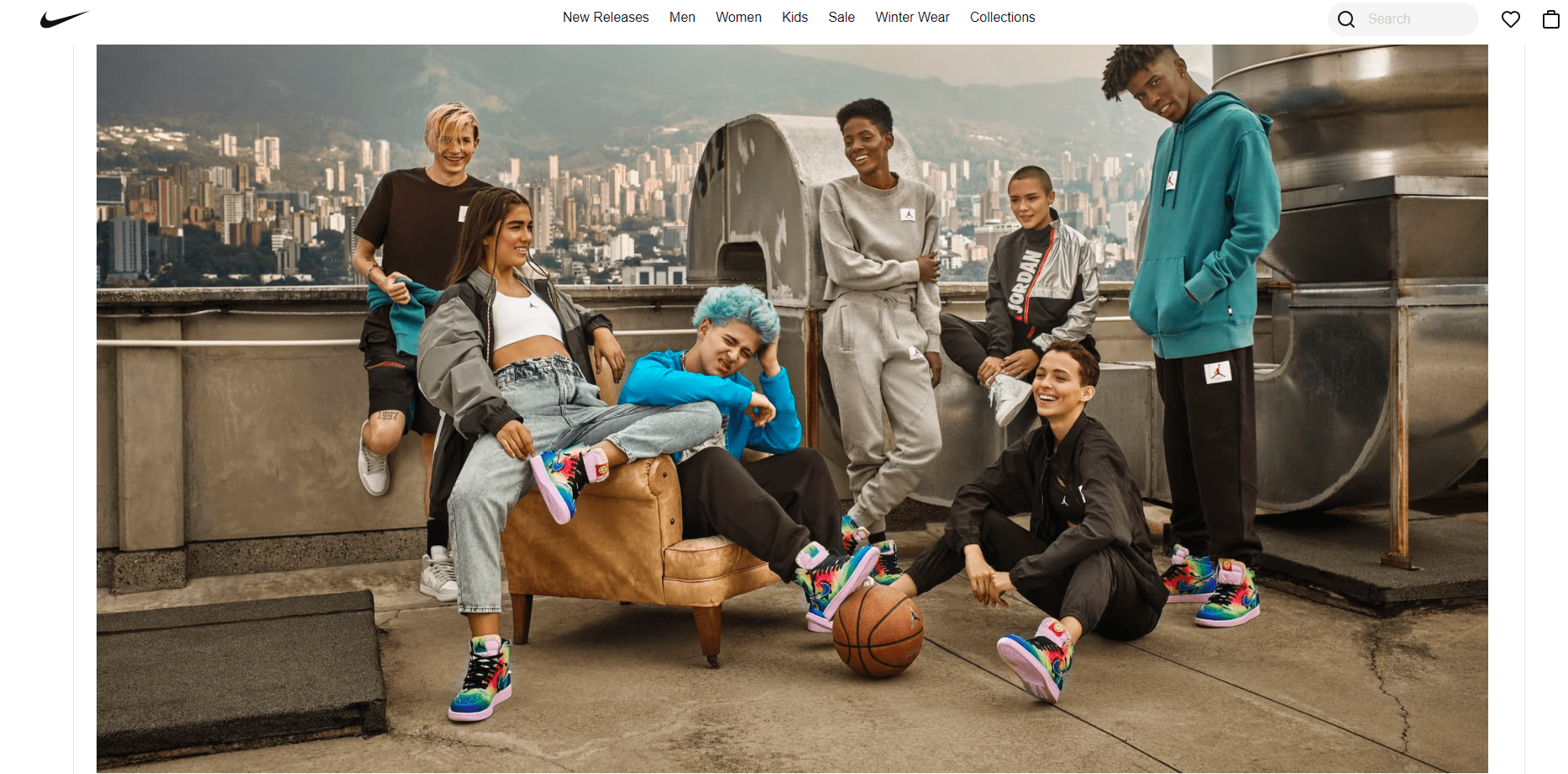 Many new affiliates are perplexed as to why a company like Nike would use affiliate marketing as a part of their business model. Because it clearly generates revenue for them.
As a result, they're happy to pay you a 10% commission on any sales you generate for them via your affiliate link.
Salient Features:
Commission: 10% per sale

Cookie Duration: 7 days

Payment Methods: PayPal, Direct deposit, or cheque

Products: Sports footwear and clothing 
They are the world's largest sports brand in terms of revenue (US$37 billion), with a level of global brand recognition that means Nike products almost sell themselves.
National Academy of Sports Medicine (NASM) Affiliate Program
The National Academy of Sports Medicine (NASM) is the next fitness affiliate program on our list . Since 1987, they have been providing professional certification to personal trainers.
They have certified over 190,000 fitness professionals through their online training courses to date.

Personal trainer certification can be obtained from the comfort of one's own home. They also provide payment plans, which you should mention in your affiliate presell content.
Each successful referral earns you a fixed commission of $25, but a high-performing fitness affiliate can always try to renegotiate that amount.
Salient Features:
Commission: $25 per sale

Cookie Duration: 30 days

Payment Methods:  Direct deposit, check, or Payoneer

Products: Fitness training certification
Personal trainers are in high demand, so you should be able to find a ready audience looking for a proven certification program.
Fitbit Affiliate Program
Fitbit is one of the most well-known names in the market when it comes to fitness tracking devices that track activities such as exercise, weight, food, and sleep.
Fitbit owns 72 percent of the linked health and fitness market, according to Forbes. Fitbit devices are also the most popular linked devices on major ecommerce sites like Amazon.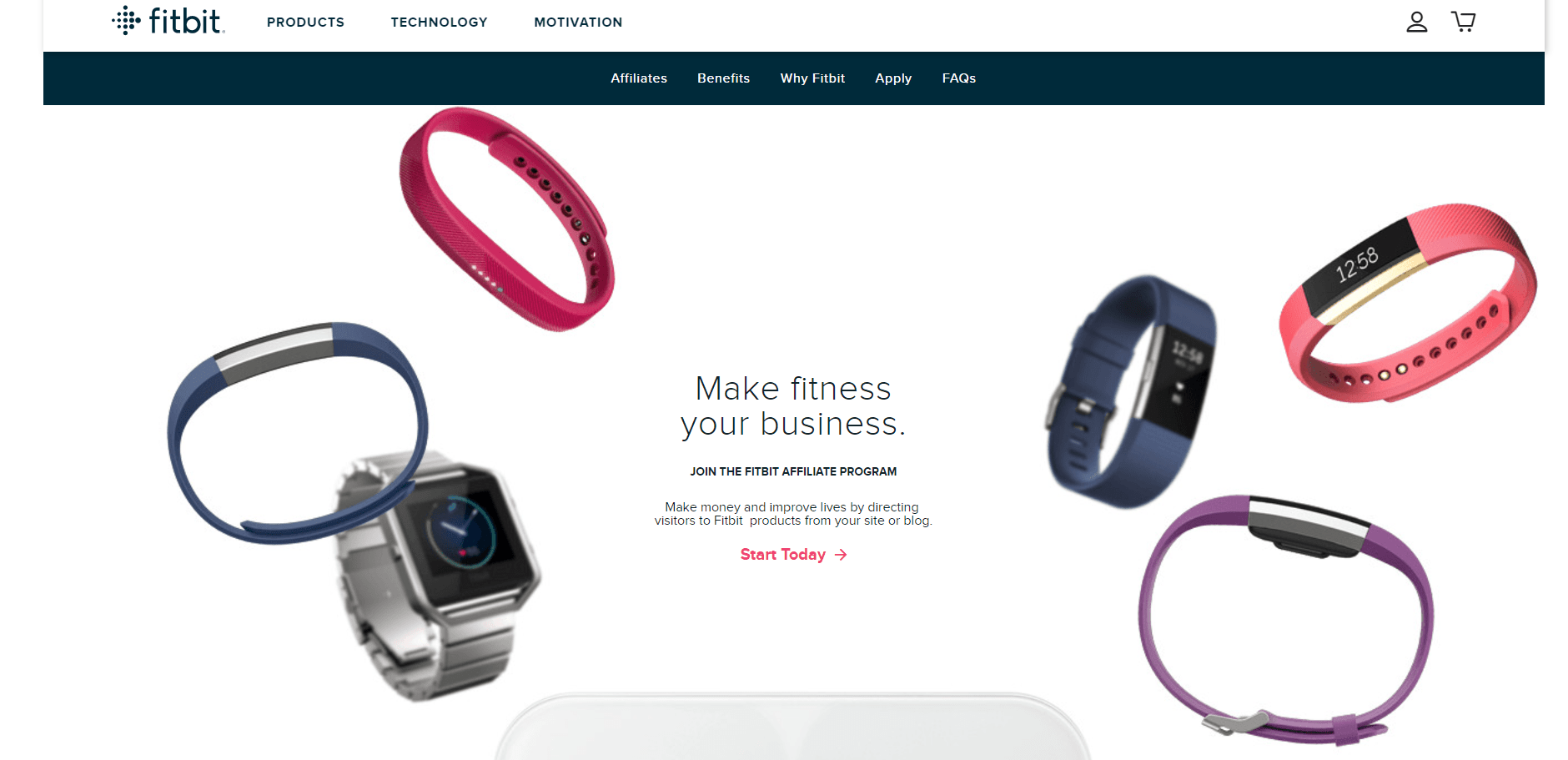 So, how much money can you make if you join Fitbit Affiliates? On every product sale, you can earn a 3% commission. You'll be eligible for larger commission levels if you sell their devices in large quantities each month.
Salient Features:
Commission rate : 3%
Cookie duration : 15 days
Who Can Promote Fitness Affiliate Programs?
Any blog can join these fitness affiliate programs, but having a health or fitness blog will help you get more conversions and sales. It also makes no sense to promote a fitness product on a fashion blog.
Some affiliate programs may also reject you outright if your blog does not fall under the fitness or health category.
Join these excellent programs if you already have a fitness or health blog and earn extra affiliate income by promoting fitness products.
If you don't already have a blog and want to start one, Dreamhost offers a new blog for as little as $2.59 per month.
Quick Links:
Conclusion : Best Fitness Affiliate Programs
That was only a brief overview of affiliate programs for fitness-related bloggers.
When you find the affiliate program of your choice, you must sign up and begin earning money, but as previously stated, this is not an easy task. You must work hard and consistently give your time.
You must enlist the assistance of social media platforms.
More traffic will come your way once people become acquainted with your blog and begin to trust it. That is how the sales ratio will increase, allowing you to earn more money through commissions on each sale.
These businesses establish an Affiliate program in which they pay others to promote or sell their products.
There are numerous affiliate programs that provide marketing services for this purpose, but your success is dependent on the following factors:
Which affiliate program do you select?

What is your level of patience?

How consistently are you working on it?