The hotel industry has ground to a halt due to the ongoing COVID-19 pandemic, but it definitely poised to make a steady comeback.
There has never been a more suitable time to enter the hotel affiliate niche. Perhaps the most advantageous aspects of the hotels and hospitality industry are that you get connected to other industries.
People who travel for pleasure or business require a variety of other services.
Every year, 148 million travel bookings are made online, and each of those people requires a place to sleep. This includes both business and leisure travelers.
We've discovered several fantastic hotel affiliate programmes to assist you in this.
What are Hotel Affiliate Programs?
A Hotel affiliate program should ideally target sites that want to monetize traffic by leveraging the brand.
You will earn a commission for each booking your customers complete with a competitive commission-based business model and cookie period.
The hotel affiliate program market has a diverse selection of offers.
Partners in several hotel affiliate programs have access to a wide range of tools as well as a comprehensive knowledge base, allowing them to earn high commissions and receive prompt support.
Working with a network is advantageous due to the high conversion rate. This is accomplished through a high-quality hotel-finding product as well as a variety of flexible and configurable forms.
How to Find The Most Profitable Hotel Affiliate Programs?
Many affiliates are turned off by the perception that the "hotel booking" niche is overly competitive.
Sightseeing, traveling, travel accessories such as backpacks, car rentals, etc. there's so much you can sell to someone in search of a good hotel on the sidelines. However, these are aspects that are directly related to the hotel industry.
The conversion rate (CR) is an indicator that shows the percentage of clicks that result in bookings. For example, if 27 bookings are made out of 1000 clicks, the conversion rate (CR) is 2.7 percent.
CR can be higher or lower in different networks.
Consider not only how much you will earn from the booking, but also how successfully those bookings are made, when looking for the highest-paying hotel affiliate network.
Getting 4.7 percent out of 100 bookings is preferable to getting 5.5 percent out of 70 bookings.
You can, on the other hand, simply look at how much you earn per 1000 clicks, which is known as CPM.
You can even compare different commission models, such as paying for SERP clicks versus paying for bookings, using this method (CPA).
In reality, you can discover the best hotel affiliate program through trial and error. Nobody can predict which network will be the most profitable in your situation.
To assist you, we've covered hotel affiliate programs, including some you've never heard of, in this post.
Top 10 Best Hotel Affiliate Programs 2023
Here are the best hotel affiliate programs that you must check out:
1. Hotels.com
Hotels.com is a leading established hotel booking platform. Numerous customers all over the world love and trust it.
There are all-inclusive resorts, hotels, bed, and breakfasts, and condos are also available, so there is something for everyone. They have access to over a million properties across 200 countries for booking.
You will be able to find a hotels.com affiliate link to share with your readers no matter where you blog.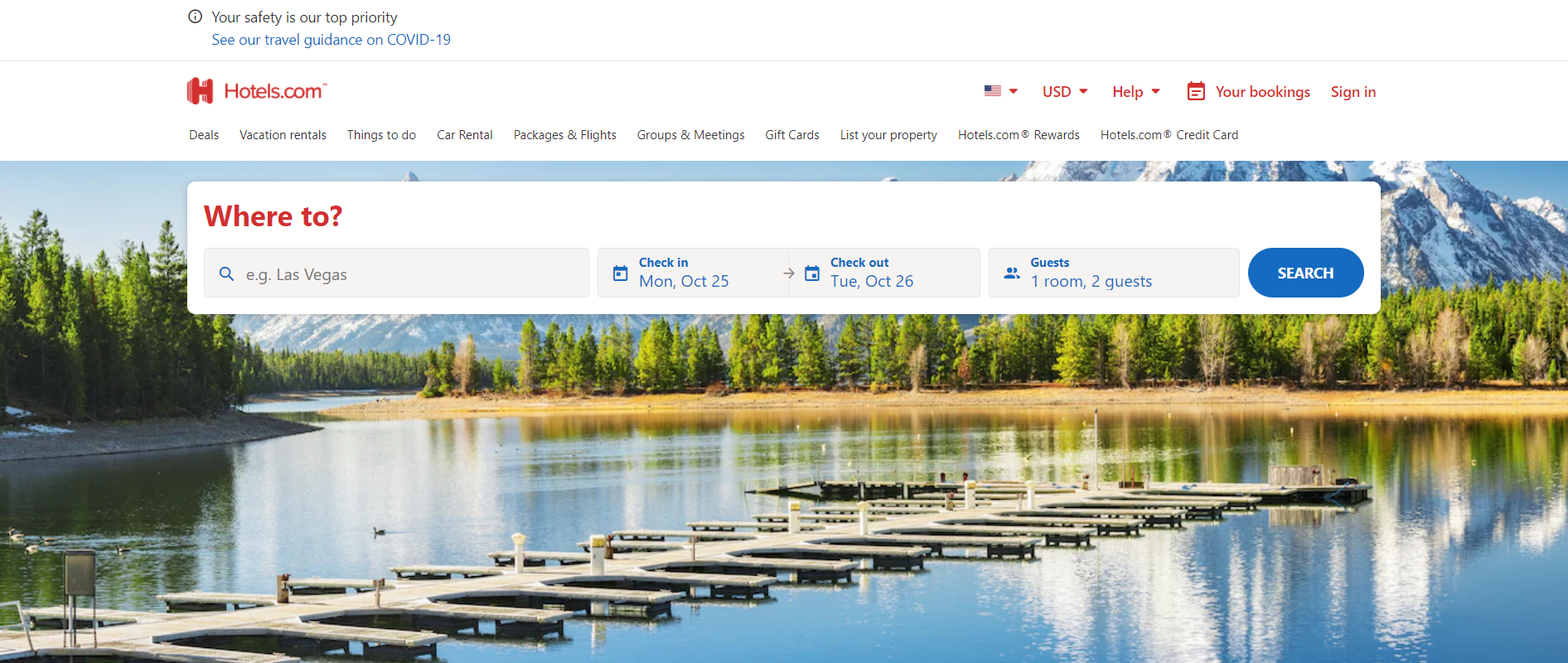 The fact that Hotels.com is a well-known brand makes it ideal for affiliate marketing. If one of your readers clicks on the link and likes what's on offer, they're more likely to book, which means higher conversion rates for you.
So, regardless of where someone lives or what language they speak, you can send them a Hotels.com affiliate link.
You get a commission rate of 1% if you sell one of their gift cards, but a 4% commission if you book a room.
Although most people who book hotels online already know what they want, the 7-day cookie is inconvenient.
As a result, as long as you send relevant traffic to their landing page(s), you should have no conversion issues.
This is also one of the best-performing hotel affiliate programs on Commission Junction, so affiliates are regularly paid large sums.
Commission rate:  Up to 4%
Cookie duration: 7 days
2. Accor
The Accor Hotels affiliate program is one of the most effective hotel affiliate programs available.
It's no surprise that this affiliate program is so popular, with over 22 different brands under their belt, including big names like Mercure, IBIS, and Novotel, and great commission rates.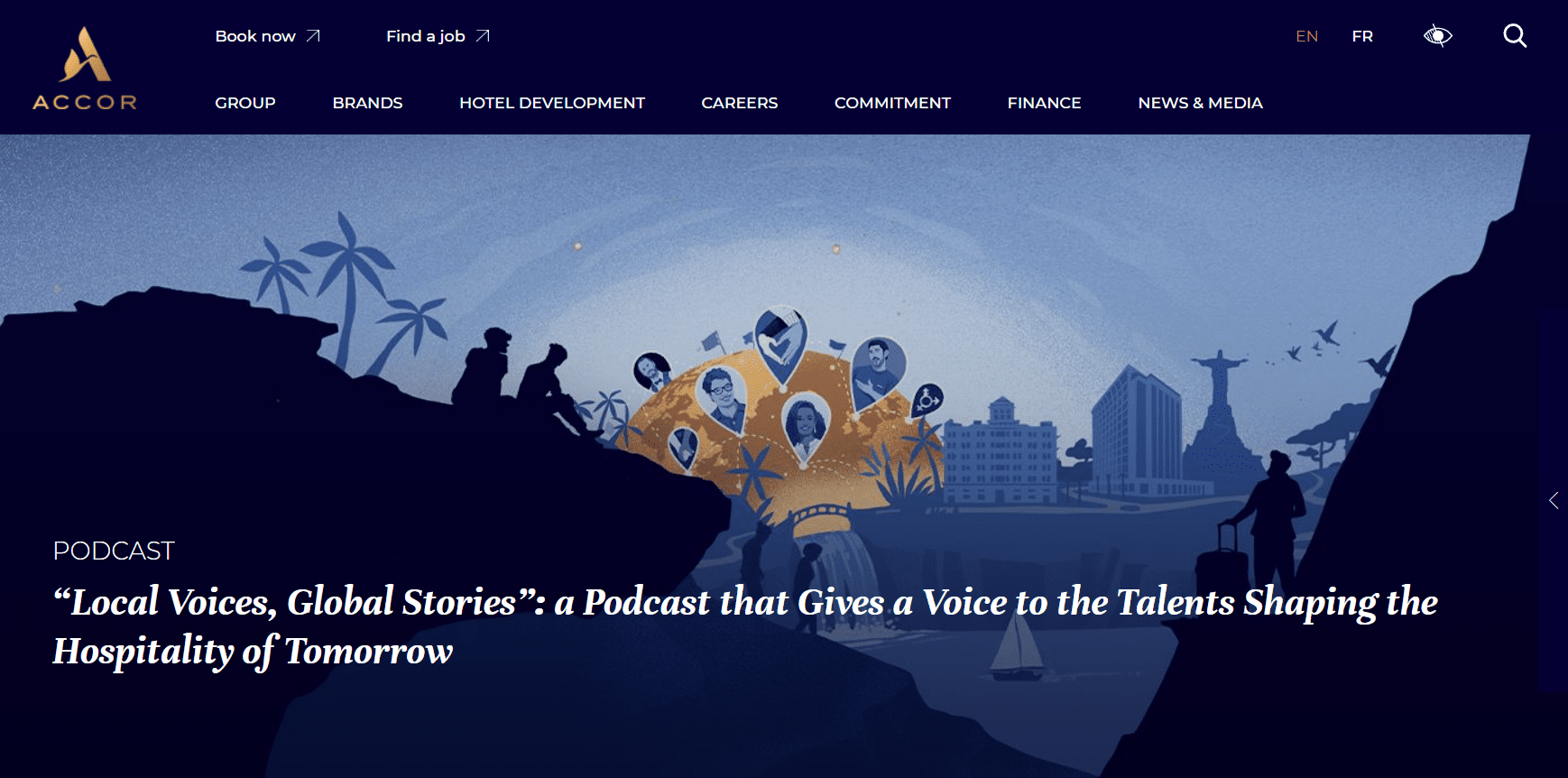 The group has more than 4,200 hotels across over 95 countries, and perhaps the best aspect about them is that the group has hotels at all price points, be it budget or luxury.
They have a 5.4% average conversion rate, which is pretty impressive and higher than the rate offered by many similar hotel affiliates and eCommerce websites.
With a cookie duration of 7 days and an average order value of £177, every sale you make can earn you an average of £13.
Their commission rates as per Hotel Tiers is as follows:
Luxury Hotels- 3%
Upscale Hotels- 10%
Midscale Hotels- 8%
Economy Hotels- 4.5%
Budget Hotels- 2%
If you want to start affiliate marketing hotels, there isn't a better program to join.
3. Agoda
Agoda is a popular travel website that allows customers to book hotels, flights, and even rent out their homes.
As an affiliate, you will have access to more than two million properties to market.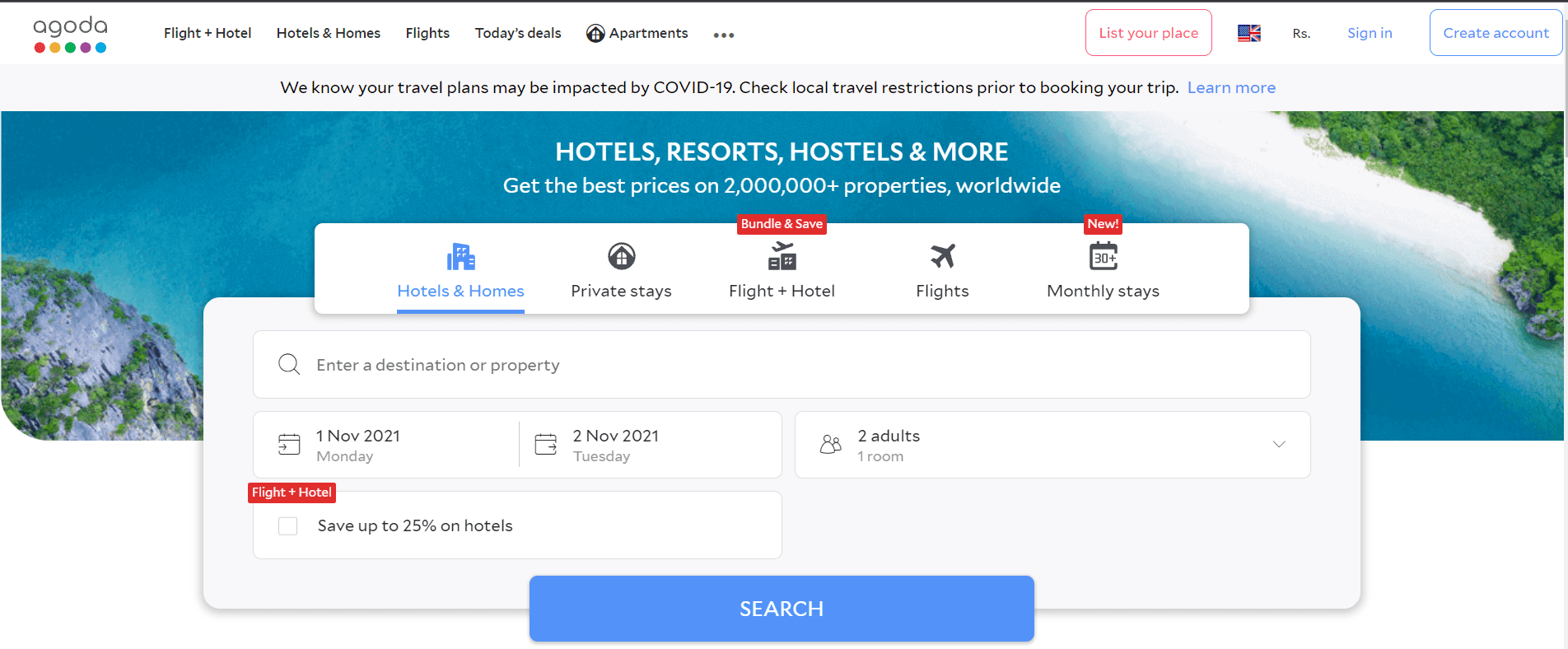 It is extremely easy to join the Agoda affiliate program, just like signing up and providing basic information on their website.
They provide simple-to-implement promotional tools that assist you in converting visitors into paying customers.
Agoda's website, app, and promotions are all available in 38 international languages. These allow you to connect authentically with local audiences and then convert them more easily.
Agoda's slick dashboard makes it simple to track your brand's performances and earnings, and their customer support team is super-responsive and always ready to assist you with any problems you have.
Their commission rates as per no. of bookings is as follows:
<50 bookings – 4%
50 – 99 bookings – 4.5%
100 – 199 bookings – 5%
200 – 999 bookings – 6%
>999 bookings – 7%
The Agoda affiliate program is one of the best hotel affiliate programs in the industry due to its high commission rates.
4. Travelocity 
Travelocity is another popular travel booking website that allows anyone to easily book hotels, cars, flights, cruises, package holidays, and experiences.
This implies that any reservations made through this website are likely to be of high quality. To put it another way, more money for you.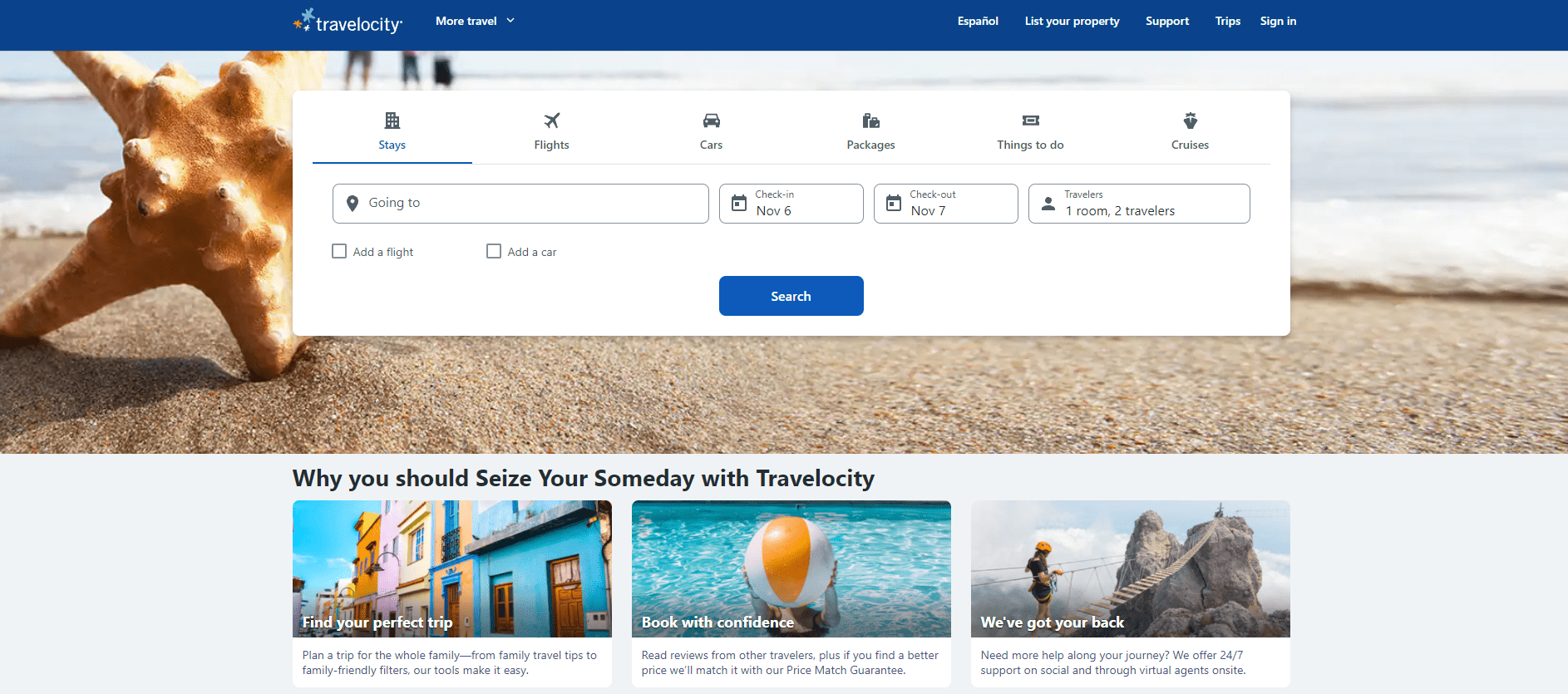 Their commission rate is a little more complicated because the group has a pretty diverse range of travel-related offerings.
However, here is the commission structure and cookie duration for "selling" hotel rooms:
3% where customers pay when they check out
4% when customers pre-pay their hotel room
Cookie duration: 45 days
Affiliates are compensated for everything from car rentals and flights to vacationers booking a cruise, so cross-sell as frequently as possible within your content.
In addition, you will earn:
$2 for each airline ticket sold

4% off pre-paid hotel rooms

3% for customers paying at the hotel

2% discount on car rentals

On cruise bookings, there is a flat fee of $30.

Package vacations are subject to a 3% commission.
Their affiliate program is one of the best solutions for anyone looking to promote travel-related content. Because of their long cookie duration, you will still receive your commission even if a customer takes a long time to confirm their reservation.
5. Avani
Avani is another leading hotel and resort chain having partners across Asia, Africa, and the Middle East.
If you run a travel website, their affiliate program may be the ideal hotel affiliate program you are looking for.
Their hotel partners include some of the most stylish and modern hotels in some of the most remote locations, which makes for easy and quick sales.
Their affiliate program pays quite well, with average earnings of $53.63 per click, and with online reviews revealing the staff's commitment to premium customer support service, driving more sales becomes extremely easy.
Commission rate:  5%
Cookie duration: 30 days
Also, Read This:
6. Booking.com
Booking.com is a new all-in-one solution if you wish to book hotels, vacation packages, flights, rental cars, and other services.
As a result, with a high EPC and conversion rate, it is one of the finest hotel affiliate programs available.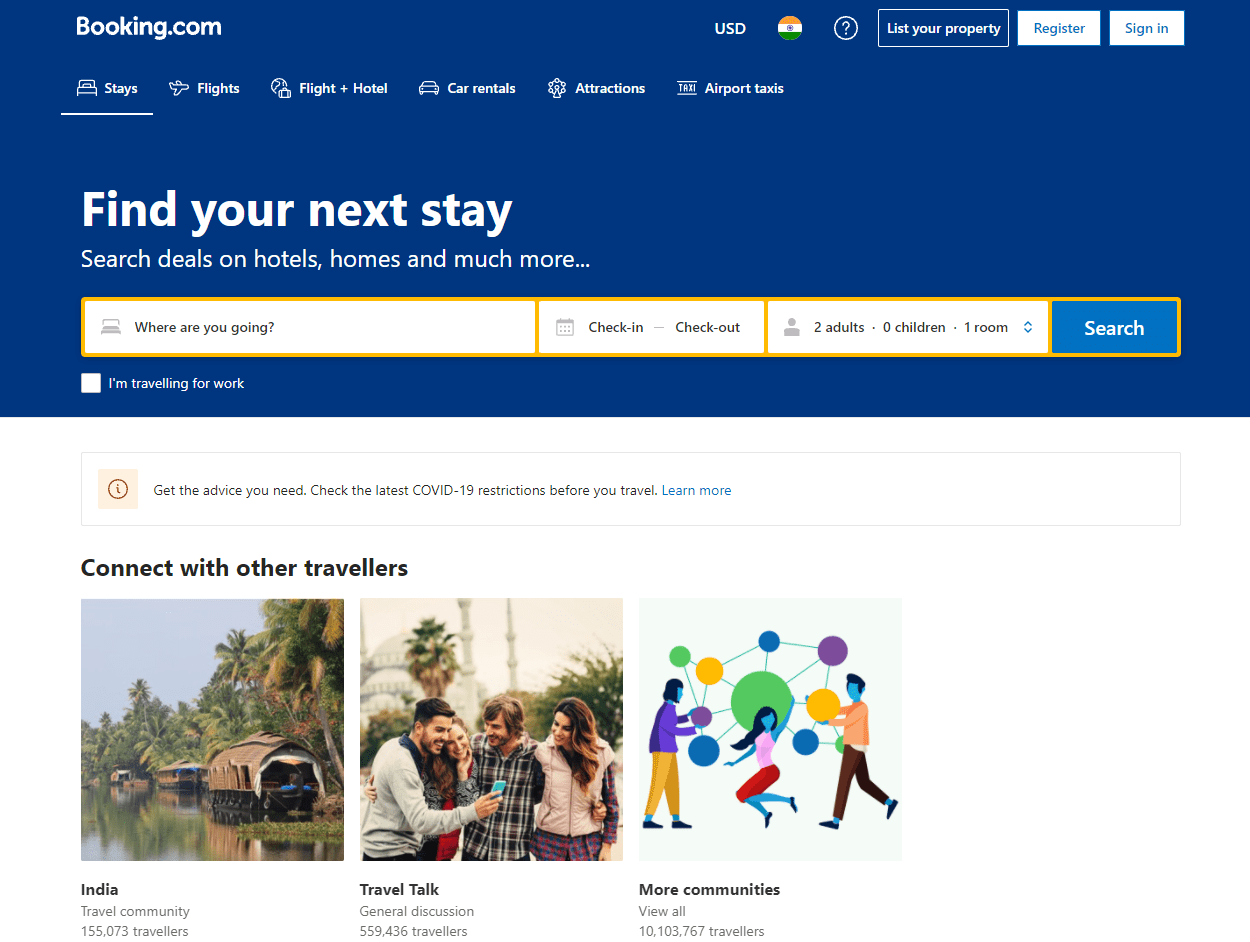 Because they are such a well-known brand that is used all over the world, you can earn money through the booking.com affiliate program no matter where you are.
They have a massive selection of places to stay, so there is everyone will find something at every price point when it comes to booking hotels.
Commission: You will earn a percentage of Booking.com's commission through – Split commission model.
7. InterContinental Hotel Group
InterContinental Hotel Group is a global chain of luxury hotels and resorts. Its massive collection of iconic landmark hotels and resorts makes it the ideal affiliate program for luxury lifestyle and travel bloggers.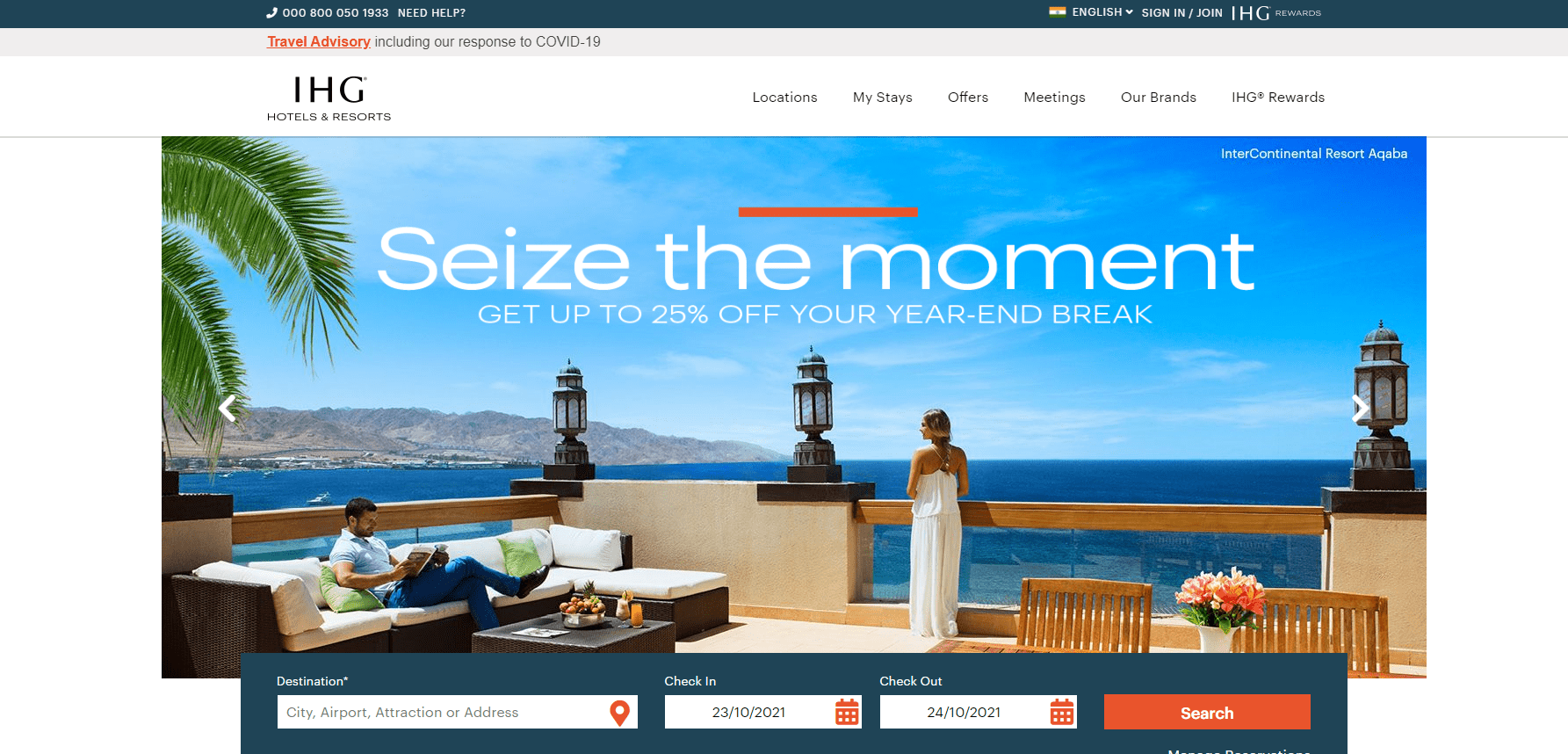 Commission rate: 3%
Cookie duration: 14 days
They include some of the world's most well-known hotel brands, such as Regent, Hualuxe, Crowne Plaza, Hotel Indigo, and Candlewood Suites.
In addition to luxury hotels, they also have a selection of budget hotels, such as Avid and Holiday Inn.
8. Marriott 
Marriott owns and operates more than 7,000 hotels in over 131 countries, functioning under more than 30 different brands.
Wherever you go, you'll find a one-of-a-kind collection of quality premium hotels and amazing experiences suitable for every kind of traveler.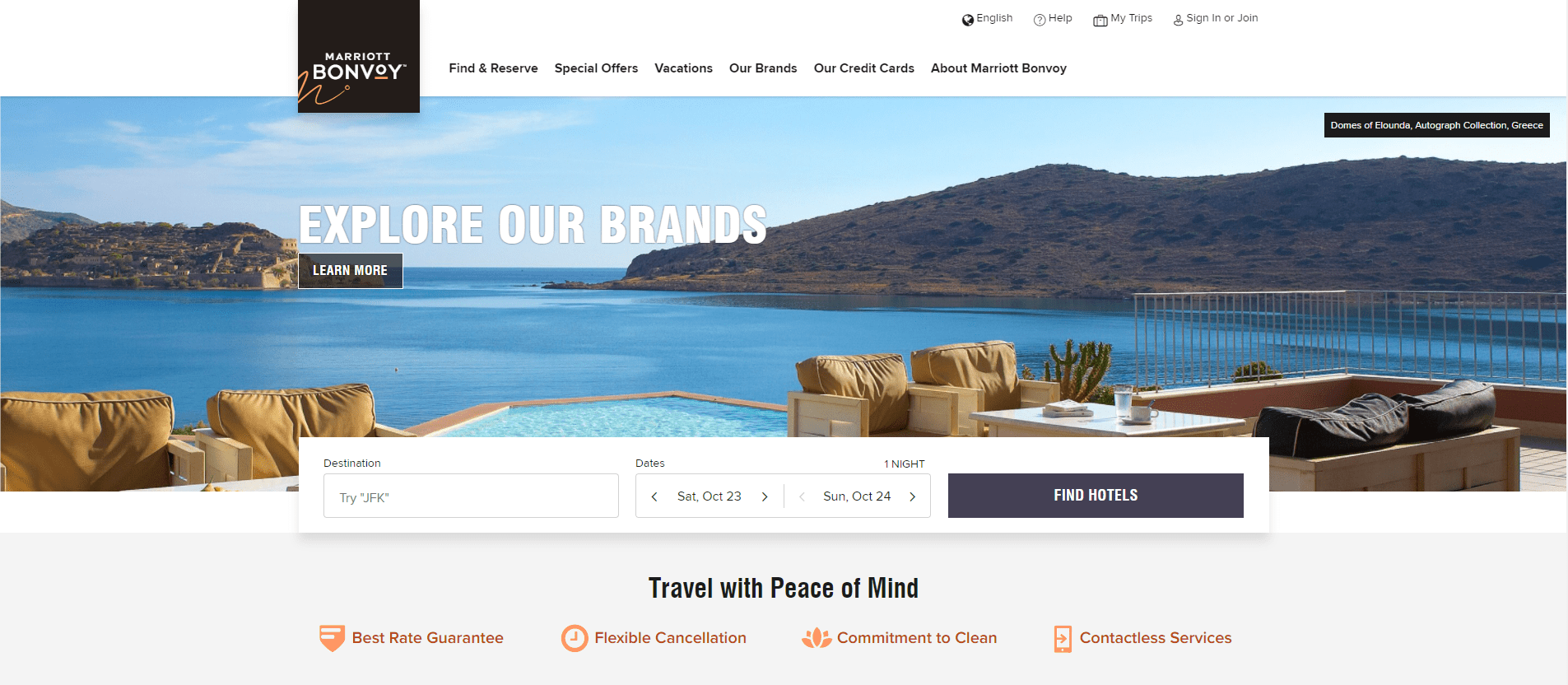 Commission: 4-6% for hotel stays, 3% for package vacations
Cookie duration: 7 days
The affiliate program is free to join and will provide you with everything you need to promote the brand and begin earning money.
9. Hilton 
Hilton is one of the most well-known hotel chains in the world. You can earn commissions by referring your readers to this well-known and trusted brand if you join their affiliate program.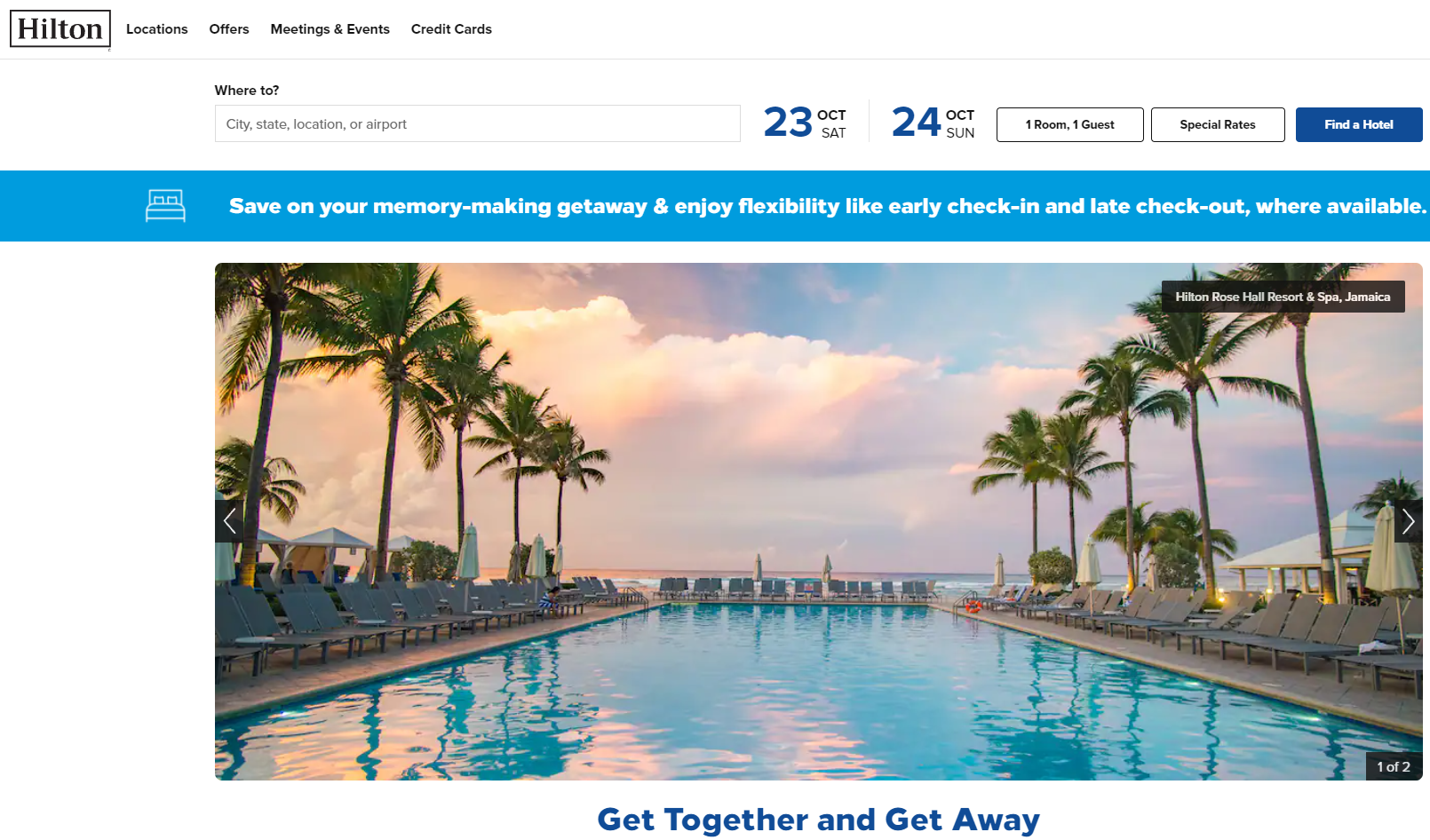 4-5% commission
Cookie duration: 7 days
There are more than 5,600 hotels in 113 countries to choose from, so there is something for everyone.
10. Tripadvisor 
Tripadvisor is a well-known name in the niche of travel websites.
It hosts more than 795 million user reviews and over  1.4 million different locations to stay, making it an excellent affiliate program for travelers and travel bloggers.

Tripadvisor pays a commission even if a user does not book a hotel, in contrast to the other hotel booking sites on this list.
Whenever a visitor will be redirected to a hotel booking website via Tripadvisor, you will earn 50% of the commission that Tripadvisor earns.
Commission: Depends on the booking partner, duration of stay, and the season
Cookie duration: 14 days
Quick Links:
Conclusion: Best Hotel Affiliate Programs 2023
As a result, you've learned how to profit from hotel affiliate programs and have access to the top hotel affiliate programs available.
All that's left for you to do now is choose the appropriate programs to join.
When choosing affiliate programs, bear in consideration not only your revenue goals, but also the content feasibility.
When choosing affiliate programs, keeping your preferences and limits in mind ensures that you pick the proper programs and makes the selection process much easier.