When it comes to hosting webinars, there are a number of software options available to choose from.
However, two of the most popular and widely used webinar platforms are Zoom Webinar and WebinarJam. Both of these software programs offer a range of features that make it easy to host and manage webinars. 
Zoom Webinar is known for its ease of use and reliability, while WebinarJam is known for its advanced marketing features and flexibility.
In this article, we will compare the pros and cons of both Zoom Webinar and WebinarJam to help you determine which one might be the best fit for your specific webinar needs. 
We'll cover everything from customer service and pricing to integrations and trial periods to provide you with a comprehensive overview of these two popular webinar platforms. 
So, whether you're a beginner or an experienced webinar host, read on to learn more about the key differences between Zoom Webinar and WebinarJam.
WebinarJam vs Zoom 2023: Which Is The Best Software?🔥
What is Zoom Webinar & Who is it For?

👩🏻‍💻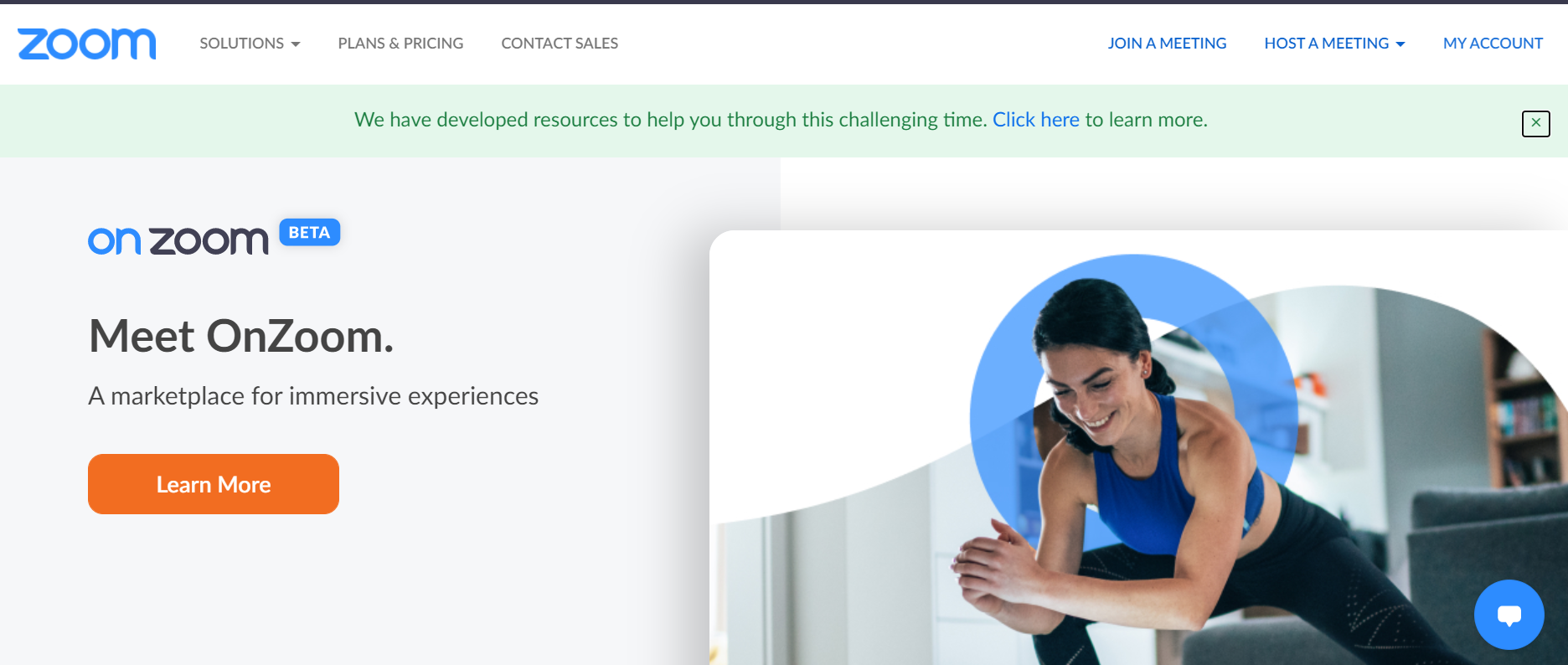 Zoom webinar is a powerful video conferencing platform that has rapidly gained popularity worldwide.
It is an app that enables individuals, businesses, and educational institutions to hold virtual meetings, online lectures, and interactive sessions with large audiences.
The Zoom app is designed for both mobile and desktop use, making it easy to attend meetings from anywhere with an internet connection.
Zoom is especially useful for businesses and educational institutions that need to hold online meetings and lectures during the pandemic.
With the app, students can attend online lectures via the Zoom app, while employees can attend business meetings from the comfort of their own homes.
The Zoom webinar features include voice calls, video meetings, and webinar sessions, making it an all-in-one platform for virtual communication.
The app also allows users to share their screens during meetings, making it easy to present materials to large audiences.
Zoom webinar is best suited for small digital events or regular online meetings.
It is not recommended for individuals who require more advanced features such as private replying, sales and marketing tools, panic buttons, and other features.
However, for those who want an affordable and reliable video conferencing platform, Zoom is an excellent choice.
What is WebinarJam & Who is it For?

👩🏻‍💻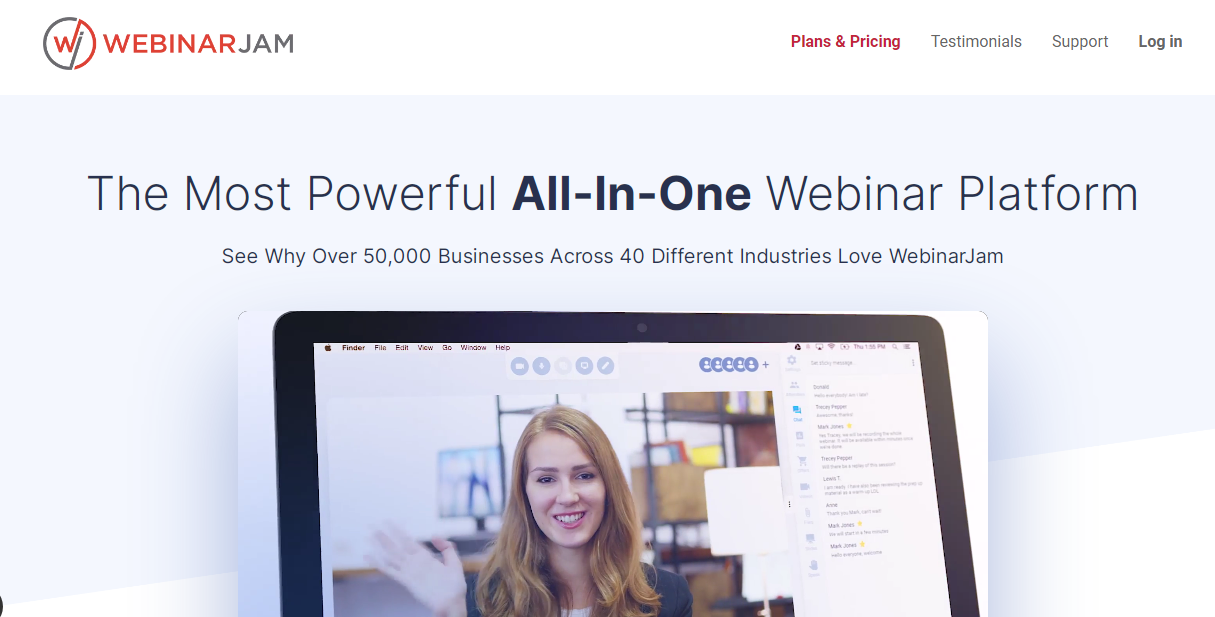 WebinarJam is an all-purpose software designed to hold various meetings and marketing tools, accommodating up to 5000 participants at a time.
The platform offers a user-friendly interface that enables participants to access the webinar software via their Android or iOS mobile phones, as well as their laptop computers.
One of the standout features of WebinarJam is the ability to share HD images for presentations and high-quality videos during webinars.
Additionally, participants can ask questions to clarify their concerns during meetings and engage in private and public chat rooms.
One of the platform's strengths is its scheduling feature, which allows users to plan and schedule their meetings and webinars in advance, catering to busy schedules.
Security is also a top priority, and WebinarJam is widely regarded as the most secure and safe platform for hosting webinars.
Customized landing pages for businesses are one of WebinarJam's most impressive features, giving users a unique and personalized experience.
Unlike Zoom, WebinarJam allows for sessions lasting more than 50 minutes, making it a versatile tool for webinars of varying lengths.
WebinarJam is suitable for anyone who requires webinar software for a larger number of attendees, as it supports up to 5000 attendees.
The platform is particularly useful for individuals who need an automated webinar solution, want flexibility in scheduling webinars, and expect a high volume of attendees.
Why Webinarjam is Personally Recommended by Editor?

💁🏻
When it comes to hosting webinars, there are a lot of options out there. But if you're looking for a platform that's both user-friendly and packed with features, look no further than WebinarJam.
This powerful tool makes it easy to create and host professional webinars, complete with interactive features like polls, chats, and whiteboards.
But what really sets WebinarJam apart is its flexibility. Whether you're running a small training session or a massive live event, this platform has you covered.
And with built-in analytics and integrations with popular marketing tools, you can easily track your success and keep your audience engaged long after the webinar is over.
All in all, there's a reason why WebinarJam is personally recommended by so many webinar experts—it simply works.
Zoom vs WebinarJam – Pros and Cons

✅
Zoom 
| | |
| --- | --- |
| Pros | Cons |
| | |
| | |
| | |
| Excellent customer service | |
| | |
WebinarJam 
| | |
| --- | --- |
| Pros | Cons |
| Flexible and adjustable with all payment processors | |
| Many options available for integration | Highly dependent on Internet speed |
| It is mobile and laptop optimized | Not an economical platform for beginners |
| Use safe and secure protocols | |
| A complete marketing tool | |
| Their tutorials are available in multiple languages | |
| It is the most reliable and flexible platform | |
Zoom Webinar vs WebinarJam – Customer Support

🗣️
WebinarJam boasts an extensive support system to assist users with any questions or problems they may have. Their customer service team is available 24/7 through email, phone, live chat, and training.
The team is highly responsive and helpful, making a great impression on customers. Additionally, WebinarJam has a knowledge base that includes hundreds of articles to help users navigate the platform easily.
Users can also have a live chat with the team to find out what their issue is or to inform them about new offerings.
On the other hand, Zoom has a dedicated team of technicians solely focused on resolving issues with their current customers.
Their customer support service is available 24/7 and has won numerous awards for excellent service. Zoom also has one of the most extensive support communities in any field imaginable and provides its services through its Facebook group.
Although both WebinarJam and Zoom offer excellent customer service, WebinarJam comes out on top due to its highly responsive and helpful customer care team.
With their 24/7 availability, users can easily reach out to the team for assistance at any time, making them reliable partners for businesses.
Moreover, their knowledge base is comprehensive and easily accessible, providing users with a wealth of information to navigate the platform seamlessly.
Overall, WebinarJam's customer care service is top-notch and has earned them a spot as a leading webinar software platform.
FAQS on WebinarJam vs Zoom:

💭
Does WebinarJam offer a trial period?
Yes, WebinarJam offers a 14-day trial period for $1, along with a 30-day money-back guarantee. So, in total, you get a 44-day trial period.
How many presenters can I have in WebinarJam?
With the higher plan of WebinarJam, one can add as high as 6 presenters.
Does WebinarJam automatically record?
Yes, on turning on, WebinarJam automatically records your live broadcast in a video file. Additionally, the Replica Replay feature replicates what happened in the Live Room.
Can you pay WebinarJam monthly?
No, Webinarjam only offers a yearly subscription. There is no option for a monthly subscription.
Is WebinarJam legit?
Yes, WebinarJam is a legitimate software platform that provides a secure and safe way to conduct webinars and meetings online. Its various features and integrations make it an excellent tool to host meetings and webinars in a classic and elegant manner.
Is Zoom good for webinars?
Yes, Zoom is a good choice for webinars, especially if you do not require marketing-rich tools, robust features, and designed registration pages. However, it is ideal for short-attendance webinars.
Who provides more integrations, WebinarJam or Zoom?
WebinarJam provides more integrations as compared to Zoom.
Is a free plan available for WebinarJam and Zoom?
Yes, WebinarJam offers a free trial for 14 days and charges only $1. Zoom offers a free plan to its users, allowing them to conduct unlimited meetings.
Is WebinarJam worth it?
Yes, WebinarJam is definitely worth it. It offers unique features and benefits to its users, including a strong email marketing strategy. With clear pricing and excellent customer support, it is a great platform for hosting webinars and online meetings.
Quick Links:
Conclusion

📝

: WebinarJam vs Zoom 2023
Both Zoom Webinar and WebinarJam have their own strengths and weaknesses.
Zoom Webinar is a great choice for those looking for a simple and easy-to-use platform that is cost-effective, but it lacks certain marketing features and integration options.
On the other hand, WebinarJam is a powerful marketing tool that offers a wide range of features, but it can be more expensive and may have some integration difficulties.
Ultimately, the choice between Zoom Webinar and WebinarJam depends on the specific needs of the user.
Those who need a basic and user-friendly platform may prefer Zoom, while those who require more advanced marketing tools and integrations may find WebinarJam more suitable for their needs. 
Both platforms have their own unique features and benefits, and choosing between the two ultimately comes down to the user's specific needs and preferences.
Zoom on social media:
WebinarJam on social media:
Are you struggling to reach your target audience and convert leads into customers? 🎯 The secret to successful marketing efforts lies in video – and The Ultimate Webinar Blueprint will show you how to do it right! Download Now for Free: https://t.co/fWwsVgHiAs pic.twitter.com/x5b4k1t8dx

— WebinarJam (@WebinarJam) April 19, 2023