If you are confused about How To Choose The Ideal CRM System for your website, then this article helps you. I have listed out all the points which are a must to see in CRM systems and I am sure by the end of the article you will be able to select the best CRM for your business. 
CRM stands for Customer Relationship Management. The name is more than enough to give the viewer a clue that this is something very crucial for any company, and it is.
It is of utmost importance for any major or minor company to maintain a healthy relationship with their customers or in no time their business will fall. Being such an important task, it is not easy at all, even for the companies' best in the market.
You may have reached the point or will reach a point in the future where you will lack basic customer information like email addresses, phone numbers, etc. These may either be inefficient or organized.
If you are going through such a problem, CRMs can help you out. Here in this article, we have included all the important information about CRMs, so read this article to the end.
How Can CRMs Help You?
The new updated CRM software can help their users manage operational data, vendors, accounting, point-of-sale transactions, marketing, sales, and many more.
They will help you find leads, maintaining customer loyalty, and providing great customer support. Here are some of the other major things CRMs can do for you –
Maintaining and finding new potential customers

Improving communications and engagement between marketing and sales teams

Maintaining strong relationships between the existing customers 

Staying in control of your marketing and sales efforts

Monitoring and keeping track of your interactions with all the customers
Key Features of CRMs
Different CRM companies offer different features, but here we tell you the most common features every CRM offers –
Sales and Lead managements:

Provides you with leads collected from different sources. Some CRMs also offer track invoices and sales quotes.

Workflows and approvals:

 They help with organization and task management. However, it varies from product-to-product.

Marketing:

 Most CRMs have interesting marketing tools like SMS messaging, email marketing pipelines, email templates, lightweight project management tools, sales forecasting capabilities, competition tracking, and many more.

Call Centres:

Most small CRMs do not have this facility, but you can link your call center software with CRMs. However, if your whole business is set up on the call, it is preferred to choose a CRM having the call center facility.

Reports and Dashboards:

 Most CRMs have live dynamic dashboards, higher-end products, reporting functionality, and many more.

E-commerce:

Some big CRMs have an E-commerce facility that allows your product for integration with e-commerce platforms easily, either by accessing the API or by using third-party services.
Why is it Not Easy to Choose the Ideal CRM for You?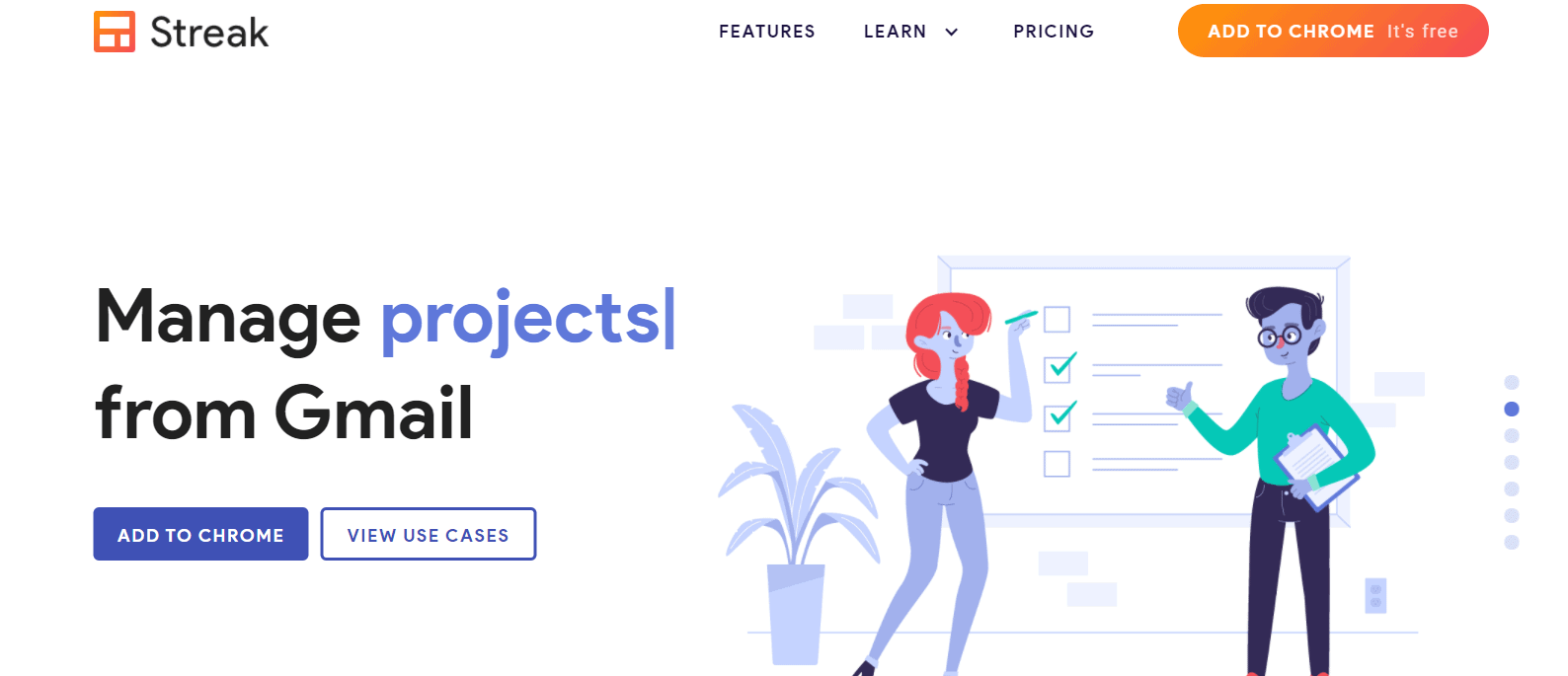 There is a lot of software available in the market. You need to check for a lot of things before purchasing or giving a contract to a particular company. There are a lot of questions you need to ask yourself before moving forward, like –
What and how will you use it for?

How much is its cost, and are there any additional or hidden charges?

Do they offer decent customer support, and can you and your company efficiently use it?

Is the training provided by the CRMs enough for your employees?

Is your CRM only good for small businesses, or can it work for big enterprises as well?

Can the CRM you will use be integrated with the programs you already are using?

How many employees or people will be using this software?

In case you need CRM for different departments, will it be equally efficient for all?

How will the CRM be implemented, or is the technical assistance included?

Is it easy to use and what about the employees' training to use it?

Is the API accessible with the software?

What kind of security features does this CRM have?
You must answer every question from these before moving forward to purchase a CRM.
How To Choose The Ideal CRM System for your Business?
Now, coming to the main question, here are some of the things important for you to focus on for choosing the best CRM for you –
Understand the features and functionalities you need in your CRM:
 Every business is unique with growth dynamics, customer base, processes, and many more aspects. It is not wise to commit to inflexible, basic, or standard functions.
You will require a scalable CRM solution. The growth of your business and your CRM needs are directly proportional. It is essential to choose a CRM solution that can be upgraded easily to a better version when needed.
Also, some CRMs have a wide range of functions. There may be many functions that you do not need for your business at all. Then why should you pay for such functions? Many buyers make the mistake of overestimating the features they actually need.
This also works for how many employees are actually going to use the CRM. Maybe, different users may need different plans.
A communication department may need marketing-related functions, while the sales department may need sales sets or use CRMs on smartphones. Basically, there may be different needs for different people within your office; one plan may not work for everyone.
Do not go for a CRM claiming to be compatible with every work needs; instead, choose the best for you.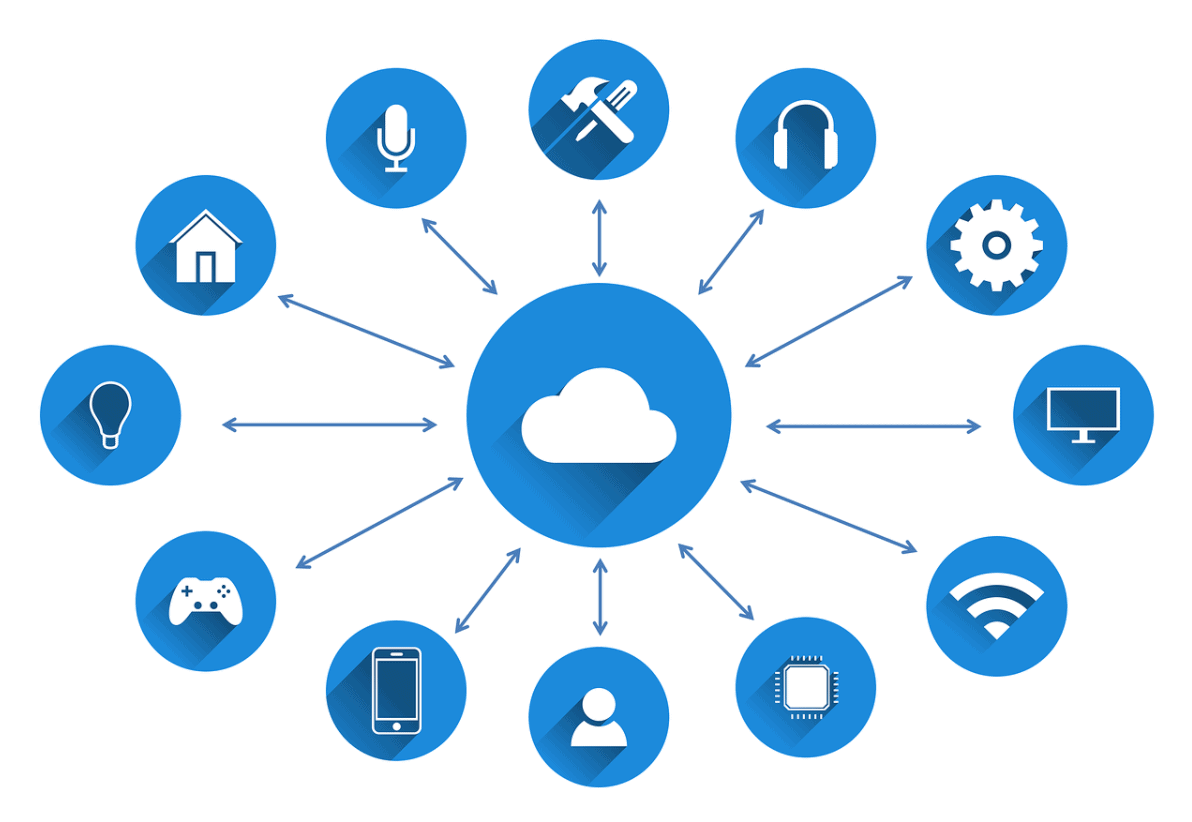 Both of them have their own advantages and disadvantages. Let us list them out for you –
Pros of Cloud –
No technical expertise or server needed from your side

You have to log in from your web browser

All data will be there on the vendor's side
Cons of Cloud –
You need to stay online all the time, or you won't access your information. This is a huge problem in case you get a poor internet connection.
Pros of On-premise –
Software is physically on your location, and you own it.

You get direct access to the servers

Subscription charges won't apply
Cons of On-premise –
You will need to purchase important software and hardware.

You will have to deal with higher upfront costs

You will require an in-house IT personnel
Keep in mind that if you need one deployment option today, in the future, you may need the other one. 
Choose a flexible system and that has the capability to evolve with your business.
Check CRM system integration with other apps:
All the software you already have and use in your system must integrate with your CRM system.
Your office might already be using a lot of important applications like Google G-Suite, Office 365, ERP, HR or accounting software, marketing solutions, e-commerce websites, your own websites, and many more. All these must integrate with your CRM system, and if not, you will regret it later.
Also, it is important to check whether you are allowed to import or export your existing contact data into your brand new CRM software.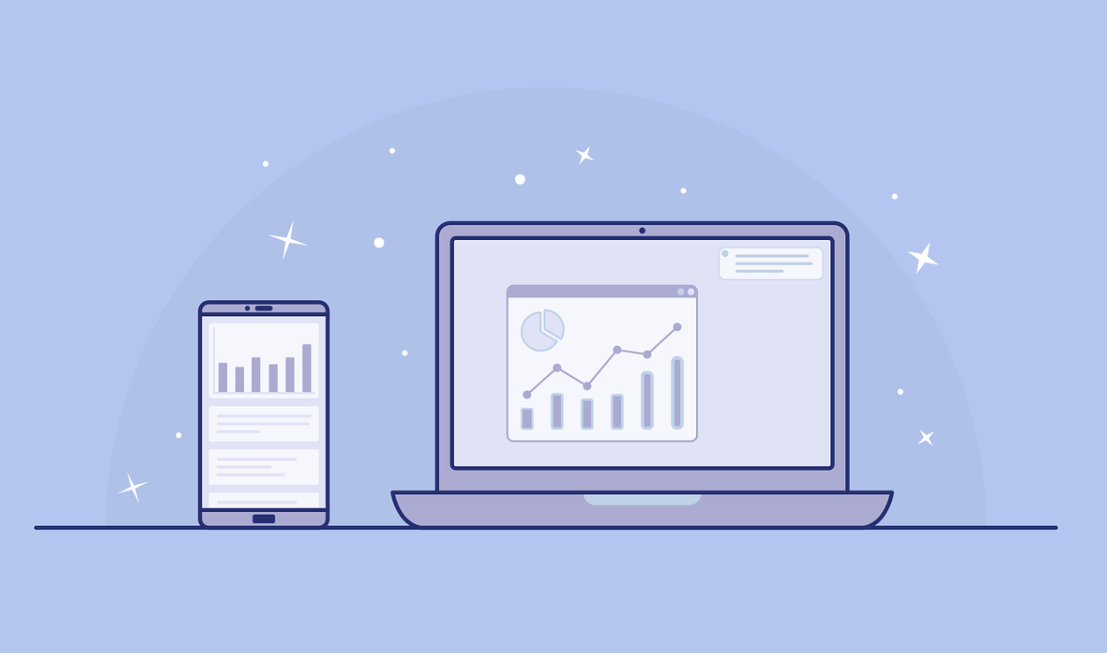 Choose a vendor that is industry-specific and has local partners or connections:
Avoid going for broad-spectrum CRMs. Choose the ones specific to your field. Choose those who have worked with or are working with the people in your fields as they already have a better knowledge of your field and what you need.
Also, this encourages them to focus more on your needs.
Just by researching the vendor's official website, you can get excellent information about the sizes and types of companies they have worked with. For reviews, scores, references, customer testimonials, etc., you must also check third-party websites.
For some businesses, your vendor must have a stronghold on the local network. You must ask yourself the following questions if you need local support –
Does my CRM system vendor have local partners?

Can these partners offer business consulting, or do they offer CRM?

How many years of experience does the CRM have with its local partners, how many of the partners are they involved with, and what is their certification status?
Take a demonstration from them and a free trial: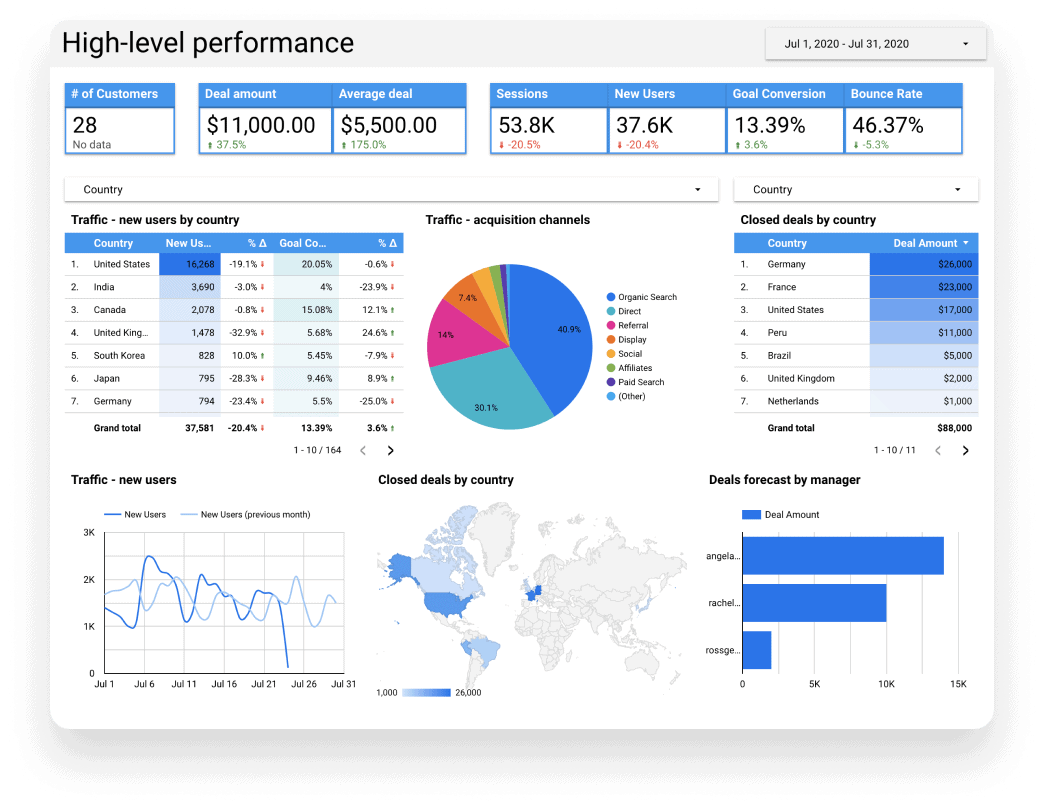 Do not take CRM at face value and always ask for a free trial. First, ask for an online demonstration, take it and then go for the free trial. Their sales representative will walk you through their software and will answer all the questions you have for them.
Then with the free trial, you can actually know whether they actually offer the promised features as efficiently they claim or not.
All the positives and negatives of the CRM can be judged, and you can determine what issues you have, discuss them with them, and move forward accordingly. Carefully look for the software's ability to expand, key functionalities, and how easy it is to use.
Also, it is recommended to invite at least 2 representatives from different CRMs so that you can carefully compare between them and choose the best one for you.
Give special attention to user experience:

 
It is important to understand your experience and how it felt while working with the CRM. You have to ask yourself questions like, is it helping, is it worth it, or is it slowing you down or irritating you somehow?
For example, to complete a particular task, you can ask the vendor to show you the required number of clicks. Watch it, think about it is good enough or not, etc.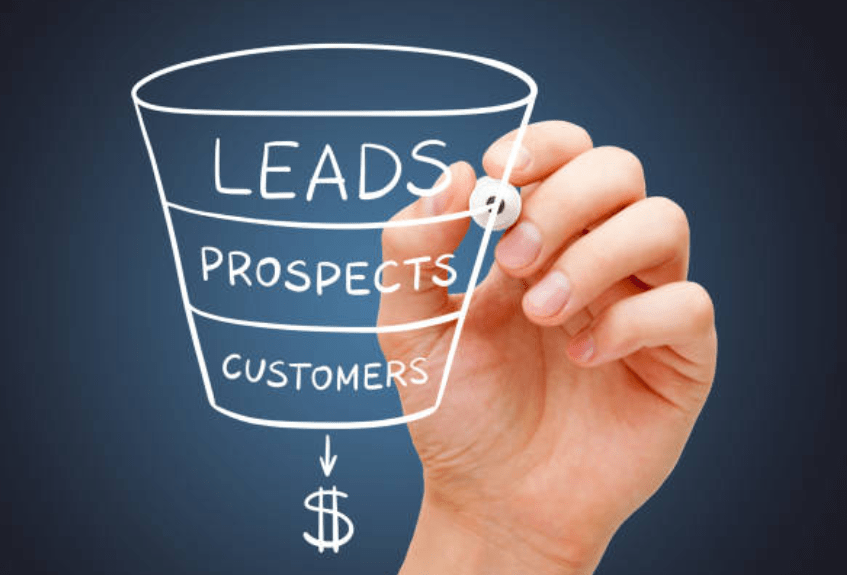 You are not the only one working on the software; you may be experienced or may have enough technical knowledge, while your new employees may not. The CRM needs to have a simple interface for such users and must be easy to use without any prior technical knowledge required.
When asked what you first look for in a CRM, more than 85 % reply with the user interface. Now, imagine how important it must be. Then comes reporting and integrations with MS Office, the mobility and pipeline management capabilities, and others.  
Check whether training and customization are available or not:
If you get problems using its features, then the CRM is not worth it. You must customize it to increase your work efficiency and comfort. Also, it is of no use to you if your staff is not trained to use the software.
Therefore, it is important for you first to ask them how you will train our employees apart from online tutorials and our configuration needs? Are there any extra charges for them and many more?
A CRM system will help you with contract management routines, customer service activities, reflecting your marketing strategy and sales process, and many more. For all this work, you need to use the CRM efficiently, and that is only possible if you customize it the way you want it.
Also, live training is crucial. Online tutorials cannot replace live training. The best you can use online tutorials is for small problems later. To understand the CRM, you need to understand the CRM interface from their representative live.
Whether it is role-based, individual, or a group, CRM training will show you how it works and how different things are connected, important for the general organizational workflow. In fact, training will help your company work together for the same purpose.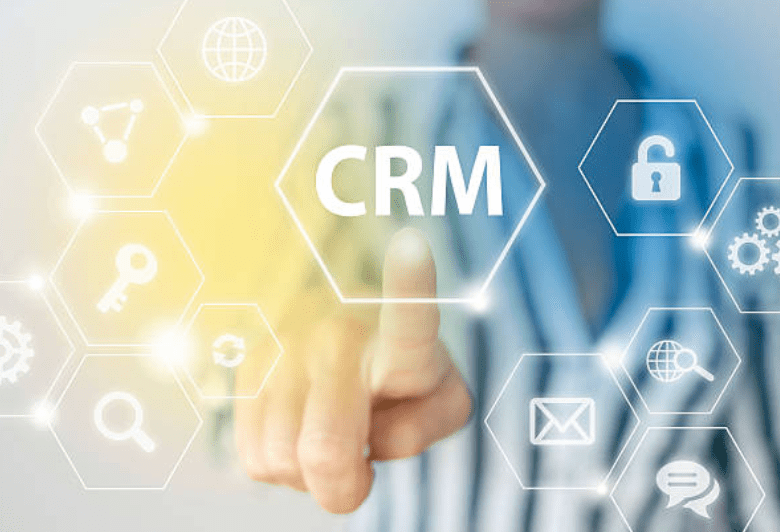 GDPR stands for General Data Protection Regulation. The name is important enough to describe how important it is. It is important to keep all your customer general information like mobile number, email address, etc. Also, it is important where all this is stored.
For instance, a customer asks you to remove all his general information from your database, and you must be able to do that in no time and send the customer back a confirmation report.
The same goes for when a customer or an officer asks for an electronic report of the data you store in your system.
Instead of double-checking the data you have stored on them, customer service, and marketing databases, removing customer data from different sales manually, you must get a one-click quick solution. If you try and do it manually, there are very high human error chances.
How Much does a CRM cost?
The cost of CRMs varies drastically depending upon features, company, and many more factors. They may charge you per month, per user, etc. Also, there are different versions of this software at different prices.
Some CRMs also offer several add-ons on additional costs. This may be from their company or a partnership with a third-party vendor. Some add-ons are free, while some have monthly subscription fees.
There is some business satisfied enough with the built-in features of the CRM, while some may need more.
Here is a list of some of the topmost our recommended CRMs with their costs that you can use –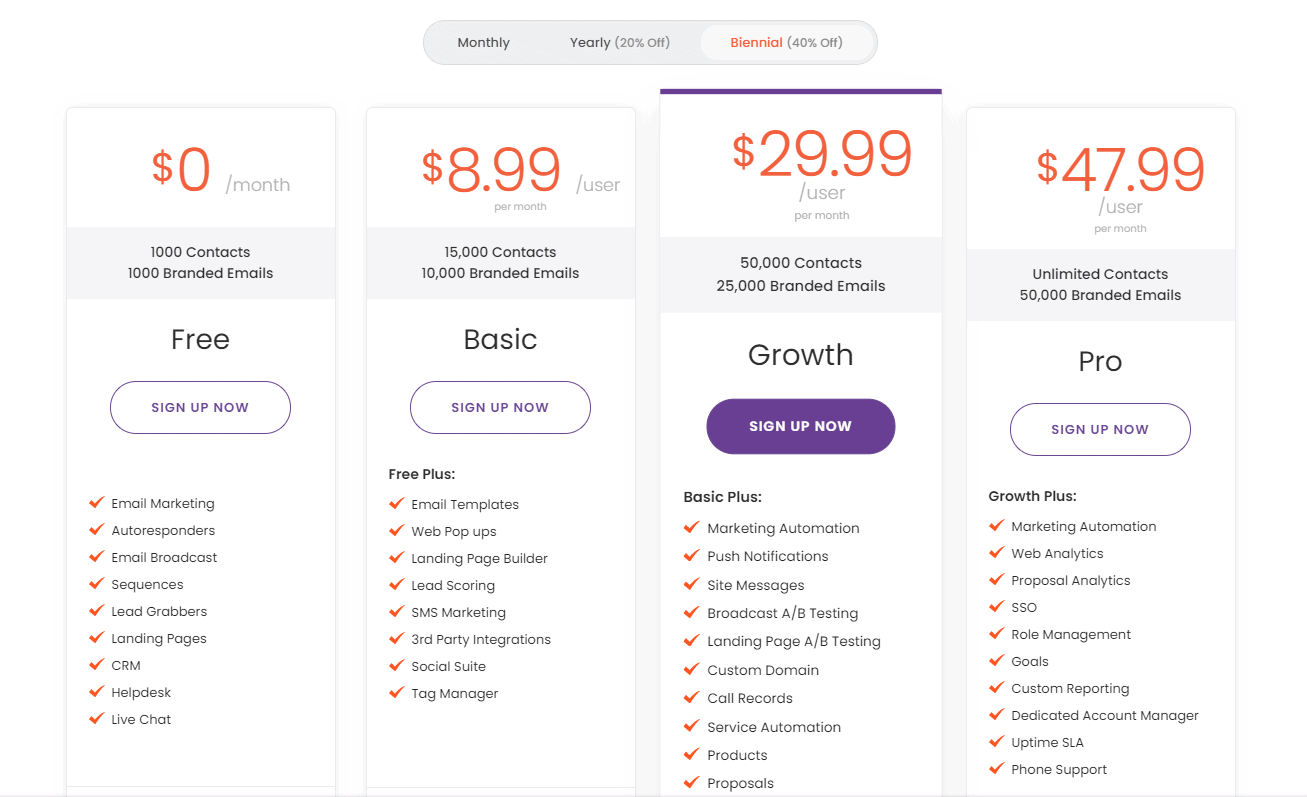 Yearly Cost – Billed Monthly = $ 79.99
Yearly Cost – Billed Annually = $ 63.99
Cost Difference = $ 16
Yearly Cost – Billed Monthly = $ 204
Yearly Cost – Billed Annually = $ 150
Cost Difference = $ 54
Yearly Cost – Billed Monthly = $ 180
Yearly Cost – Billed Annually = $ 180
Cost Difference = $ 0

Yearly Cost – Billed Monthly = $ 600
Yearly Cost – Billed Annually = $ 480
Cost Difference = $ 120
Yearly Cost – Billed Monthly = $ 120
Yearly Cost – Billed Annually = $ 96
Cost Difference = $ 24
Yearly Cost – Billed Monthly = Does not offer
Yearly Cost – Billed Annually = $ 300
Cost Difference = $ 0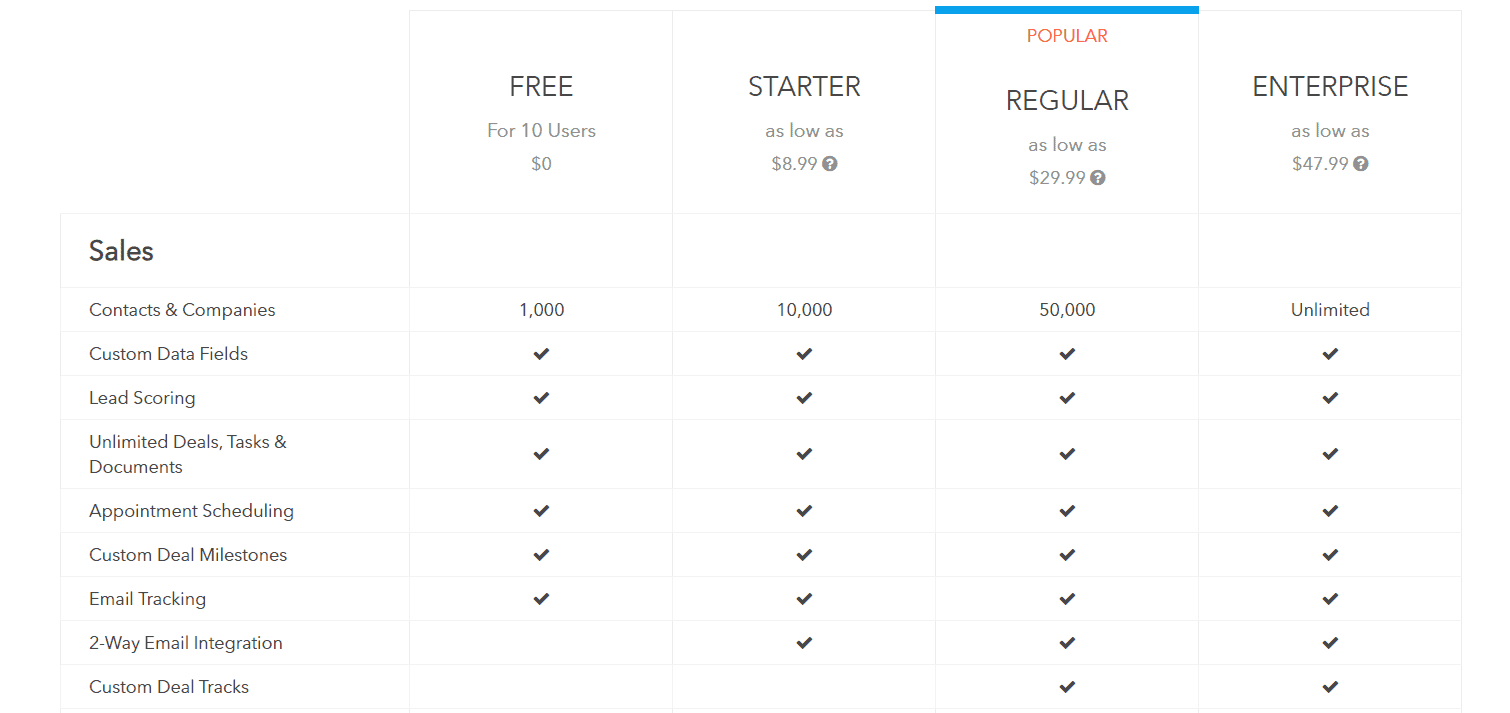 Yearly Cost – Billed Monthly = $ 179.88
Yearly Cost – Billed Annually = $ 119.88
Cost Difference = $ 60
Yearly Cost – Billed Monthly = $ 228
Yearly Cost – Billed Annually = $ 144
Cost Difference = $ 84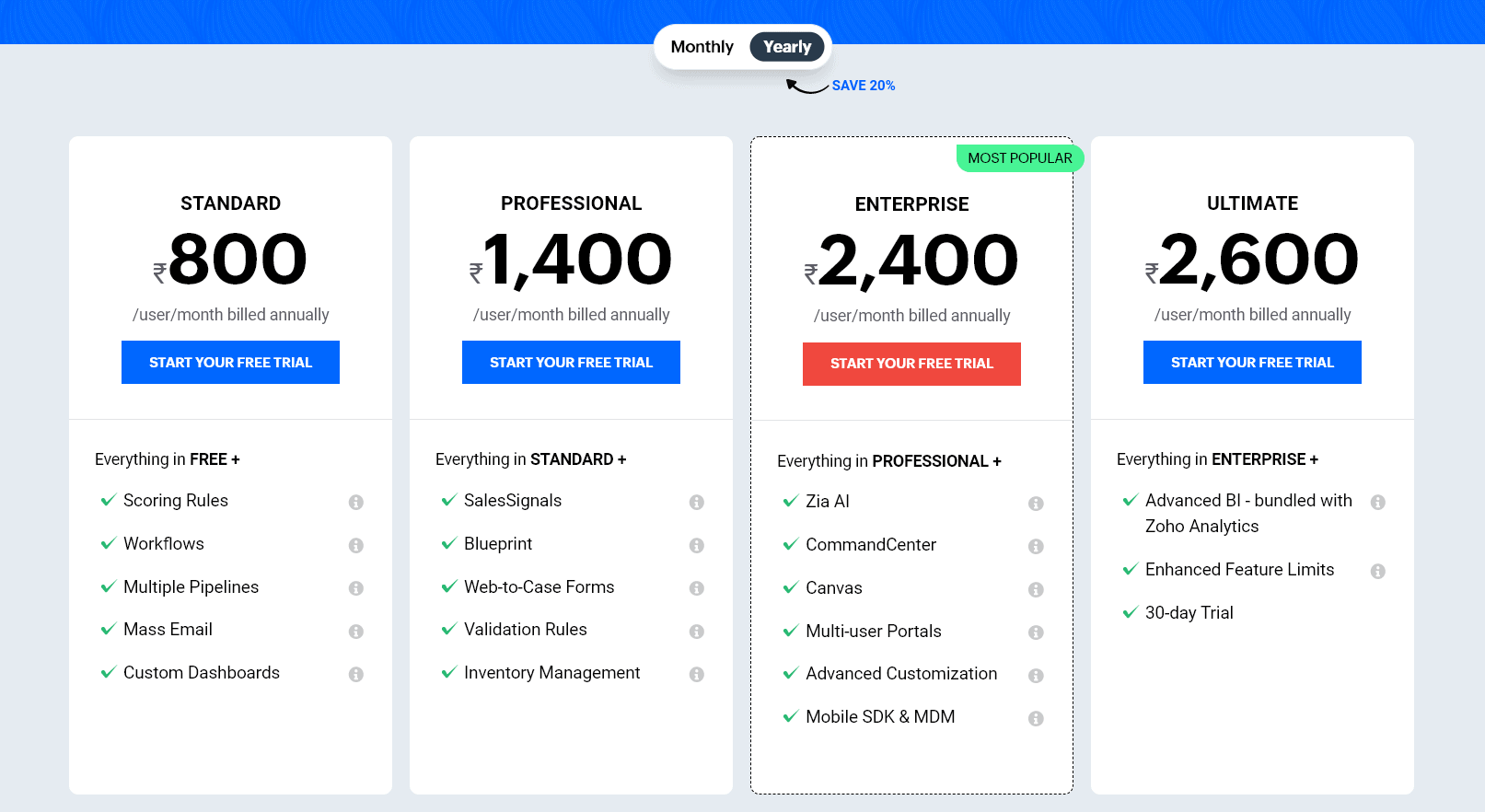 Yearly Cost – Billed Monthly = $ 216
Yearly Cost – Billed Annually = $ 144
Cost Difference = $ 72
Yearly Cost – Billed Monthly = Does not offer
Yearly Cost – Billed Annually = $ 624
Cost Difference = $ 0
Yearly Cost – Billed Monthly = Does not offer
Yearly Cost – Billed Annually = $ 348
Cost Difference = $ 0
How Long is a CRM Contract?
The contract's length depends upon the company and the package you choose. Most companies offer annual subscriptions. Although the company may offer prices based on per month, you have to pay the complete fees annually only.
Certain companies offer monthly payment options as well. It is straightforward to upgrade your subscription from a lower tier to a higher tier, while it is equally difficult to do the opposite. Also, in some cases, you may be charged high for the period of 1 year.
However, there are no penalties for canceling with CRMs, but some companies have strict refund policies. Some contracts automatically renew or charge you if you do not cancel them on your own.
Quick Links
FAQ | How To Choose The Ideal CRM System For You 
👉 How can I get quotes for a CRM?
Most companies publish their quotes or prices on their official website. However, some companies only post their contact details from which you can contact them, talk to their representative and decide on the costing and features. This is because there is a range of features and options available in the market that are important to work with, and there are different needs for different companies, so they let you choose accordingly.
🤷 Which are some of the best CRM software?
Some of the best CRM software are – EngageBay, SugarCRM, Less Annoying CRM, Insightly, HubSpot, FreshSales, Pipedrive, Zoho, Agile CRM, Apptivo, and many more.
Conclusion | How To Choose The Ideal CRM System For You in 2023
CRM stands for Customer Relationship Management. Every field needs to build a strong network with their customers with customer support, knowing customer needs, getting leads, and many more. CRMs can help you with this.
These are software that can help you manage many things, most of which, if done manually, can call upon human errors, and if made wrong, a bad impression of your company.
However, it is not easy to choose CRM software as they are not of a broad spectrum and must be specific to specific fields and departments. You need to choose the CRM ideal for your work and not just pick up the best in the market.
This article has included everything important about CRMs and how you can choose the best one for your company. Please let us know in the comment section if you know any tips for selecting the best CRM software.