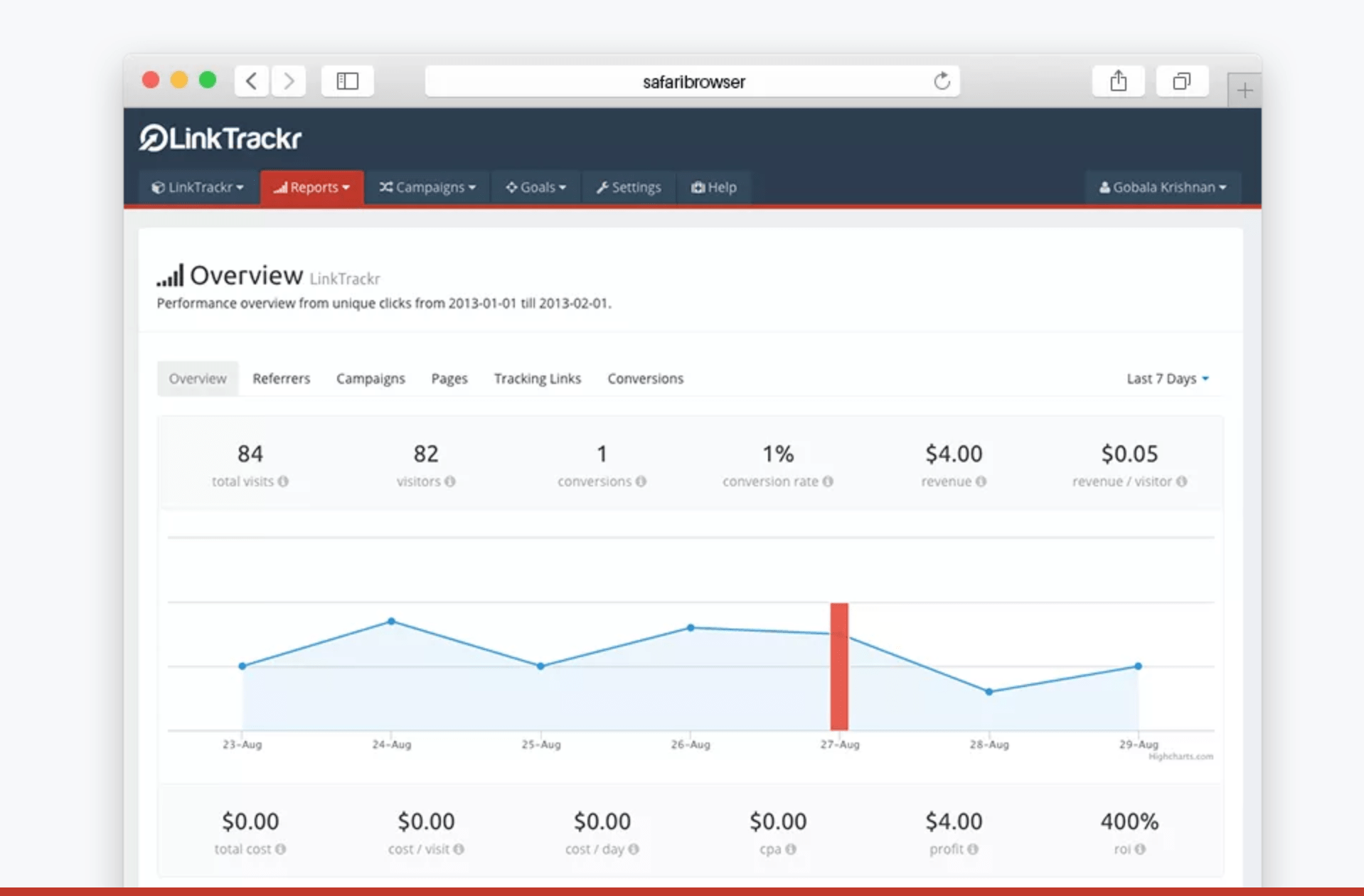 What is Linktrackr?
A rational internet marketing chap always prefers trustable link cloaking service for his online campaigns to move smoothly. This shows why LinkTrackr is such a necessary product. To avoid any confusion we tell you that LinkTrackr is very simple internet product that helps you to create, cloak, or break the links in no time and at the same place. LinkTrackr also has many add on features.
What All Can LinkTrackr Do? LinkTrackr Review 2023: Best Affiliate Link Cloaker
 Split Testing:
LinkTrackr helps to share traffic between two pages by splitting the link which helps to discover actually which part brings more traffic or business. This tool for this part gives good results.
Customizing URL:
It allows you to use your own domain to cloak the link. With this feature, the link name looks more good and professional. Many other new domains can also be added to use other URL for different brands. Further, you can also use three default domain names already initiated in the LinkTrackr.
Linktrackr Links cloaking:
The LinkTrackr is the easiest software to create links for your business, for that you have to just submit the URL. With this product, you can also categorise the links if you have a lot of them. Then you can easily pull out the desired link.
Hiding the URL: One of the major features of LinkTrackr is its capability to hide links. This function can keep the privacy of the main link intact so that the people never get to see the main link.
Conversion tracking: Conversion Tracking is an important part, but in many cases, a code is required on the 'Thank You' page of the dealer's site. This code here means conversion code.
 WordPress cloaking:
Here comes the best feature of LinkTrackr which is very helpful for bloggers through which we can convert keywords into to associated link.
Organised setup: LinkTrackr has a very neat interface which makes it very easy to use. It's completely an online product and it does not need to be installed on your device, hence making you not worry about any storage problems.
Instant click displays: LinkTrackr has a real time tracking display that means it instantly displays the dashboard stats without any delays. This helps you to display your marketing campaigns and ads performance. Through this you can also manage the number of hits for any specific period of time. This helps to strategize your business.
Cloaking Links with viral tool: LinkTrackr also comes with one more feature called cloaking the viral task. There is an option of opting social website sharing. You can enable it at the bottom or top as you like. It helps in creating more traffic from social networking websites. This is really a powerful feature through which you can generate more commission.
Link Optimisation: Whenever you create a link on LinkTrackr you have to fill an option of meta information. In which usually keywords are entered and sometimes the image URL, but with LinkTrackr you can easily auto generate the date from and get it filled for every section.
Use Your Own Domain Name
Take control of your branding. We support unlimited domains.
Show others you mean business! LinkTrackr allows you to brand every tacking link or campaign with your own domain name.
CNAME Domain Mapping
The best way to map your domain to your LinkTrackr account, and use it hassle-free for your campaigns and promotions.
Easy Redirect Script
Want to use a domain name that is already being used for your blog or shop? No problem. with our redirect script, all you have to do is upload a simple folder to your web host, and add your domain.
Helpful Guides & Videos
Not sure how to modify your CNAME records, or upload our script? We've got you covered with our step-by-step video tutorials & guides.
I always find that LinkTrackr has something extra to offer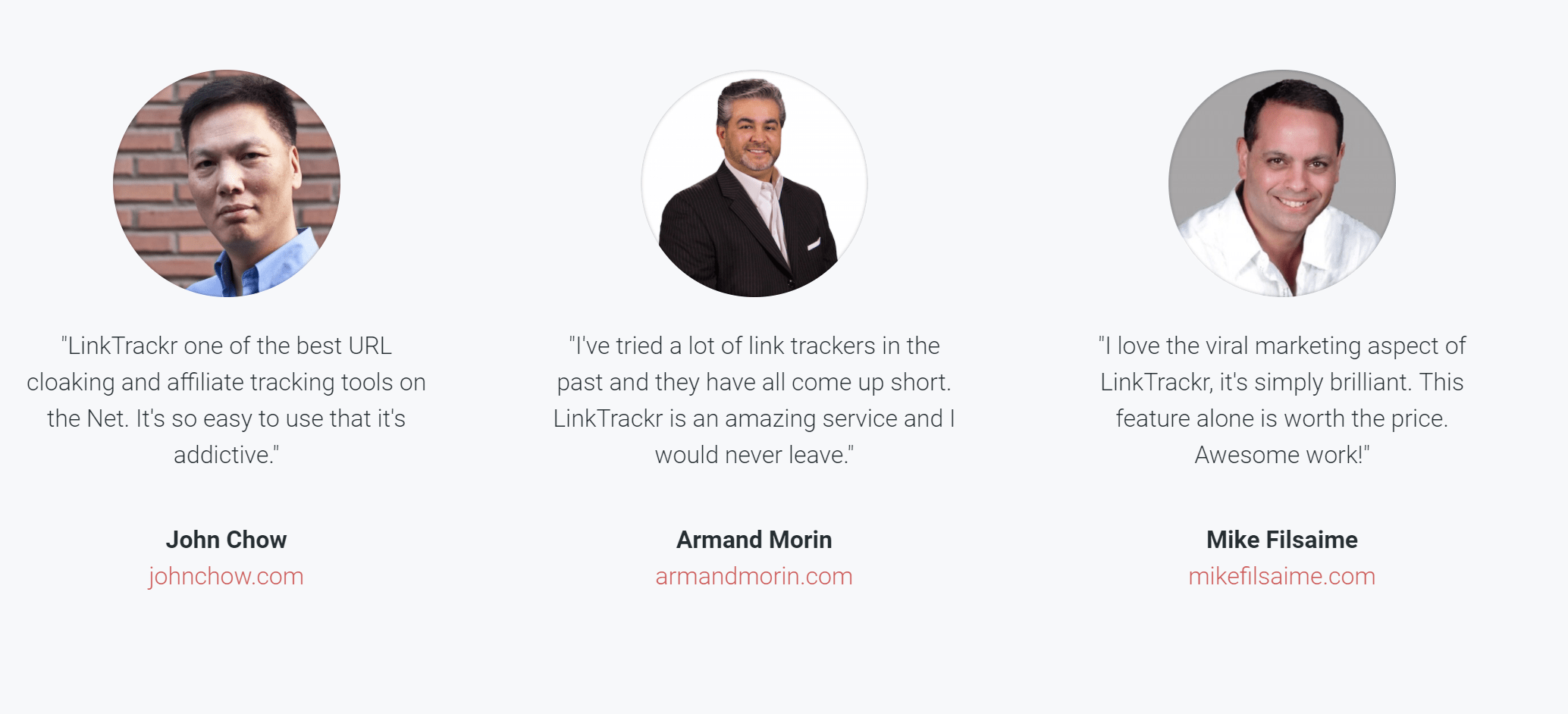 After using the other link cloaking products like pretty links or MBP Ninja Affiliate etc. you will certainly find the LinkTrackr better than the former plugins. As they are the extra add-ons to the word press profile, so if God forbid your website goes out of order for a certain time, your links on site will stop working. Further plugins also store the links and make the size of the website heavy which is not desired.
Who does not wants to use custom domains today? But with plugins you are bound to use only the main domain URL, while LinkTrackr gives you complete freedom, in this case, plugins can be good for small work but in case you look to expand your business it won't be advisable to go with plugins. Because when you are really marketing you need to decide which method can attract all kind of people. And off course LinkTrackr is designed for this.
LinkTrackr Testimonials: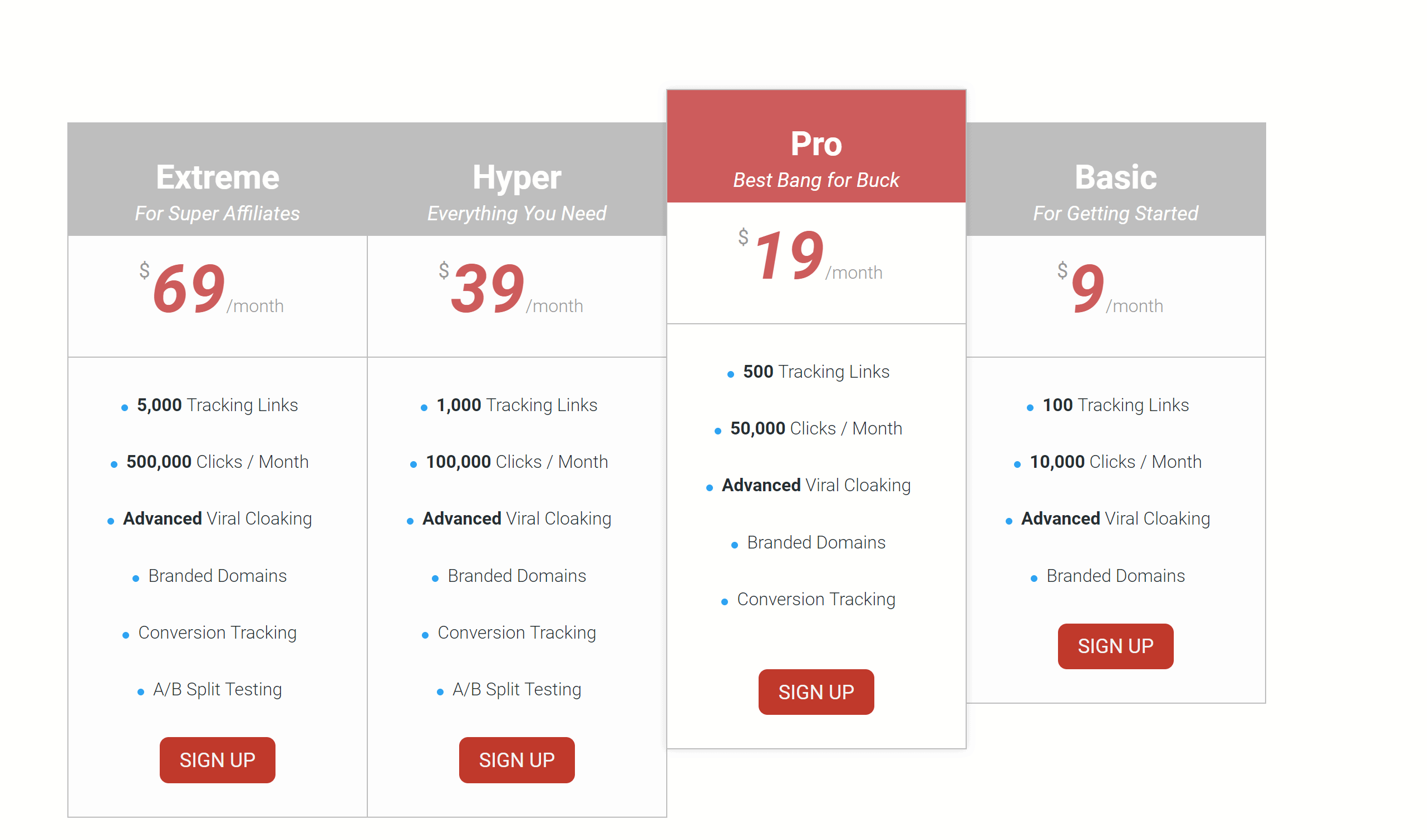 LinkTrackr Plans
The LinkTrackr has many plans, from free of cost to $27 each month premium plan. The $0 plan or the free plan comes with ten tracking links creation offer using the default URL. But if you find the need to get your own custom URL you need to upgrade to any of the paid plans. The features keep on improving as you move ahead. You can upgrade or degrade your plans anytime as per your need. You can also move to premium or extreme plans if required.
Frequently Asked Questions
What You Need To Know About LinkTrackr
What Is The Difference Between LinkTrackr and Google Analytics?

Simply put, Google Analytics tracks what happens on your own website, whereas LinkTrackr tracks what happens onthird-party websites and social media. This includes tracking affiliate sales on affiliate networks, clicks on banner ads from sites you advertise on, solo emails you've purchased, FaceBook ads, and much more. Plus, LinkTrackr also works seamlessly with Google Analytics, allowing you to pass this data into your Analytics account.

Why Is There a Click Limit?

Since LinkTrackr is a hosted SAAS (Software As A Service), you share certain resources like servers and bandwidth with other users. The click limit is in place to avoid abuse. The limit for each account is way beyond the reasonable amount of clicks you can get in a month for the total amount of links in your account.

What Happens When I Exceed My Click Limit?

You will receive a few alert emails when your click usage is nearing it's limit. You can then purchase "ad-hoc clicks" in batches of 1,000 – 100,000 clicks, or upgrade your account. Ad-hoc clicks expire after 15 days.

Can I Upgrade or Downgrade My Plans Later?

Yes, of course. At any time you want, you can easily upgrade or downgrade your plans to match your needs. It's also easy to cancel your account and billing.

Can I Use LinkTrackr with Bulk Traffic / Autosurf / Traffic Exchange Networks?

We do not allow autosurf, paid-to-click sites, wholesale traffic sites, banner exchange sites, traffic exchange networks, bulk traffic sites (like Adf.ly) and other such programs as they deliver nothing but junk traffic that doesn't benefit anyone. Most bulk advertising sites are banned, and new ones will be banned from time to time.

What Can I Use As My Account Name?

Please avoid using brand names, trademarks (unless you own it) or any name that intentionally misleads user into thinking it's a part of LinkTrackr.com. We recommend using your own name or your company name.

What Payment Methods Do You Accept?

Currently, we only accept payments via PayPal. If you don't have a PayPal account, you can also make a direct credit card payment using the PayPal checkout system. The direct credit card option should be right below the PayPal login form.

Do I Have to Install LinkTrackr on My Website?

No you don't. LinkTrackr is a web-based software application that you can use right out of the box. You don't have to install any scripts or deal with software updates.

Can I Use My Own Domain Name?

You can use your own domain names with all plans that support "branded" domains. We use CNAME for our domain mapping. This means that you can use either the top level domain (domain.com) or a subdomain (sub.domain.com). We provide instructions on how to use CNAME for all popular registrars.
Conclusion: Latest LinkTrackr Review
Being an online marketer you have to be attentive towards the methods of marketing, you need to make sure that which method is working or which is not working. The best and accurate way to do this is to track the performance of your links.
LinkTrackr can be trusted for this task, a very efficient product for affiliate marketing, not only easy in terms of usage but also a booster for ad campaigns. However the free trial is also available but we recommend you for the basic plan of $9/ month.
This is upgradable as you create more links. We are sure that with LinkTrackr you will get your desired results.
Here is video about how to Use LinkTrackr
Video Credits: linktrackr